So, this summer has been hard on my ice machines. Kitchen on died so I pulled the old one out of the garage – the one that is duct taped and held together with wood skewers and safety pins. Add that the one at the shop has been running show as well – time to step up from tabletop to something a little larger, but still not commercial.
Got the icemaker off Amazon ($250 with free shipping with a capacity to make 30 pounds of ice a day) and delivered to the shop where I unboxed it to get it to fit into the Miata (sorry, no picture). Since it's going on the back porch, though I should find a cabinet for it – tried on salvage place, then went to Habitat For Hunanity's ReStore – and scored big. They are moving south and everything was 75% off. Ended up with not only a cabinet for the icemaker, but a beautiful (with a couple of chips) glass sink.
1st instance of project creep – adding a sink to the cabinet. Here is a shot of the cabinet ($12.50) with holes drilled for the sink ($17.50) and faucet (U/W Surplus, $10) to see how it will work: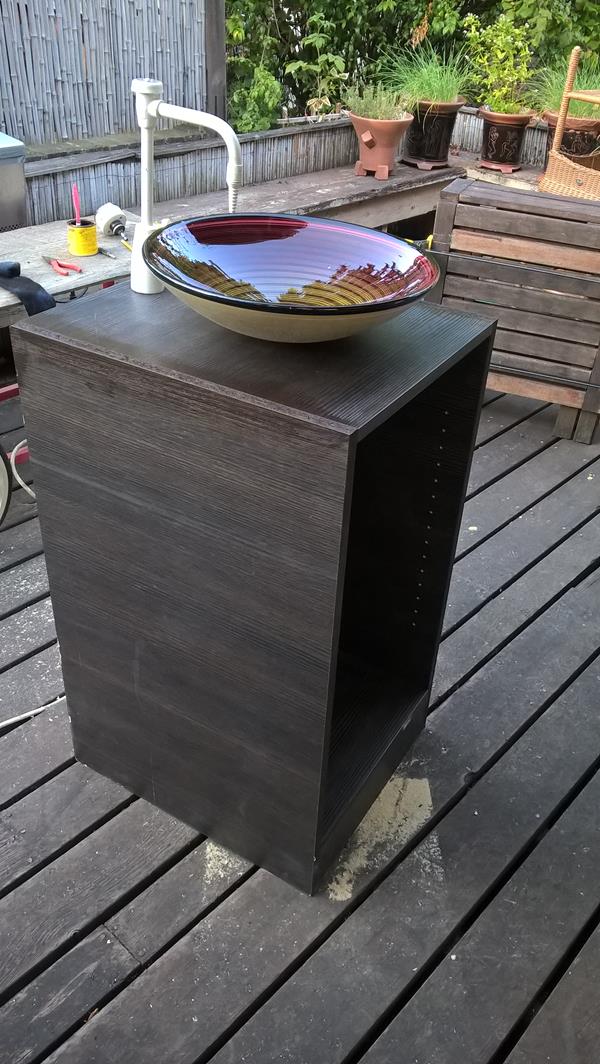 And then more project creep…"Wouldn't it be handy to have in on casters ($32, Home Depot) in case I rearrange the outdoor kitchen."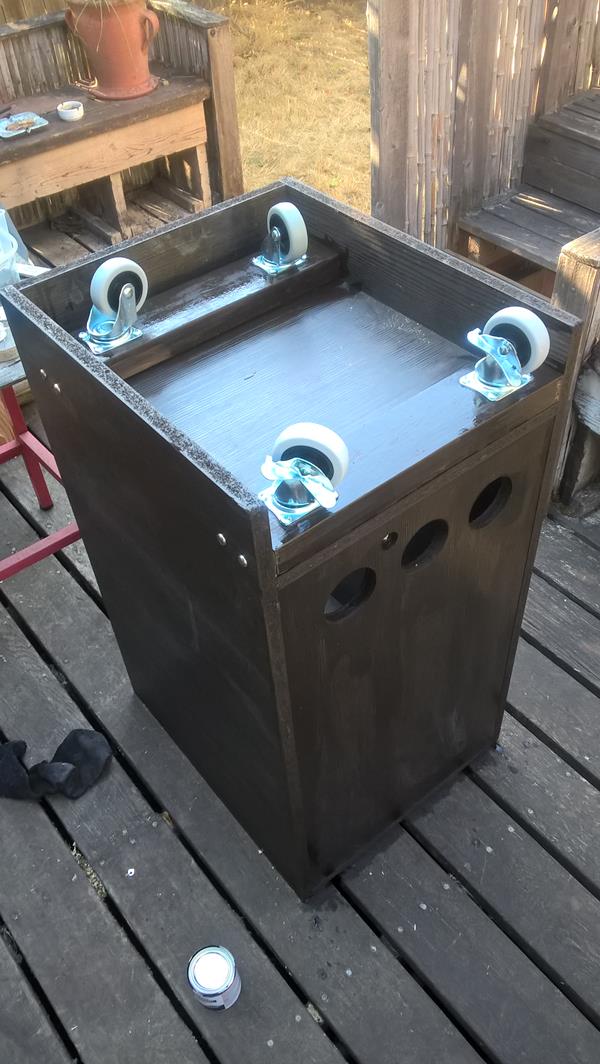 And while we are on the topic of project creep…let's add an inside and outside outlet with GFI protection ($50 because of the GFI and the outside outlet also has two 110v outlets and two USB outlets):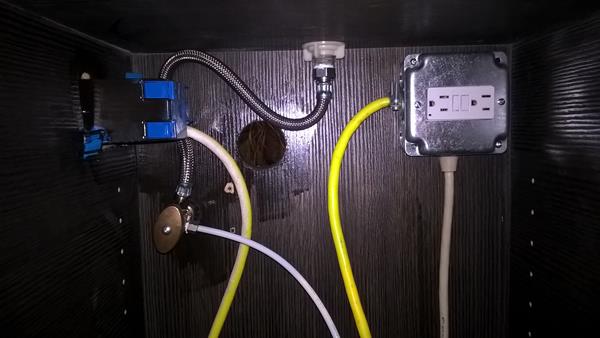 And of course when I was working on the plumbing, I found a whole-house water filter in the plumbing junk drawere, comblete with extra cartridge….yes, currently it is hooked up to the garden hose. Probably $25 in miscellaneous plumbing parts all told: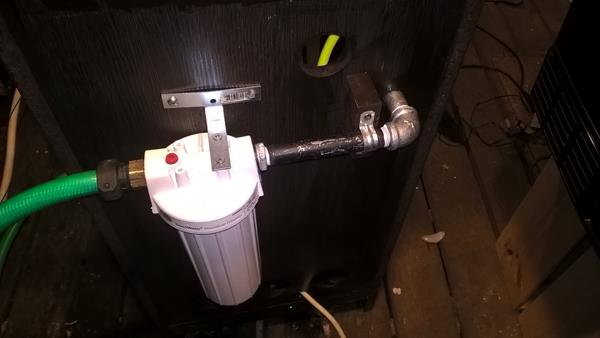 But it sure does look pretty now that it's done.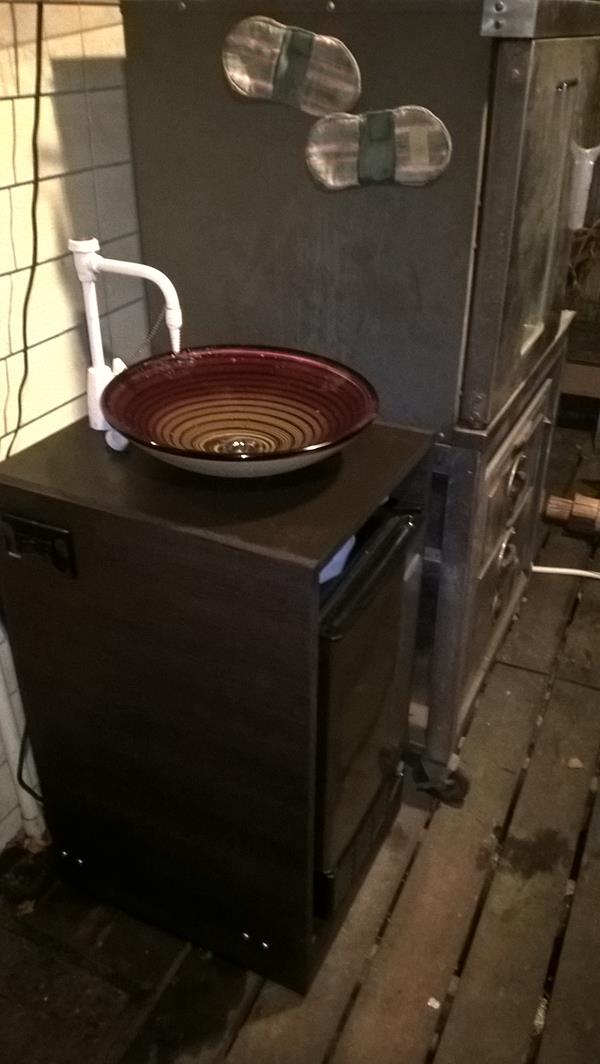 To the right of the ice maker/sink combo is a two drawer warming oven (great for proofing bread, $50 UW Surplus) and a Hobart half-sheet convection oven ($500, MicroNews classifieds)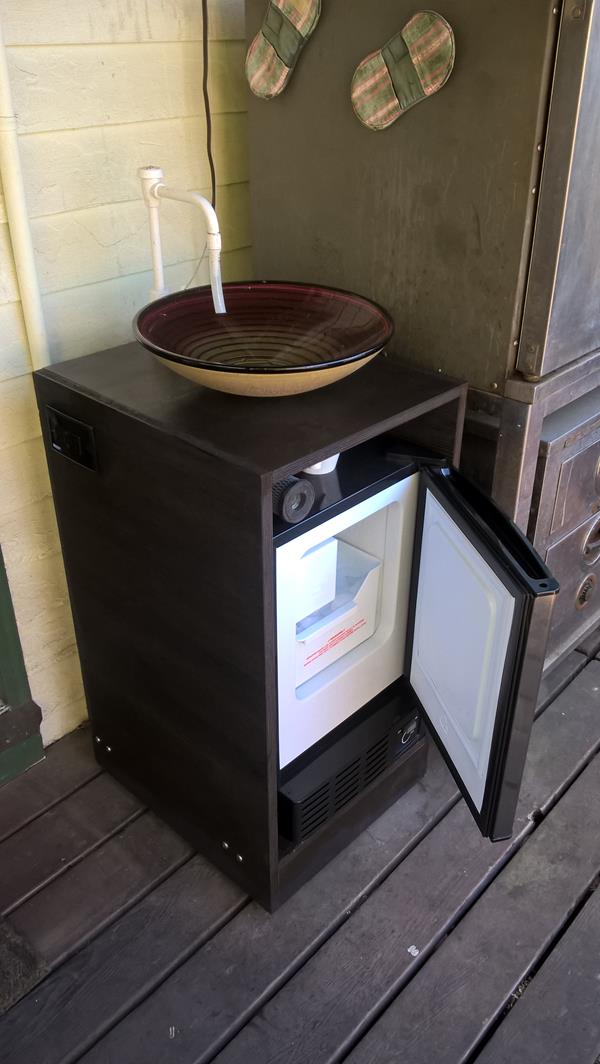 Total guess – not counting the hours put in, somewhere around $400.
Makes me want to make a cocktail!
[213.8]