The travel season is here for Uncle Markie – this week it's a quick trip to Berkeley to see Lunetta and Onyx. I realized when I got down there it had been a year since I'd been to see they. Didn't seem like that long since they visited me in Victoria last January.
Three selfies to start the post. Lounge, plane, and BART: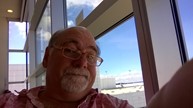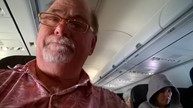 It's wonderful flying into the Bay Area now that both SFO and OAK are connected via BART. No trips to the airport during rush hour – I just get off the plane and BART to Ashby Station – though I might start having them pick me up there as my knee and foot weren't really happy. Still beat the 30 minutes each way to OAK and 45 to SFO (depending on traffic).
Got there to find them working on their front steps – a project that has stretched for years and should be able to withstand a magnitude 9 earth quake.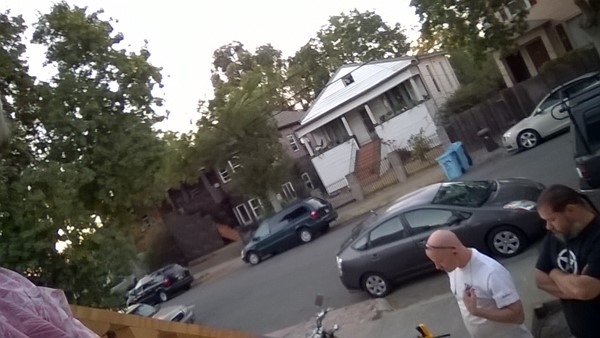 Tonight we are holding dinner until 9pm so that Alicia and Devon can come after work – they are stunned to find dinner waiting for them after their group sessions let out (they are both counselors so no pictures). Yum, grilled scallops and a citrus salad – and wine provided by Uncle Markie.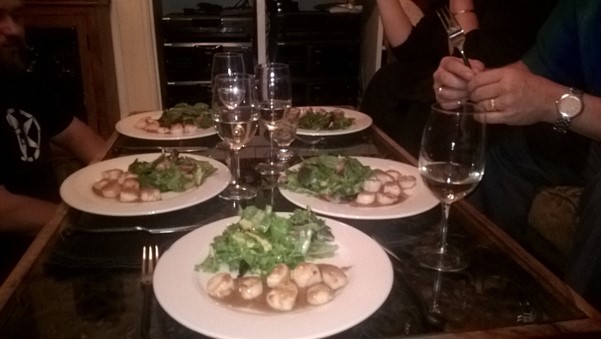 Lots of reorganizing downstairs – one of the reasons I hadn't visited in a year is they had a roommate who stayed longer than they were expecting – so now my office/bedroom downstairs looks like this: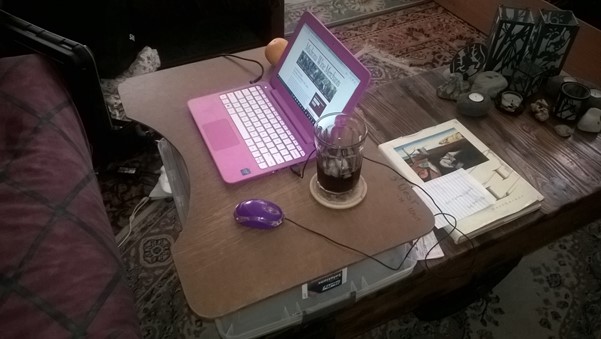 Which sits atop this wonderful old rail freight cart.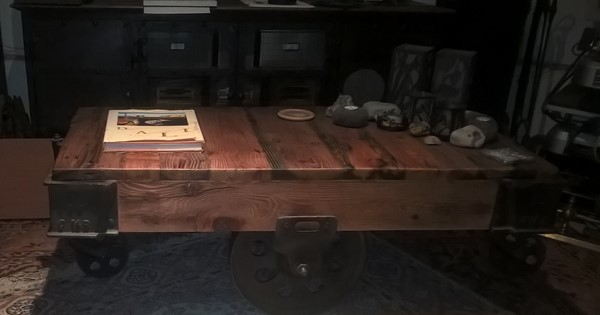 Following day did my booze shopping at BevMo, cashing in a 5% coupon I'd just scored. Made California booze even cheaper!
Tonight's dinner was equally wonderful grilled chicken breast with a salad with lots of roasted pine nuts in it. I brought a magnum on Scarello with me (a light Italian Red).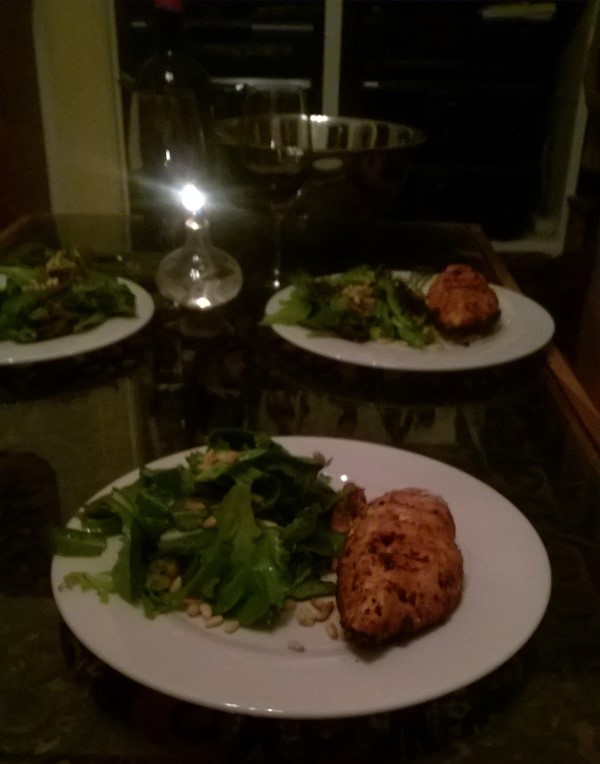 Before I knew it – time to go back to Seattle. Two nights passes quickly – but at least I didn't hit the dreaded three night when fish and houseguests start to turn:
"Guests, like fish, begin to smell after three days."
Benjamin Franklin
And besides that, the stuffed animals were starting to attack me: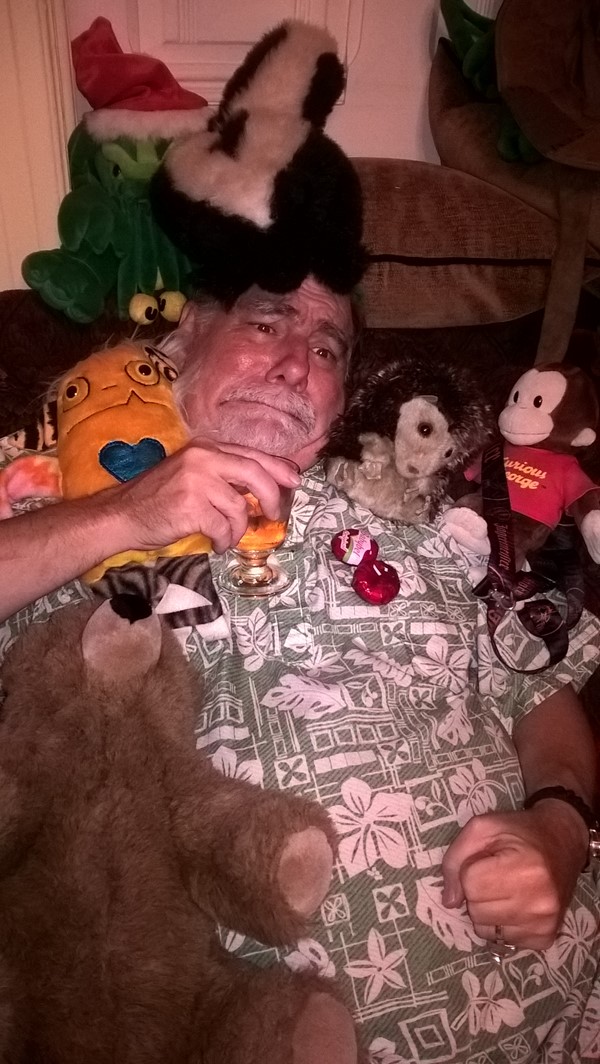 Learning my lesson, Lunetta gave me a ride back to the BART station for my trip to SFO. I went HOURS early because Alaska Airlines in temporarily in the International Terminal and with no lounge they are contracting with Cathay Pacific for lounge services – and Cathay Pacific's lounge is only for Business and First Class passengers on when flying with them. They really knock it out of the park starting with the cardboard cutout that greets you down a long hallway: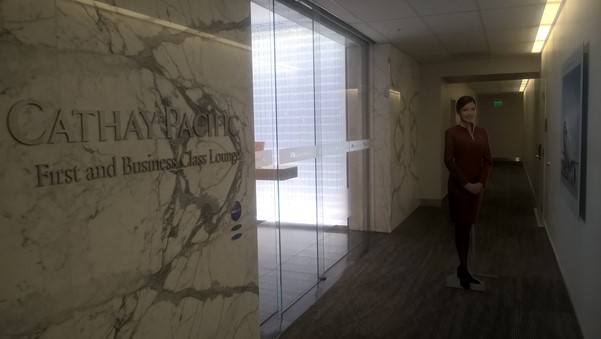 I got there just as they opened up their made-to-order noodle bar featuring Dan Dan Noodles, Won Ton Noodles and one other selection – could have sworn I took a picture of the menu!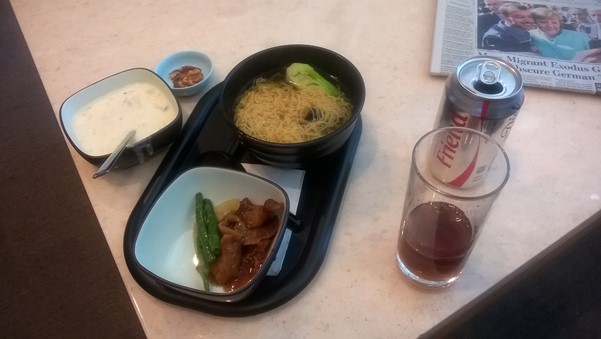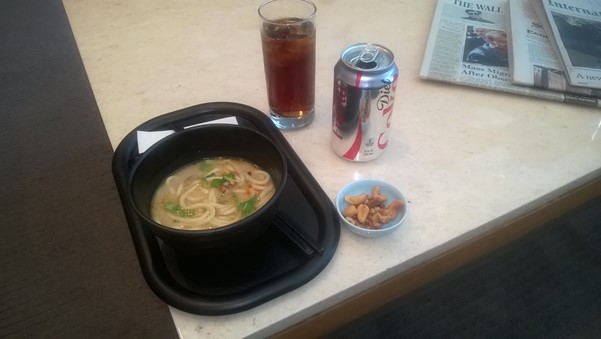 And here is the buffet bar…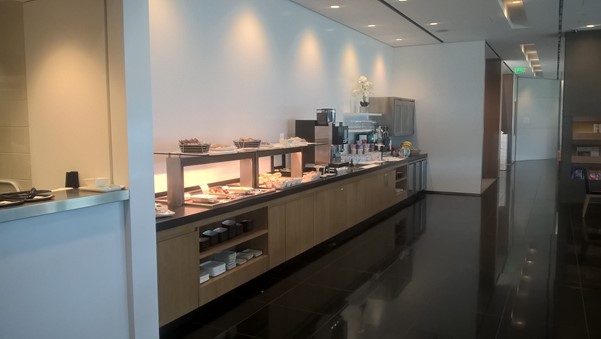 Pretty comfortable – and my "office" in the lounge: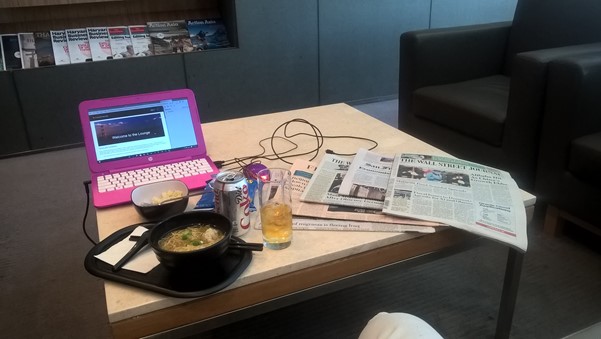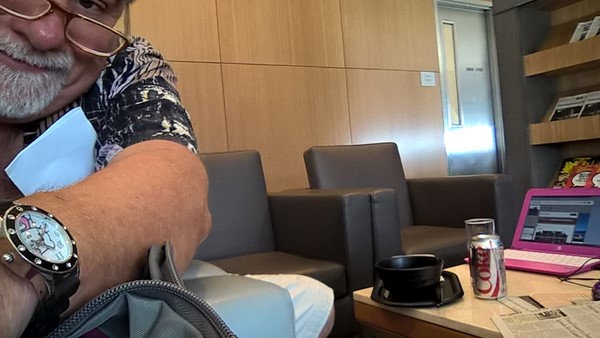 Did I mention free mix your own drinks and wine. Feeling no pain on the flight home even though I was in 6D.
[217.4]