I sometimes feels like I'll be on the road all the month of September (and October and November). This installment if from the California Zephyr between Denver and Chicago. What I learned is that two people in a Roomette is a tight squeeze.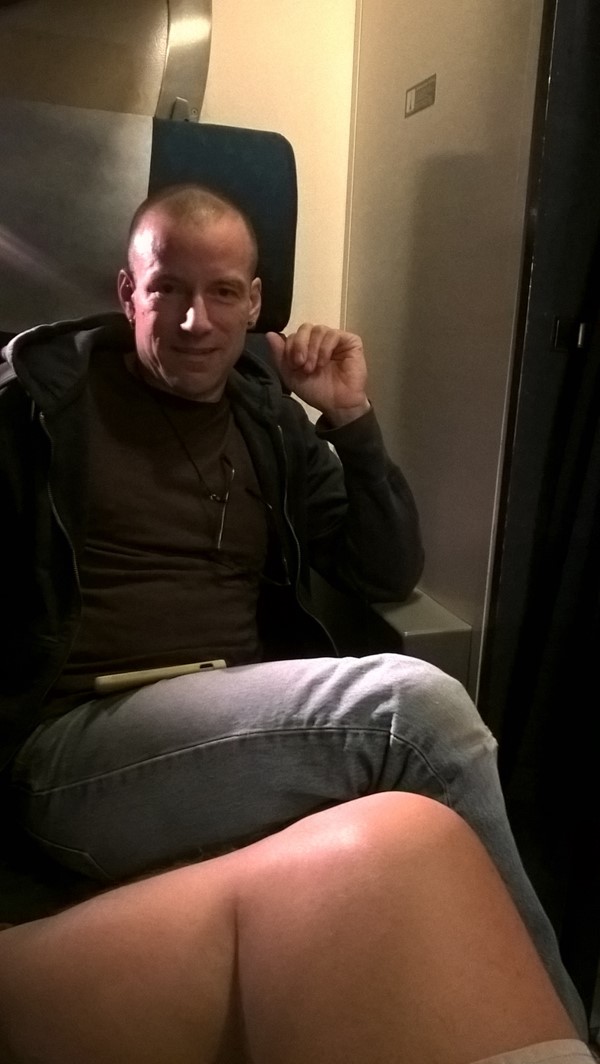 As you can see by how close our knees are!
Bring lots of booze and mixers, it's OK according to Amtrak if you are in a sleeper – and they will even uncork your personal wine in the dining car (leave a GOOD tip!). Dwight taught me to give some of the tip up front for better service with the room attendants.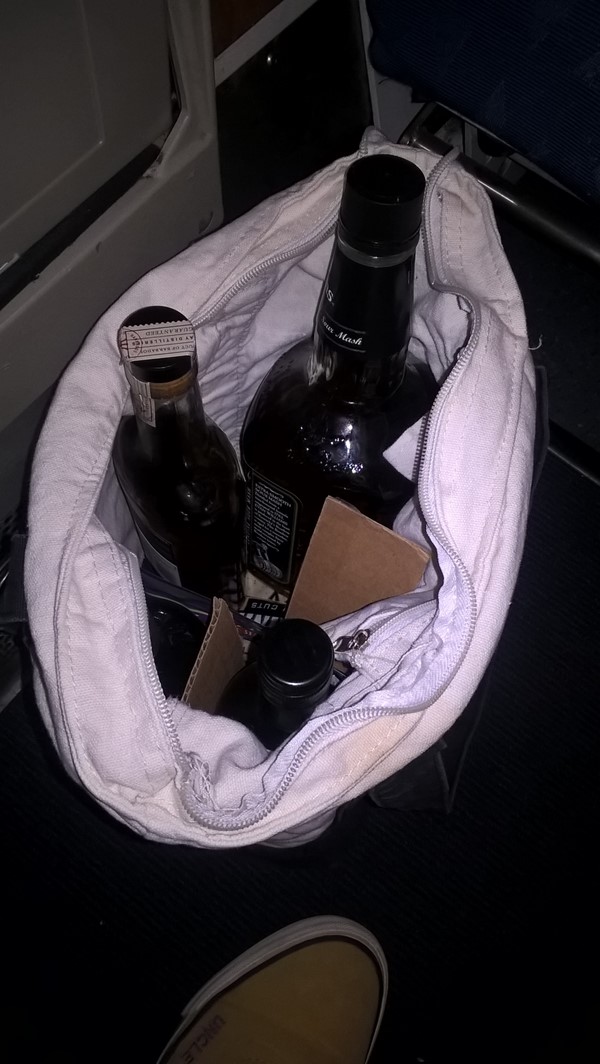 Boarded the Zephyr in time for dinner, went for the short ribs in red wine demi glaze…with a nice bottle of wine we packed with us. Only once have I had them refuse to open a provided bottle – usually all it takes is, "Ours is better, and we tip well." As usual, I took my dessert "to go" while Dan ate his ice cream at the table. I should point out that there were no salads with our dinner as they had a refrigerator issue and FROZE all the lettuce.
And before you know it, it's time for bed: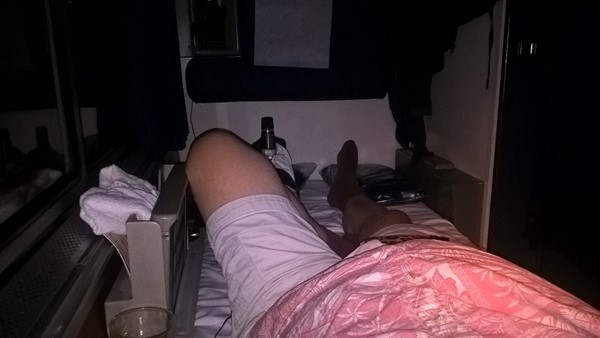 View from the end of the train, which oddly, the sleepers are at. Normally the sleepers are at the front of the train. Because of this: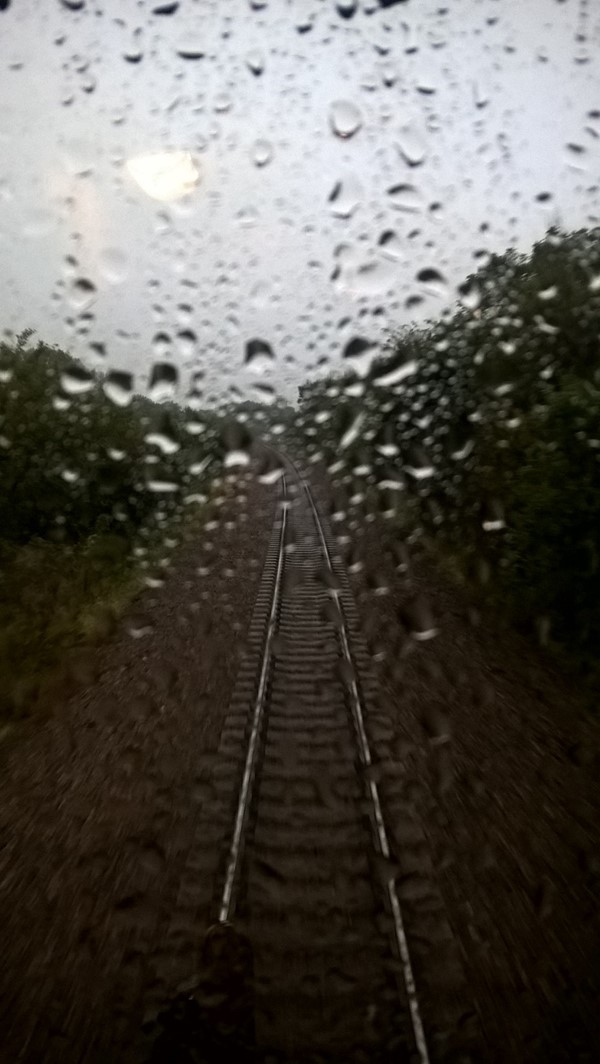 Everyone's phone went off at 7AM with flash flood warnings, luckily not for the railway. Almost as good as an alarm clock to get up and have the scrambled eggs – they were out of the omelet, but still had the Railroad French Toast (think Denny's with the same corn syrup dressing).
Along the way be pass all sorts of stations in all architectural styles… here is the Creston, Iowa station: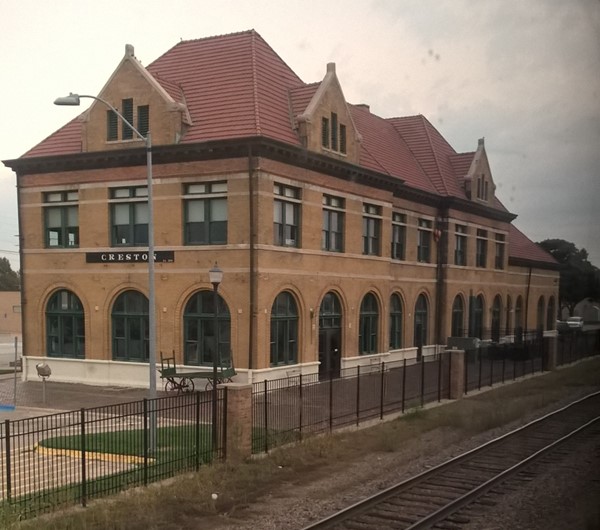 But actually, THIS is the Amtrak station in Creston, Iowa: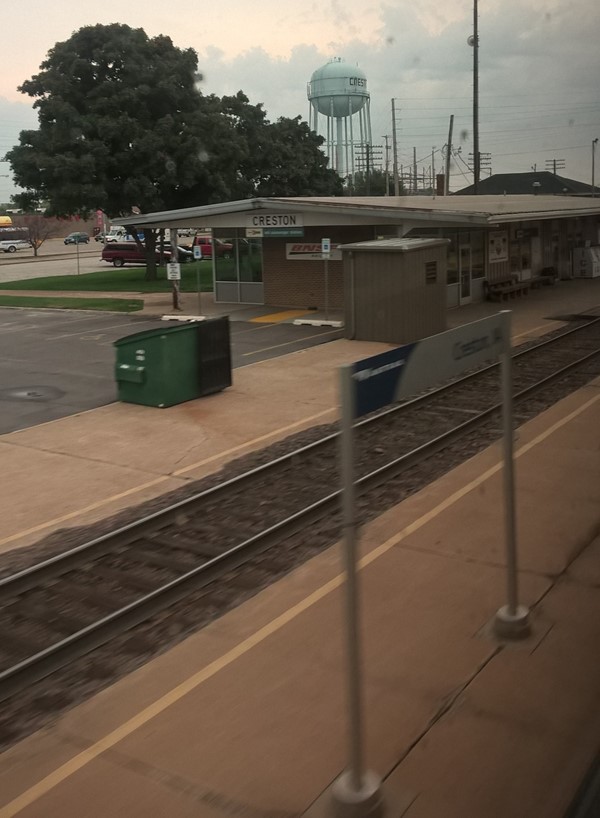 Or the box that is Ottumwa, Iowa's station. Extra points for the fictional television character from Ottumwa.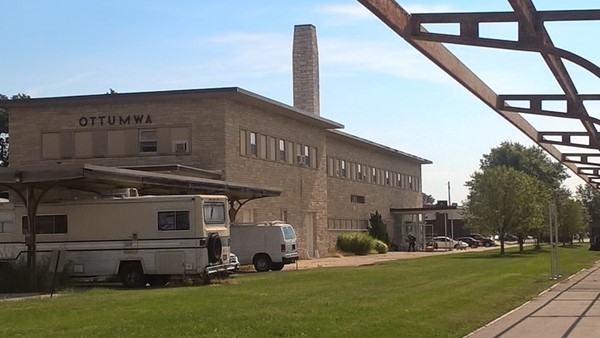 Answer: Radar O'Reilly from the TV series MASH.
It was at Ottumwa, Dan needed to do a little trackside yoga to combat the tight quarters – next time a Bedroom rather than a Roomette: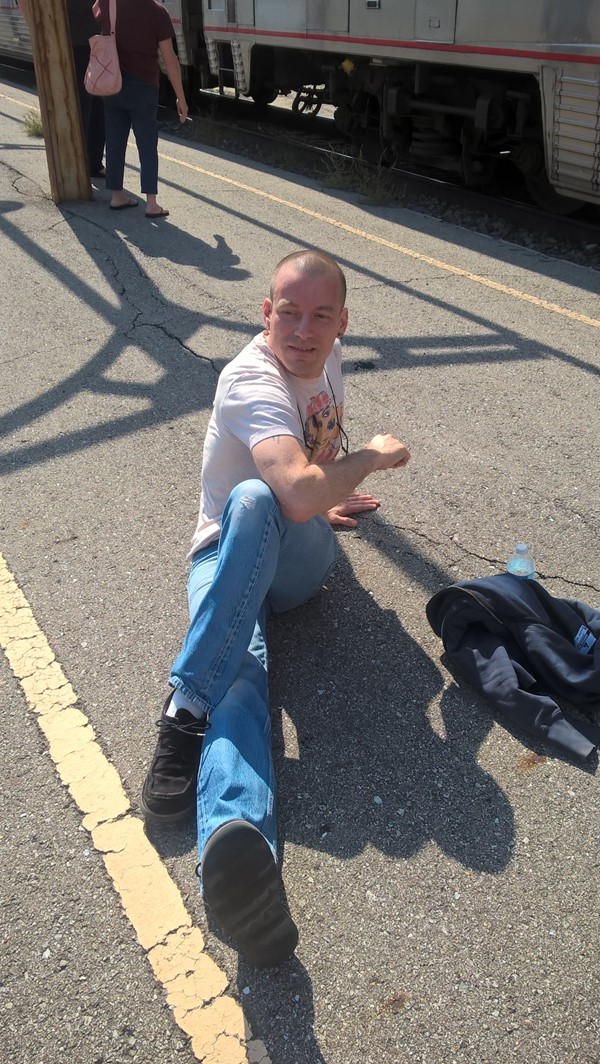 And here is our lovely room attendant who kept us well stock in ice: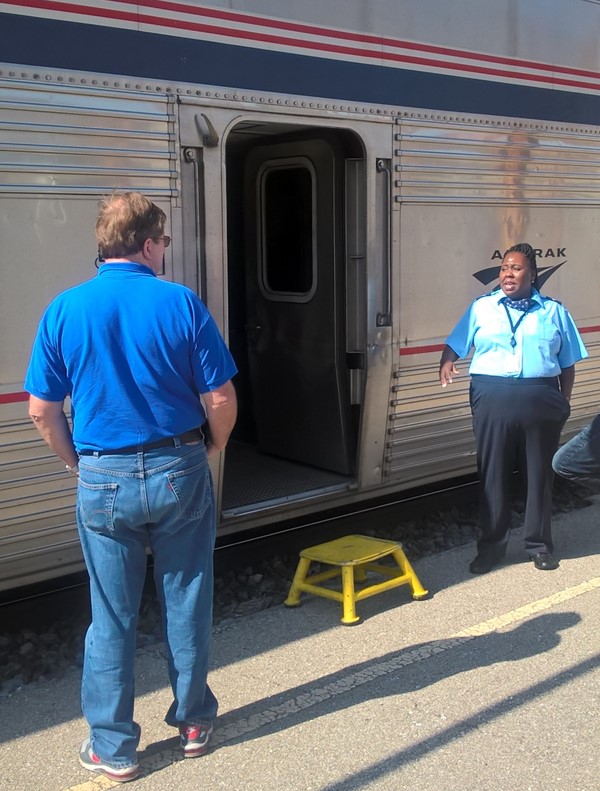 Just after leaving Burlington, Iowa (on the border with Illinois) two hours late, we passed this lovely suspension bridge that I'd actually driven across a couple of years ago when I was visiting Galena, Illinois with Lisa and Joe (stayed at the WorldMark Galena). Galena is mostly known as the home of Ulysses S. Grant.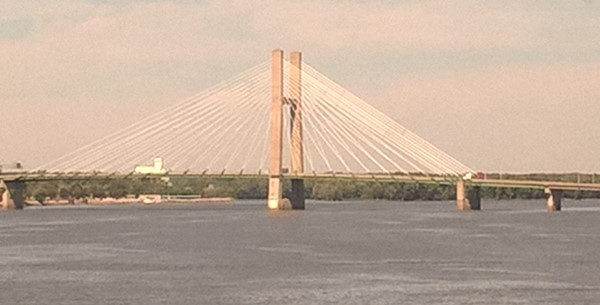 As you can see, the weather is clearing up. Just in time for lunch – bacon cheeseburgers for the both of us, oddly they'd acquired some iceberg lettuce for the burgers to go with the tomato and onion. And sure enough, the sun is out showing off the corn fields: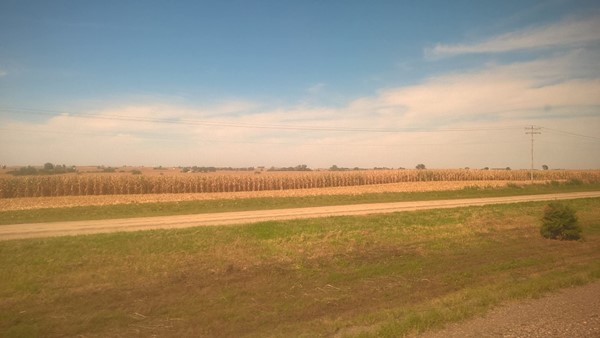 And better late than never, we finally arrive in lovely Chicago, a little over two hours late. Here is a shot of the old station which rumor has it they are bringing back to life: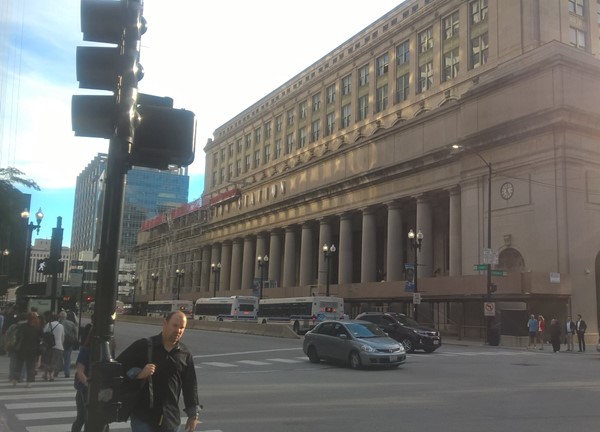 And a GREAT shot of Chicago that looks like Seattle because: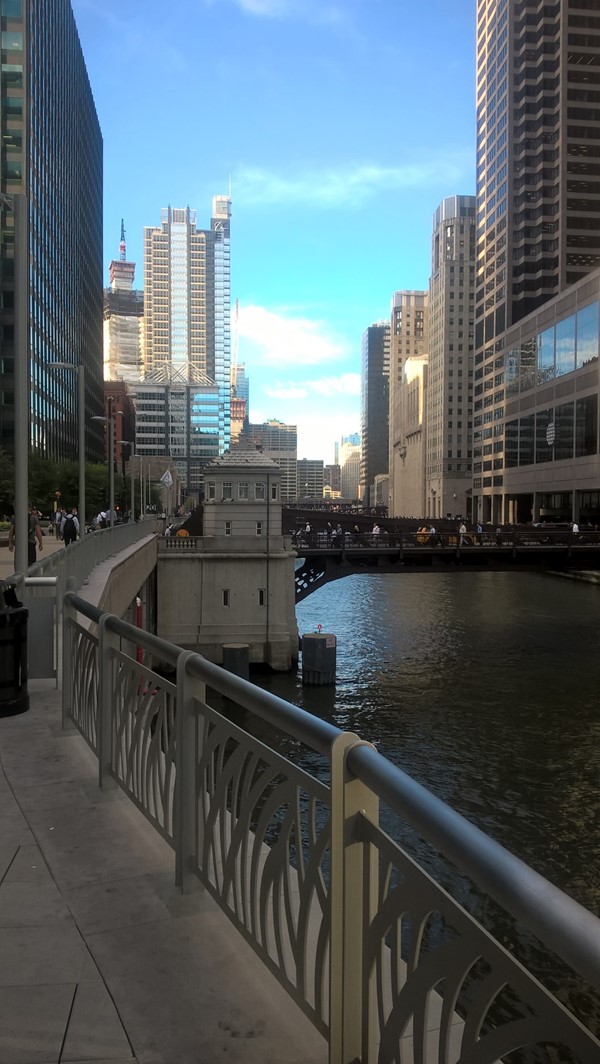 Time for a little food – even though they say we are getting dinner on board, I'm skeptical…off we go after trying to reach his CDW rep he deals with…Dan does the logical thing – he goes on Yelp and looks for happy hour specials within 3 blocks. We ended up at Blackies, with half of Chicago hanging out in the sun: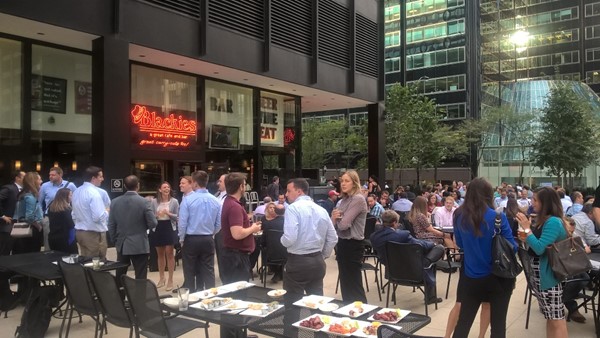 Buffalo Wings and Manhattans – that's a happy hour!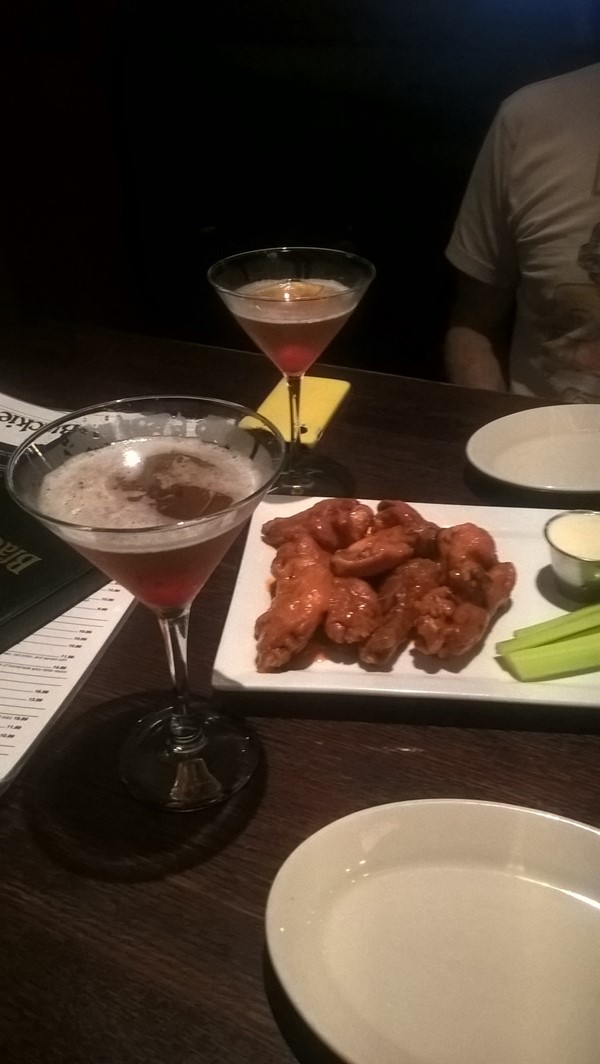 Dan is looking happy.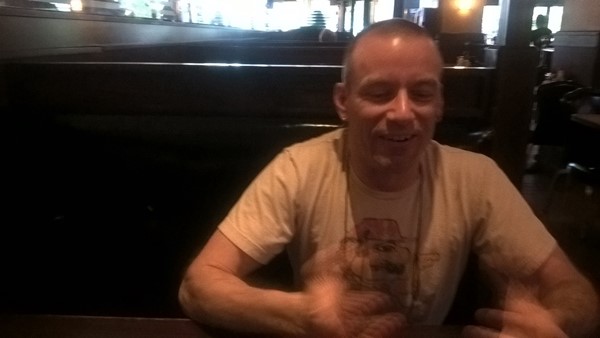 As we were leaving Blackies – Dan gets the call – so we are off for MORE cocktails with his CDW rep at the sports bar in the train station!
I love this photo – and before you know it, we are on the train headed to New Orleans. They were serious about the meal – they loaded us 45 minutes before The City of New Orleans was scheduled to leave. No rocking for dinner! Stay tuned for the next post.
[218.6]