One of my traditions on the first night arriving in New Orleans is to wander down the street and go to Houstons. Yes, it's a chain, albeit a small one, but I know there will be live jazz and that I can grab a spot in the bar and just eat good food and listen to good jazz. Isn't that what New Orleans is about? Even better when you don't have to fight the crowds in the French Quarter. Oddly enough, I pulled the dinner menu for the Kansas City branch (since I'll be there in November) and I wasn't as impressed – the New Orleans menu is much better.
This visit I took Dan along on my tradition. No Colonels as they were a bit under the weather.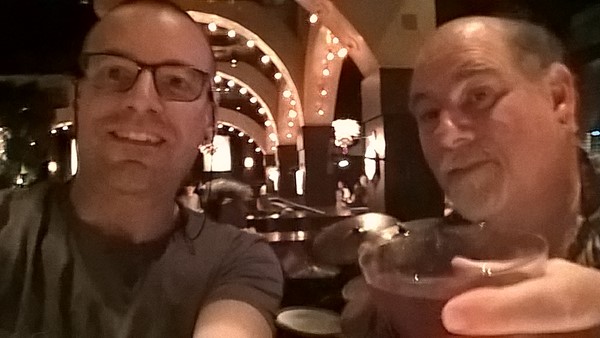 That would be the band over our shoulders and Manhattans in front of our shoulders. And the food!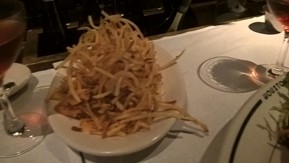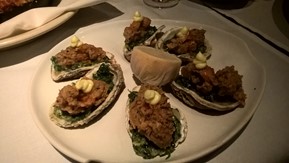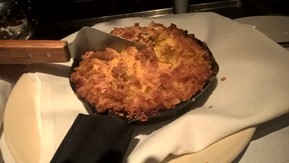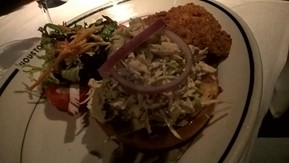 Clockwise from upper-left-hand: Hand-cut Fries, Oysters St. Charles, Skillet Cornbread, Gulf Coast Style Fish Sandwich. Not a dog in the lot. Yep, wees in nawlins.
If this blog post doesn't make you hungry I pray for your soul.
Sightseeing for the first full day both The Colonels and I have the same idea, The Southern Food & Beverage Museum which was closed for relocation the last time I was in NOLA. But first, a visit to their on-site restaurant, Purloo (which is a traditional dish made with whatever meat happened to be leftover). The food did not disappoint (nor the atmosphere):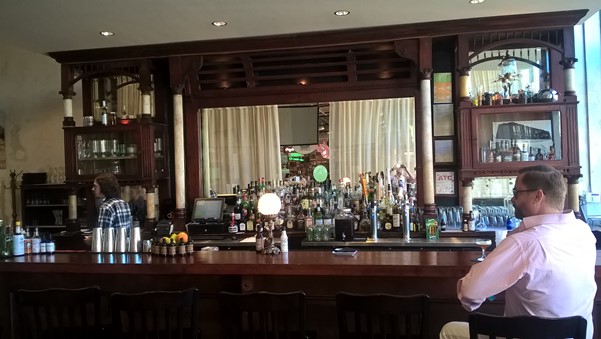 The bar (and the cute hipster bar tender) above, and The Colonels below: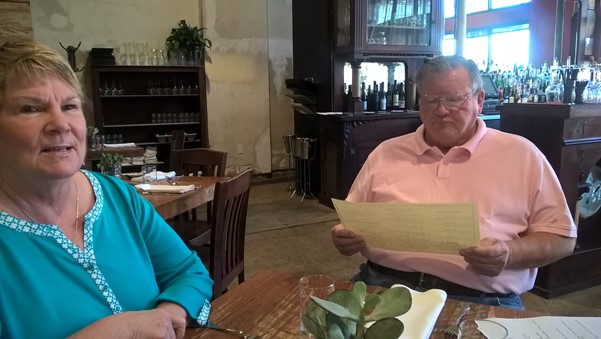 And even though it's only noon, I had to try their Old Fashioned which warrants a full-size photo AND the recipe: Bourbon or Rye with Demerara Syrup, El Guapo Chicory Pecan Bitters and Citrus Peel. I went for the Rye (and I remember a little mint in there as well).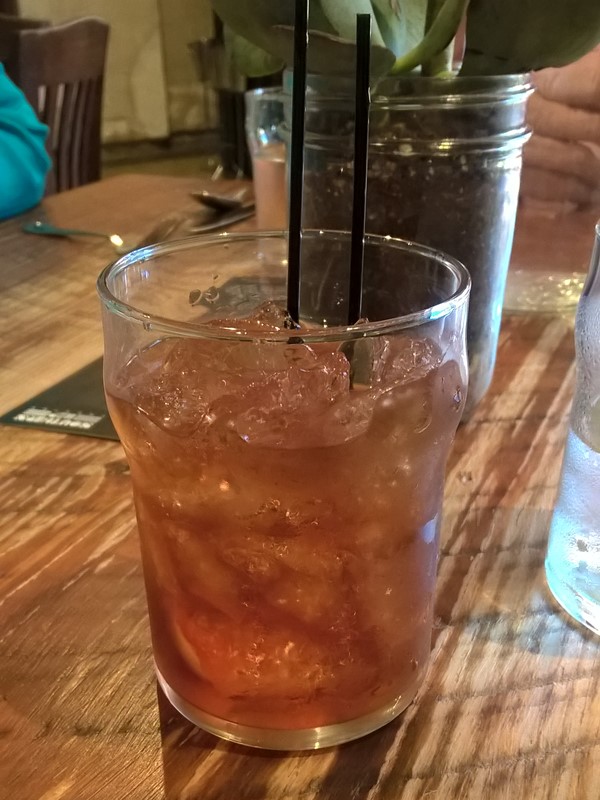 And the food – not sure where the last photo is! Pretty sure Mr. Colonel had with Fried Chicken with Tasso Mac & Cheese and pickled Okra. Mrs. Colonel had the marinated flank steak over Thai noodles: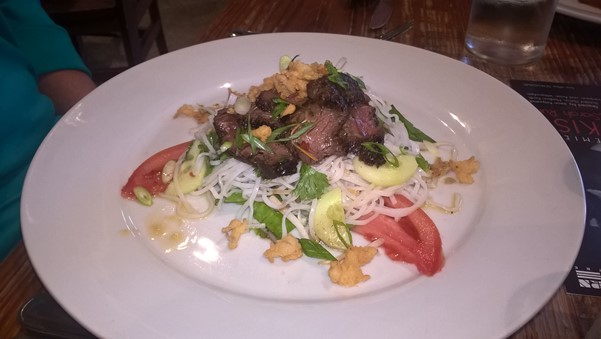 Dan had the fried catfish with stone ground grits and collard greens with a smoked tomato gravy…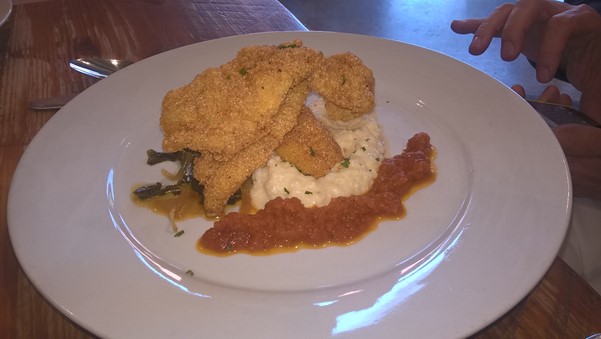 And I went for a fairly light dish, the Crab Beignets: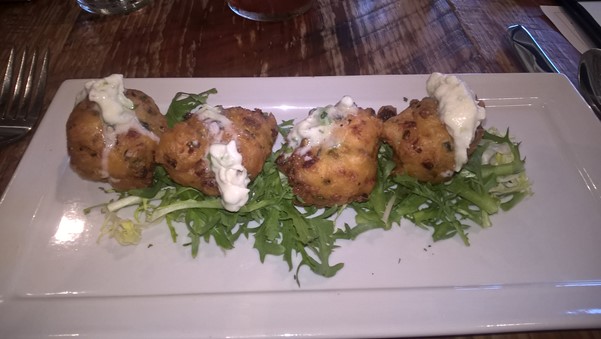 Starting to worry about getting on the scales when I return home!
Well nourished, it was time for the Southern Food and Beverage Museum ($10 regular, $8 if you ate at Purloo, $5 Military) which also includes the The Museum of the American Cocktail and the La Galerie d'Absinthe. What's NOT to love about this place!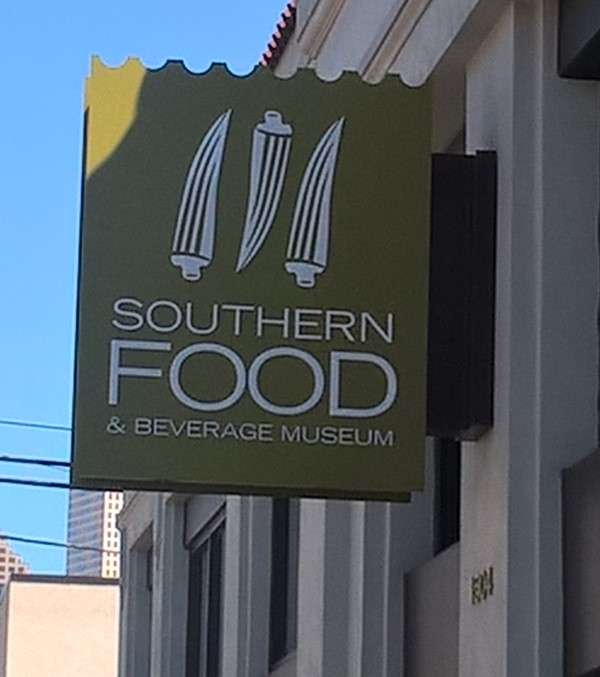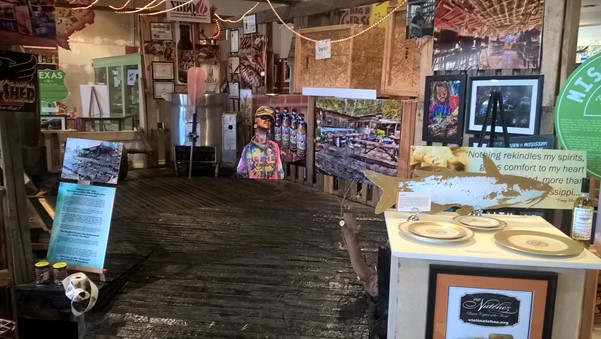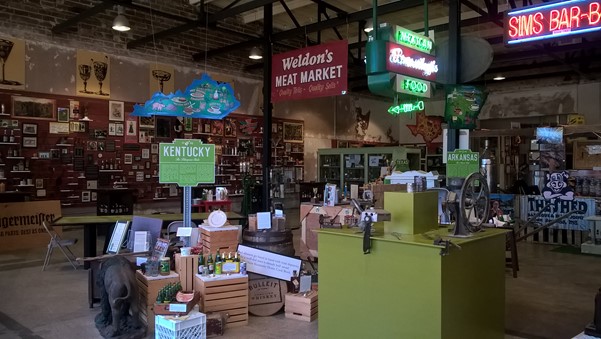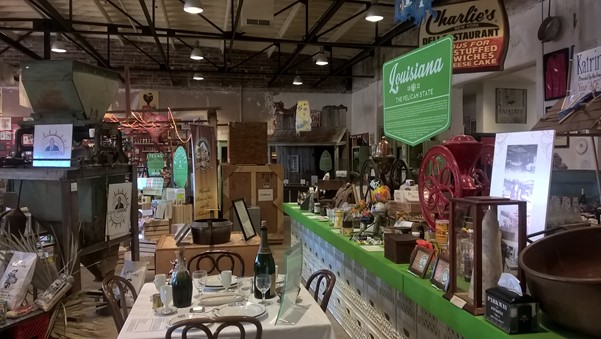 And the cocktail section: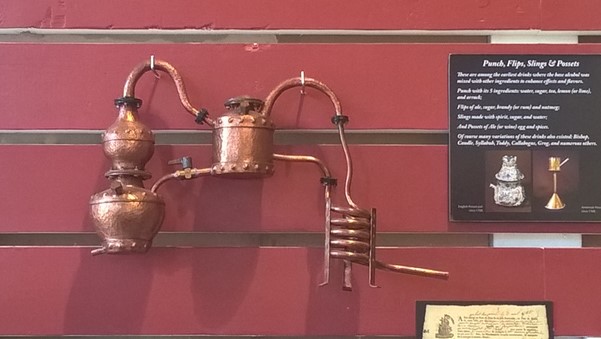 With the world's largest cocktail shaker – 4 at a time!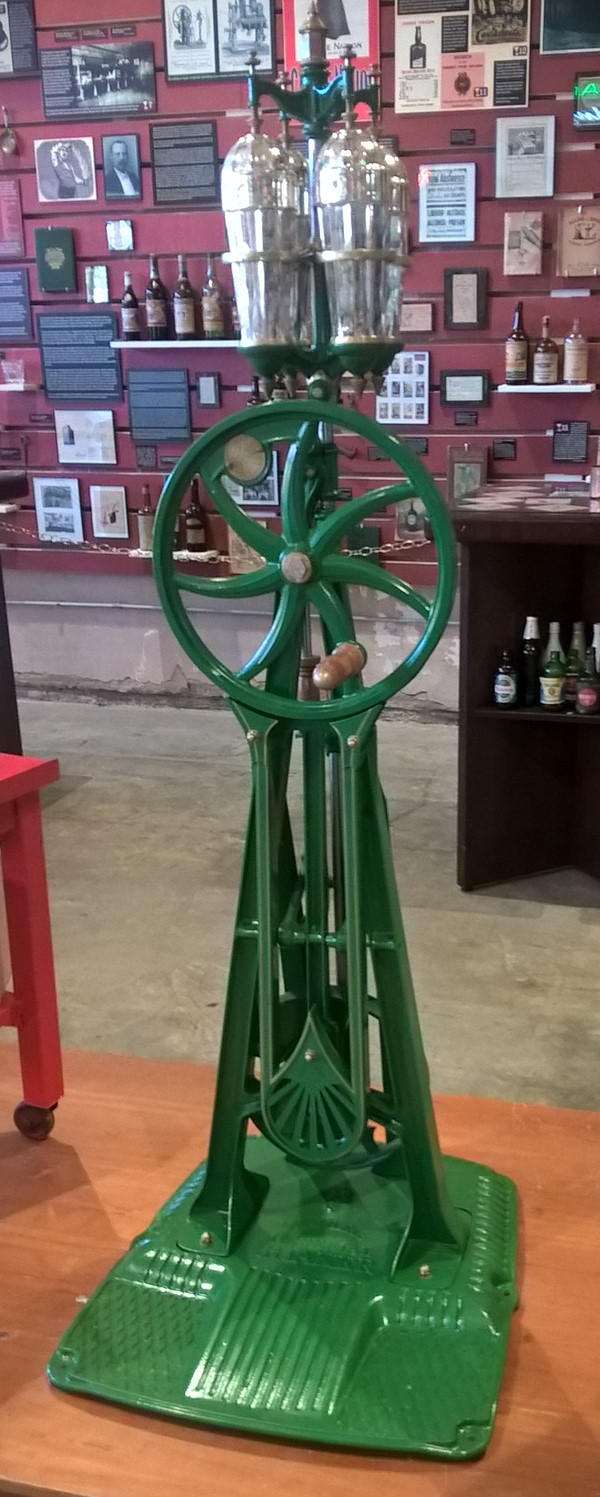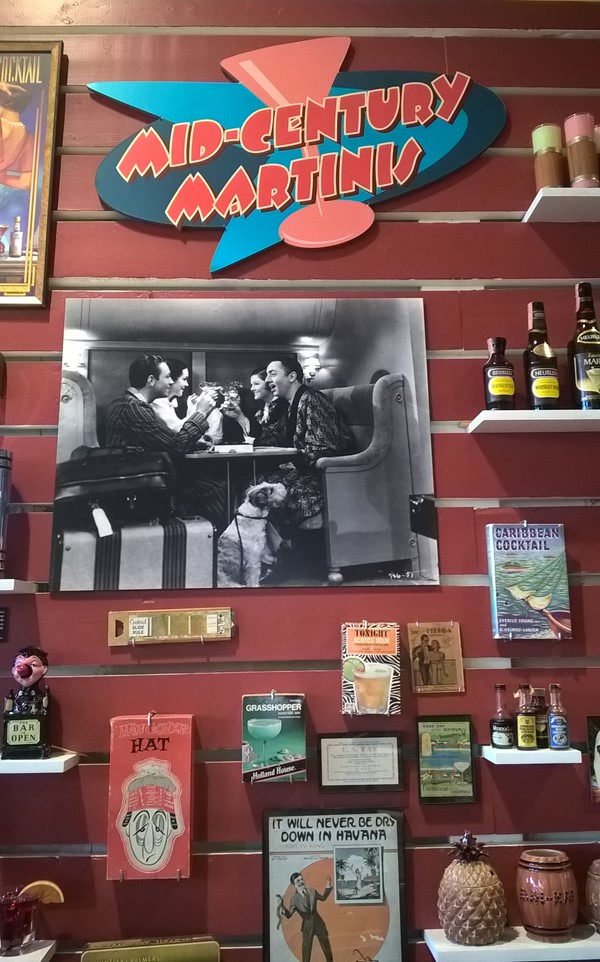 And for my friend Joe (of Lisa), a collection of Tiki items (he has a Tiki bar in the basement in Indianapolis):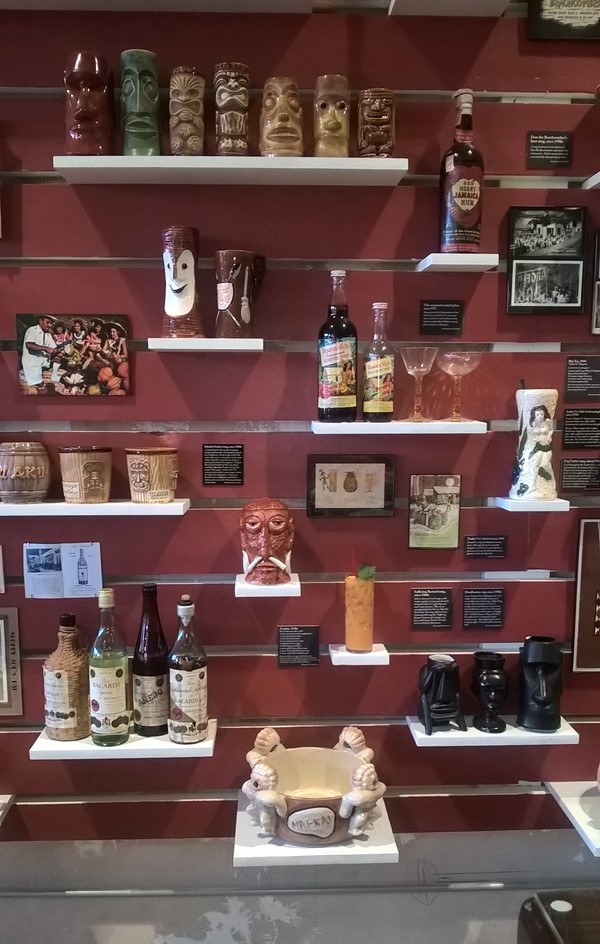 And we close with the pig:
As The Colonels age they are less and less up for going out to dinner, preferring some light appetizers inside, which is what we had before Dan and I headed out to dinner. The thought was The Blind Pelican half a dozen blocks away – but as it turns out it was "Friday Night Fight Night" (Military with ID get in free).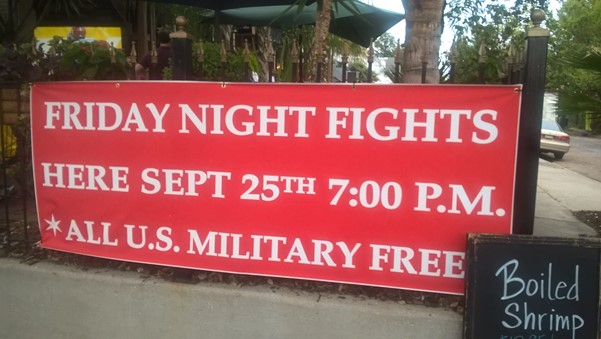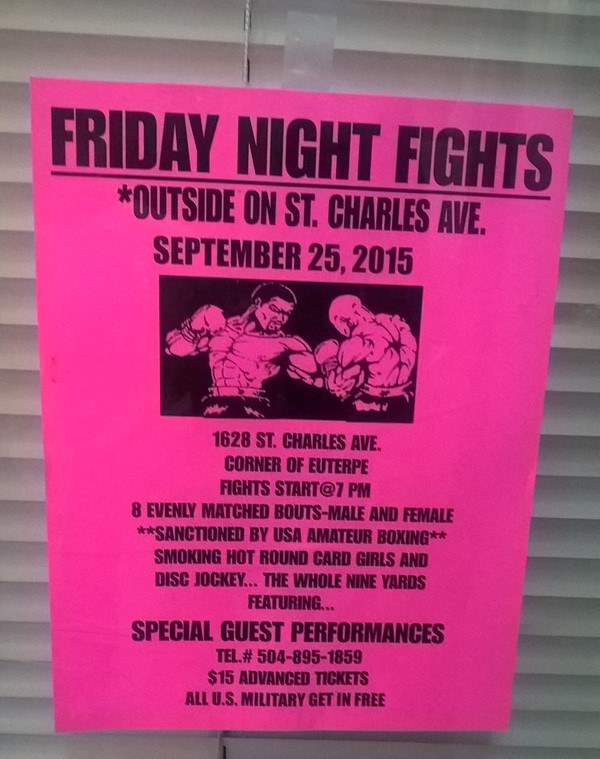 Yep, the blocked off the street and put up a covered fence. Second choice was VooDoo BBQ, which wasn't as good as I remembered it, and with no bartender (on a Friday night no less), no Manhattan – I had to settle for an alcoholic slushy of some sort (which at least they refilled on the way out). We spilt one of the larger dinners: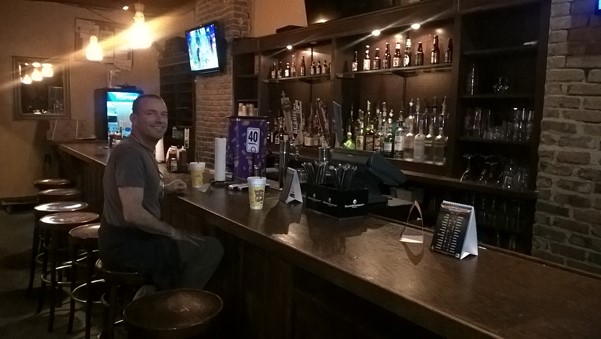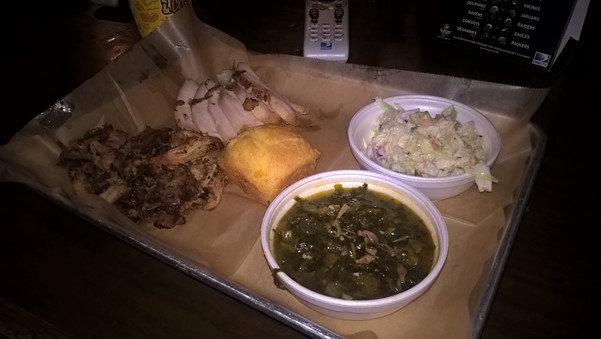 And the funky interior hallway…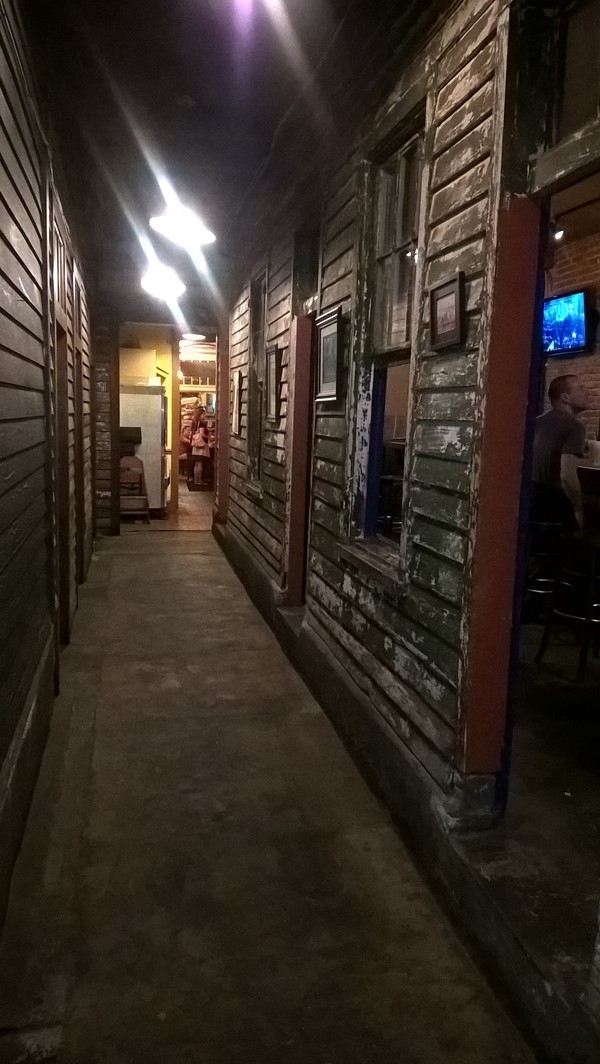 Saturday we made our way to La Place, Louisiana, home to some of the finest andouille sausage makers in the world, but first, lunch at The Cajun Invasion, this odd mix of Cajun and Vietnamese (which considering the number of Vietnamese shrimpers in Louisiana isn't all that surprising):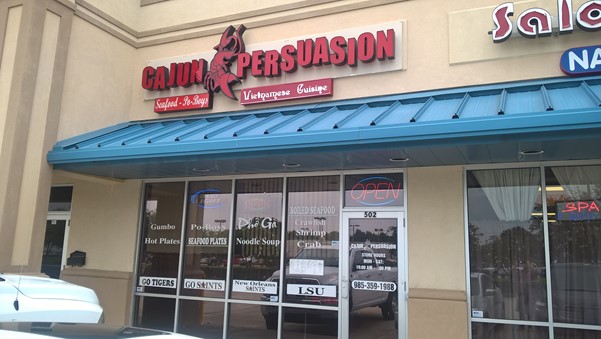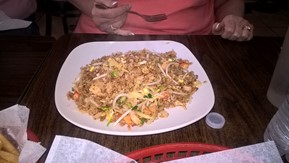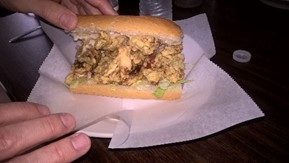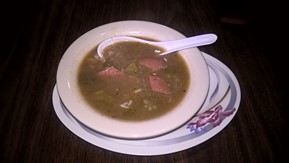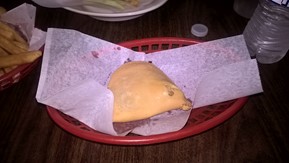 Clockwise from upper left: Mrs. Colonel's crawfish fried rice, Dan's fried oyster po'boy, and my jambalaya and meat pie (was supposed to be crawfish, oh well). All surprisingly good for a strip mall restaurant in the middle of nowhere.
But the main reason for the trip was andouille sausage – The Colonels favor Jacobs (and they have it shipped), but reviews differ between first and second place for Baileys – and they are almost on top of each other. For me it was a contest of who had the surliest counter people.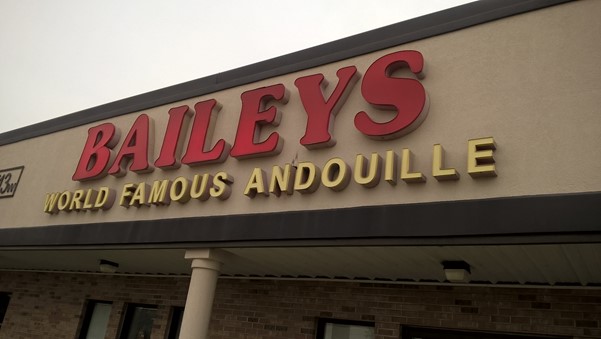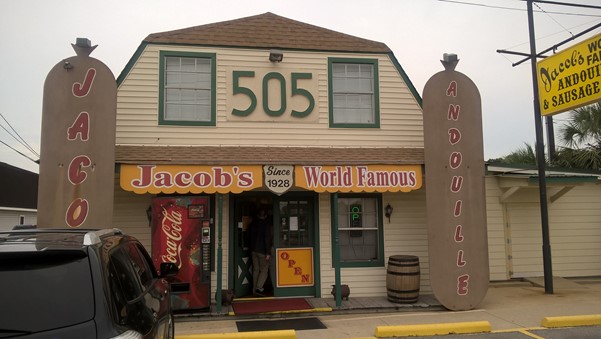 Dan ended up with 1 pound of chicken, 1 pound of pork andouille from Baileys, and the same from Jacobs who smokes theirs for 20 minutes longer (according to local lore). Mrs. Colonel just got stuff from Jacobs.
Tonight we finally got to try the Blind Pelican, and boy did we try it!
Got a table outside with a view of the shrimp boiler: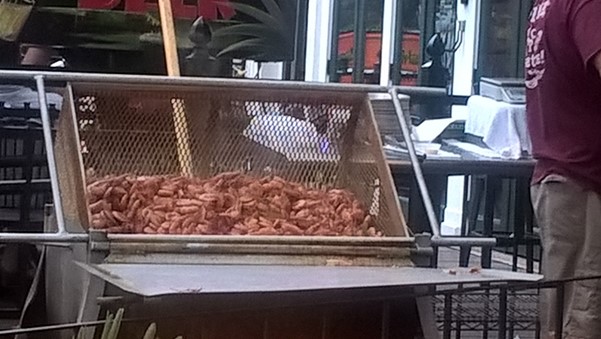 But we weren't here for the shrimp, we were her for the oysters! 5 dozen to be exact – three dozen raw, and two dozen charbroiled and topped off with a rack of ribs and coleslaw. During happy hour (4-8pm) oysters on the half shell are $3 a dozen (I kid you not) and $7.50 a dozen for the charbroiled – but you have to buy an "adult" beverage for every dozen you order. With Dan and I this wasn't a problem.
It takes 4 line guys to shuck that many oysters for a full house: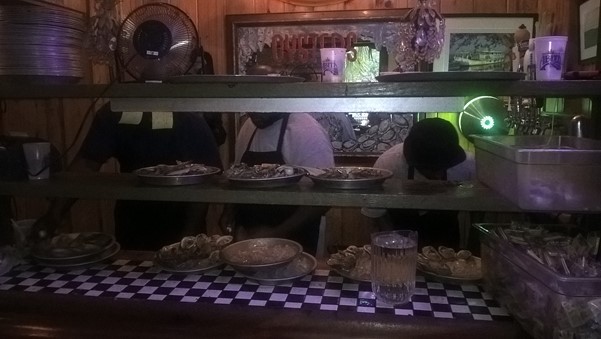 And my aren't they pretty: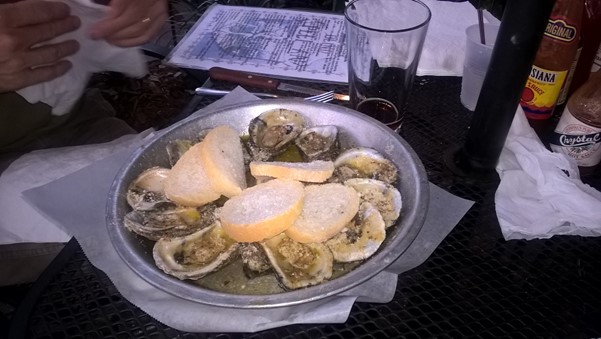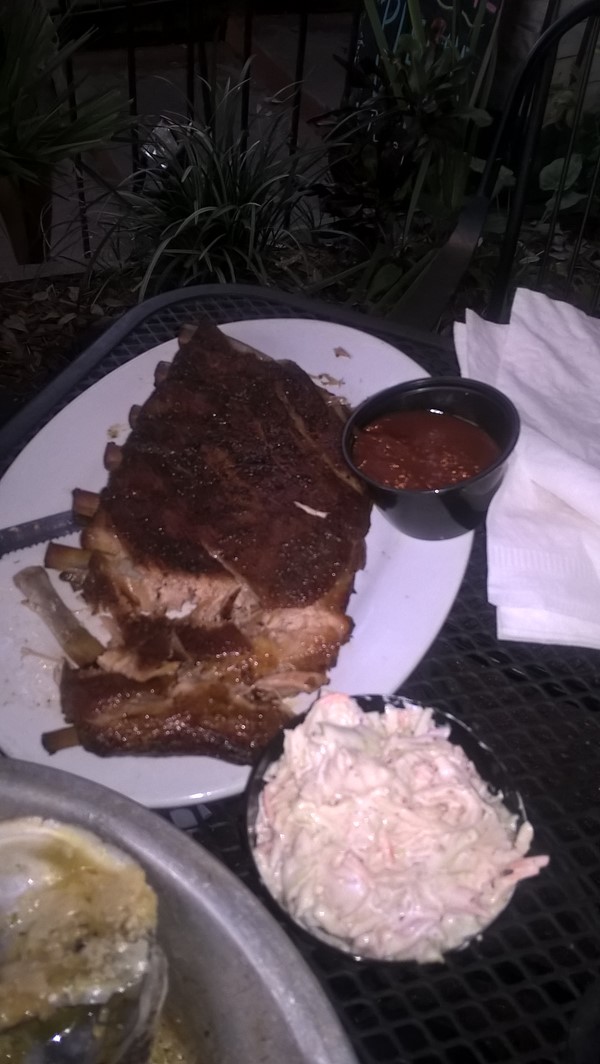 They are VERY strict in their rules around happy hour oysters: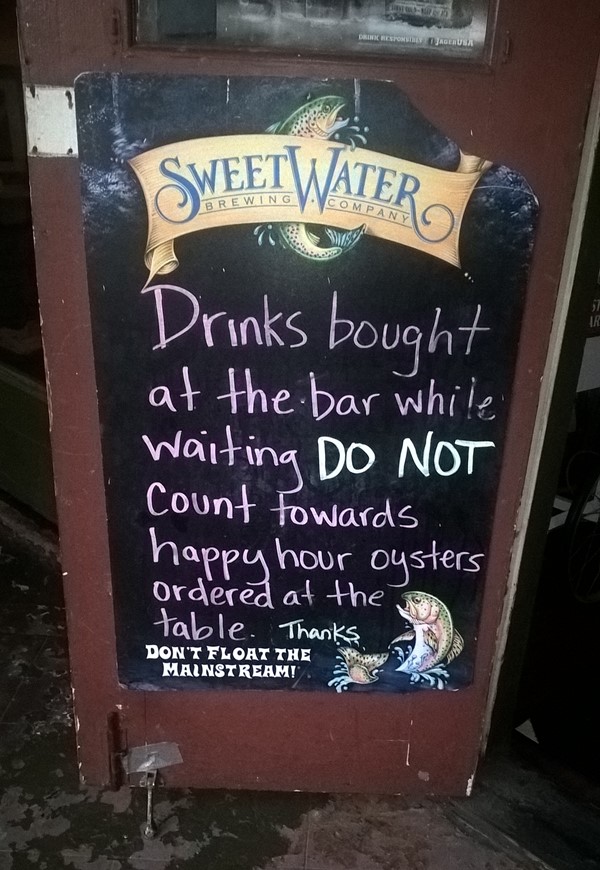 Sunday was a rainy inside day so we stuck close to home – we'd been making breakfast in the room with eggs, bacon, leftovers, and for lunch we went next door to Igor's Bar, Grill, Laundromat, Library & Pool Hall. It was so weird to be in there with no one smoking, though 50 years of nicotine was still on the walls. Dan got the burger, I got the sausage sandwich: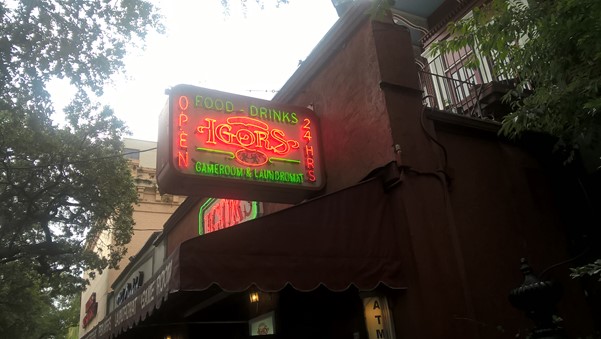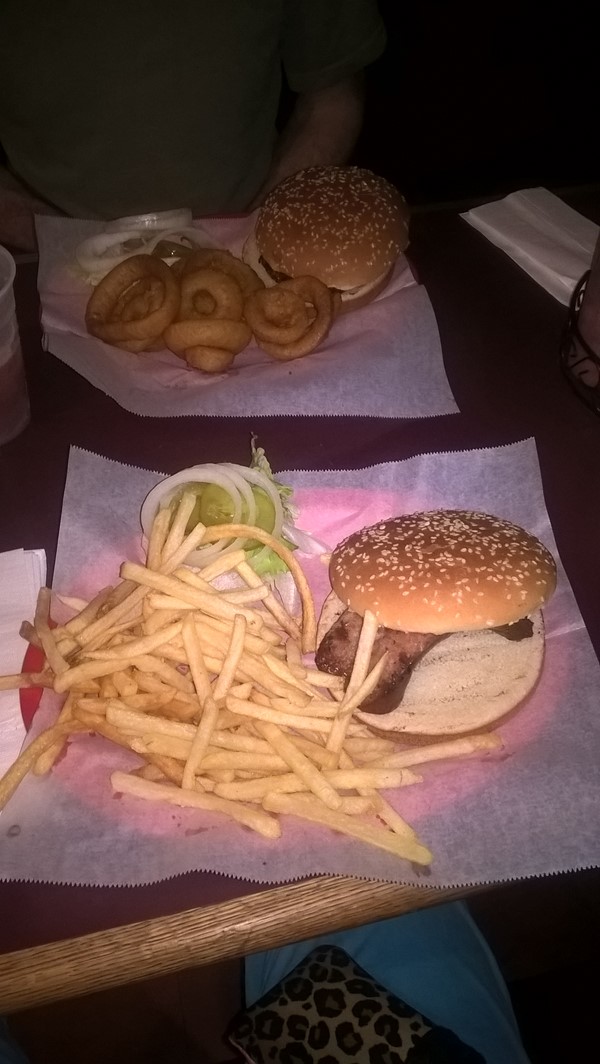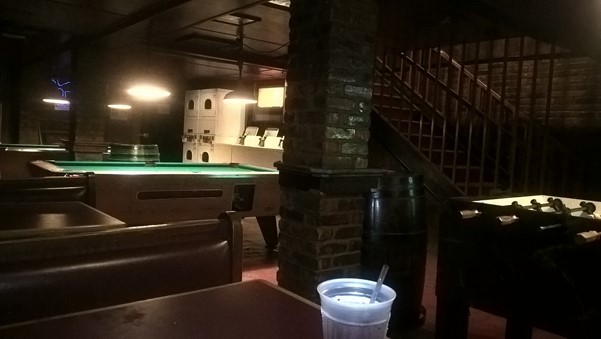 Dinner tonight was at Basin on Magazine – a little too far to walk, so it was Uber time again! More oysters on the half shell: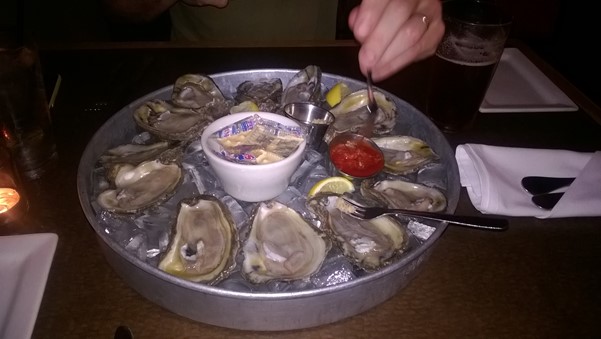 Followed by the corn and crab bisque and seafood gumbo: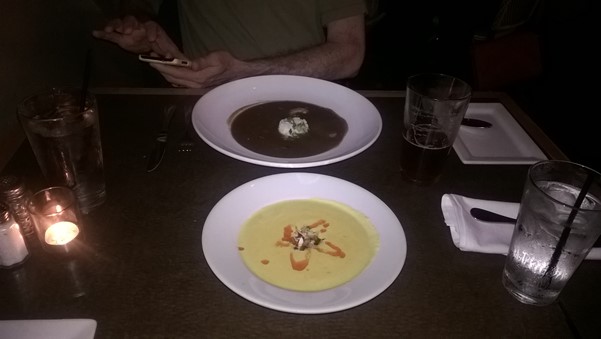 And the crispy pulled pork creation (half way through) that wasn't that crispy: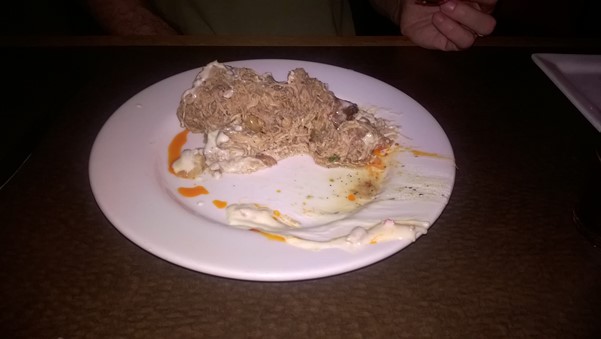 Birthday breakfast at The Trolley Stop Café – a whopping $3.50!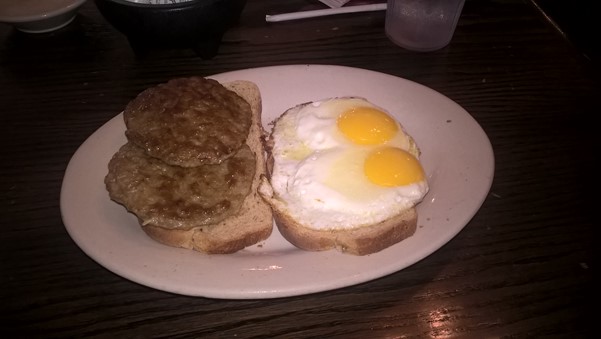 Packed up the bags, stored them at the desk, and hung around the hotel reading and sitting in the sun – killing time until lunch, and then killing time until the airport.
Lunch was at Pho Orchid, also on the same block as the WorldMark New Orleans. Bun (meat over noodles with broth) for Dan, Korean Beef "tacos" for me.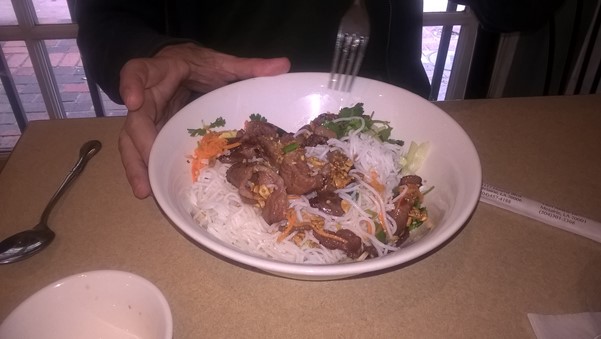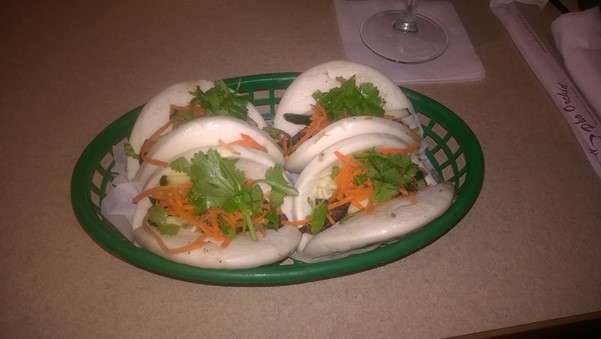 And then it was time to Uber off to the airport – makes like our 5th
Uber trip in NOLA. Alas, we are in different terminals (Dan going out Southwest, me going out Alaska), and even the airport lounge I have access i to is in yet a third terminal. We say goodbye at the curb.
[? ? ?]