My East Coast contingent has been begging for a visit so off I go (it doesn't take much convincing, just a decent fare and hopefully an upgrade or two).
Paid more than I'd like (close to $500), but I was able to use my last two MVP Gold Upgrades for a guaranteed First Class on the Monday night red-eye to Boston, coming back through Portland on the dinner flight.
Uber'd to the airport since who knows what state I'll be in on my return.
One of the things I really like about Alaska Airlines is their on-time rate (and best in the US for fuel efficiency):
…had a soup and salad dinner at The Board Room: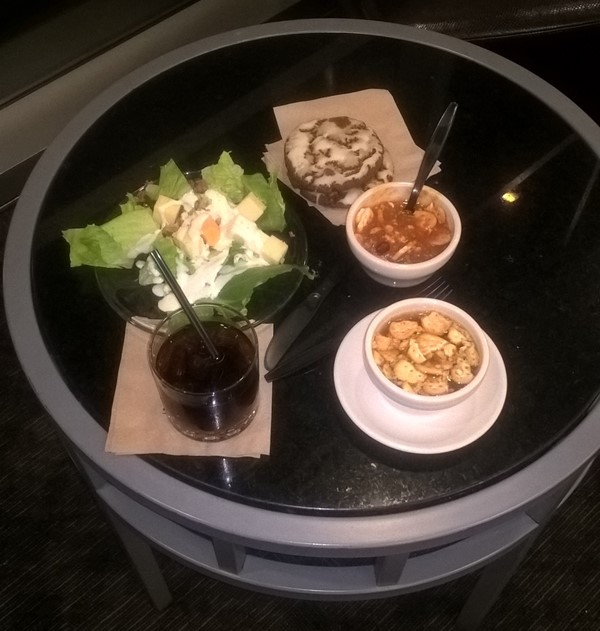 That would be (clockwise): green leaf salad with ranch and cheese cubes, molasses cookies (which I packed away for later – actually had a spare zip-lock bag courtesy of the TSA), chili, Yankee pot roast soup, whiskey/diet. On the red-eye, it's always a crap shoot of what you will get served on-board, definitely not a full meal.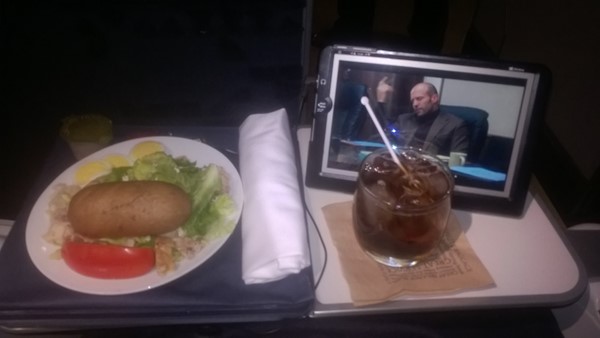 And no, that isn't a potato, that's a dark roll to go with the Caesar Salad.
For the first couple of hours the service up front was great, even with just one attendant working the section, but as three quarters of the cabin went to sleep – service quality died. Snack basket make a quick trip down the aisle missing me (had to go ask – and I'm in the first row aisle with the light on. Forget more drinks without asking even though there were several of us waiting TV. It seemed that the Fall Fashion issue of Elle was more important than customer service. And yes, I know flight attendant's main duty is to protect our safety.
That said, I did log on and leave comments after I returned home about the flights going and coming, and the STARK difference in service levels in the same cabin. I'm used to the crew at American, United, Delta on the red-eyes and long international flights being happier sitting there with their reading material, but not on Alaska (usually). The return crew were all 20 year plus at Alaska and were fantastic on the dinner run from Boston to Portland. In less than 24 hours after my comments were submitted (on a weekend!) I got this response back:
Good Morning Mr. Souder,
Thank you for completing our survey regarding your flight. As a valued passenger, I sincerely apologize that you didn't receive customer service that met or exceeded your expectations while seated in first class. Being unhelpful or unfriendly, even if it is on a "Red Eye", is certainly not our norm or something we condone at Alaska Airlines. We strive to provide exemplary service on each and every flight to all of our passengers and it sounds like we fell short.
By taking the time to contact us and giving us your feedback, you have not only given me the opportunity to hear your concerns, but also an opportunity to be proactive in preventing a similar situation from occurring again. I would like to offer you the following compensation of a $50.00 e-certificate which you should expect via email within the next 10 business days.
I am confident that on a future flight you will enjoy the high level of service that Alaska Airlines is known for and that you deserve.
Kind Regards,
Nicole XXXX
Alaska Airlines
And this is another reason I'm a huge Alaska Airlines fan.
Saint Jill picked me up at the airport in Boston on my very early arrival – hence the name, "Saint Jill".
After a long nap it was out for "loooobsterrrr"….Belle Isle Seafood here we come. Not cheap, but a ton of lobster (could have used just a tiny bit more mayo):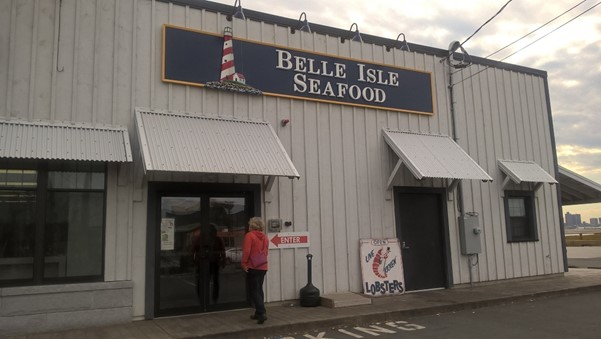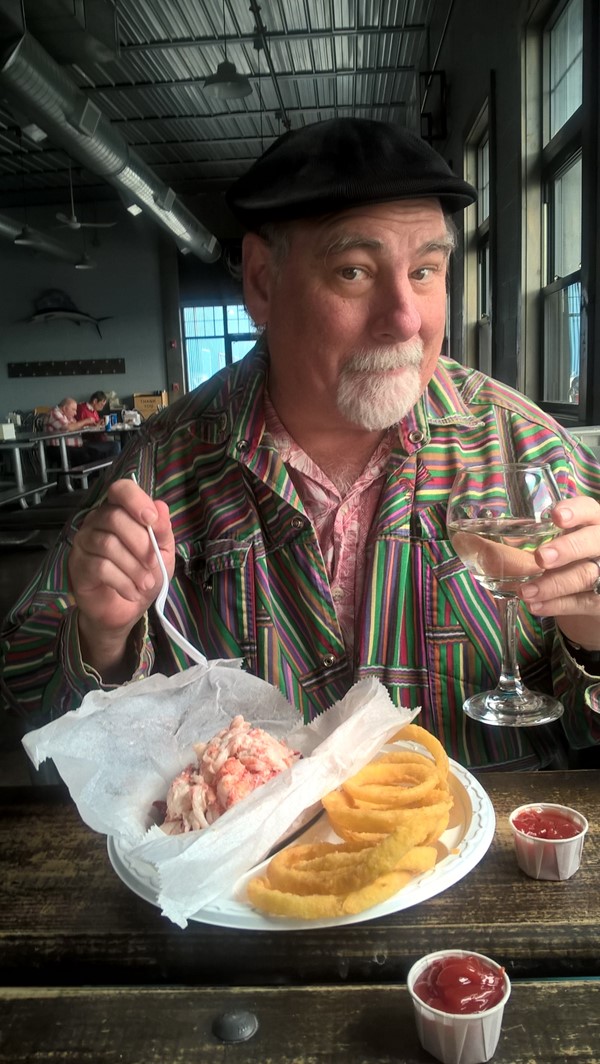 Did a little sightseeing in the afternoon…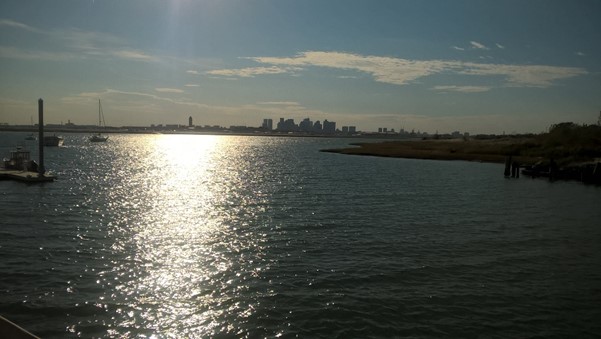 Before I started in on dinner called "what's near the end of its life in Saint Jill's fridge. The base of ground beef, sautéed onions, peppers, etc.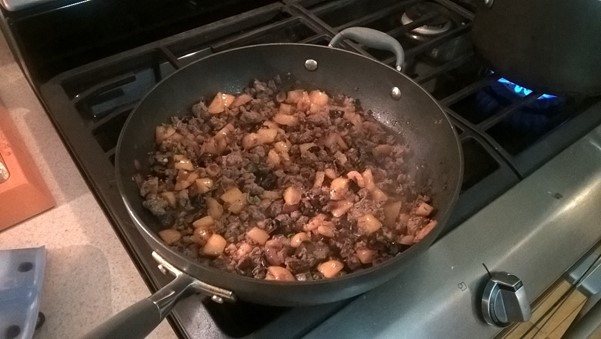 Then toss in spinach and cheese for a one skillet meal: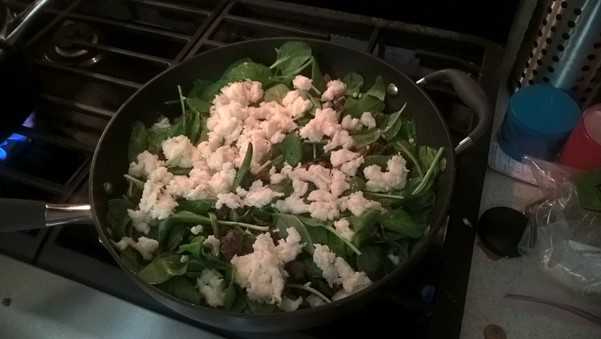 Served over spaghetti… not a bad meal, all and all: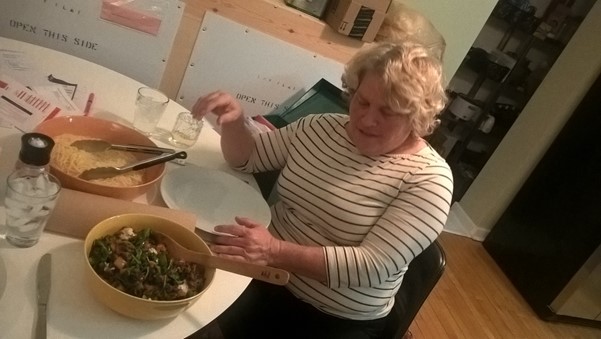 Hooked up with Pucci after he got off work – staying there because Saint Jill's place is small, I snore, and Murphy sheds. Aisling is out of town so it's a long night of drinking and catching up.
Breakfast/Lunch at Strip T's – I opted for the Turkey Rubin with Pucci opting for the buttermilk fried chicken: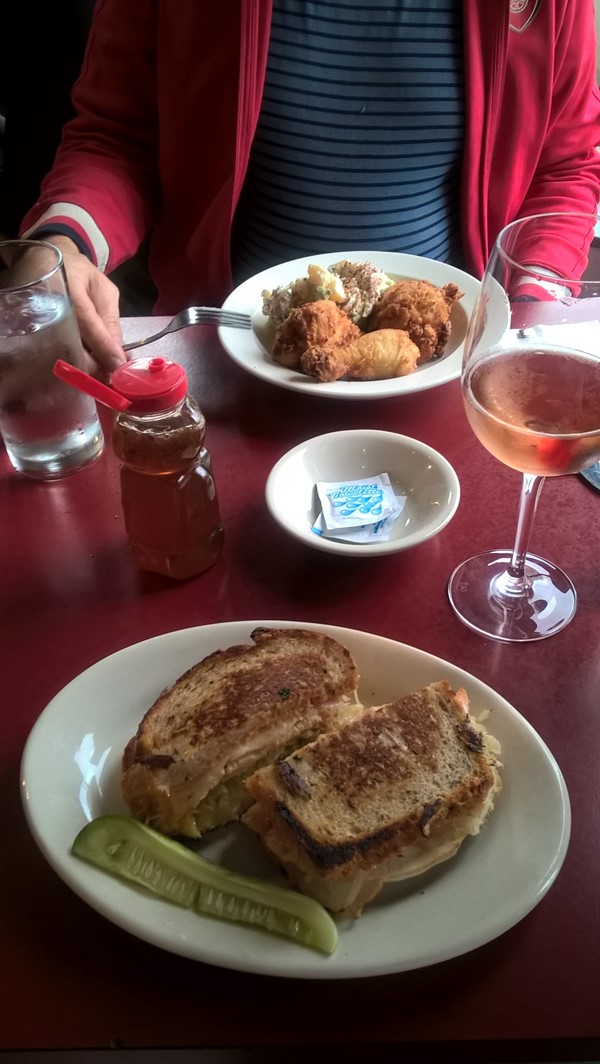 GREAT pickles – but a seriously non-OSHA bathroom in the basement, labeled with a sign saying, "Use Extreme Caution Using This Restroom" – certainly worthy of a picture: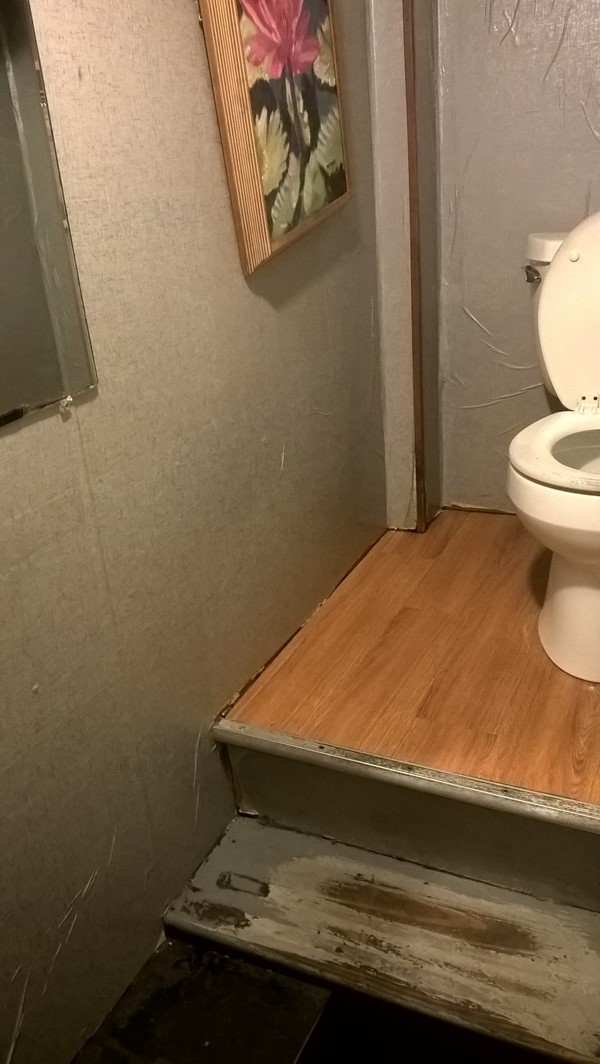 Yep – the toilet is up several steps.
Pucci needed to go back to work so he dropped me off in Harvard Square where Jill was to meet me for a little culture. Kind of fun hanging out on Harvard Square – under the watchful eyes of Dewey, Cheetham, & Howe right about the Curious George store:
Lovely fall day…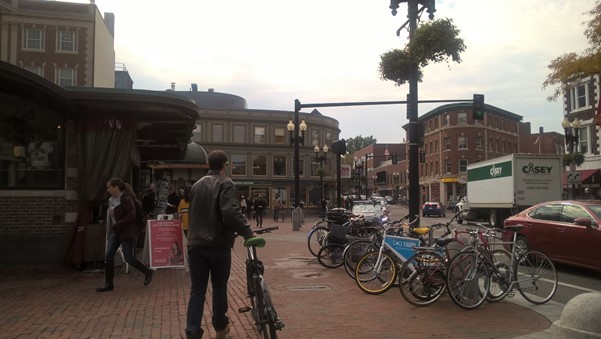 Turns out Netta was also floating around after a doctor's appointment (same thing as Jill was doing) so we all met up at Starbucks…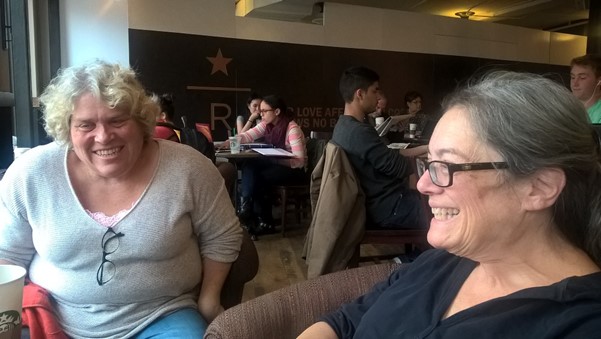 Great to hang out and catch up, but soon Jill and I were walking across the quad to the museum: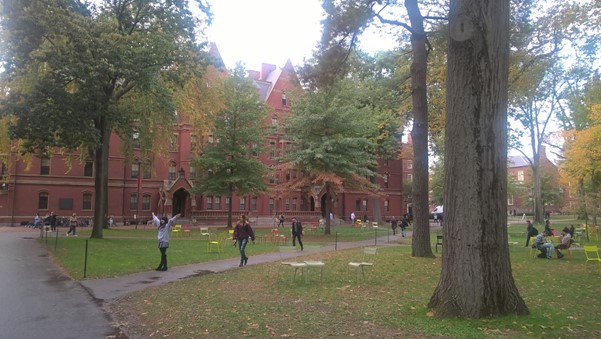 The Harvard Art Museum was having a showing of a pop artist that Jill likes. Name is Corita Kent…no photos of the exhibition (forbidden) but one of the inside:
All that culture made us want a little snack at The Russell House….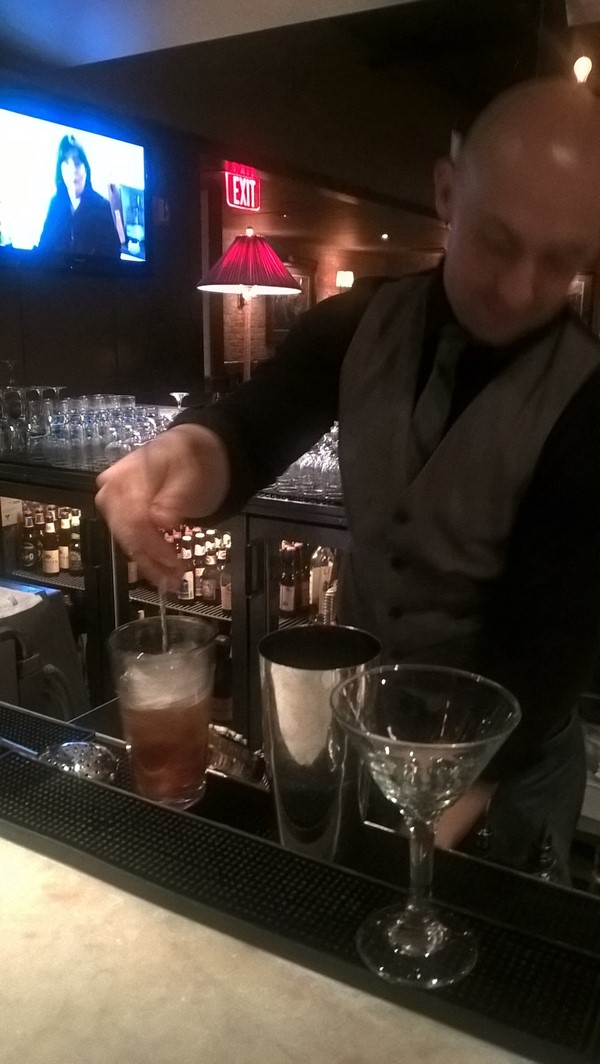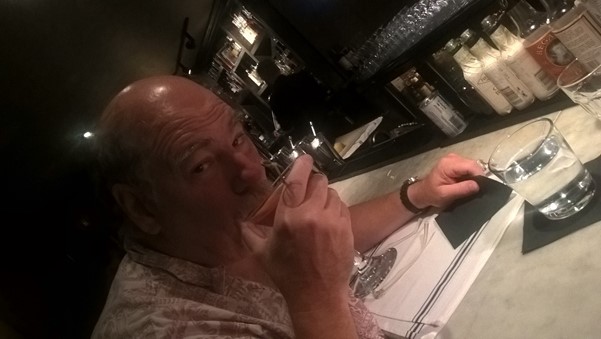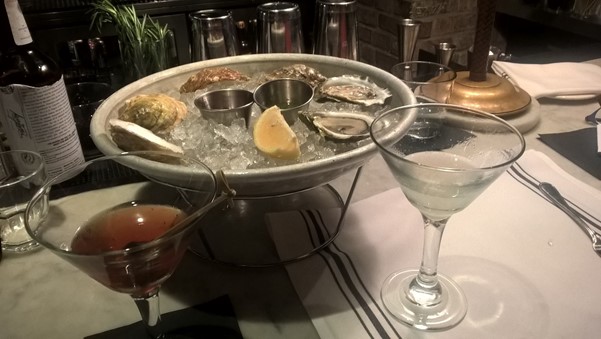 After culture and cuisine, it was time to walk over to Jill's Mom's place for cocktails and dinner…forgot to take a shot of her view of The Charles from her 3-bedroom condo, but I did get some food shots!
By the third bottle we finally found an old white that wasn't off…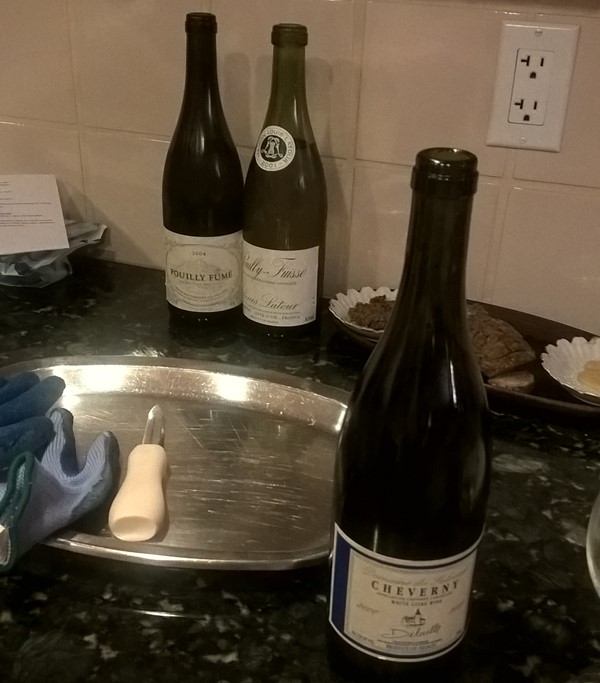 Amazingly it was the oldest (2000 Cheverny) that was OK, while the 2004 Pouilly Fume and the 2001 Latour Pouilly Fuse were both off but in different ways. The Cheverny went quite nicely with the Oysters (yes, more oysters) on the half shell:
Followed by some appetizers (grave lox, salamis):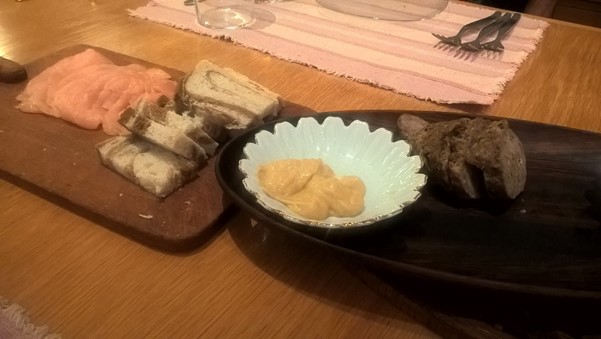 Followed by the salad course (greens, pears, beets, Blue Cheese dressing):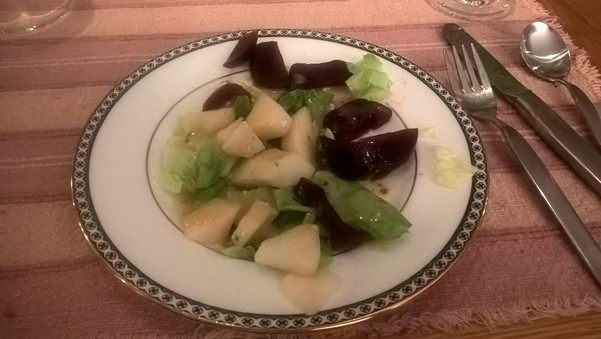 Then the main: (swordfish, roasted potatoes, asparagus):
Then dessert with a lovely 1985 Sauternes: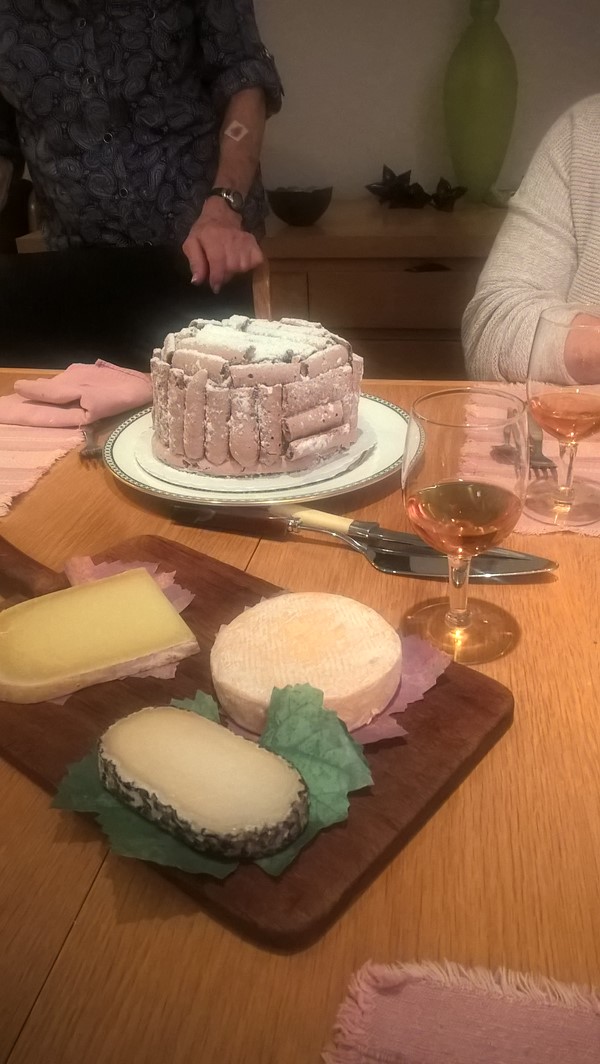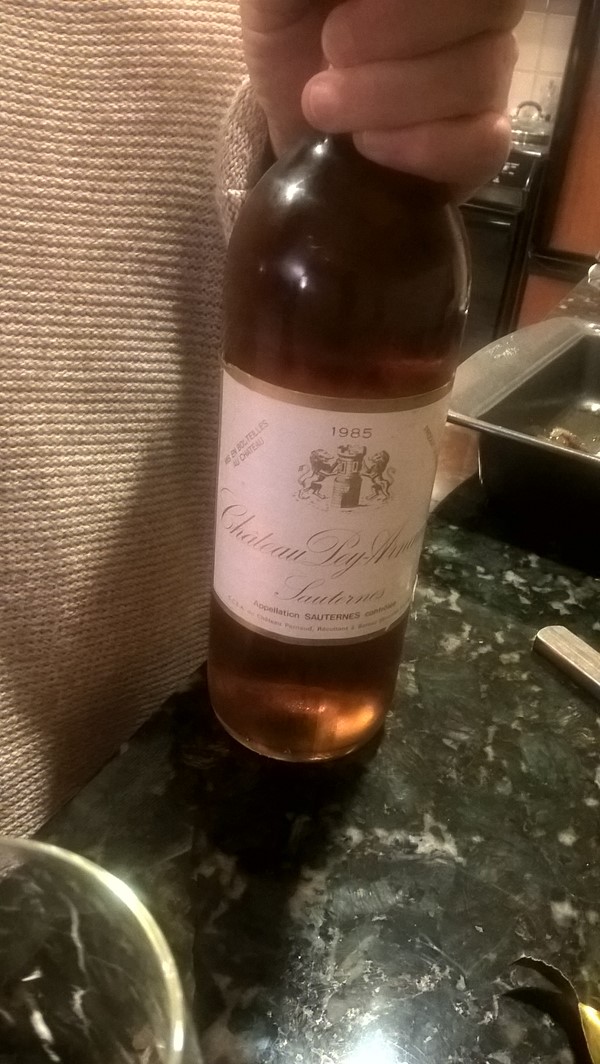 Why go out when Jill's mother cooks like this!
Back to Pucci's after dinner – and in the morning Jill swung by to take me lunch and then to the airport – lunch Greek at Demos. This would be the lamb shish kebab salad.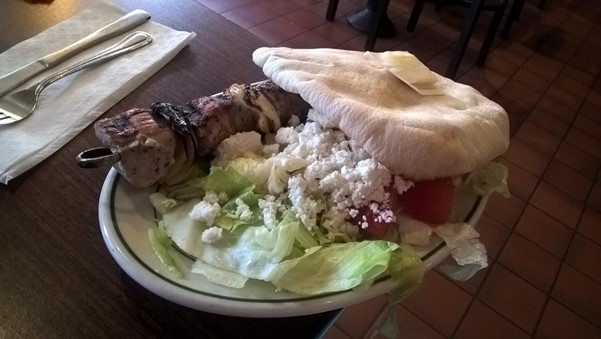 After doing a little more sightseeing – like the Mystic Brewing in Chelsie: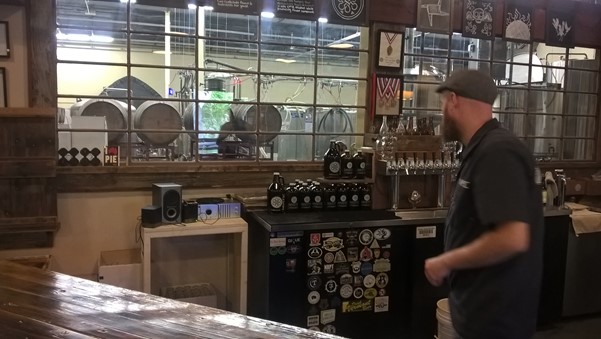 Yes, I drank be, 4 different 4 ounce samples. Then it was off to the airport.
Contrary to rumors, terminal C for Alaska isn't too great – they are off in a little wing with its own TSA checkpoint and little in the way of food/drink: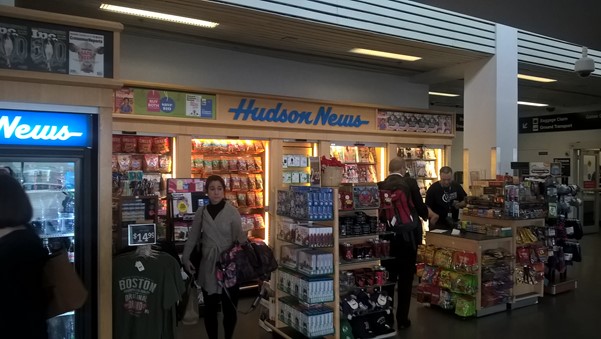 I had to walk to Terminal B to use the American Admirals Club – which is huge and the food good: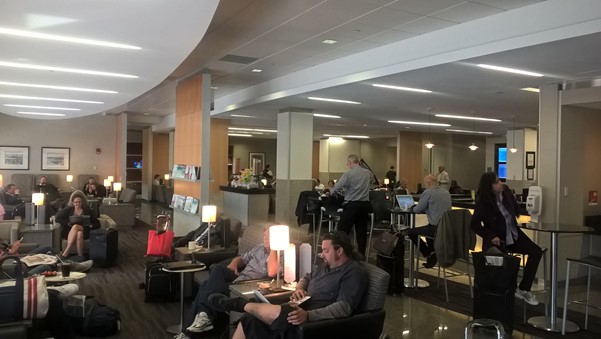 But, it's a 15 minute walk in each direction. Oh well, walking is good for me. And there was also good food on the dinner flight home starting with a nice salad: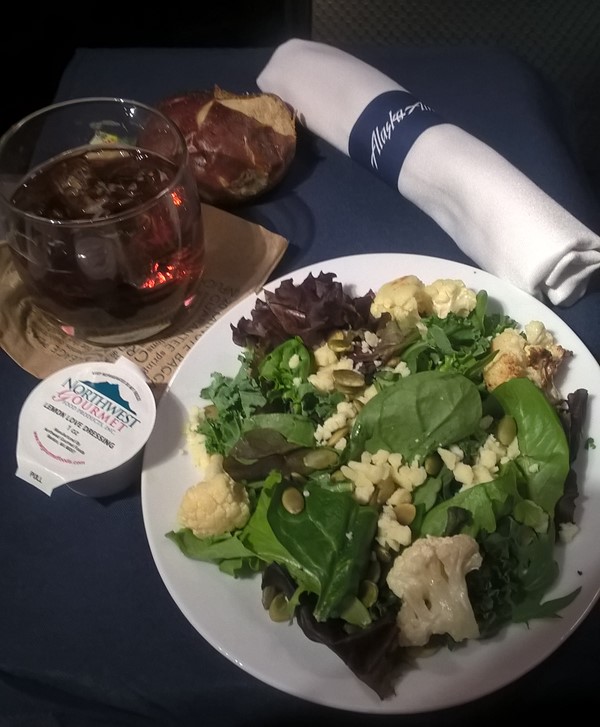 Then the main course: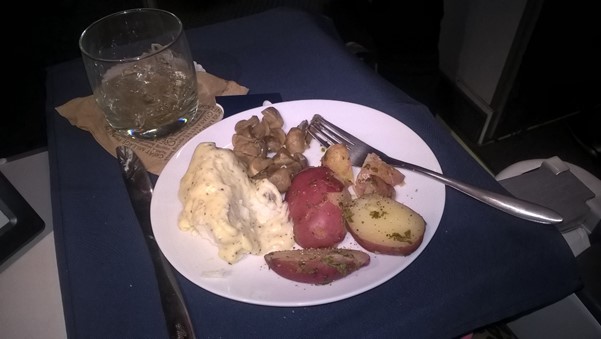 And ending with dessert: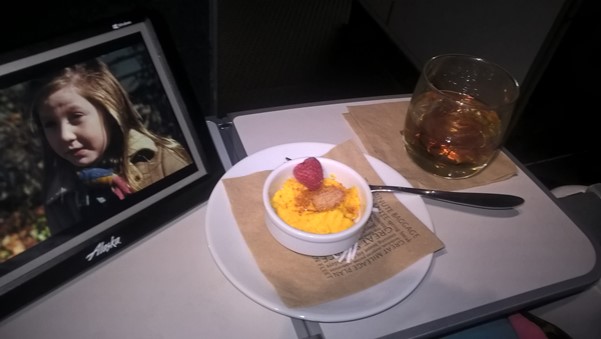 Not a direct flight home – I connected in Portland. Good thing I took a cab home!
{217.8]