It seems like it was only a couple of weeks since I was on the Ruby Princess – wait – it WAS just a couple of weeks ago!
New partner this time, and a different itinerary, but with all the same stops, just in the opposite direction.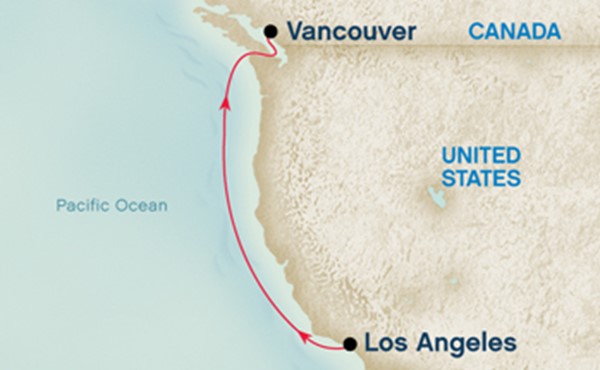 Now – just point the arrows in the other direction – I couldn't find a graphic for our trip, and it seems that next late summer they are making other stops coming down the coast.
Our trip started with an early morning Amtrak ride to Vancouver, BC where I spied this "private car" parked at King Street Station. It is the Silver Rapids, part of the California Zephyr fleet. They mostly rent out the cars to parties, tours, etc., though they do some of there on tours as well – check on this page – but sit down before you read the prices.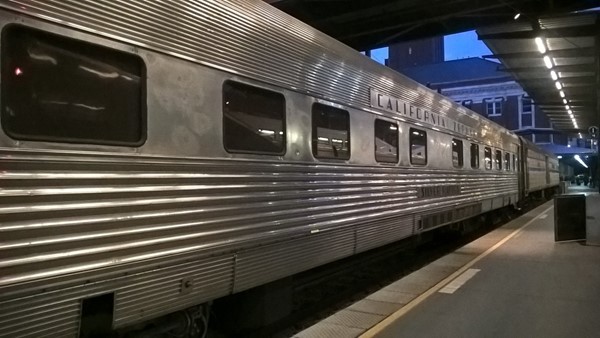 As for Rache and I, we didn't have such luxury, but they did assign us four seats in Business Class which was nice and roomy.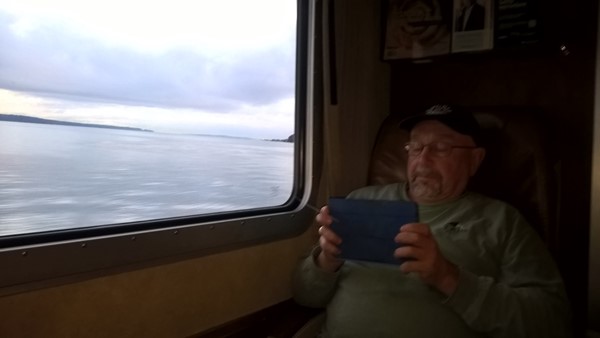 I do wish they would run a mid-day train. Getting into Vancouver at noon means waiting around the condo until our room is ready. Luckily it was at 2:30 rather 4pm which is the real check-in time. The extra time allowed me a nap in the rec room, Rache a walking tour of the city, lunch and grocery shopping for both of us.
Once we got into the 2-bedroom, 2-bath unit, the view was lovely – we even had one of the rare units that has a tiny balcony: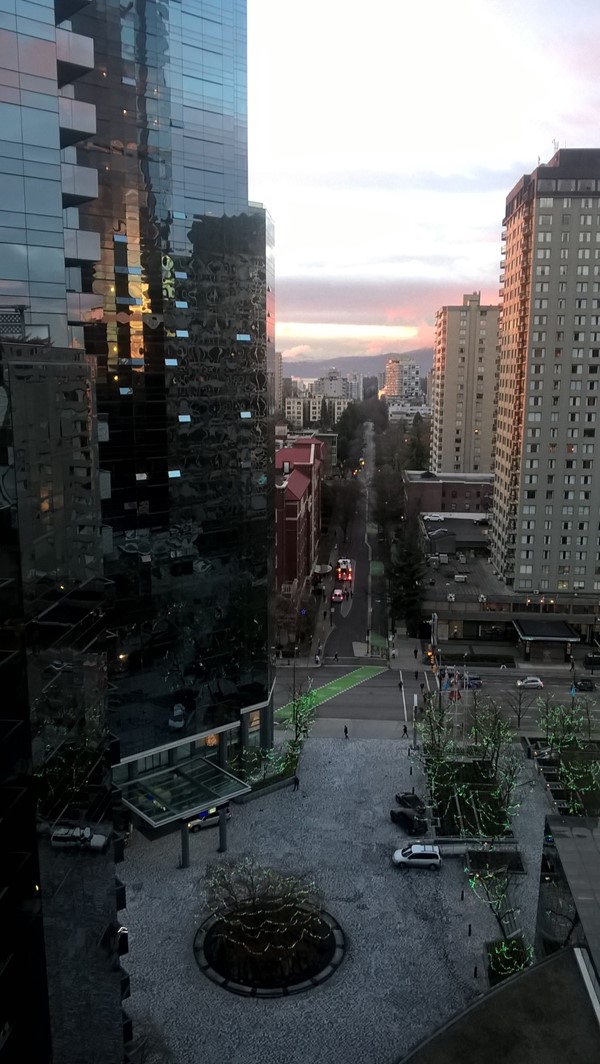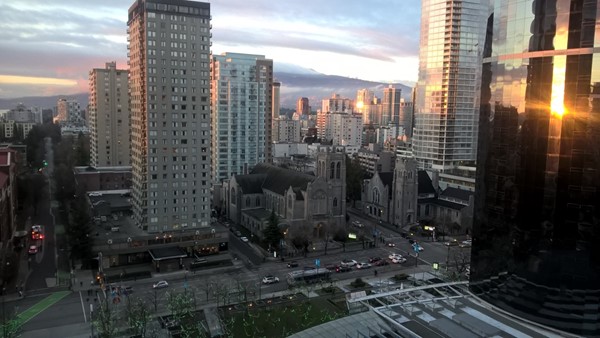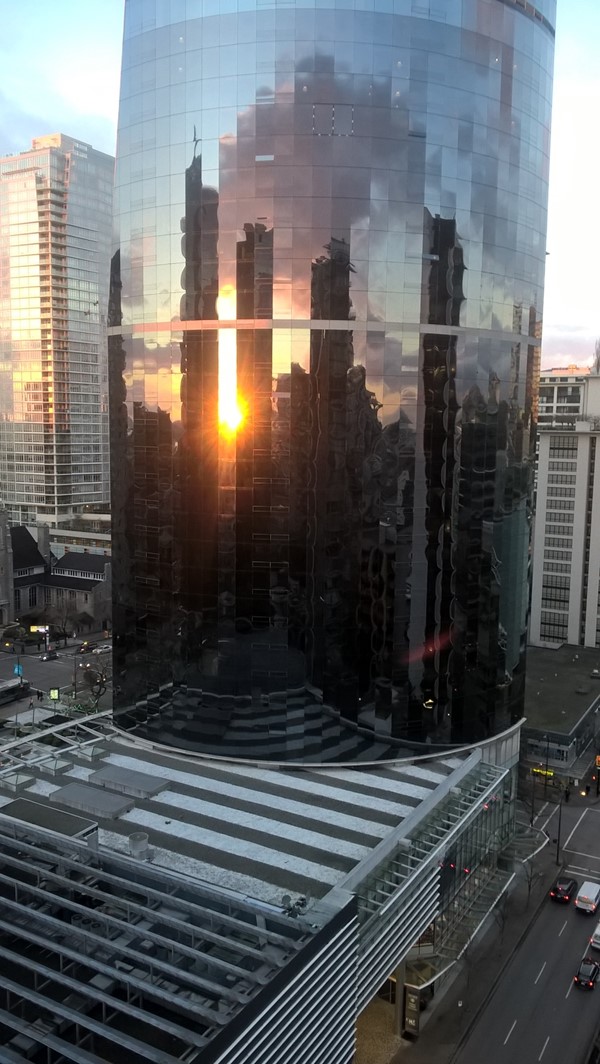 Dinner tonight is with Solus+, a longtime friend (and dinner companion.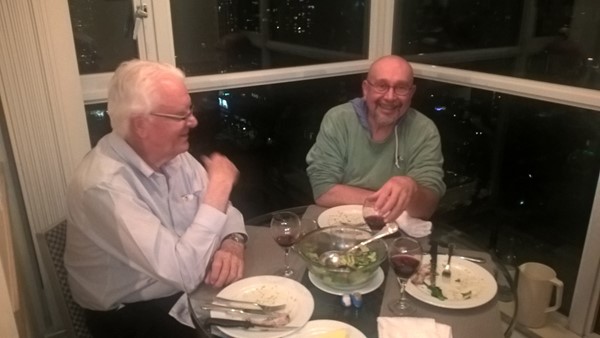 Solus+ is on the left, Rache is on the right. Great dinner of chicken thighs poached in Salsa Verde, a nice salad, loaf of bread, two bottles of wine (rosé to start, then red), and amazingly a bottle and a half of bourbon. Rach claims (rightly so) that it was Solus+ and I who did the most damage to the bourbon.
Out of the condo a little before noon, cab to Canada Place and a relatively smooth boarding process. I'm afraid I'm spoiling Rache with Business Class on the train (first through immigration/customs), Elite passenger check-in a boarding for the Ruby Princess, and the mini-suite that we got for $179 plus $45 port fees per person. I can't believe I didn't take any shots of the interior; you can find them here on the previous trip on the Ruby. Here is the layout from Princess:

Of course, you'd have to flip our, but that's basically it, except double the size of the deck since we were the last cabin on the side: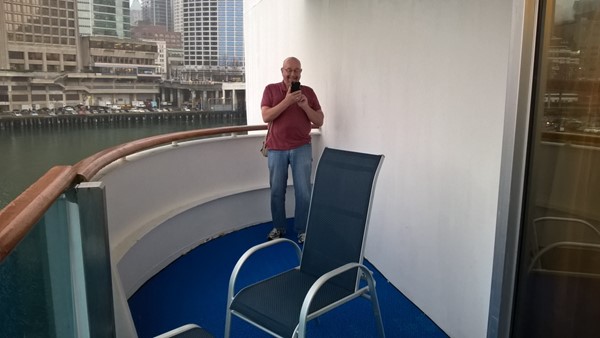 Since we were actually on before 1pm, we actually got to do a sit-down lunch! Tasty!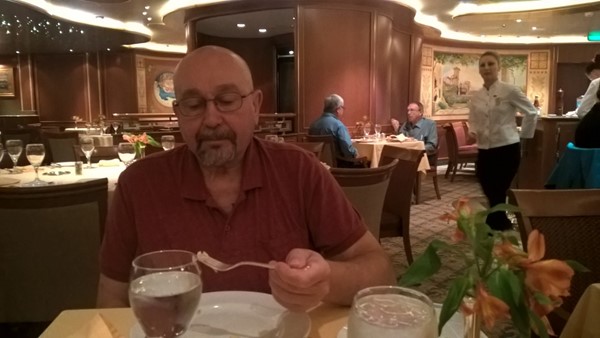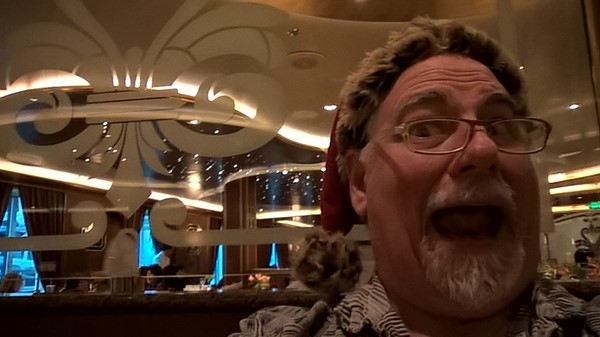 And, of course, we had to have dessert…both of which were EXCELLENT: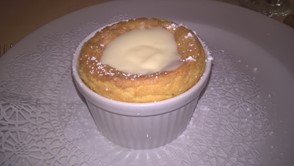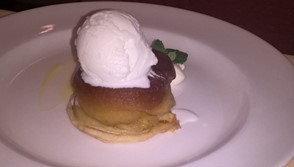 No shots of the mandatory life-boat drill. Rache got some so maybe I'll link to his trip report at some point.
The boat was all decked out for Christmas: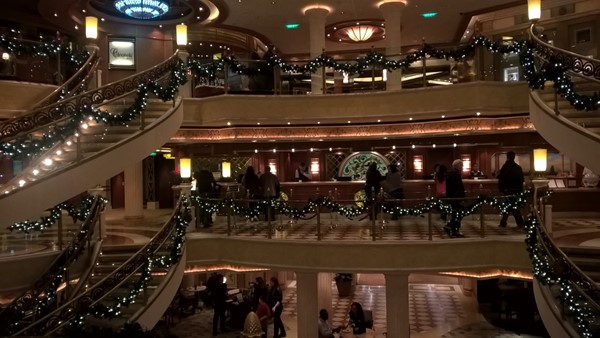 As was Vancouver, BC: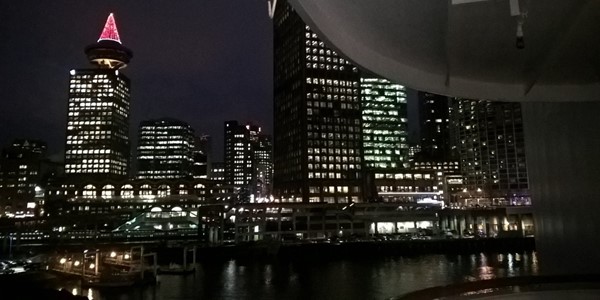 Before you knew it was we're departing, passing under the Lions Gate Bridge: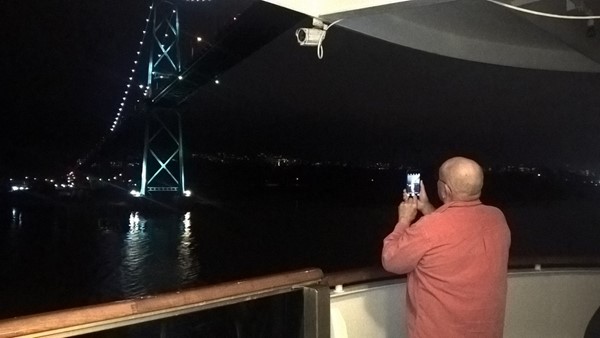 Then quickly off to the LGBT gathering set for 5:30 in the Adagio Lounge, deck 16 aft: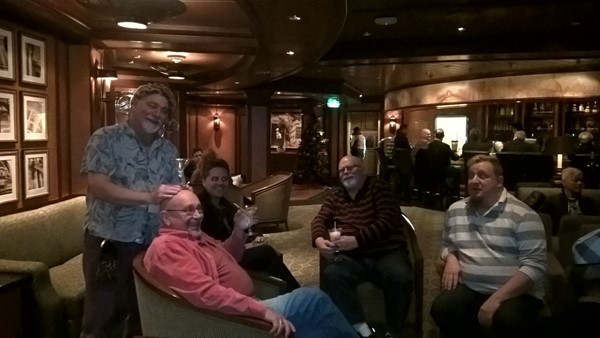 There were at least 25 of us who showed up – the group pictured I've been on other cruises with – probably upwards of 10 previous cruisers – seems there are a lot of us who like the little under a week cruises.
When 7pm approached, a couple of the ring leaders invited us next door to SHARE, a Curtis Stone (LA restaurant guide whose restaurant, Maude, is in Beverly Hills) venture. They'd gotten a tabel for eight. What the hell, opening night, new restaurant put in while the Ruby was in dry dock – I'll swallow the $39 (per person) upcharge.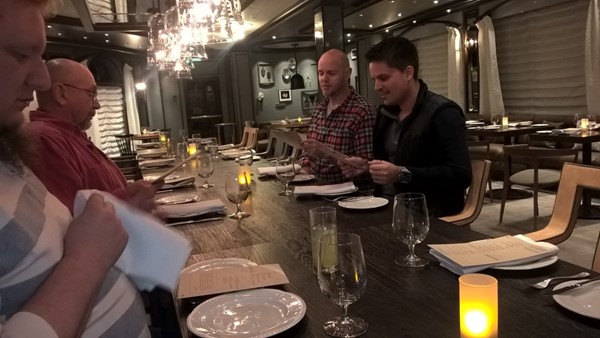 And, oh my god, the food. There were enough of us that we got to try EVERYTHING on the menu: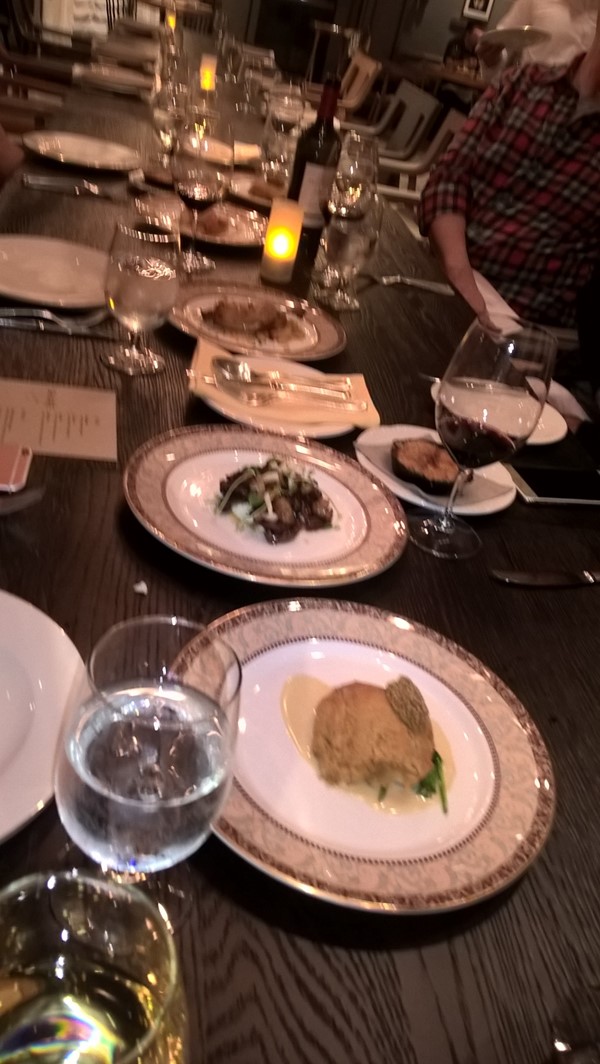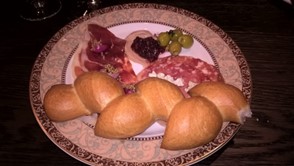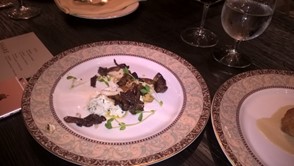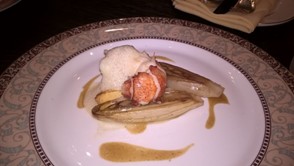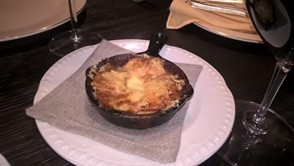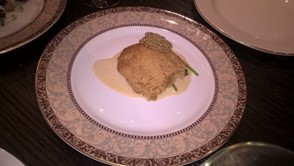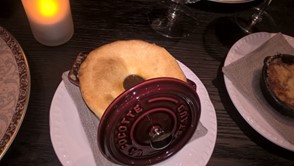 Said menu: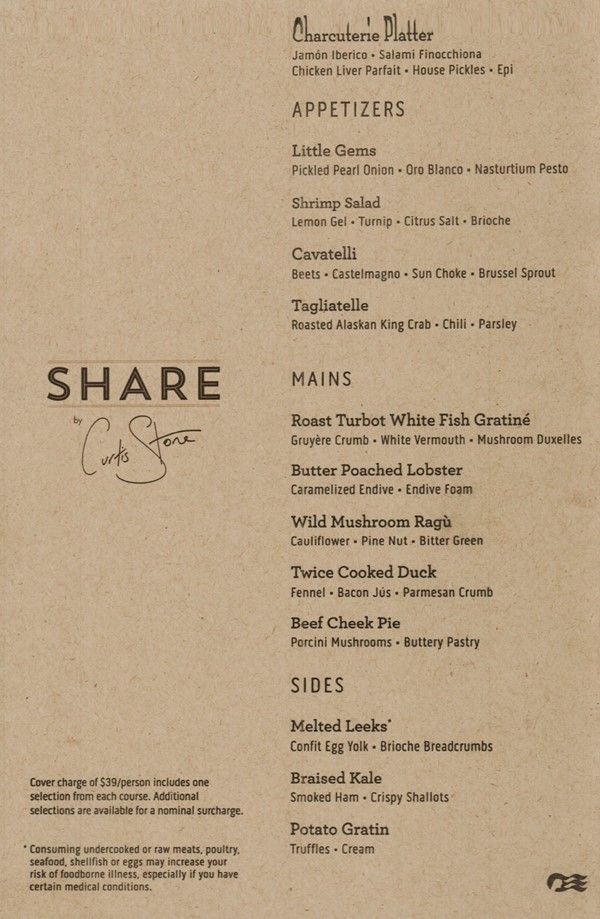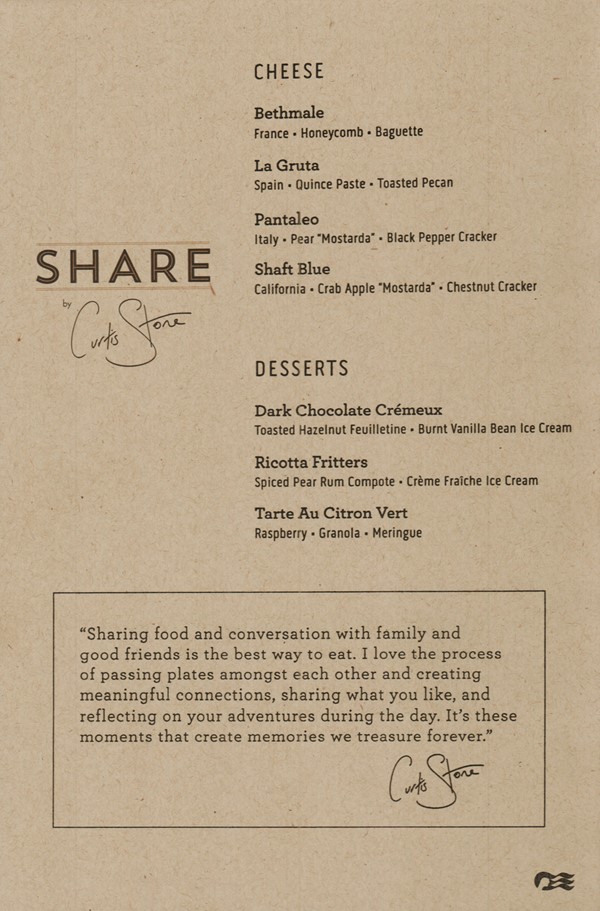 By the time all the dishes started coming out it became clear that there wasn't going to be a cover charge for us tonight – I celebrated by ordering a $48 bottle of wine.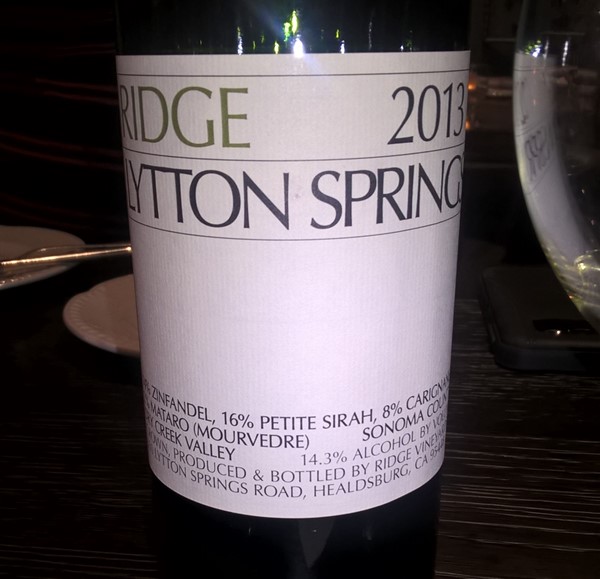 Truly a stunning meal – I wa even more stunned when I realized that the wine was going to be comped as well. Had I know that, I would have suggested the following pairings:
Shramsburg Brut Rosé (California) for the charcuterie platter
Boutari Moscofilero (Greece) for the starters
Patz & Hall (California) & Ridge Vineyard Lytton Springs Zinfandel for the mains
Punch reviewed the resaturant at 2am after dinner – by the morning, it had 2,000 views, by afternoon 5,000 views… read the thread here. First post is the about half the menu, scroll down for the rest of it.
But, then, of course we had to go see some of the entertainment…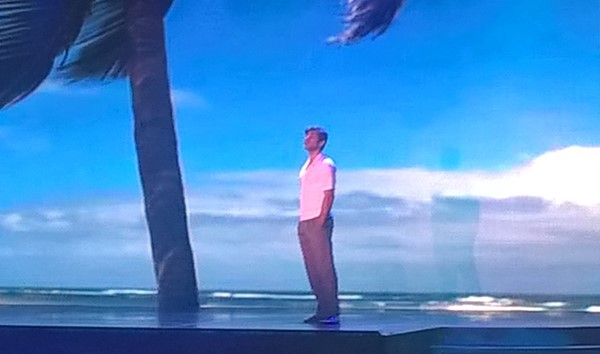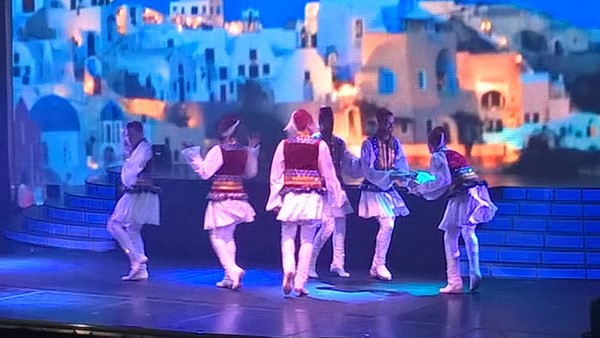 Something about "Colors Of The World" or some such thing…kept us amused until it was time to return to the cabin be explore how the pull down bed worked.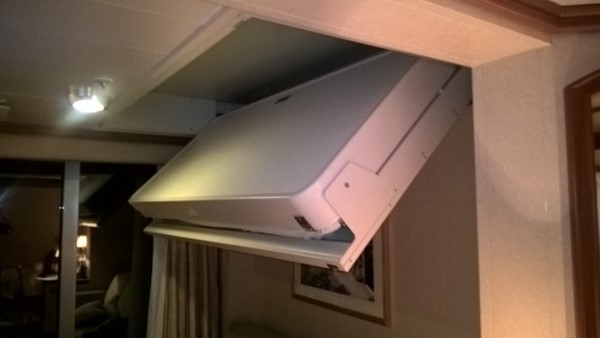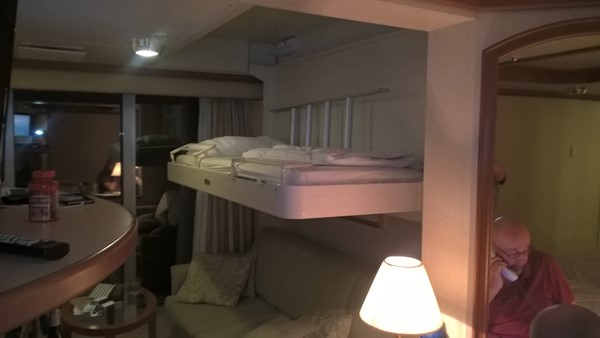 Of course, you have to have a "special key" to drop the bed down, but I happened to have one in my suitcase – it's called an "emergency tool":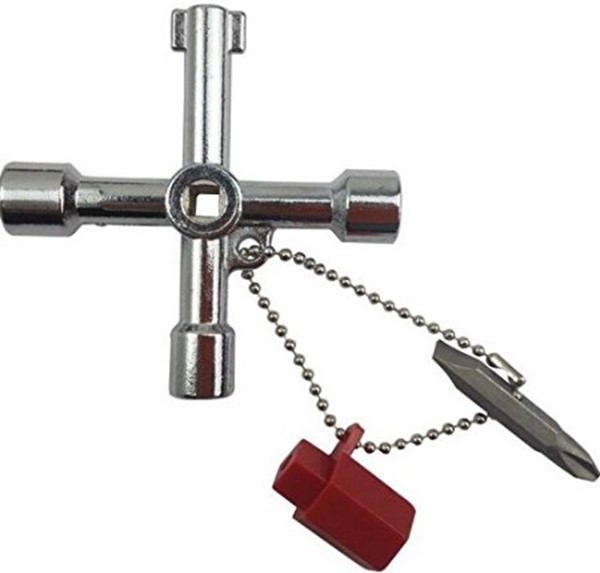 Good for beds, electrical cabinets, hose bibs, random screws…
There is a "downside" of a wonderful meal of shared plates – at 3am you are starving, and unfortunately room service is merely a phone call away – and oh, did we order: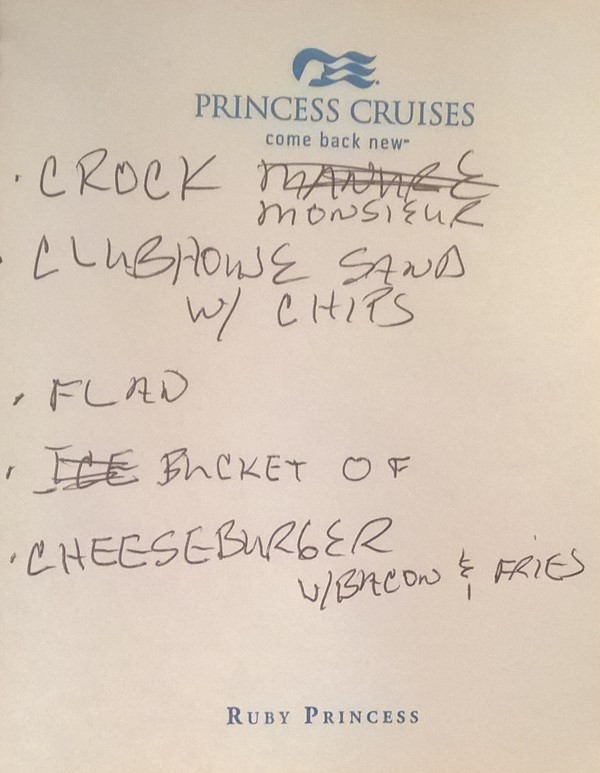 Because, of course, by 3am, all the ice had melted – that would be "Ice – Bucket Of" – if you look two pictures up, you can see Rach ordering the above (as seen in the mirror). I didn't need really need breakfast when IT showed up at 9am. I went back to bed.
Onboard, you can always see where you are (and there is always "The Love Boat" on one of the channels):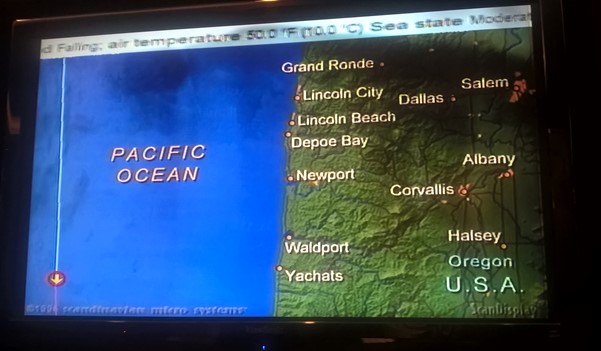 At that moment, I was basically off my brother and sister-in-law's places in Coos Bay/Corvallis – but this was my view:
The weather is starting to get a little better, at least no rain. I REALLY like this extra large balcony!
Another think about cruise ships is that they like to carve things, luckily not the guests. This was from the Elite Lounge on night two where it was salmon (most likely farm raised) on toast points with capers and Bermuda onions.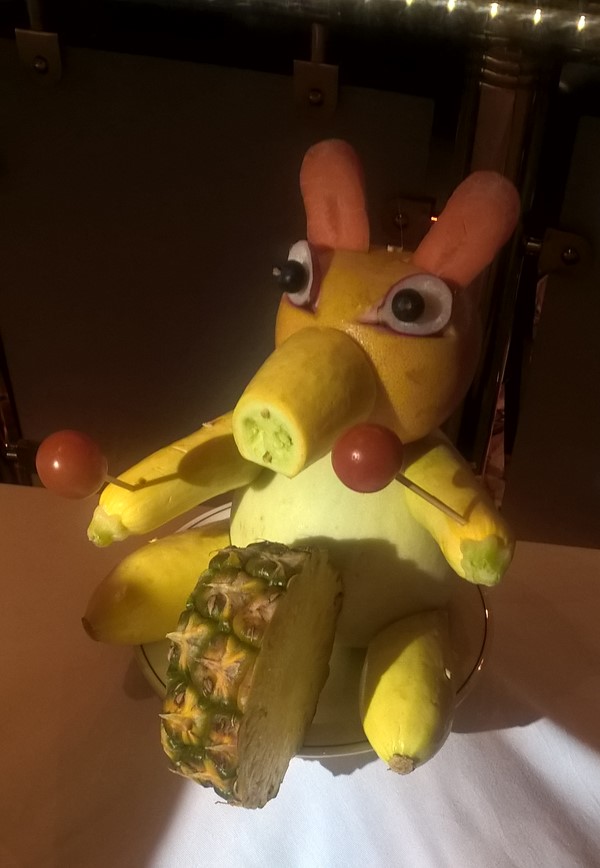 You should see what they do with a watermelon!
Another BIG gathering at the Adagio Lounge for the LGBT gathering – more cocktails, after we'd finished the cocktails brought from our suite…and then it was off to dinner – which the queue up for the dining room was MASSIVE so we opted for the buffet on the Lido Deck. My meal: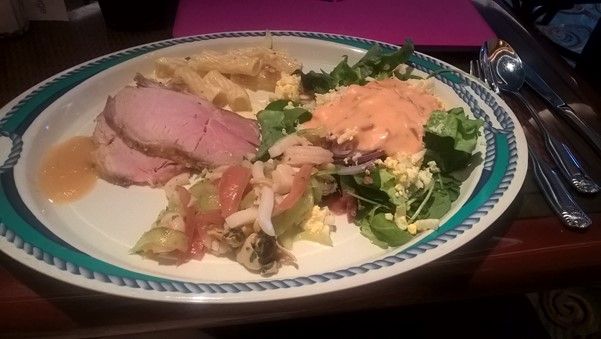 Not bad, but I prefer sit-down service – but hunger trumped waiting.
The entertainment for tonight was "The Uncle Markie Show" – featuring yours truly posing on a pedestal meant for a poinsettia: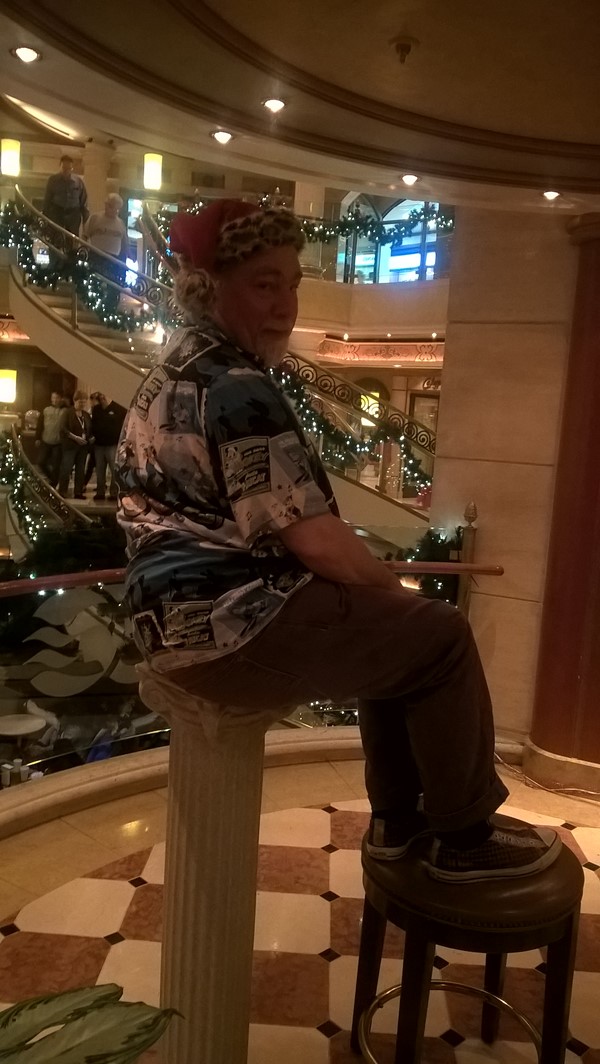 And then there was tragedy on the "dis-mount":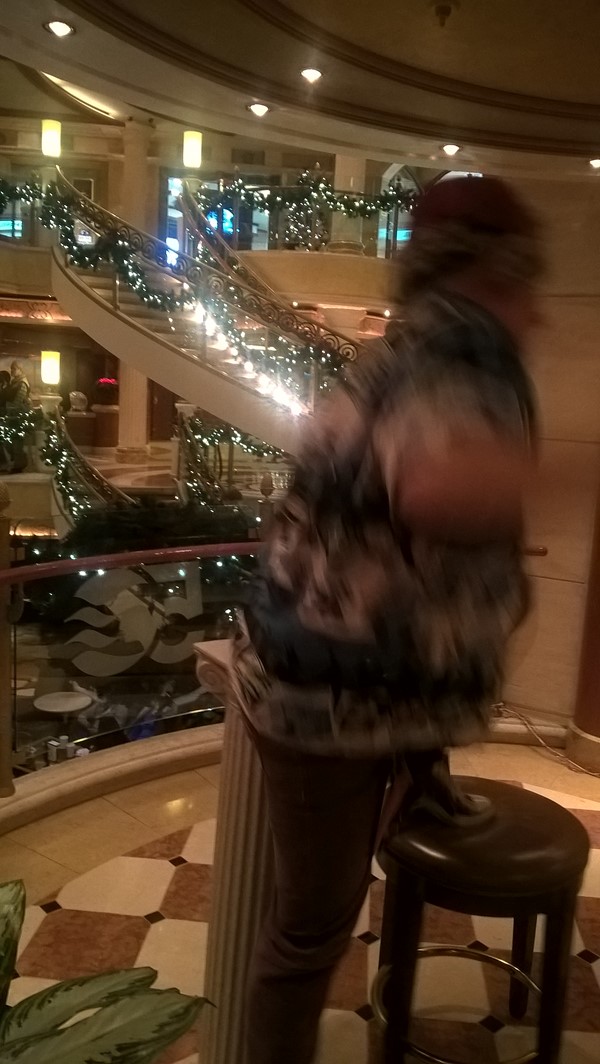 I hit the marble with a thud, and suddenly there were four Princess staff swarming in – luckily I'm padded (and was lubricated). Of course, I need a room service bacon cheeseburger to ease the pain. Please notice the absence of fries (bucket of ice not shown):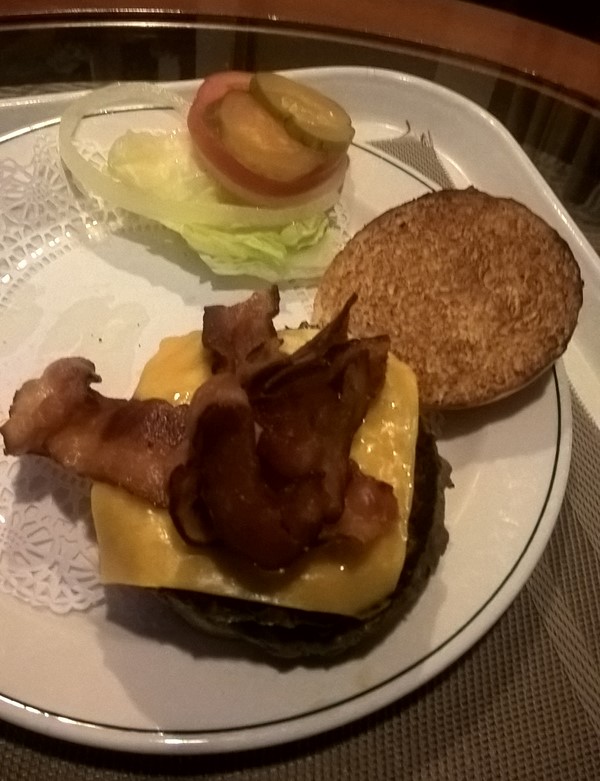 Our final day at sea was STUNNING – and made the balcony more worth it.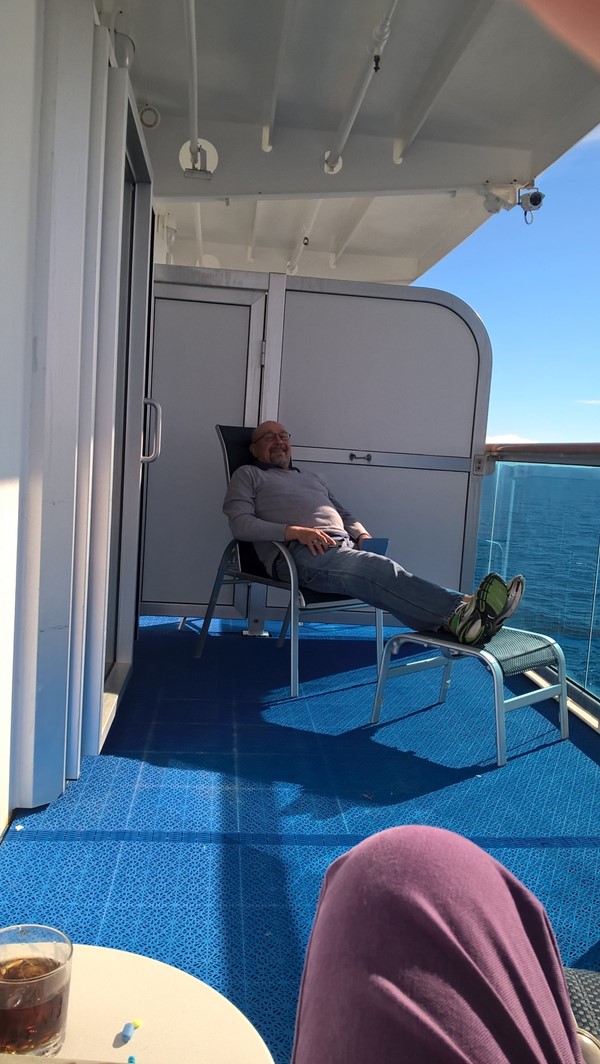 This give a nice idea of how big out balcony was, and these too give you an idea of how the weather was: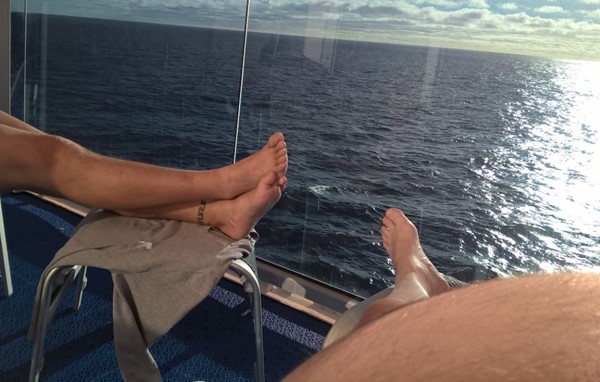 Another well attended (25+) gathering of the LGBT crowd – not bad considering that this isn't a "gay" cruise: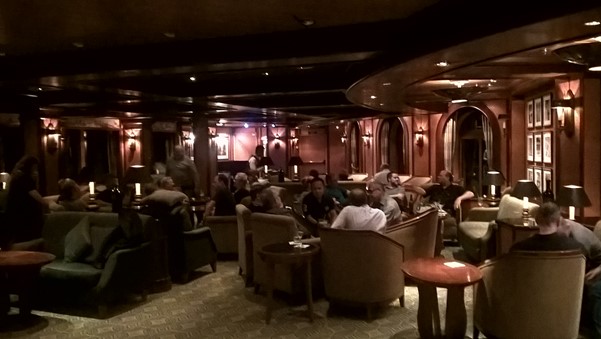 No shots of dinner, just a couple of shots of dessert: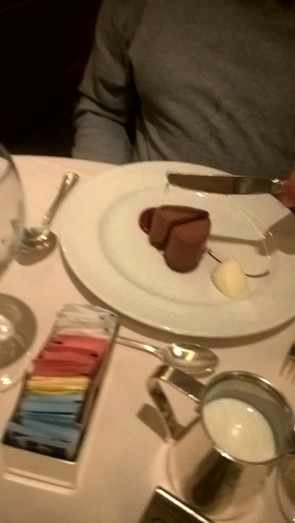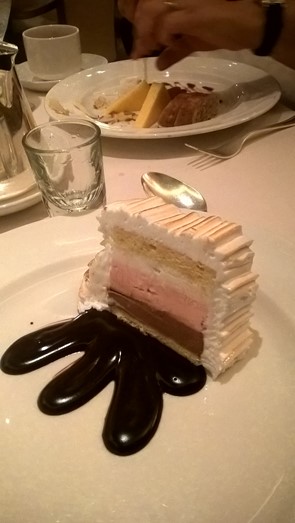 We shot for another show after dinner and I made it through ½ of one song – it was like a bad junior-high-school musical. I abandoned Rache to go grab another cocktail from the room, but walked past the remodeled Wheelhouse which now has another "upcharge" restaurant called "Salty Dog Gastro Pub" and found "the boys" trying out the other new venue: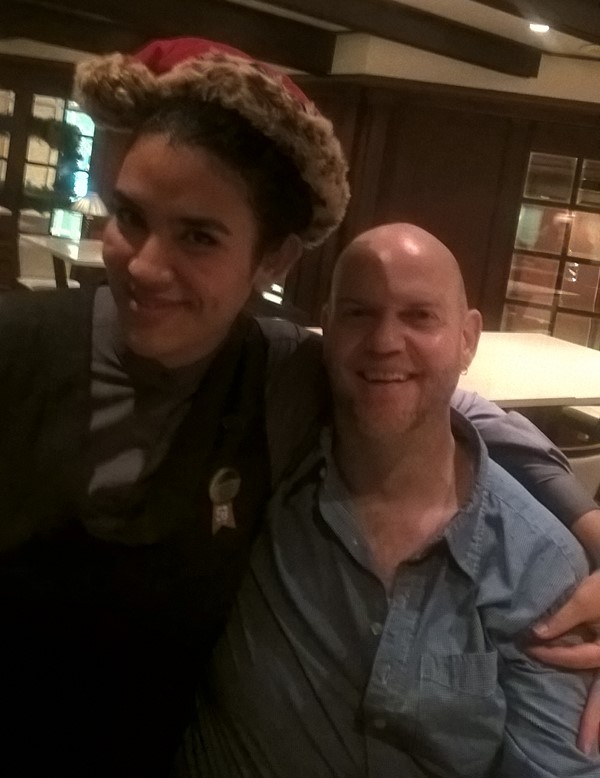 Technically, that's one of the waitresses in my puss print Santa hat.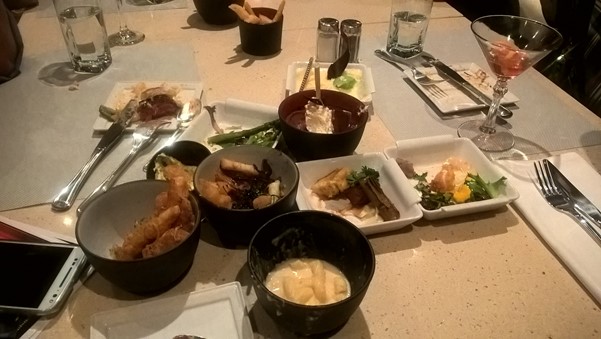 And the menu – mind you, I was just eating the lukewarm leftovers which still weren't bad!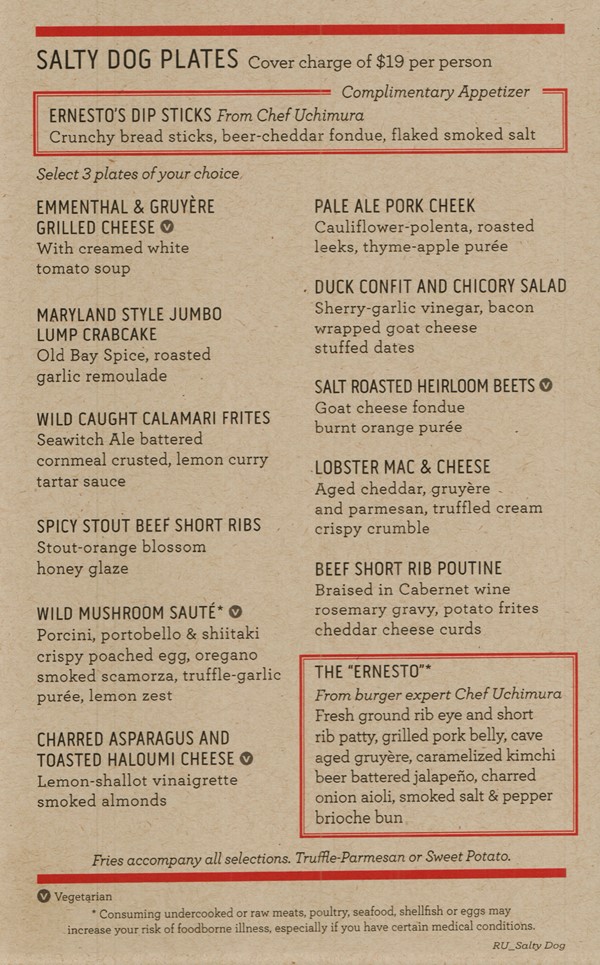 Sigh, out last night aboard, and our final shot of the post. Moon off the balcony…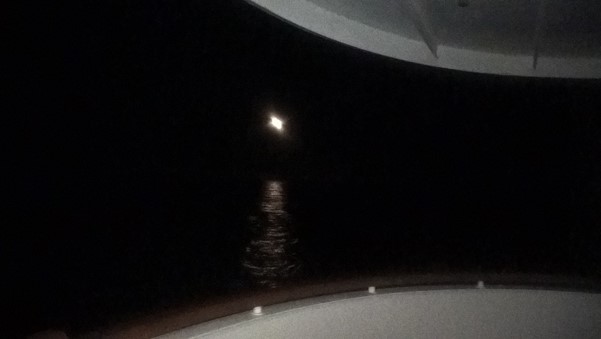 We had to vacate the cabin before 8am – but we had squirrelled away muesli, bananas and yogurt so we didn't have to brave the morning buffet line or have a lackluster final sit-down meal.
Reporting to the Elite Disembarkation Lounge (thankfully in Club Fusion, one deck below so we didn't have to brave the elevators) we had a little coffee, juice, pastries, though not enough for the MASSIVE delay in getting off the board. The phrase "clusterfuck" comes to mind. When we got to the lounge boarding groups were running 20 minutes early – always a good sign. And then there was the announcement. "There will be a delay in disembarkation, we will have details soon."
We were an hour late disembarking, then another hour in line for customs. It seems that MANY of the passengers decided to ignore their designated times and swamped the customs/immigration lines. This seems to be a problem with cruises between Los Angeles and Vancouver. I hear even worse stories of cruises terminating or ending on Hong Kong. Must be a cultural thing. Serious points off to Princess for not checking people's disembarkation numbers
Add another hour waiting for people to get to the airport transfer, and I'm starting to stress out. Our flight is at 1:25pm and I'd planned on getting a couple of hours of work in at the airport in the Board Room. By the time we got checked in and through security (EVEN with TSApre for both of us) I barely had time to slurp down two cups of soup, a salad, and a couple of drinks.
We were number one on the upgrade list, but First was stacked full, at least I had the seat next to me open, and we both got a free cocktail (me for my MVP Gold Status, Rach's from the middle seat MVP who didn't want hers).
A wonderful trip marred at the end, but still a fun way to spend five days.
[215.6]