Sort of a quick year in review…lost Mom in July along with a number of others of my contemporaries that lost their moms this year – final count was six. Add another friend who decided to check out early – makes me reflect on life a little more than usual.
But those were the low spots – everybody has some every year. Focus on the positive, try and get the most out of life before your knees (or whatever) give out.
No surprise that I've been travelling a bit this year:
January

Sacramento, CA
Kansas City, MO
Victoria, BC Canada
San Antonio, TX

February

San Francisco, CA
Victoria, BC Canada

March

Santa Fe, NM
Dubai, United Arab Emirates
Tokyo, Japan
Komaki, Japan
Ocean Park, WA
Forks, WA

April

Blaine, WA
Vancouver, BC Canada
Honolulu, HI

May

Honolulu, HI
Honolulu, HI
(mileage run)
Olympia, WA
Portland, OR
Olympia, WA
St. Maarten
Santa Fe, NM

June

Whistler, BC Canada
San Francisco, CA
Whistler, BC Canada

July

August

Breitenbush Hot Springs, OR
Bend, OR

September

Walla Wall, WA
San Francisco, CA
Vancouver, BC Canada to Los Angeles, CA Cruise
Denver, CO
Chicago, IL
New Orleans, LA

October

Denver, CO
Portland, OR
Berkeley, CA
Boston, MA
Sunshine Coast, BC

November

Palm Springs, CA
Kansas City, MO
Los Angeles, CA to Vancouver, BC Canada Cruise
Vancouver, BC

December

Santa Fe, NM
Vancouver, BC
Vancouver, BC Canada to Los Angeles, CA Cruise
 
OK – that looks scary when I put it into a chart, but the stats from all those trips in 2015…
Alaska Airline flight mileage count: 54,229
Alaska Frequent Flyer freebie flight miles: 24,682
United flight mileage count: 1,000
United Frequent Flyer freebie flight miles: 1,500
Points-(35,000) related free overnight long distance train trips: 2
Car miles: couple of thousand
Coastal cruises: 3
Wow, that's 75,000 butt-in-seat miles this year. Not a record (110,000 I think is the record, but that didn't cover redeemed miles).
Already planned for the New Year are:
Sacramento (January)
Vietnam via Dubai (January)
Victoria, BC (February)
Santa Fe & Albuquerque to Seattle train (February)
New Orleans (February)
Greece (June)
Cabo San Lucas (September)
And I have to figure out how to book almost 50,000 Amtrak Guest Rewards points before they are devalued on January 14th, so think two more long distance multi-night trips in 2016.
Hard to believe that I can do all this travel AND still work my hours at the shop (Madrona Wine Merchants). Just finished inventory today (we've got it down to two hours), figured out the year-end numbers – now it's just the impending hell of getting the tax information to the accountant. Overall, it was a good year, and I love being able to by my personal wine at wholesale prices – means I tend to be drinking a little better quality, so not really much money savings. Then there is the fact that when people come to dinner at my place, they are now afraid to bring wine.
I've been blessed this year with spending quality time with friends and families over many a good meal, especially over this holiday season when I've been baking/cooking up a storm.
Some random food shots from the last couple of weeks: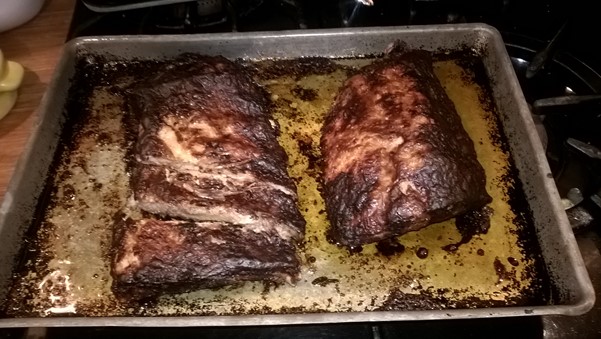 Baked pork spare ribs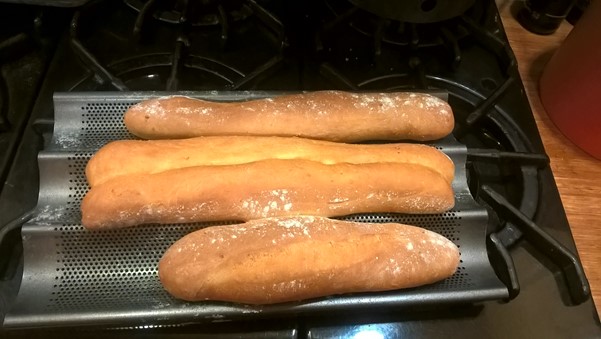 Baguettes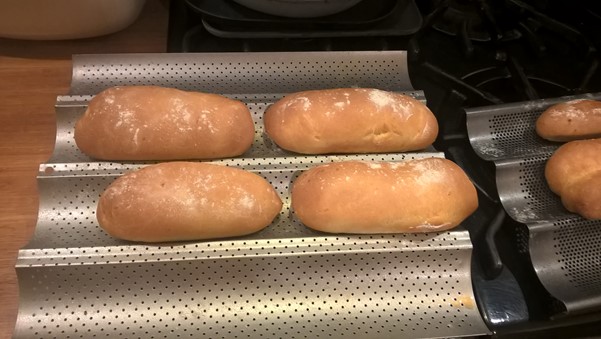 Adult corn dogs – chicken sausages baked inside bread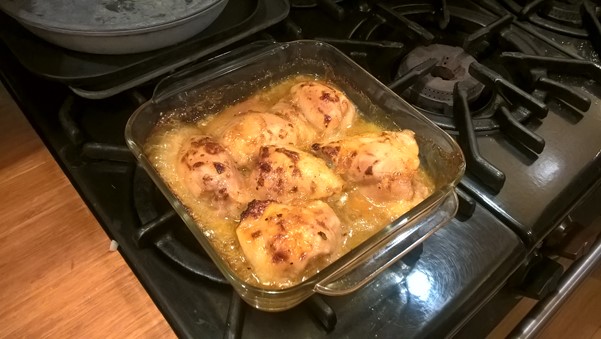 Chicken thighs poached in chili plum glaze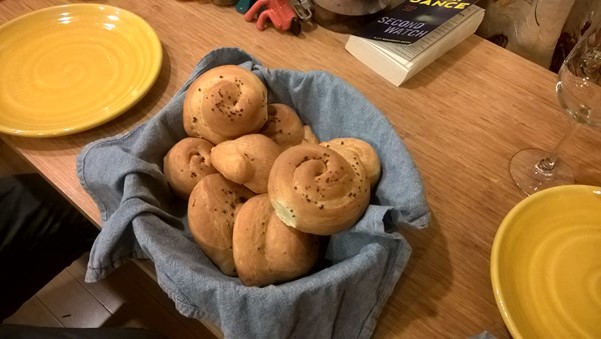 Dog-turd looking dinner rolls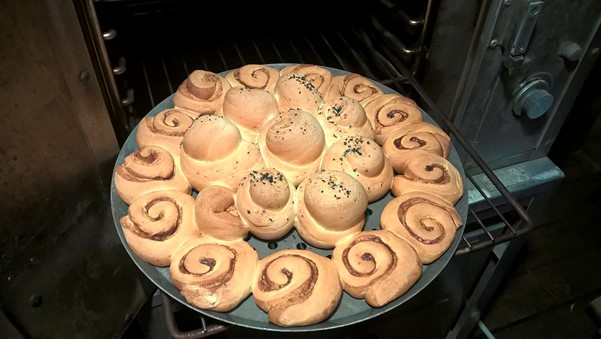 Dinner rolls on the inside, cinnamon buns (channeling the Savoy Grill in Kansas City) on the outside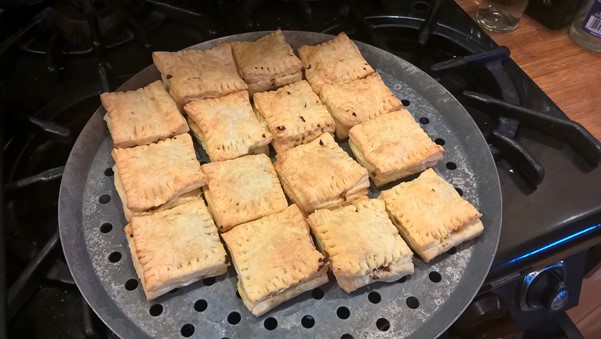 Puff pastry stuffed with shrimp, mushroom and onion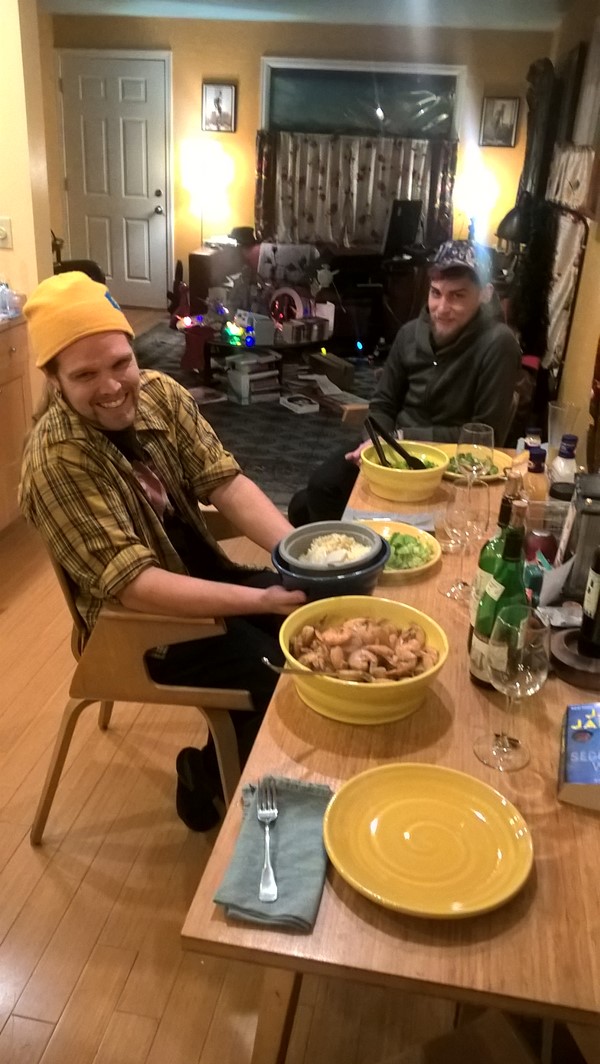 And a couple of my favorite dinner guests enjoying ginger, onion, mushroom fried shrimp with apricot, clove, saffron rice (and salad, because we all need roughage
Here's wishing everyone a happy and prosperous New Year. May life bring you joy.
[216.0]