Trying to keep on top of this trip – and slipping further behind. Cause: too much fun. Damn fun!
5am wake-up call…I don't really like those, but I don't set the schedule, I just pick the cheapest redemption values.
It's a little hard to get pictures of Dubai when you arrive after dark and you leave before it's light, but here's a bizarre shot from the cab in the morning…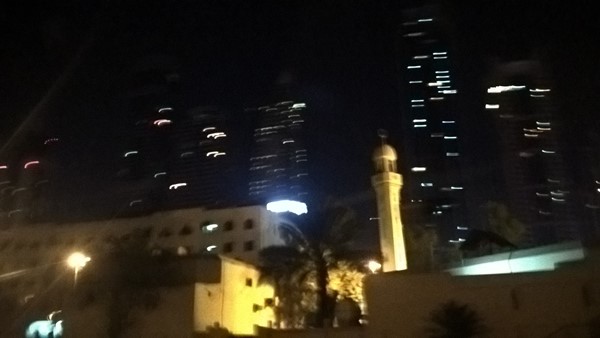 And of the departure lanes at DBX: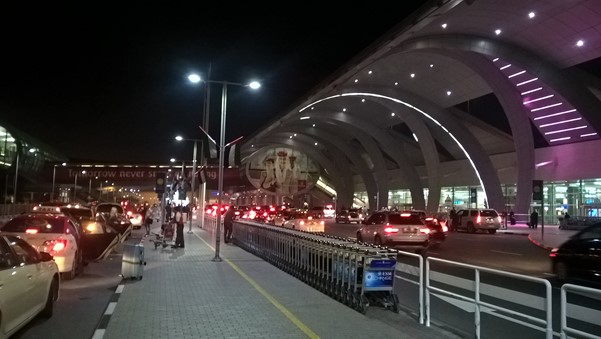 Luckily, the upside of getting to the airport early is time in the Emirates Business Class Lounge. And it's a lovely facility (though not as nice at the C-terminal one, but B-terminal has a post-security hotel as well. Maybe I should have stayed there. Here is a sampling of shots, starting with the route to customs…it's a long walk (and from there it breaks off into three different terminals, luckily I'm at B, which is just beyond security):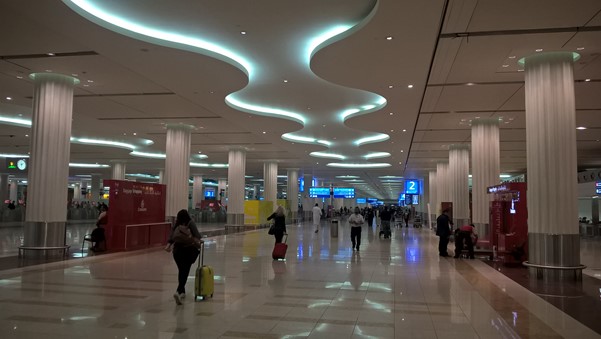 A little duty-free shopping (Tullamore Dew with a free flask) and then it was off to the lounge, which stretches the entire length of the terminal (but doesn't have elevators like Terminal C):
It's one level above departure level and is quite nice: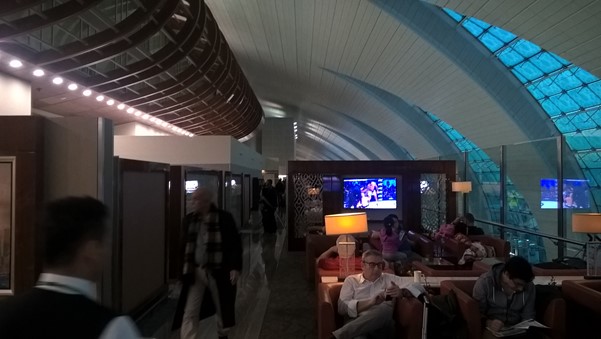 This would be the buffet from the front: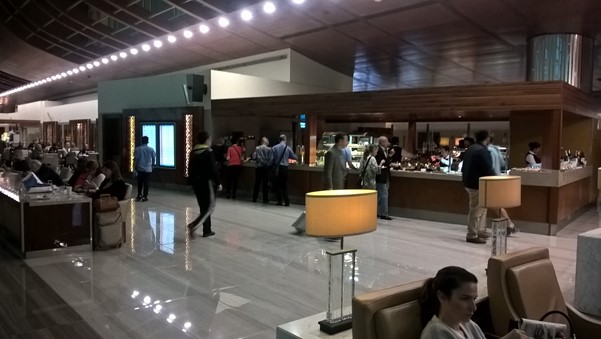 Which for lunch included a specialty oven just for baked potatoes: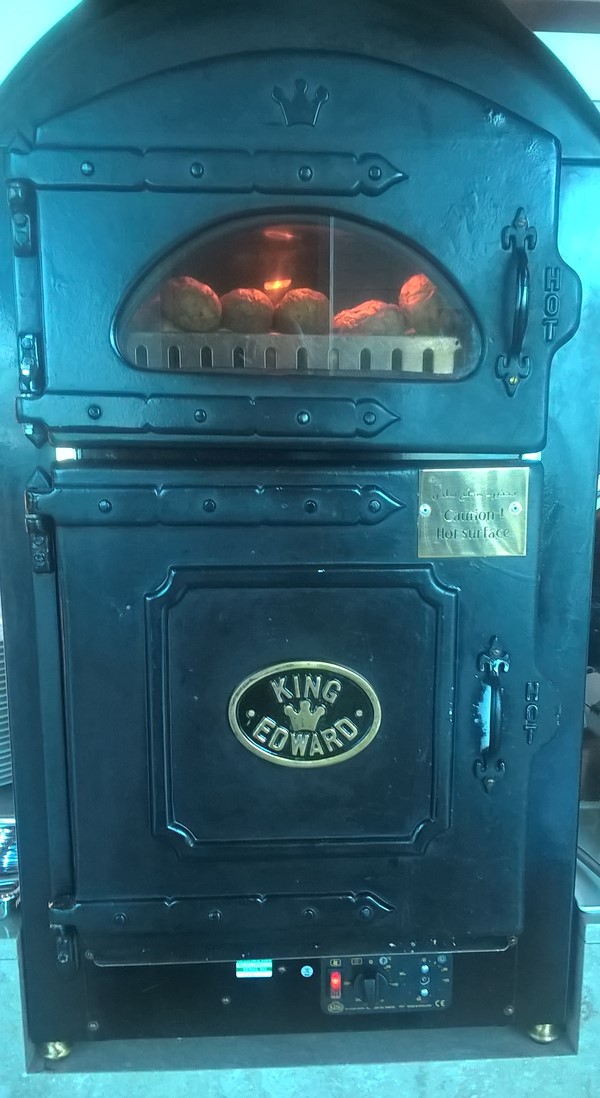 And the back: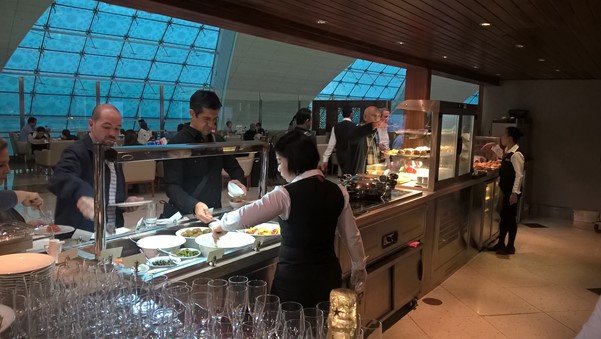 Cooked up by this kitchen: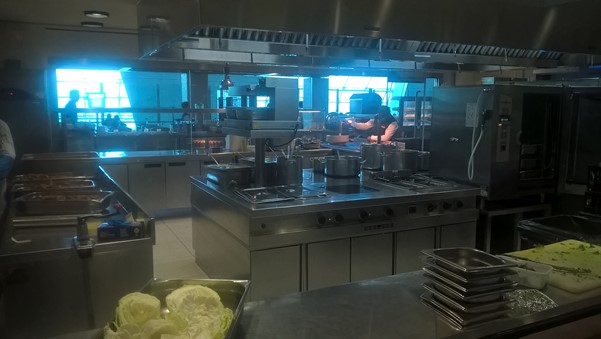 Here is what we started with….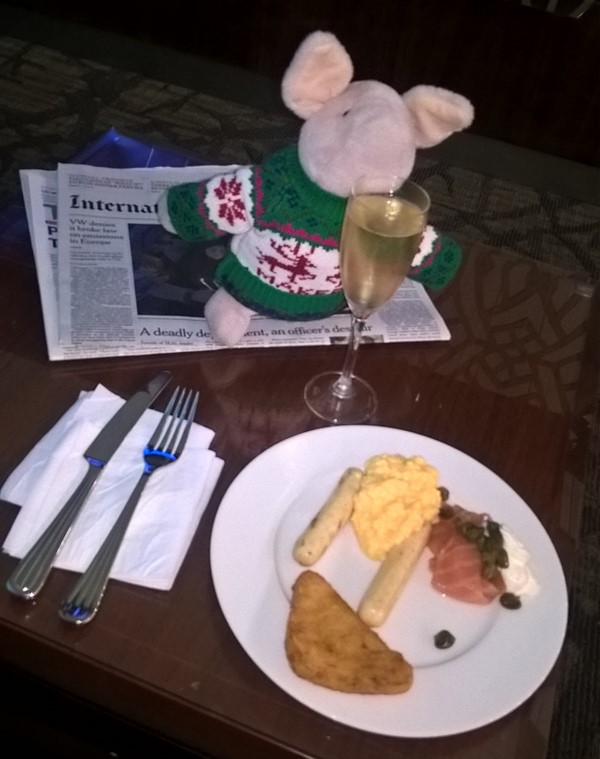 Moet Champagne this time, with chicken sausage (it is a Muslin country after all), scrambled eggs, hash browns, lox, cream cheese, capers. Tried to be moderate after filling up yesterday in the lounge and then not being able to eat all the food on the plane.
Unlike the lounge I was in last year (post here) on the way to Japan, no elevators directly to the gates in this lounge…and not only that – I have first-world problems…no jet-way – but really nice leather seated busses to the tarmac. No wonder they need to build a new airport in Dubai: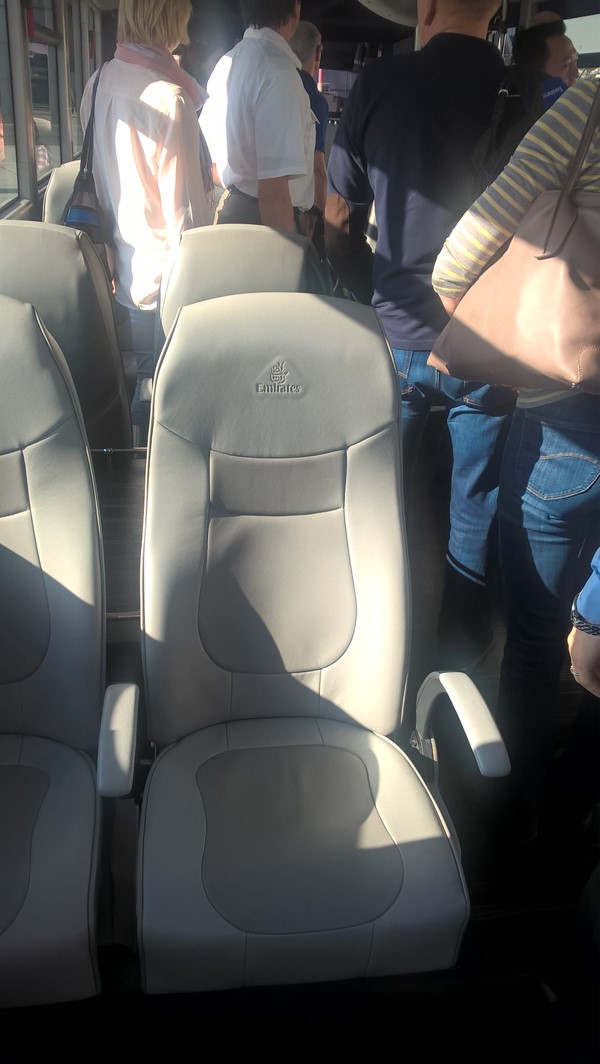 Nicest transfer bus I've ever been on…and then there were the stairs….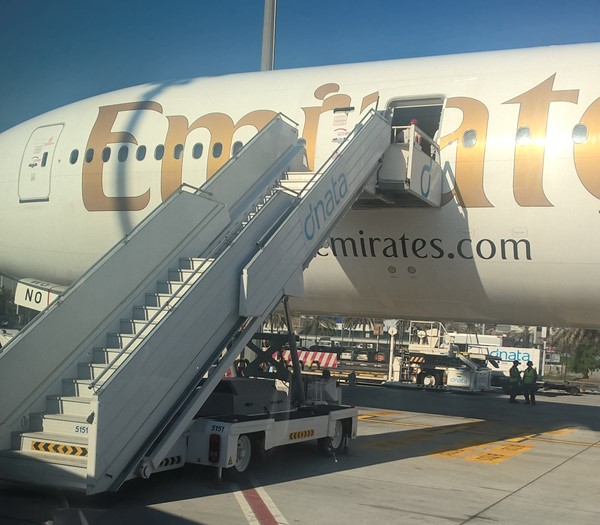 Business Class did have its own dedicated stairs… but still – stairs, with luggage. My first-world arms and legs were complaining…until the champagne came (again Moet), though it hadn't arrived by the time of this photo: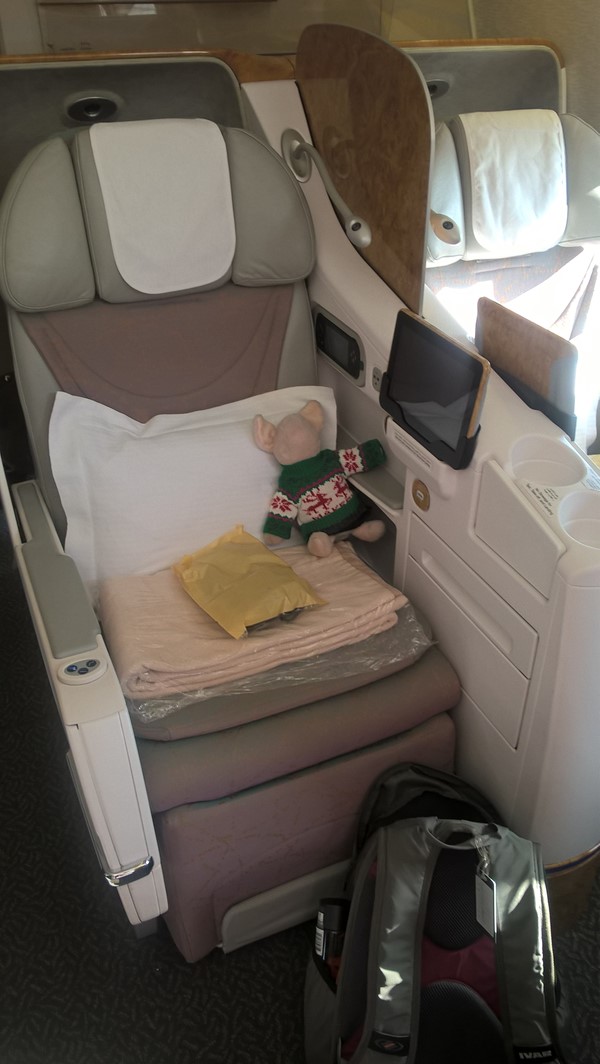 The 777-300 series Business Class seats aren't nearly as nice as the A380 seats…10-year-older technology, but the business class section isn't bad. I know, more first-world bitching: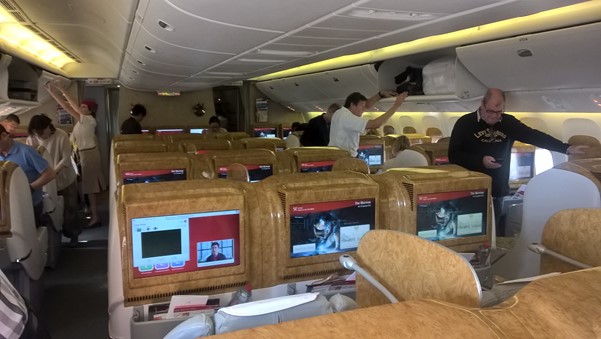 And this is what the entry way looks like – and honest – the rest of the flight she was smiling: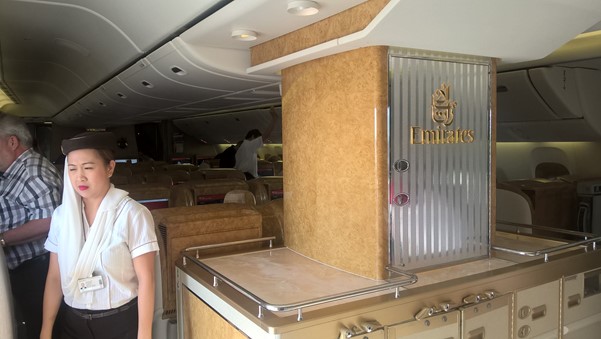 And we had just two of us for 6 seats in the mini-section at the back of business…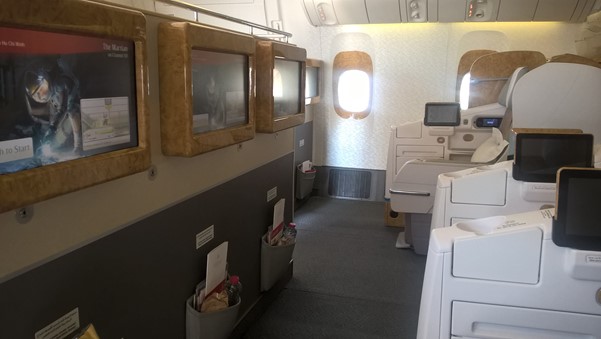 Off we go after settling in…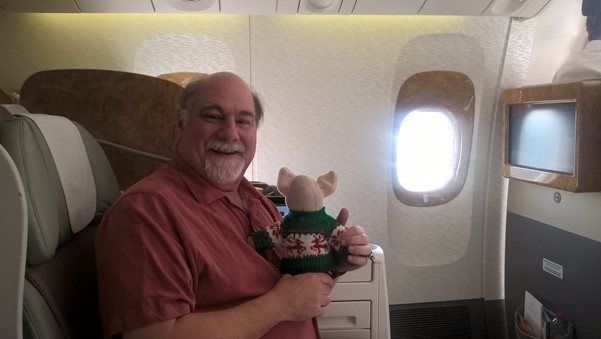 Today's flight is only clocking in at about 7 hours – so not the level of service as the overnight runs. But first, some shots of the Dubai skyline for Mr. Whippet (who requested Dubai shots, and with late in, early out, this was the best I could do – and that would be the single Mr. Whippet, not the married Mr. and Mrs. Whippet):

That would be Dubai in the background, and below, an example of pollution problems in Dubai – notice the spire from the tallest building poking through the smog: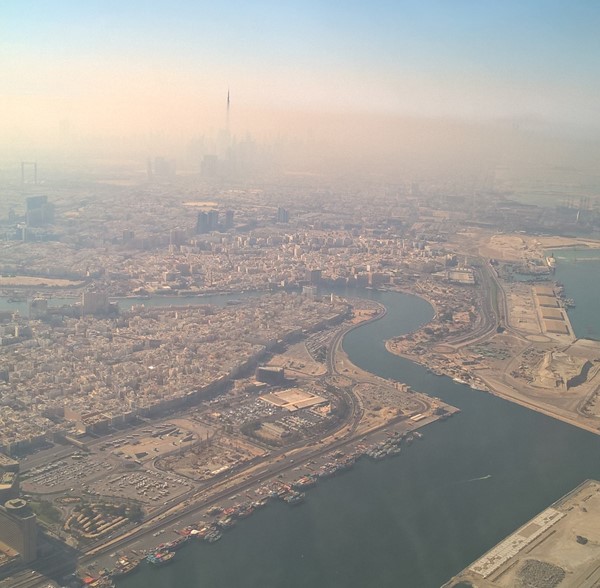 But we are settled in, watching movies….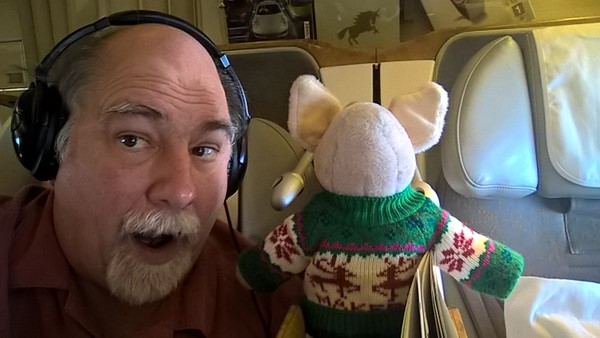 And eating food – this would be the appetizer: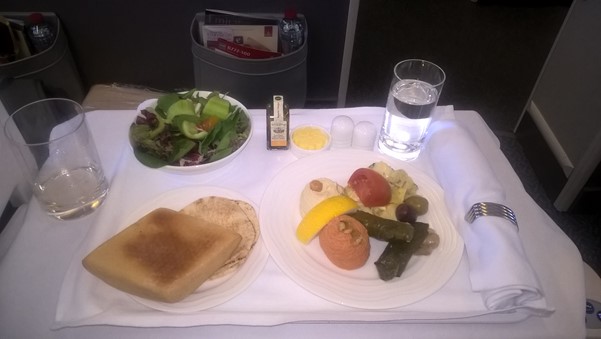 And then the main (Chicken Biryani):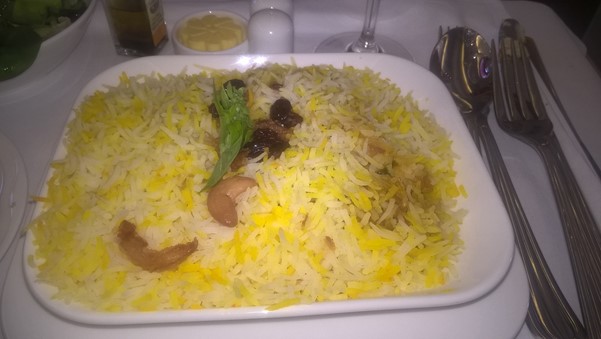 And snacks if we get hungry: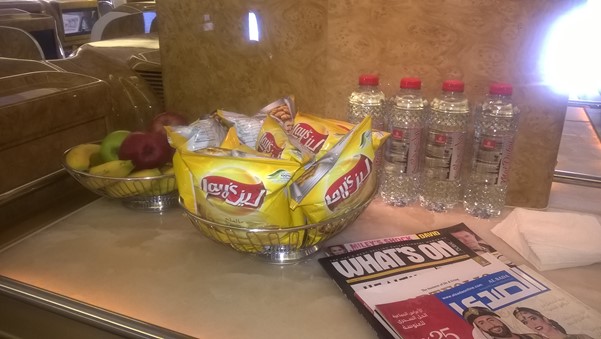 And a light meal before we landed – chicken meat wrapped around lemongrass root – I might have to try that at home: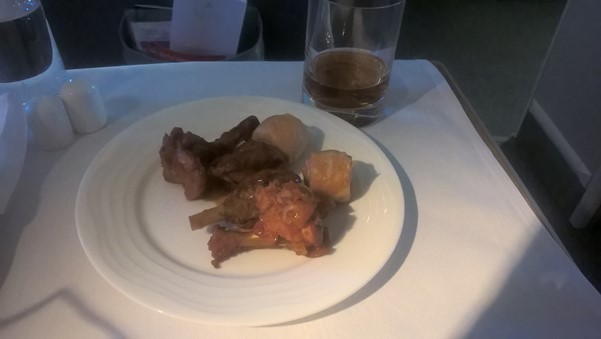 And then it was all over – the fun that is. Time to fix the visa problem. Line, get form, fill out form, cut in line to turn in form, wait 30 minutes, pay $25 USD (really felt like a government foreign currency making scam since EVERYONE paid in dollars, including the French). Bottom line it was an hour from getting off the plane to meeting up with Sean who was picking me up and giving me a place to sleep. Go Sean!
A cab ride home, crack the duty-free, have a snack, and a reasonable to-bed time.
[? ? ?]