Slept well last night – those beds are wonderful! But breakfast calls – and it's a huge buffet (included in the room):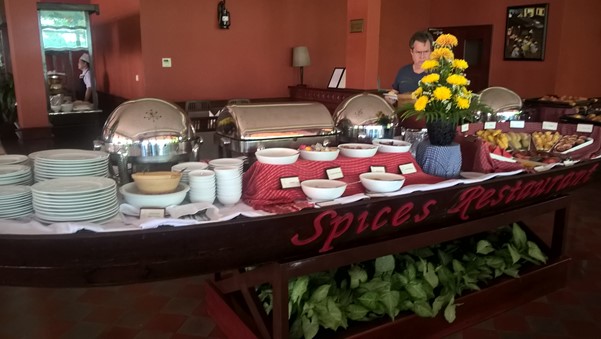 And this isn't even the bread/juice/cereal/pastry stand – I didn't get much there, so why bother – well. I did get a slice of paté.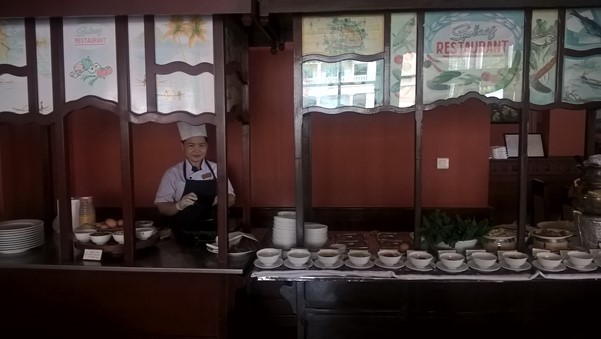 Pigletté had some peach juice (he doesn't eat much, really)…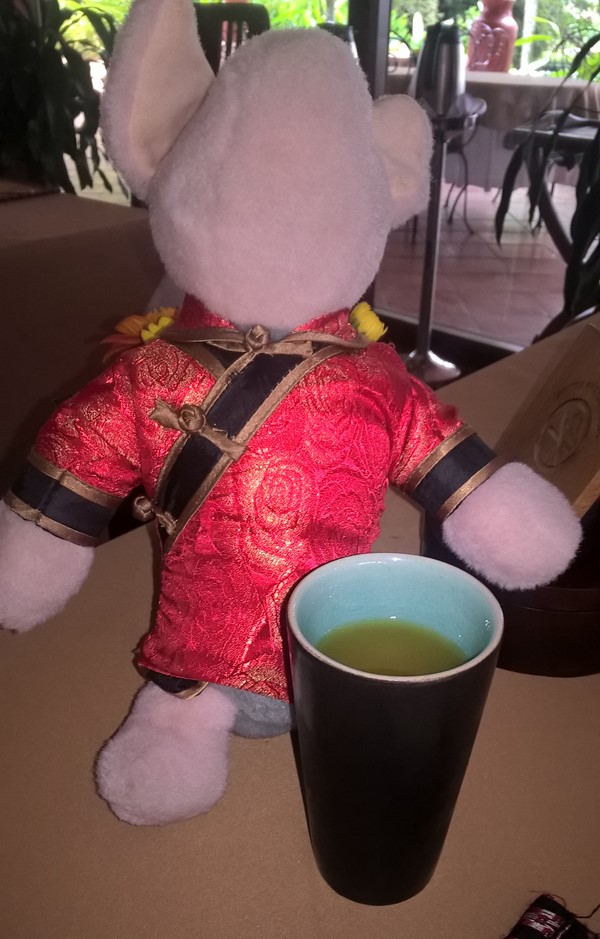 And Sean and I filled our plates!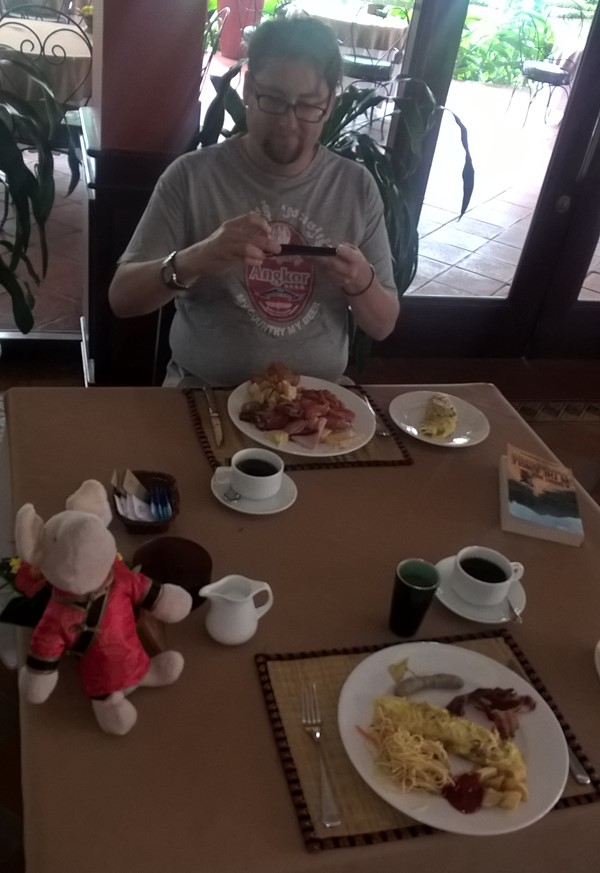 After breakfast we had time to stroll the grounds. They have a nice booklet describing what all is planted where, including their bull named Bronco.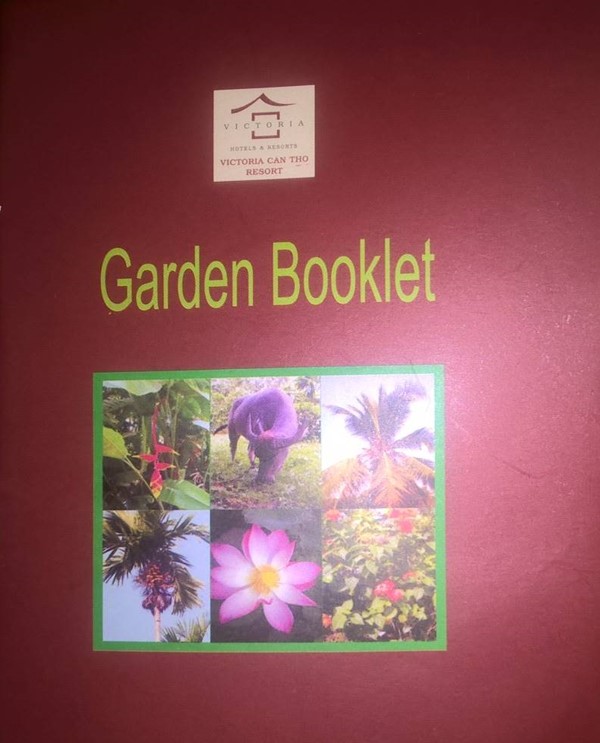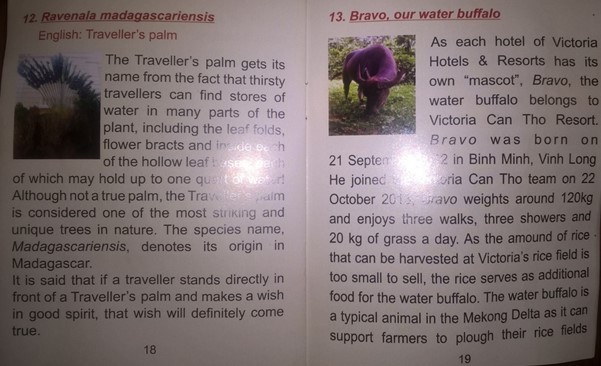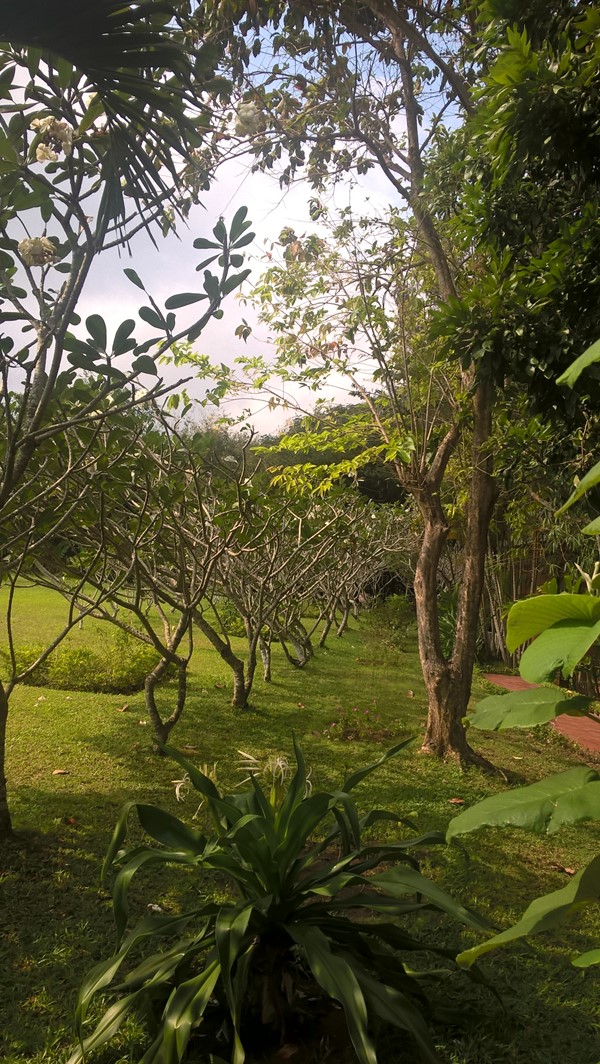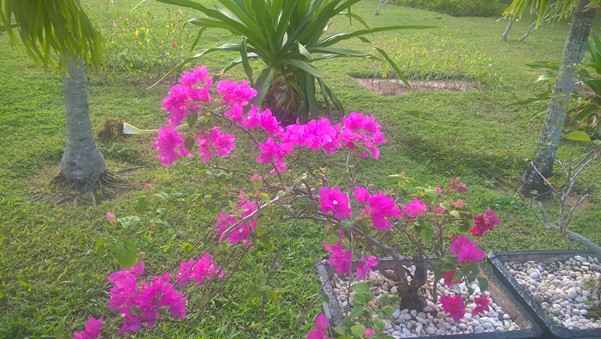 And speaking of Bronco –he gets walked three times a day along with three showers – and I'm guessing he'd still prefer to be rolling around in some mud…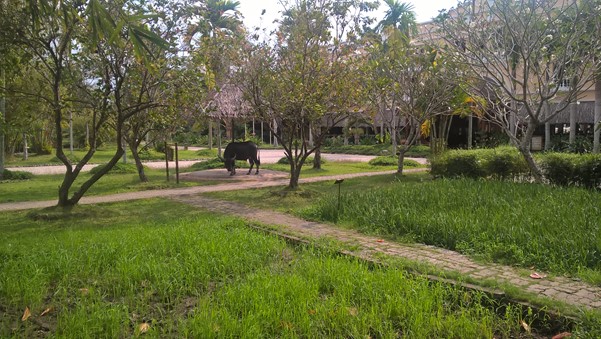 They even have displays of all the rice cultivation tools – above, those would be two small "on hotel grounds" rice paddies.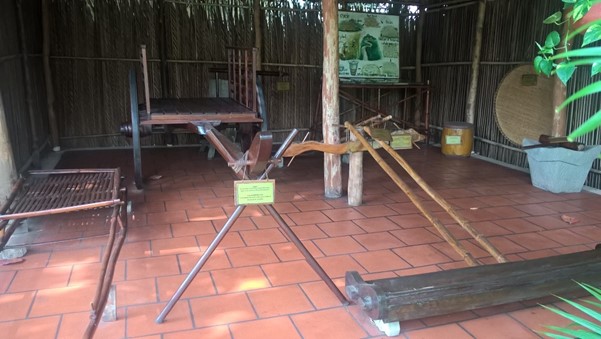 Our driver is waiting for us as we check out – and this being Vietnam, if we wait for 20 minutes, the credit card machine will be working again. Once again Banker Sean bails us out for our Million Dồng bottle of wine the drinks and snacks we had.
What is kind of funny is that the driver took us back to the exact spot that they launch dropped us off last night! We made a pit stop for more Scotch and Diet Coke – and onto the boat we go! Said boat: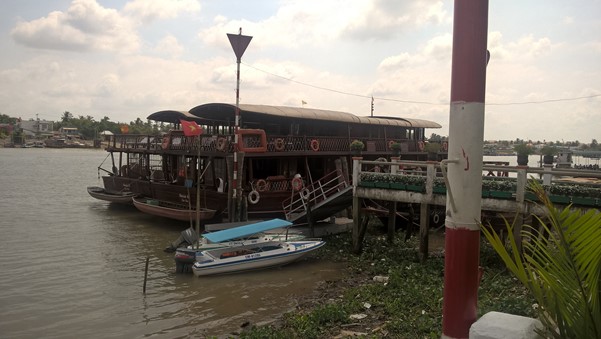 Actually, it's the outer one, so we have to take a boat to our boat…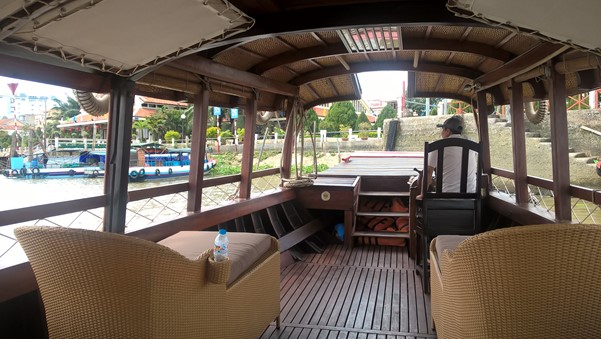 Here is a shot of the "sister" ship to ours…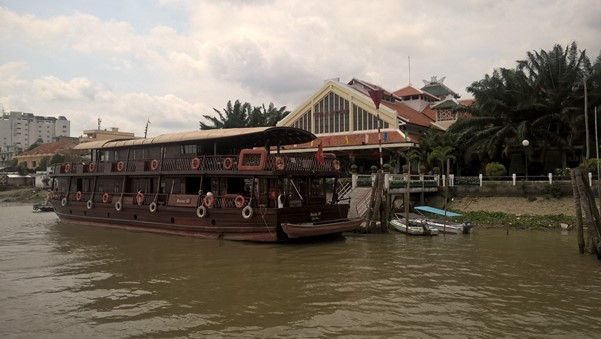 I've got to say that so far I'm liking the accommodations…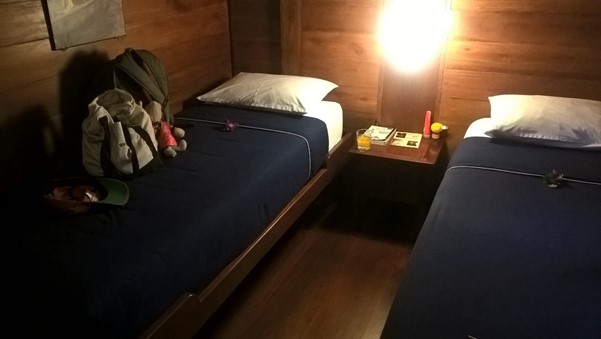 Bed for us, a bath for Pigletté…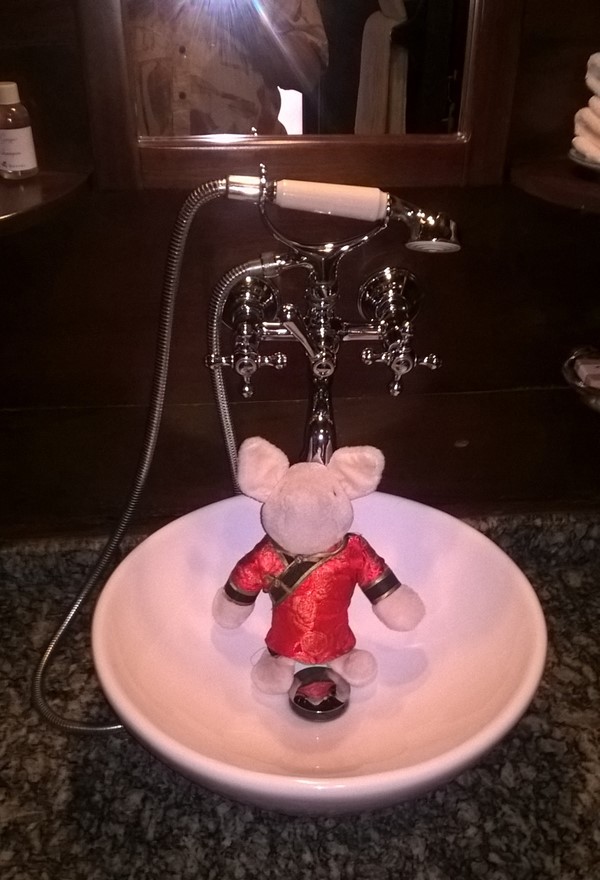 I love these kinds of shots… footies I guess that would be…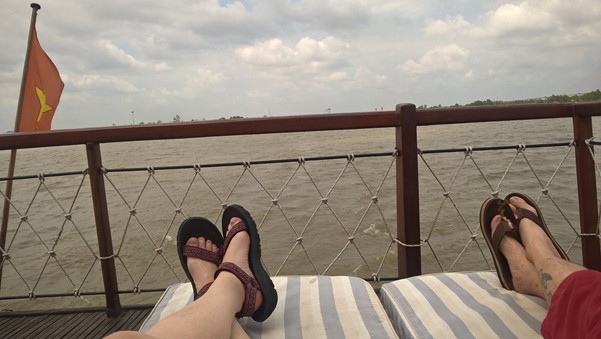 And Pigletté enjoys the view…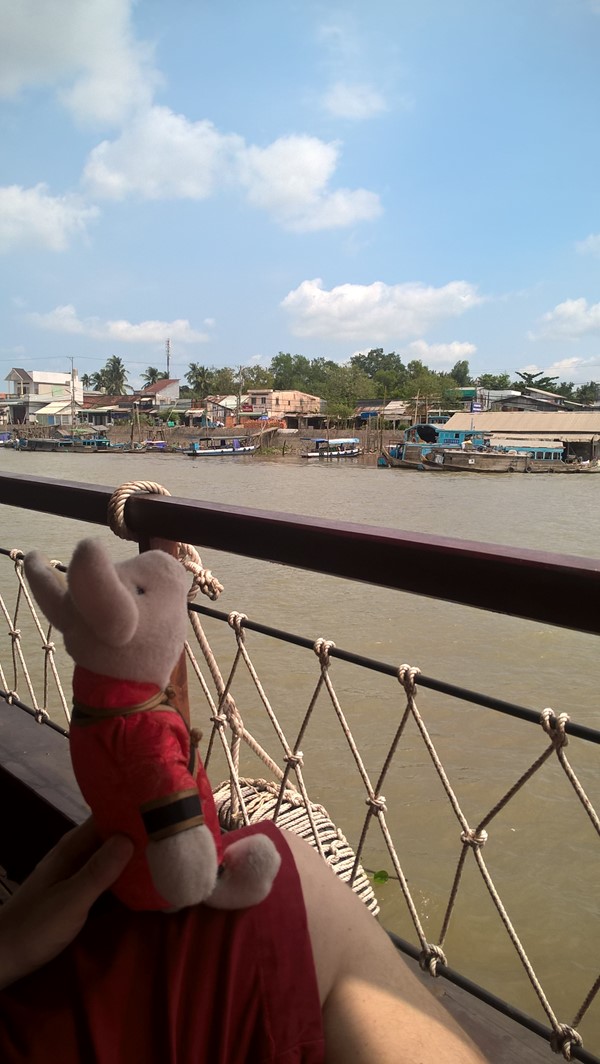 But it's time for lunch. We get three meals on our cruise – lunch, dinner, and breakfast tomorrow morning.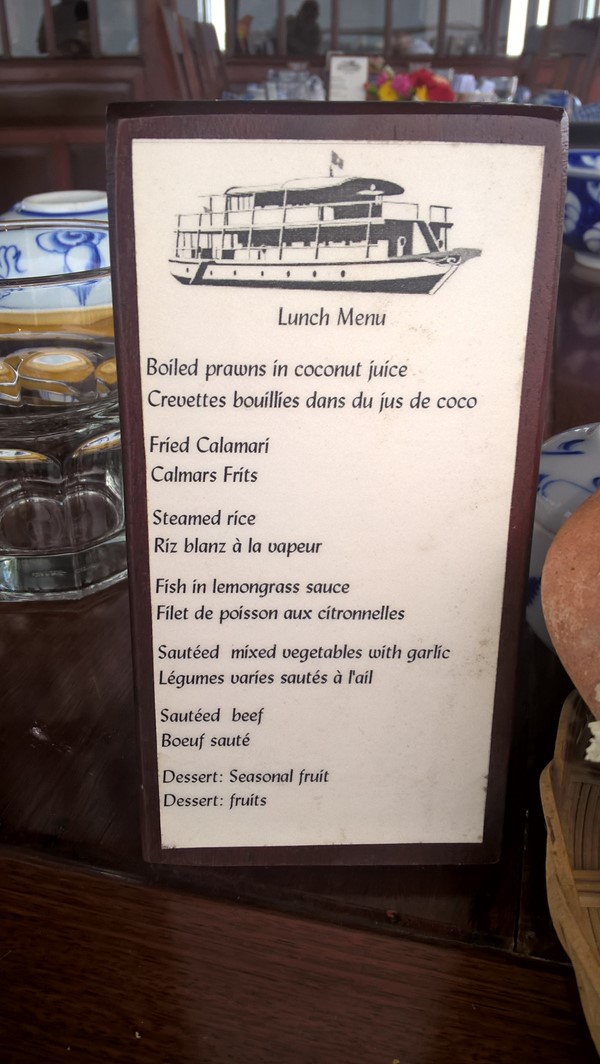 And it was all really good!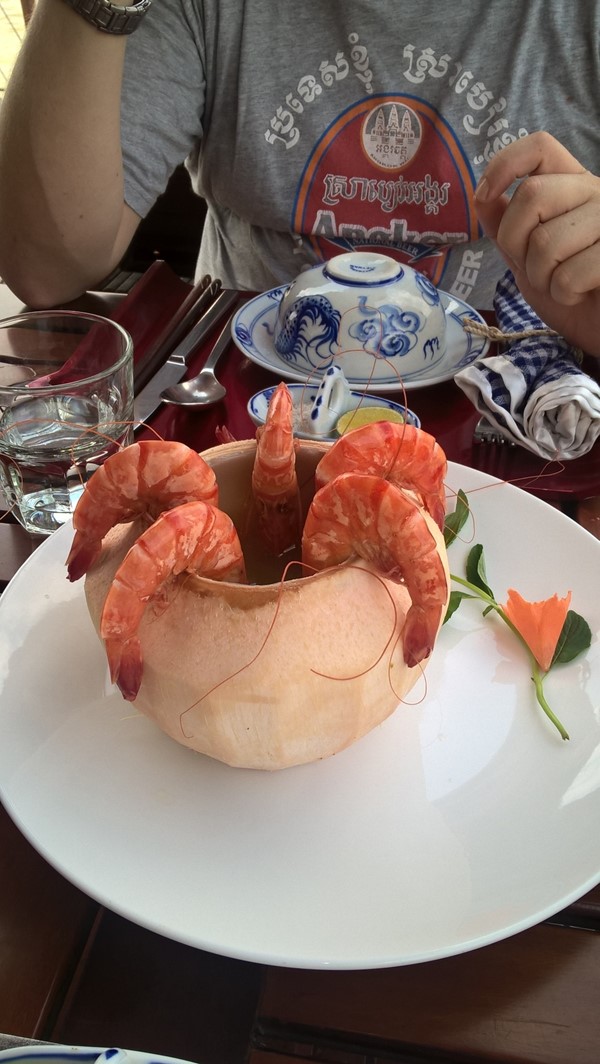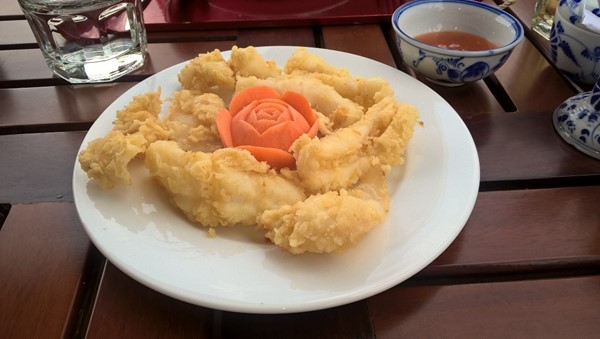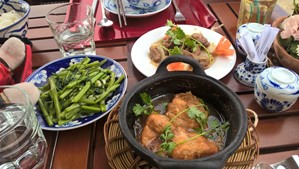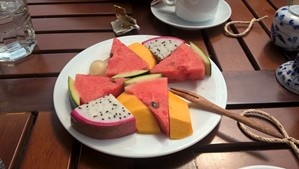 The rest of the passengers are mostly English speakers, with a handful of French speakers, and a lowly German coupe. That would mean three tour guides on board as well.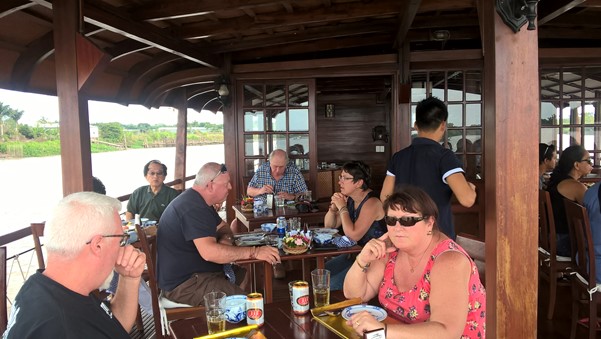 It's a hard life at sea…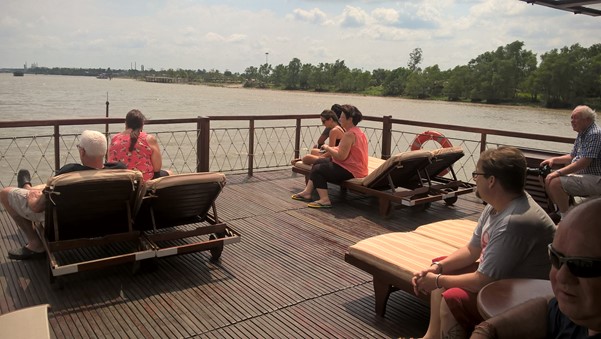 Here is a photo of the map our tour guide used to show us our route for the next 24 hours….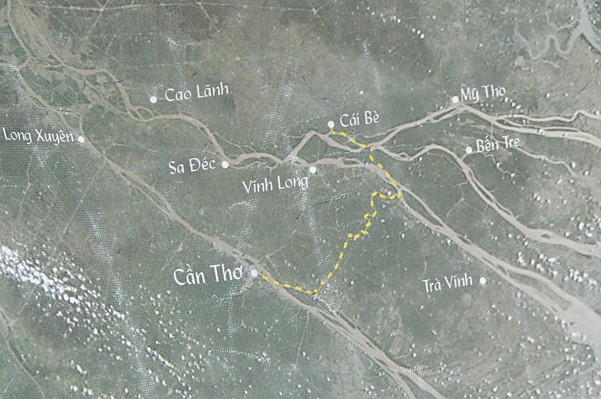 I finally unpacked my "real" camera – the one with the 16x zoom so that I could get a bunch of close-ups of life on the river.
We are not the only tourist boat on the river. I've seen boats that were loaded with bicycles for multi-day trips that had a cycling component.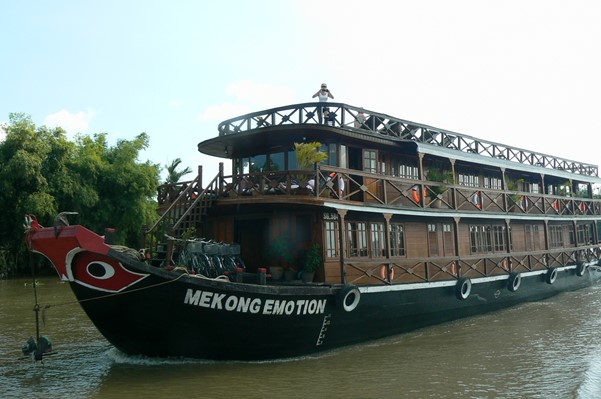 Small ferries are located about every mile up and down the river – moving goods and people from side-to-side.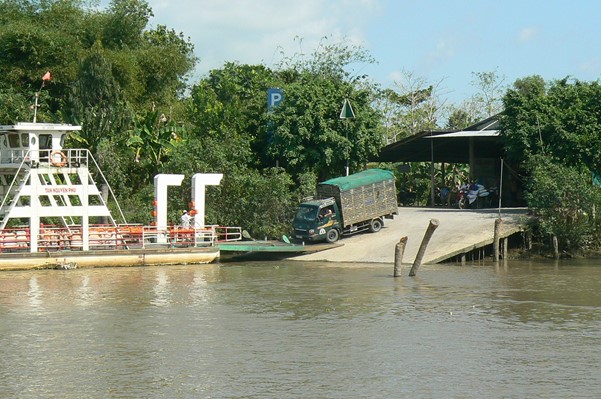 Everything gets transported by river. Here is a load of Pigletté's cousins…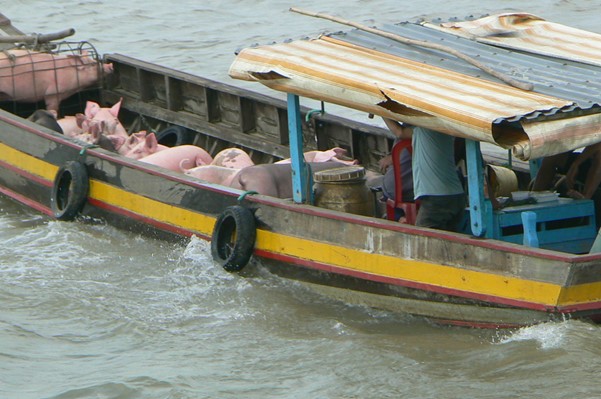 And a load of coconuts headed to market…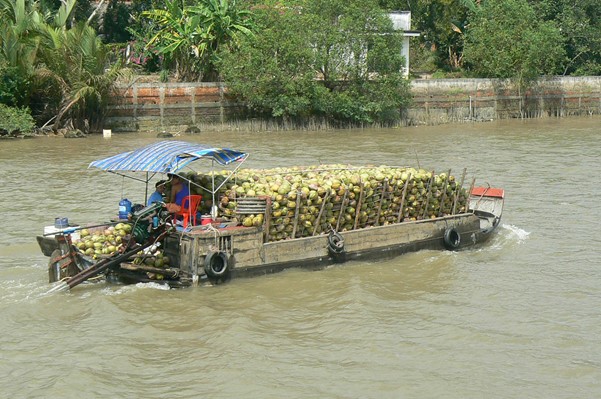 And bridge components headed up river…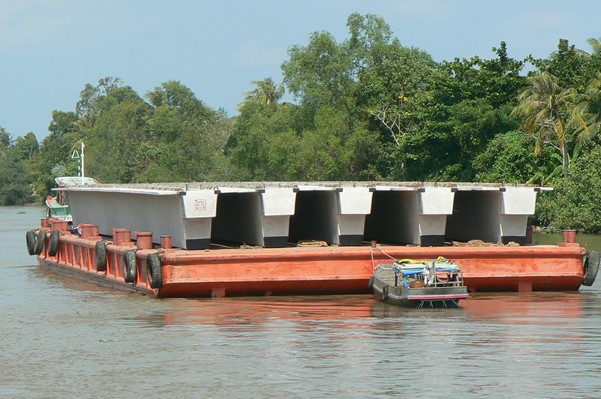 I'm thinking that these are bags of rice husks which are then used for fuel.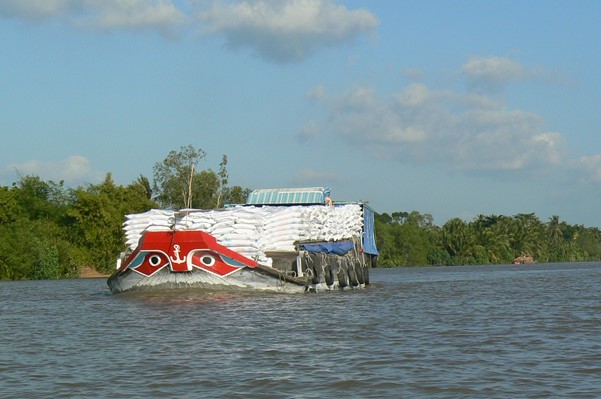 And wood…FYI, if there are "eyes" on the front of the boat – the boat's captain is Buddhist.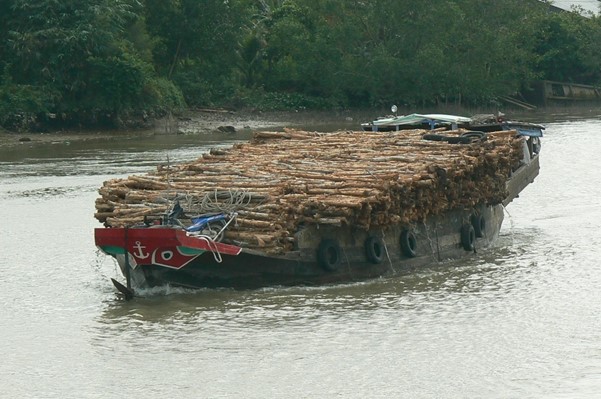 Anyone need some hay?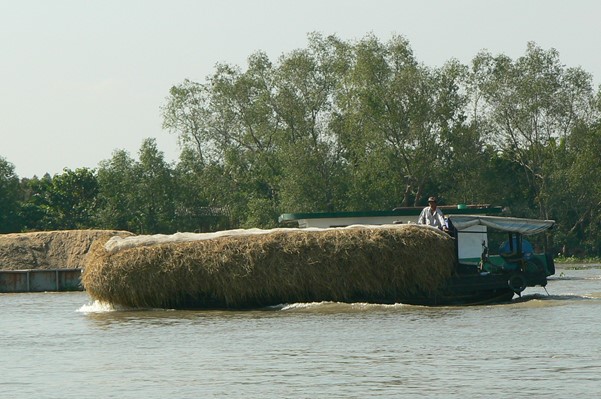 Or rice?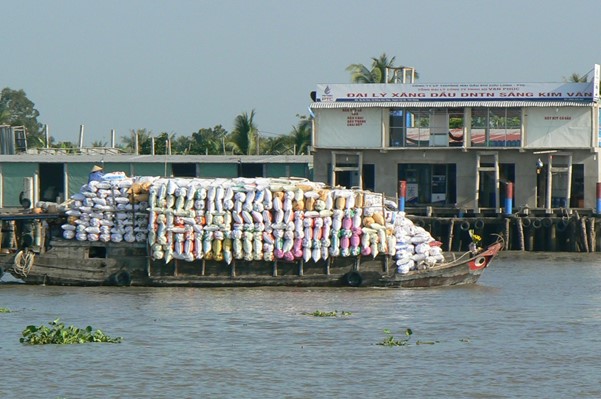 And guess where those boats get built? We saw LOTS of boat yards lining the river: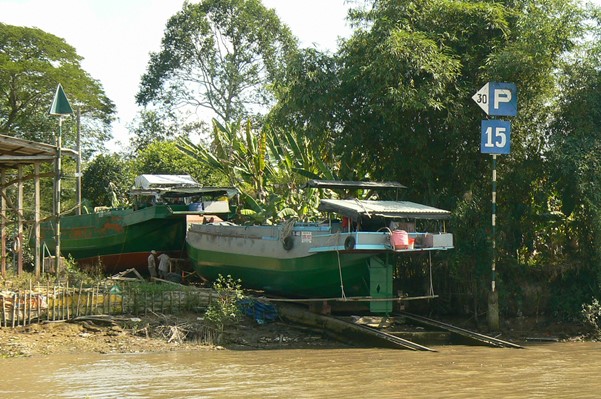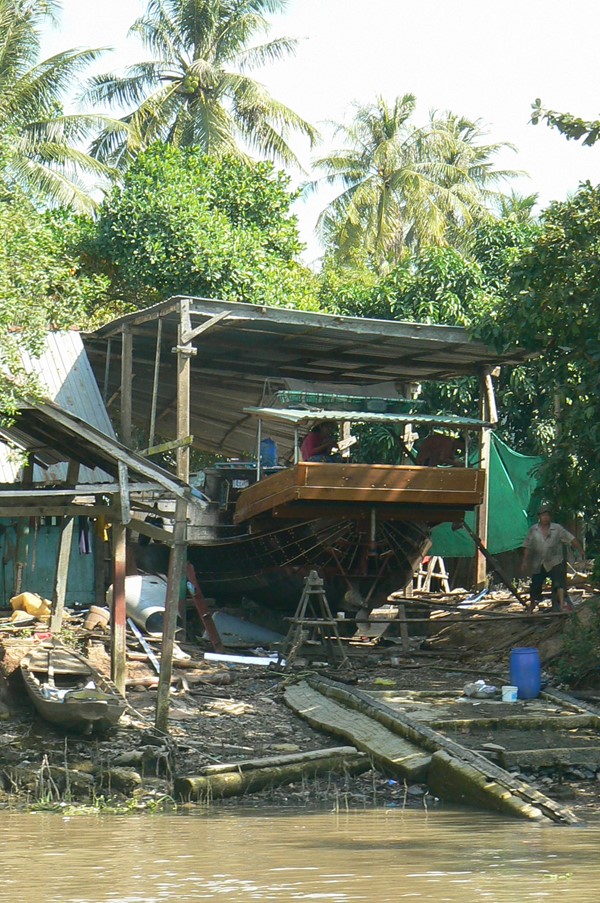 And lots of boat traffic.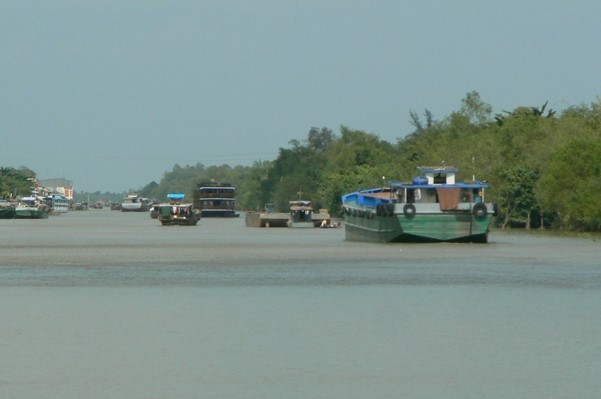 Lots of ways to make money off the river – like fishing…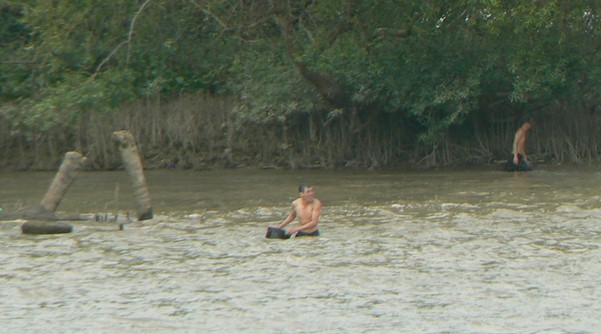 And tending their nets…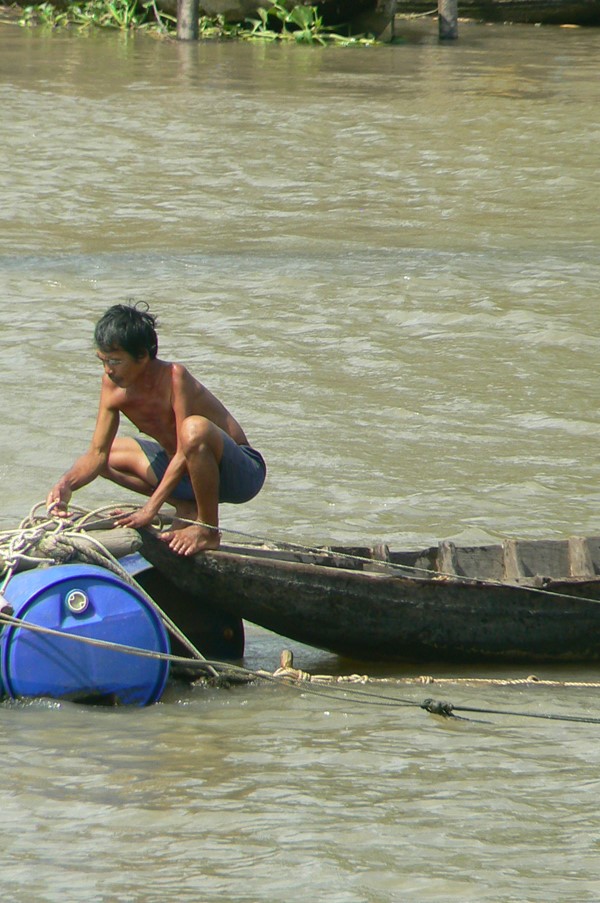 For many of the boat captains, their boat is their house as well as their job…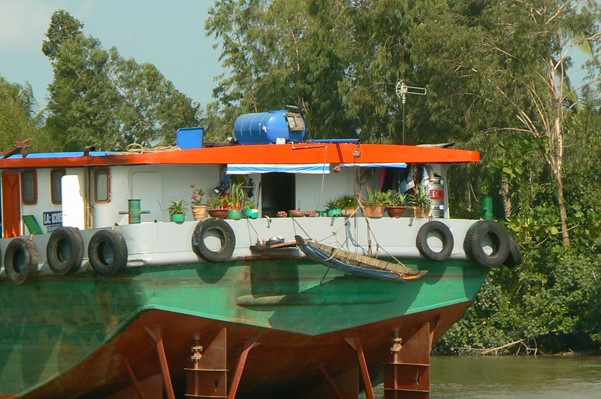 Mom driving the boat while Dad takes a bath…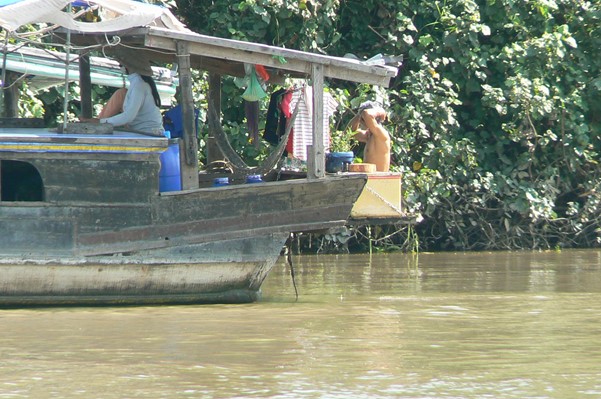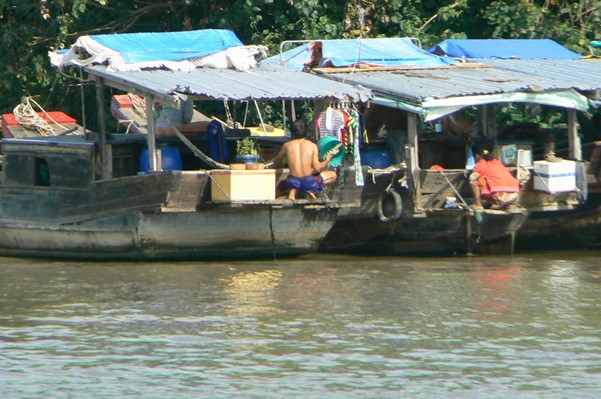 Or resting out of the afternoon sun…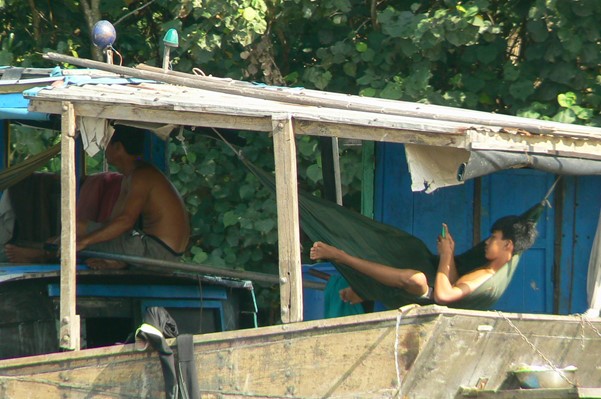 Random pictures of boat people…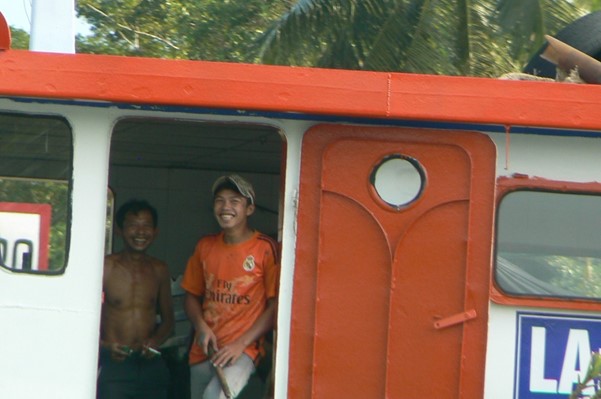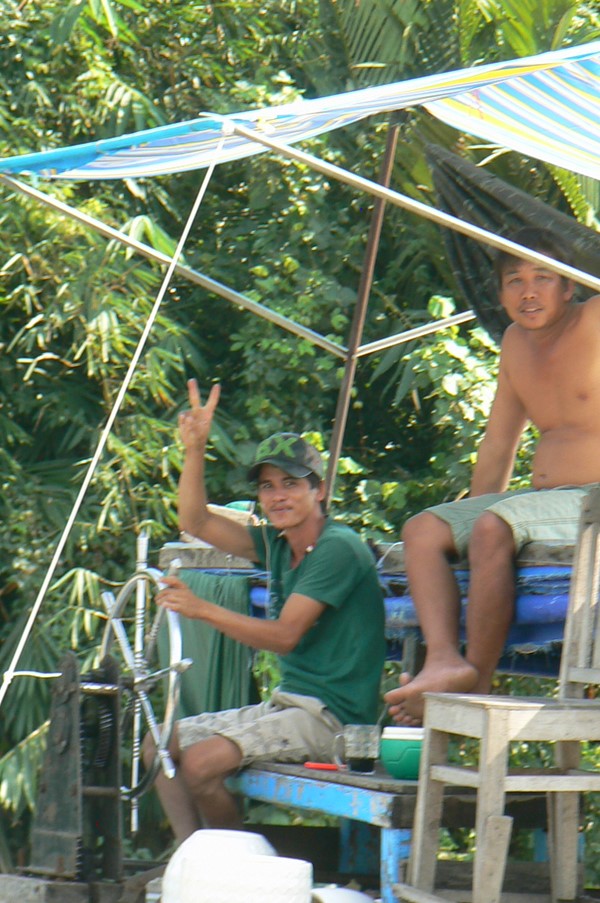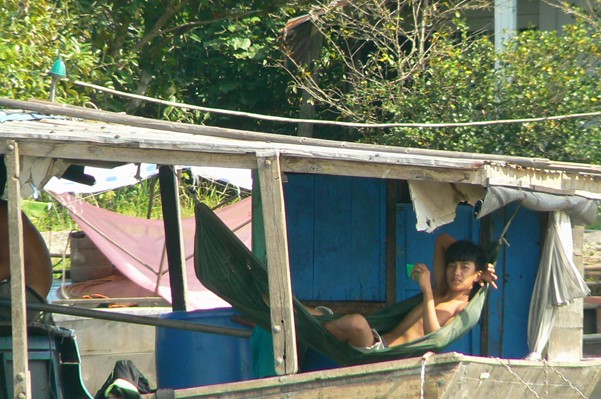 Random pictures of shore life: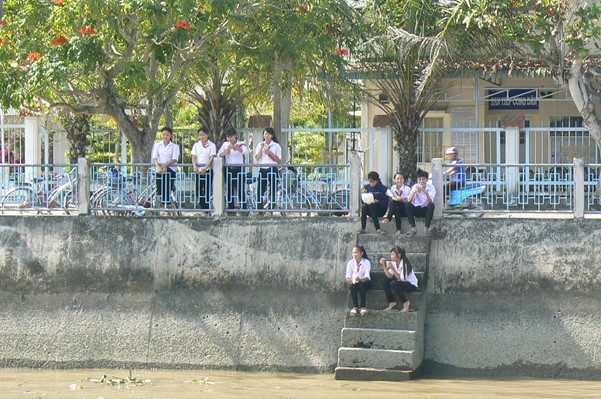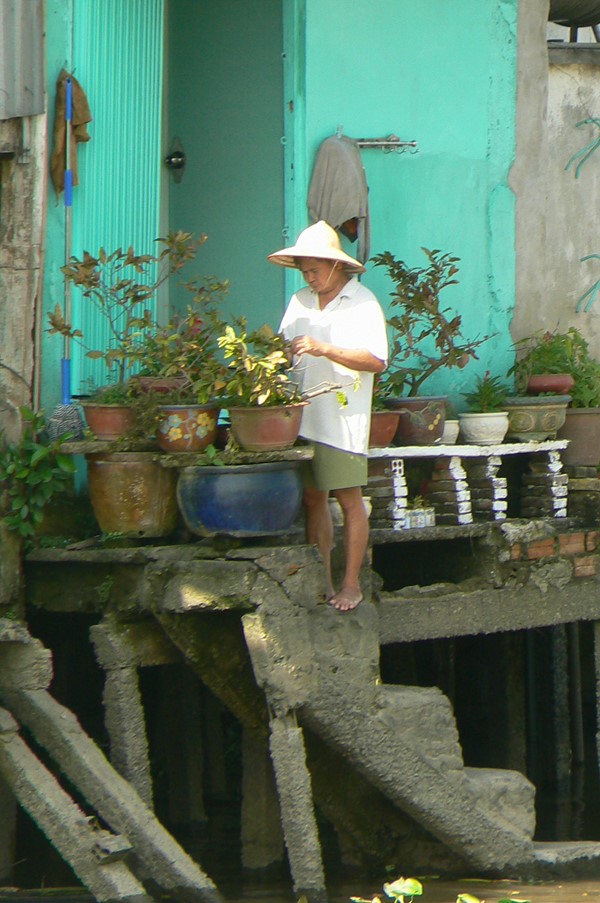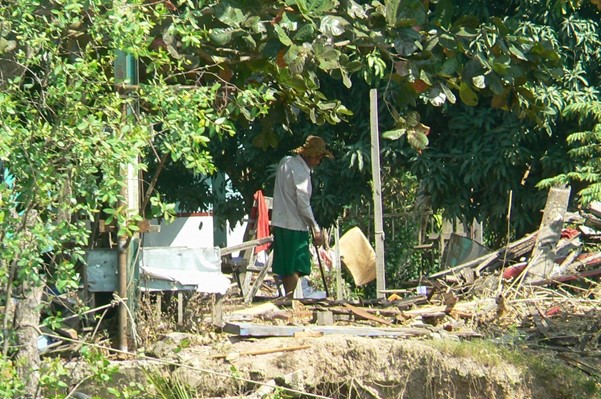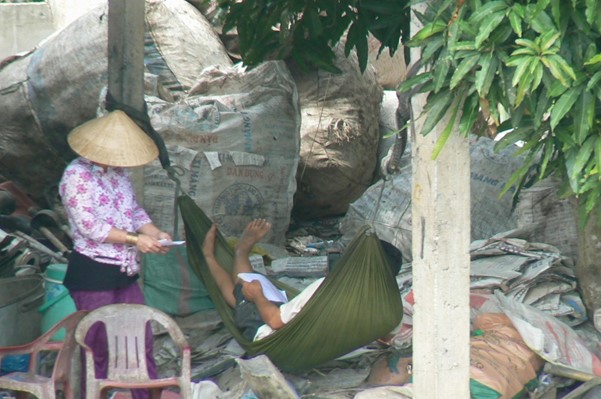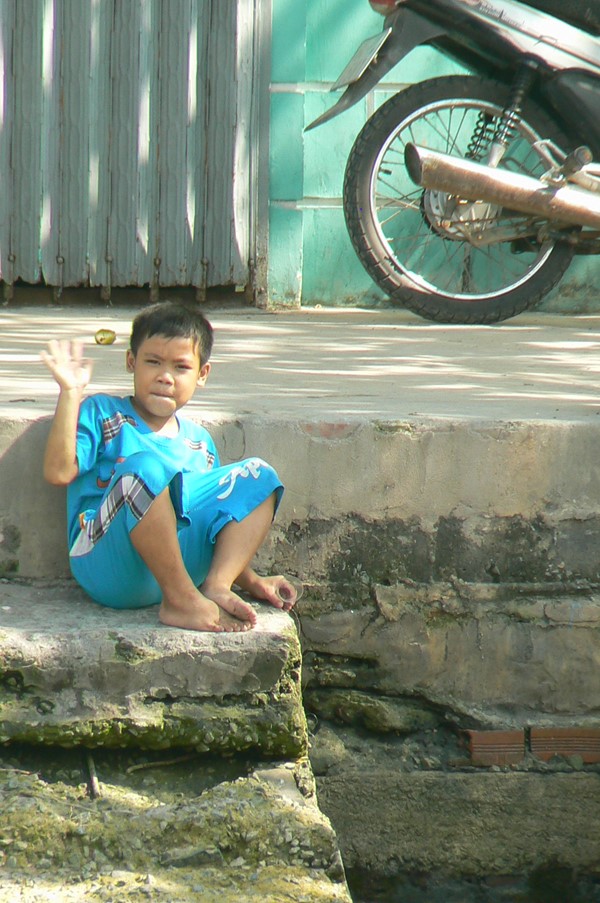 And random building shots…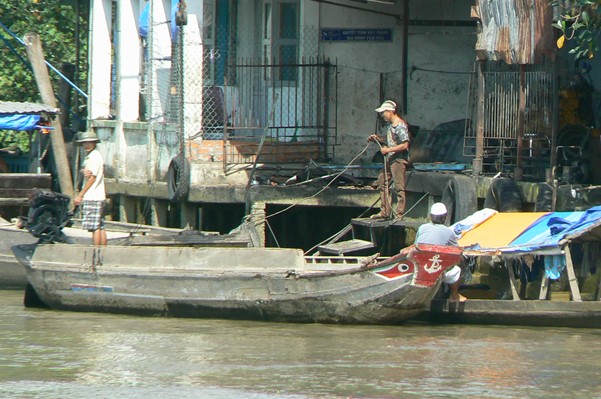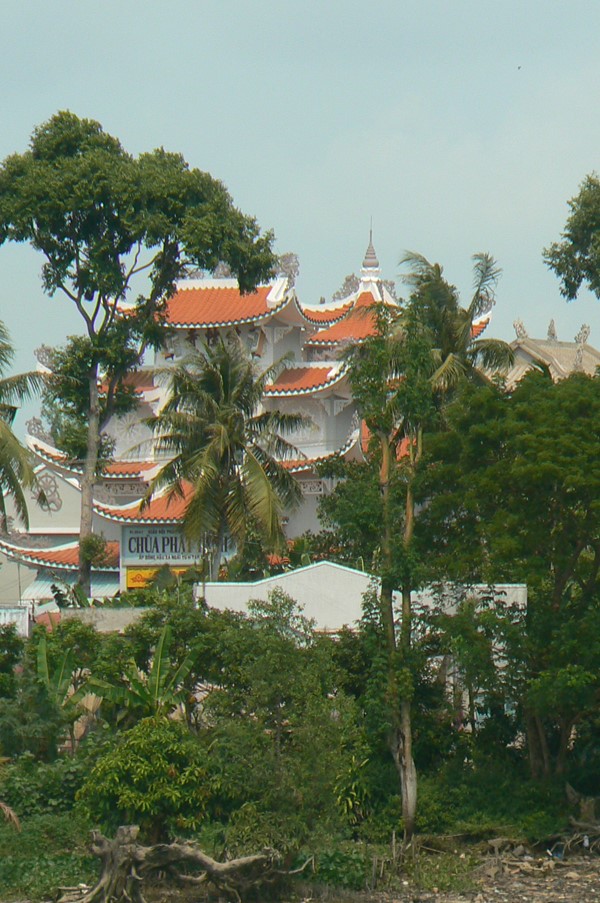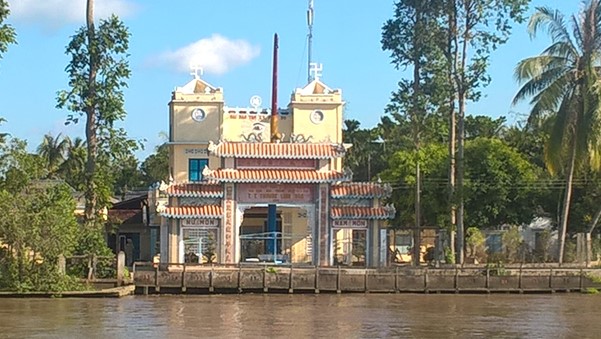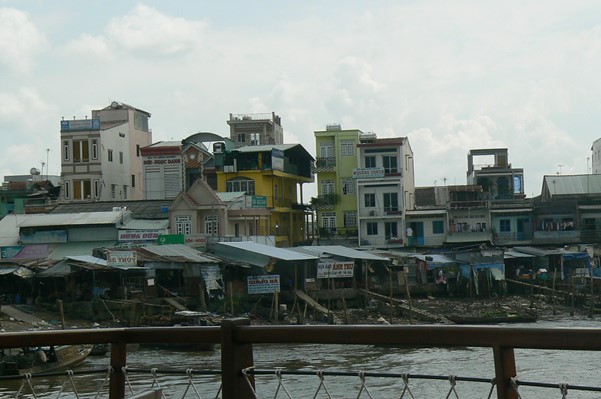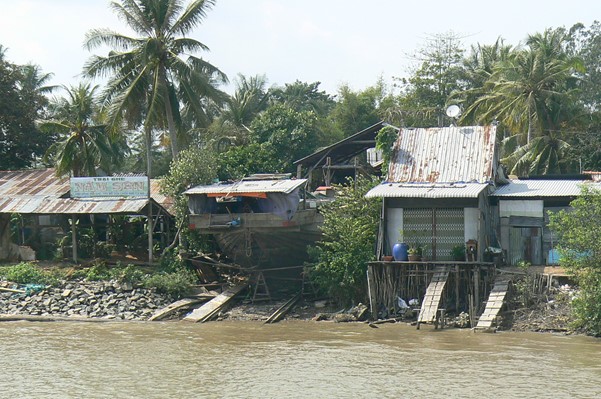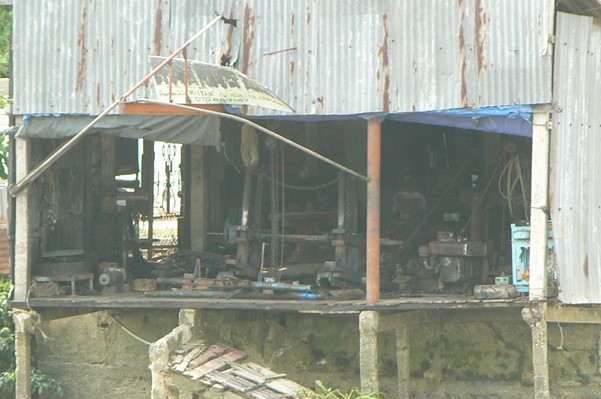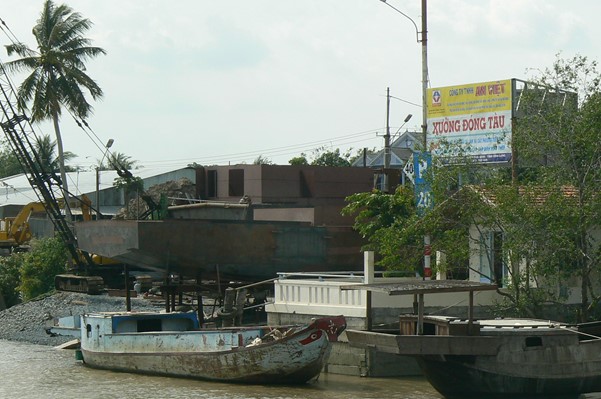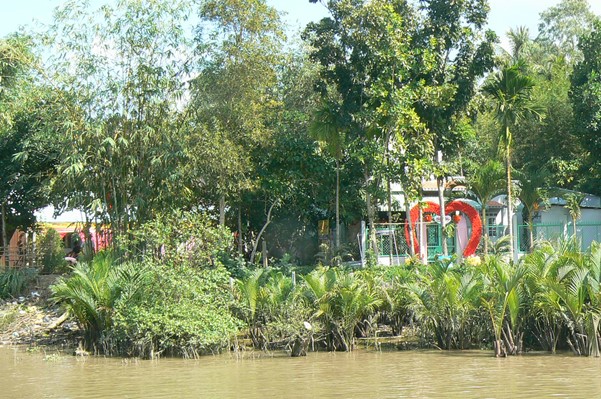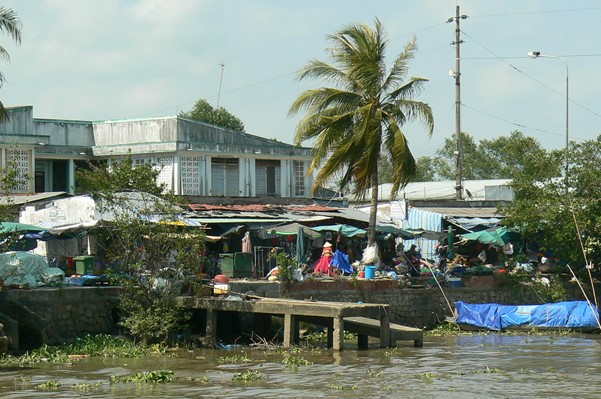 Not as much bird life along the river as I'd expected, but some: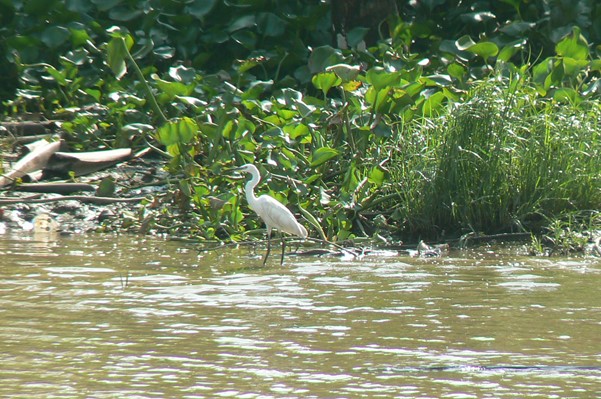 In the late afternoon we had an excursion up one of the many channels and tributaries that feed the Mekong. A was a little surprised that they gave us life-jackets – but a bit relieved as well.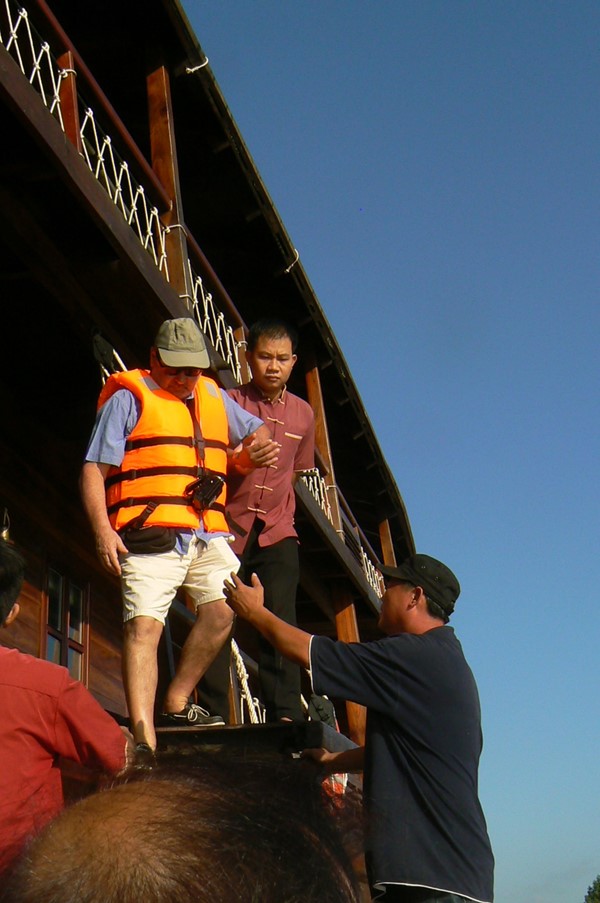 Up river we go: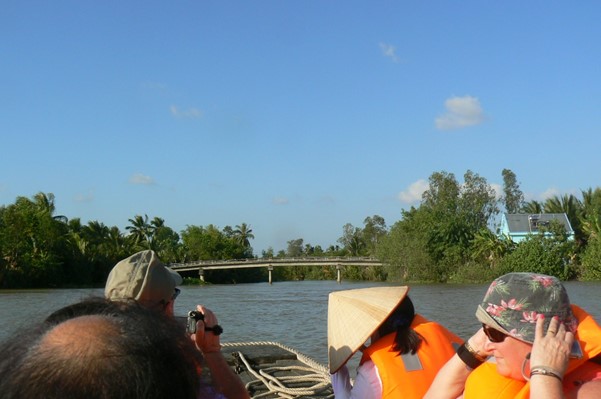 Really thankful for the lifejackets: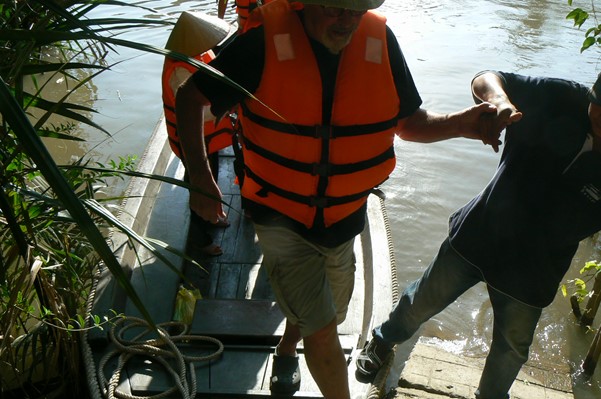 At the start of our "walk-about" our guide gives us our intro to the fruits of Vietnam: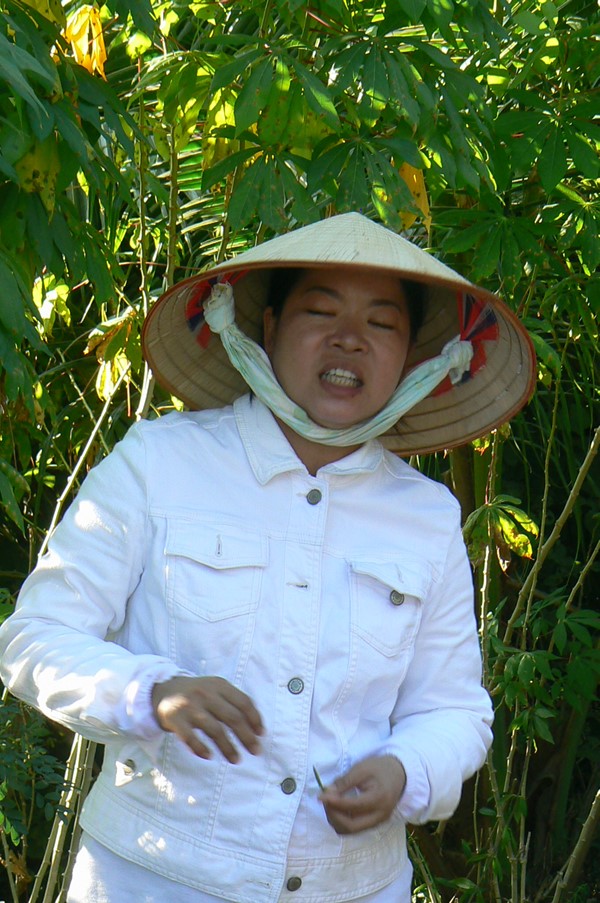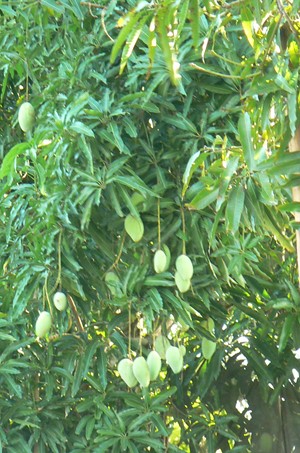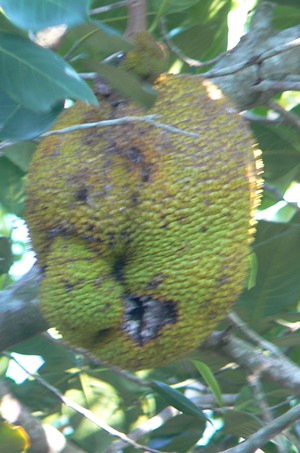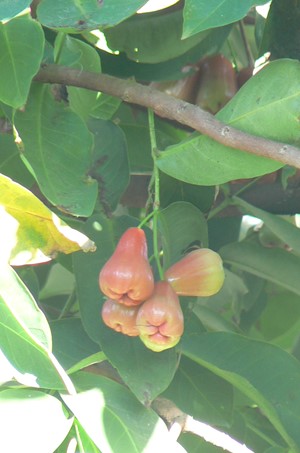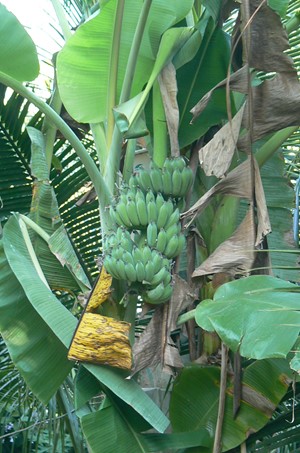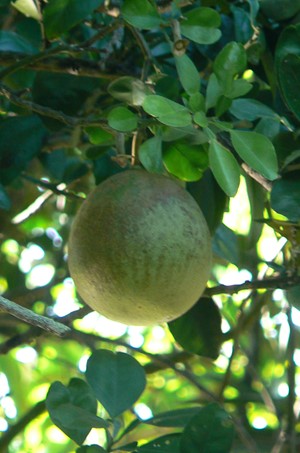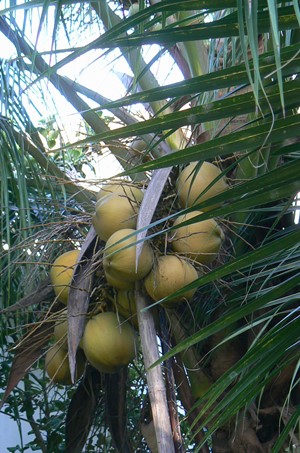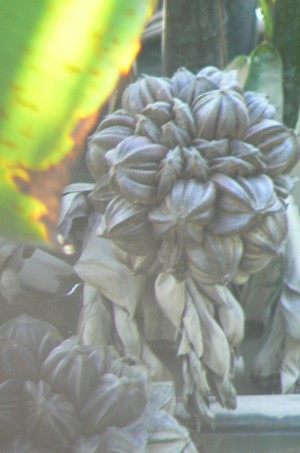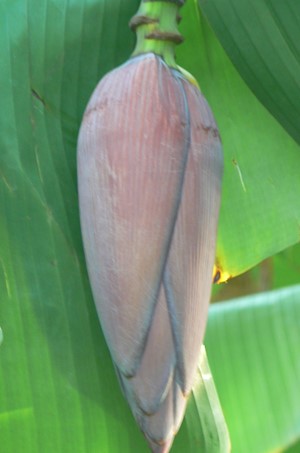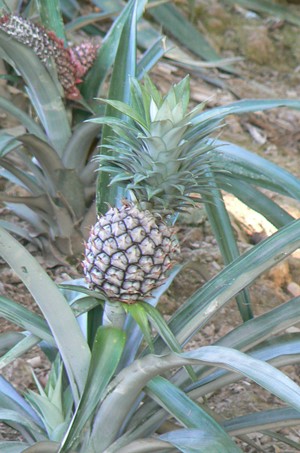 And flowers …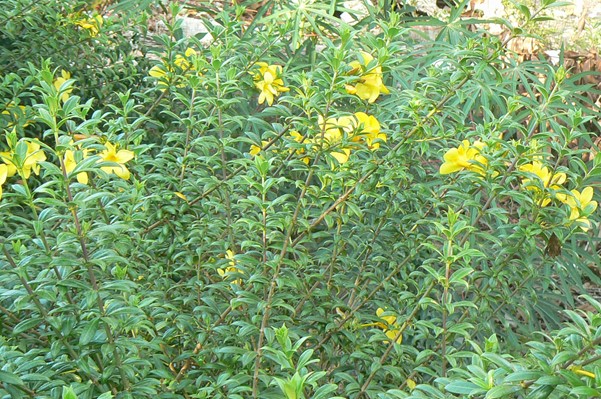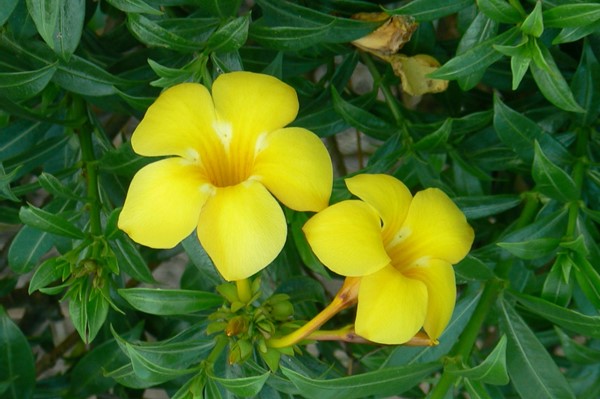 And spices like peppercorn: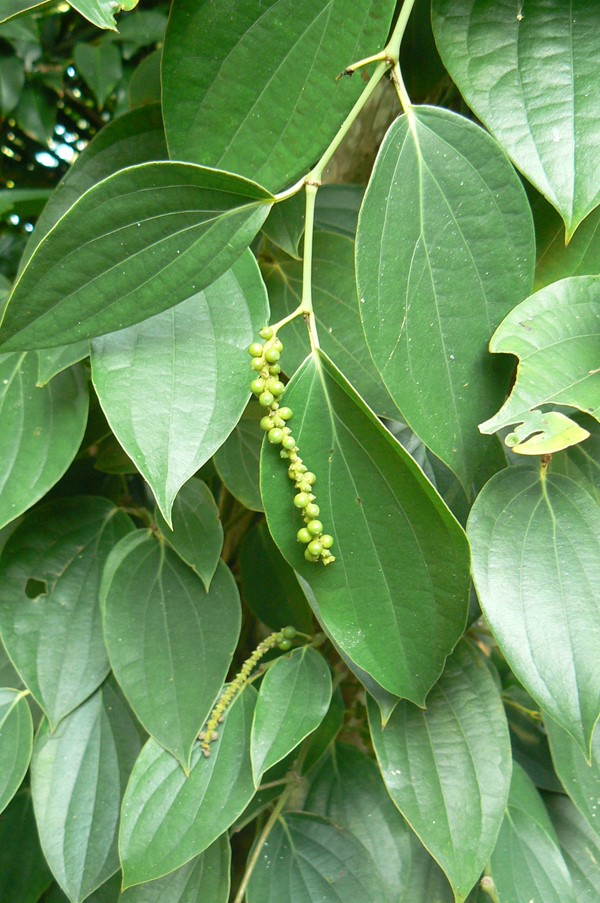 As we wandered further inland it turned to protein: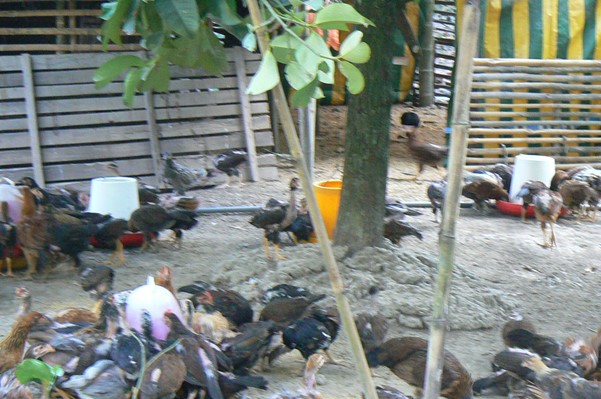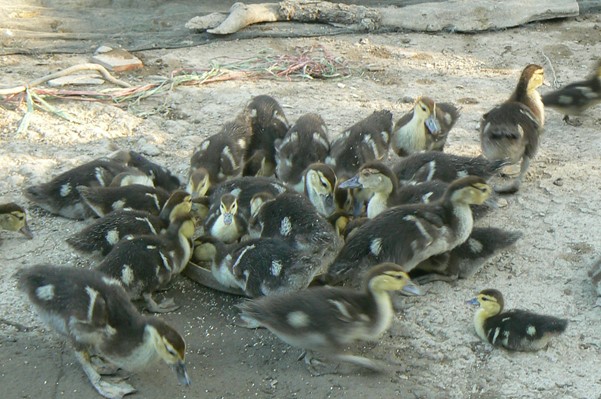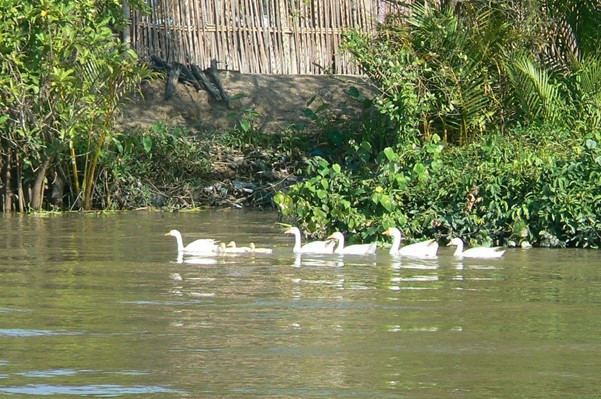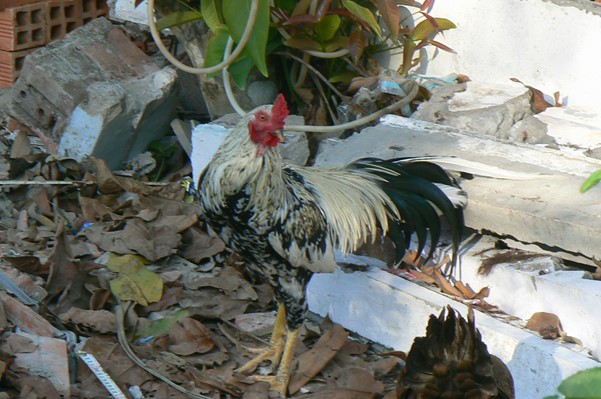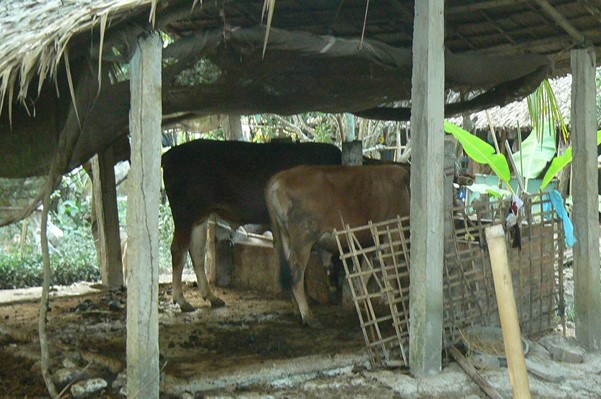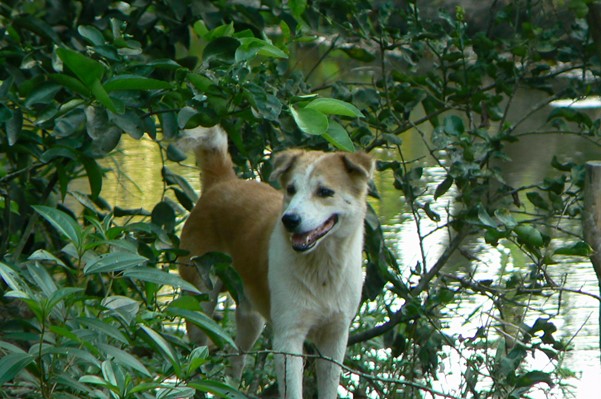 OK – the dog isn't for eating – it's to chase off predators. As you can see – they can pretty much grow or harvest most of what they need to live on – save for some cooking oil.
Next up on the agenda was a little snack…of the fruits we saw, and some hot tea: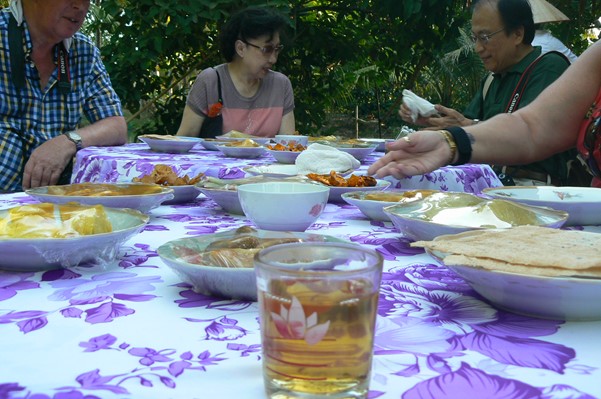 Followed by a tour of their house…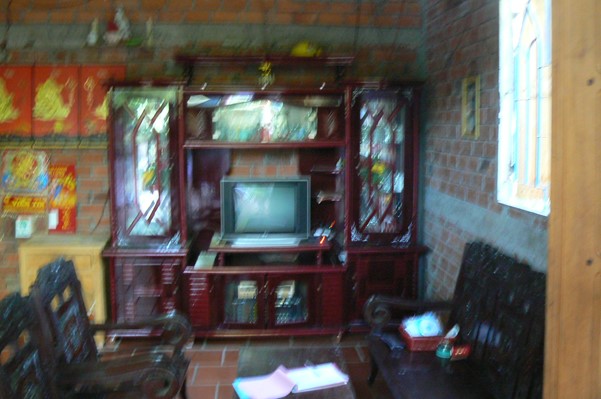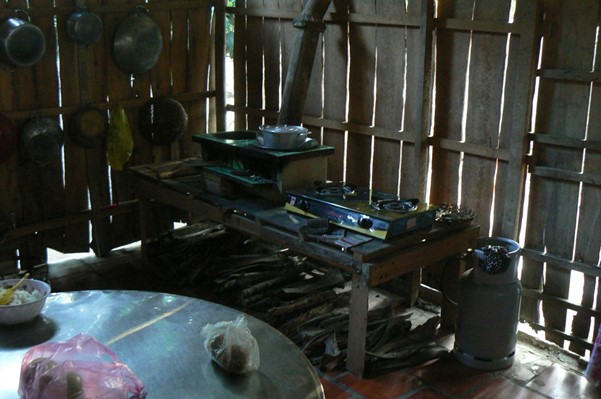 And on the way back to the boat – rice fields. Please note the burial crypts on the right hand side: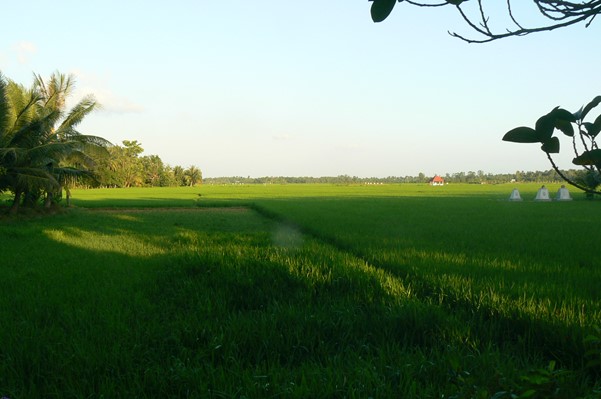 And speaking of burial crypts, here are some more: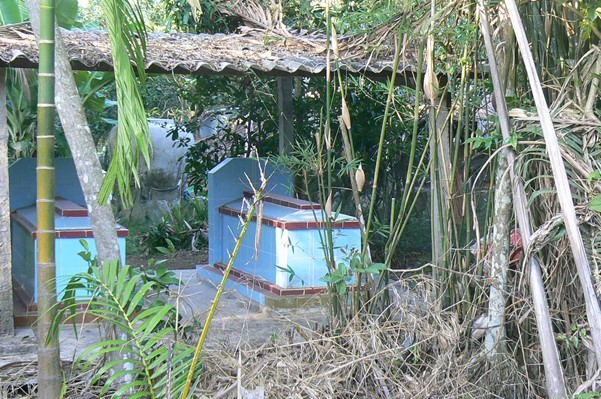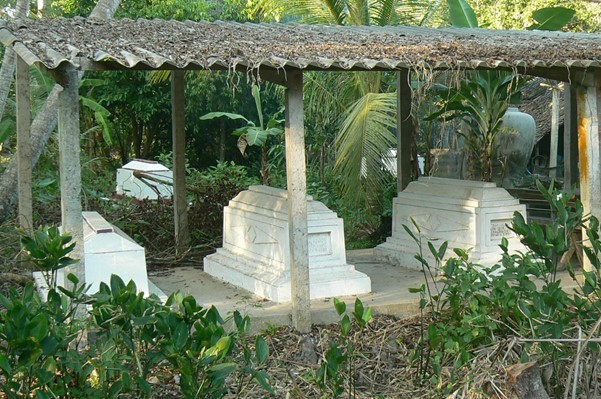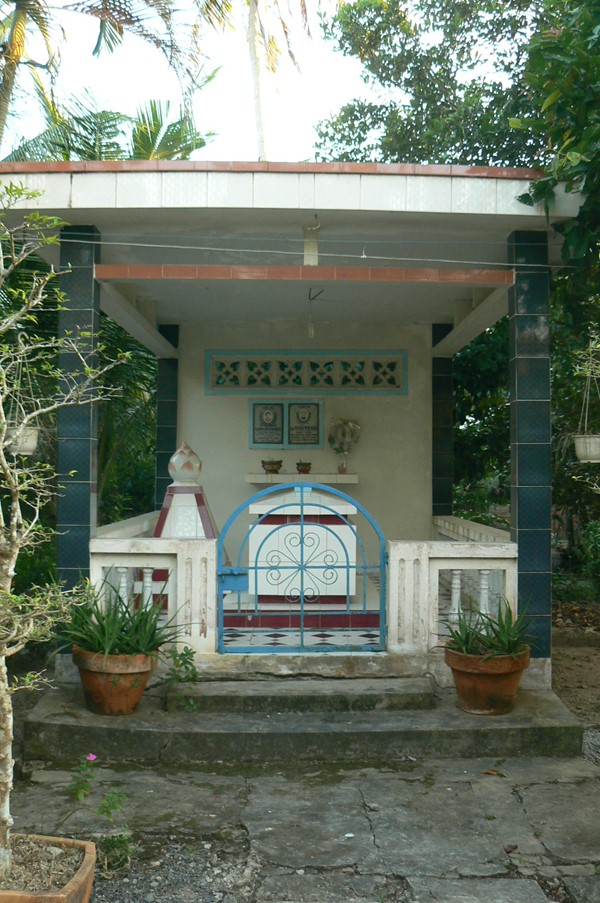 Tour over – back to the boat we go, with enough time for a cocktail or two before dinner – good thing we stocked up in town!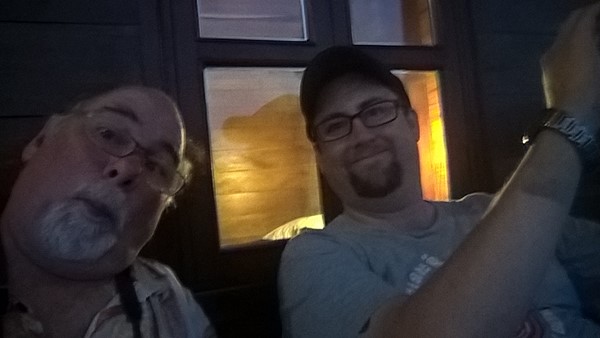 Off to dinner we go…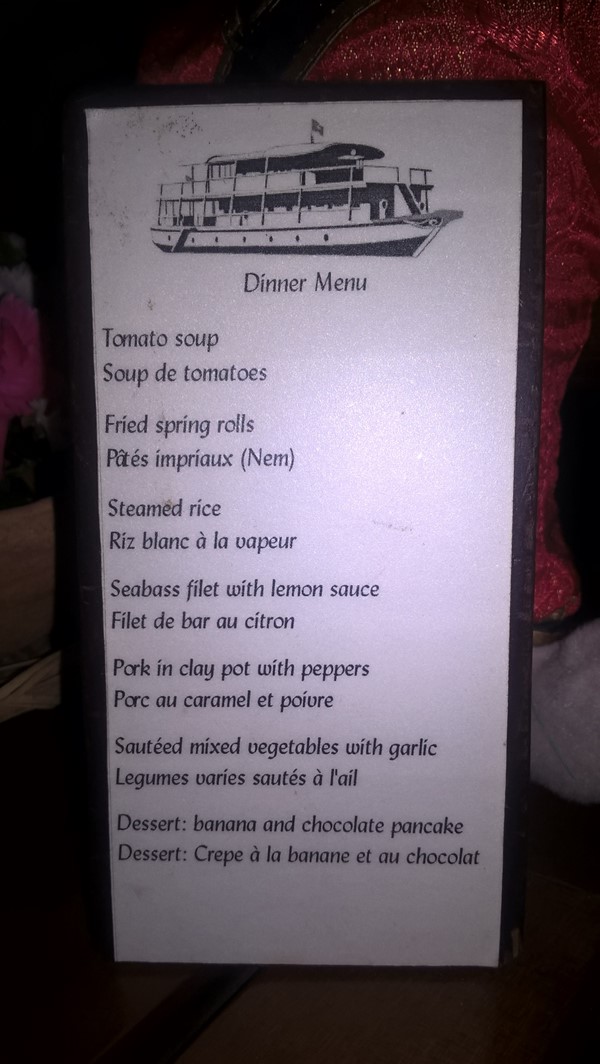 Looks yummy doesn't it.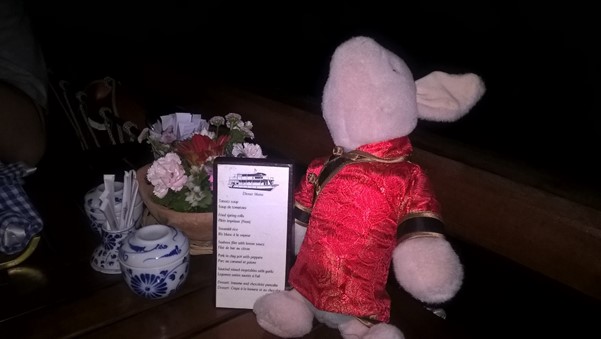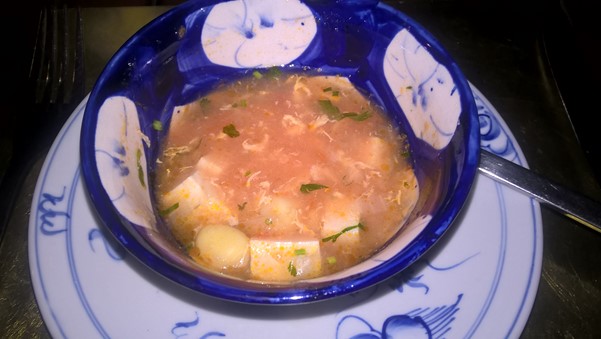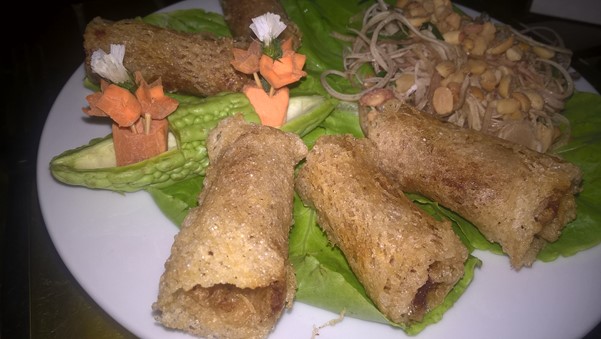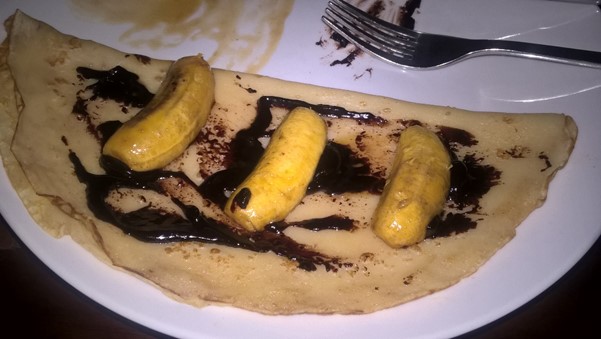 And we even sprang for a little white Bordeaux: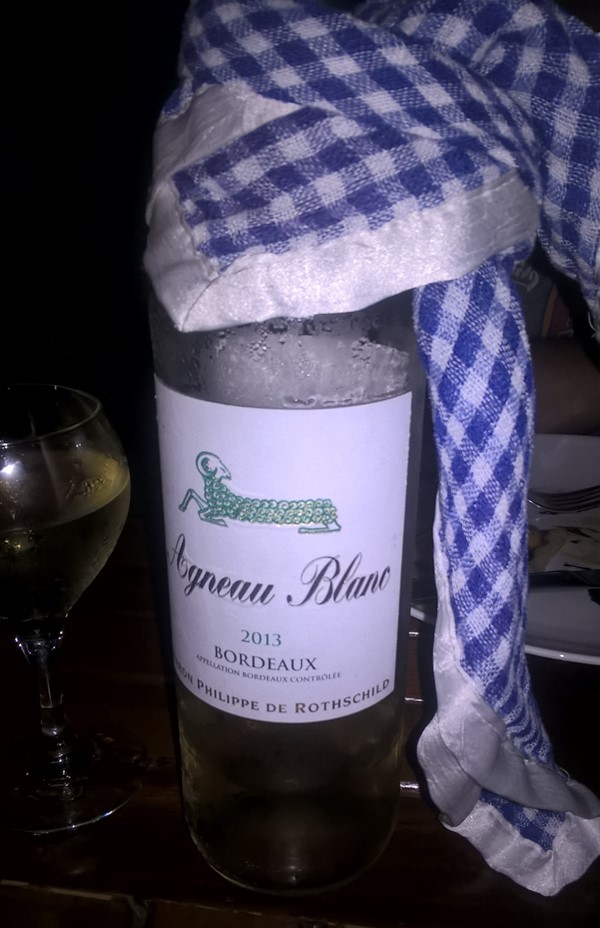 Nothing like a full moon to complete the evening: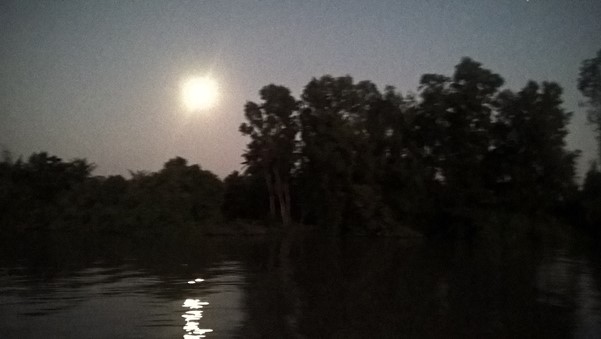 It was an early to bed night for all three of us after a very long day.
[? ? ?]