Just a reminder to those readers arriving here from FaceBook. Links from FaceBook
are a direct link to this post, so you miss the previous posts. You can see all the posts by either clicking on the UMTravels banner, or HERE.
Sean took Monday and Tuesday off so those are out museum days…and with him working Wednesday and Thursday, I'll be making my wondering tours of his neighborhood. Who know where food will end of in this.
First up Is a little breakfast – turns about its cracked rice and chicken – should be a nice base for a day of sightseeing.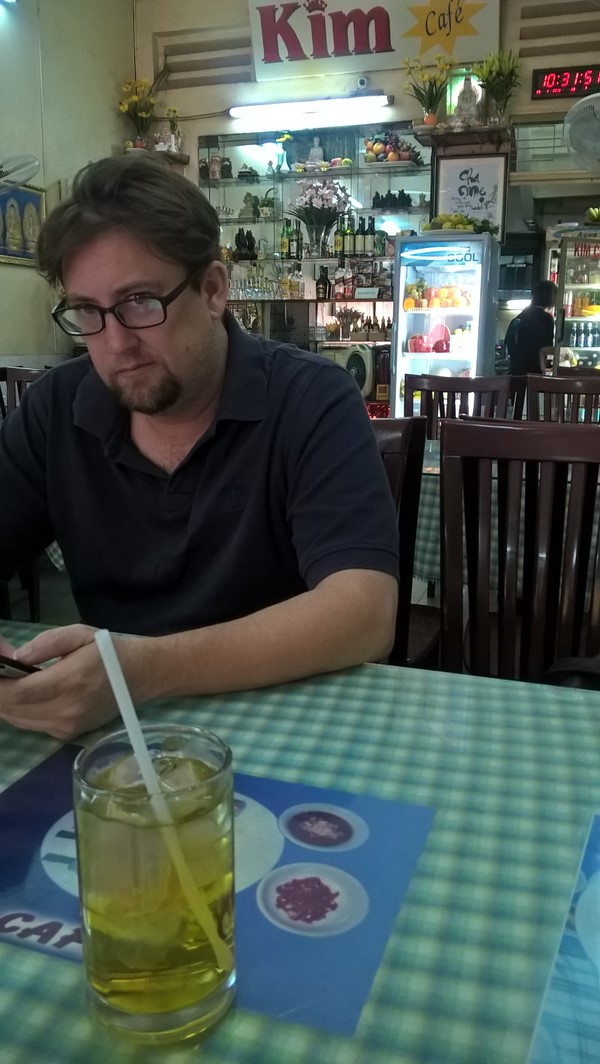 Maybe I should have had something other than tea — morning cocktails were $1.50 – were is Magnatroia when you need him!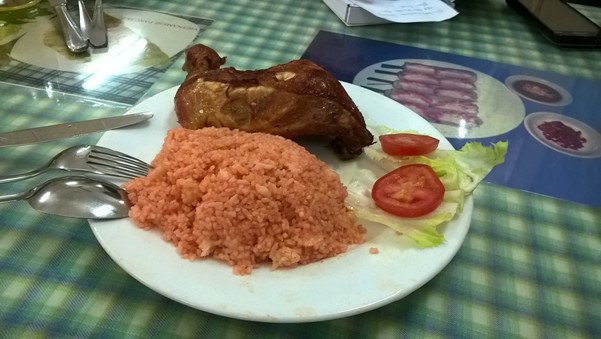 Next up is a little shopping at one of the oldest Colonial-style
markets left in Saïgon. That would be Bến Thà nh Market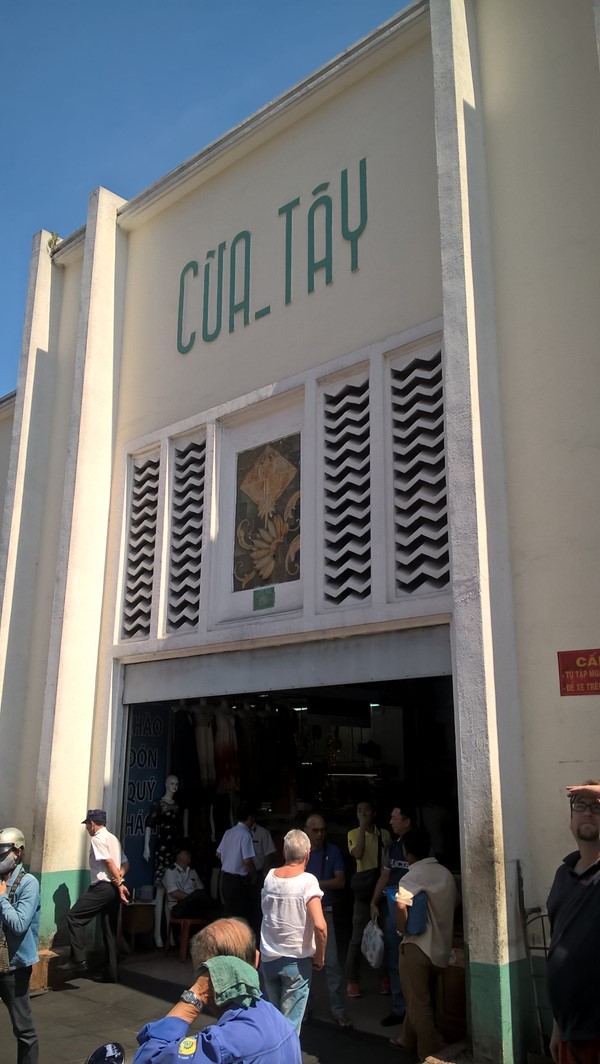 Getting there through Saïgon traffic is what we need to do first. More on that in the next post, but here is a preview (next post will have scary traffic videos). I'm in the bitch seat on Sean's scooter wearing a Hello Kitty helmet. It goes with my Hello Kitty watch.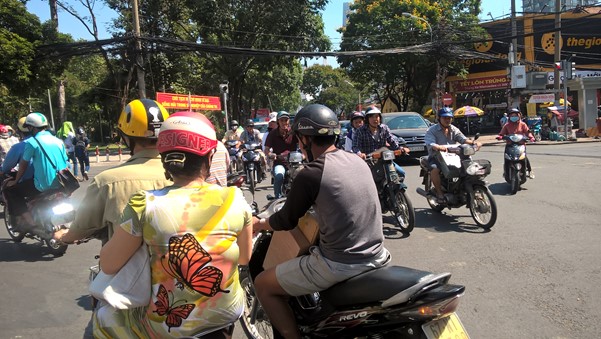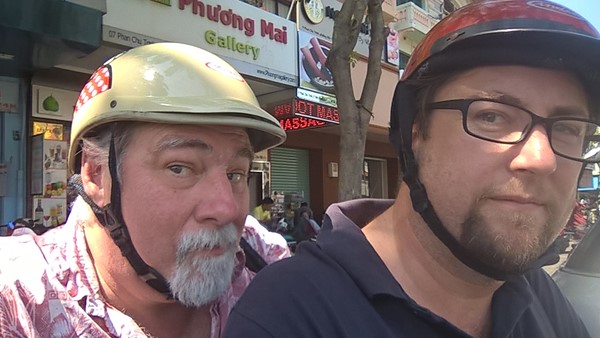 I've been to markets like this around the world – lots of touts hawking their wears – I did see an interesting domino set for Salamander – but no real time to look/bargain/haggle – just not into the markets as I once was. Just show me a price, that's all I want.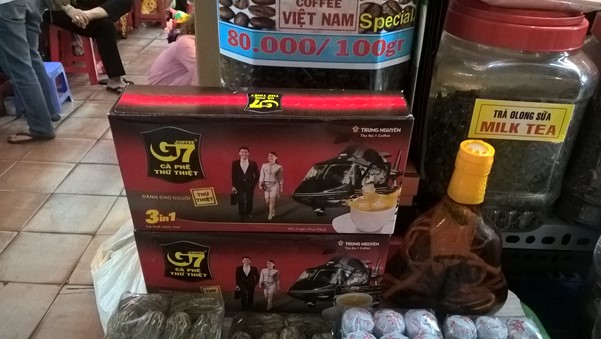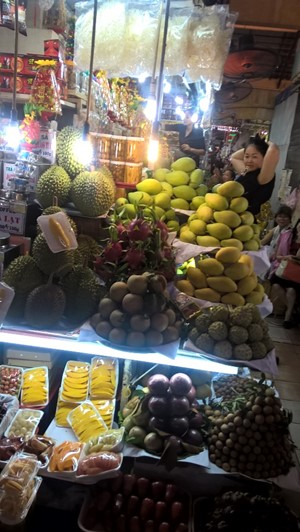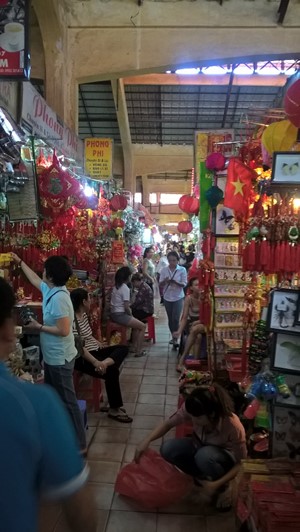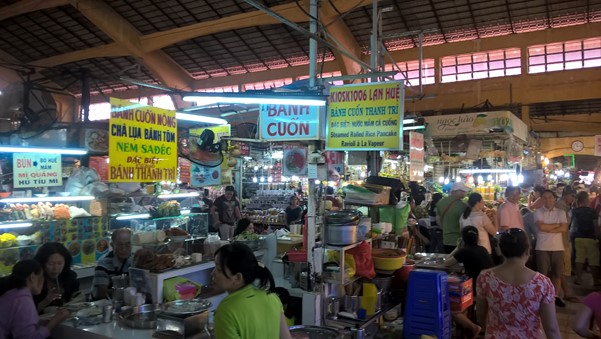 I did see some humorous shirts I've have gotten if I didn't know that they would last one washing.
Next up was to swing by the post office – Sean
had wanted stamps, but the lines made it hard – no stamps, but another cool old colonial-style
building.
Across the street is one of the Cathedrals in town: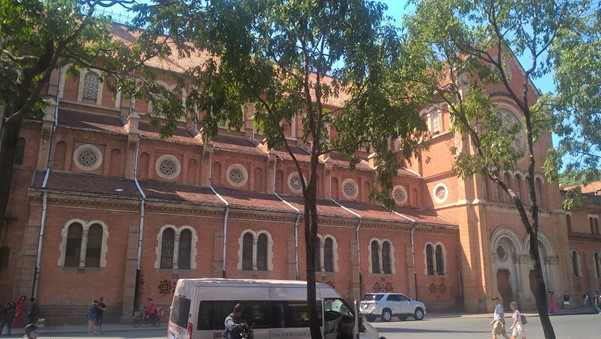 Alas it being noon, the church wasn't open to the public, so we settled on one of the oldest Indian-based Hindu Shrine around the corner. Apparently the original member-base were all Indian bank workers.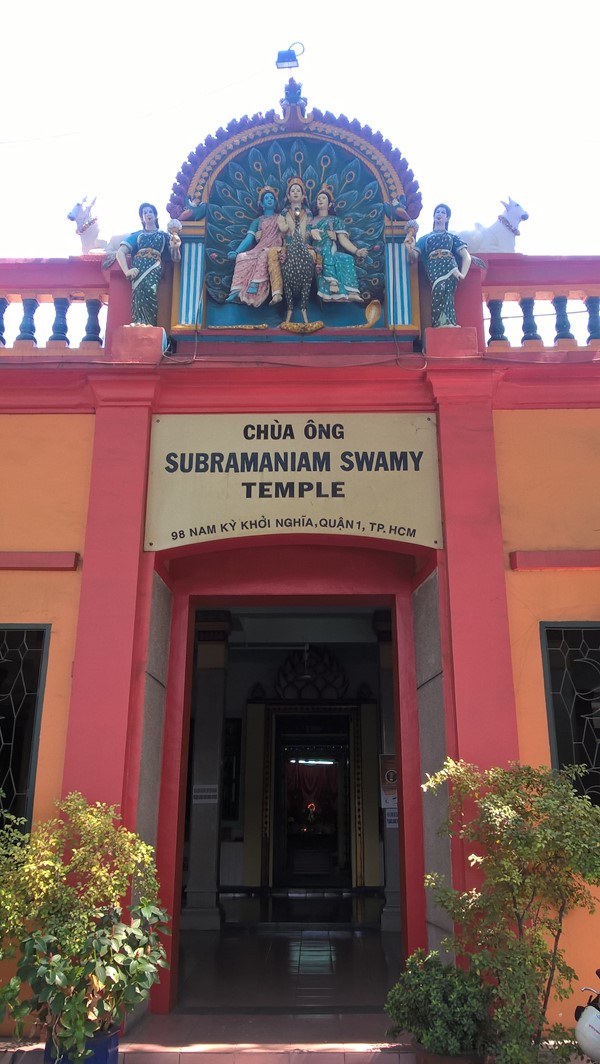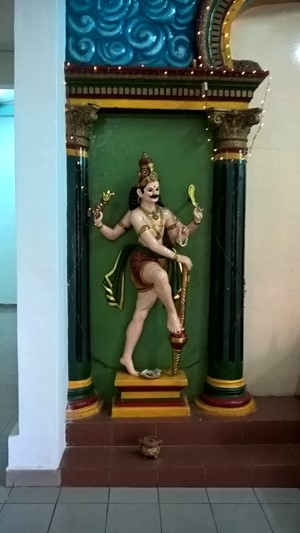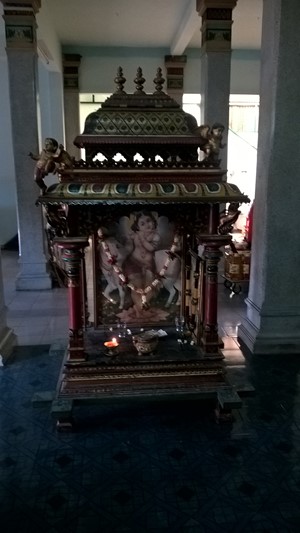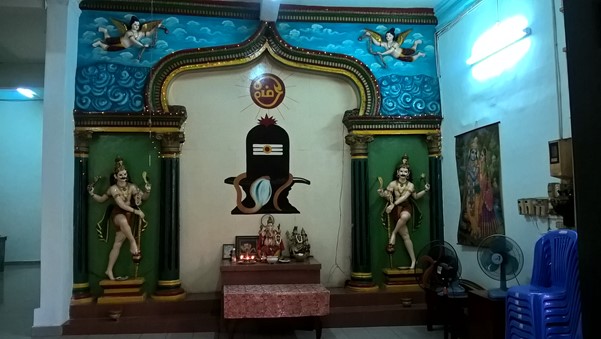 As mot much is open for lunch, so off to a coffee shop for tea, blood orange bubbly, free Wi-Fi, and clean bathrooms.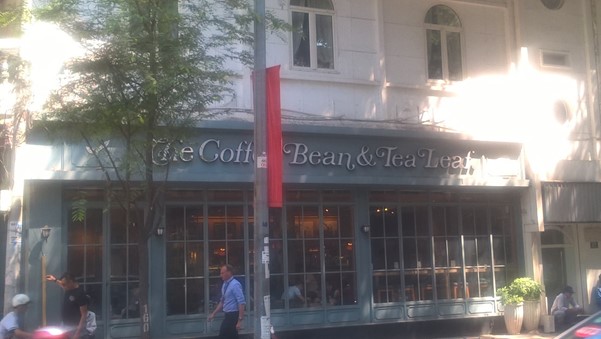 Rested, cooled off, relieved we next check into the Reunification Palace, also known as the Independence Palace.
It was a time building that my friend Russ really needs to see – I'm surprised the North didn't just level it after the war, instead, they turned it into a time-capsule.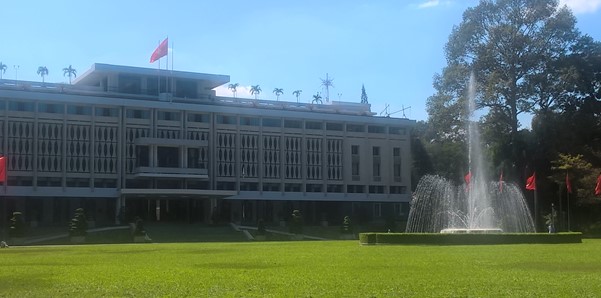 It feels like a monument to late 60's design – love some of the rooms: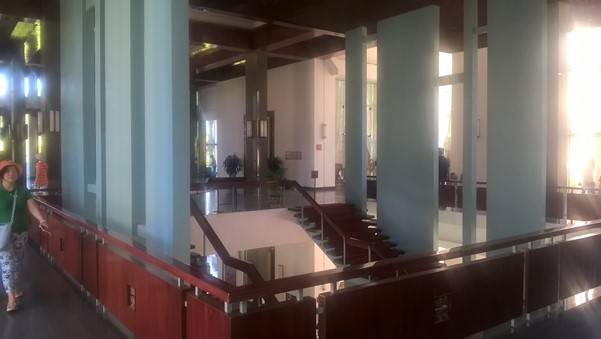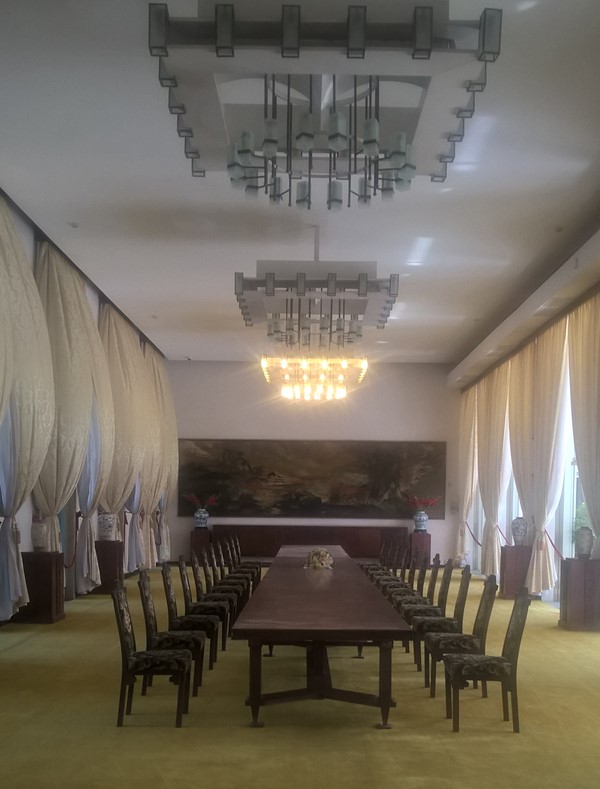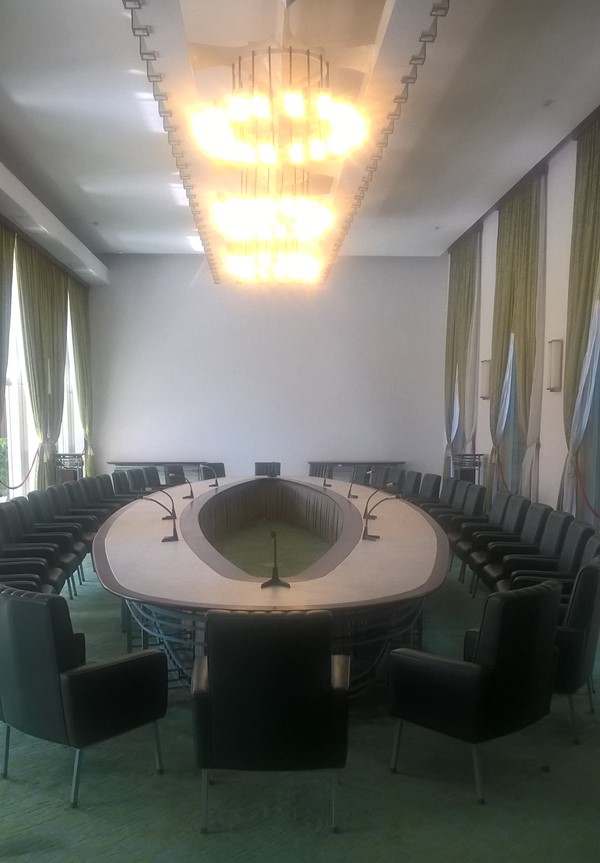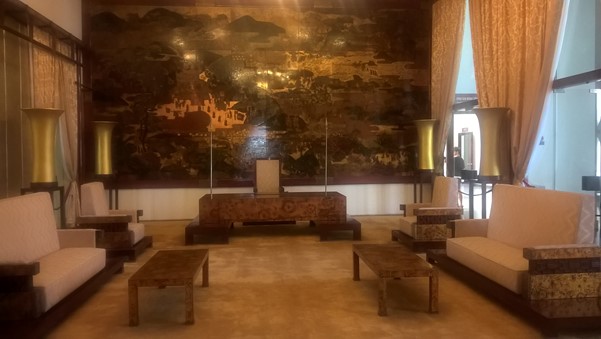 And my favorite – the game room with bar…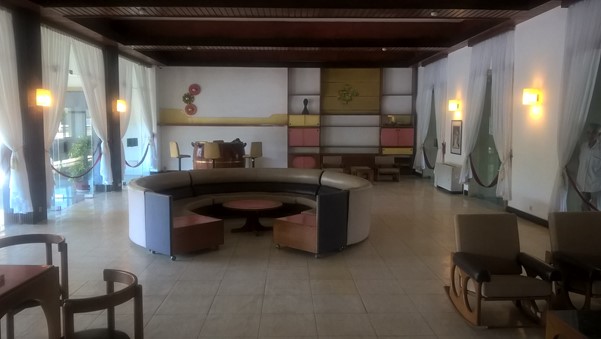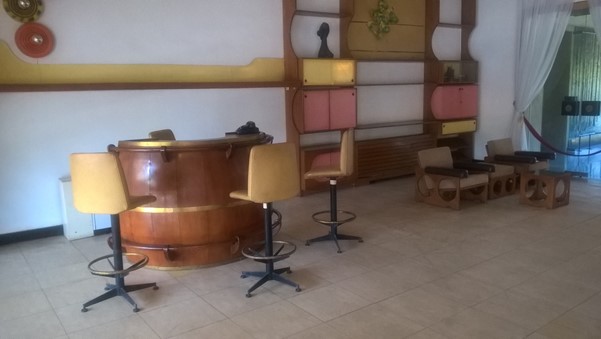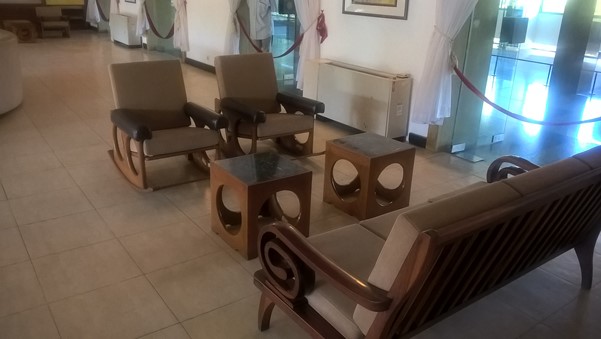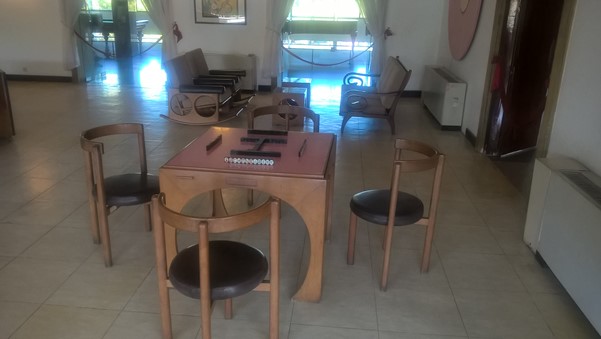 I think Jill would like this room as well…or maybe the theatre with its chairs: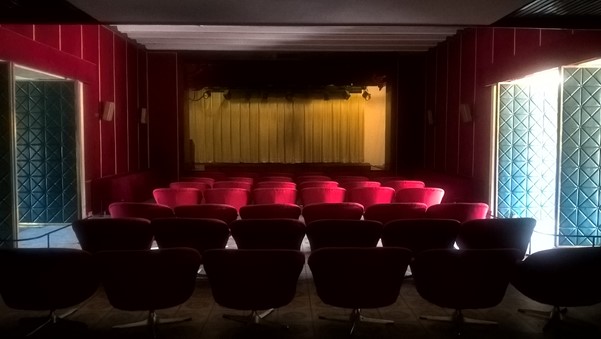 They even preserved the projection booth: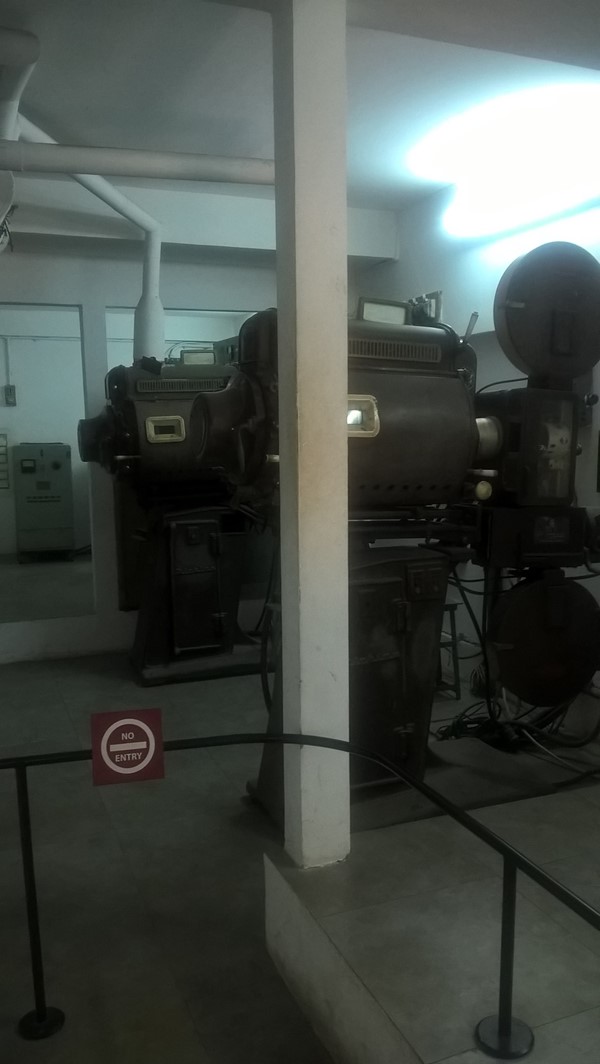 And if you needed to get out in a hurry, grab a Huey from the roof: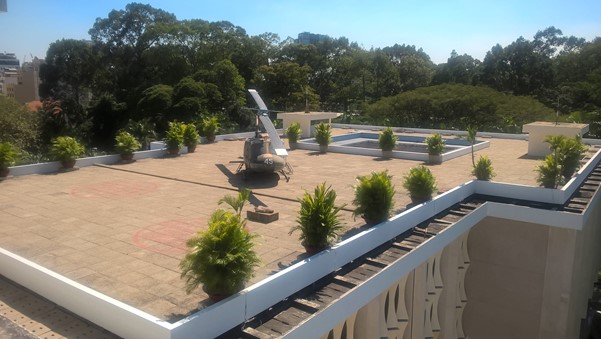 Under fire and can't get out on the chopper – head to the bunker: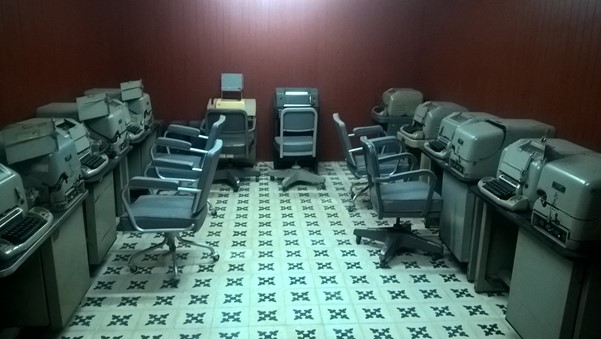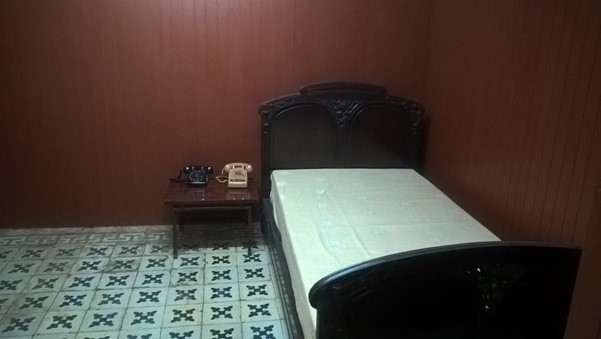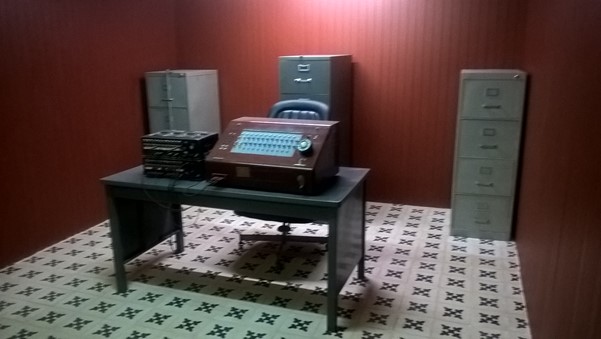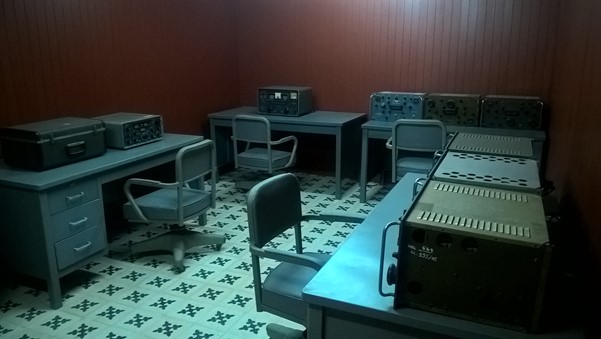 And when the attack is over, have company over and have the catering kitchen whip up a meal – yes, I had kitchen envy: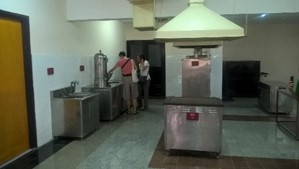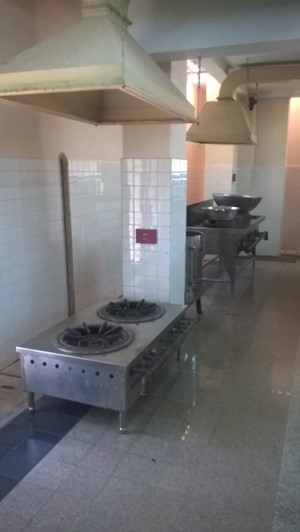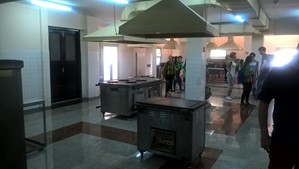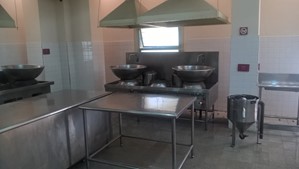 On the grounds there are examples of the rogue South Vietnam plane that bombed the Independence Palace (a pilot switched sides), that has a black "X" over the country logo: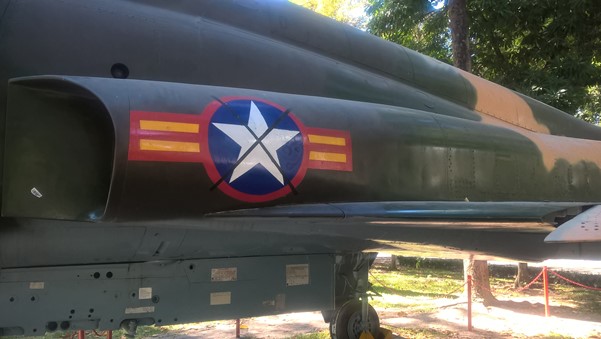 And one of the tanks that stormed the palace: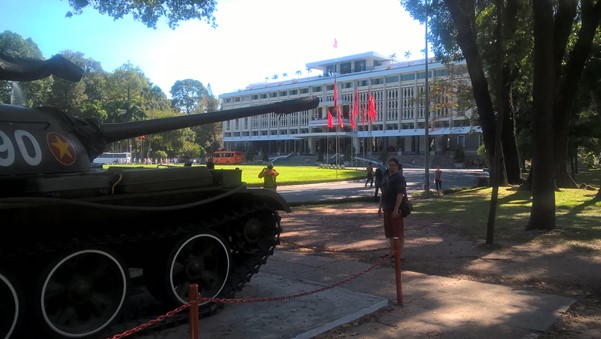 Totally museum'd out for day, it's off for a city tour…Graham Greene wrote "The Quiet American" in this bar of the Hotel Continental, across from the Opera House: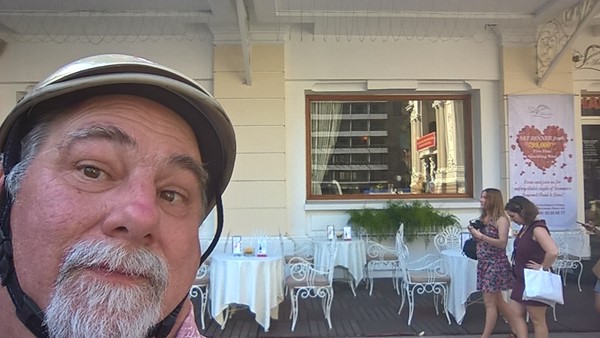 Said Opera House: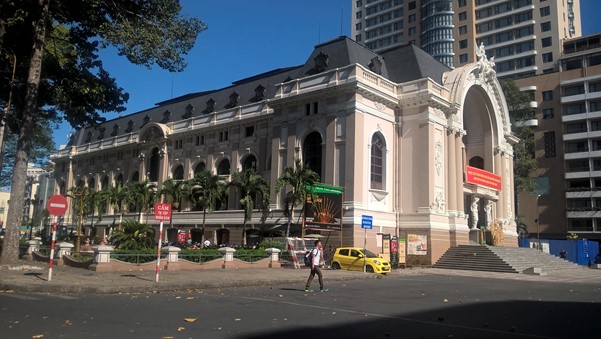 Last tourist stop of the day is the top of the tallest building in Vietnam to have a drink. They devote the lowest floor of parking just to scooters!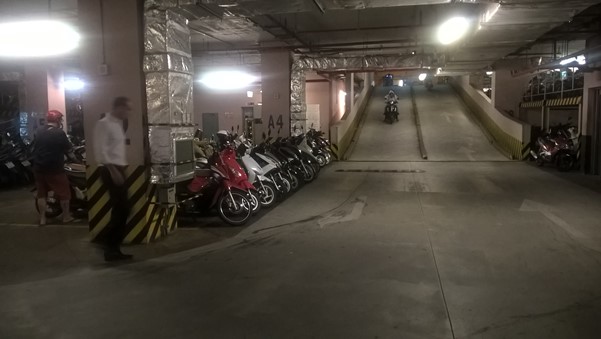 It was a little convoluted to get to the bar – query the front counter (it's a mall and food court for the first couple of floors), take an escalator to the reservations desk, be escorted to the elevator to the reception desk on 50, put on another elevator to the 51st) – all to get to a fairly tacky bar with a killer view: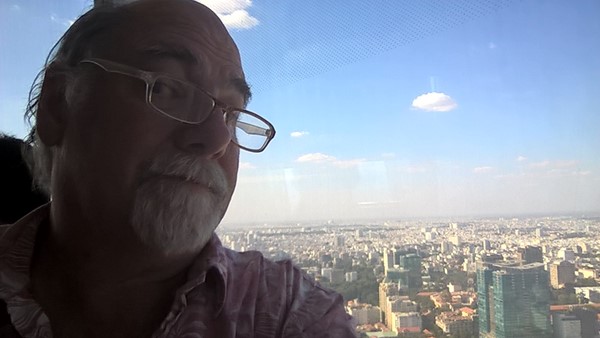 With expensive drinks – by Vietnam standards: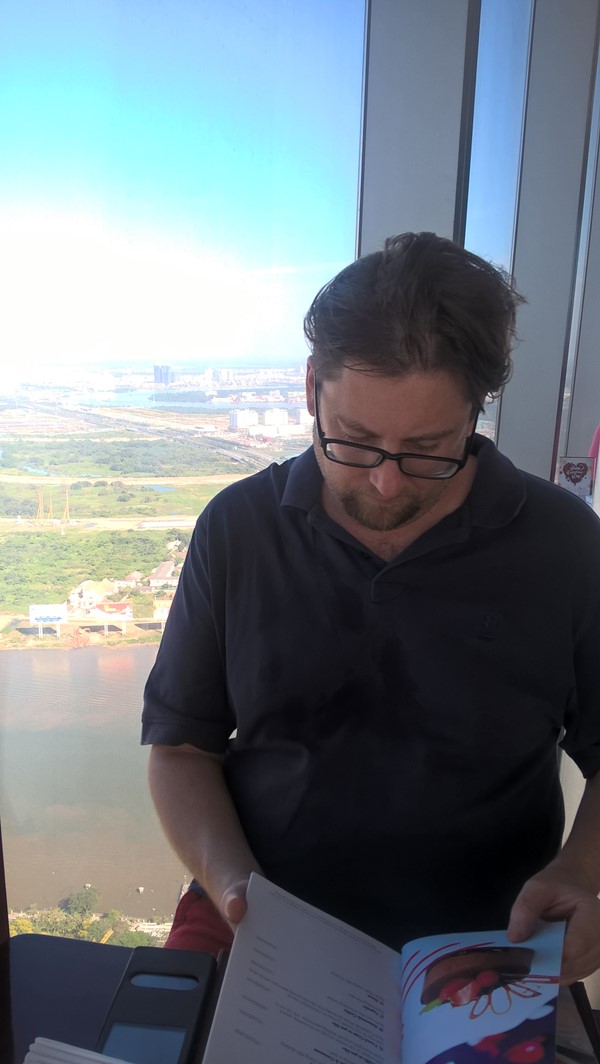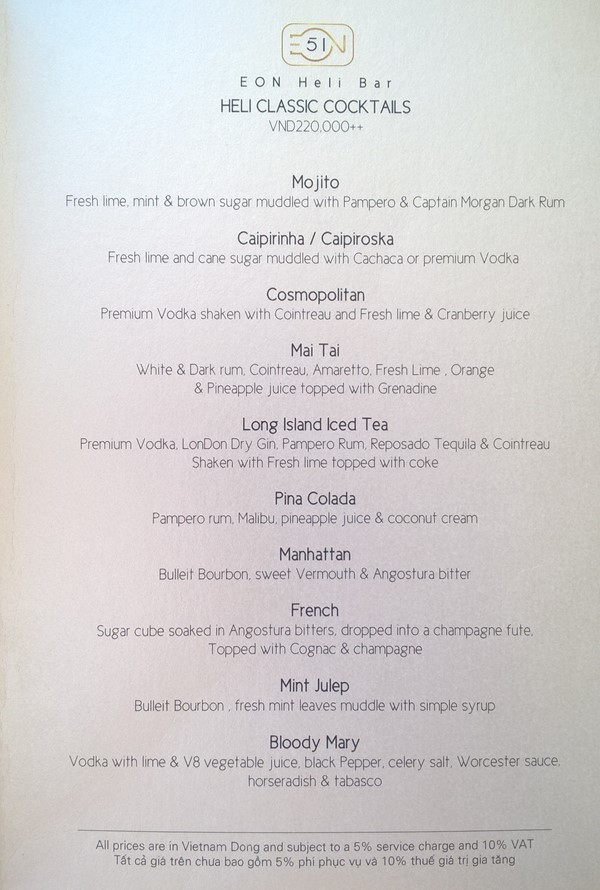 I had a Manhattan – decent ingredient selection, but 220,000 Dong –$9.89 USD, and it was Bulleit Bourbon (I'd have preferred their rye). Plus, add 5% service charge and 10% VAT and you are really at $10.04 a drink. Much more than the $1.50 per cocktail advertised at the restaurant we had breakfast in.
Sean had a beer – also overpriced: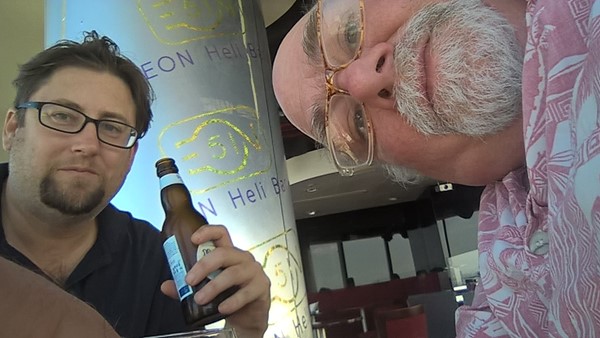 But there is the view: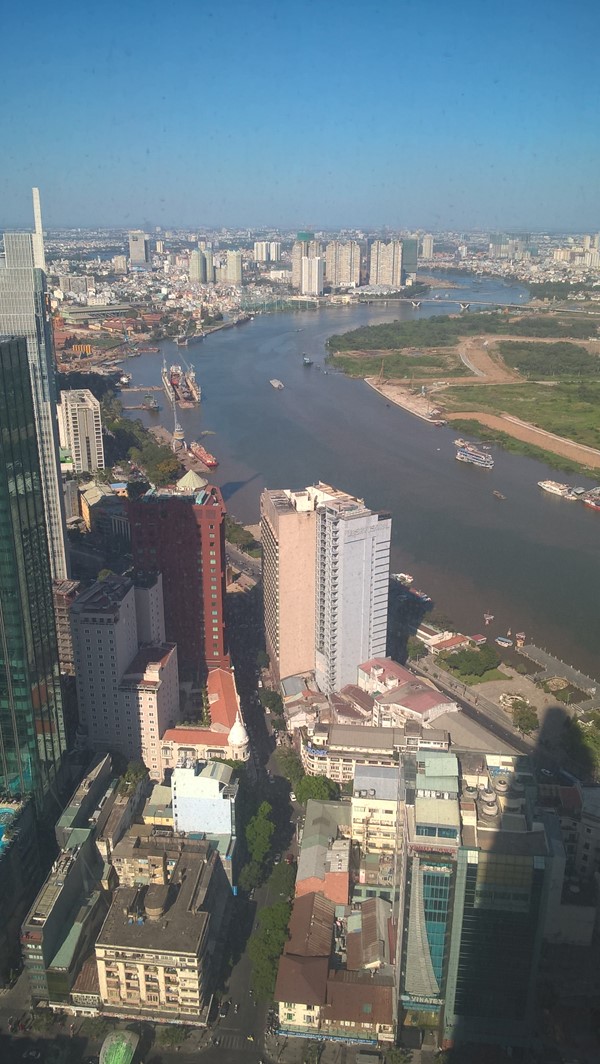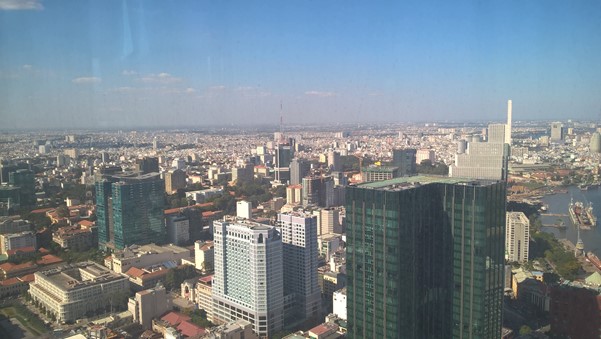 And the Heliport…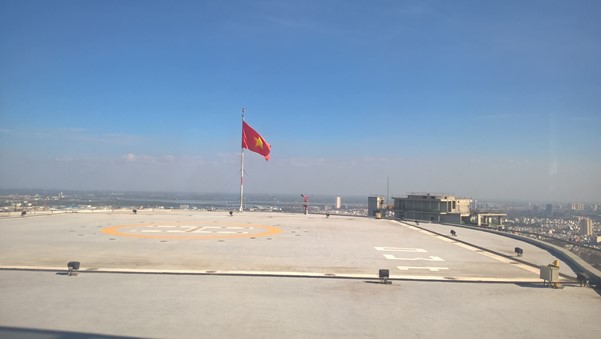 Done with cocktails it's time to head back to the apartment – I'm meeting up with Ming who I met online. The plan is drinks and appetizers at the apartment which means a run to the "supermarket" around the corner for supplies. Meet Ming – medical equipment salesman: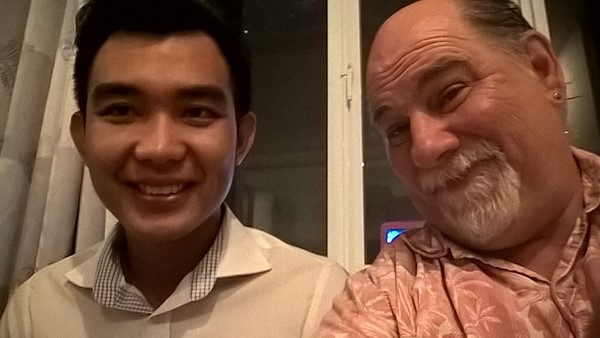 Never did get a proper meal, but I did check out the Yacht Club Scotch!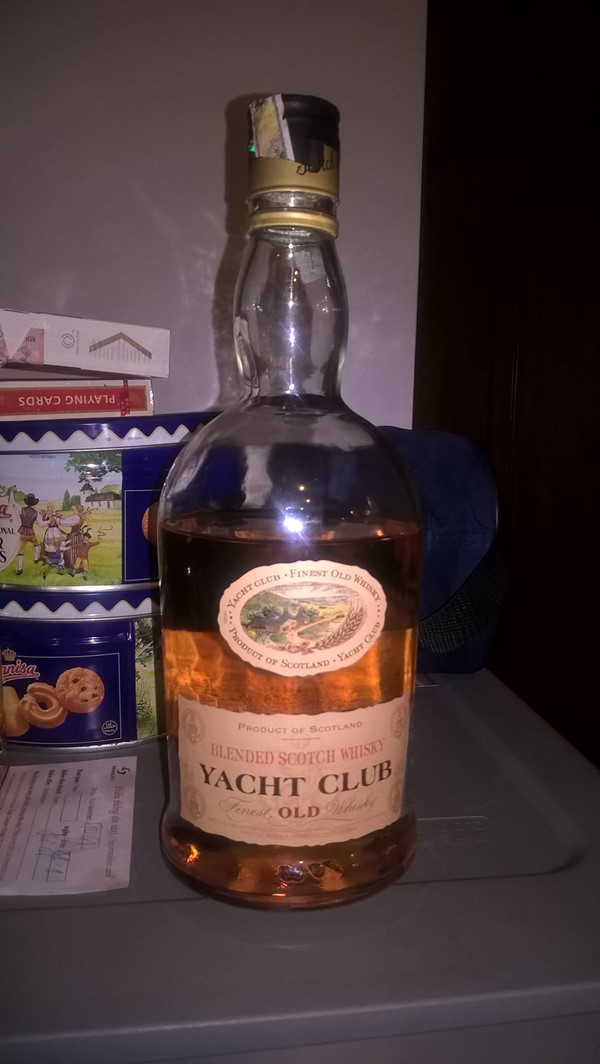 It's "old", though I doubt as "olde" as me.
[219.6]