The trip is winding down – time for Pigletté and Uncle Markie to head back to Seattle. The flight to Dubai is scheduled for a little before midnight – and when the check-in counter opened, I was the third person in the business line…this is what the economy line looked like: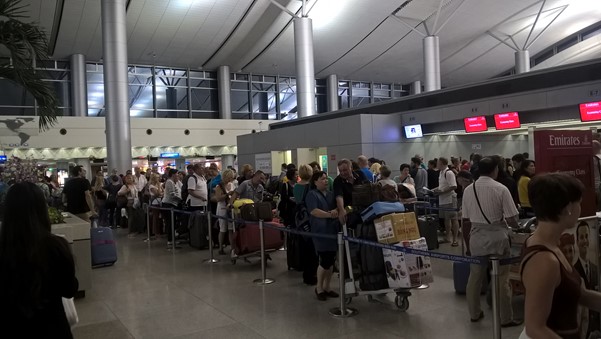 And there is a shared lounge for Emirates business class passengers…not bad, but no open bar, just unlimited wine. Sigh. But there is a big open buffet: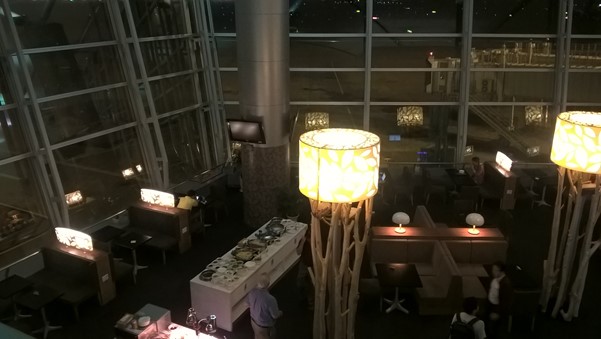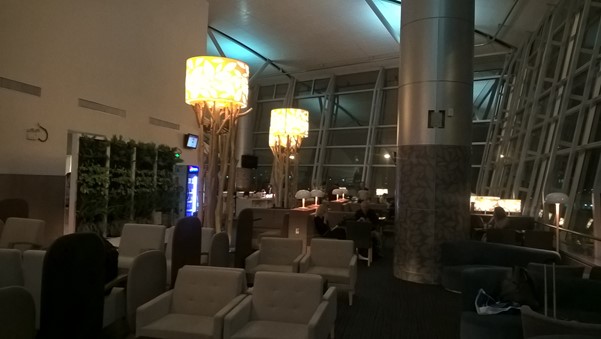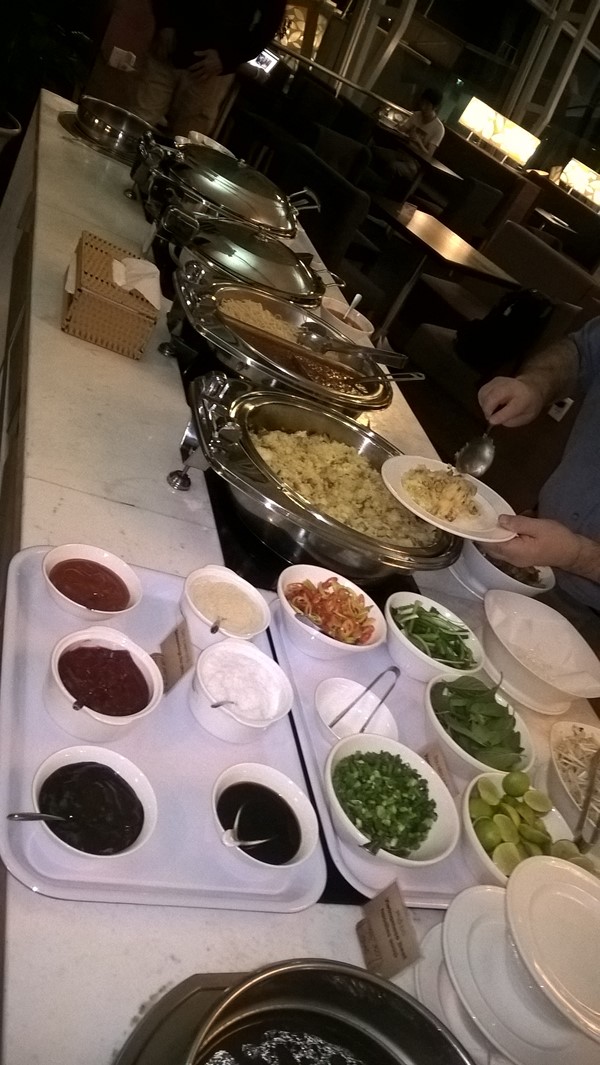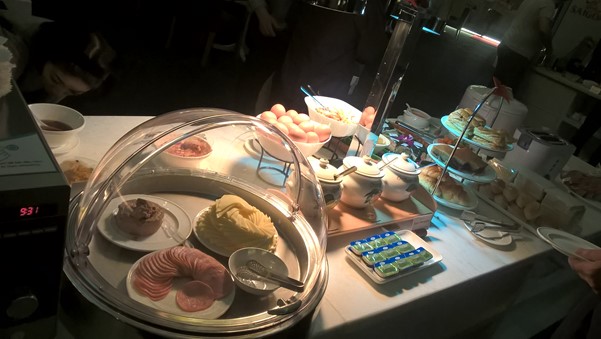 My office for a couple of hours: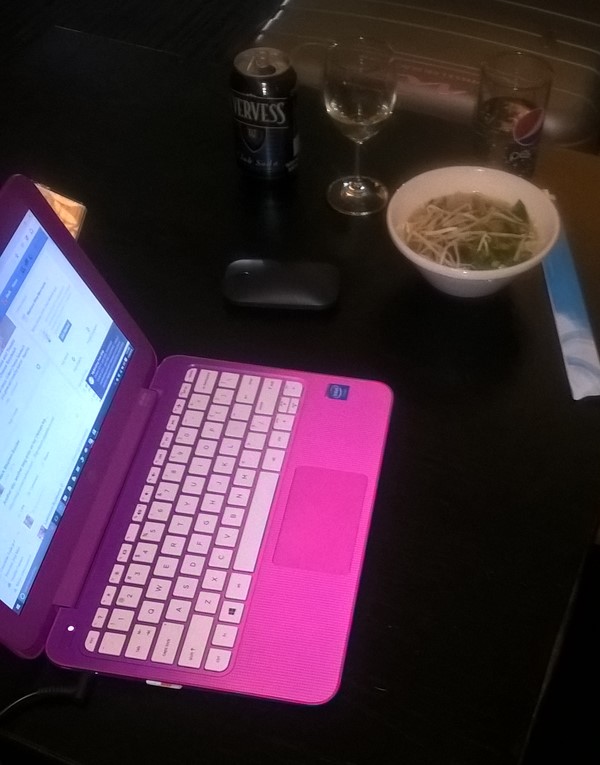 Wine, seltzer, beef noodle soup…a little post dinner, pre-flight food.
Another 777-300ER on the Saigon to Dubai flight. Pigletté gets settled in: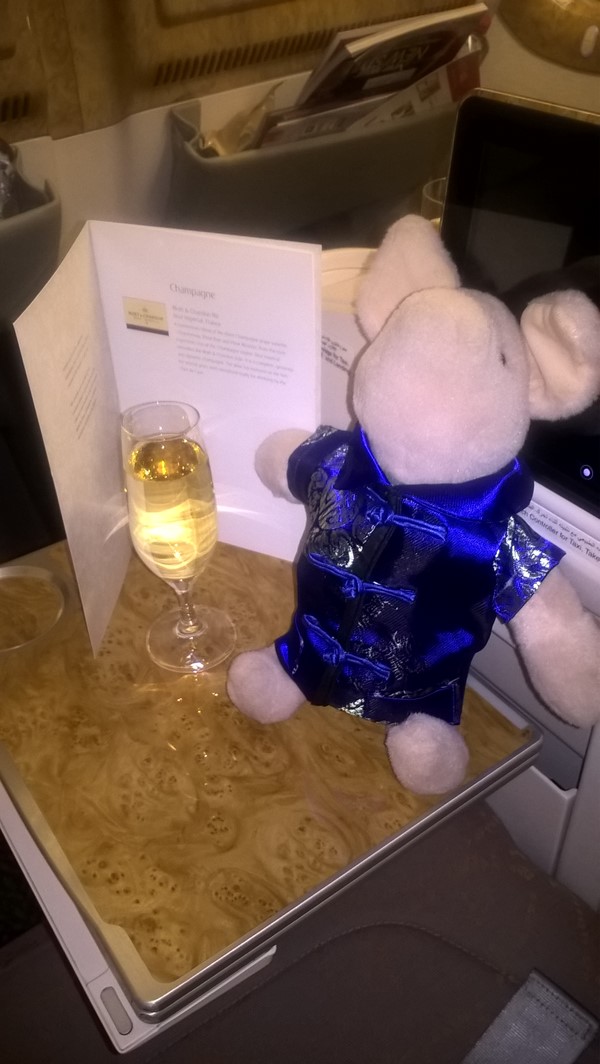 But he has to share his seat with Uncle Markie. Thanks to the lady in the window seat for this shot: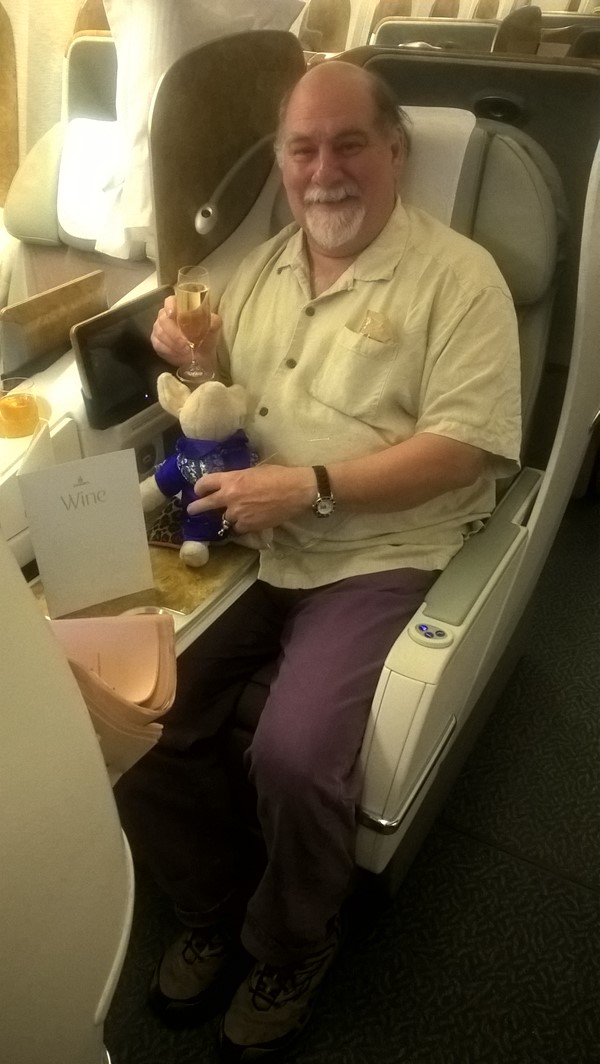 Soon it was movie time (Specter – a 007 movie):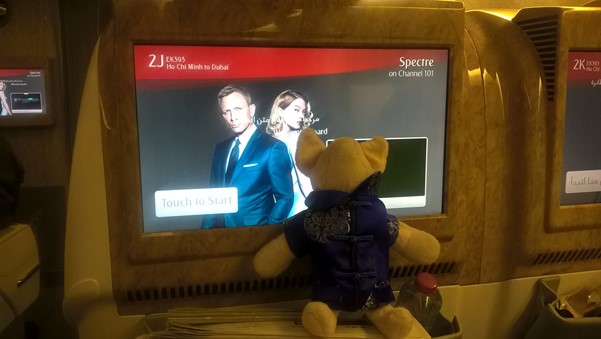 We watched the movie while the flight attendant worked on my Manhattan: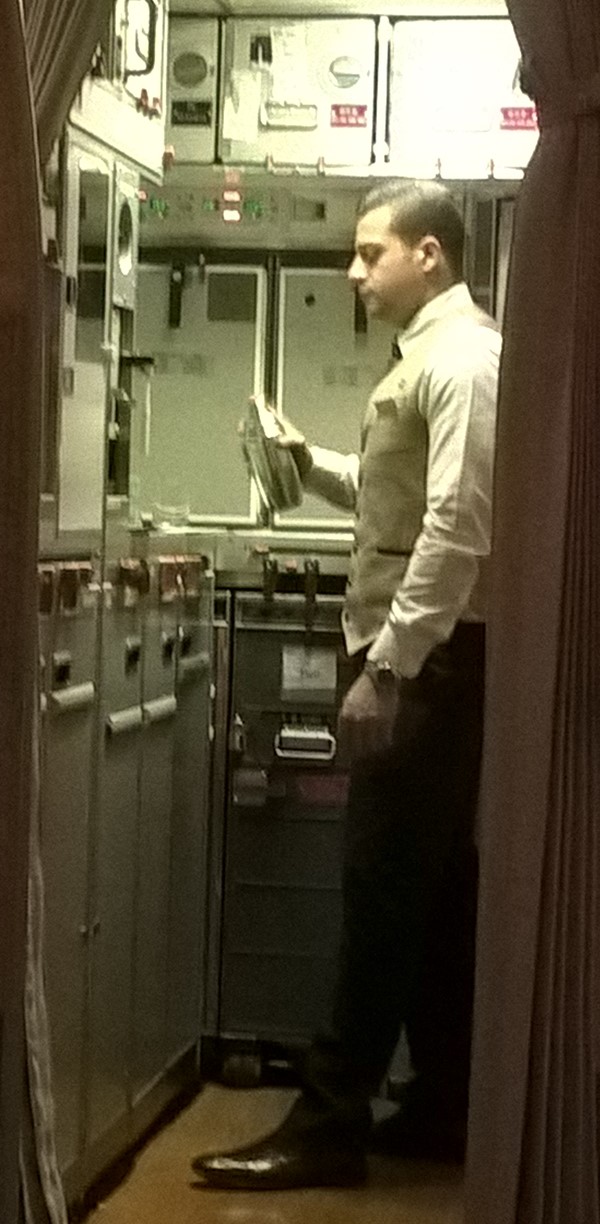 Which came with some hot nuts – Uncle Markie LOVES hot nuts: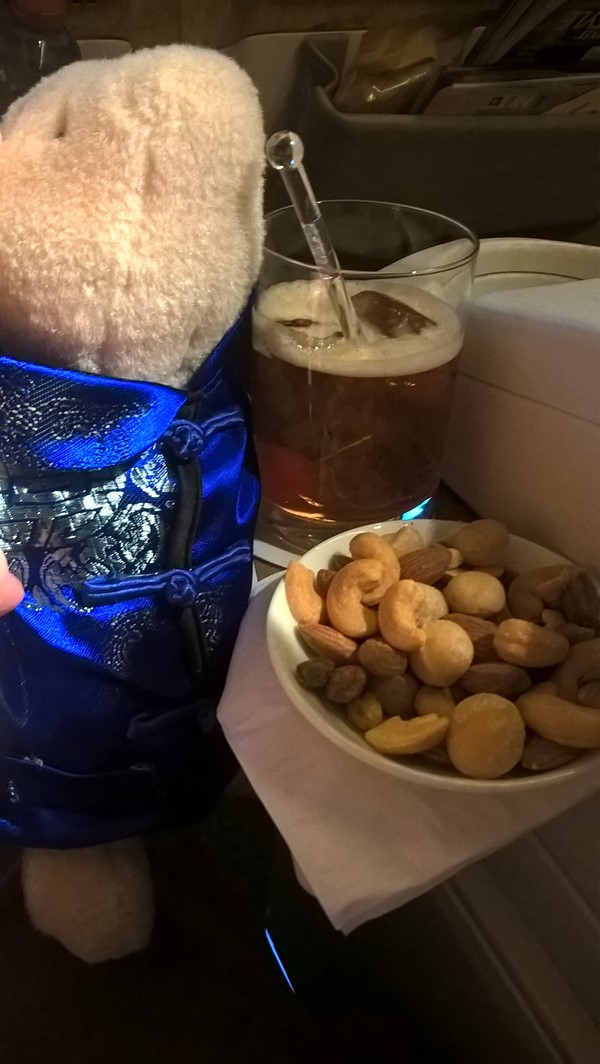 Even Bond, James Bond, enjoys a drink with us: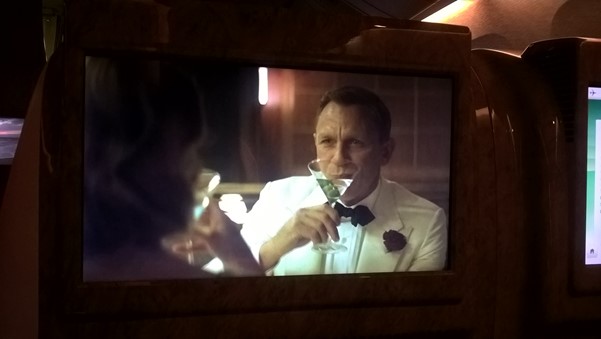 Before long, it was dinner time – and NO, that is NOT a potato, that's a dinner roll. The starters: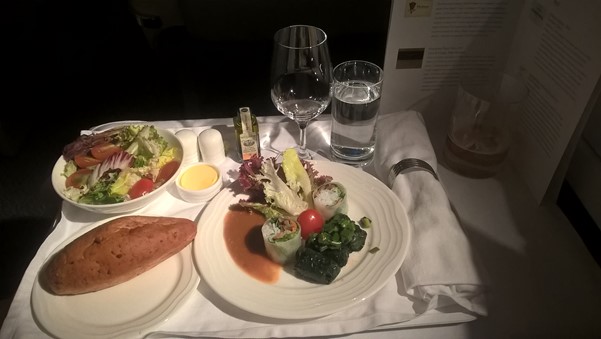 The main: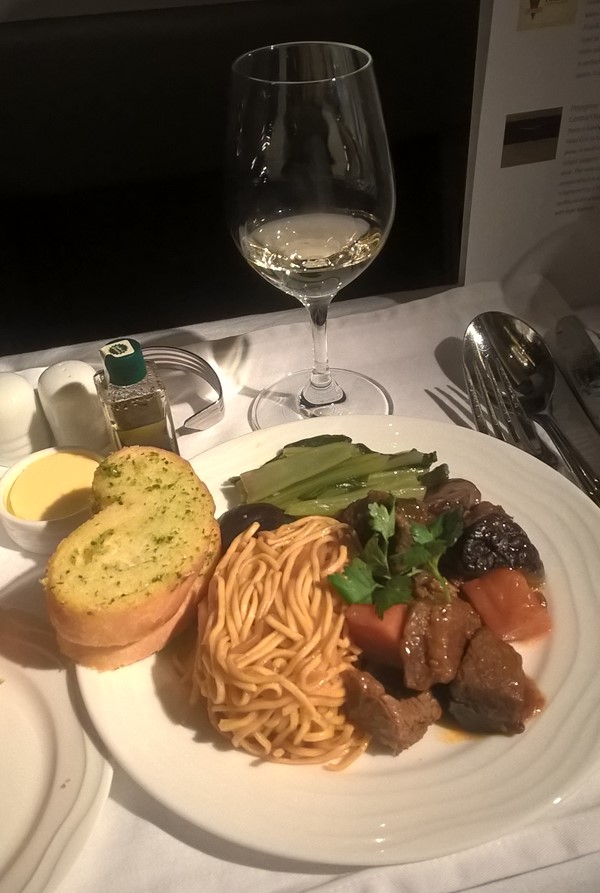 Time for some more movies: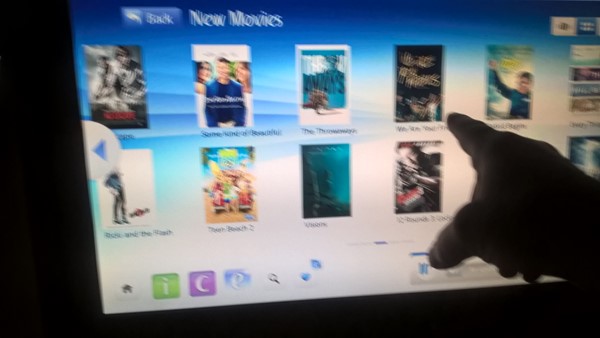 And the controller that also runs the system (in addition to buttons on the phone) – WAY too many options: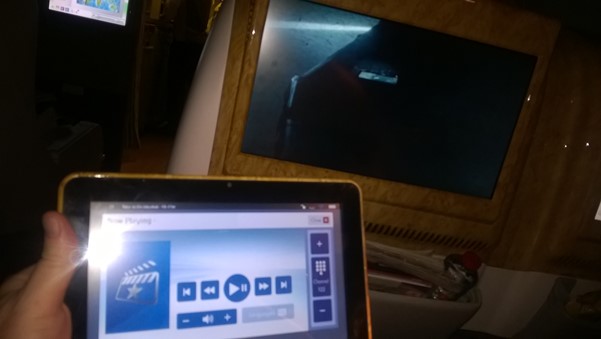 Here is a partial list of the movies I watched on the return flight:
And then there was a little sleep before arriving in Dubai at 4am in the morning – 4-hour layover, but the lounge is comfy and has "quiet areas":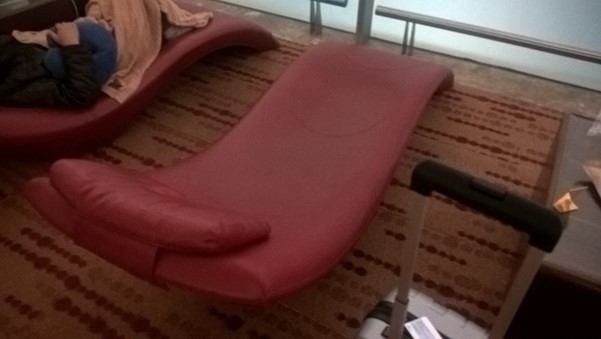 Don't I look comfortable?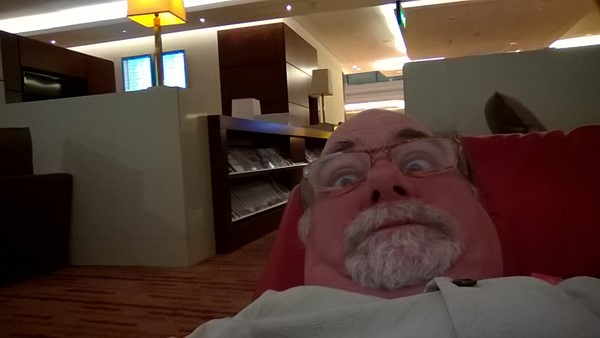 After a nap it's time for a little breakfast before the breakfast on the Dubai to Houston flight: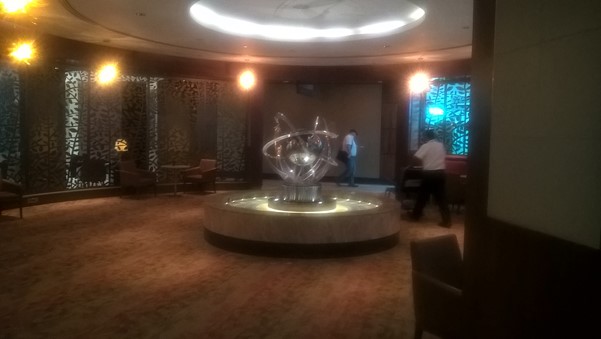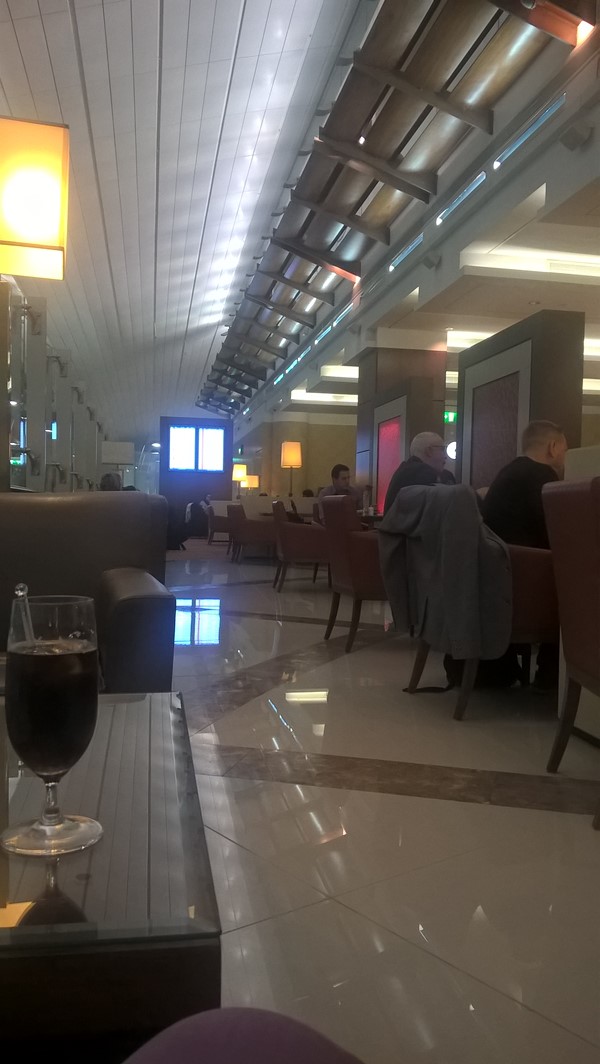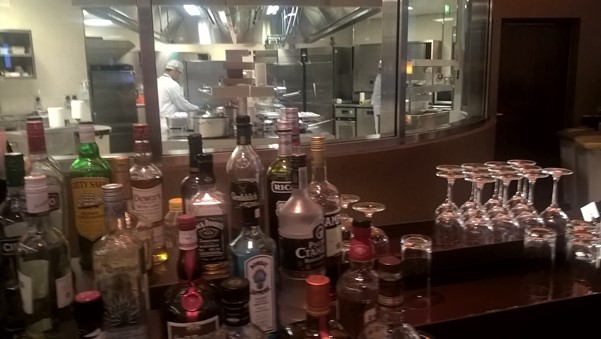 Got to love Emirates Business Class Lounges in Dubai (they have three, each of which are the length of the terminal) – and how is this for boarding. The Business Class lounge is on 5 (in this terminal), First Class on 4, 3 is god-knows-what: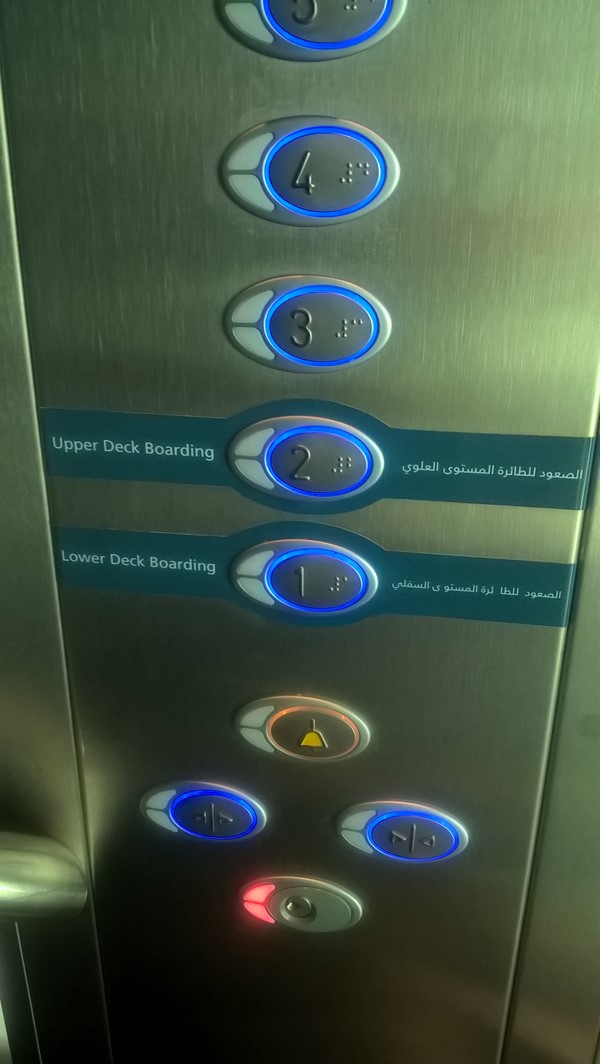 I love the "Upper Deck Boarding", "Lower Deck Boarding" buttons, which correspond this this: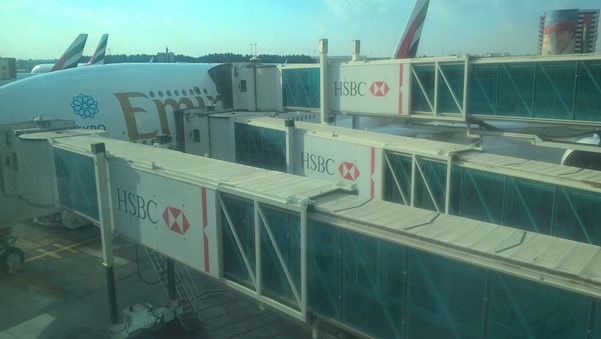 Yes, that is THREE jet skyways to the jet…Emirates A380-800 from Dubai to Houston is configured with
14 First Class closed suites
76 Business Class lay-flat seats
399 Economy seats
With almost 500 seats you got to board these things from every orifice.
Wonder what economy looks like?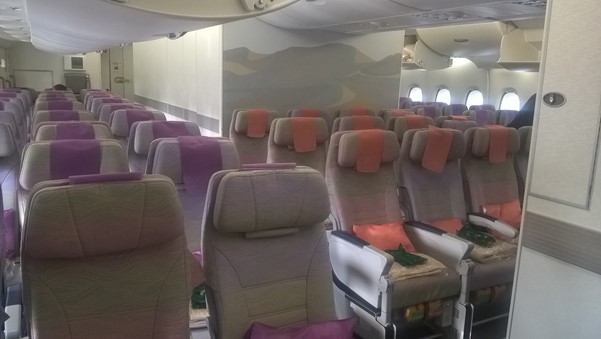 That would be a wild-body seating configuration of 3-4-3 (10-across). Upstairs, well, these are the back stairs – the front stairs go to First Class: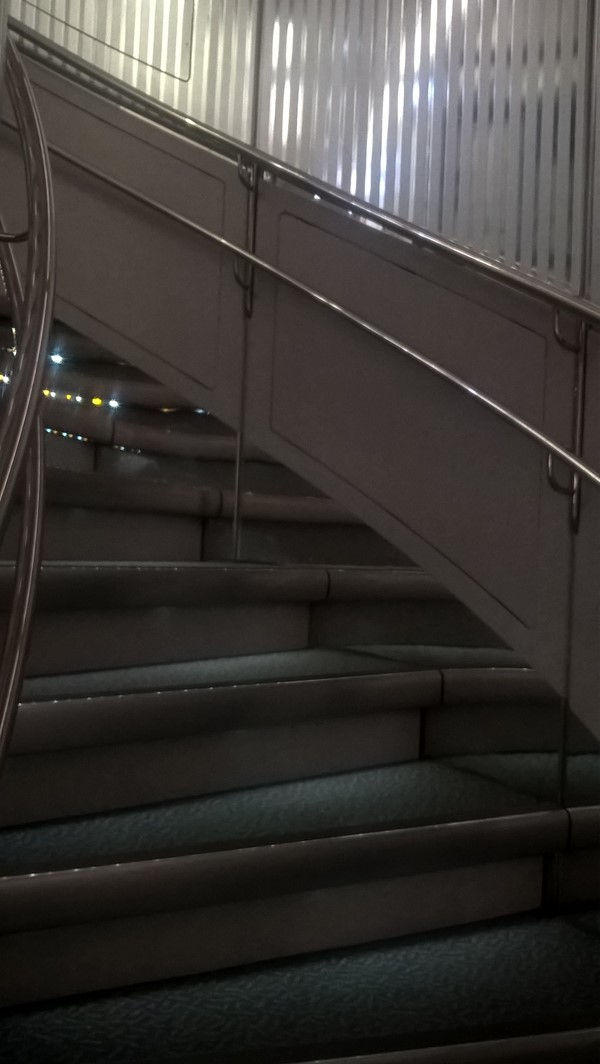 And the Business Class section which is a 1-2-1 configuration: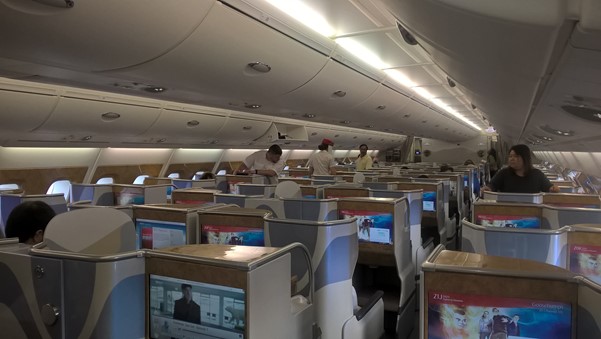 And my pod…
This was before I moved across the aisle so that I didn't have to squeeze past the end table (which the feet of the person behind me slides into. Fresh flowers even: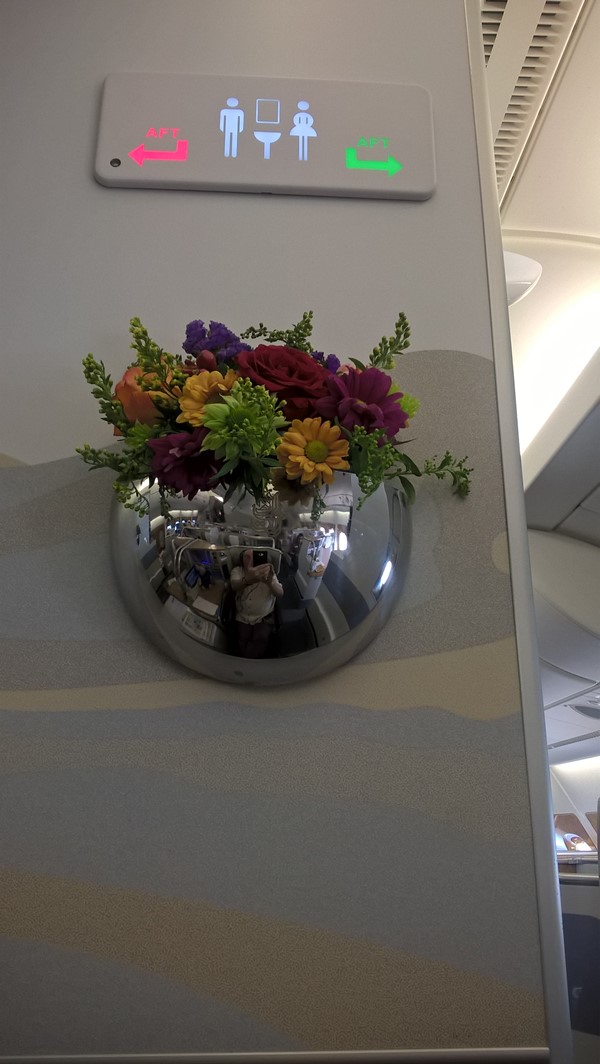 Which was right above my 22″ tough-screen display…more reasons for changing seats.
Lots of charging opportunities…(and noise-cancelling headphone jack):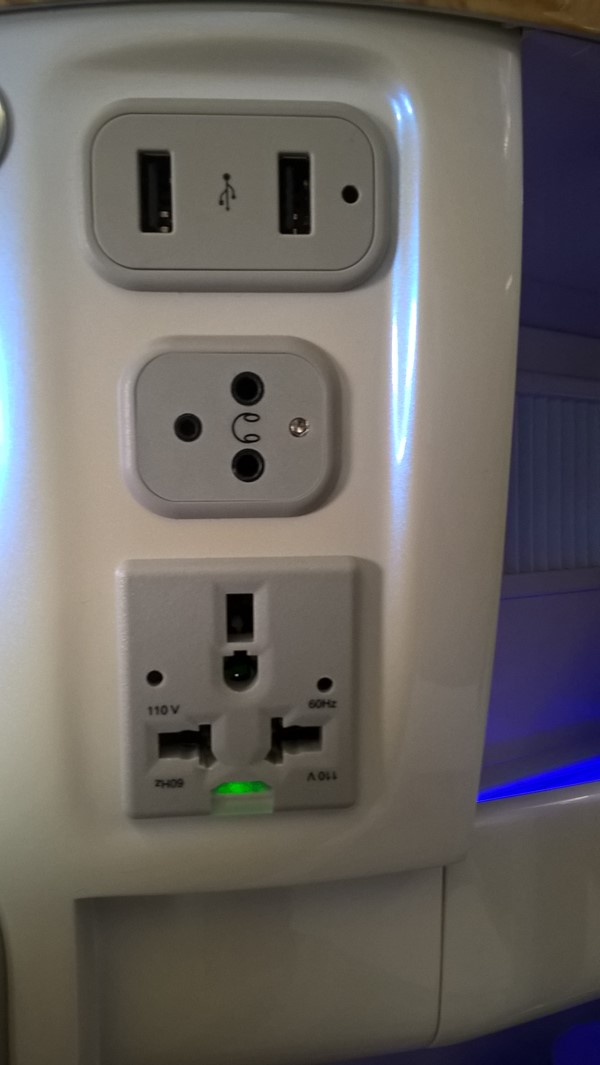 Add reading material (and Champagne) ….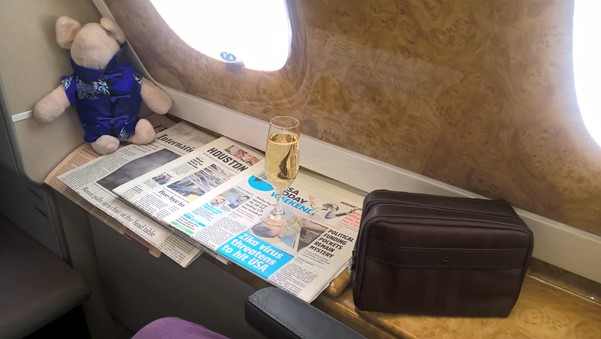 And leg room …
And seat controls ….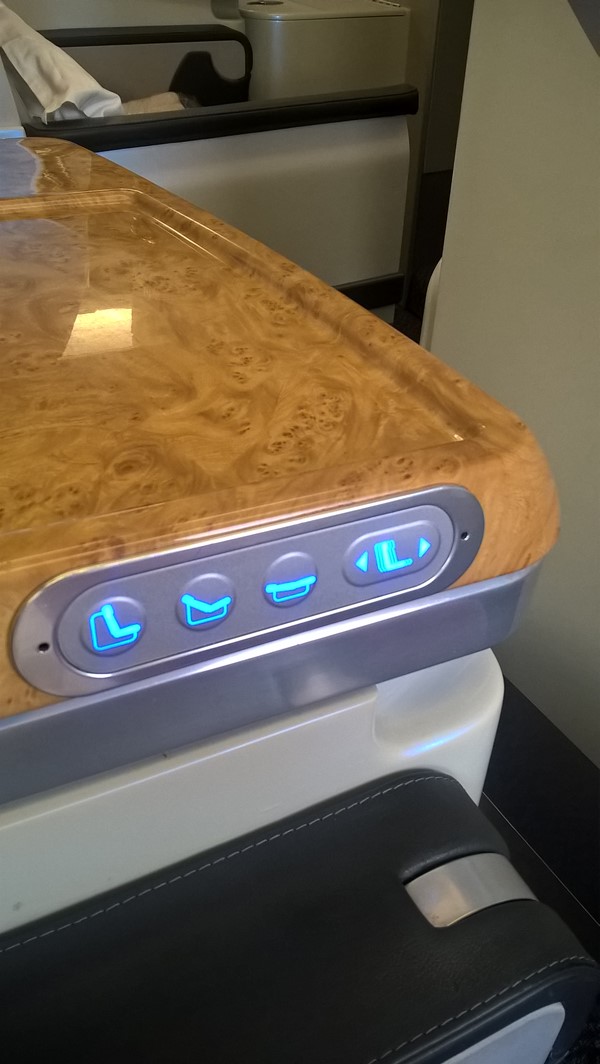 Bye-bye Dubai …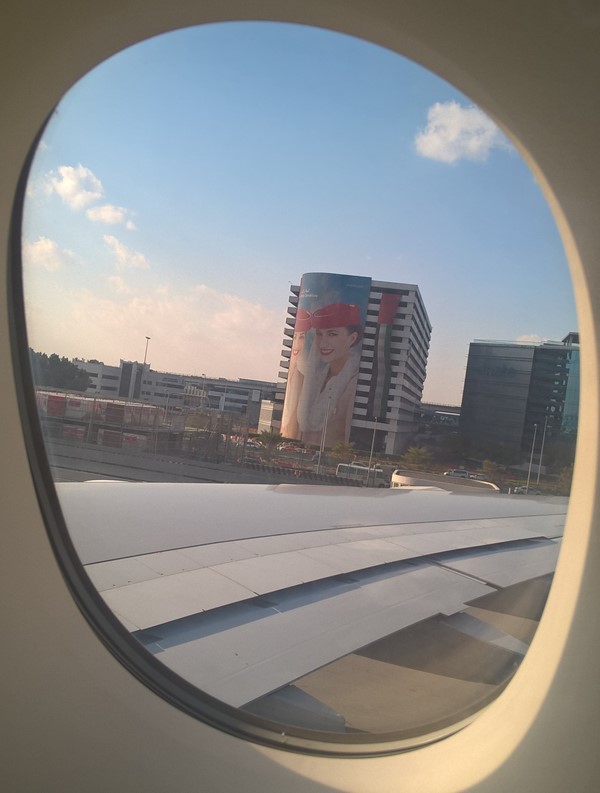 A shot from above …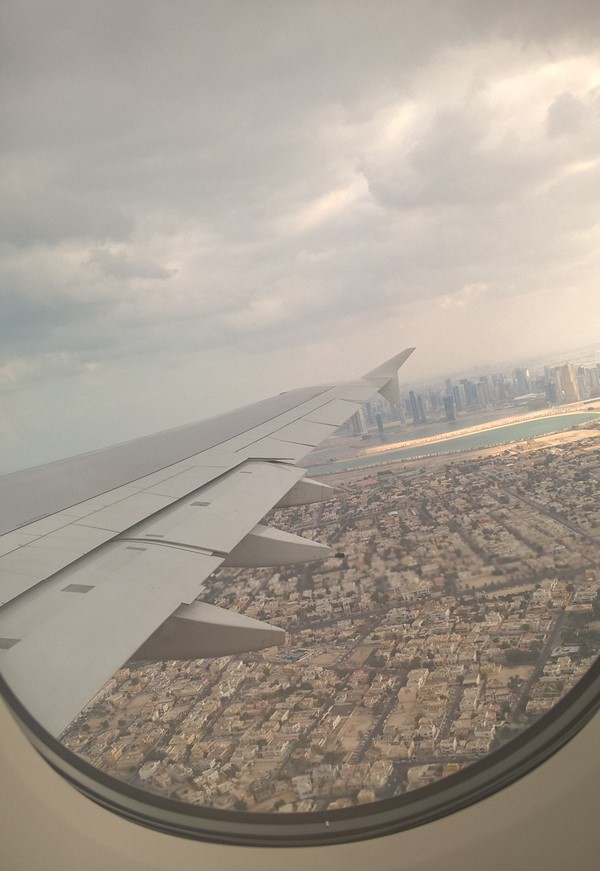 Time to settle in: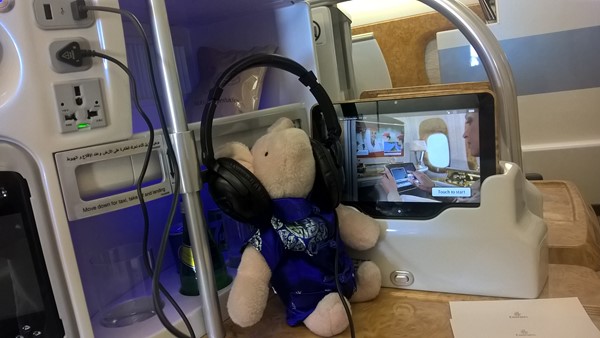 And then the food begins….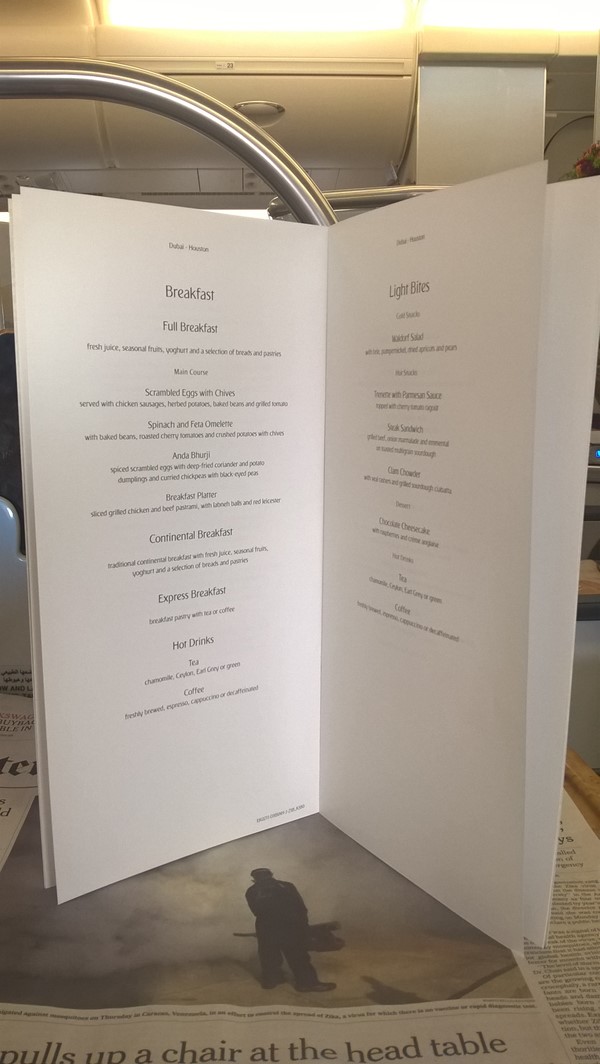 And yummy it is… another breakfast!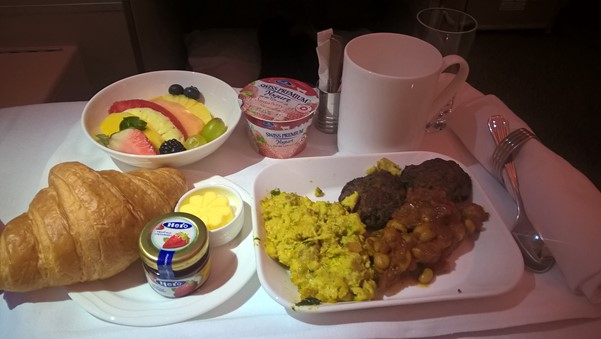 I opted for the Middle Eastern version of the main breakfast course… when in Rome (or Dubai) ….and more drinks: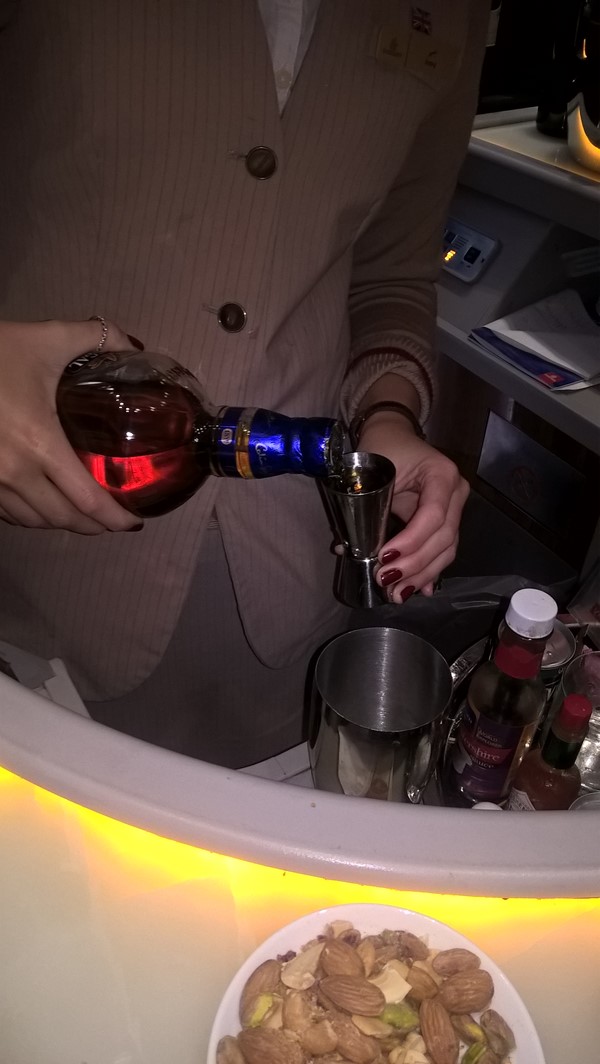 Rob Roys with 18-year-old Chivas: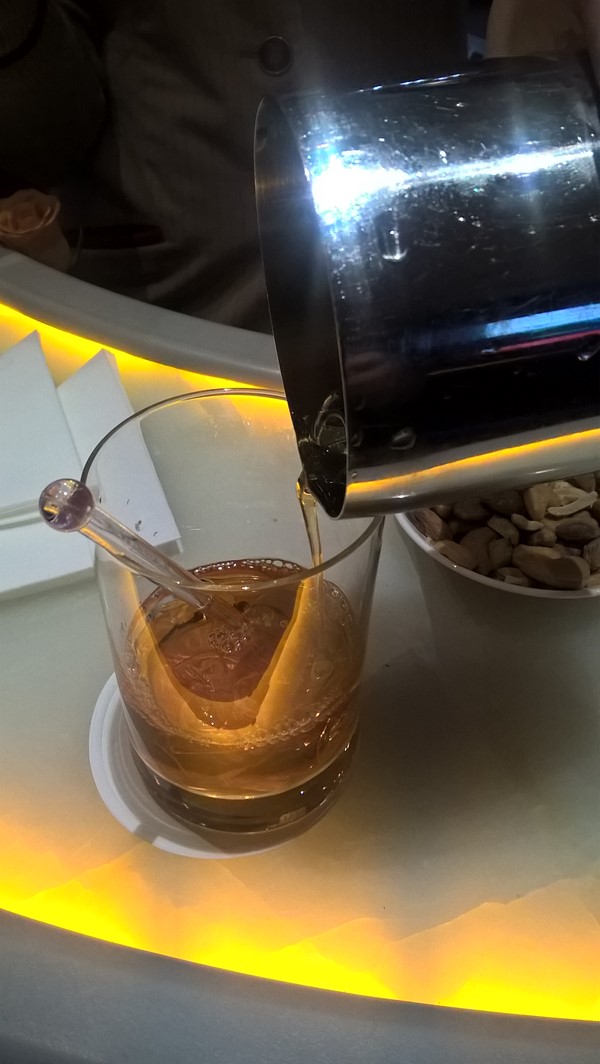 And since it's a 15-hour flight, mid-flight mini-sandwiches: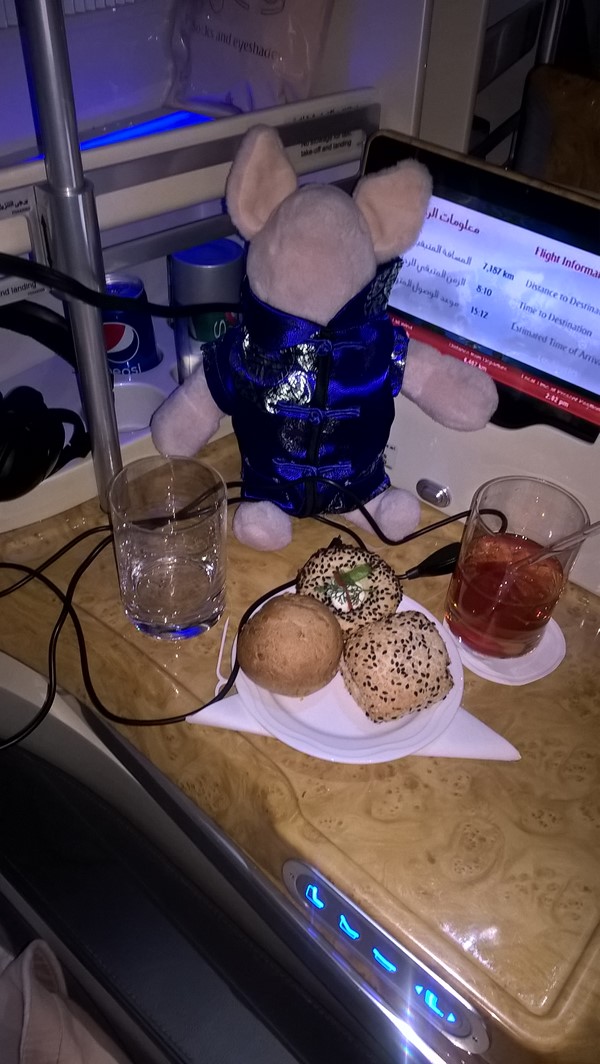 And mid-flight work….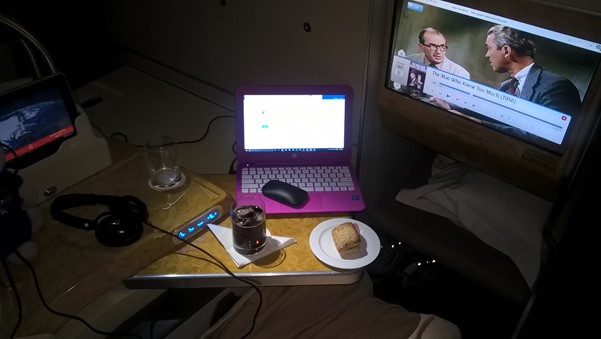 The flights movie list:
Life with father – William Powell
5 hours of sleep (Ambien washed down with Rob Roys)
The Man Who Knew Too Much – Kimmy Stewart, Doris Day
Philadelphia Story – jimmy steward, Cary grant, Hepburn
Desk Set – Hepburn/Tracy
Along with some hot appetizers: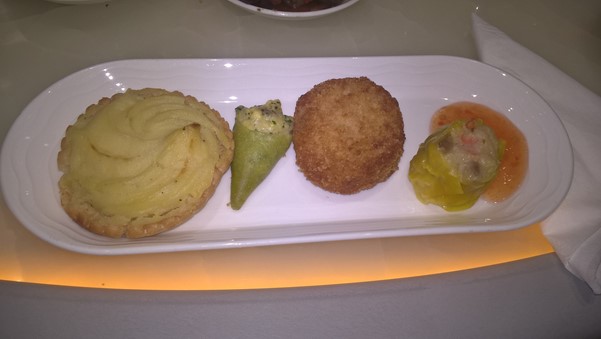 At the back bar:
I think there was lunch in there someplace —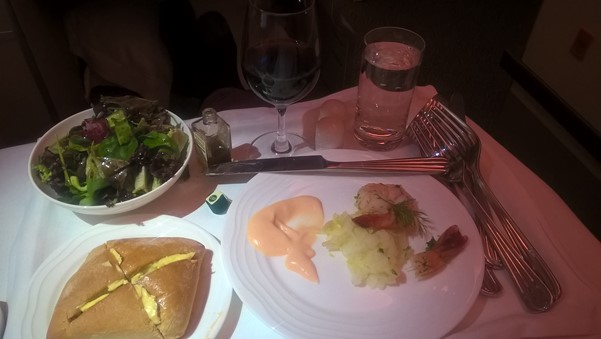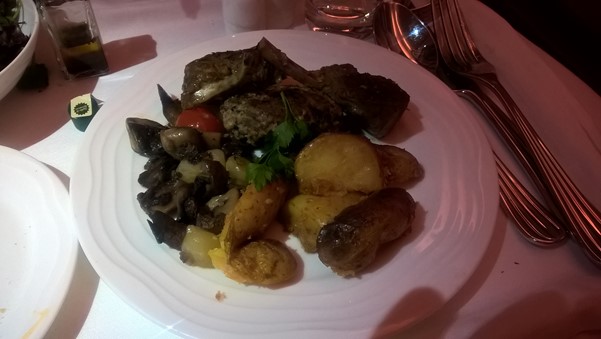 And the cheese course with a 2000 Warre's Tawny Port: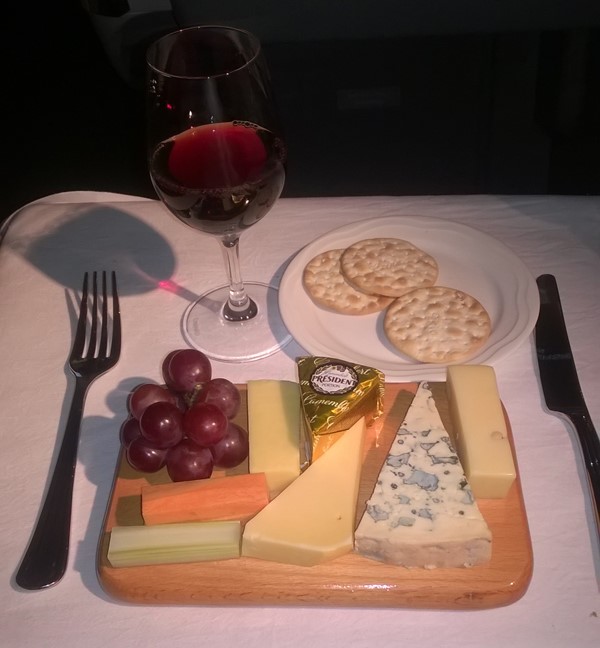 I love some of the FaceBook comments on the cheese course photo:

Catherine: A GLASS glass?! METAL silverware!? An actual ceramic PLATE?!

Alexis: it looks to me like you are having too much carbs, only one cracker please ! x

Carlotta: Your cheese COURSE? There' a vegetable, meat and dessert course? Soup too?

Retta: I could live off that.

Mark: I opted for the cheese and port over the chocolate lava cake, espresso and Cointreau. And yes, three courses before that. Redeeming 75000 miles gets you good airline food.

Kathy: I need to charge more on our mileage credit card, clearly!!

Mark: Happy to be anyone's mileage consultant!

Carlotta: Well dear, you Are The Expert!

Mark: Catherine, that was a real piece of wood under that cheese.

Sean: It is so painful to see a man suffer

Jonathan: Not used to seeing you consuming grapes that haven't been squashed and left to ferment for several years…

David: I approve!

Mikal: Pigletté loves cheese …
And then the party ended. Arrived in Houston with a two-hour layover which included customs/immigration, a terminal change, another round of security. Thank you Alaska for digital boarding passes that kept me from having to produce TWO quart bags since I'd collected all these toiletries from Janet to put in her church's homeless packets. The downside of the Alaska gate in Houston is that there is no lounge access. Luckily I was exhausted because this was my seat for the four-hour Houston to Seattle run, in coach. At least it was bulkhead aisle: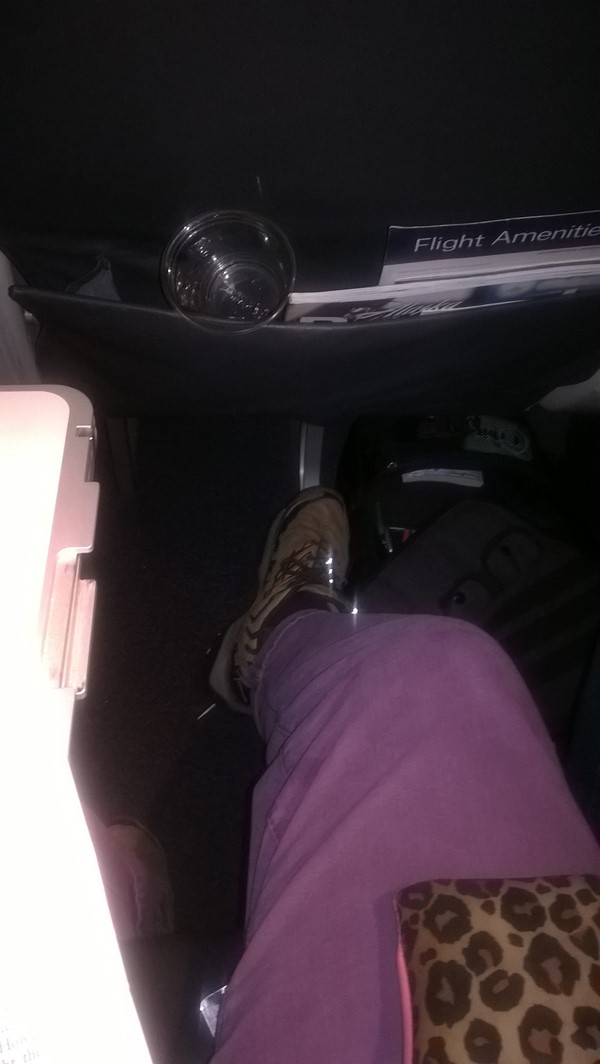 One free drink, one bought drink, 3 hours of sleep which I dearly needed.
Cab home from the airport (about $30) about 9 in the evening – and here what was in the mailbox: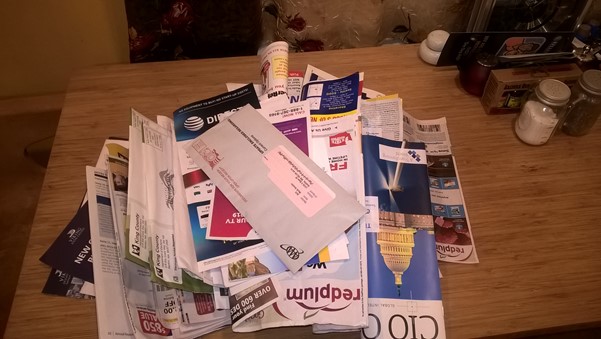 And what remained when I pitched all the junk: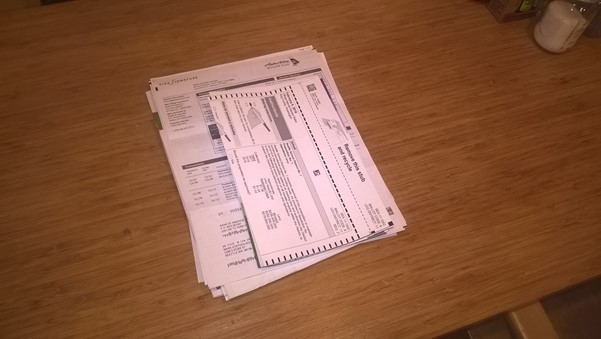 International trip number one of four planned this year (next is Greece [June], then Mexico [September], then France [November]).
Next up is Victoria, British Columbia (which because it's so close I don't consider to be international).
[? ? ?]