One of my self-serving pay-it-forward (can you actually do that?) is to put together trips for friends (and me) who are of more limited means – example – friends of mine who are teachers, lower level office workers, etc. This week's trip is for my buddy, Bliss, who is on winter break from the school where he teaches IB (International Bachelorette) English to high school kids. Talk about a 12-hour-a-day job plus weekends grading all those college-level papers you've assigned.
He needs a break. And it doesn't' start well – his alarm didn't go off. Luckily (for me) we are:
Travelling separately to the airport
On different record locator for our flights
Luckily I'd been texting him my progress through the morning and he finally got a clue it was time to get out of the house – and he's a SLOW one in that regard. That said, I can chill in the Board Room. If he misses his flight, he can try for the Tuesday flight. Breakfast is served! Well, OK, it was self-serve with the exception of the Red Baron, which they have to make:
Followed by one of their world-famous Bloody Marys:
He finally made it with just enough time to slam down two drinks – which he'll need since he's in coach and I snagged an upgrade to my favorite seat (1C). Funny thing happened at the end of the boarding process – a customer from the shop (Madrona Wine Merchants) went flying down the aisle with her daughter in tow. Later I can to find out that her daughter noticed me and said to mom, "The think I just saw our wine guy sitting in First Class." Bliss used miles (plus I think $5 or something like that for a ticketing/tax fee), I had a $138 one-way ticket – which when you end up in First Class for the non-stop Seattle to Albuquerque isn't bad.
Nor was lunch:
It was only a two-hour flight, but it was nice to get a hot sandwich (and a couple of cocktails).
Landed, grabbed bags, grabbed the shuttle to the Rental Car Center (I hate those things – a giant time sink), got what they call an economy car (Nissan Altima with Bluetooth phone connection) and off to Santa Fe we head. With a stop at Albertsons where I picked up four half gallons of Evan Williams and two fifths of Swedka Vodka, a six-pack of Vernors, and a twelve-pack of Canada Dry Diet Ginger Ale – Bliss picked up six (count 'em six) bottle of Jose Cuervo Cinnamon Infused Tequila, which he likes, and was on closeout, and got an additional 10% for buying six (as did I).
To save on expenses we are staying with my sis-in-law who is married to my bro-in-law. How that works is that she is my dead brother's widow, and Kennan is her husband. It's amazing to me that this extended family likes each other, actually loves each other, warts and all – and enough to have me AND a friend stay over.
Tonight's dinner is: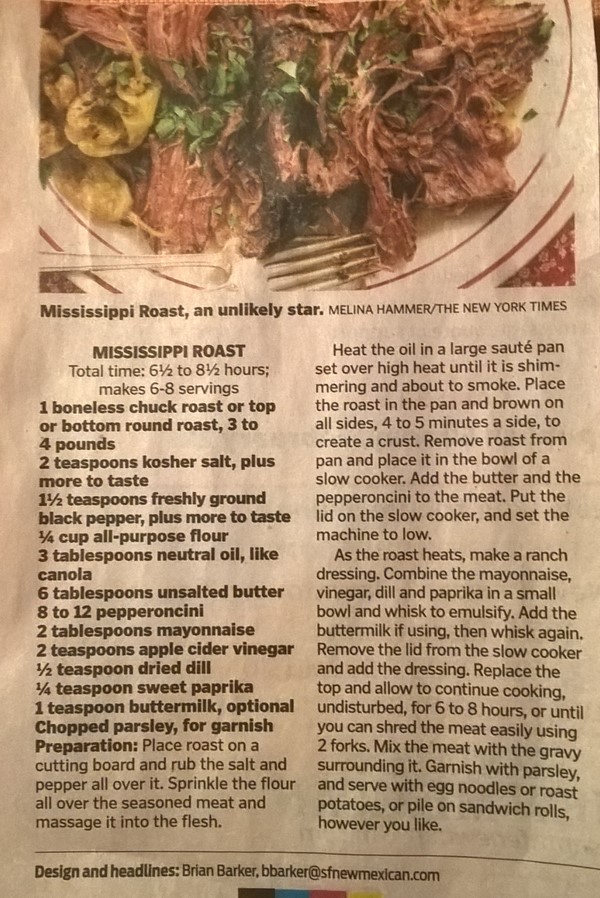 Minus the dressing step which makes me want a crock pot – guess I should forward this to Salamander and DancingBear, who do have crock pots.
Beautiful sunset before dinner:

Watched the Academy Awards and the Pruett/Souder/Girdner clan headed to their usual early bed.
Slept in, and then it was off for some sightseeing that included hiking (yes, I said HIKING)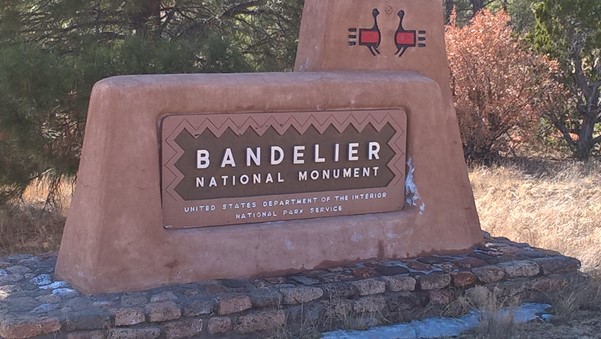 I was surprised that on a Tuesday afternoon in the middle of February that the parking lot would be close to capacity!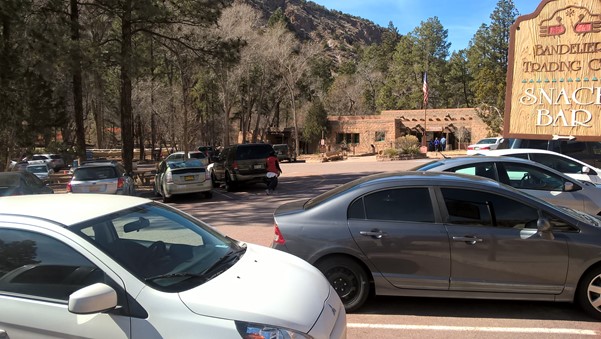 Best fuel ourselves up with a Green Chile Cheeseburger at the gift/snack shop at Bandelier National Monument: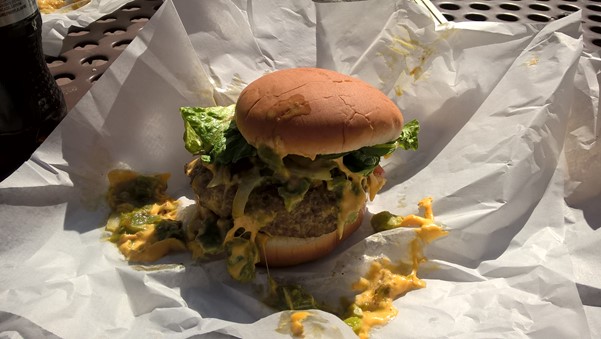 Messy but good! I feel a Trip Advisor review coming on.
As I do every couple of years I decided to purchase the yearly National Parks Pass which has some useless name like "The Inter-Agency Multiple Park Pass". The real name is Interagency Annual Pass (aka The America The Beautiful Pass) – but here it hangs on my rear view mirror. It was $80, but the entrance fee to Bandelier was $20, so all I have to do is visit Rainier (where a car is $30) a couple of times and it will have paid for itself. I find it odd that the individual park entrance fees have gone up, but not the price of the pass. I try to buy my passes at the smaller national monuments because they get to keep a chunk of the pass money and they need all the help they can get.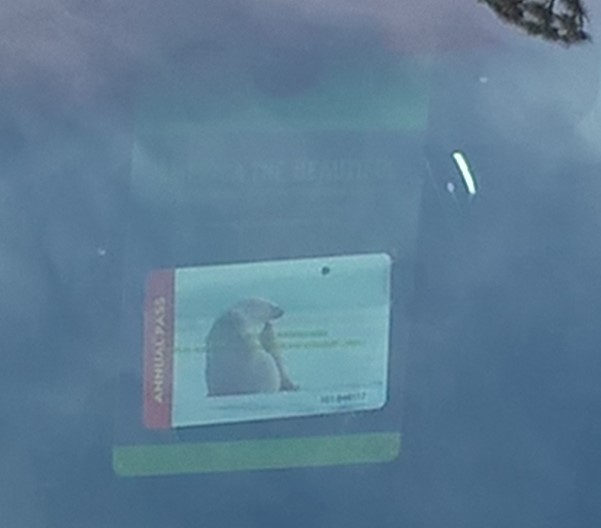 Bad shot, but you get the idea – I put this on mostly for my buddy Sierra who is a park ranger. Speaking of which, he is at Denali this summer – might have to use the pass again up there!
I've been to Bandelier many times but this is a first for Bliss – a lovely day for a light hike: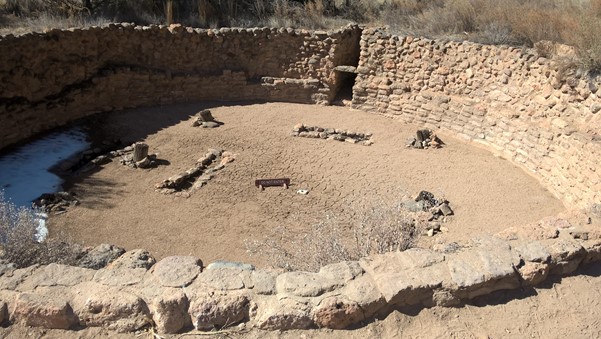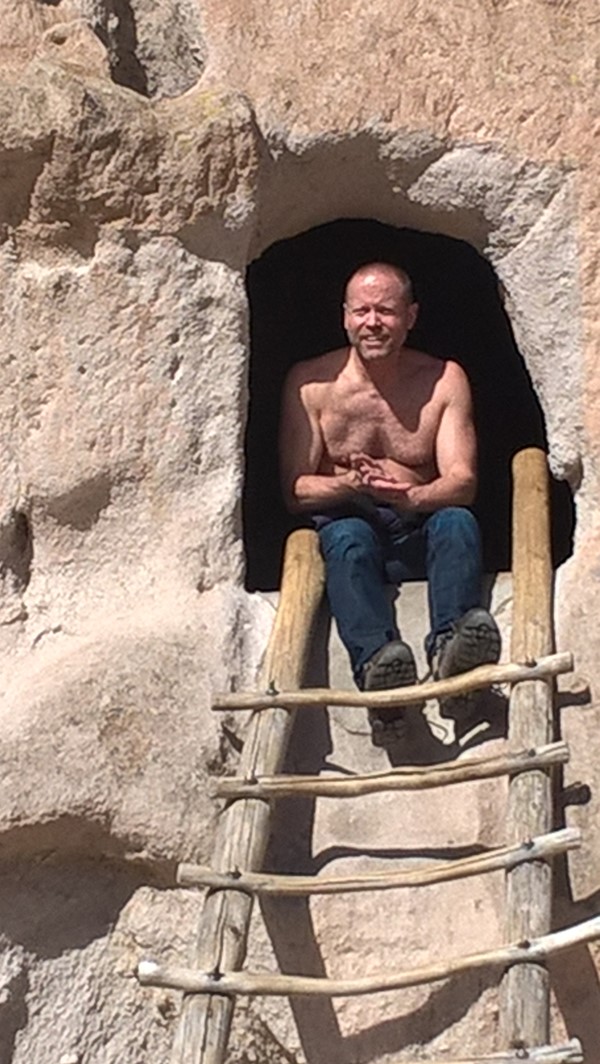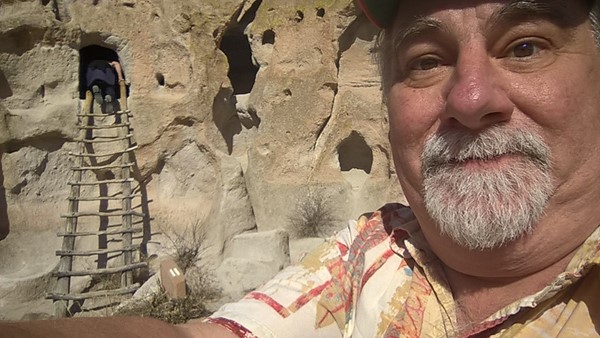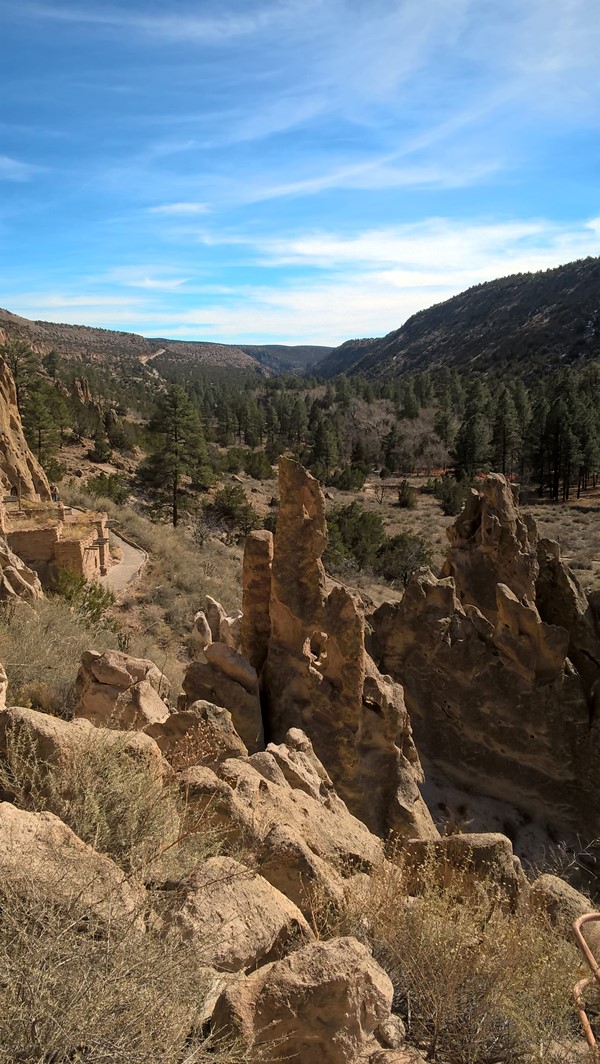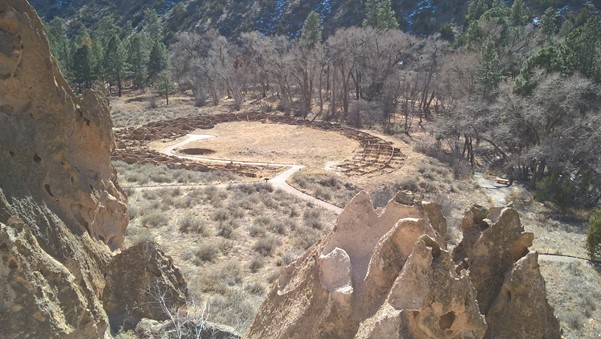 It's a pretty amazing place just an hour twenty minutes from Santa Fe, very close to Los Alamos if you want to combine a trip – no time for us this round.
Got back to the house in time for cocktail hour before Jen and Kennan got home from work to make Ginger Scented Shrimp (sorry, no recipe or picture). And then after dinner drinks: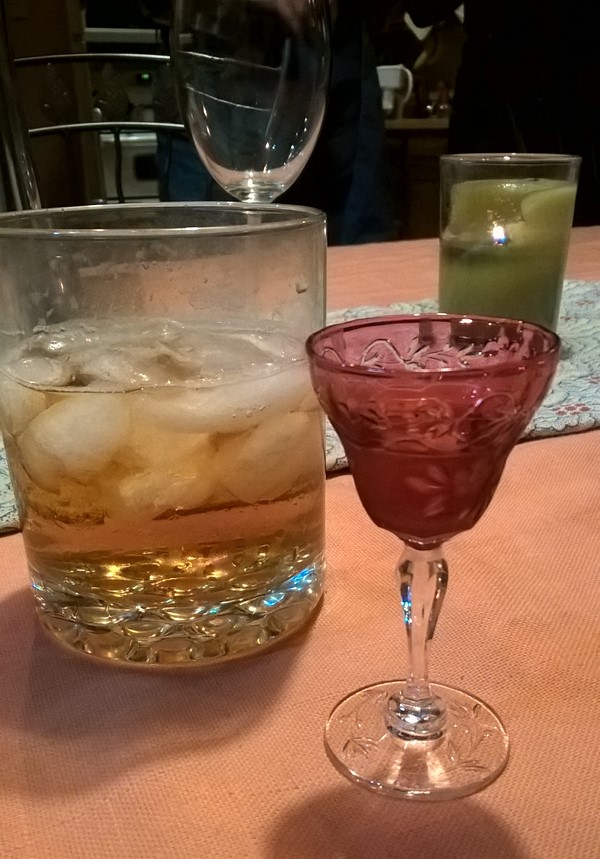 I guess we know where my priorities lay…
Up earlier the second morning in Santa Fe – want to hit a museum or two before we leave for Albuquerque in the afternoon. But first, breakfast at Tia Sopia's just off the plaza. Bliss had the Wednesday Breakfast Special (quesadilla) and I had the Green Chili Stew with flour tortilla: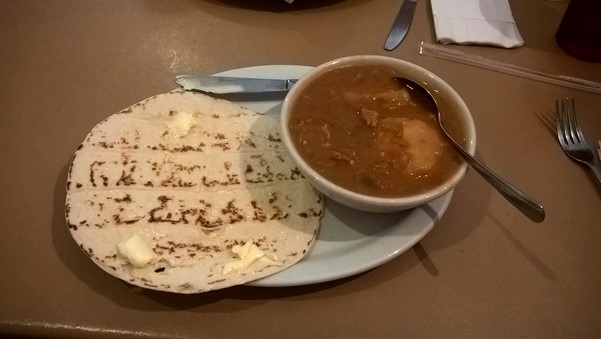 Tia Sopia's is just across the street from the Lensic Theatre where my mother often saw shows: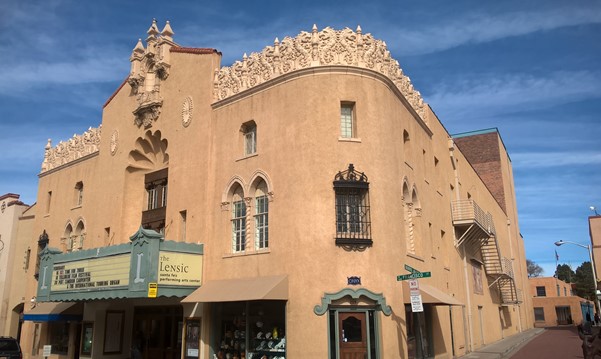 Bliss really wants to see and original Shakespeare
Folio at one of the museums – it takes us two museums to actually find it – both pretty much on the plaza of Santa Fe – and both members of the North American Reciprocal program which I got because of my Tacoma Art Museum membership (see blog post here on what I saw and why I joined).
The Folio itself was not terribly inspiring…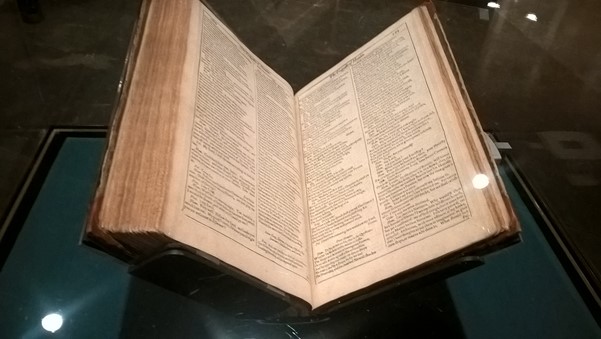 And the rest of the surrounding exhibition looked like an afterthought – they should have combined the two exhibits (there was peripheral materials at the New Mexico History Museum), but it was nice to spend some time downtown…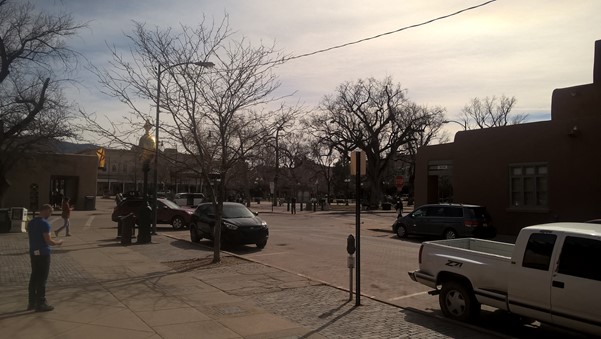 After the musems, it was time to return to Albuquerque, and because we had the time, stop by the Gruet Winery for some bubbles! Some of you will remember my post from December on the sparkling house the Gruet built. I didn't even have business cards with me this trip but we managed to get the production manager to AGAIN give a tour – when I found out the disgorgement line was running I got super excited. This is the process where they freeze the necks of the bottles and blow out all the yeast before adding back a little wine and sugar to get the bubbles going.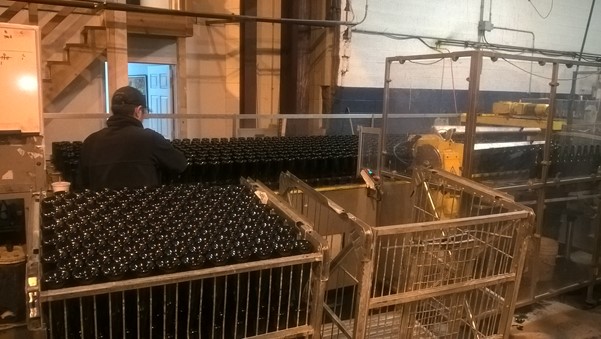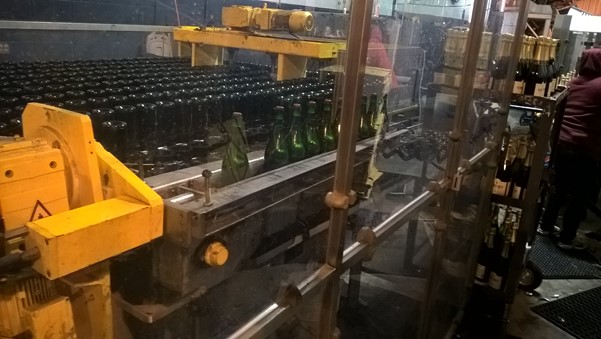 And then onto popping the corks, refilling, and cork/wire/label: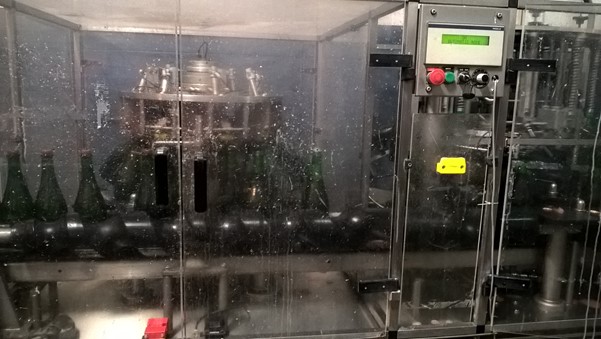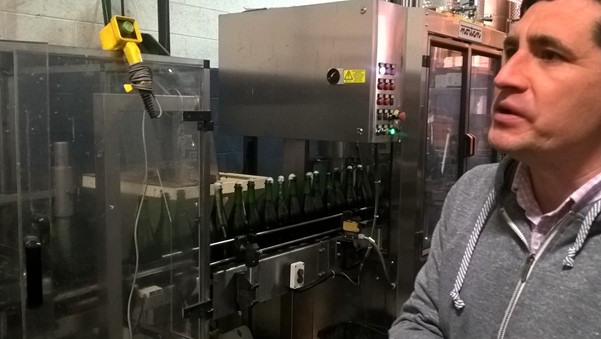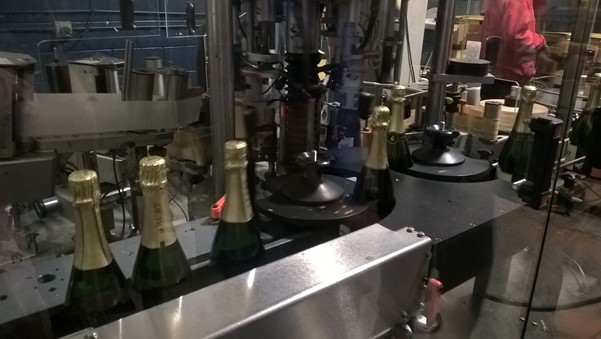 So fun to see the process in action – and so fun to taste the results!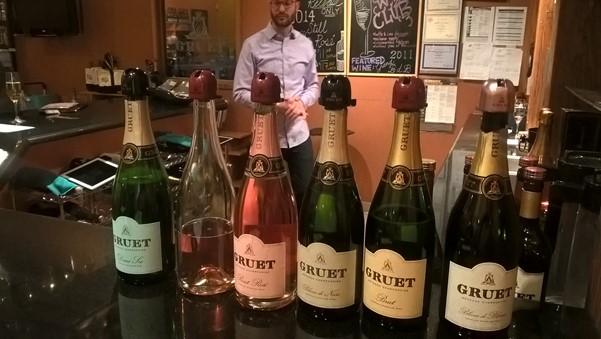 The unlabeled bottle is of a "no dosage" Rose sparkler – the advantages of being in the business is you get to sometimes taste "experiments". I highly recommend stopping by for a visit if you are in Albuquerque.
They even have a little museum of old champagne equipment: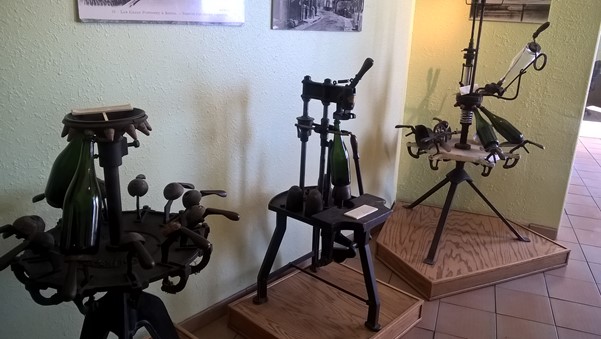 But we are on a schedule – next up is to find some distilled water for Bliss' C-PAP machine, grab lunch (the Sonic Burger joint does a Green Chili Cheeseburger that is REALLY good), gas up the car and return it to the airport – did I mention gas is cheap in New Mexico?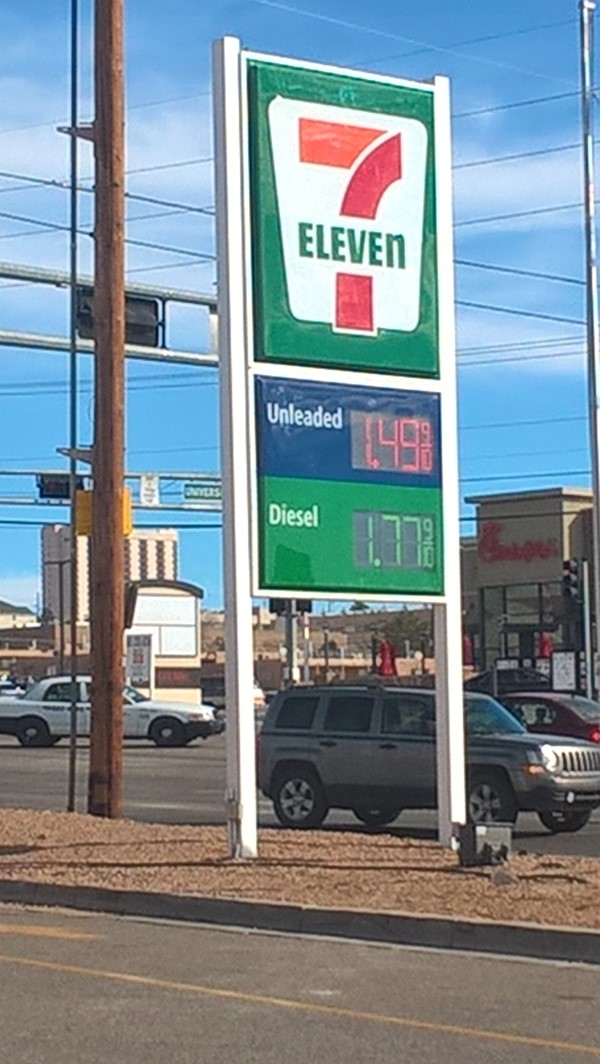 Dropped the rental car and hailed an Uber for the trip to the train station with our many bags and boxes.
Next up, the train from Albuquerque to Seattle via Los Angeles.
[? ? ?]