Off to the Big Easy just after Mardi Gras.
No photos of the flight because that is going to be a separate post after this one (or maybe the one after) because Alaska Airlines has changed its First Class service (for the good). When I booked this trip I paid a little more and got guaranteed upgrade seats coming and going to NOLA.
Should you travel to New Orleans, DO NOT take the Go Airport Shuttle (the "official" airport shuttle) to your hotel. They wait until EVERY 25 seats are filled before they leave. They are as bad as the attitude of cab drivers in NOLA. I heard other travelers who take a hotel shuttle and then grab an Uber into town. Cab is about $50. Uber $35. Shuttle $25 and well over an hour. Even though it was raining I should have just caught the county bus for $2 which ends close to the train station where I could have Ubered to the condo.
Staying at my usual crib on St. Charles. Love the convenience of the place, and the digs: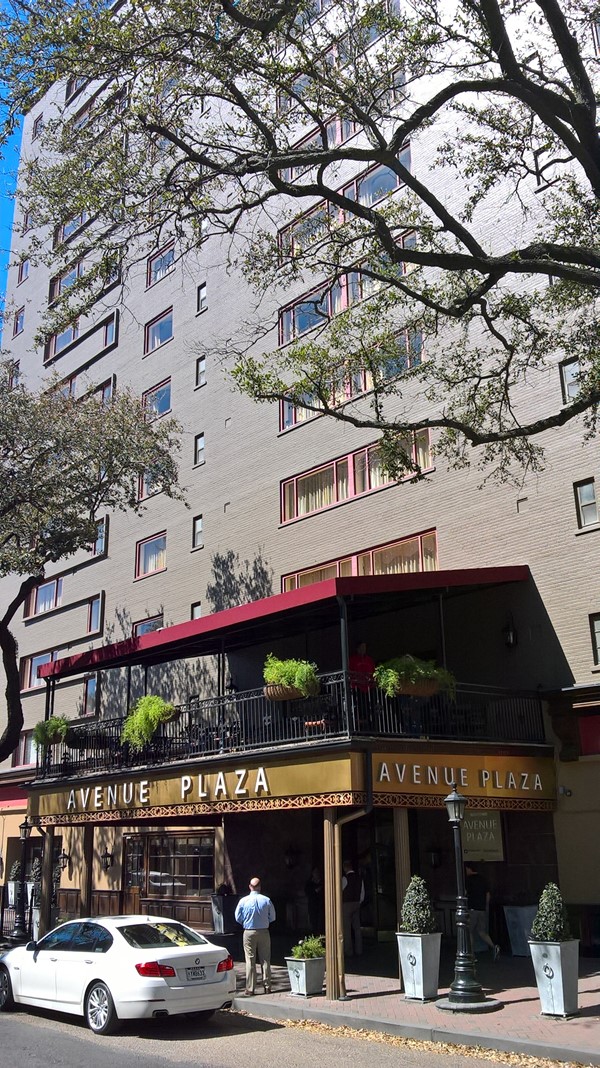 And the insides aren't too bad either…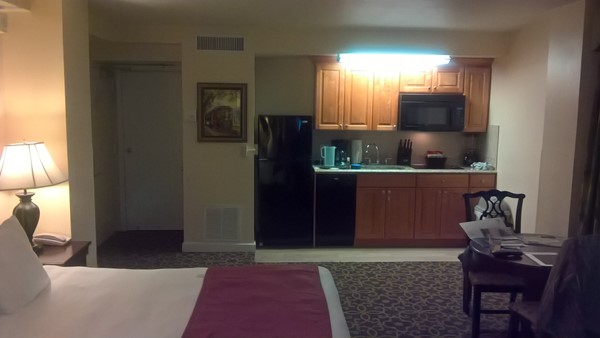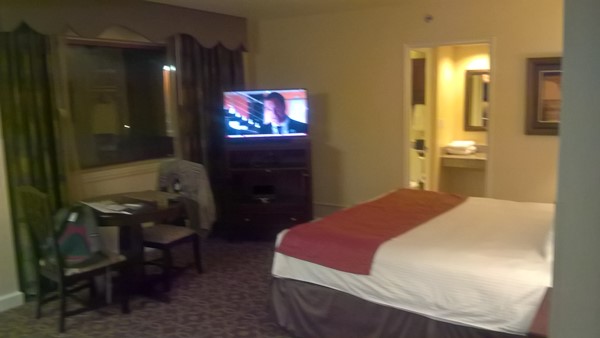 The first night's dinner was take-out from Igor's – one of my standard dive bar burger stops: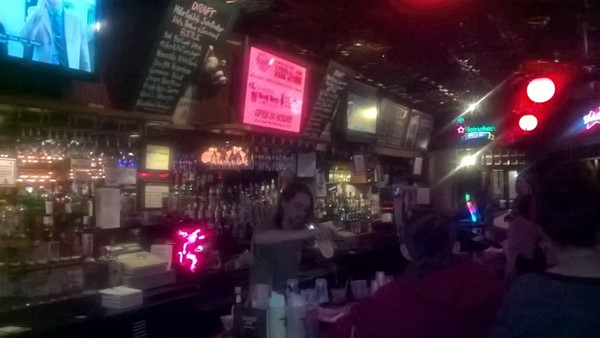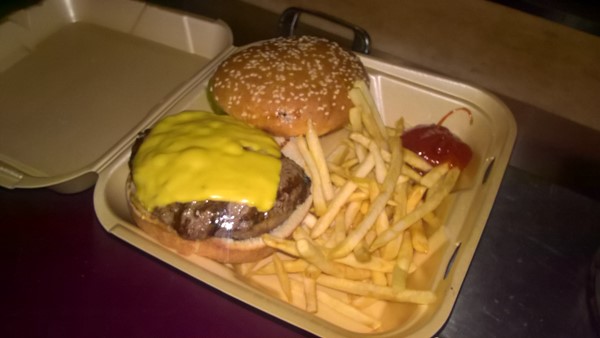 Not on my diet – but it's New Orleans. I can be good tomorrow.
Speaking of tomorrow, first up is a revisit to Purloo – which is turning into my favorite upscale restaurant in New Orleans.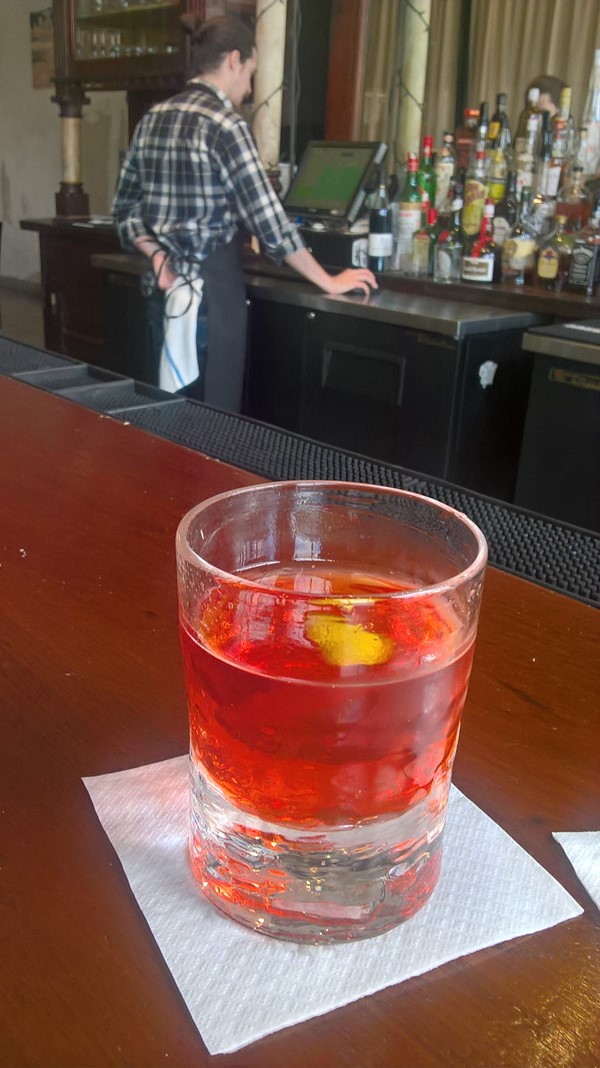 That would be Ryan (sexy bartender) in the background with a Sazerac (rye whiskey, Peychauds, sugar, Herbsaint) in the foreground.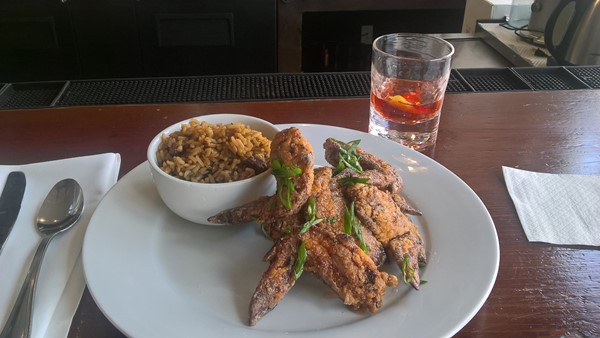 And the Harissa Buttermilk Fried Chicken Wings, Purloo Dirty Rice (above), followed by dessert (below) which was their version of an Old-Fashioned (bourbon or rye, demerara sugar, pecan bitters):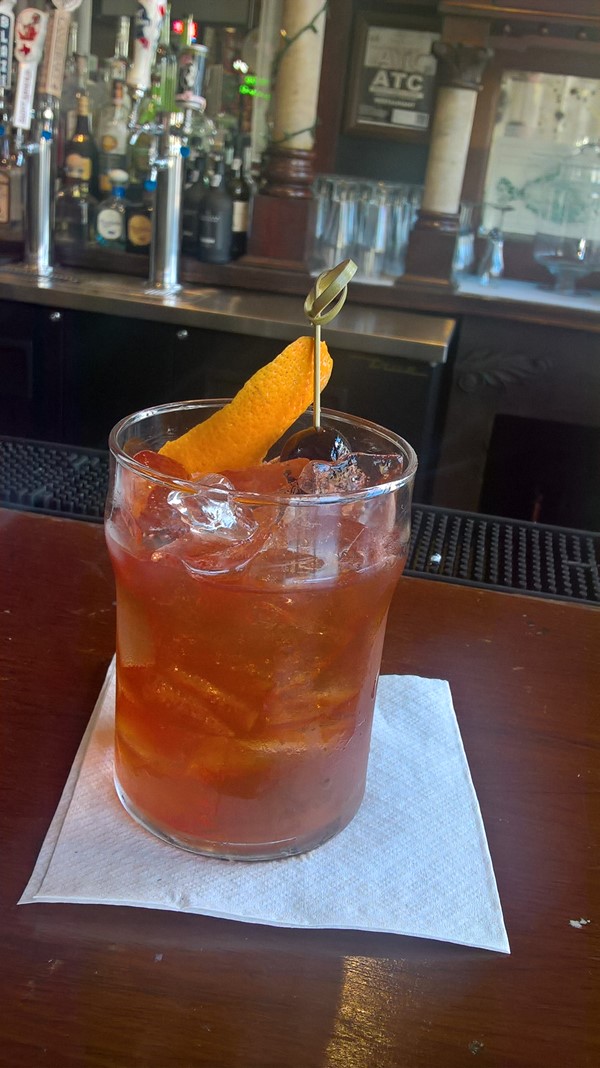 Interesting to note that their bar bourdon is Evan Williams Black – which is my standard go-to bourbon.
It is connected to the Southern Food and Beverage Museum (see link here for notes from my last trip here):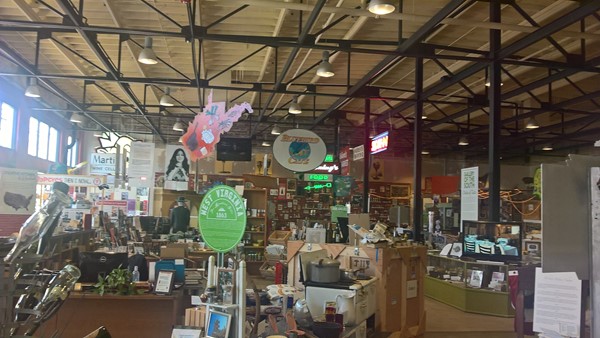 Second up was the reason for my trip back to New Orleans for the second time in six months – the Ogden Museum Southern Art and an exhibition by the artist Michael Meads.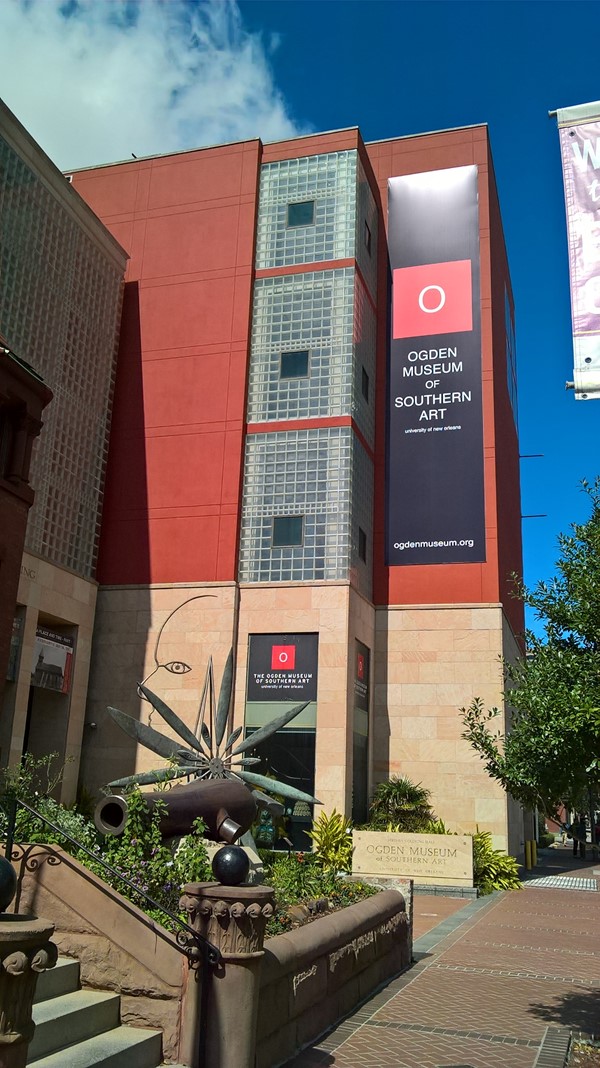 No photography was allowed in the exhibit (which I found out after I was told to stop), so I'll link to an article about the show that has lots of images (that I assume were used with the permission of the artist).
http://hyperallergic.com/250636/an-artists-sprawling-universe-of-sex-and-death-with-new-orleans-at-its-center/

VERY moving – and ironic that I used the TAM (Tacoma Art Museum) Reciprocal Pass that I got joining during their ArtAIDSamerica show last year. Many of the same reactions to both shows.
Great views of the WWII Museum from their rooftop sculpture garden: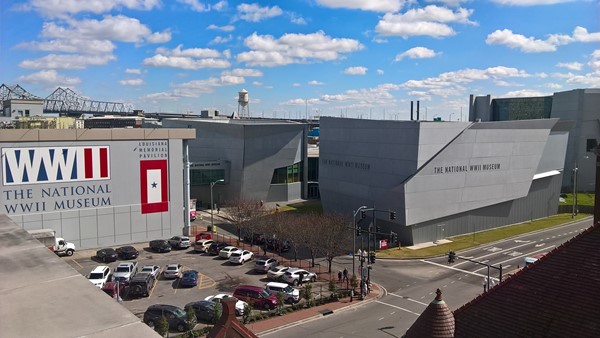 Having walked from The Avenue Plaza to Purloo, and then to The Ogden – bought the $3 24-hour streetcar/bus pass. It used to be a day pass but they upgraded the system so now it's a 24-hour pass, which is MUCH more useful to late-risers like myself. The St. Charles Street Car Line runs right in front of The Avenue Plaza.
Dumped my bag and took off for The Blind Pelican for oysters. They have happy hour from 4-8 where the oysters on the half shell are $3 A DOZEN with the purchase of an adult beverage. No problem for me: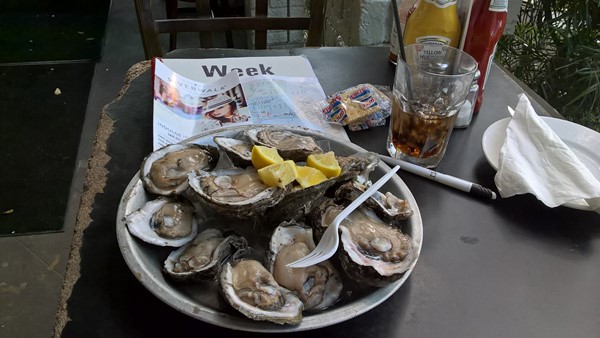 Then it was time for a nap and the news before my real dinner of the night – at Houston's (almost across the street from The Blind Pelican). As I wrote in a review in 2013 – Good Food, Good Jazz.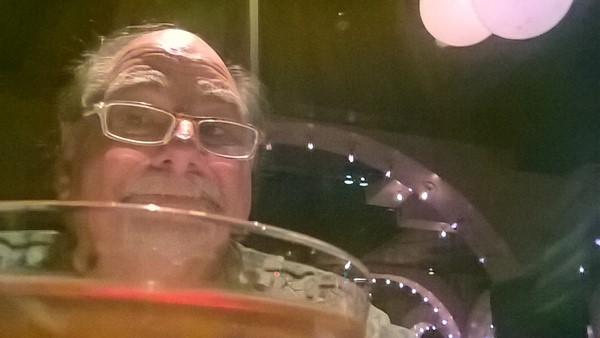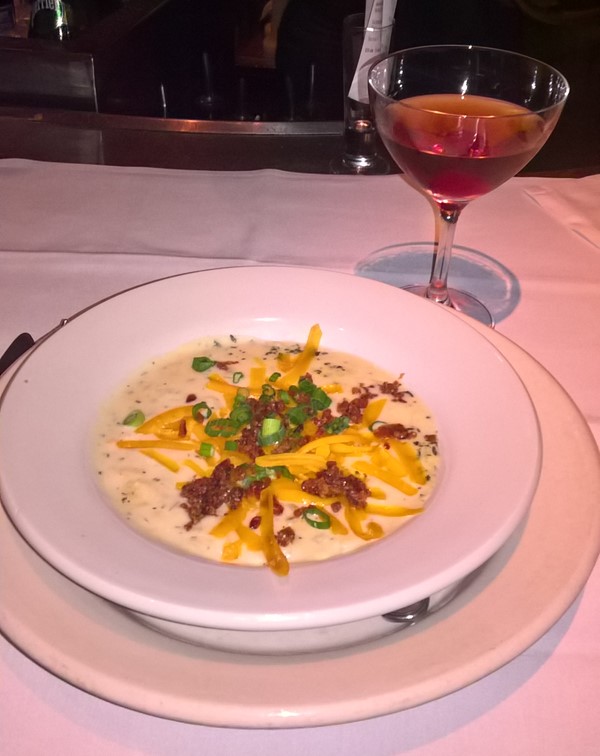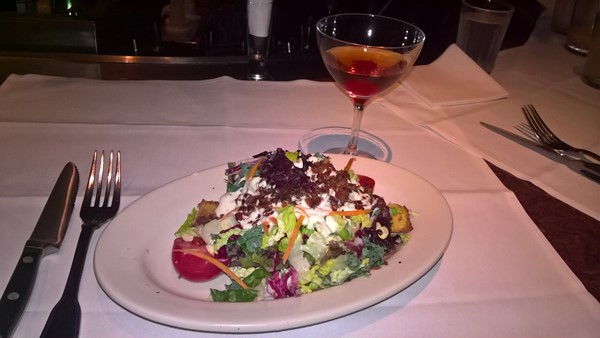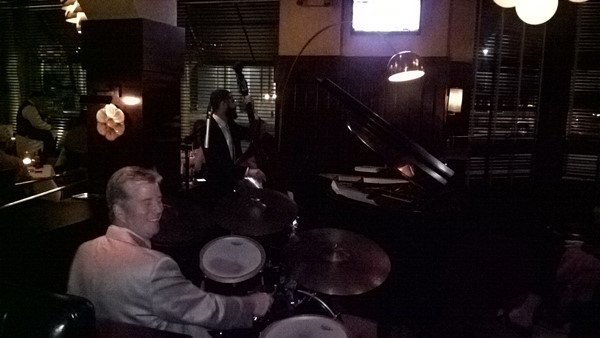 A full day of food and culture.
And tomorrow is another day – and I have to get my full use out of that $3 24-hour Pass. Off to the New Orleans Museum of Art for a little lunch and art.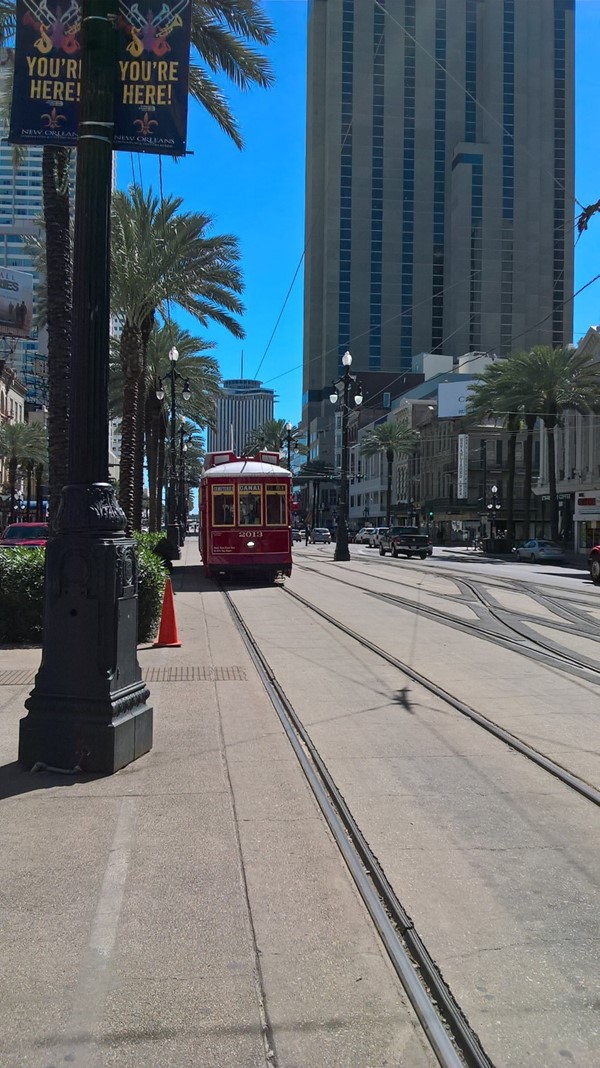 The trolley to the Museum on Canal Street.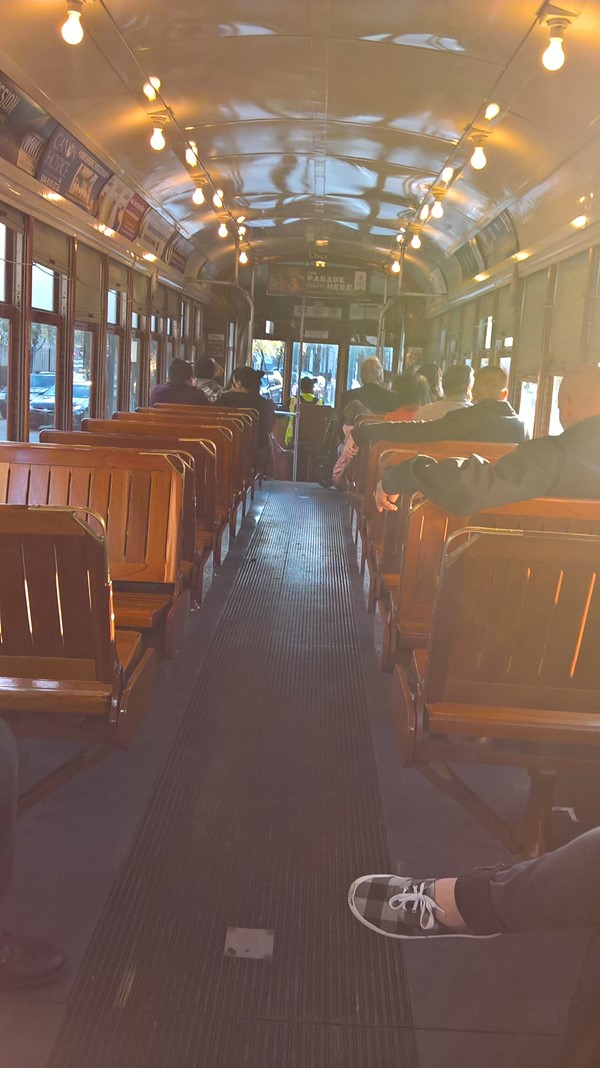 The Museum itself is a rather impressive building. It reminds me of the Nelson-Atkins in Kansas City: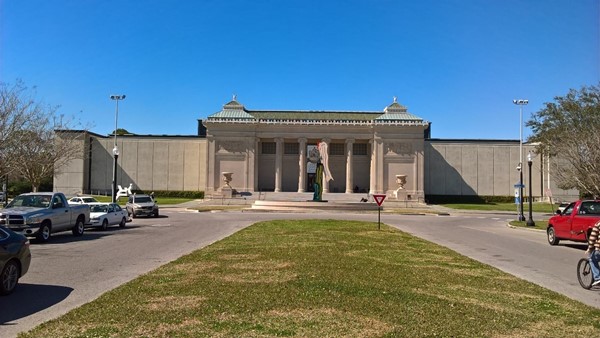 And my grilled brisket sandwich for lunch, with a glass of South African Cabernet Sauvignon.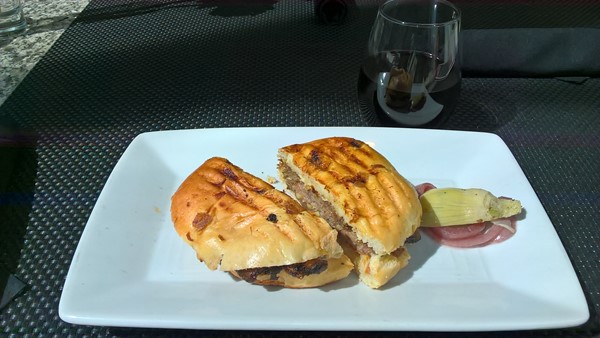 And since photography was OK, one of my favorite pieces (Pick A Ninny – Robert Colescott):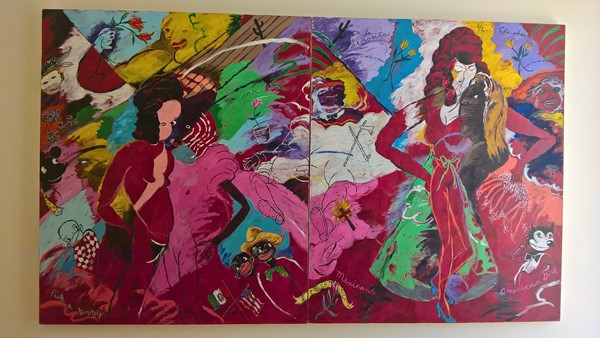 Very much in the theme of yesterday's show. NOMA is also on the reciprocal museum list so I'm well on my way to getting back my $125 annual membership fee.
There were also the "old standards" which at times I find comforting: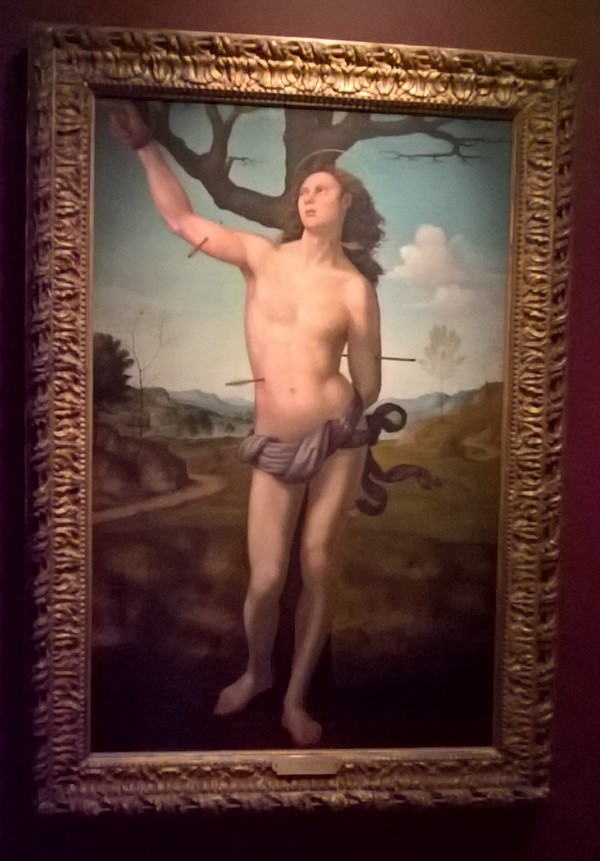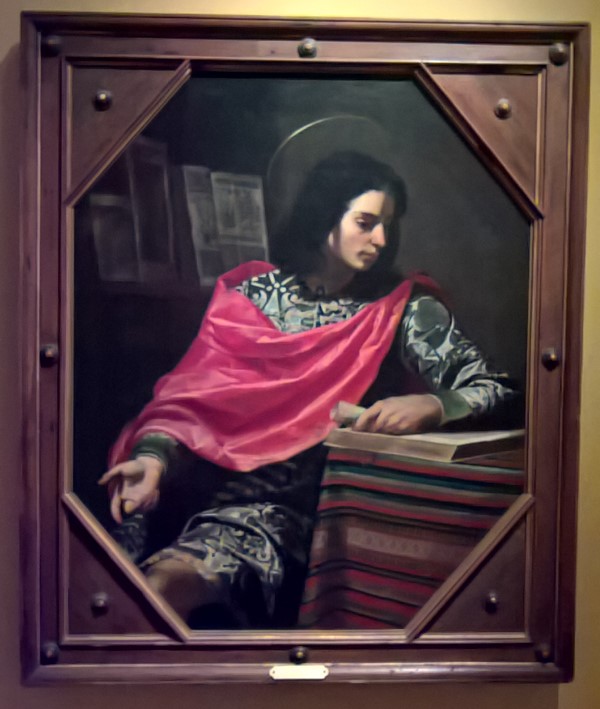 Next up of the Old Mint Museum – which was mostly interesting for the mint display on the ground floor and the architecture itself.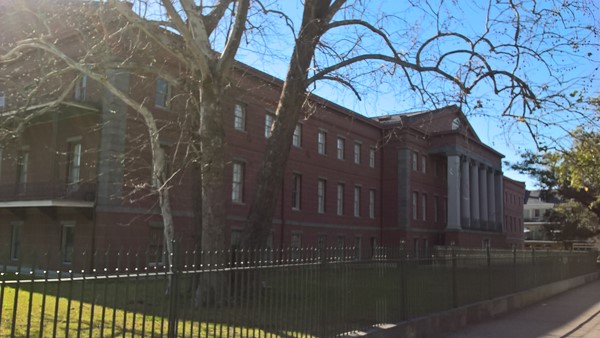 And guess what – it's 4PM – that means it's OYSTER TIME! This time it's the Charbroiled Oysters for $8.95 (with purchase of an adult beverage):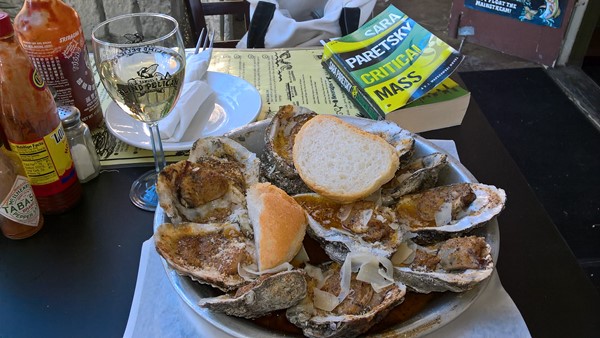 Too lazy to stay (or come back in an hour and a half) for the 2lb. crawfish boil for $15: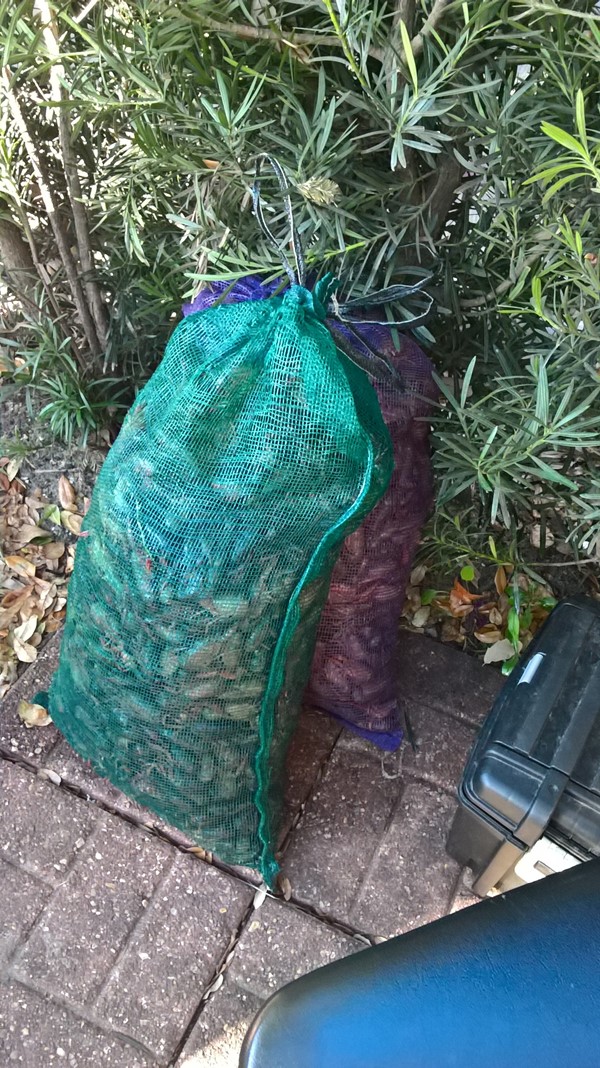 I guess I really should show you what the place looks like! It was a little breezy this trip to be hanging out of the patio, porch was better, but not by much: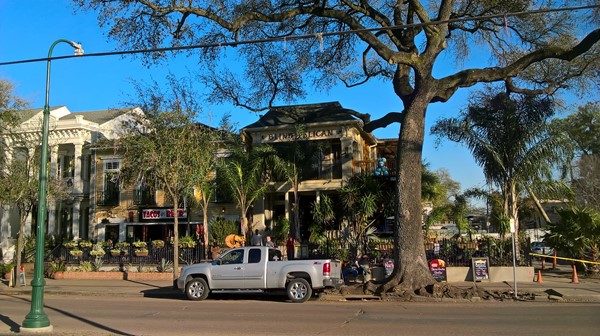 After a long day of walking – I thought take-out from Pho Orchid (next door to Igor's) would be a good plan (Bulgogi with rice) – and why not have them make me a Manhattan while I wait!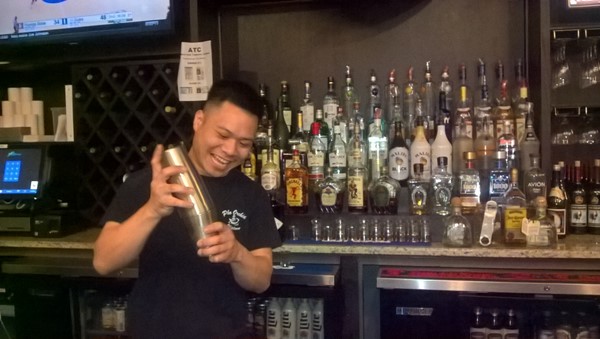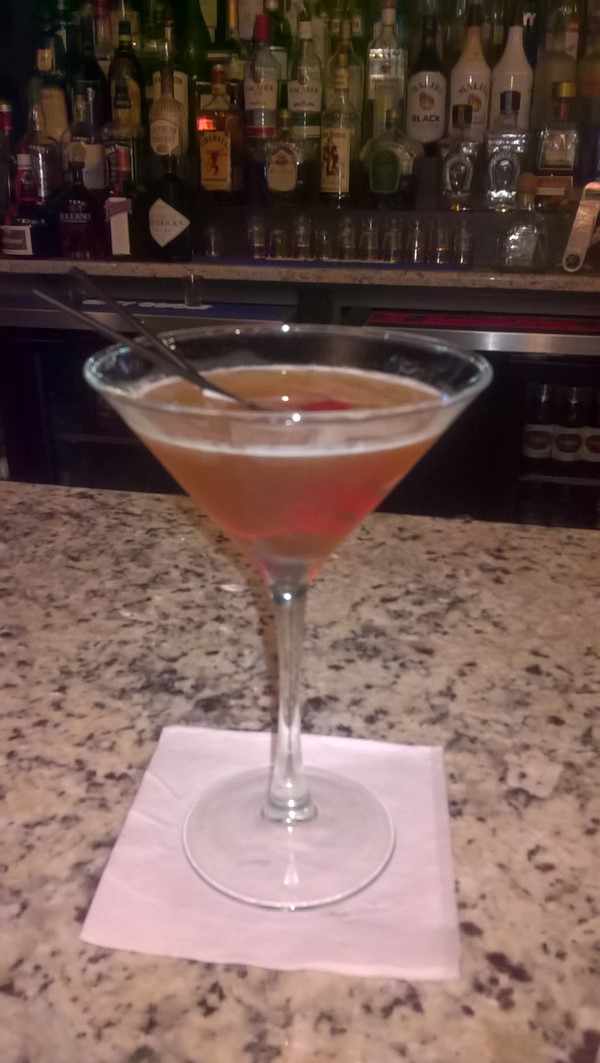 As a side note – arriving just after Mardi Gras means you can find all sorts of beads on low hanging branches (and in the dirt):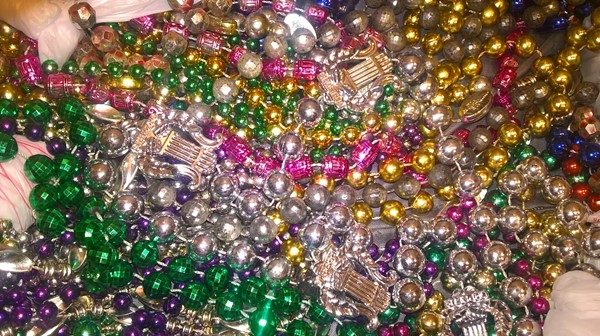 I decided to wash and hang them to dry before packing them: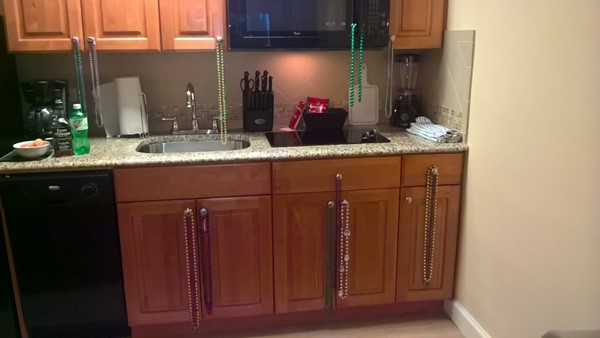 Lots of beads!
My final day – it's out of the unit by noon (Wyndham owners have to be out at 10am) it's almost a repeat of my first full day. Lunch at Purloo – this time the Low Country She-Crab Bisque…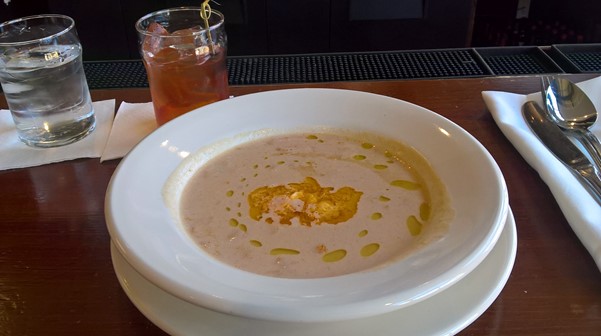 And lots more walking – want some street BBQ?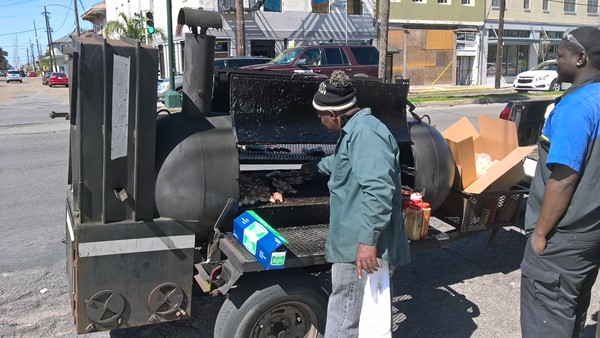 Or maybe a nice old car?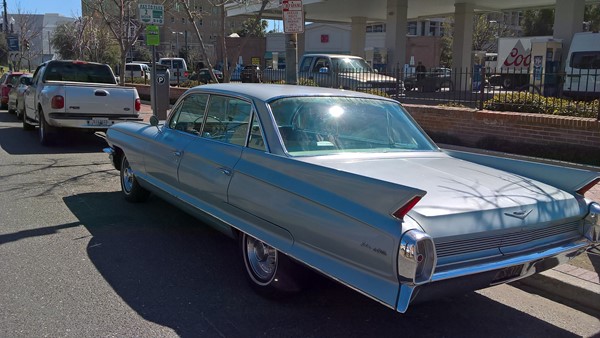 Maybe a church?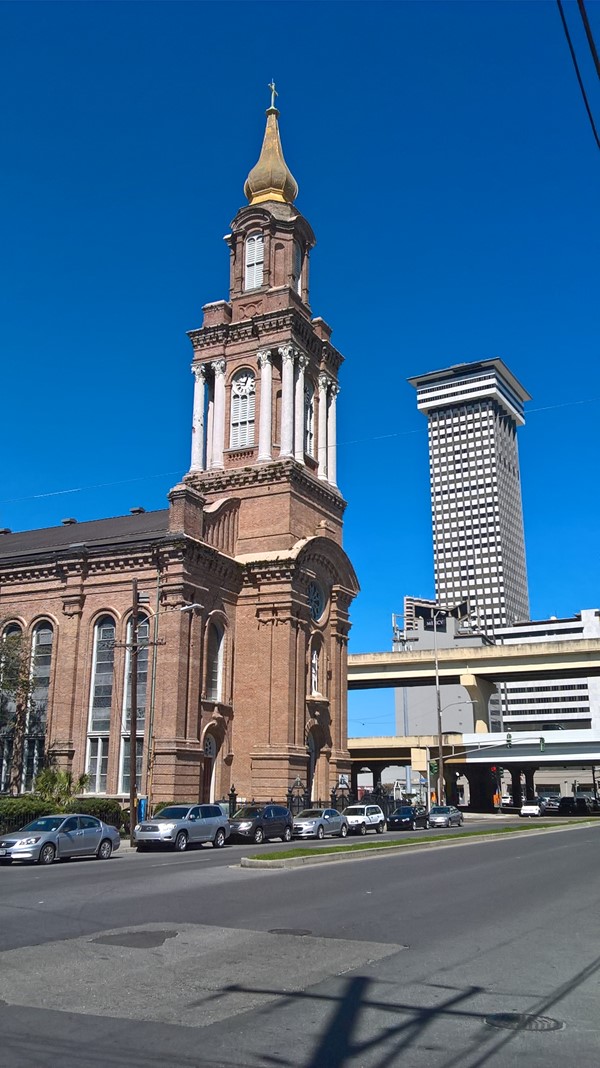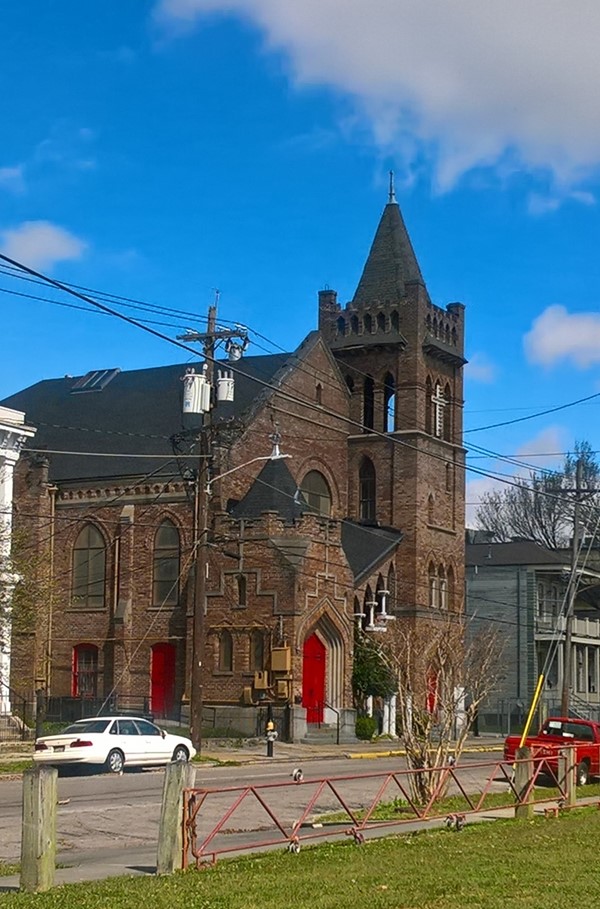 Or many just some pretty old buildings: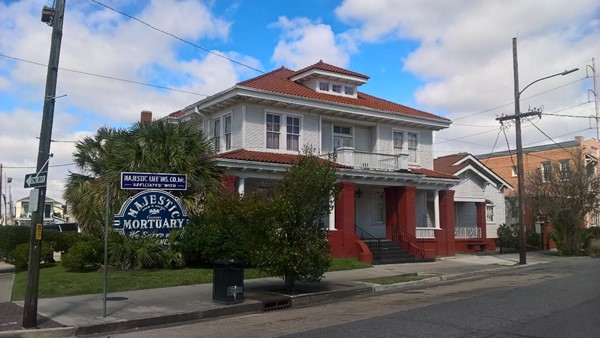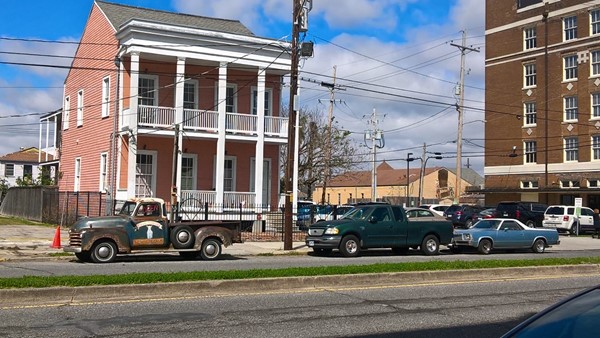 Or maybe a statue of Robert E. Lee that they are talking about moving because of the whole Confederate Flag controversy: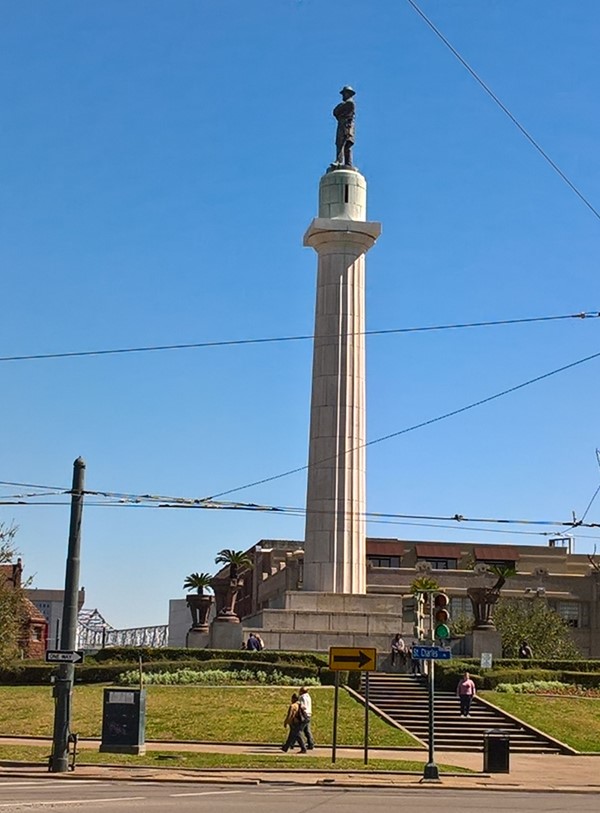 Pretty amazing weather considering we flew into a tornado on our way in.
Swung by the Ogden for a final look at the exhibit, grabbed the bag from the bell captain, grabbed a trolley to the bus stop – paid my $2 for a ride to the airport for my final NOLA meal. A Cajun Dog from Lucky Dogs in the airport which I then took to the bar had had with Sazerac Rye on the rocks – diet coke back: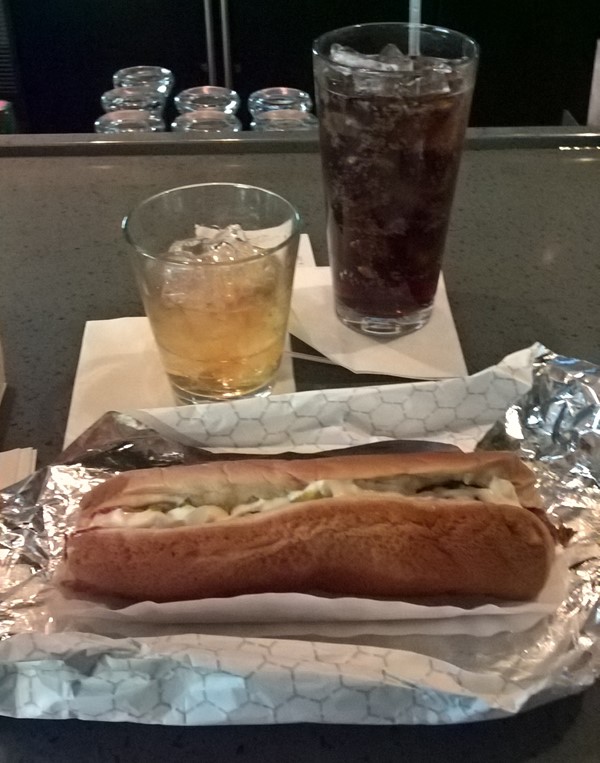 Another trip to NOLA under my belt.
[? ? ?]