You never know when you book several weeks out what the weather is going to be like. This time I lucked out.
This trip started because of KPop – Korean Pop music which I know nothing about, but the 13-year-old daughter of a friend is nuts about it. During a random conversation at the shop, it was mentioned that the 19th was said daughter's birthday, and that she'd already gotten her birthday present in advance (a different KPop concert), but her actual birthday her favorite band was playing in Vancouver. As a surprise in case the parents relented, I booked a two-bedroom at the WorldMark Vancouver that just happened to be available.
In the end, they couldn't make the date work, and rather than cancel the room, I decided to keep it for myself and string it along with a couple of other nights – and this was the result: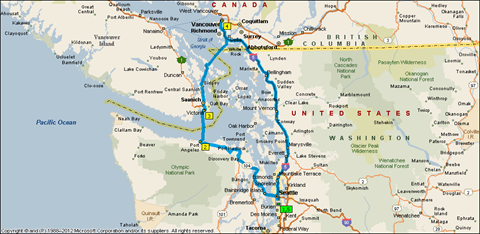 Day One – WorldMark Seattle – The Camlin

I already had the Camlin booked for this year's scholarship reading party (part two), so after work it was setting up the nibbles for the readers (Salamander, Roxy, Courtney, Mr. Whippet, Jonathan and Rodney). Here is what the results were: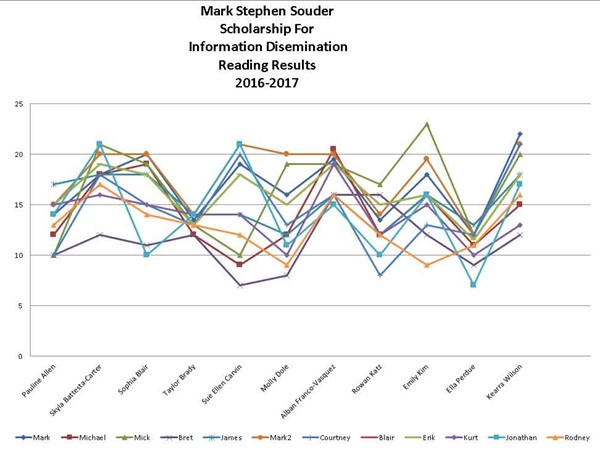 And all of us hard at work!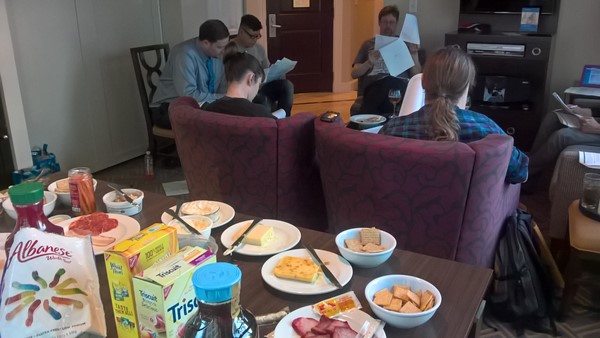 It wouldn't be a post of mine without a couple of shots of the rest of the two-bedroom unit…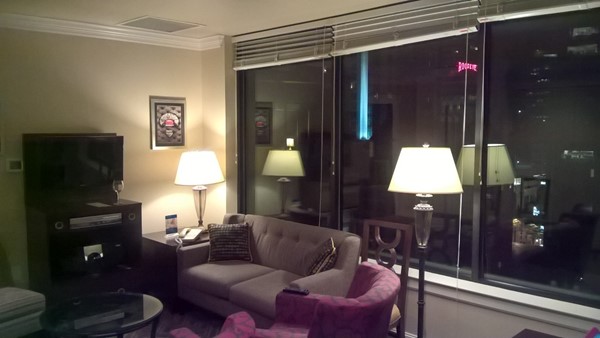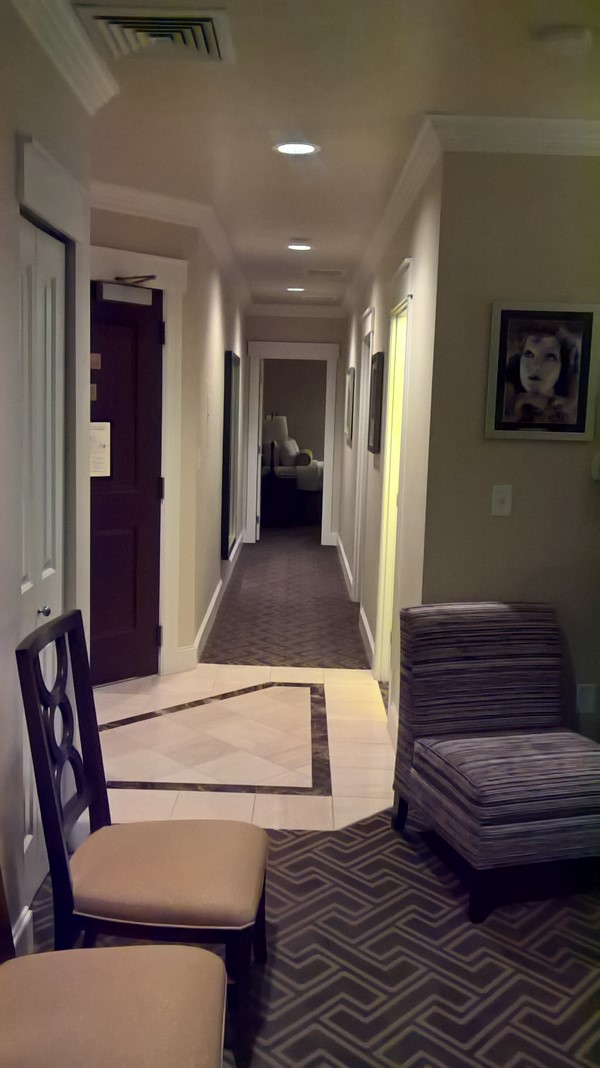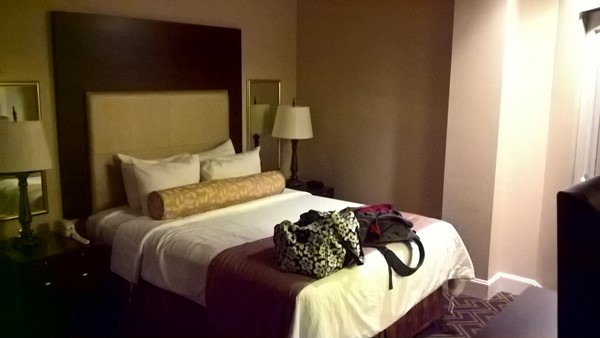 Day Two – WorldMark Victoria

The morning found me up early – off to an 8:30am "Owner ReEducation" presentation that "promised" to me an "information" session rather than a "don't you want to get to the next level" hard sell. I agreed to an hour (for a $100 AMEX card), which was taken up with the information part, leaving no time for the hard sell since I had a ferry to catch to get to the next WorldMark…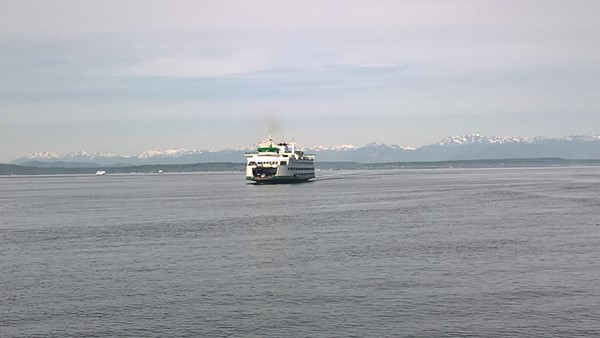 Yes, that would be my ferry – and below, arriving at Bainbridge Island – I love the Olympics in the background of both these photos: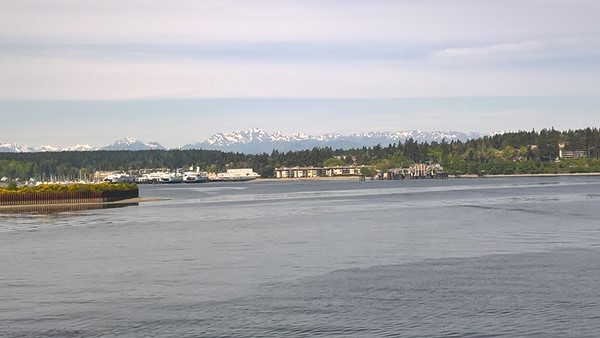 It was a good thing that I made a reservation on the Coho Ferry – I didn't get to the terminal until a little after 1pm for a 2pm sailing because the rarely opened Hood Canal Bridge was OPEN, delaying my about half an hour. As you can see, I'm at the end of the line: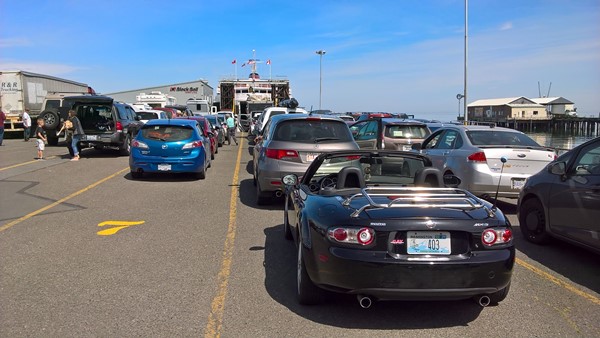 They even managed to get all the standby cars on!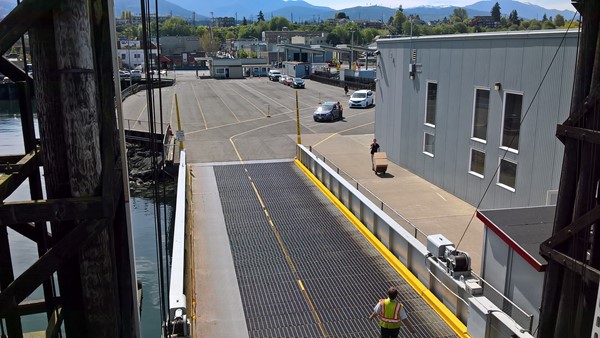 And me looking grim with the mountains in the background…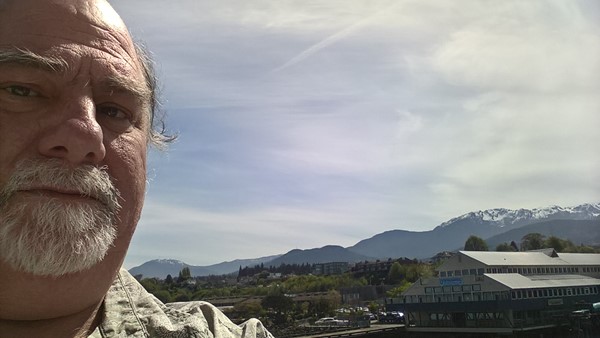 Goodbye United States…
Hello Canada! Victoria, British Columbia to be precise.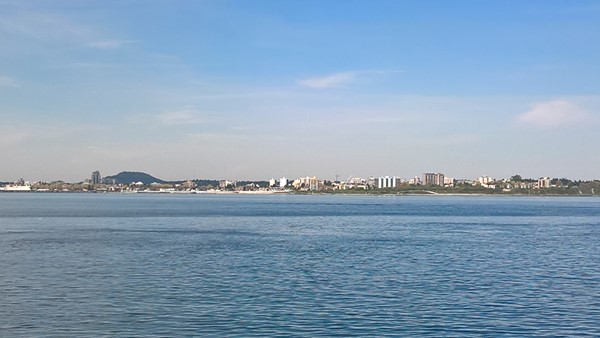 Got all checked in – here is the view: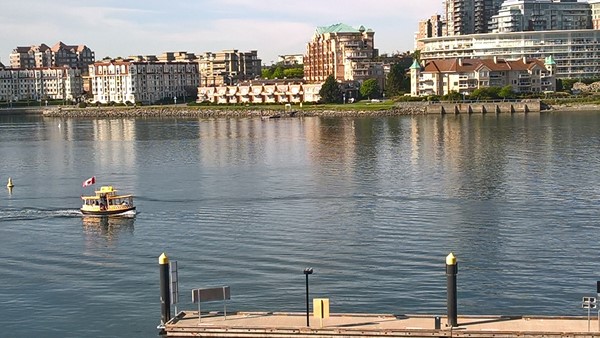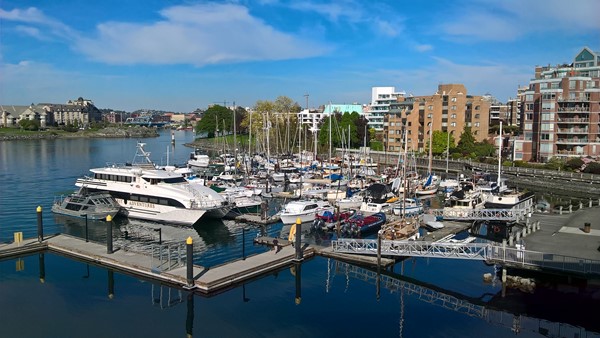 Since Courtney liked the video in a previous post I put a video here of the inside of the unit:
So far, I've had two-bedroom units, and no one to share them with – tonight, none of my Victoria peeps have the time to hang and have dinner. Sigh. I did get to see Royce since he is a checker at the Thrifty grocery store where I shop. Came back with a steak and a salad (and a view):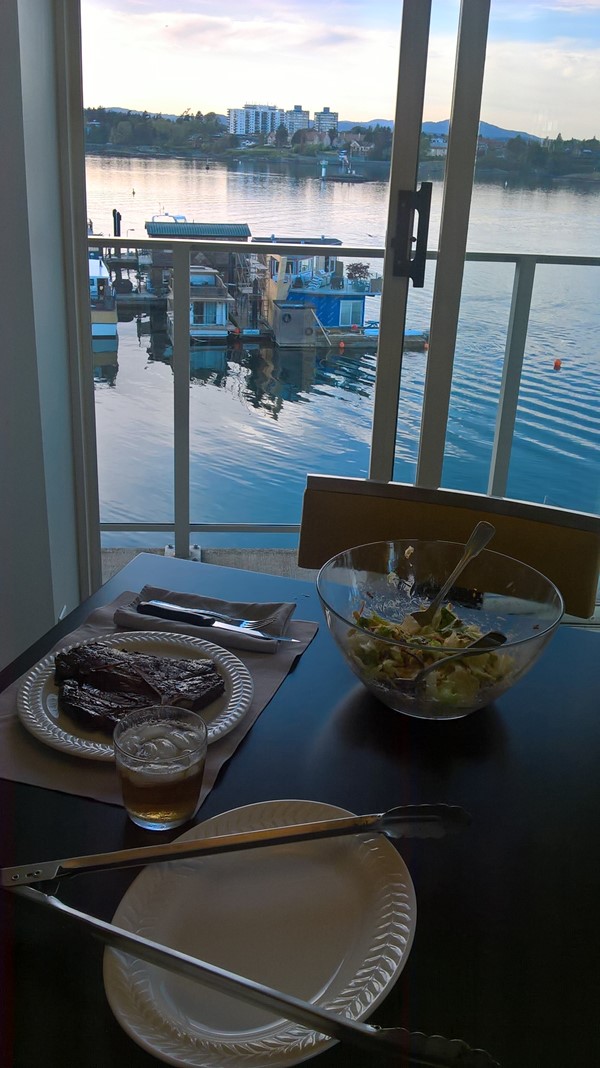 I do love the WorldMark Victoria – think it is my favorite of all the WorldMark Resorts.
Day Three – WorldMark Vancouver

Another day, another ferry ride. Had a reservation for this one as well, but it was only 25% full (MUCH larger boat). But the reservation did get me onto the boat before those without. A nice perk: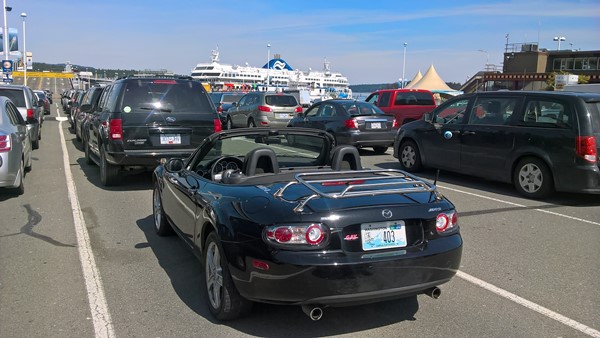 And it was a beautiful day for a ferry ride: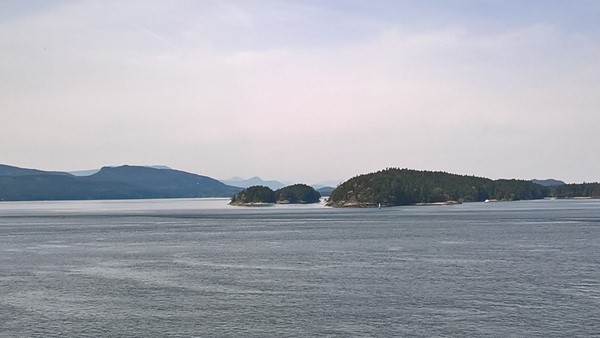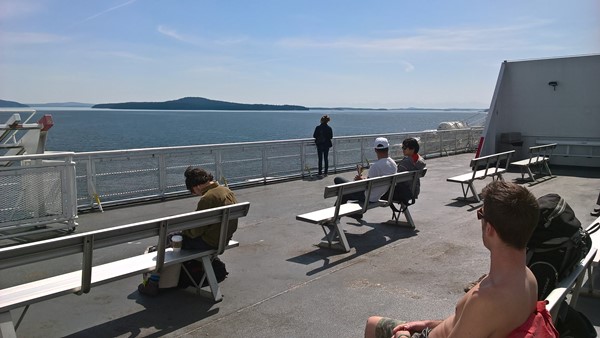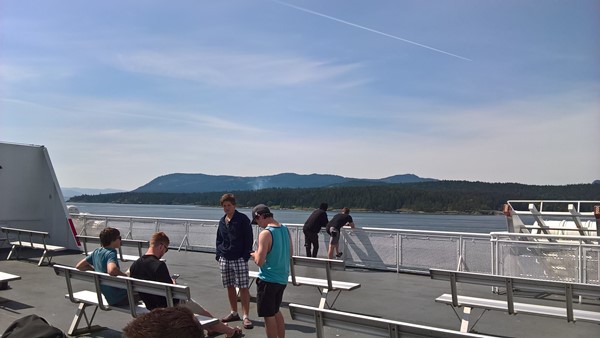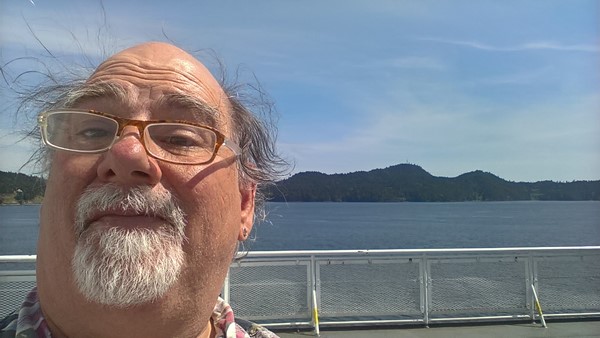 A slight hiccup checking in at the WorldMark Vancouver – I'd forgotten to change the name on the reservation – it was still in Courtney's name – luckily as the owner, it was OK once they found the correct paperwork.
Here is the WorldMark Vancouver unit:
At least on this stop I have company for dinner: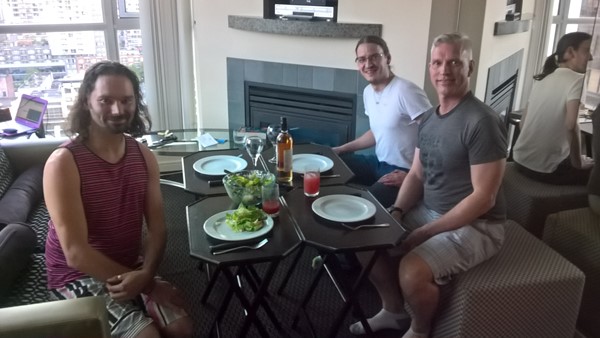 The 2-bedroom at the WorldMark Vancouver is described as "Compact – No Dining Room" – which means eating on TV tables – but look how we made a table! Whole splayed (flattened) chicken, salad, rosé – though Epick and Tom weren't drinking – Sebastian and I MORE than made up for them, also killing off a good portion of a bottle of whiskey as well. My kind of boy!
Our rosé…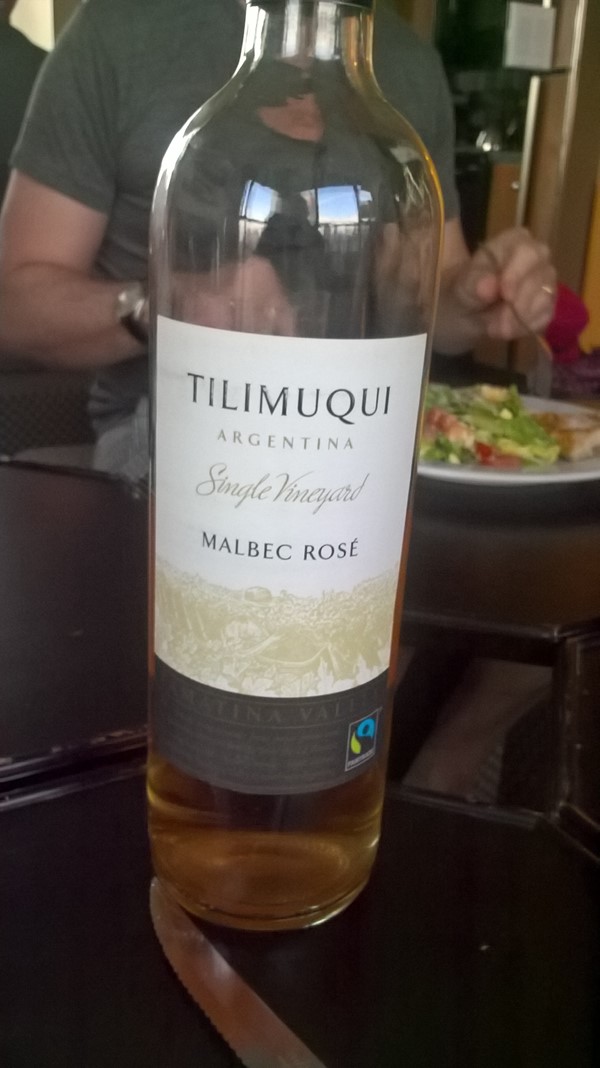 Not bad – I'd buy it again. And again, nobody to fill the second bedroom on this stop either.
Day Four – WorldMark Birch Bay

Out of the unit at noon – US bound. Stopped at Duty Free – 10% off because of my Nexus Card, plus the 25% off because of the exchange rate – it's like they like paying me to drink!
Got to the condo around 2pm – room wasn't ready, but they weren't full so they moved me to a unit that was clean – which was 308:
Not bad views: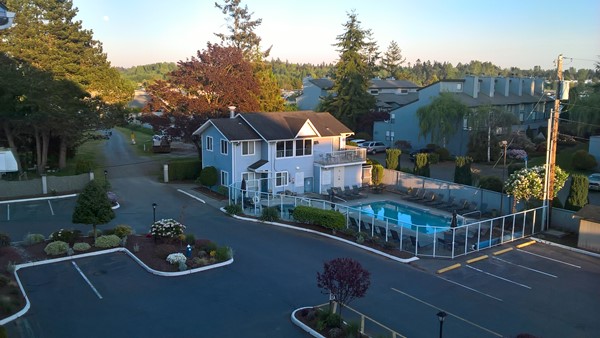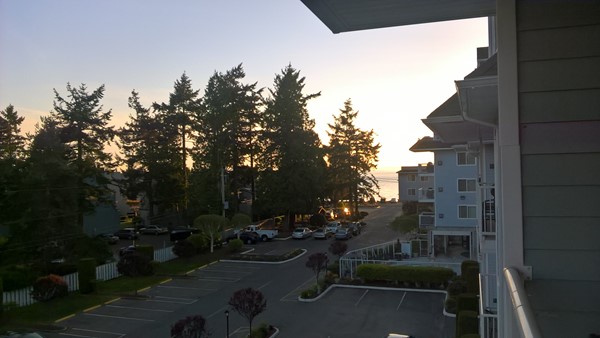 That would be the sun going down over Birch Bay – I was here two weeks ago and we stayed with a MUCH better view (and it was available, but do I REALLY need 3-bedrooms and a hot tub just for me?)
Had a late lunch next door at The Shores – yes, a Rueben. Not the best but pretty good, didn't realize it came with fries, would have ordered a side salad – because, yes, I ate all the fries: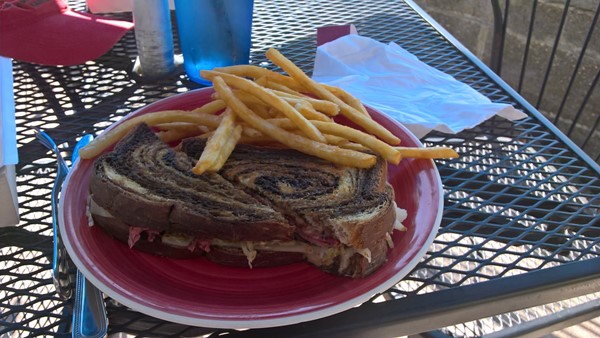 What I couldn't believe was a BRAND NEW BBQ on the deck – never used!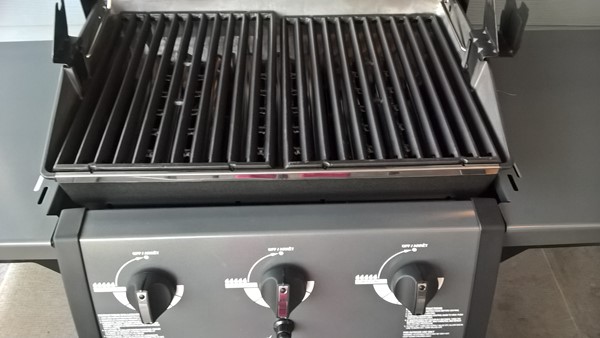 No company tonight – though it was on the agenda. Luckily I'm fine with flying solo.
Next time I think I might add the WorldMark Discovery Bay (east of Port Angeles) and one or both of the WorldMark Whistler resorts into the Circle Tour.
[216.2]