Such a deal! $423.77 round-trip for BOTH of us Bellingham to Honolulu. And parking in front of the airport is just $12 a day, a mere 100 feet from car to counter.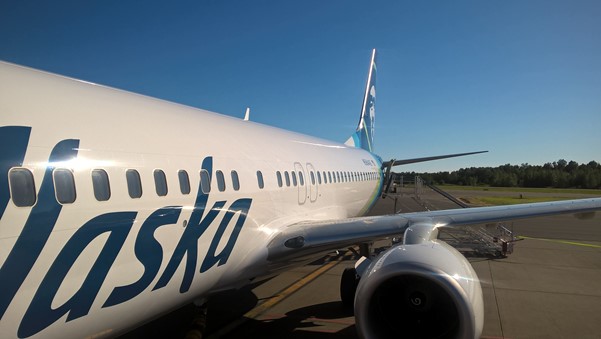 A beautiful day to fly, especially when you get upgraded to First as a freebie: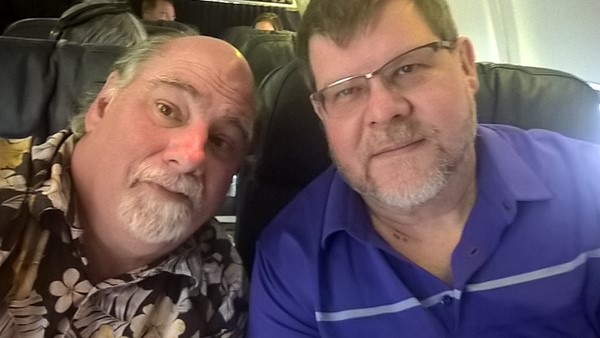 And the meal that comes with that seat: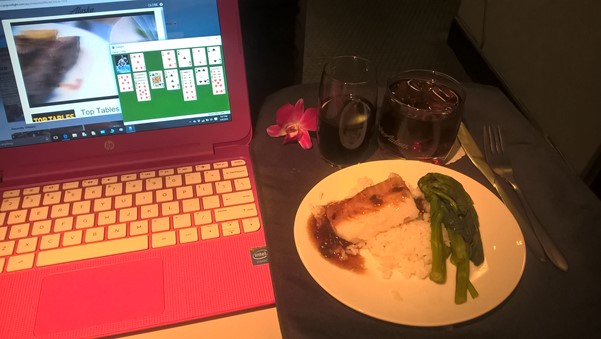 Alas – because of a last minute airplane swap, no DigiPlayer Tablets, just our own laptops which take up a TAD more room – almost pushing out the black cod with bok choy.
The first two nights we are staying at the Royal Kuhio, in a one-bedroom: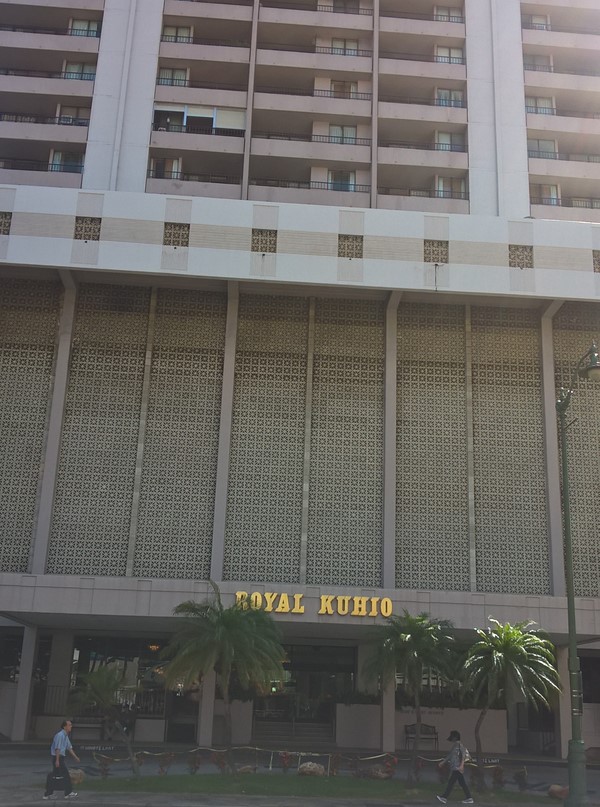 Our room is on the third floor over the garage in, oddly enough, room 911. Hard to forget what room you are in with that number.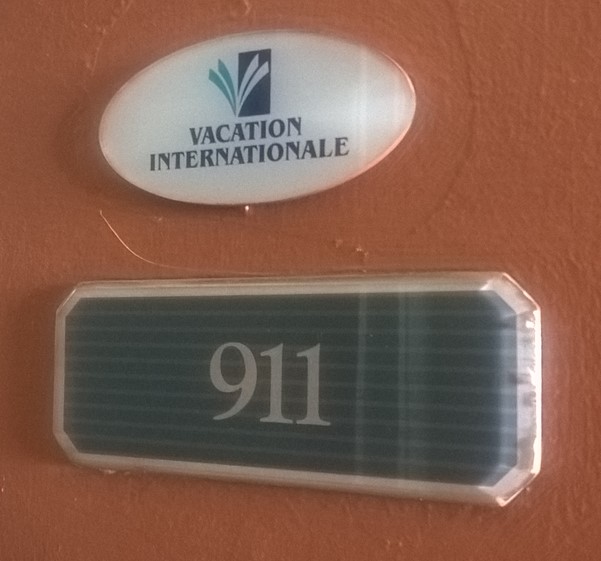 The view by day: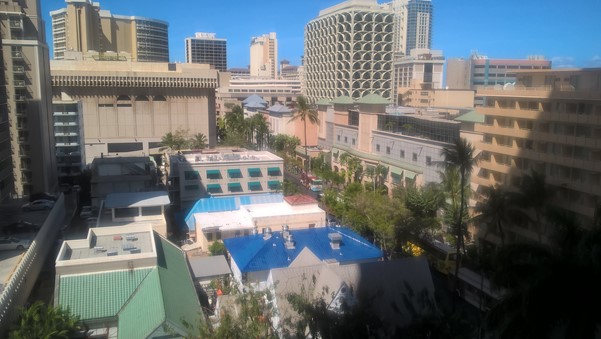 The view by night: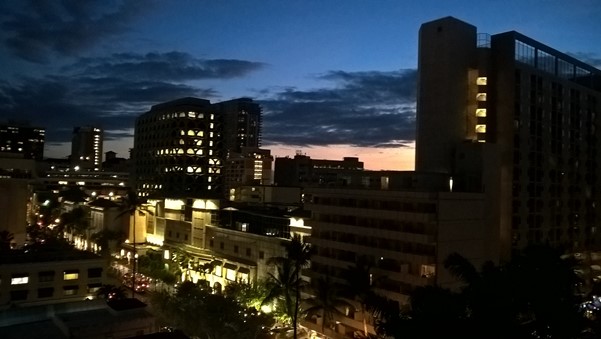 The room: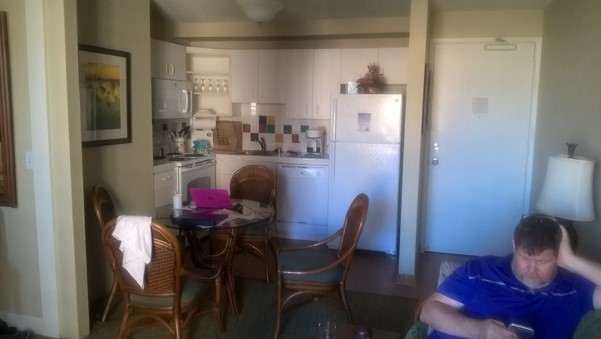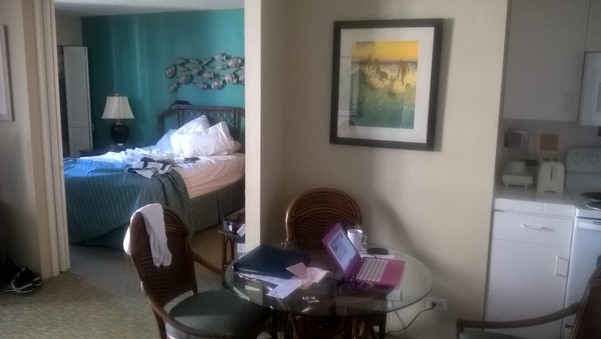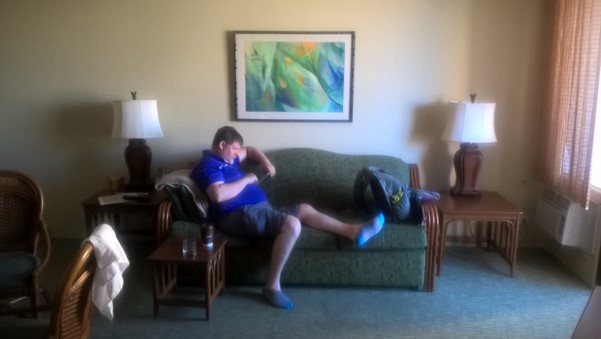 And a really cool alarm/clock/outlet/USB port device on the nightstand: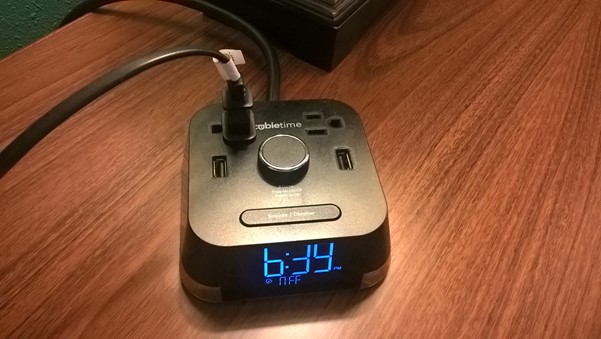 Our first full day (we got in at 9:45pm on flight day), first stop is the Honolulu Salvation Army Thrift Store to hit the rack of Aloha Shirts. Tuesday is Senior Discount Day (25%), though half of what we found was 50% off since it had been on the racks for over a month. $55 for 6 shirts and a sweater – DancingBear made out better with 4 compared to my 3: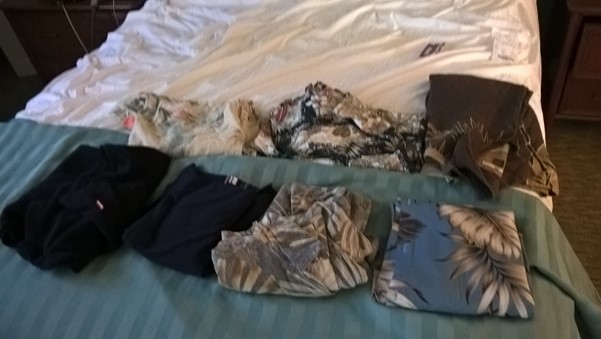 Several of those are Tommy Bahama shirts that usually run $70 and up. Here is DancingBear in one of his finds: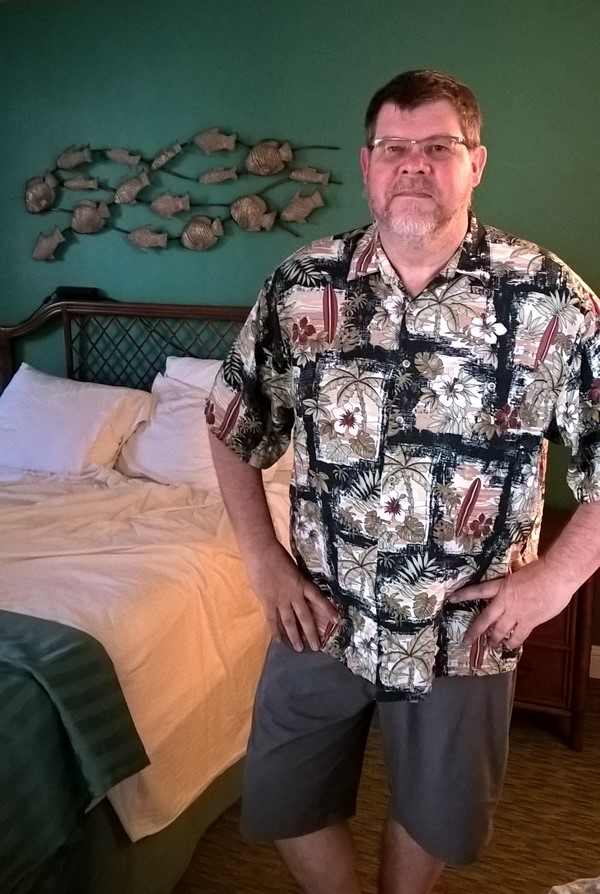 Next up is a walk to the Aloha Tower: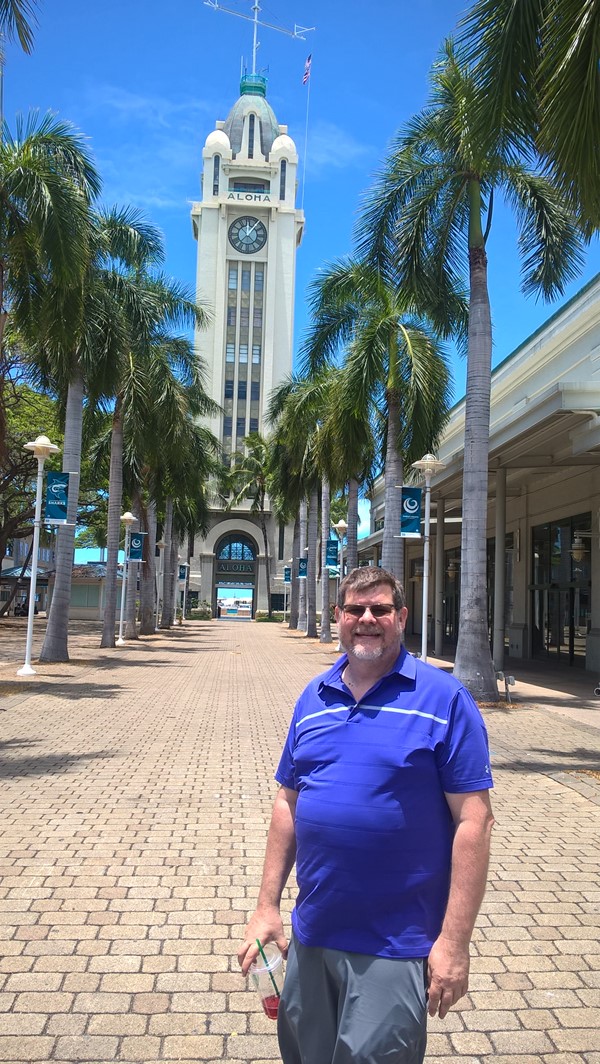 While waiting for the Waikiki Trolley (tip – buy your tickets online and save 25% during certain sales) we did a little fish watching: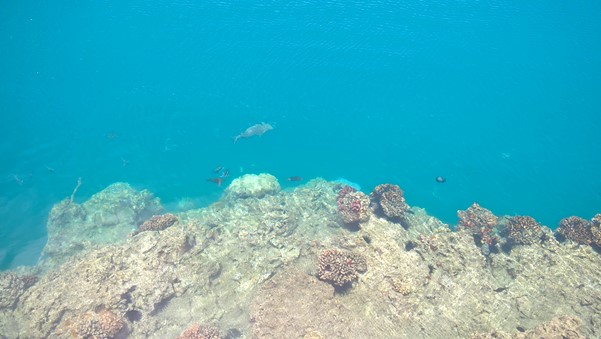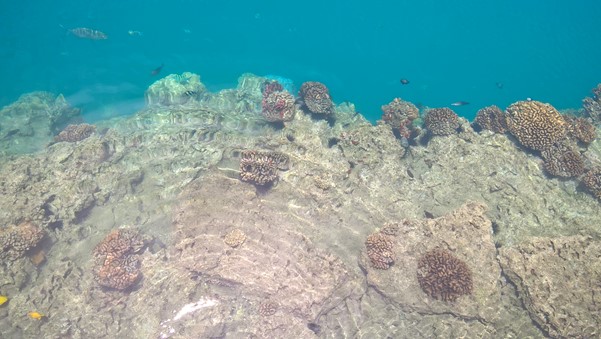 Luckily the Trolley shows up fairly quickly considering that the Purple Line only runs every 50 minutes: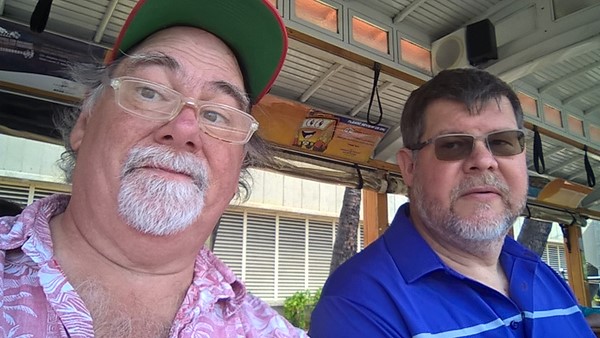 That's the last shot you'll see of me in my Mount Gay Rum Yacht Race hat – it blew off on the Trolley – made more ironic because I bought the hat at the Salvation Army on a previous trip to Honolulu.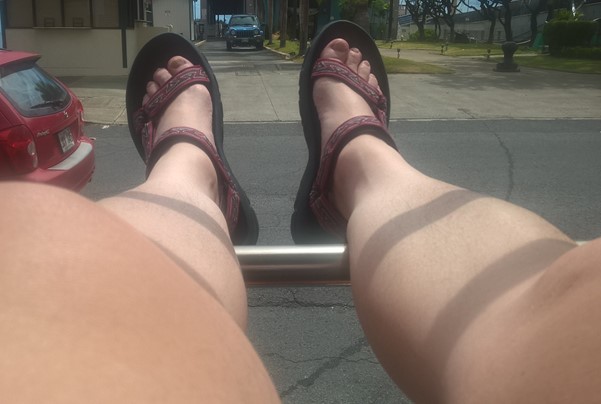 And some scenery shots: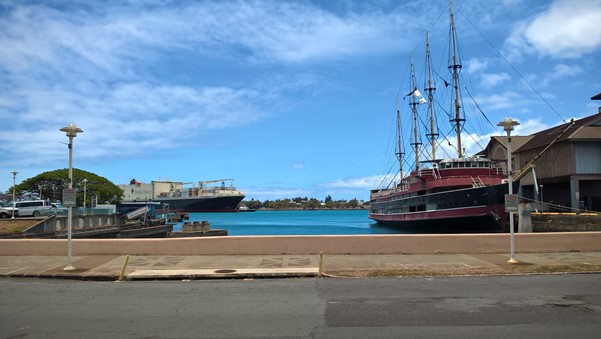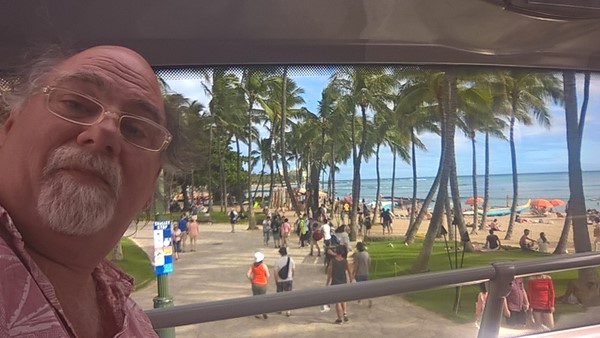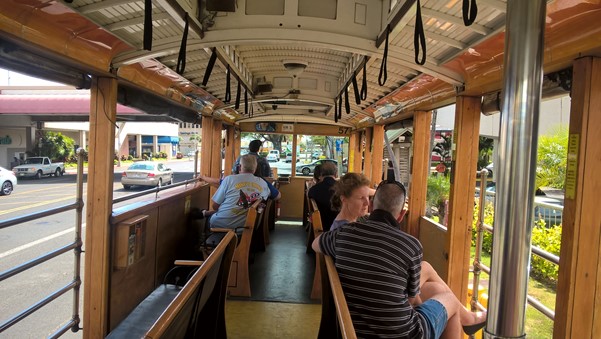 We swung back by the condo (very close to the Trolley Terminus) for a quick nap for DancingBear and a quick snack for me – can you say poke?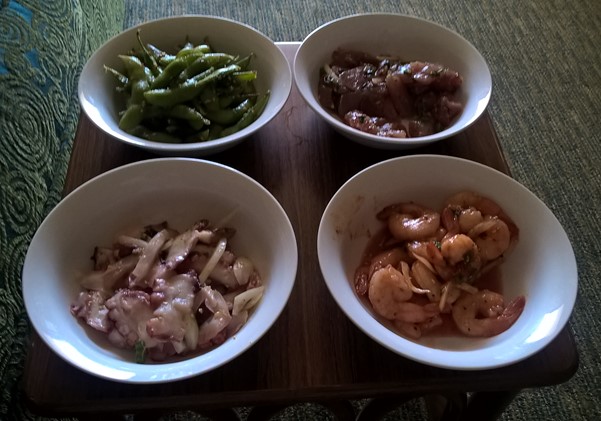 Clockwise from upper left, edamame, ahi, shrimp, octopus. Yum.
Speaking of food – my dinner: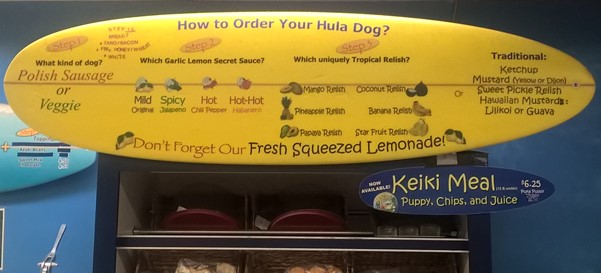 I got the Polish, mild sauce, star fruit relish, and Hawaiian Guava Mustard on a purple bacon taro sweet bun.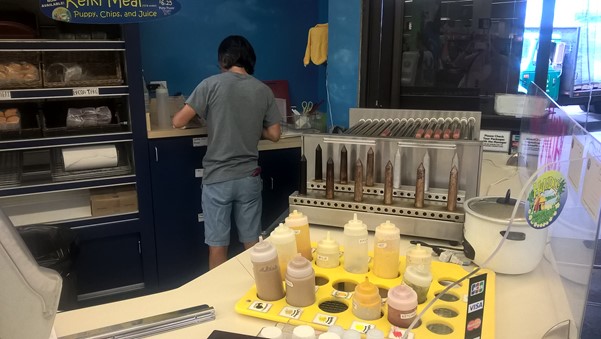 Those metal spikes next to the dog roller are to toast the bun from the inside out.
Our final day in Waikiki we took Uber to the Dollar Rent-A-Car and picked up wheels for our island tour over the next two days – and it turns out we have a mutual friend in Honolulu – Rick – and he works in the governor's office so we are off for lunch and a tour!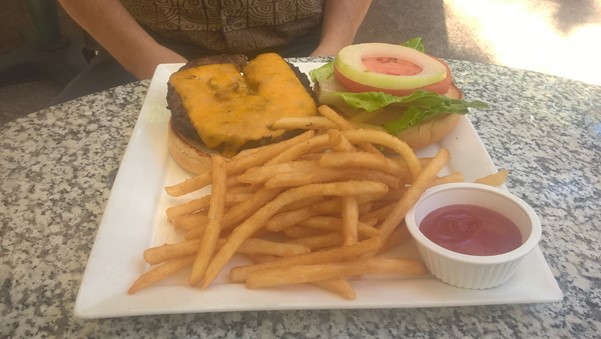 Burger and fries for Rick.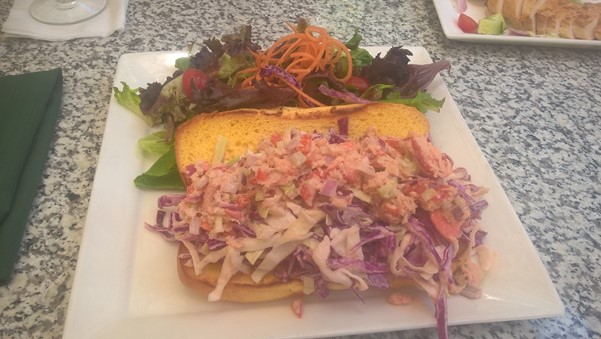 Lobster roll for me.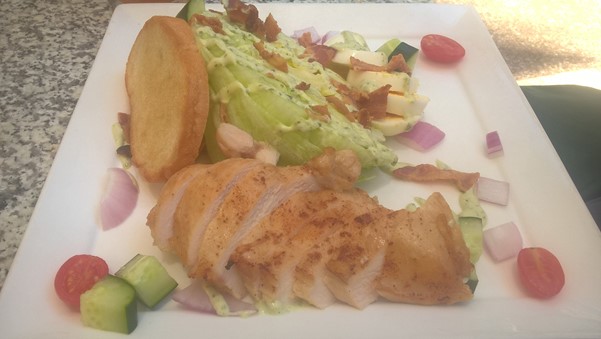 Chicken Cobb for DancingBear.
It was a great lunch at Café Julia, nestled inside a 1920's YMCA building. And soon it was off for a personal tour of the Hawaii State Capital.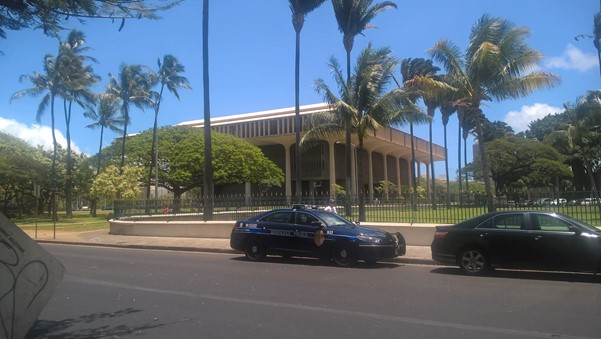 The Senate Chamber: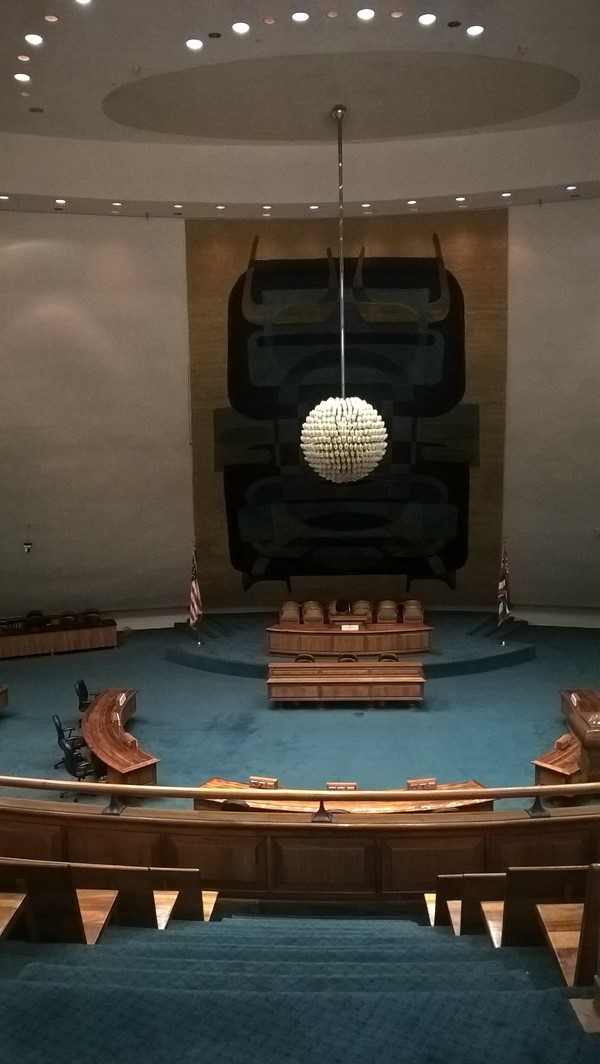 The Governor's Formal Office (for bill signing, ceremonies, etc.):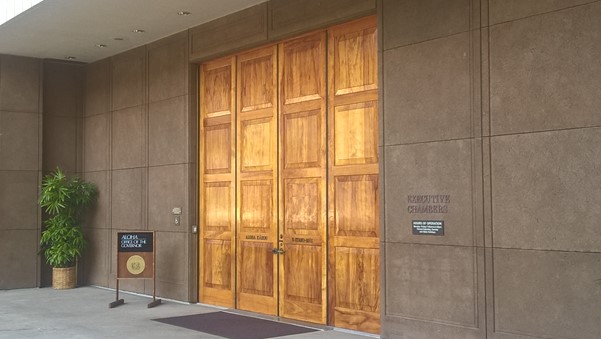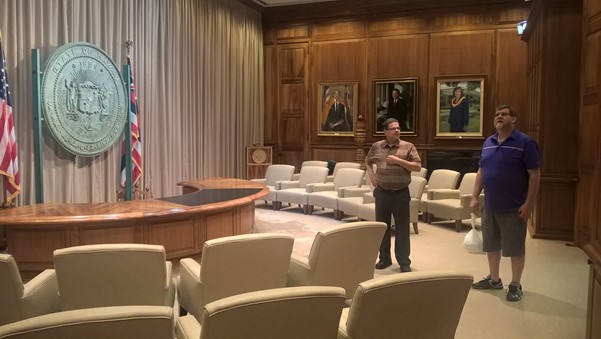 And a great shot of us all, with a giant mangrove in the background (and me in one of my Sally Ann
Tommy Bahama finds):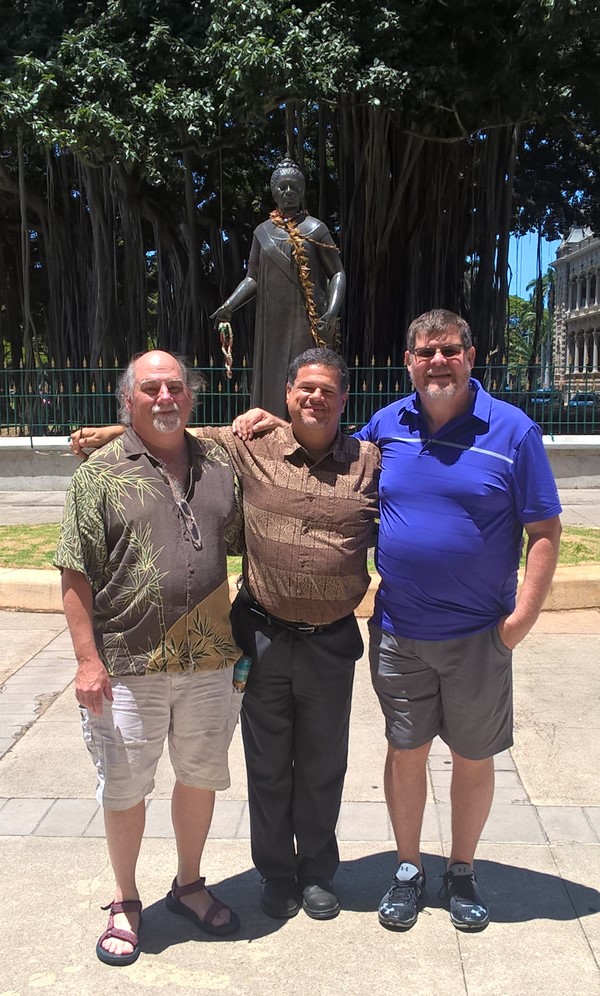 After our tour, off we went on a circle tour of the island, starting headed south: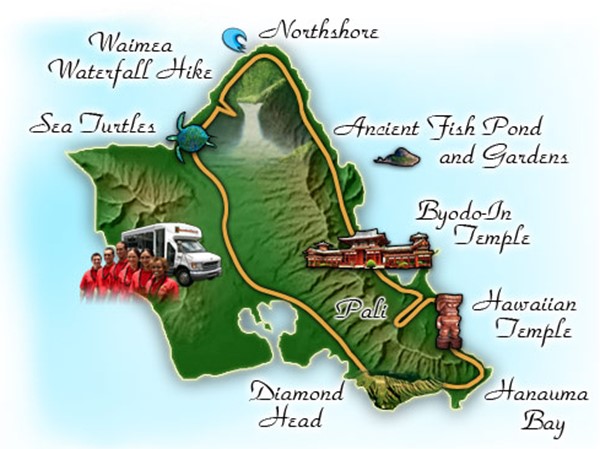 Thanks to Hawaii Activities for the image – and I've toured with them on previous trips. Since we were in a car, no commentator other than me! Please notice my back-up hat – my Hello Kitty hat that I bought a couple of months ago in a Maui thrift store.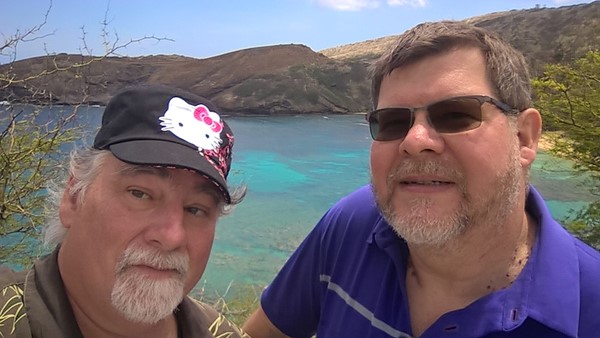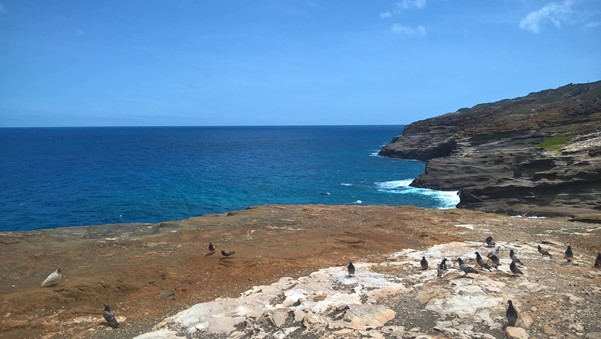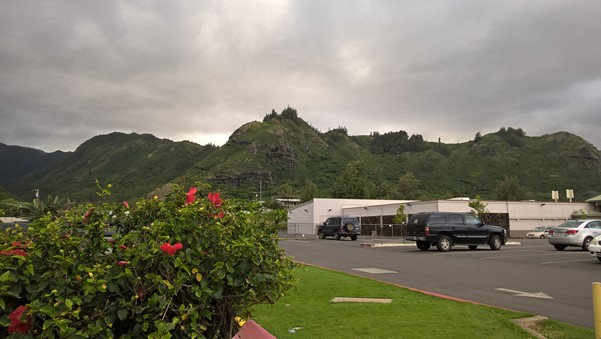 We are staying at the Marriott Courtyard (founded by the Mormons) right next to the Polynesian Cultural Center (founded and run by the Mormons):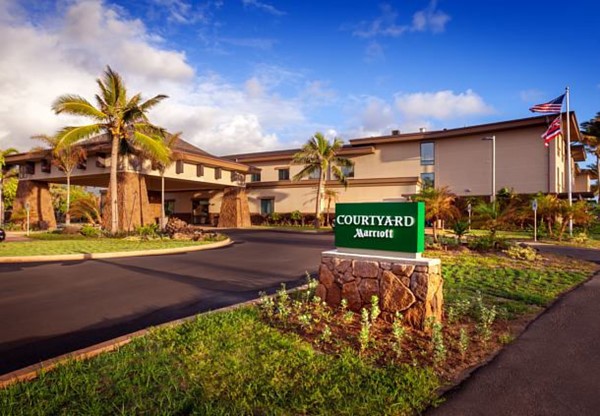 The place is only nine months old, and has some very good design elements like a huge lobby for hanging out with some workstations: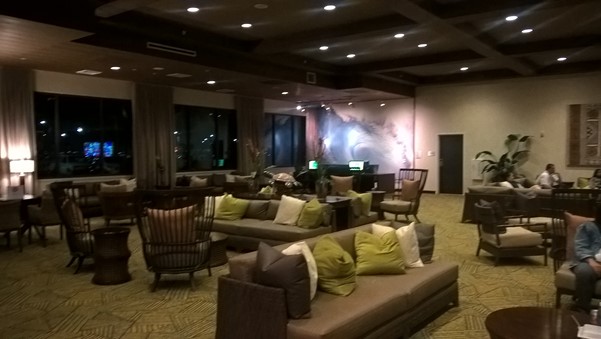 And a dedicated stand up "business center" for printing boarding passes: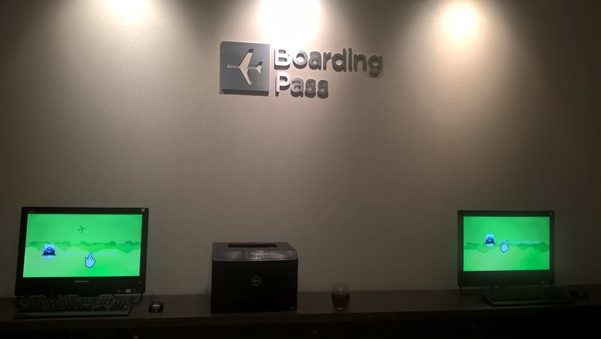 But in the end, it's really only about the room comfort: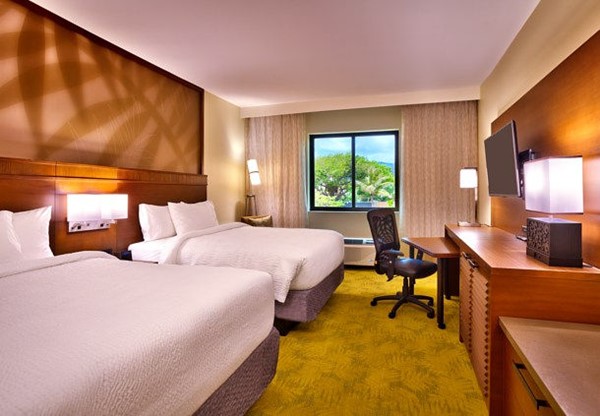 I grimaced at the $200+ a night price (and that they charge for parking), but it really was a nice place to stay, and almost one only hotel on the North Shore.
Dinner tonight is takeout from these folks across the street – Kauula Korean BBQ: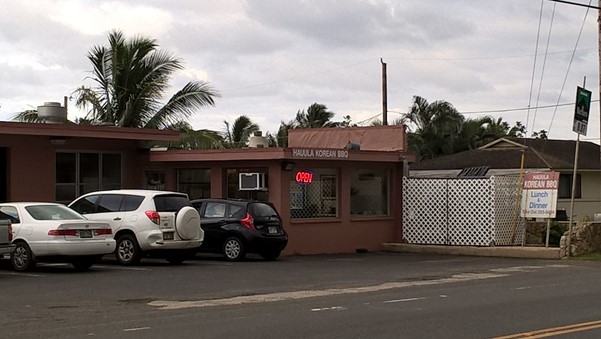 Thursday brings more of the driving tour around Oahu: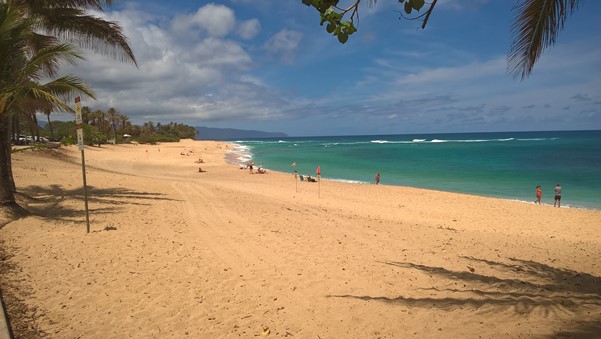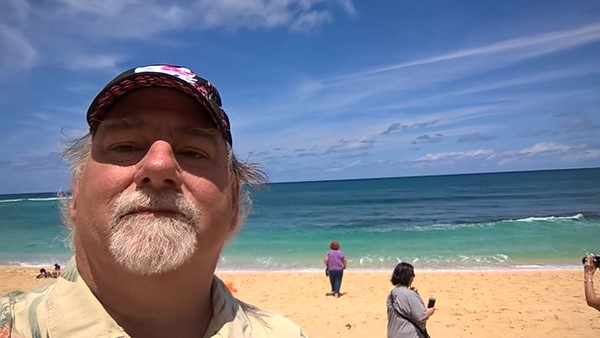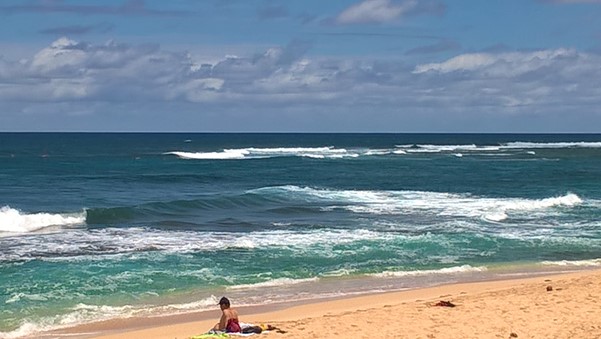 That would be Sunset Beach – famous for surf contests.
Lunch down the road at The Beach House restaurant at Haleiwa: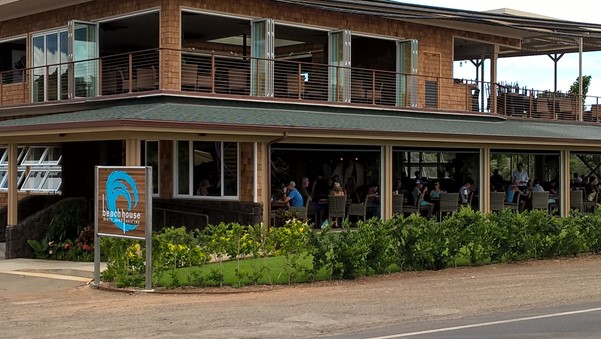 DancingBear went for the Black Bean soup and he talked me into the Lobster Cobb Salad.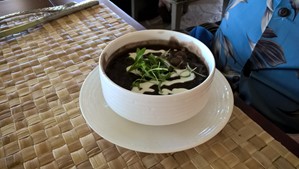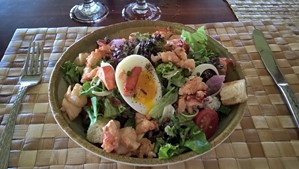 Seriously good food for a restaurant that's only been open three weeks!
Stopped at an old sugar mill turned coffee roaster/souvenir place…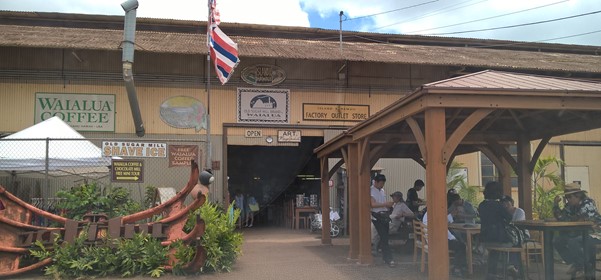 …on our way to the Dole Plantation for a Dole Whip and a train ride: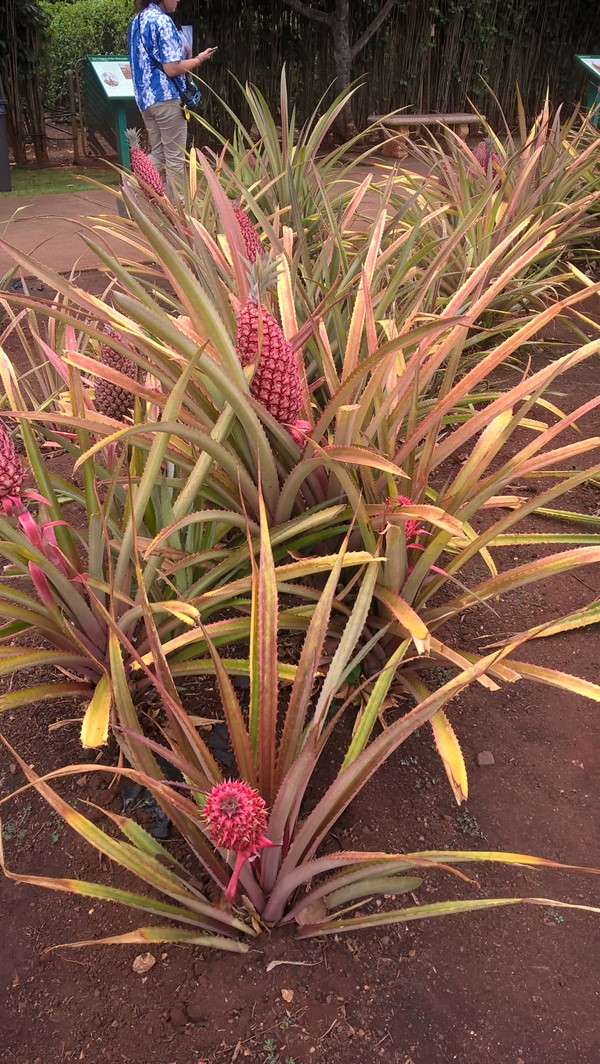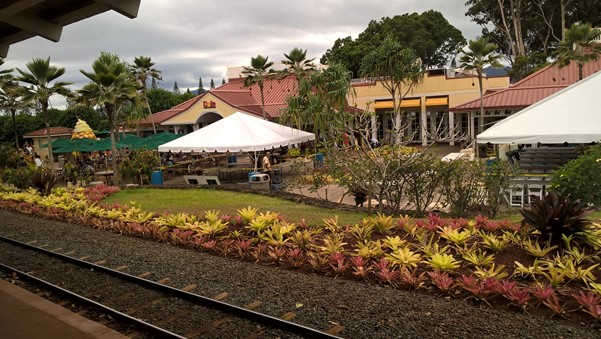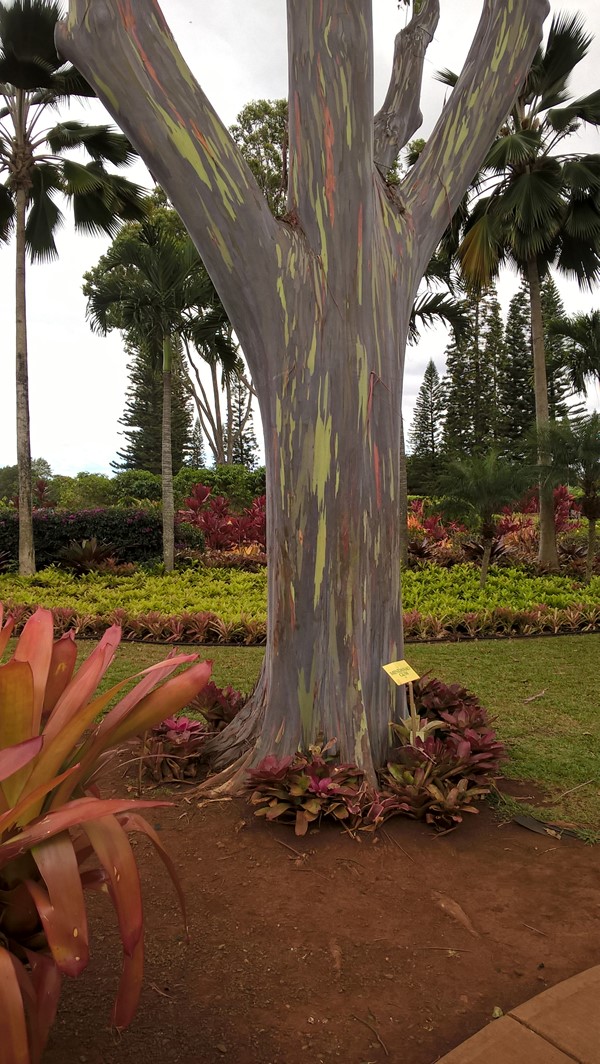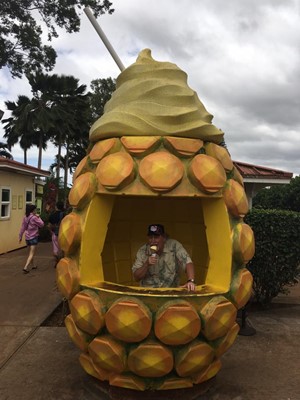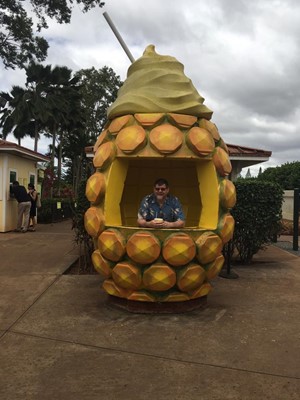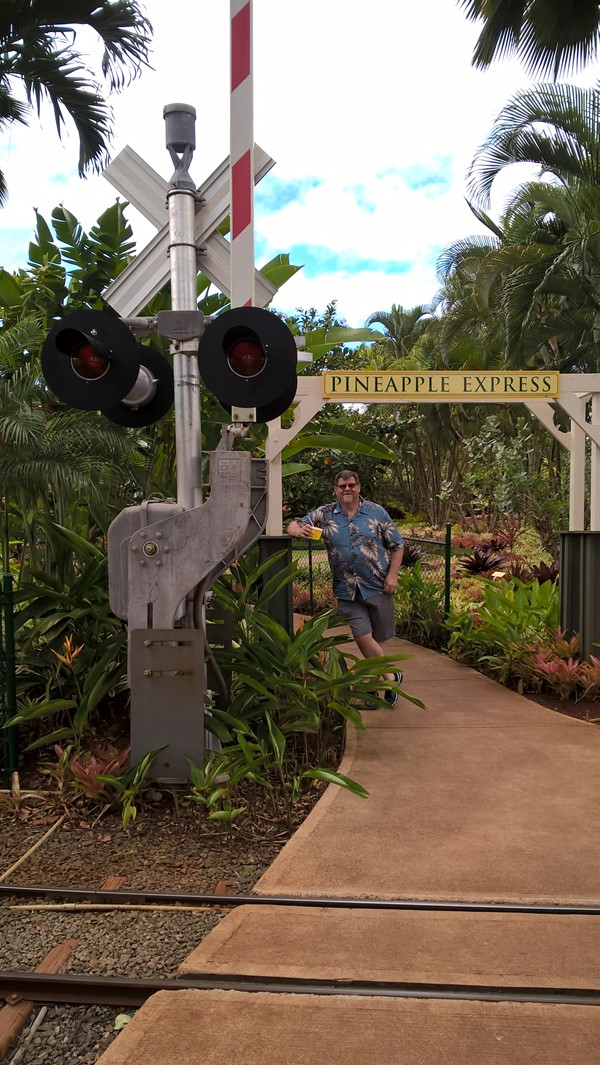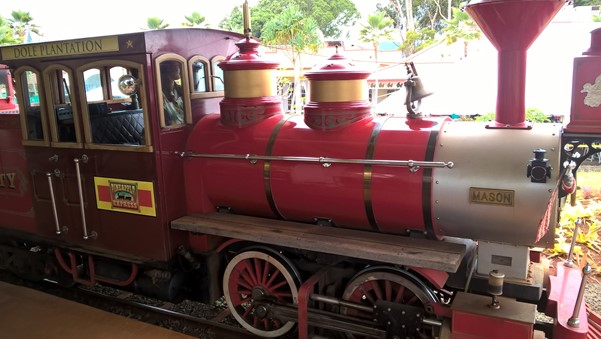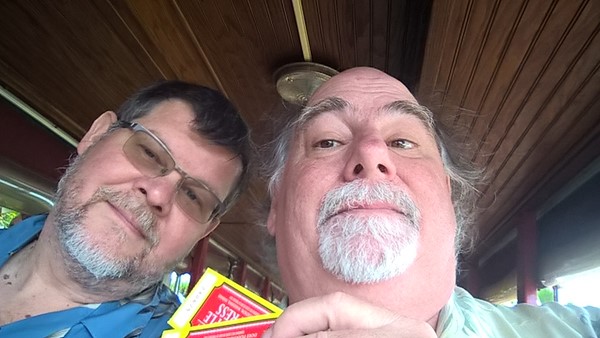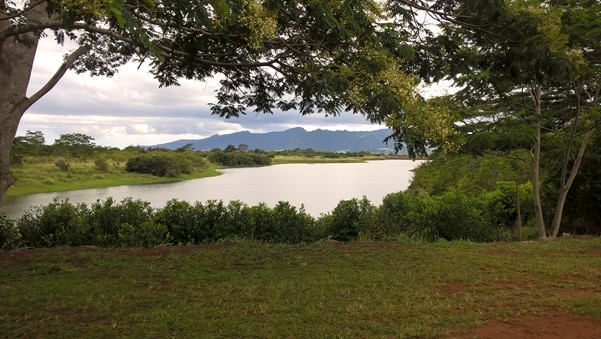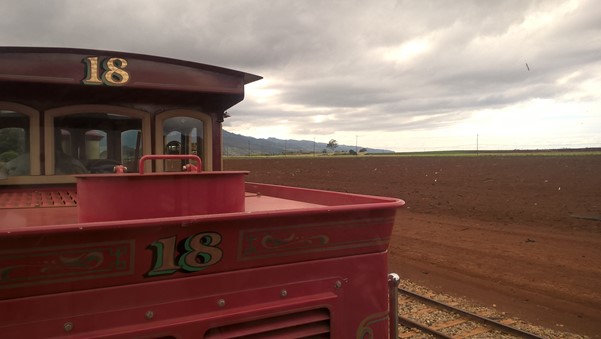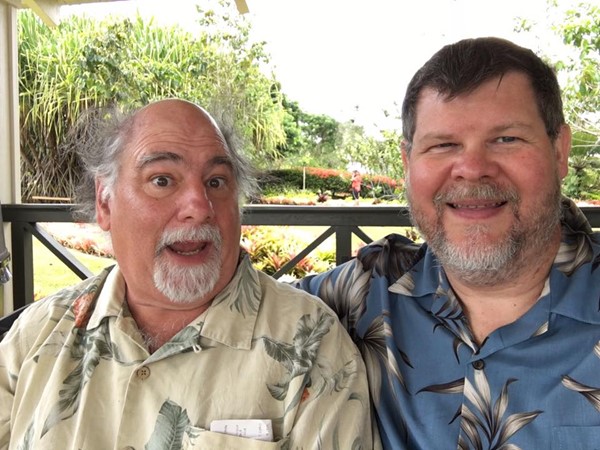 Time to return the car and return to Bellingham – but, I have lounge access in the American Airlines Admiral's Club at Honolulu which they share with Japan Air Lines (soon to be a codeshare partner with Alaska Airlines):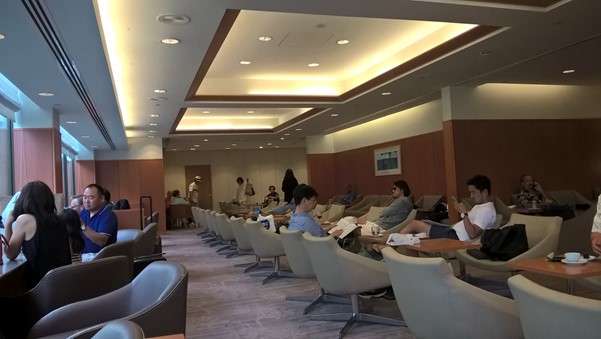 Big, and they are expanding it. Spam Musubi anyone?
A great view from our workstations…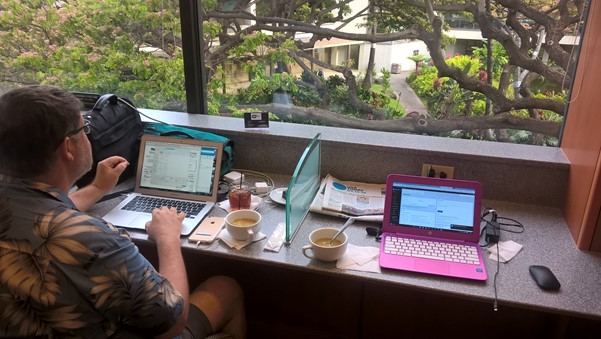 And because it's shared with Japan Airlines, fancy bidet toilet seats in the bathrooms: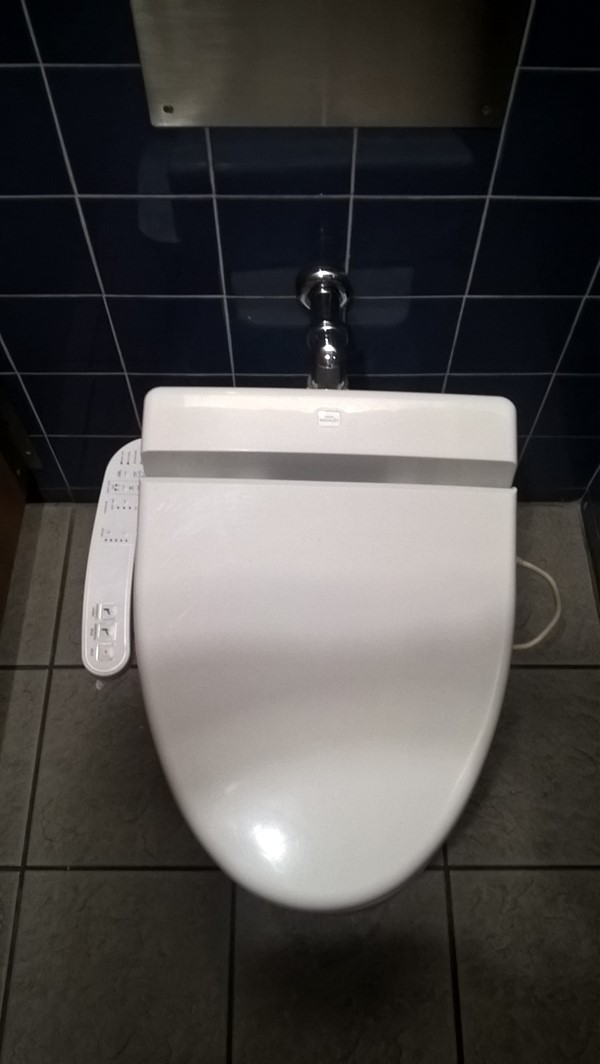 The Honolulu Airport was originally built in 1962 and still has some remnants: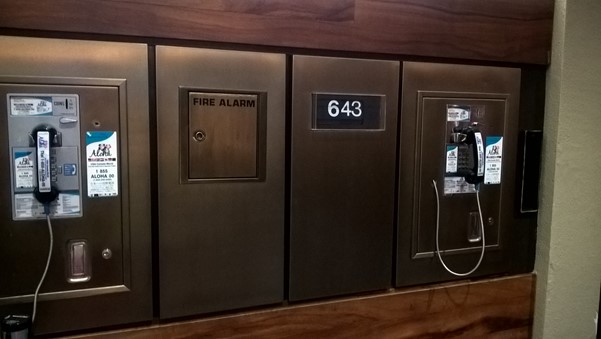 Yes, that is a non-working mechanical flip-number clock – and some working (though I didn't check) payphones – another dinosaur technology.
Time to board and take our favorite seats – though on both legs we've had to swap seats with other people in row 1 to sit together (note DancingBear's
Sally Ann find):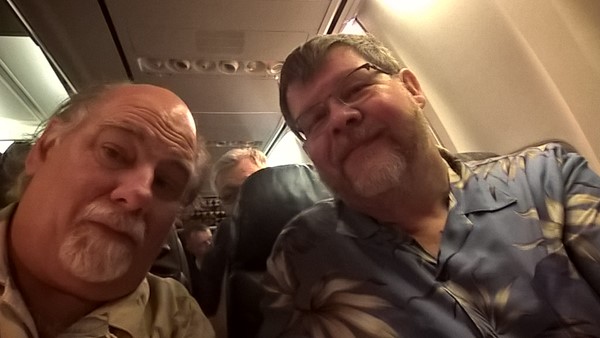 Not much in the way of food on the return flight – I guess they expect you to sleep since it's a red-eye! At least the DigiPlayer Tablets are on board this leg.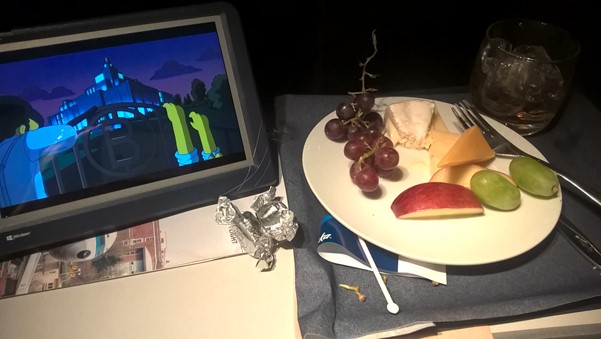 Thanks to DancingBear for this flight takeoff photo (and a couple of other photos in this post):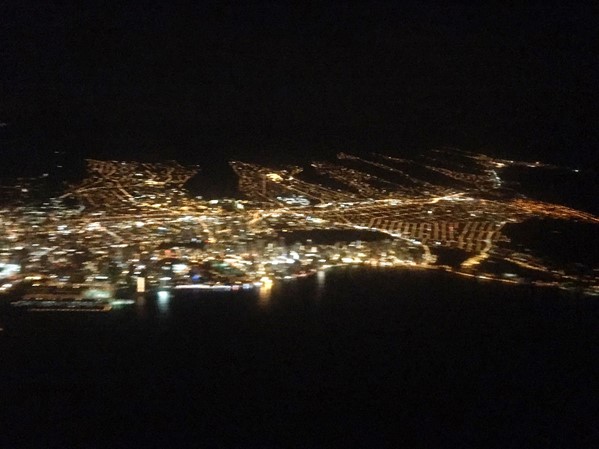 And my arrival photo…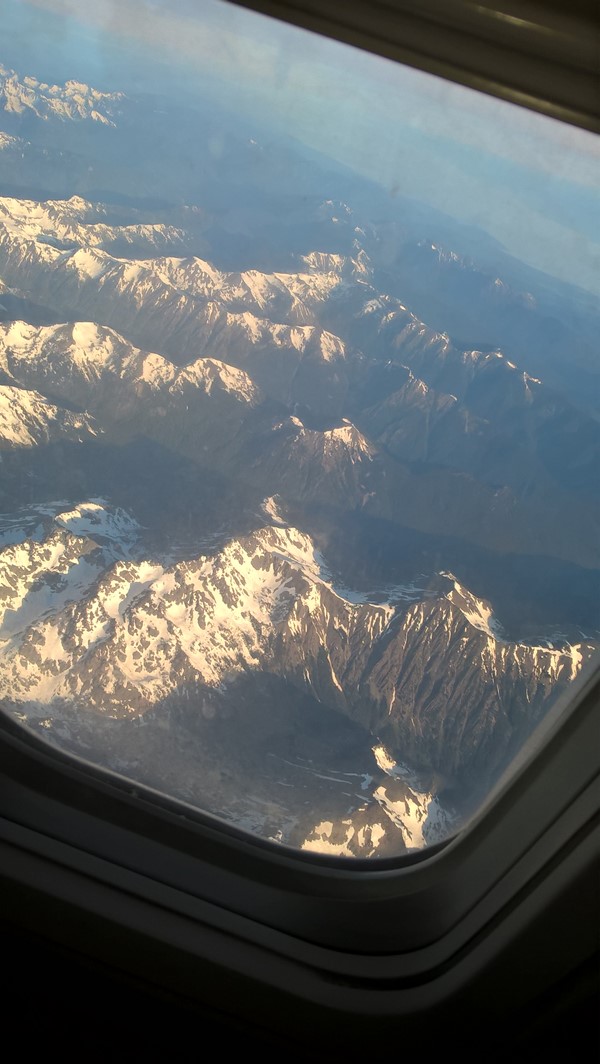 Got to Bellingham around 7:30am, and I've decided (after sleeping the entire drive home) that I'm done with red-eye flights. Luckily, June 4th is the last of the BLI-HNL flight.
And a final thanks for DancingBear for driving home while a snored (and driving there as well).
[214.0]