It is slowly dawning on me that I've planned morning events for most of this trip. I am not a morning person. Luckily, Rache is – so I have a kind and gentle alarm clock that delivers coffee.
Our morning activity today is The Neon Boneyard – home to the signs of the former legends of The Strip.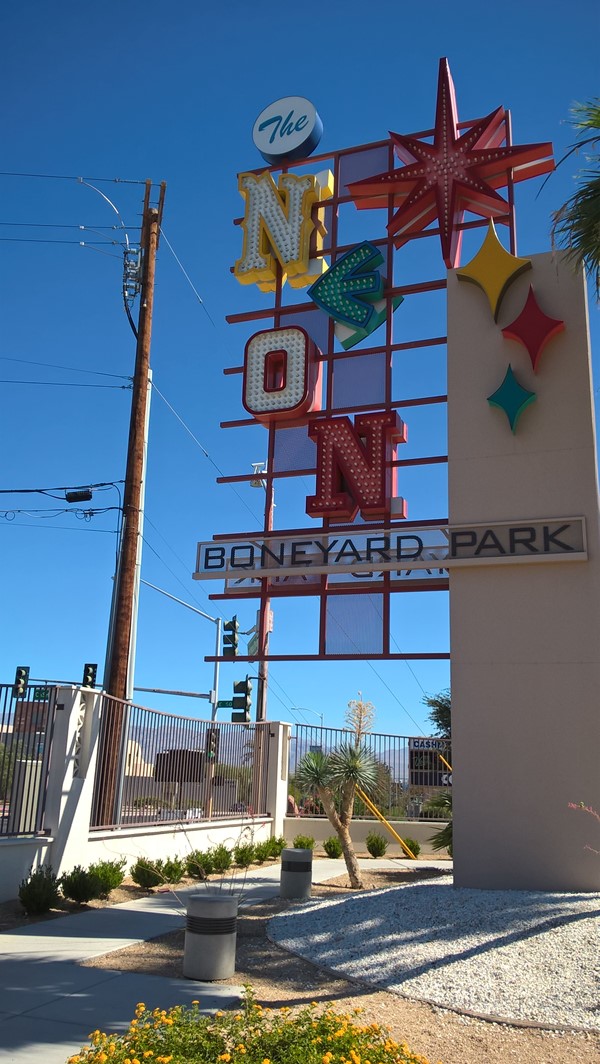 There was only one problem – we had tickets for May 15th, not June 15th. A miscommunication via email with the museum staff about using my Tacoma Art Museum reciprocal privileges. And the 10am tour was full. Seems like we'll be coming back tonight at 7PM for the last "daytime" tour before the more expensive "nighttime" tours begin.
Alternate plan is to do the driving tour of Red Rock Canyon.
On the way to the Canyon – a little pit stop at a ranch formerly owned by Howard Hughes called Spring Mountain Ranch. Lovely spot. Quirky Nevada state park.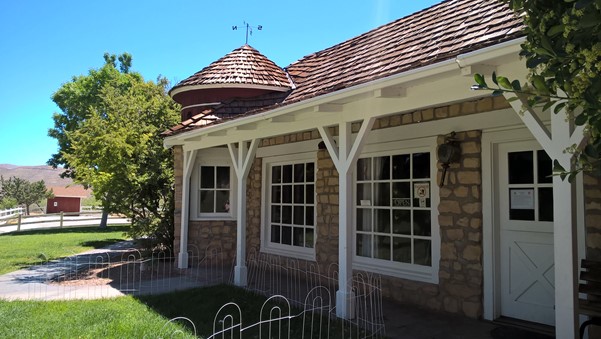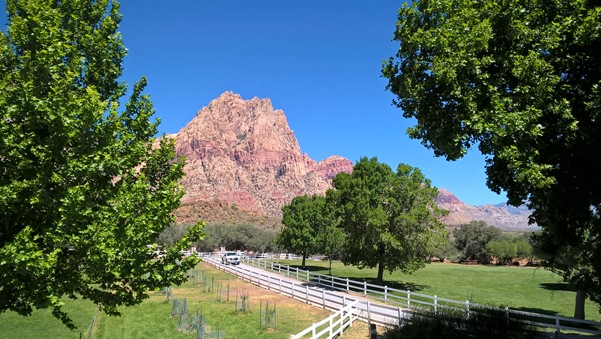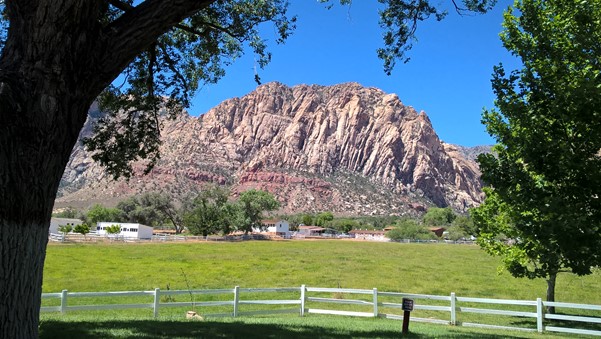 Apparently Howie never lived here – he bought it for his wife as an escape from Vegas. Turns out she preferred Los Angeles.
On to Red Rock Canyon National Conservation Area where there was a little scuffle over whose America The Beautiful Park pass to use – seems we both had our with us!
I took the wrong fork so we bypassed the Visitors Center and it was immediately off to the 13-mile circle drive with some incredible scenery: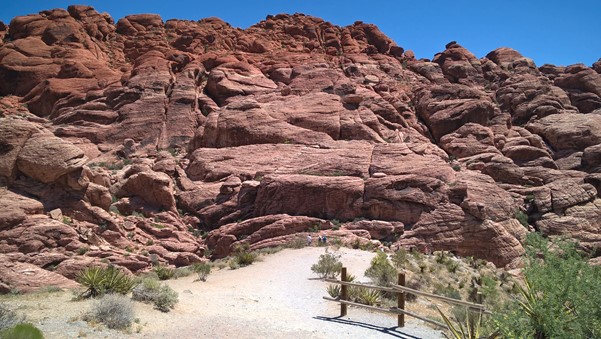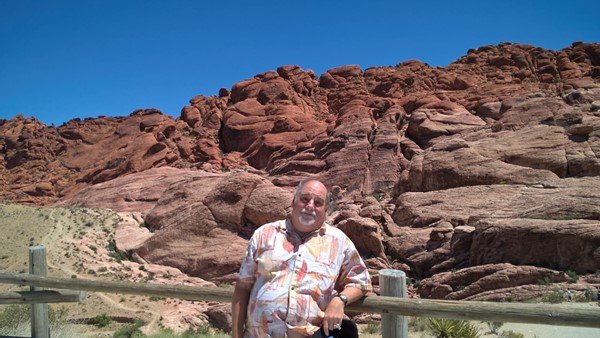 And a very odd vehicle – turns out it's a Polaris (think snow machines) Slingshot – MSRP mid-20s. Looks practical doesn't it?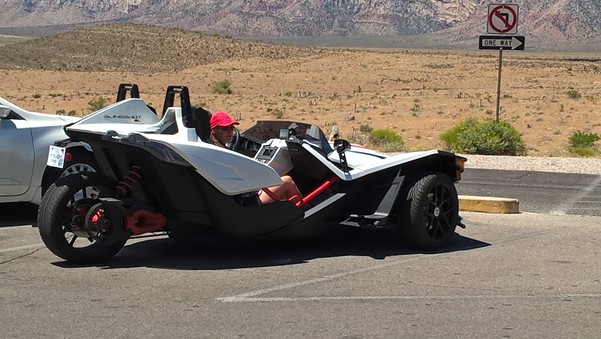 Unfortunately, it's classed as a motorcycle in in Washington State (and most others) you'd need a helmet when driving it – not so Nevada.
To give you a clue about the place – here is a badly stitched together panoramic shot of the valley:

We had to exit the park to get back to the Visitor's Center – this time we used Rache's
pass. It made me proud to see that the country's parks had their flags at half-mast in honor of the dead in the Orlando hate killing.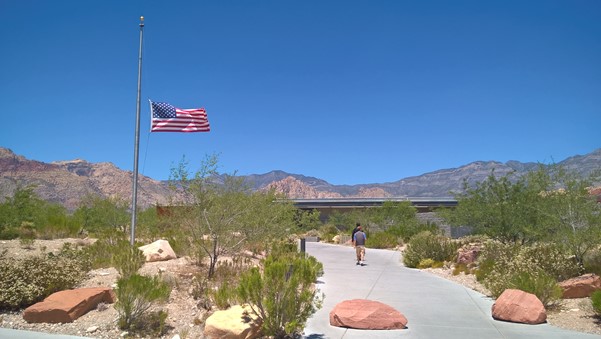 The drive back to the city was totally different – we came out Pahrump Highway headed in a giant loop. Going away from where we came – 10 minutes and it was a WALL of townhouses for miles that literally stopped at the border of BLM land. No transition whatever.
Made us lunch at the condo – Round Two for the Chicken. Chicken Caesers for lunch!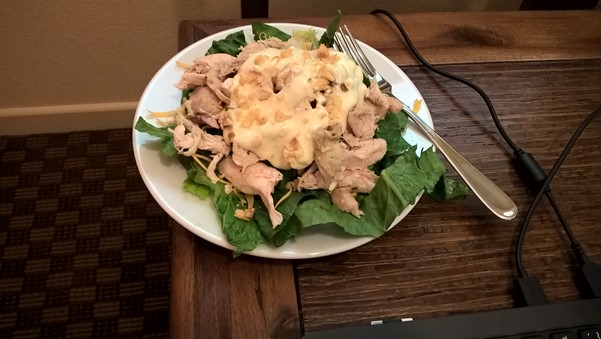 After a little nap for both of us it was off back to The Neon Boneyard. What a collection!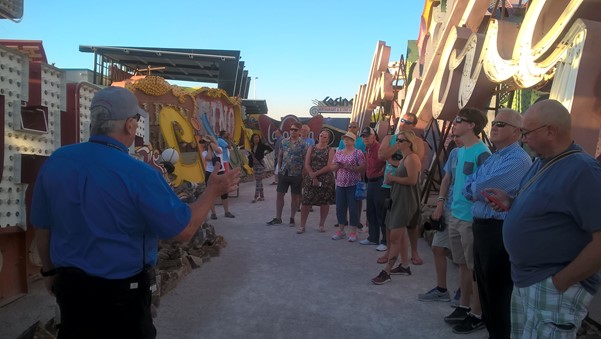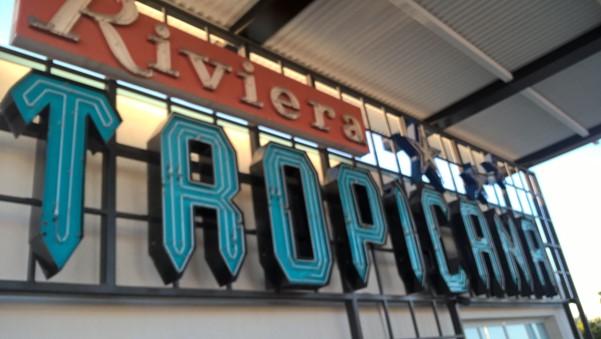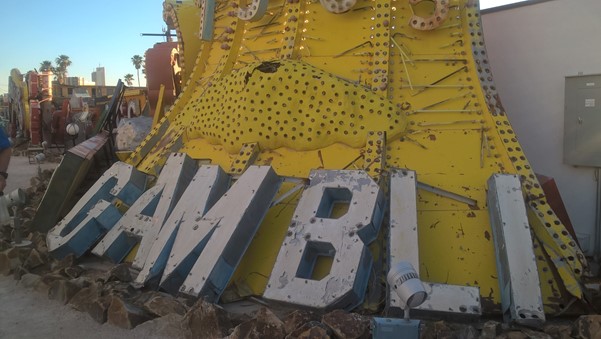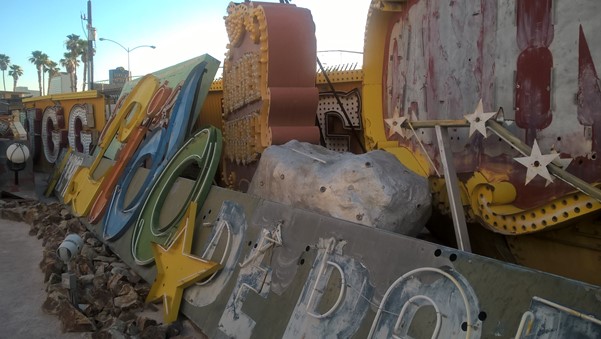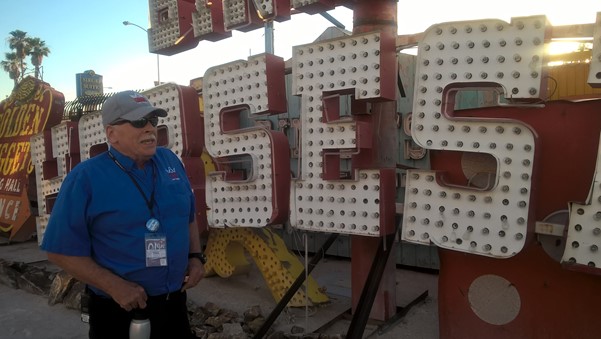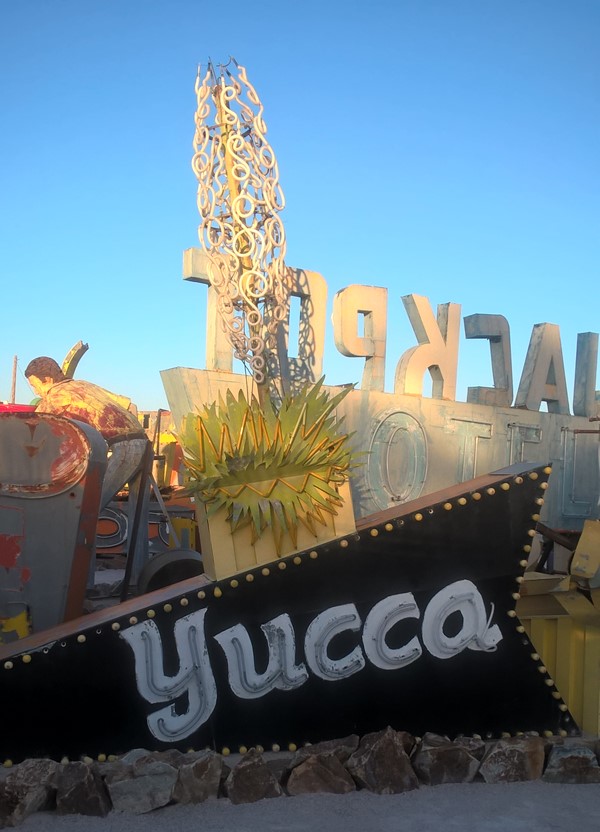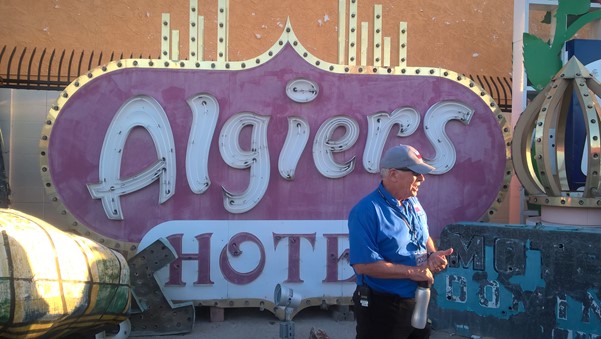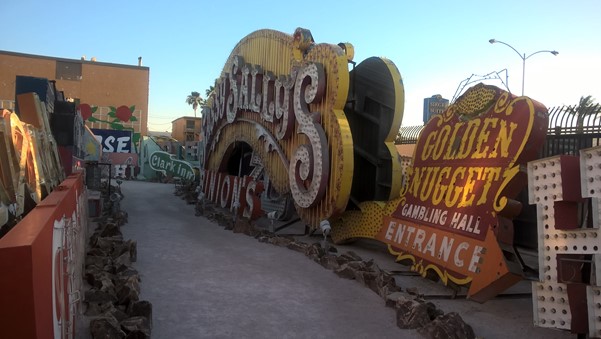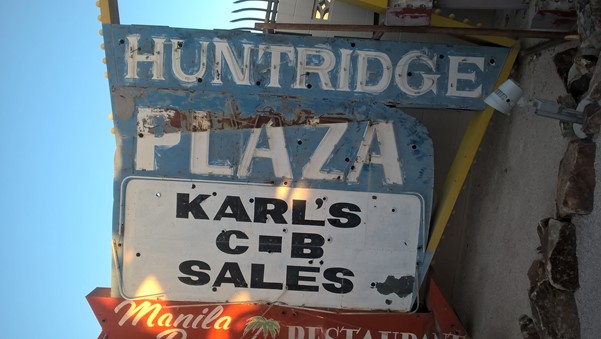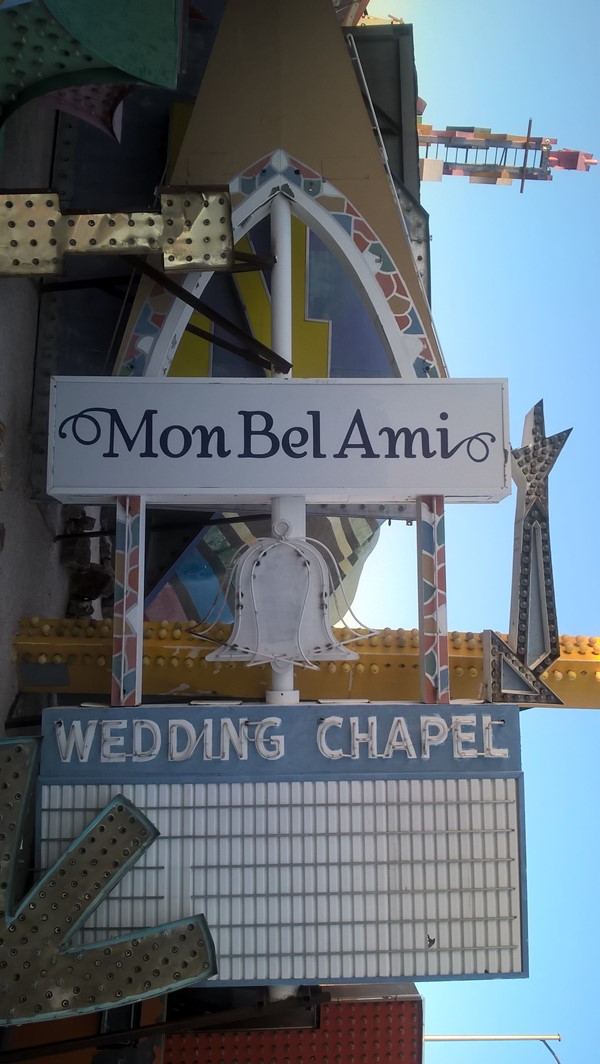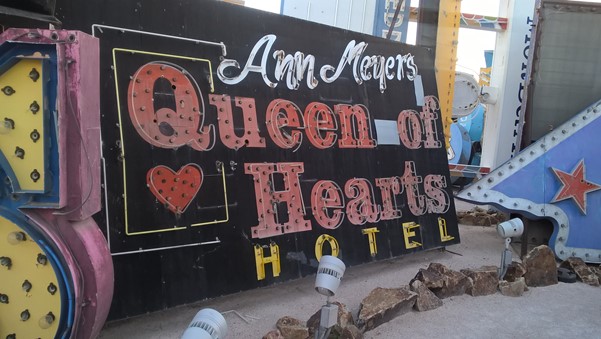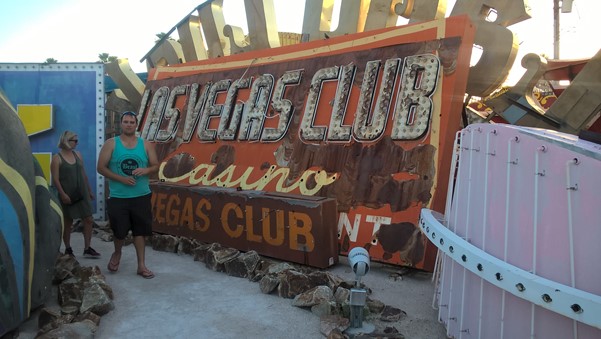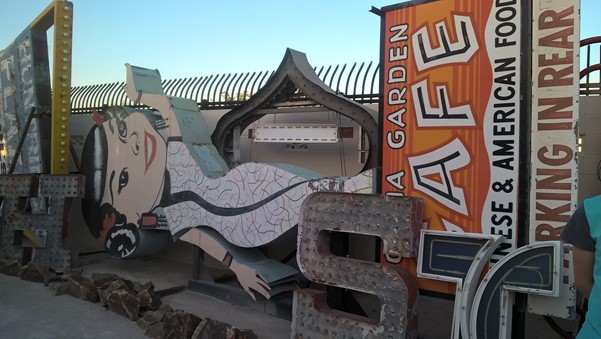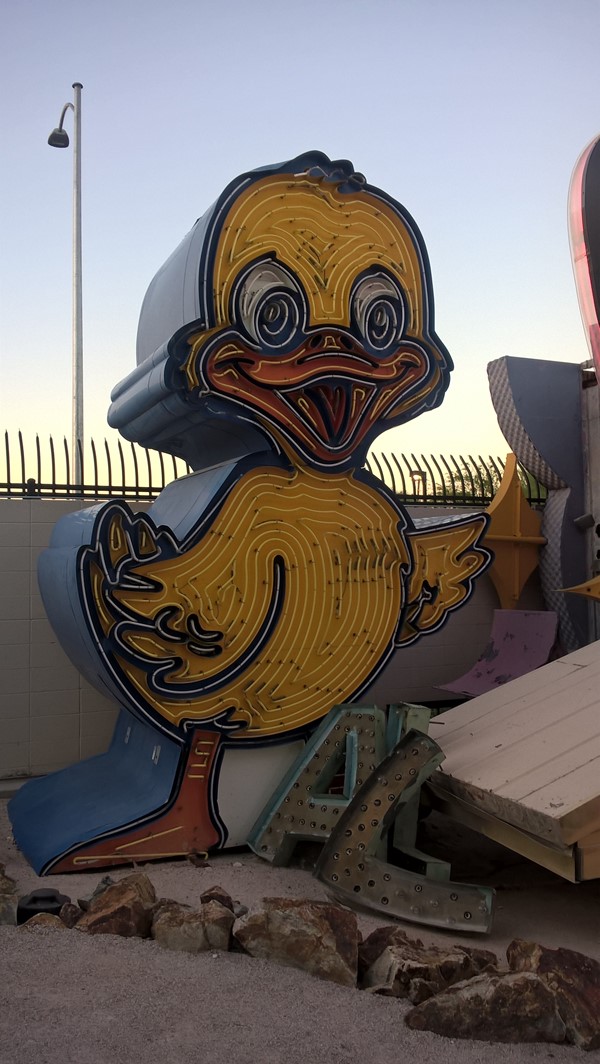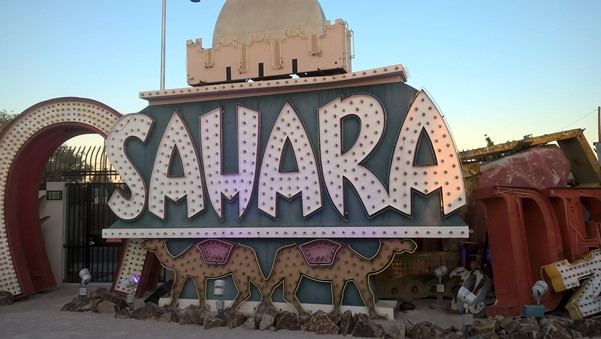 The tour is an hour long, and it was turning to dusk near the end, and they started lighting up some of the restored signs!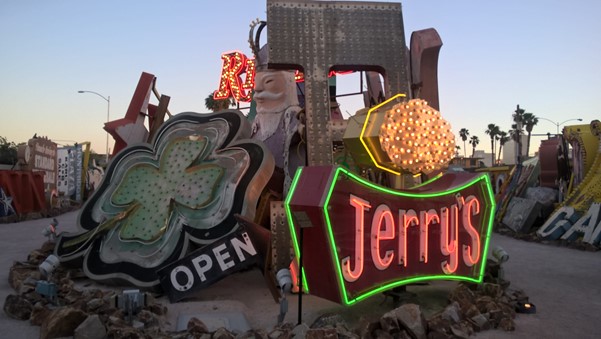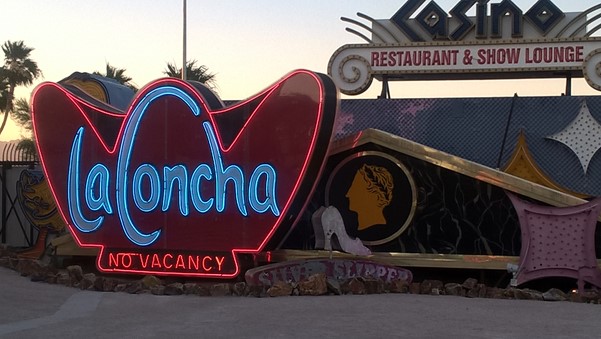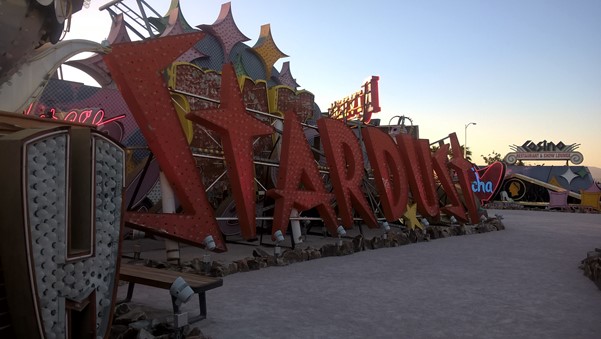 Hell, even the Reception Building (the old La Concha Motel – broken into eight pieces and reconstructed on the site) is retro cool: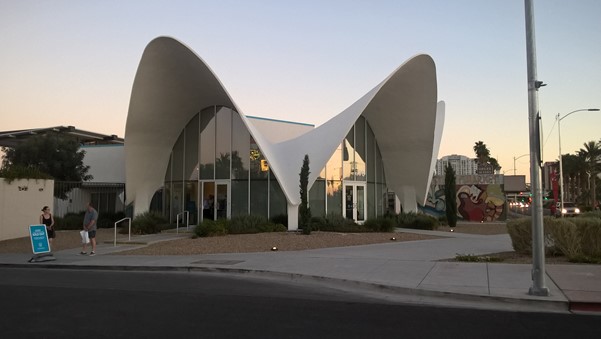 Back to the condo for a roasted pork loin and salad – you can't say we aren't eating healthy.
Can't figure out why I didn't get a shot of it.
Oh well, tomorrow is another day.
[215.8]