On the food front I've been less than ambitious – just going across the street to Pita Bar. Partially less ambitious because I know when I hit the island of Sifnos for the big anniversary party, all the food will be over the top.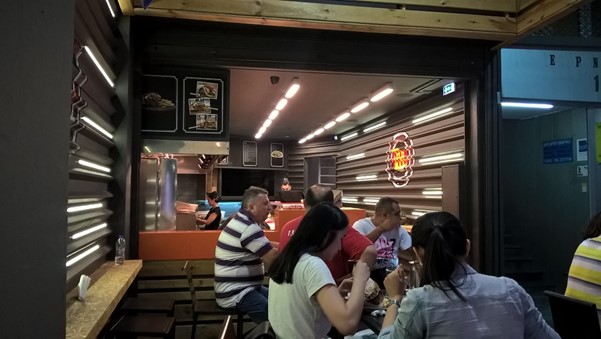 I even got it to go the first night: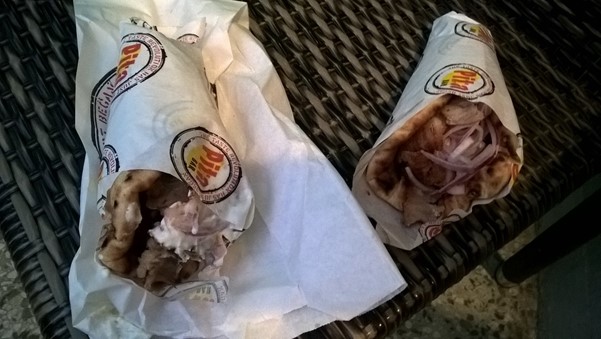 That, my friends, is 4.60 Euro worth of pork pitas – yep, 2.30 Euro each – and I only really needed ONE – lunch the next day took care of the other. As for the next night I splurged and ordered almost 10 Euro worth of food (which again, was WAY too much food for one person). Two orders (should have gotten one – didn't realize the size) of the spiced lamb skewer, and a really wonderful Greek Salad – it's not just for breakfast anymore!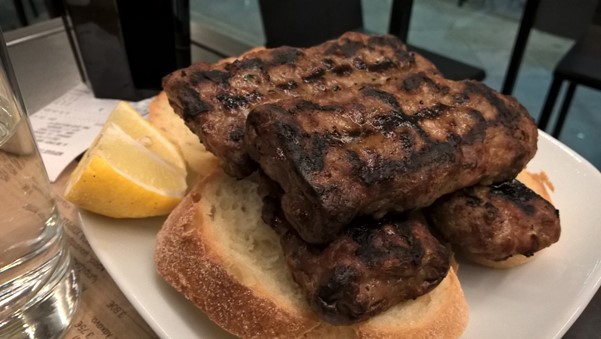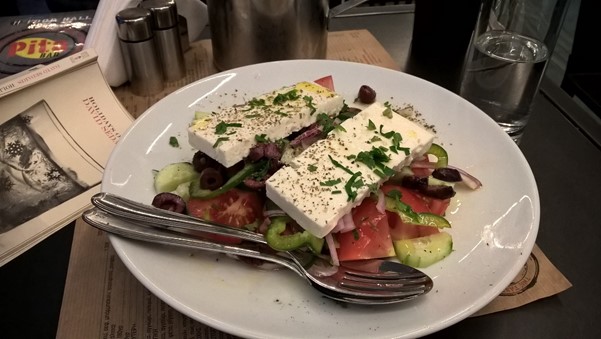 And I did do a tiny amount of shopping, though I have yet to find the perfect tacky t-shirt for Kathy or a clay figurine for Kate…. got myself a flashy 3 Euro hat!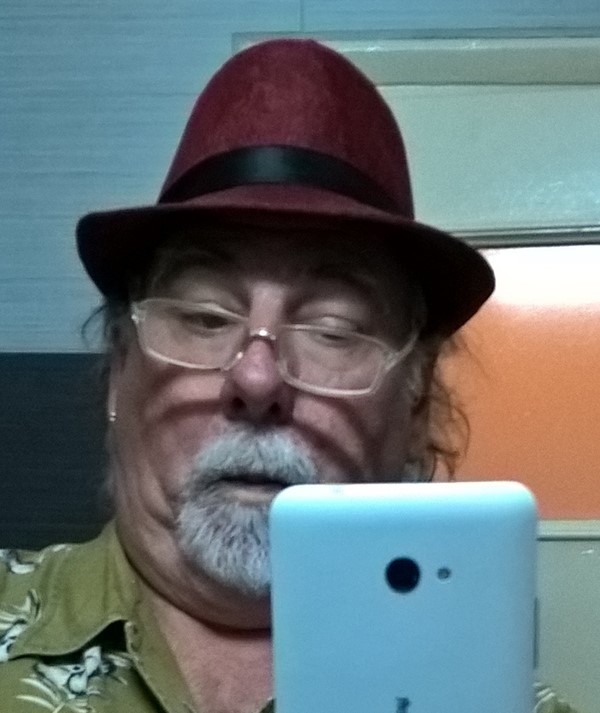 And you'll never guess the material….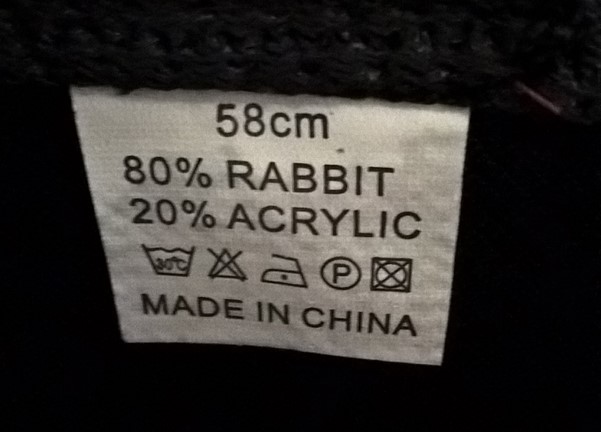 On that school trip I actually came home with a blanket made entirely of rabbit pelts – I really should have gone for the one they said was "gatto" – all calico cat pelts!
Speaking of school trips – there is one staying at the hotel! They were in the lounge finishing off their final assignments with their teacher – fun to listen in on. They leave the hotel earlier than I do my final morning in Athens.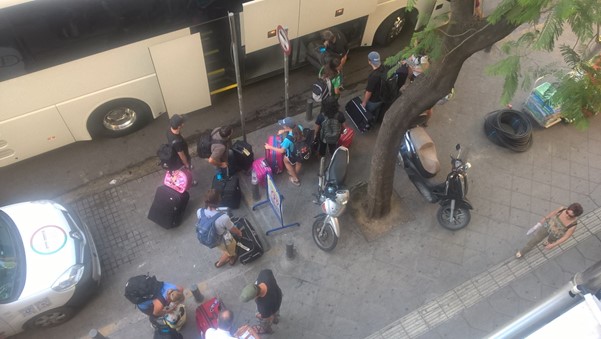 Their bus causing a massive backup on the street – though it doesn't take much!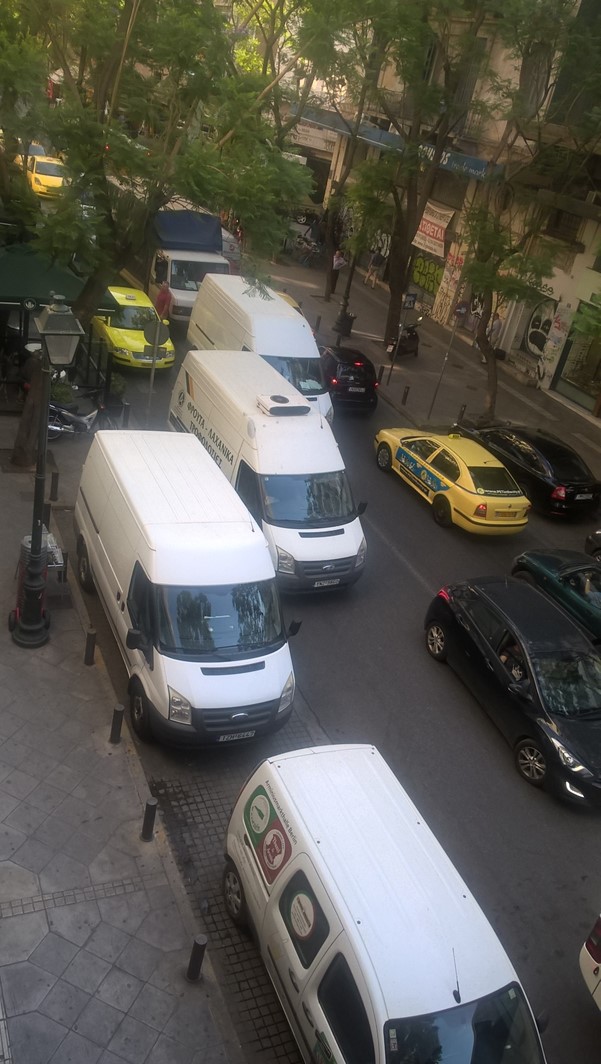 I left the hotel shortly after 1 (shortly after the first version of this post disappeared) and headed for the Port of Piraeus – home to the worst of the worst taxi drivers (personal experience). I'll be taking the Metro again (1.40 Euro).
Last time I was here, the option was taxi, no train….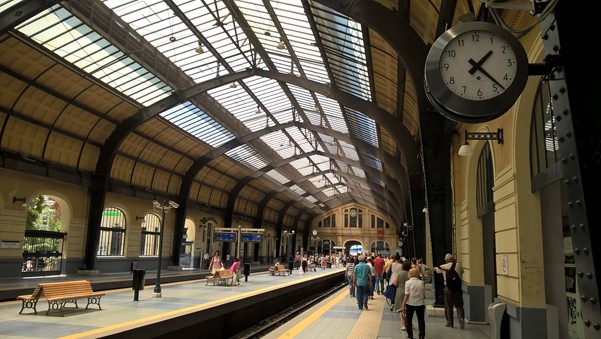 Technically the port is just across the street, but in reality, the port is REALLY big.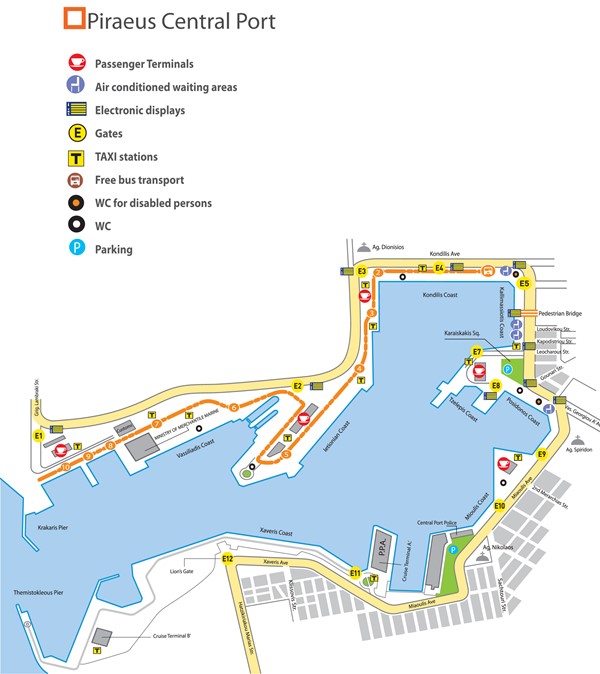 The Metro stop is near the center, but it's still a hike with my multiple bags. And then hunt fun begins…
Found that – while luckily running into other people headed to the same party which meant someone to watch the bags (thanks Rueben!) Not much in the way of signage, but found the ticket counter, found a place to wait in the shade (seriously important). Because when it comes time to load – there is no shade, just chaos. No lanes for people exiting to boat, and just people pushing to get on (and out of the sun) which is ODD because it's all assigned seats.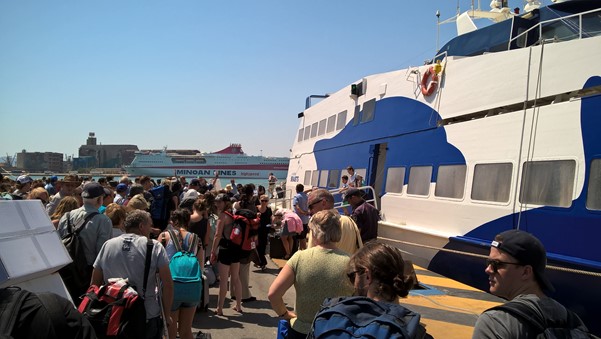 Off to Sifnos go I and a couple of hundred other people.
Bye-bye Athens – stay tuned for more of Uncle Markie's Greek Adventure!
[? ? ?]
If you got to this post from a direct FaceBook link, you can find more adventures of Uncle Markie at http://blog.unclemarkie, from newest to oldest. Happy exploring.