On the boat after the chaos is "freestyle" boarding – assigned seats so I'm upfront (not "Comfort Class" which is upstairs) in 6A, and Nigel and Reuben are separated by a row in the back near the snack bar – and in this picture, totally absorbed in their zeros and ones: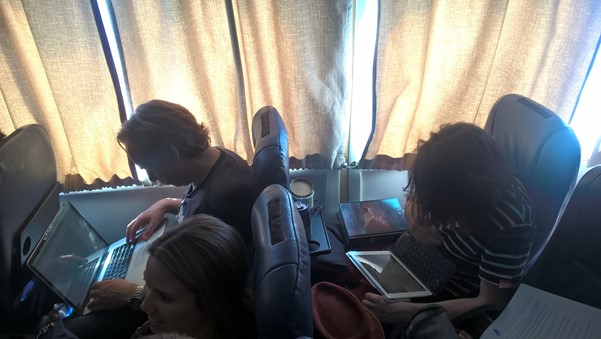 Speaking of the snack bar….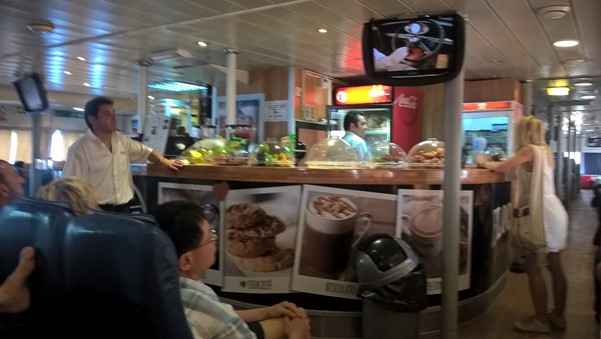 It's about two and a half to three hours from Piraeus to Sifnos – with one stop – and it's a cute little port town to arrive in: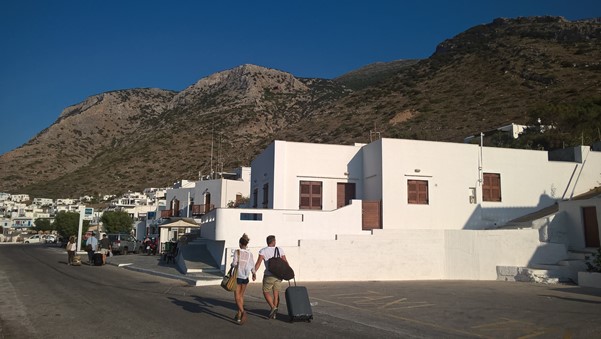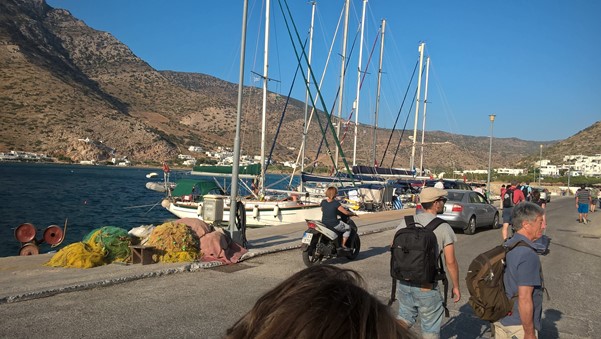 Just as with boarding, there is a scrum for cabs – all four of them on the island (just kidding). There were twelve of us on the boat that are attending the party – which is clocking in at 120+ people. Talk about a "destination" anniversary!
I think we (Nigel, Reuben, me) were the last out of the port, but we are already on "Greek Time" so no worries.
We are booked into the Hotel Alexandros at Platy Yialos which is a beach town (though we are on the hill overlooking the beach). More money that I wanted to pay (315 Euros for the three nights, single occupancy). That said, the place is really nice:
View from my bougainvillea shaded deck followed by the view up the hill to the breakfast room.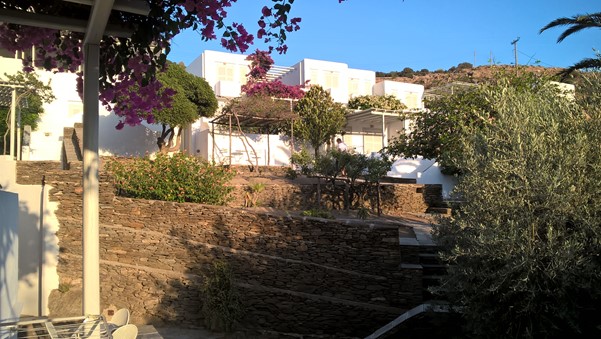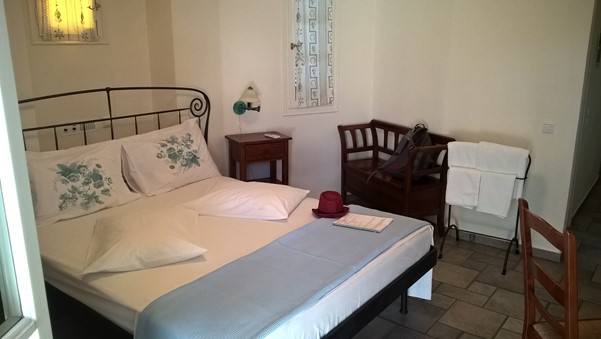 This would be my deck on the right…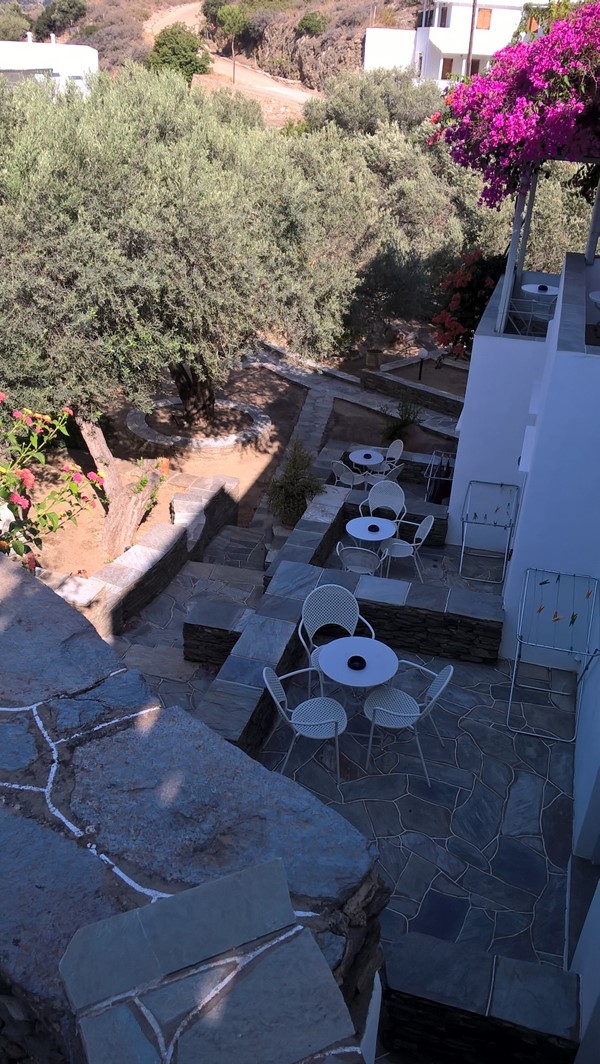 And the pool area…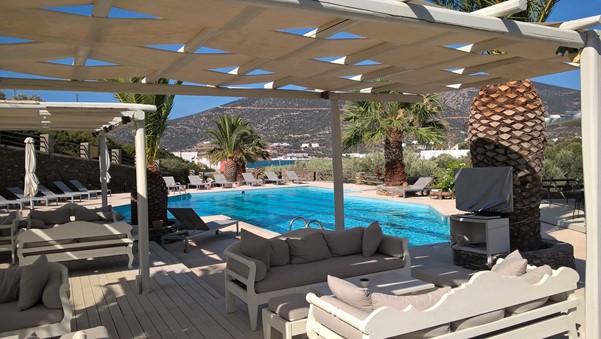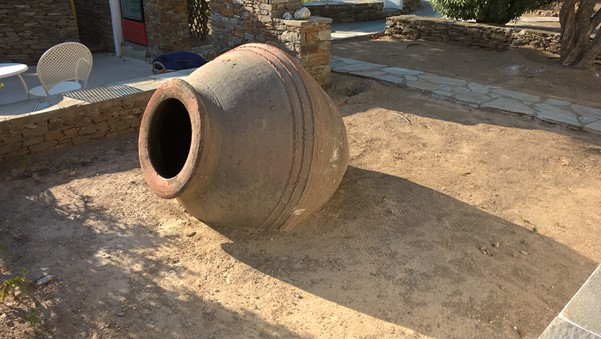 This anniversary is planned down to the last drachma…with buses arriving to take guest to dinner at another beach town, Vathi Beach.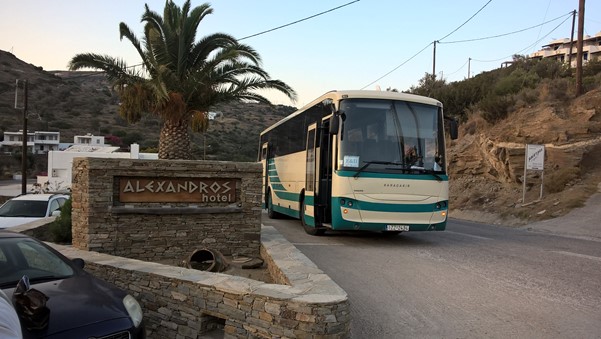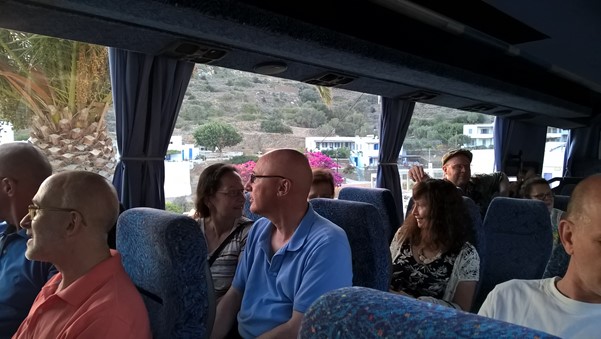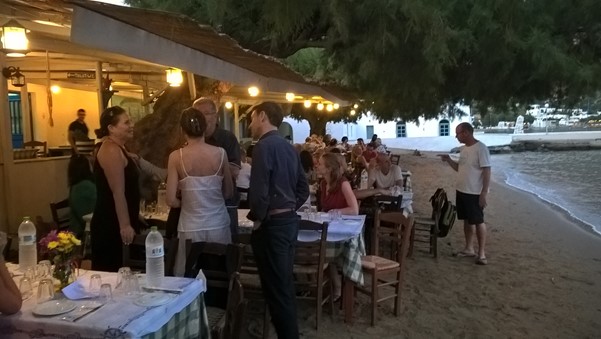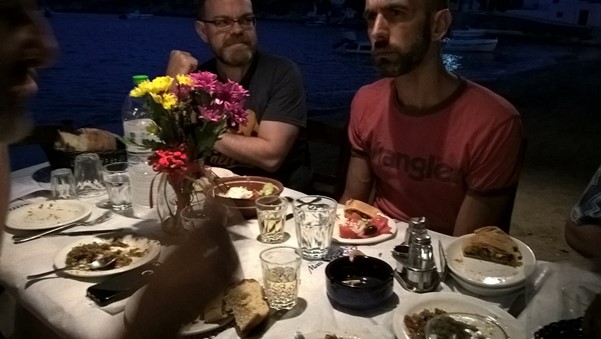 Good to see old friends and meet new friends – I was last here 15 years ago for their 10th Anniversary Party.
GREAT breakfast spread in the morning…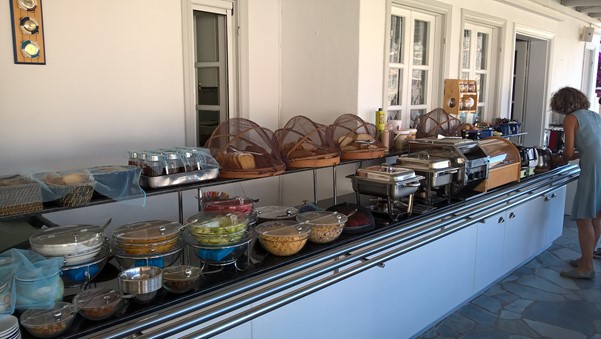 And the view isn't too shabby either…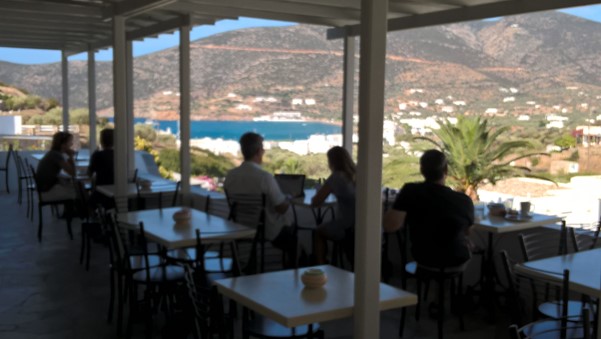 A sampling of my usual breakfast over the next couple of days…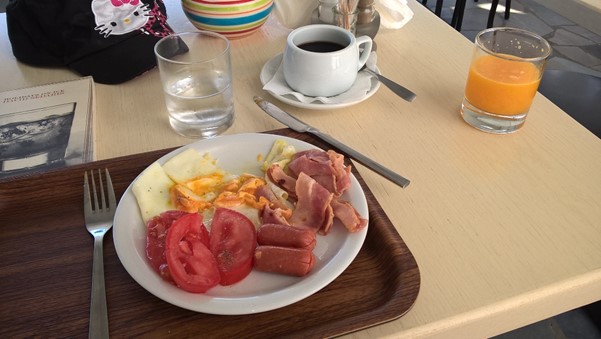 Complete with fresh squeezed orange juice…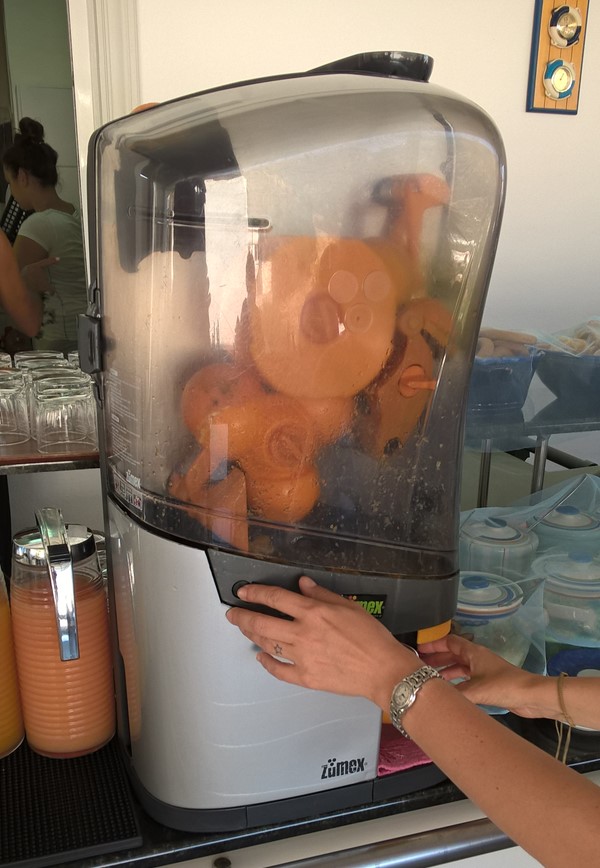 Just a little housekeeping note here, the Greeks aren't big on providing wash cloths, and they have a very odd (by US standards) way of disposing of soiled toilet paper – one that I will not miss.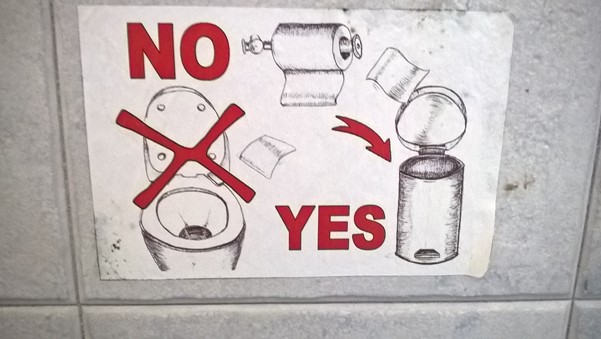 I'd think if that was you plan you might put bidets (France) or wands (Vietnam) next to the toilet. Luckily, the shower (with wand) was right next to the toilet.
With nothing planned during the day Friday (most people are arriving today), pool time sounded good…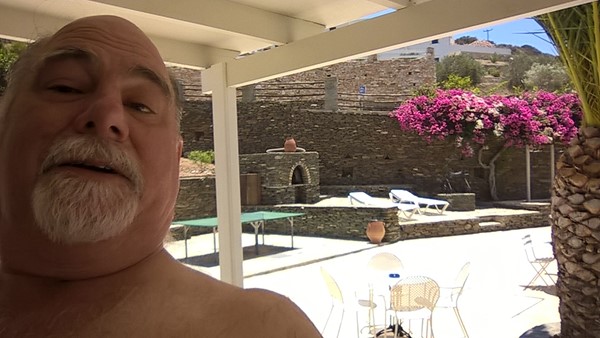 And maybe a little lunch as well…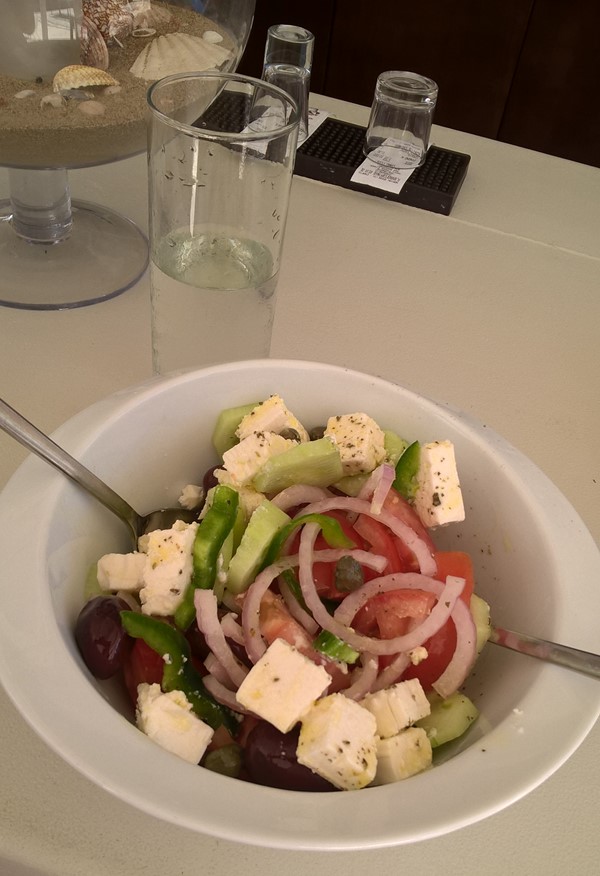 With a Gin & Tonic (or two)!
I shouldn't say there were no daytime activities planned – there were Greek dancing lessons for tomorrow huge celebration: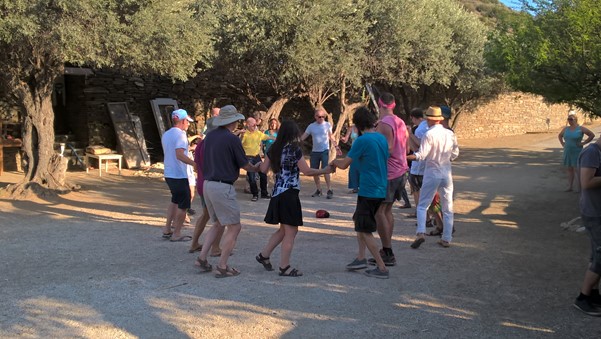 Here is a short video to give you the idea:
The evening activities are a reception at 7pm with free wine – and you know how I feel about my free wine: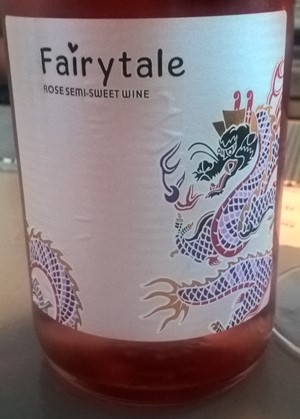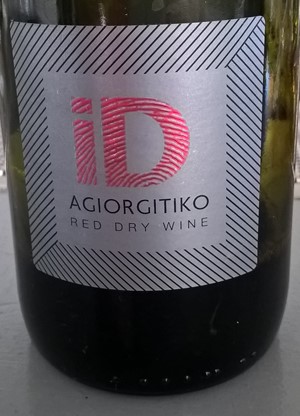 There was white in there as well – but I think it's locked in my ViVino account pictures. Nothing to write home about on the wines, frankly we have better Greek wines at the shop, but everyone was having a good time.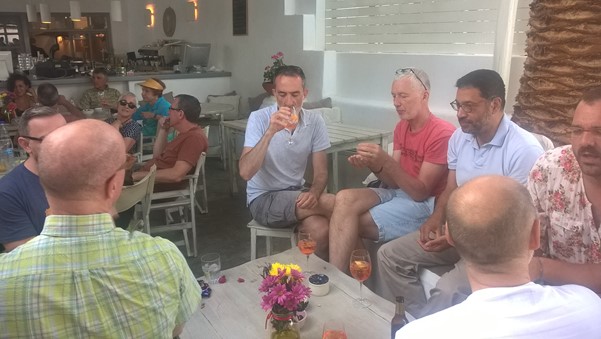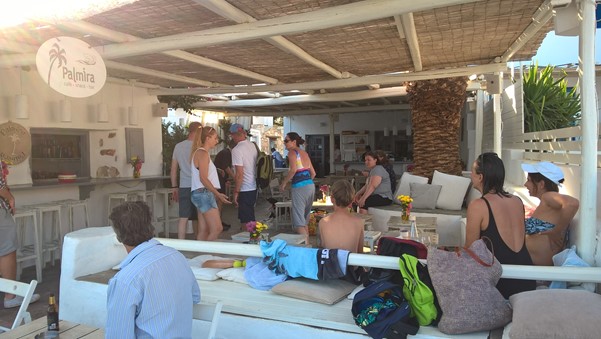 No official dinner tonight so Reuben, Nigel, and now daughter Jasmine and I hiked down the beach a bit for food. Man are the portions BIG! I had two starters – the grilled octopus and the fried cheese: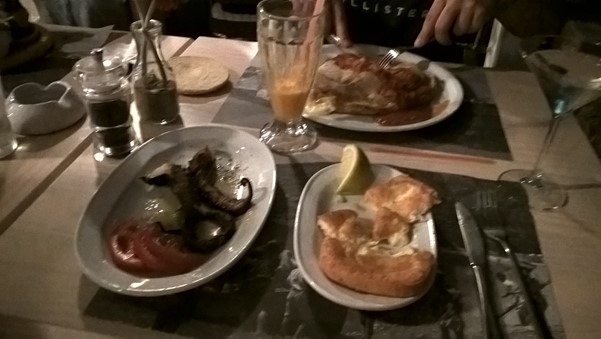 Reuben and Nigel both had the calzone (the size of a cow's head) which they could have easily split one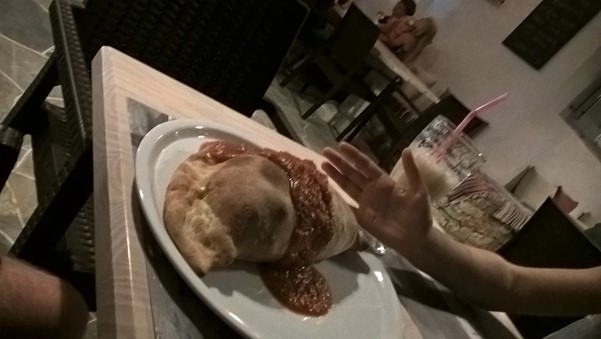 And Jasmine had the burger which came with fries and a big salad – being gluten intolerant at least she could throw out the bun.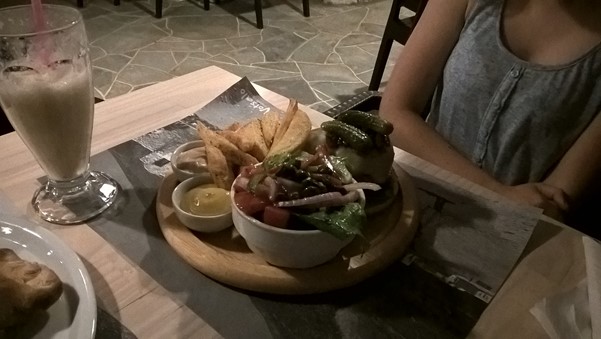 But wait! Dessert. Unfortunately, I spied waffles on the menu – not so much for me but out of amazement, which turned into Reuben ordering the Nutella Waffle: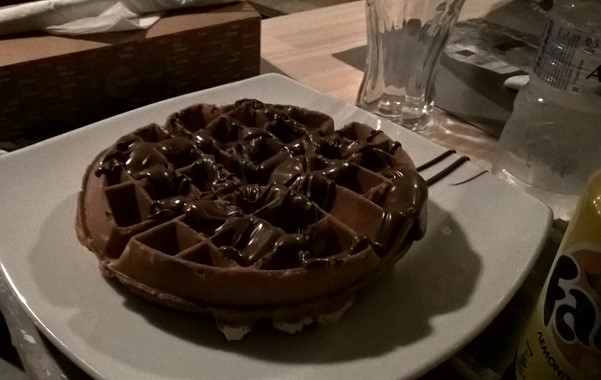 Nigel the Fruit Waffle: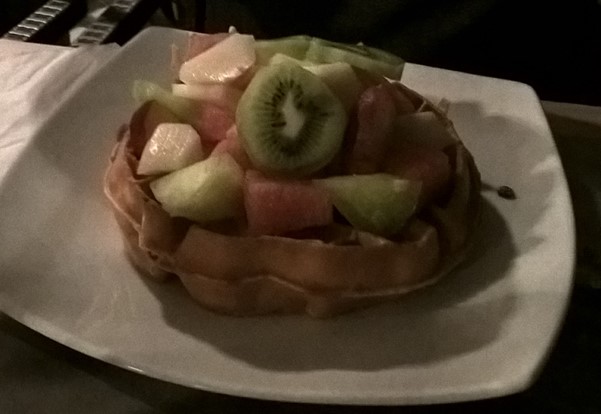 And Jasmine, the gluten-free Banana Split – honesty, where do these people put this food?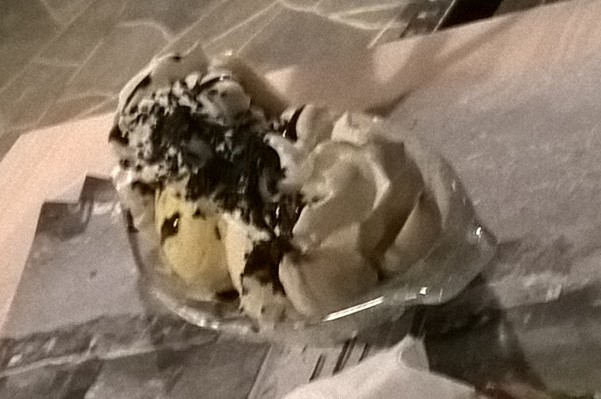 As for me – like my mother, I'll just drink my dessert….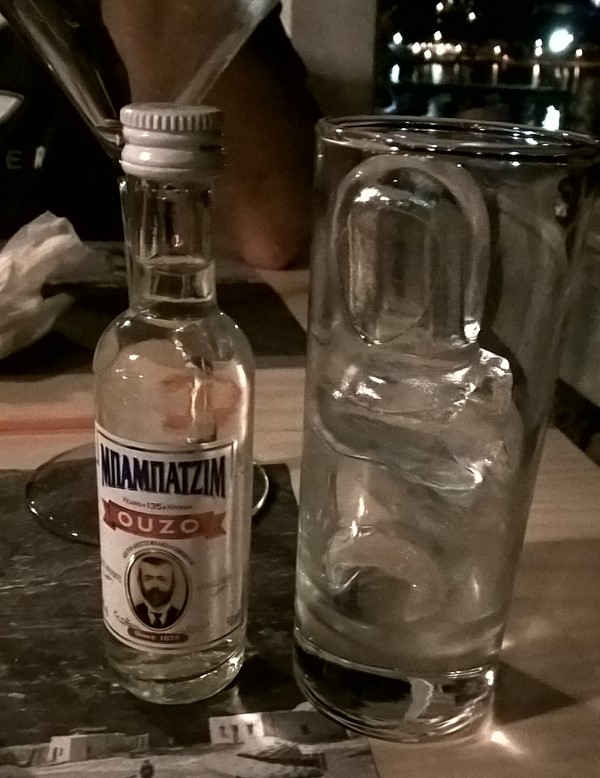 I think we will all be sleeping well tonight – the only downside is that at 10am the buses leave for the tour of David and Ethimios' 13-acre farm.
[216.2]
If you got to this post directly from FaceBook, you can find the rest of the trip in chronological order at https://blog.unclemarkie.com.