Luckily my ferry back to Piraeus isn't until almost noon, and I'd booked the cab yesterday so it's a gentle morning travel day.
After another lovely breakfast buffet, it was pack and get out the door – in the company of two of the other guests who are sharing the cab. Actually, they picked up the cost of the cab so I bought them a coffee at the port: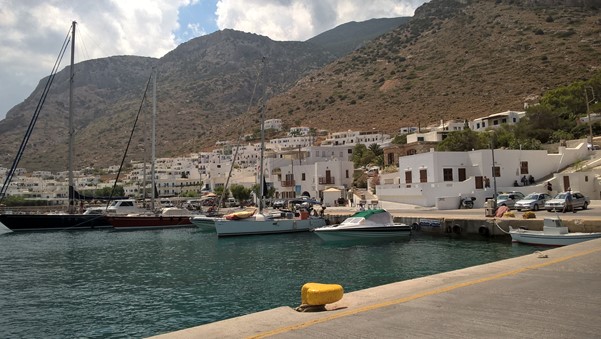 Pretty much another scrum (though smaller) to get onto and settled on the ferry: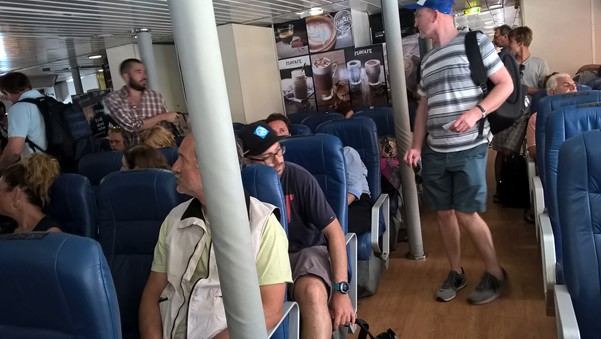 Those would be my cab-mates standing.
Uneventful journey, but massive rains in Piraeus….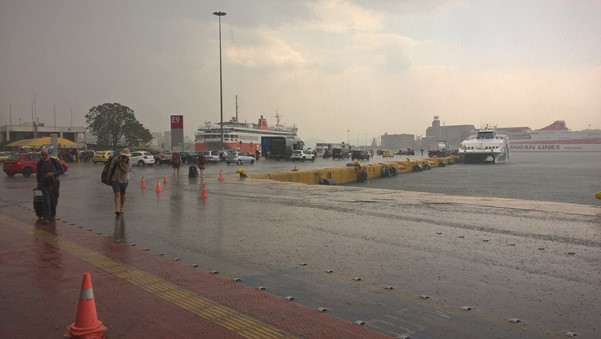 And wet kids (and me!):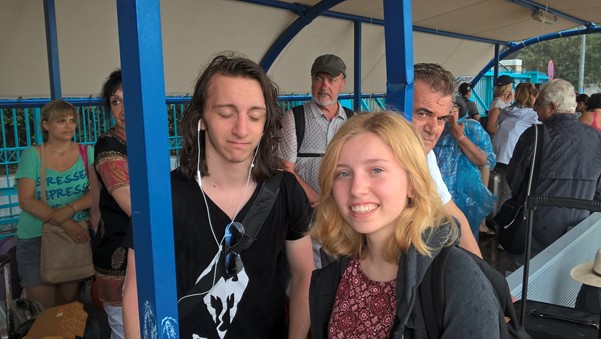 We waited it out…and by the time we arrived at the airport on the train we were pretty much dry. Said goodbye to Reuben and Jasmine who had a 9PM flight – mine is at 6:30AM, hence, the night in the Sofitel Athens Airport – which besides being more than I want to send ($200+, but it's right across the street from the airport), at least it was a really nice room: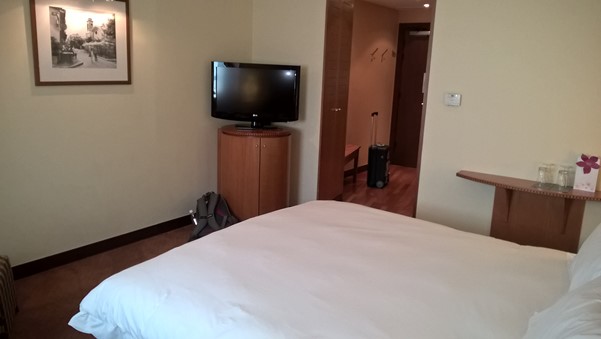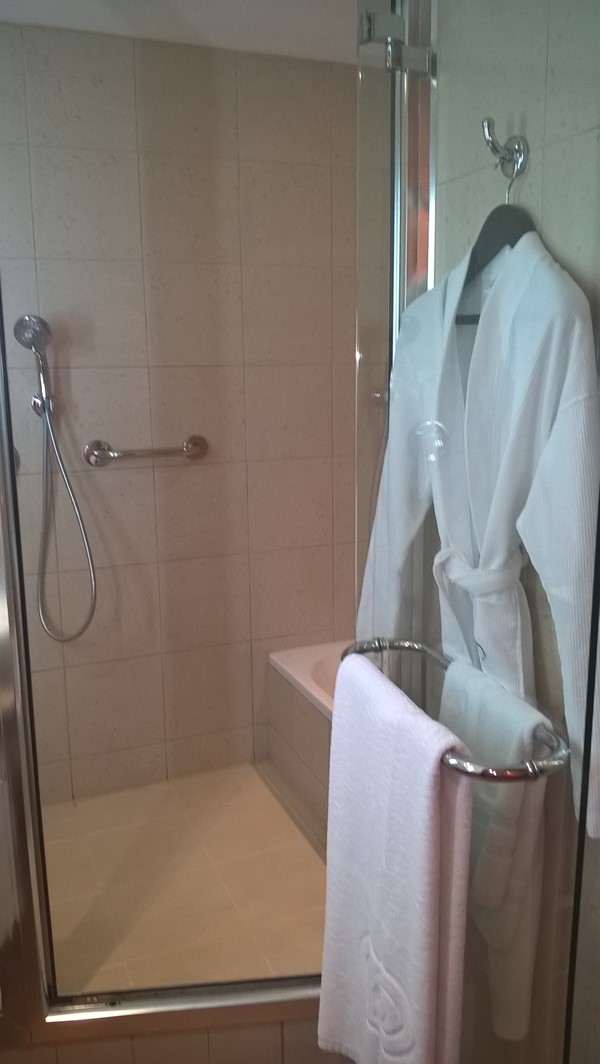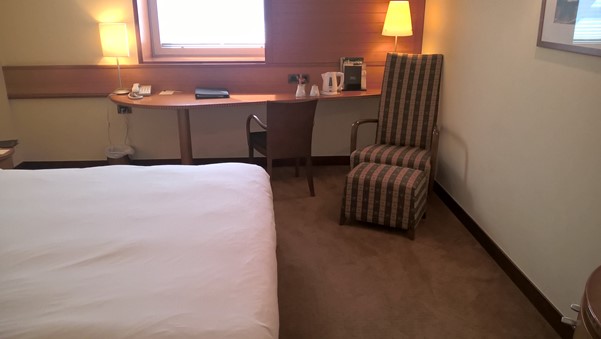 And the full-service 24-hour restaurant in the lobby serves REALLY TASTY food (and a good Manhattan as well):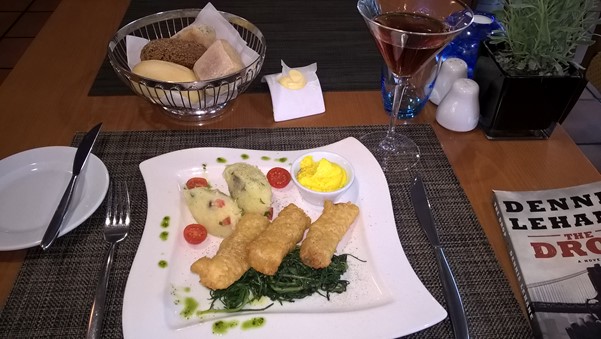 Tempura cod sticks, aioli (the yellow sauce), steamed greens, potato balls, really good bread (which I actually had on since it was an olive bun).
I must have been exhausted from the trip since my last cocktail was at 6PM, water until bedtime at 9PM, as I'm up at 3:45am for my 6:30am flight to CDG (Paris). This is what 4AM looks like: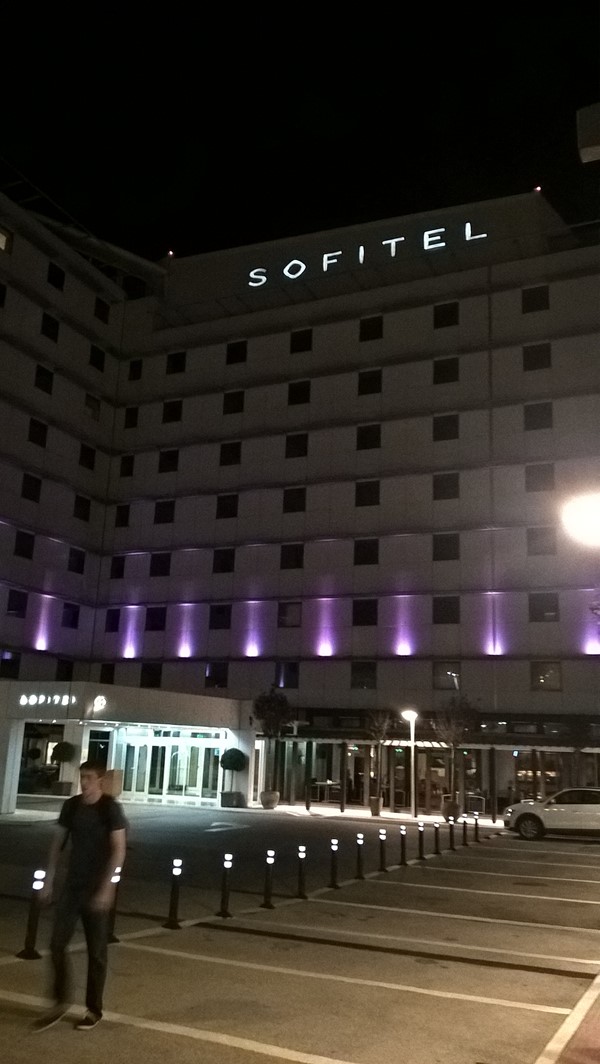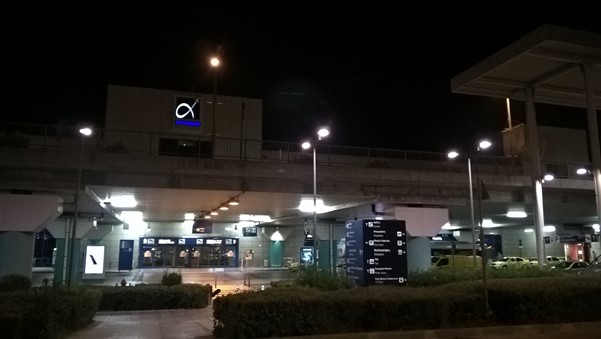 I was able to check-in on-line at the hotel AND get a printed boarding pass, so I actually had about an hour in the lounge: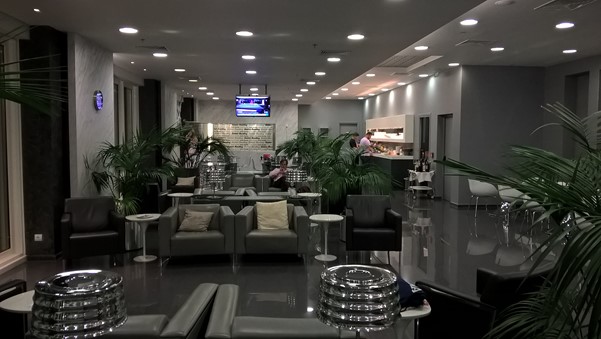 And there was ICE at the open bar (I'm so easily amused):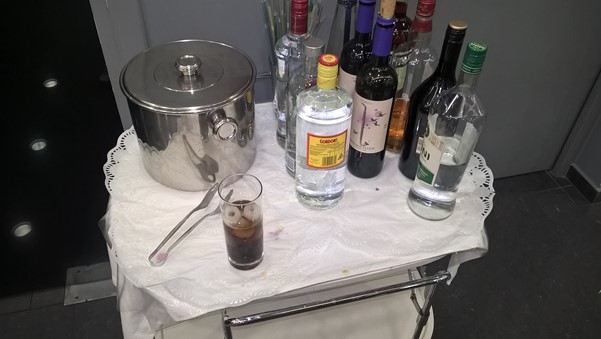 It wasn't until I was through final security that I realized there was no shopping! Shit – I still have two (well, I only had two) presents to try and buy:
Clay figurine (for The Lady Colonel)
Tacky T-Shirt (for Kathy)
Well, I thought there was no shopping until I saw someone with coffee – it was just a bit of a walk, and NOT MUCH selection. Imagine my surprise when I found both, though I had to take my second choice of t-shirts (in hind-sight I think I like it better anyway) – and the clay (more likely plastic or plaster) figurine came attached to a bag with a bar of olive oil soap – which The Lady Colonel requested from my upcoming fall trip to Paris/Epernay. Score! And JUST UNDER the deadline of boarding (15 minutes later).
Off to Paris – if only for a moment. This "business class" flight is a "little" better – the armrest, while not able to be put up, did move to the right an inch or two. And unlike on my previous flight, this one had the seatback that folds down for an extra tray table space: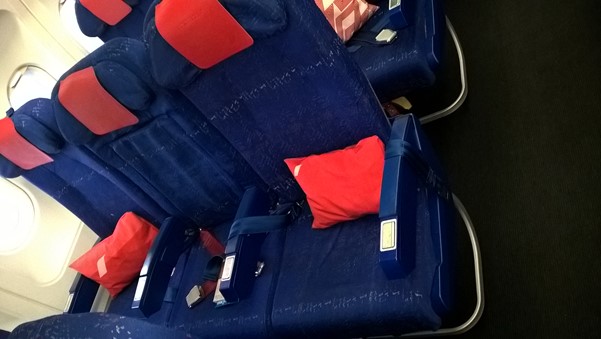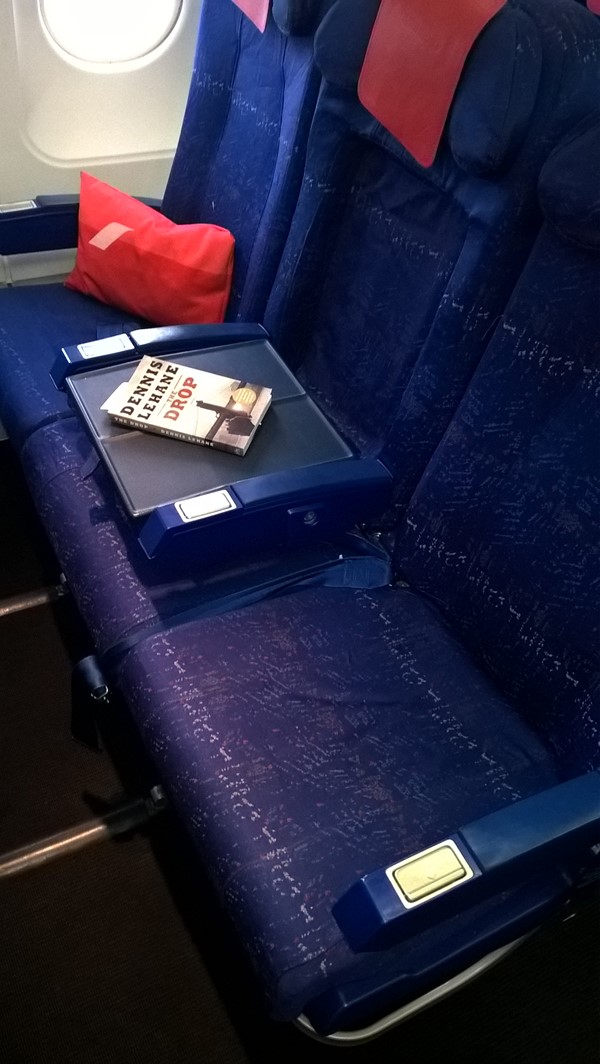 Unlike on the "Main Line" flights – the attendants don't seem to think aesthetics are important and leave the steamer covers on. Tacky if you ask me – even if there are only FOUR people (out of 20 seats).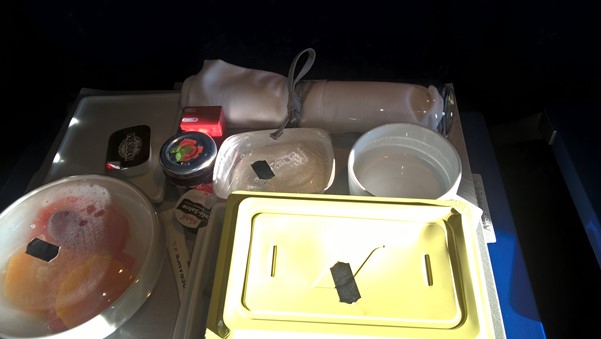 And now Champagne, sigh. She even had to track down some Coke Zero – which at least came with caramels and chocolates….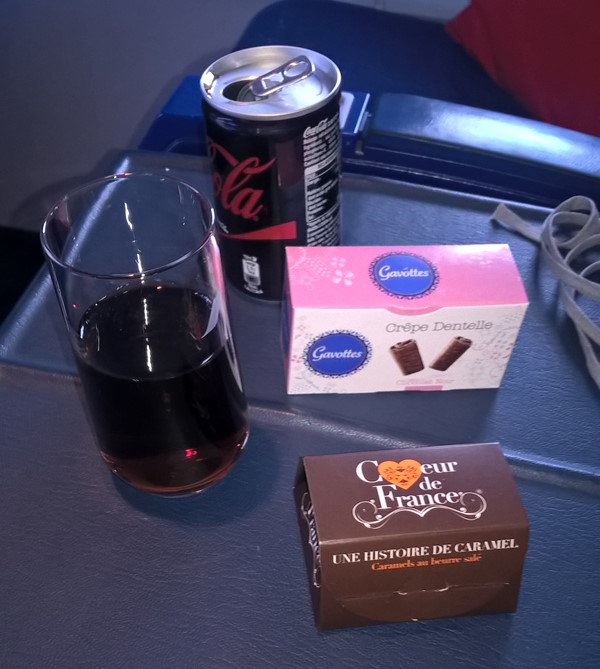 Flight landed on time, BUT I have one hour forty-five minutes to change terminals AND go through border control (at least not baggage scan again). Even the Priority Line was sluggish – can't imagine being able to do this without the Priority Line. I did get a moment in the Lounge (after a ten-minute wait to get in), with just enough time to look for a printer for my Alaska Boarding Pass (nope) and grab a drink and a bag of crisps (that would be potato chips to the non-British).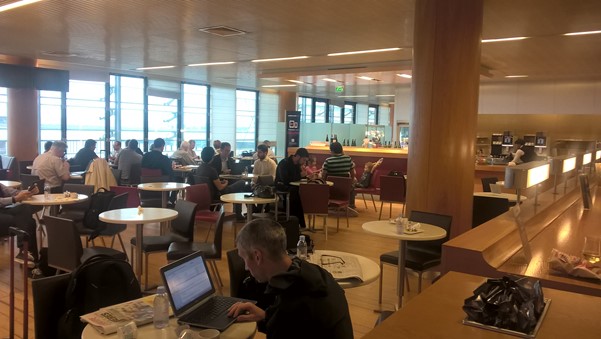 Finally, on the plane – this was my mood….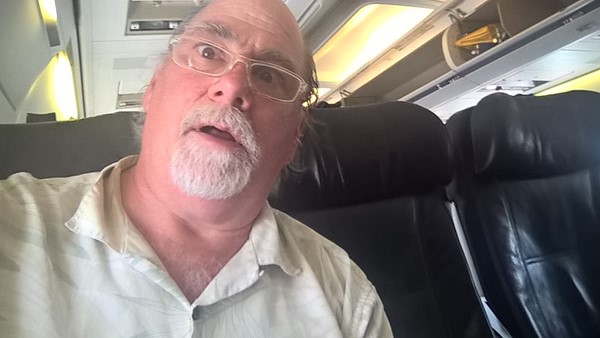 Luckily pre-flight Champagne helped, as did the after-takeoff Glenlivet Founder's Reserve Scotch with a chaser of Coke Zero: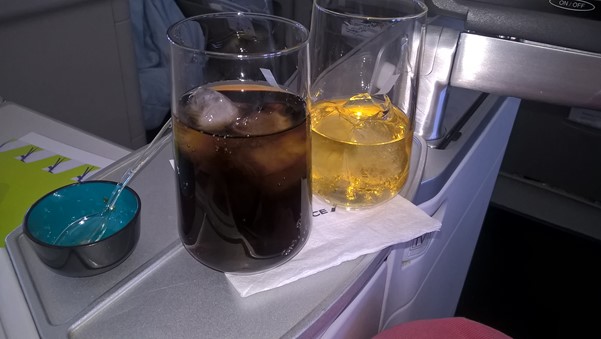 That would be an empty Mise en Bouche (bend spoon, a.k.a. "An Amusement") of Scallop and Crispy Vegetables. Dinner itself (even though it was 11:30am and they called it "Lunch") was smoked duck foie gras terrine, mango chutney with lime and ginger, mozzarella cheese timbale with pesto sauce, lime radish escabéche.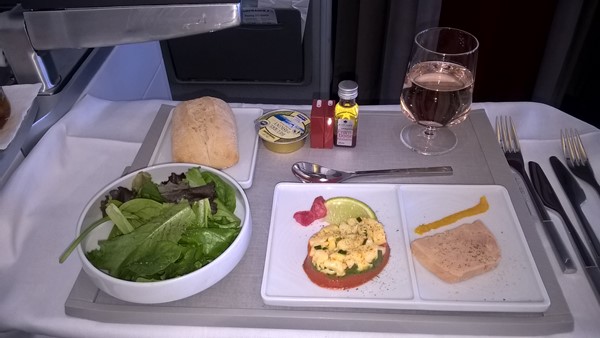 With a lovely glass of Côtes de Provence Château d'Olliéres Classic 2015 Rosè. The main (my choice of three) was the baked filet of beef with Banyuls wine, vegetable pearls and chestnuts with orange zest.
Did I remember to take a picture – no. But I had the 2011 St. Émillion Grand Cru Château Jean Faure. I didn't even get a photo of dessert! I did get a photo of the forward lavatory – which, while not as nice as the SAS old Seattle-Copenhagen route, which was a "double-wide" with blinds and full-length mirror, this one was better than most, though I should have picked up the towellette before photo'ing.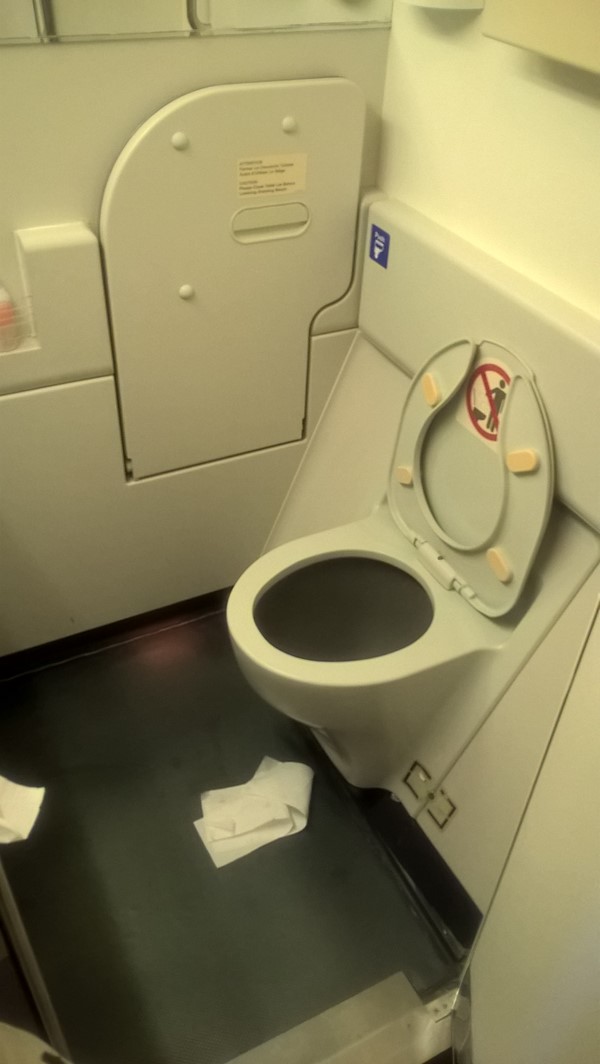 At least you can "spread your legs" as the disgraced Idaho congressman introduced into our lexicon.
Watched a movie, took a nap, watched another movie and it was time for "breakfast". This would be thyme potato crisp, sautéed asparagus, cèpe mushrooms with smoke-flavored cream, hazelnut cake, custard sauce, chocolate puff, and berry panna cotta. And look – more champagne!
Luckily I don't eat like this every day!
The final picture, but not comment, is that these Air France 777-200's are tired old beasts – I had a pop up screen (that you could angle for a better view), the seats behind me had small embedded screens: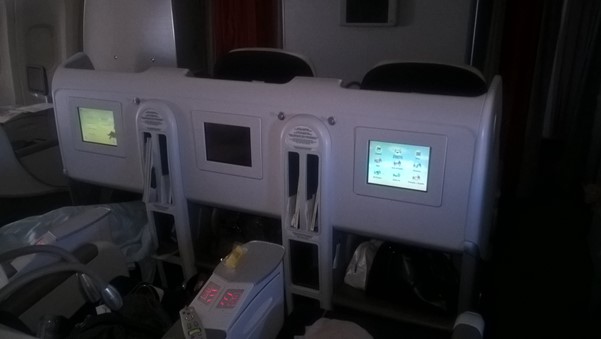 The resolution is SOOOOO bad on these screens that any subtitles are virtually unreadable. Apparently, this fall, they will be all updated (https://en.wikipedia.org/wiki/Air_France). It can't come soon enough. And hopefully they will move to lie-flat beds as part of the move.
Arrived YVR (Vancouver, British Columbia, CanadaLand) and got through Border Control with just my on-line Alaska Boarding Pass (whew!) and rolled my case to the next available Alaska flight back to Seattle. I arrive around noon – and my official flight isn't until 9:30pm – luckily the flight gods were with me again, scored a window exit seat on an almost completely full flight and I was home and in bed by 2:30pm – almost 8 hours early.
Slept for four hours, was up for four hours, took a sleeping pill and woke up at my normal time.
Yahoo! Home and rested.
[217.2]