I really would have preferred to tour one of their fulfillment centers – but alas, nothing in the state and nothing with slots open (I would have FLOWN to get on a tour), so Seattle Headquarters it is.
Here is a map of the fulfillment centers that offer tours: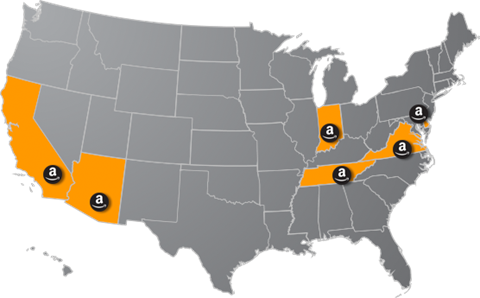 And I was serious about flying to do a tour! Just rechecked – Jeffersonville, Indiana has an October 4th opening…sigh. And now I have spots for two people. Where the hell IS Jeffersonville! Across the river from Louisville, Kentucky it turns out.
I've got friends in Kentucky – The Colonels, Babs…but it turns out The Colonels will be in NOLA (New Orleans) during that time – might have to reschedule.
But back to the HQ Tour! We start at "Day One North" – because in Amazon speak, "Every Day Is Day One", in this case North, but we parked in Day One South – separated by a free Banana Stand for everyone (Amazon or not):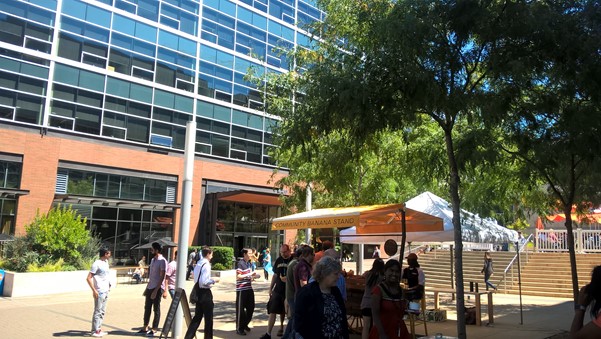 We were early so we wandered down to Lake Union, stopped at my Credit Union for cash, ogling all the "worker bees" before our tour.
And off on the tour we go, with two guides (and BADGES!):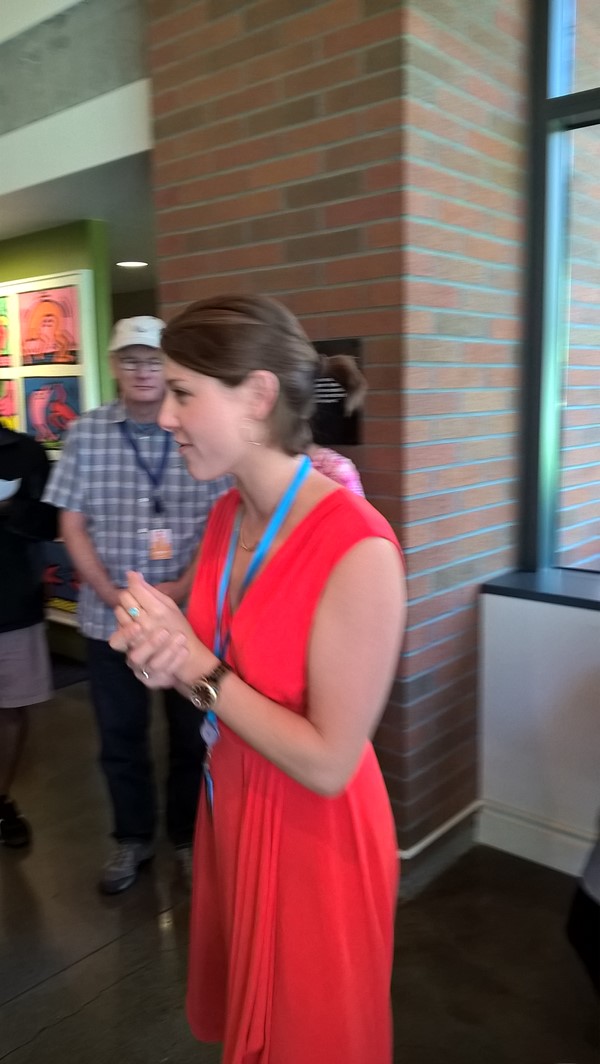 Random shots of the "views" from various Amazon buildings (12 spread around South Lake Union and Belltown):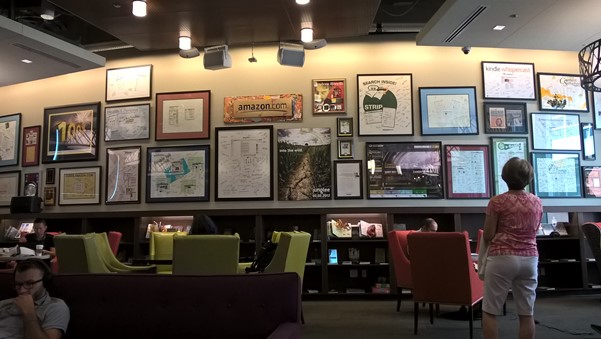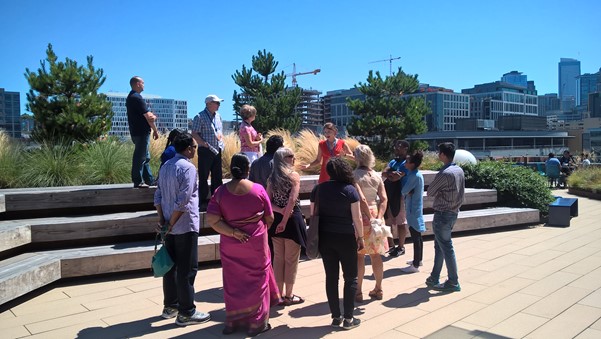 All the buildings are named after Amazon's history – this building, Rufus, named after the first "office dog". Currently there are about 2,000 dogs at work per day – doggie biscuits at all the reception desks. Rufus is also the name of one of our "shop dogs" – i.e., dogs what drag owners into Madrona Wine Merchants: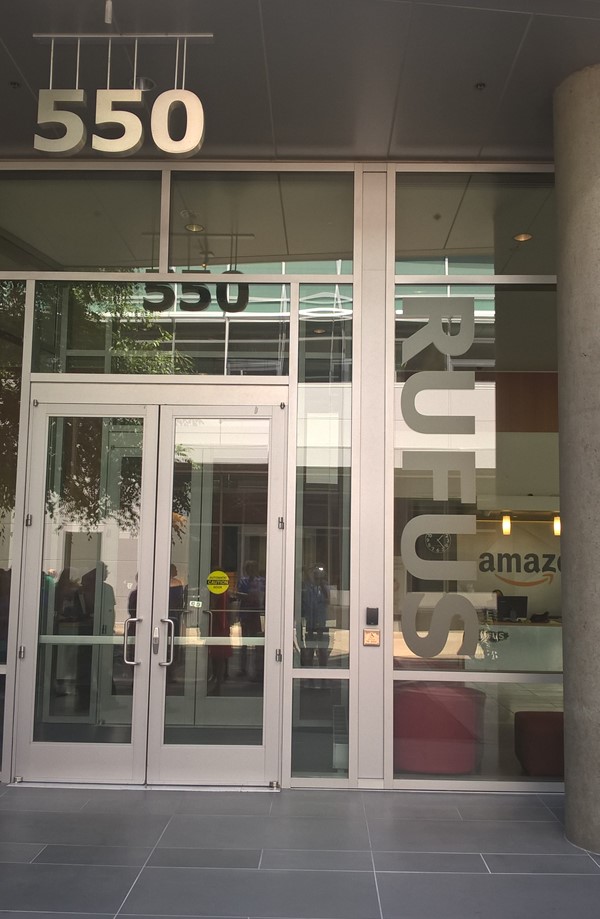 Lots of rooftop gardens!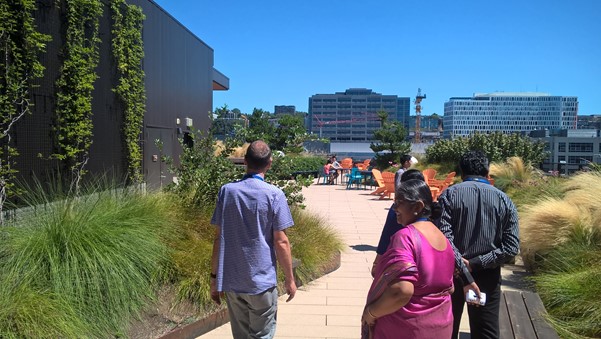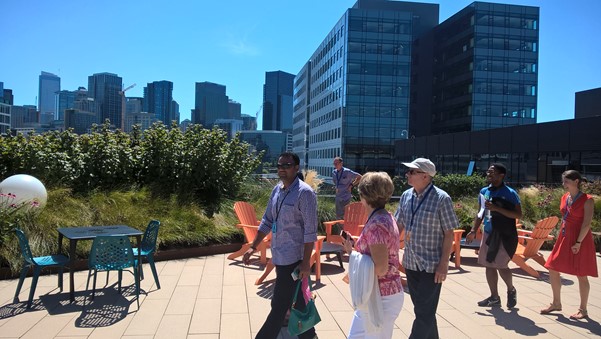 And a candid shot of my tour buddy Mags: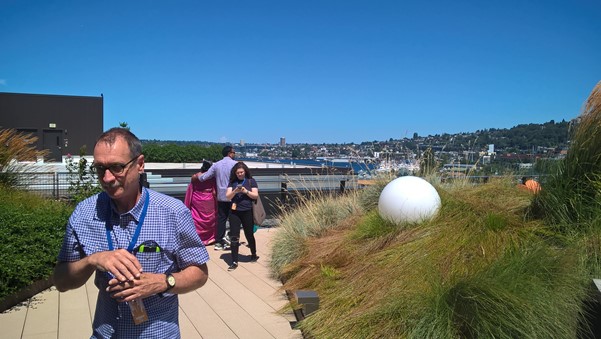 Lots of walking – should have brought my hat from the car.
For me, the highlight was the Tote Robot (nicknamed Tottie) that delivered our "swag" – here is the video:
Please note that the robot is running at 20% of its normal speed – now you know why I want to get a tour of a fulfillment center!
Here is the SWAG and my "badge" from the tour – one of the stops was at the "reading room", filled with advance copies of books which we could take one with us – I grabbed a "thriller" call "The Capitalist" – appropriate for an Amazon tour!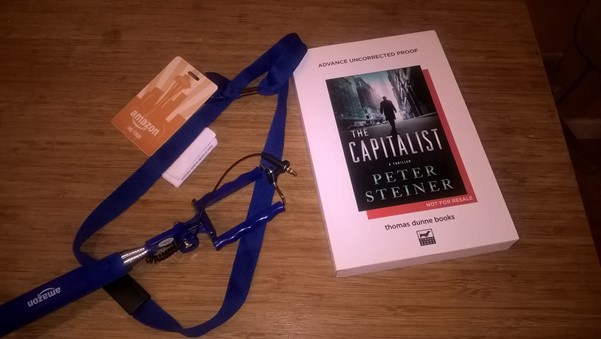 Selfie stick, badge, book, and not pictured, pen and stickies set – not sure where that's gone to!
It was a fun day – we'd thought about doing the Gates Foundation Visitor Center, but we'd run out of energy. OK, I'd run out of energy!
Fun day in the city.
[212.2]