So, its summer, which for me is no cheap bargain flights anywhere, so it's time to explore the city. So over the last couple of weeks I've been doing tourist things with friends who are also free during the week.
Let's work from Free to Pricey – though I visited these places in the reverse order.
Filson Factory Tour (FREE):

Filson is what Eddie Bauer used to be – the rugged outdoor ware company, albeit from the West Coast rather than the East Coast. Eddie Bauer has bounced around from corporate overlord to corporate overload, but Filson is still privately owned. But one thing is the same – they stand behind their product, even if your grandfather bought that jacket, they will repair it.
Here is great overview of Filson from Wikipedia: LINK HERE. Like most things, you start digging into it and although privately held, it's held by the same folks who have Fossil and Shinola. On the upside, you should see the Filsons/Shinola bike which I don't see on their site (or Shinolas) that had nice bamboo accents. There is still one in their showroom in Seattle – last time I asked the price I think it was upwards of a grand.
All of Filson's production is done domestically for most of its flagship line of bags and heavy-weight jackets with a free small exceptions like dry bags (thick rubber bags for rafting, etc.) – belts, bags, all US production in Seattle, but their new line of more casual shirts I believe are outsourced/partnered to Levis (guess I'll have to look at the "made in" tags on the next visit) but the one I looked at on the site said "imported".
All that said, it was great to see high-end work being done in the middle of Seattle. Here are some shots. First the showroom: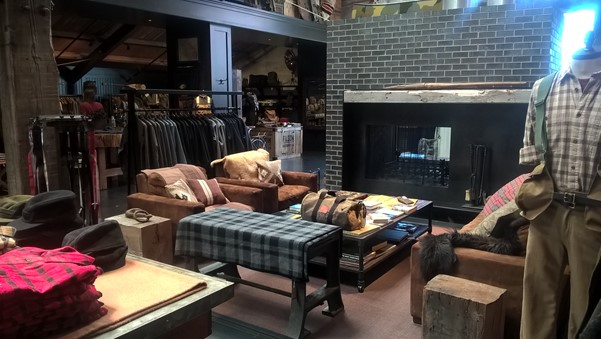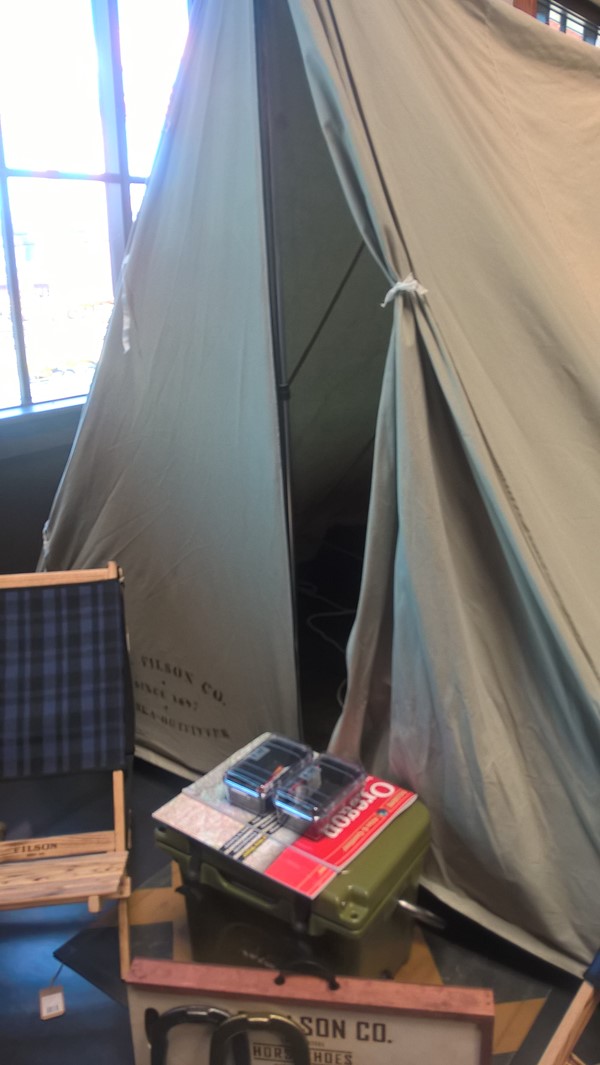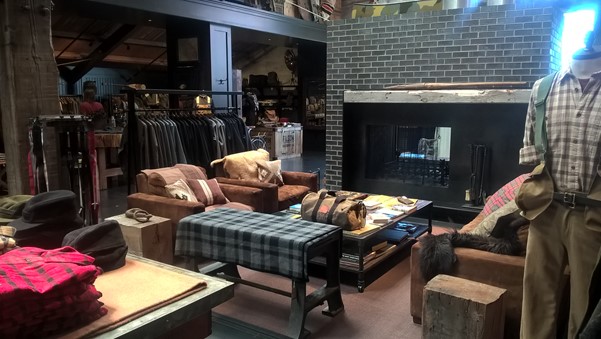 And then the factory tour – with the "hottie" tour guide: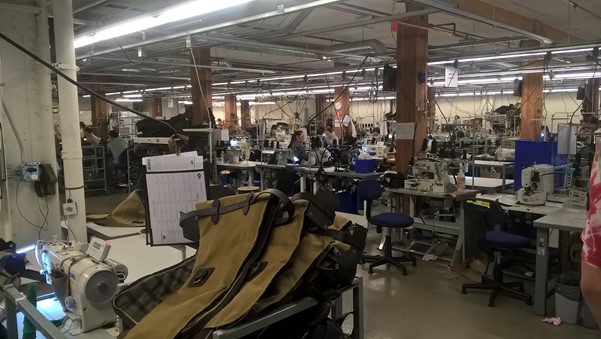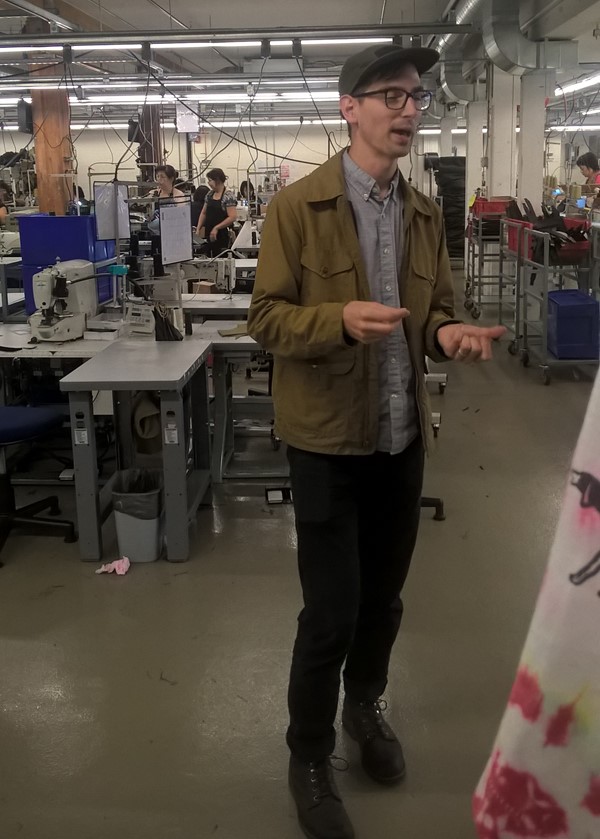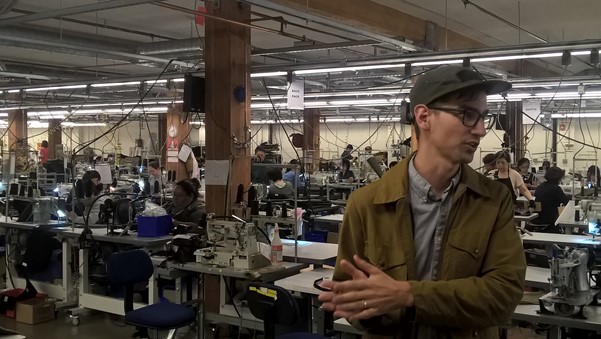 TONS of staff (ratio 4 staff to 1 customer) on the floor. Unfortunately the one item I wanted was only part of a package of a watch and books. Sigh. FYI – that "package" with the watch runs $1000. I just wanted the orange bandana! Tours are Tuesdays at 10am, Thursdays at 1:30pm– the meet on the THIRD floor, showroom is on the SECOND floor. It almost made me miss the tour!
Next up (in reverse order) is:
The Bill and Melinda Gates Foundation Visitors Center (FREE)

The Foundation is right across the street from EMP – The Experience Music Project, located at Seattle Center. Why not add it onto a visit to Seattle Center, The ChuckHooy Glass Abuse Garden, the Science Center, etc.
During opening hours it's a self-guided tour – which is esthetically pleasing, but WORD heavy. Show up at 2pm for the guided one-hour tour. It still give you time to explore areas of interest in-depth, but give you a better overview of Uncle Bill's work (no, I'm not his nephew, I'm just an ex-Microsoft employee).
Here are a couple of shots from the Visitor's Center: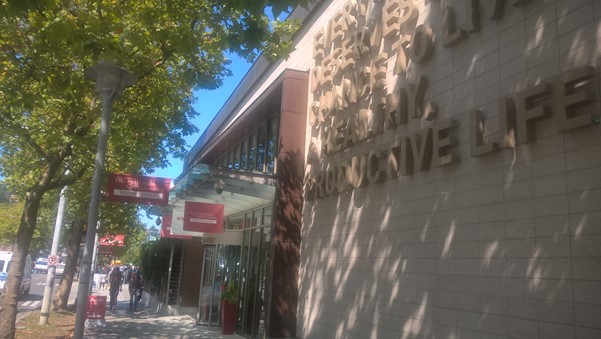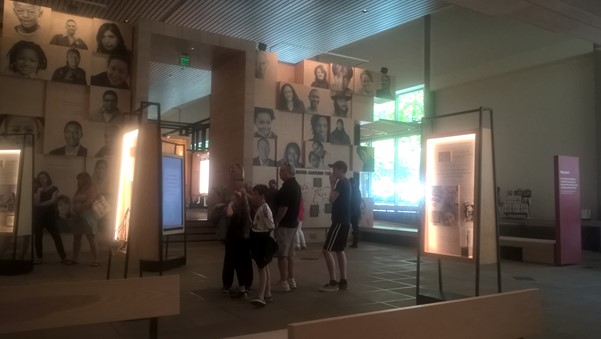 Because we need a "selfie" in this post – they had a photo booth: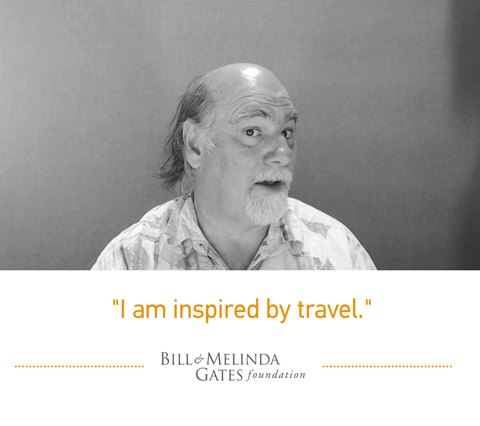 Would have been nice to have some starving children in the background or something (just kidding).
And the final stop in this Seattle Tour is:
Experience Music Project – EMP ($25 but free for "North American Reciprocal Museum Association" Members)

This might be the hidden benefit for my "Pioneer" Tacoma Art Museum (TAM) membership. Last October I got a TAM membership to support the AIDSartAmerica exhibit which they were lead organizer. With the membership I got reciprocal privileges to The North American Museum Association and Museums West. Very amazing for a smaller regional museum – and that level of membership was $125 for a year, with half a dozen guest passes to the museum.
So far, during this year, I've gotten six entrances to EMP ($150), 4 entrances to the Ogden Museum of Southern Art in New Orleans ($54 soon to be 5 at $67.50), 1 entrance ($10.50 soon to be 2 at $21.00) to the New Orleans Museum of Art, 4 entrances into The Tacoma Art Museum ($60), 2 entrances into The Neon Museum in Las Vegas ($36), 2 entrances into the Georgia O'Keefe Museum ($24), Palace of Governors ($24), and New Mexico Museum of Art ($24). Round numbers: I've gotten $382.50 value out of my $125 – think about that they next time you are in a museum – check out their partners and get something than the other "basic" membership (caveat – some reciprocal memberships restrict benefits within 60 miles of your "home" museum, and some [like the Neon Museum] require BOTH member cards for two people, most do not). It's nice to be able to give your "Guest of Mark Souder" pass to visitors in town especially for the EMP. Just like my National Parks Pass, I tend to favor smaller museums because they collect a larger chunk of the money.
But I digress (as usual) – we are talking about the Experience Music Project which started as Paul Allen's dream to build a Jimi Hendricks Museum. The Hendricks family looked at the co-founder of Microsoft and wanted a whole wad of dough to aloe name to be uses – hence "The Experience Music Project" that holds Paul Allen's' collection of Jimi Hendricks memorabilia, his Sci-Fi (Paul's, not Jimmi's) collection, and rotating exhibits. It is in a Frank Gehry designed building that has the Seattle Monorail running through (but not stopping in) it. Here is the LINK to the background of the museum.
Let's get to some pictures of the place!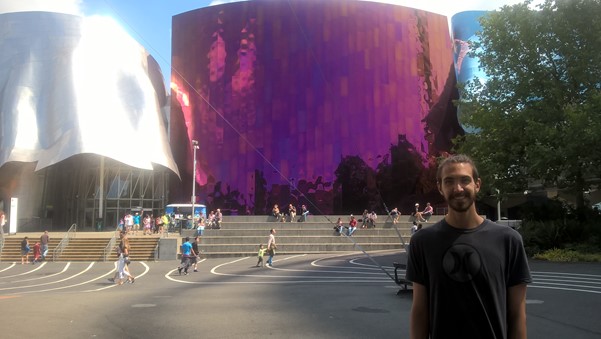 Mr. Whippet and the EMP.
So, the Museum is split into sections – Guitars, Hendrix Nirvana and various other music-themed exhibits, and then there is the Horror, Fantasy, Infinite Worlds sections, plus a couple of areas for special exhibition – currently one on Star Trek (extra $5 upcharge) and the other "The World of Wearable Art (WOW)". Here is a sampling of photos starting with Fantasy and a couple of costumes from The Wizard of Oz: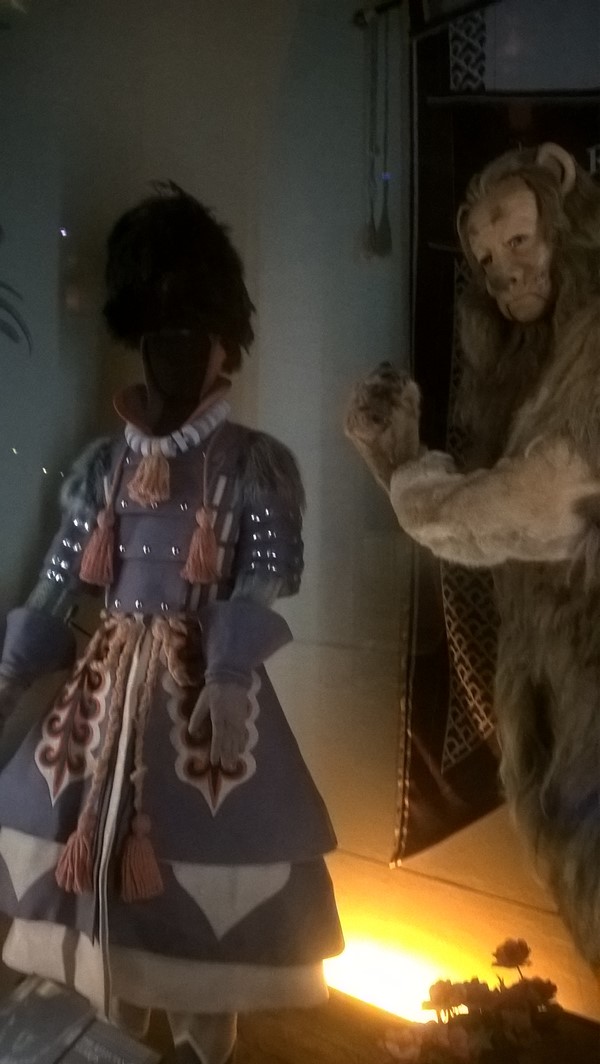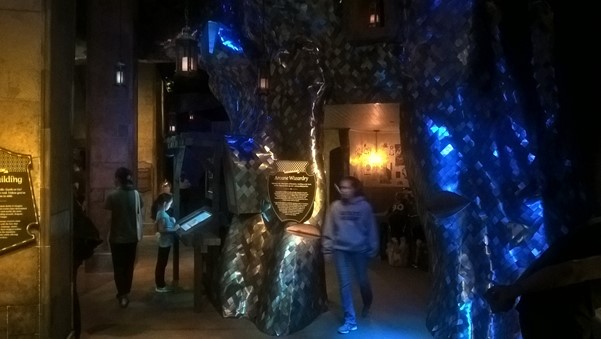 Then Science Fiction: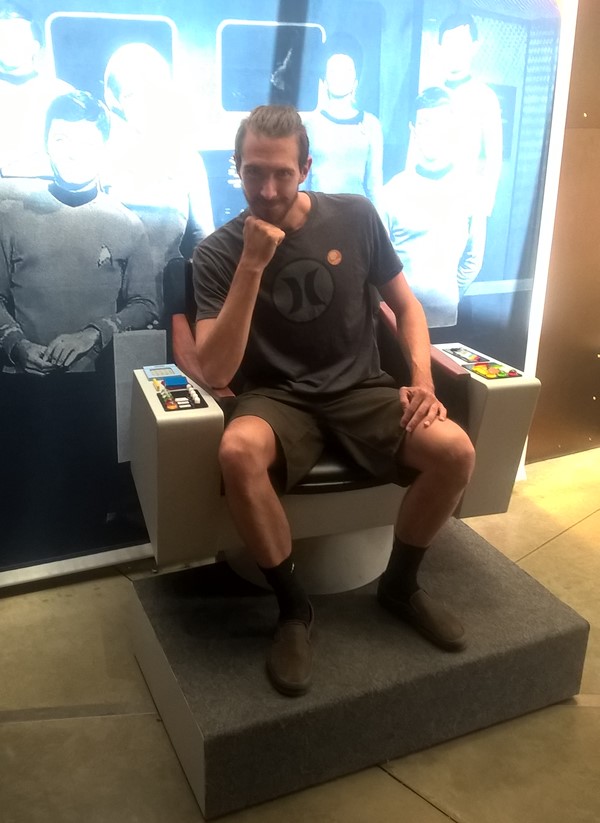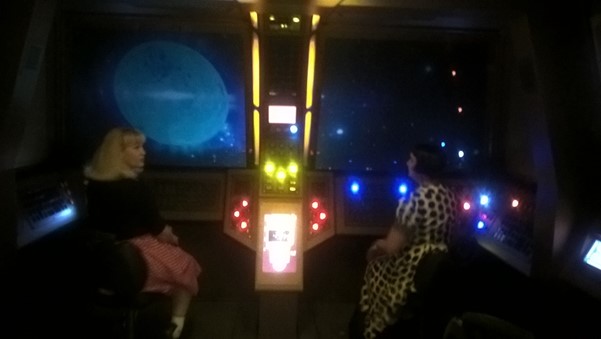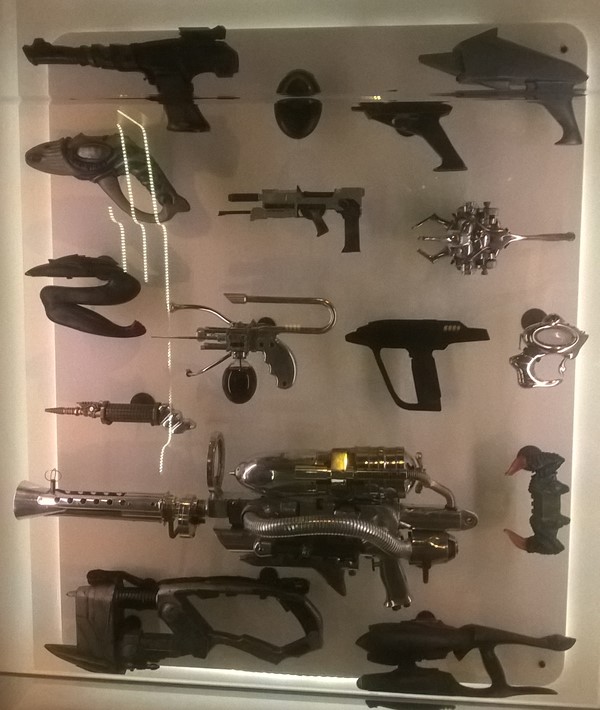 Then into Guitars: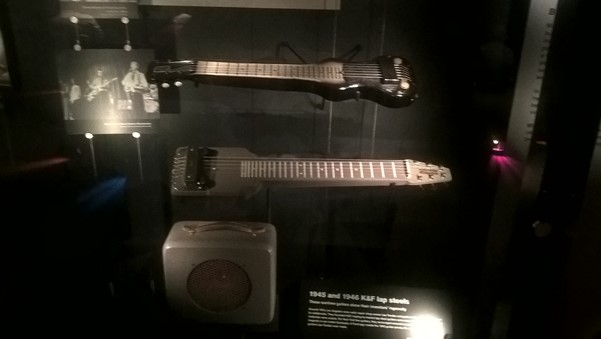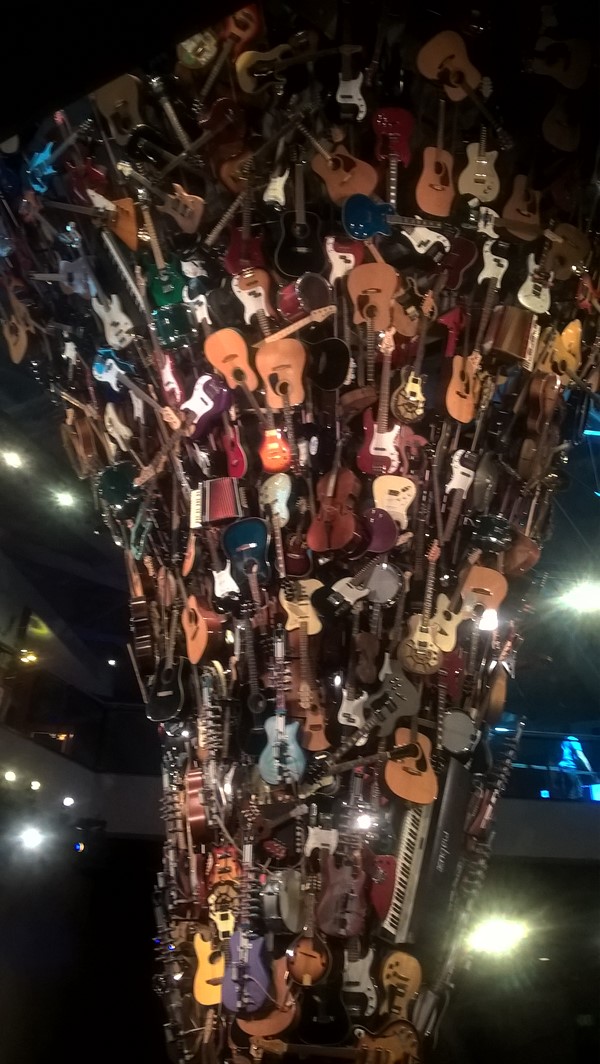 And finally, wearable art: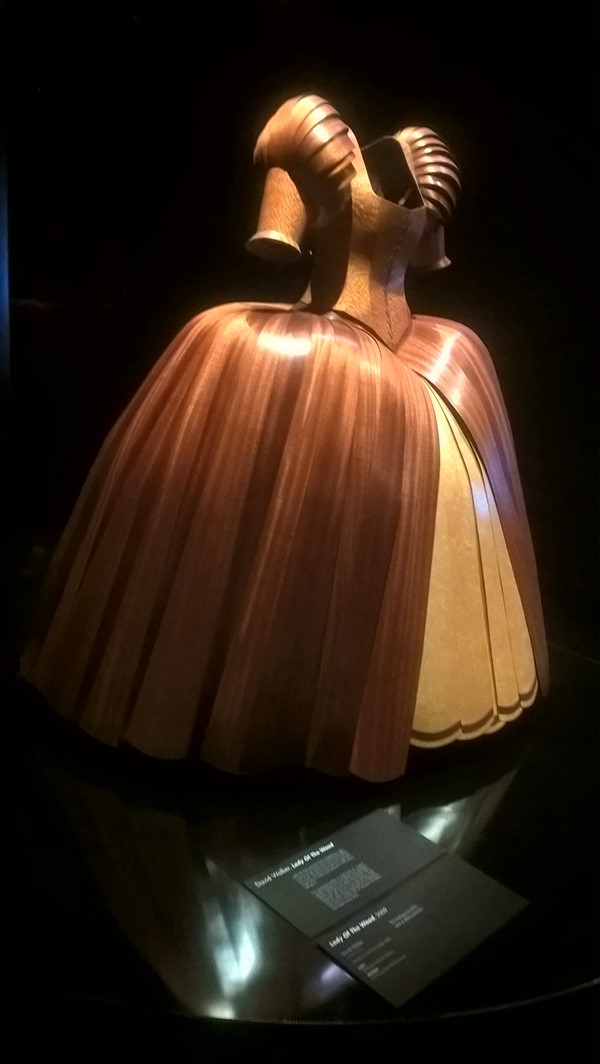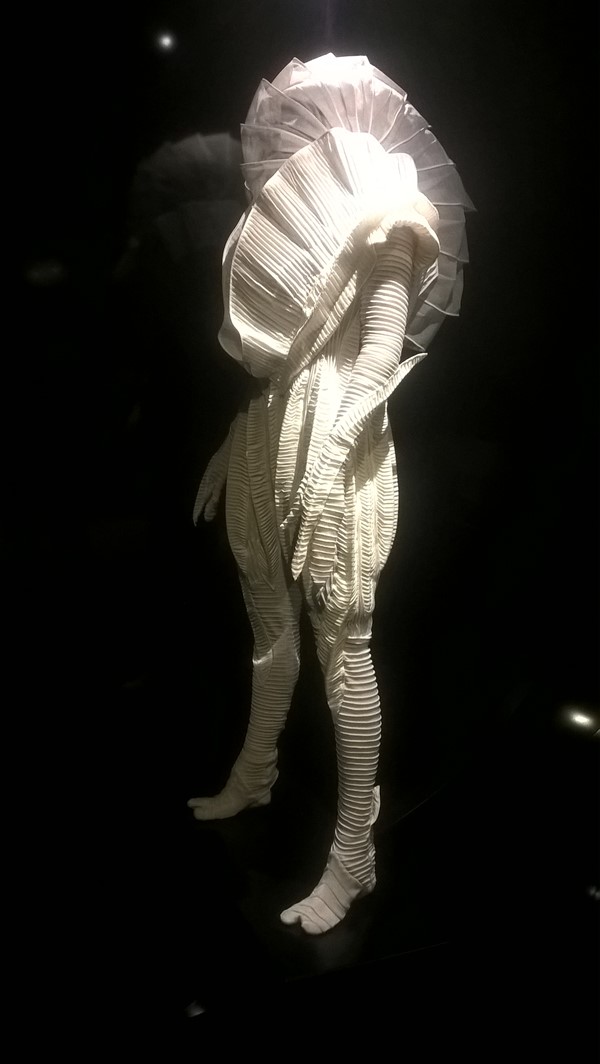 By the end of the Museum I was feeling a little peckish – luckily there is a Wolfgang Puck Pop Kitchen & Bar – 50% off on food items for members and reciprocal members. Yahoo!
Time for a Manhattan and some parmesan fries.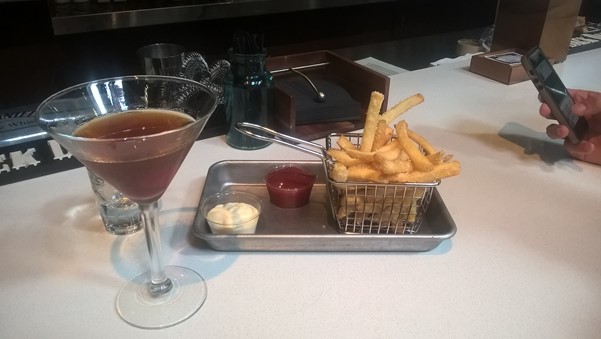 Next time I go to the opera I might have to come here for an early dinner!
So there you have some free and not-so-free (unless you want to borrow my pass).
Safe travels everyone.
[215.0]