What happens when there are no cheap flights during the summer? ROAD TRIP!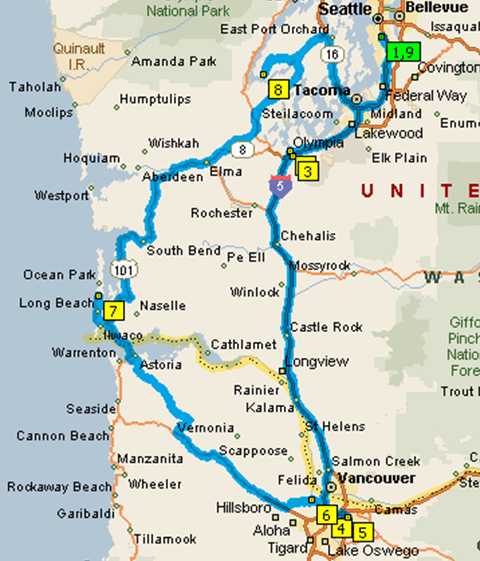 Though I didn't realize it at the time, it turns out to be a parade of visits to friends that I've known for years:
Cathy = 46 years (stop 2)
Dwight = 31 years (stop 3)
Peppermint = 22 years (stop 6)
Yusaf = 19 years (stop 6)
Rache = 21 years (stop 7)
Bliss = 24 years (stop 8)
And the weather was stunning – probably got more sun than I should have.
First stop was to see Cathy – and drop off some cookware from my mother's estate. She had many dinners at my parent's table and reveled in the fact that my mother had nice things – and used them everyday. I passed on a Dansk 60's turquoise double boiler and a Le Creuset orange saucepan with lid.
It was good to catch up in person with here rather than email/Facebook.
Next up – Dwight. My overnight stop. The photo from Dwights: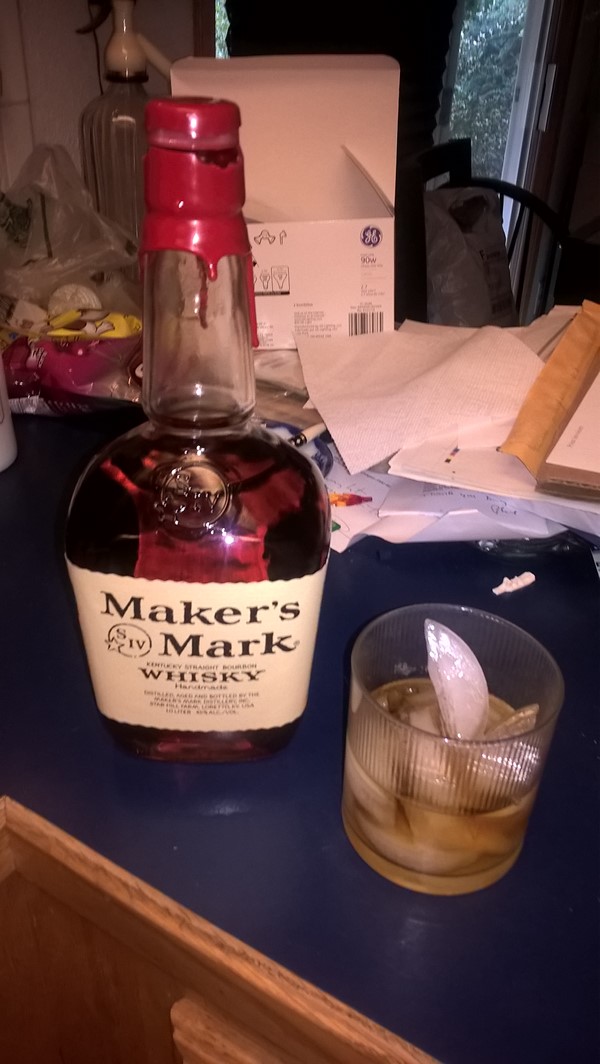 He does stock the bar for me! There was also a "handle" of Evan Williams Black. Dinner tonight was lovely Steak Fajitas delivered in (by a cute delivery guy). I got the "blow-up" queen-size bed in the spare room. We don't get to see enough of each other – one of the reasons is that he has cats. I just doubled up on the antihistamines!
Morning found me early out of the house – Portland bound. I've got to hook up with Peppermint at his shop and head to a food show in SE Portland. Somehow I didn't get a picture of Sunnyside Espresso.
I did get a couple of pictures from the food show – spread over two floors: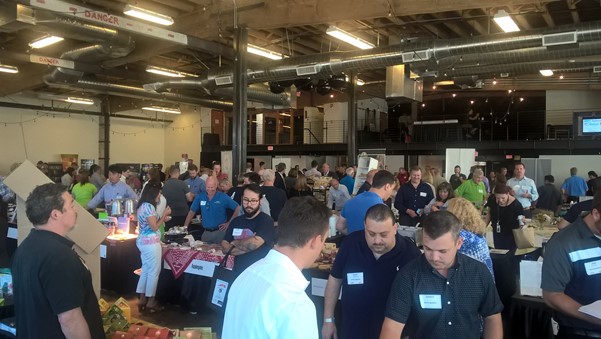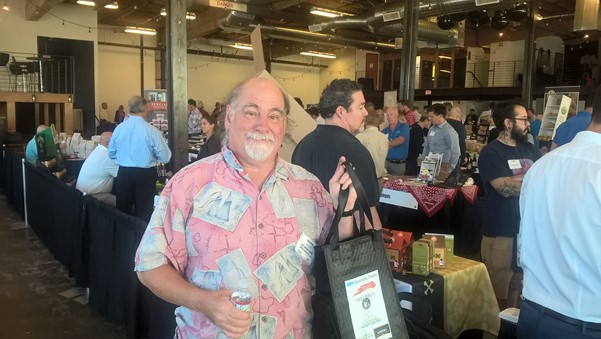 And this is a serious "cold press" coffee machine – using ice water: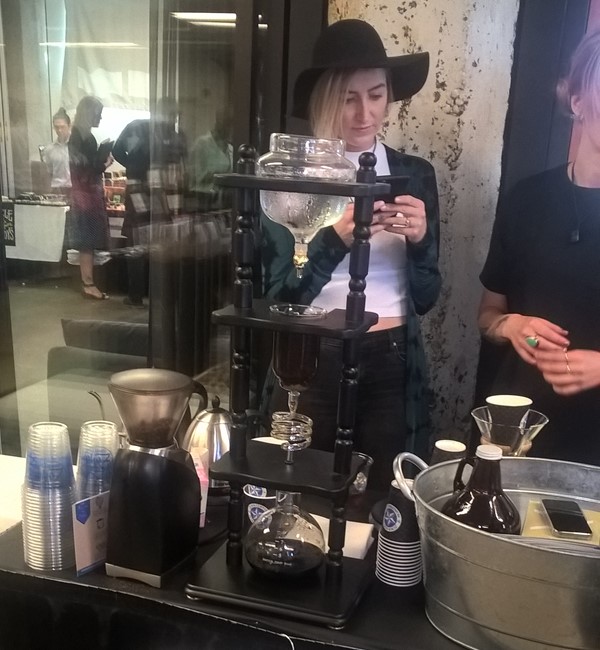 On the way to my evenings lodging I passed the corner that was a block from where Jimmy and I lived in Northwest Portland – which was a corner market/butcher shop – now it's a Mcmenamins Bottle Shop.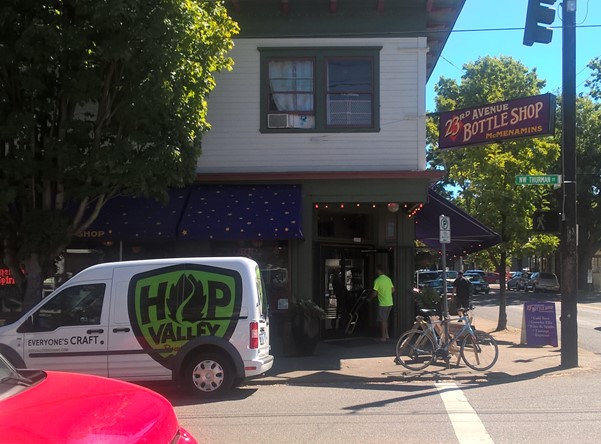 Tonight's lodging is with Yusaf and Peppermint – who have also rolled out the red carpet! Here is the "Love Shack" that is my home for the night: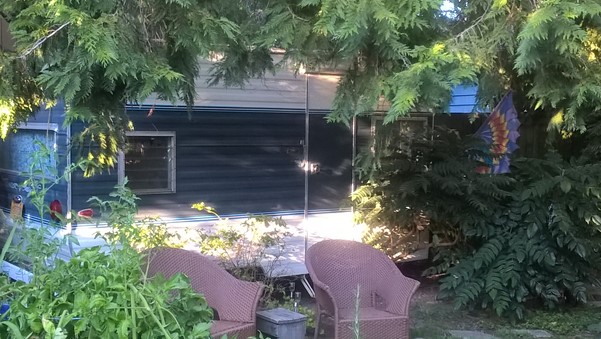 Complete with turquoise appliances!
And power!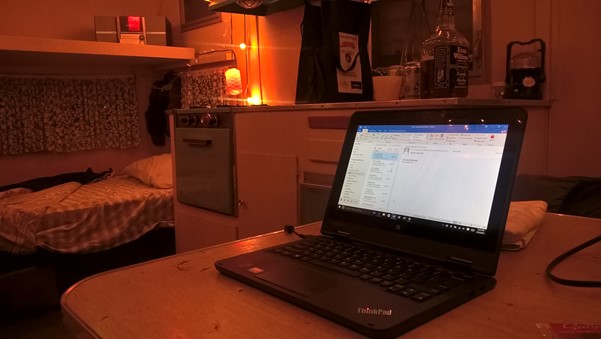 They sacrificed an animal for the grill in my honor: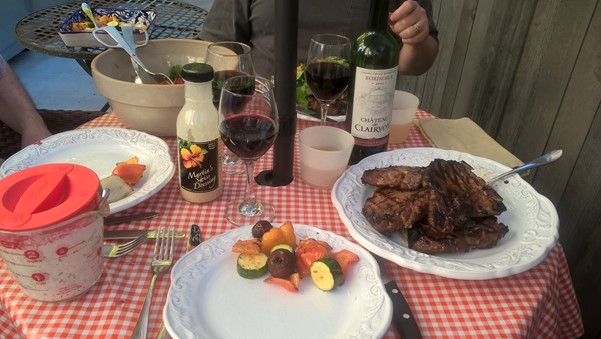 I brought a couple of bottles of a 2005 Bordeaux that we have at the shop – was $25, now $14 – and drinking GREAT!
There where even vintage "gay" magazines in the "love shack"!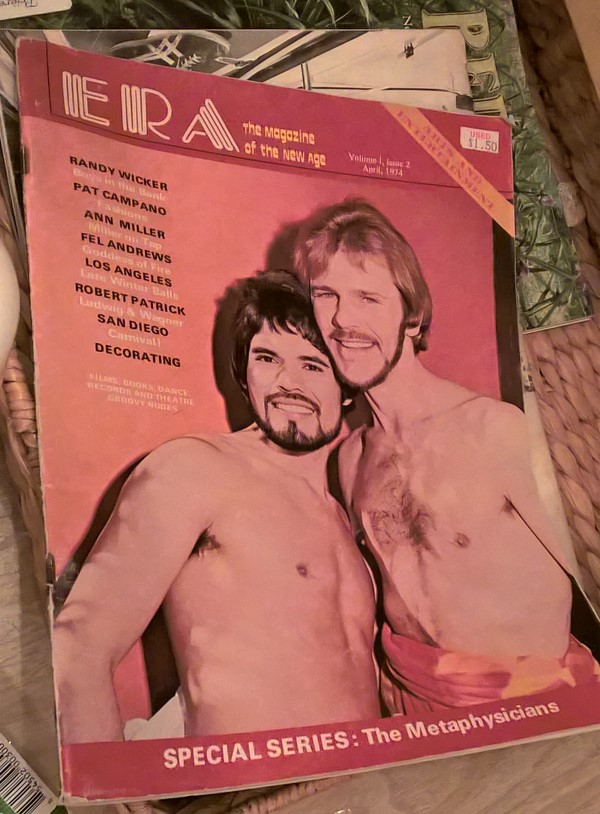 They are from 1974 – when I was a senior in high school. I had to borrow them to scan and return. The T-Shirt Princess will love the images.
Slept in late, knowing that "breakfast" will be at Burgerville – my weakness in burger places – and the St. John's one had a full parking lot and a drive through line that stretched onto the street: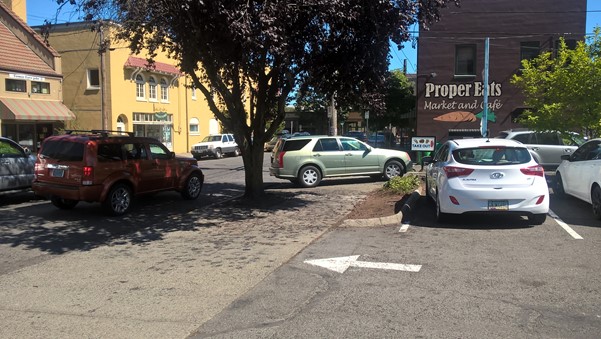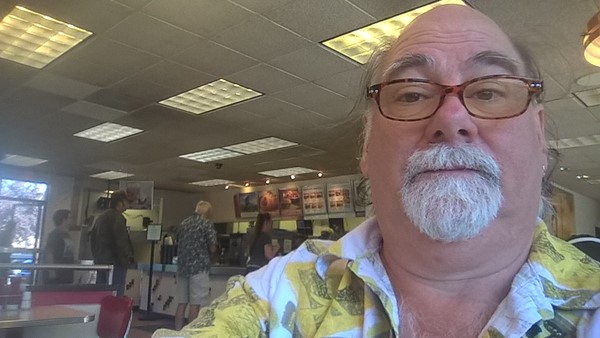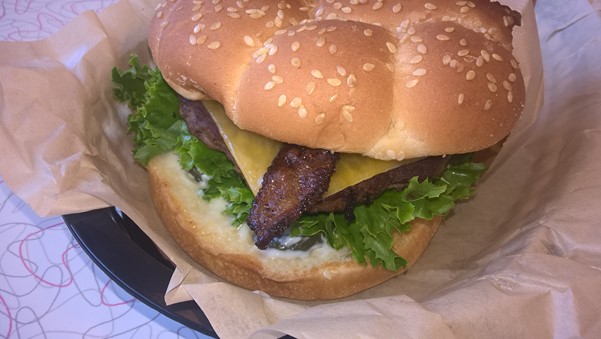 After the "Devil's Burger" it's on the road to Long Beach (Washington, not California!) for an overnight with Rache.
It's odd to pass through Seaside and not visit Seaside Boy – who actually is in Blaine these days: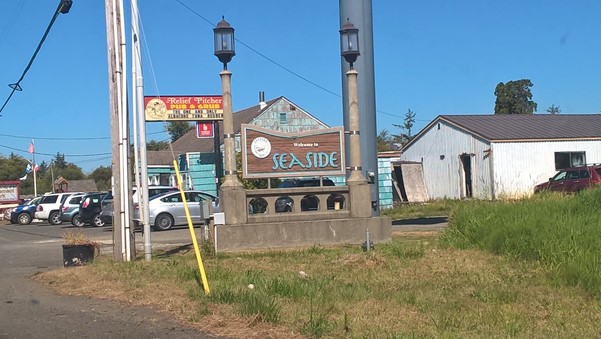 Tried to find some new cargo shorts – after four stops, found some Ralph Lauren "not cargo" shorts, but they had a nice feel and were new at $10.
Stunning lamb dinner of the grill with Rache: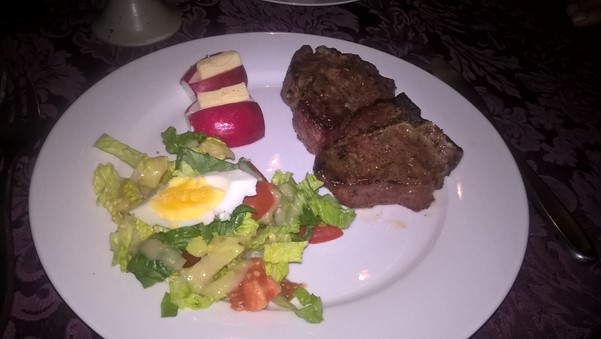 Again, my host is out of the house before me – and I'm on the road for the longest leg of the trip. But the top is down, and all is fine in my world.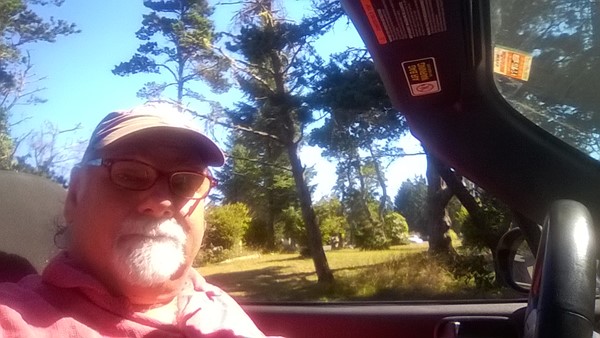 Until I hit a backup – only 15 minutes: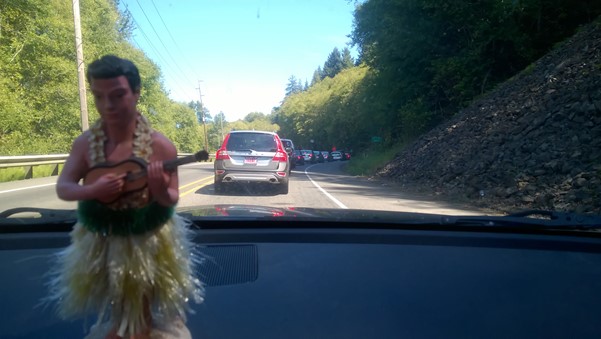 And a blog update stop in a roadside rest stop: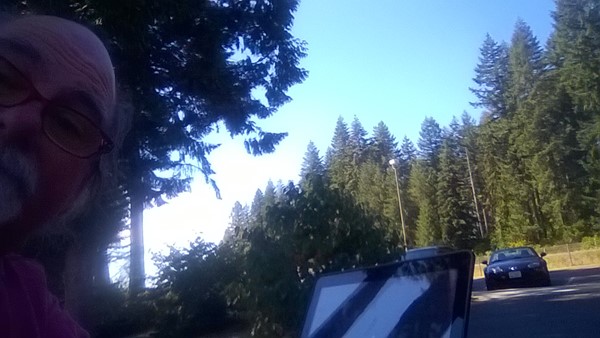 The last stop of the trip is an overnight with Bliss. And the Cowboy Bed!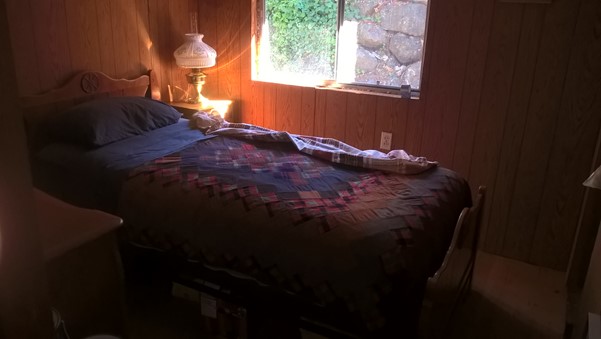 And the view isn't bad: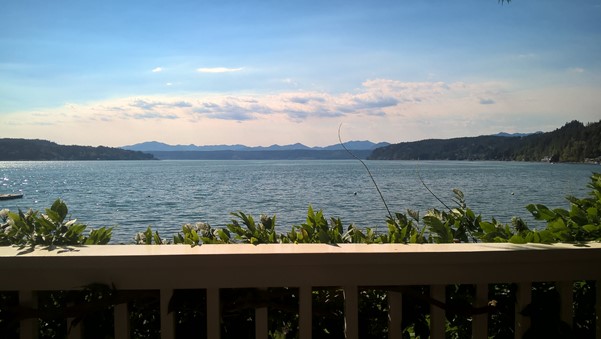 Little did I know what was planned for my visit – a whirlwind of cocktails, boating, oysters and dinner! Bliss making scratch thermos' full of Piña Coladas for the boat.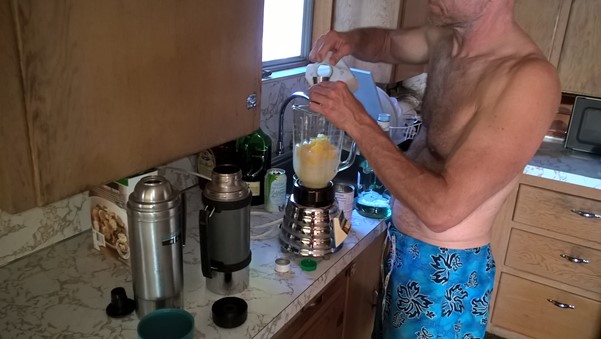 Bliss' contractor has a boat and friends…I have a Speedo!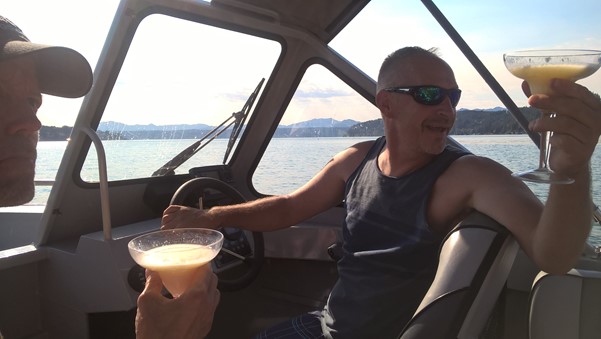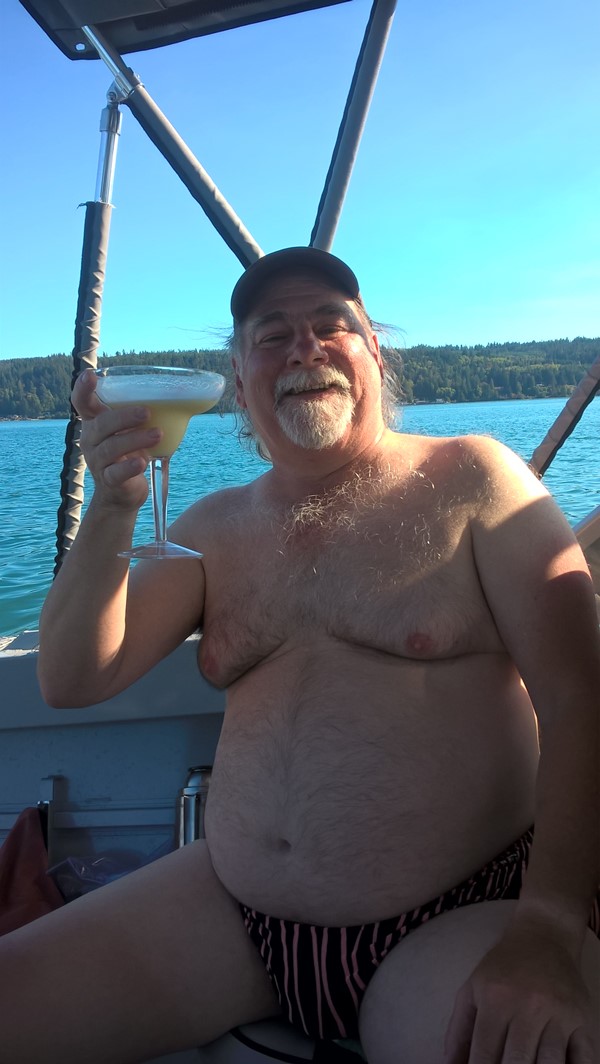 And even I went swimming in Hood Canal: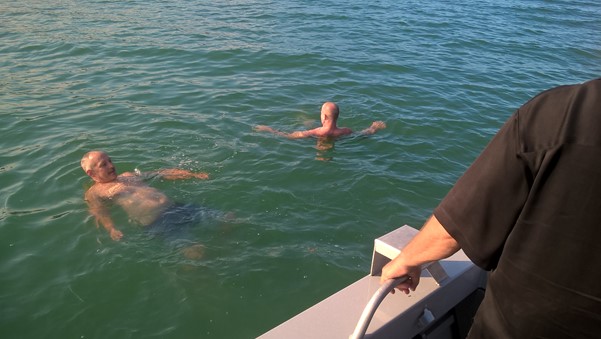 We did a little motoring around before heading to Union for beer, and as it turns out, oyster samples: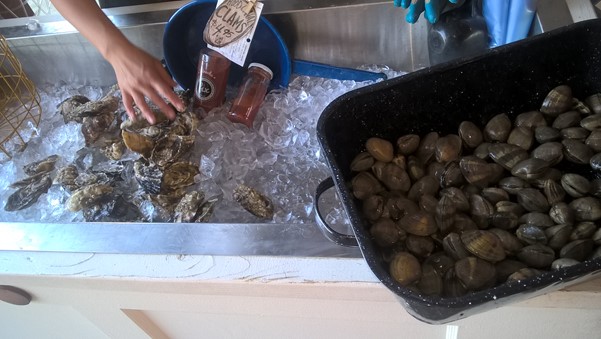 After a little ass-grabbing (NOT on my part, well, the ass was, not the grabbing) it was time for a sunset dinner with the guys – what a lovely end to the evening!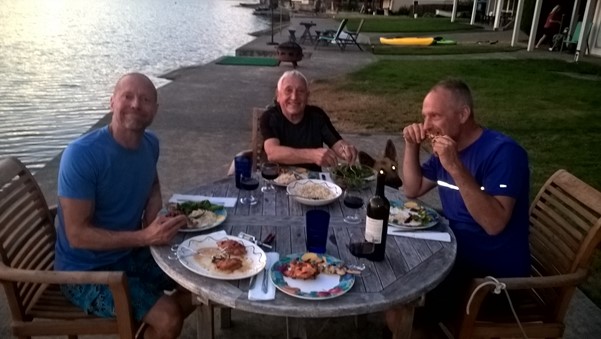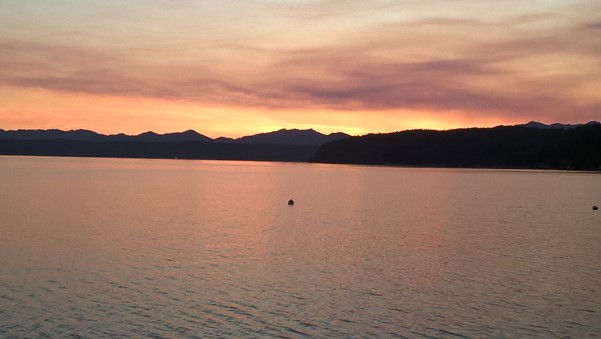 Not a bad road trip. Got stuck in a little traffic around Tacoma on the way home, but it was nice to sleep in my own bed.
[216.4]