As usual Rache was up earlier than I, working away on his updates, and just as important, tracking down coffee for the grumpy morning one (that would be me). We have to be out of the hotel earlier than I'd like as our Lunch Date with the restored 1929 Pullman Dining Car is at 11:30.
I can't really improve on Rache's commentary of the day, I just going to lift it and add my own photos. THANKS RACHE!
"You are about to embark on an incredible journey through Western Canada: from a timeless First Nations' encampment to a rustic settlement, from a bustling young prairie town to a mid-20th Century urban square."

That's how Heritage Park is introduced in the guide/map. This 127-acre park is on the banks of Glenmore Reservoir and is Canada's largest living history museum. Exhibits span from the 1860s to the 1950s. Staff dress in historic attire and antique autos and horse-drawn vehicles service the site.  The park opened July 1, 1964.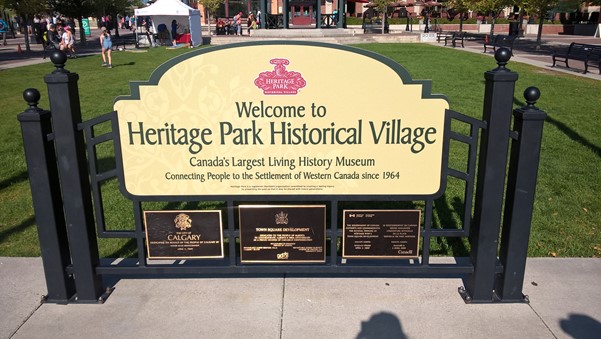 So now I have to confess something. The reason Markie and I came to Calgary was to go to lunch. Thankfully the park offered a much better reason to come to Calgary. But lunch on the restored River Forth Pullman dining car is what motived our trip. This car is a restored 1929 observation car purchased in 2011 by the park from the Canadian Pacific Railway for $1. What a bargain! Heritage Park restored the rusty, rundown mess, taking it from the brink of scrap metal and turning into a 36-seat moving restaurant.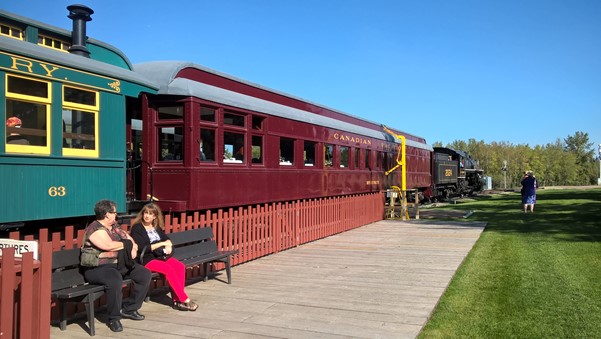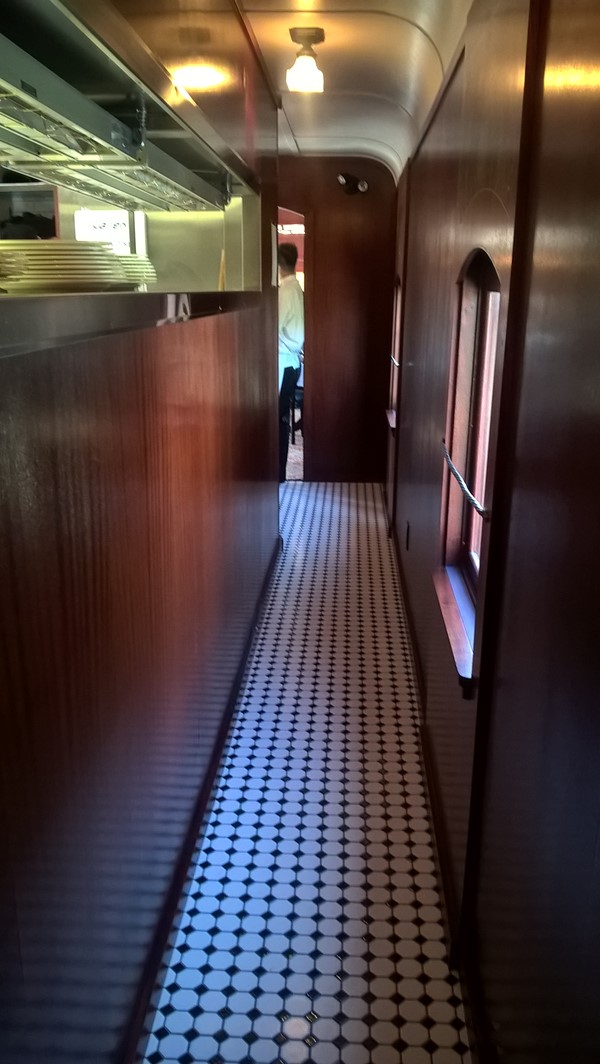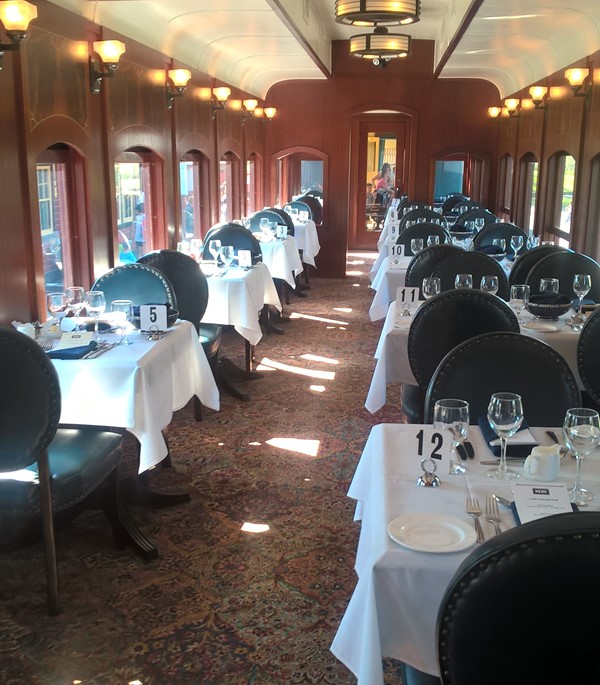 We climbed the few steep steps onto the car and navigated past the kitchen and proceeded down the narrow aisle to Table 2, table for two. The first course was a pear and fig salad with prosciutto and balsamic drizzle served with a white wine from Okanogan Valley. The salad was a nice balance of salt and sweet. Markie and I ordered each of the main courses. I started with the pan seared B.C. Steelhead Trout that was served with potato rosti, charred summer vegetable ragu, and French vinaigrette. Prepared perfectly. At mid-meal, we exchanged plates and I dined on the Filet Mignon Lyonnaise that came with sweet pea purée, potato pave, puttered patty pan squash and spring carrots. Lovely as well. Served with the red wine from Okanogan Valley. Dessert was vanilla and toasted almond creme brûlée with seasonal berries and lemon sugar cookie. Yum! Before dessert, Markie and I exchanged seats so we could each get the experience of viewing the scenery going forwards and backwards.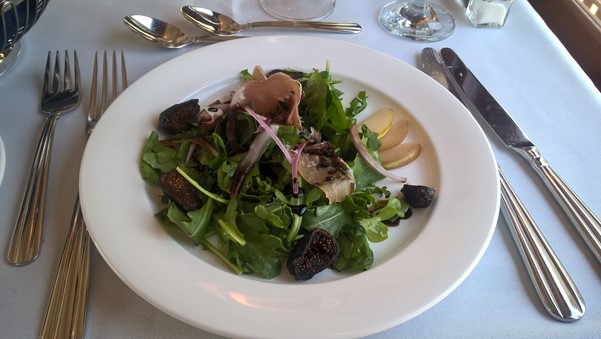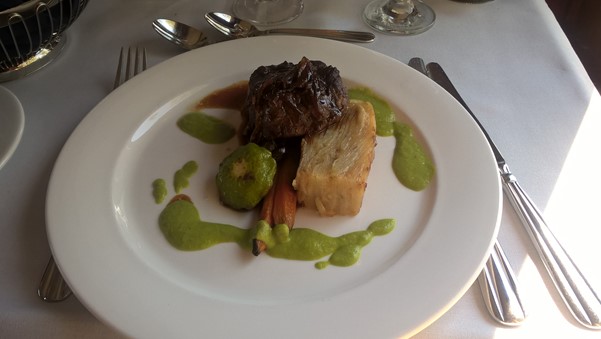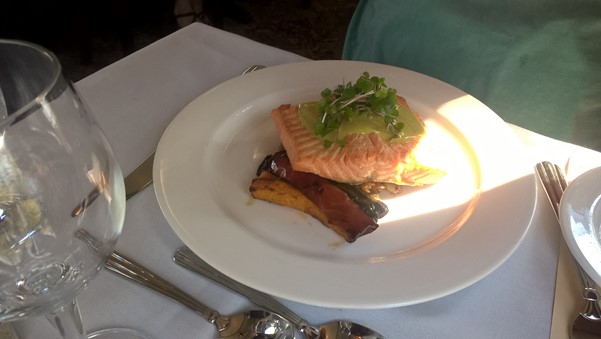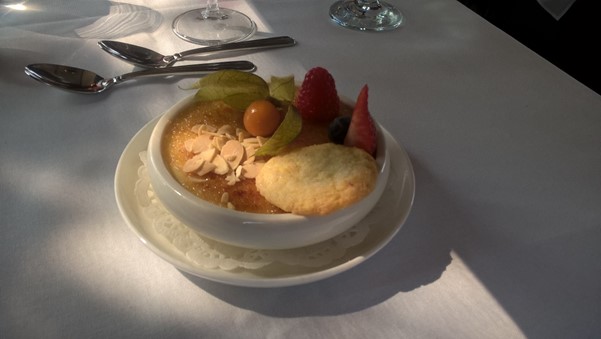 The meal was worth the trip, but the park was so inviting that we decided that instead of dining and dashing, we would spend the day. Smart move. Dining on the train gave us a chance to see then entire park as we circumnavigated the grounds several times.

The Railway Car Shop had several restored cars from bygone days and furnished in period pieces down to the spittoon. The rare and unique passenger cars were remarkable. The wicker seats reminded me of the seats in the old subways that were displayed at the Transit Museum in Brooklyn where I visited in May. It was at this stop that we first met Riley. More on him in a bit, but as Bill P. and Steve R. can attest, he was one of the types of people I just gravitate to.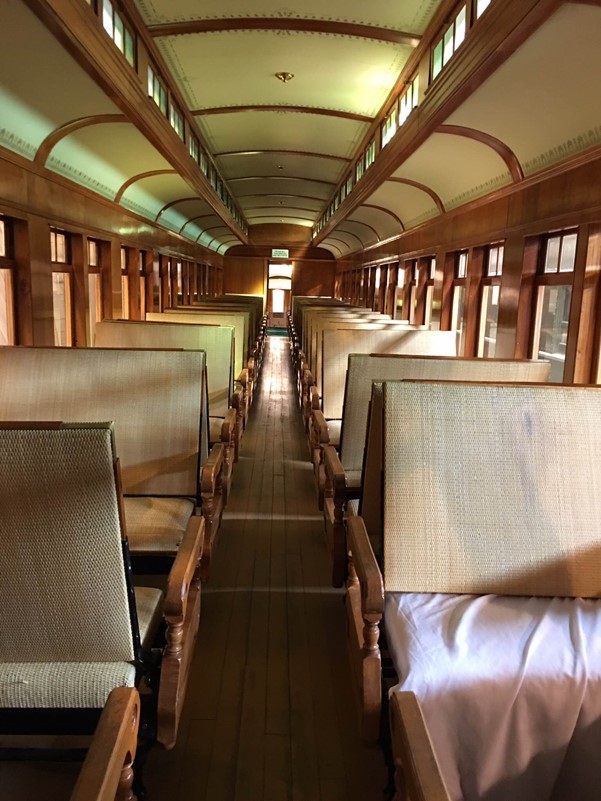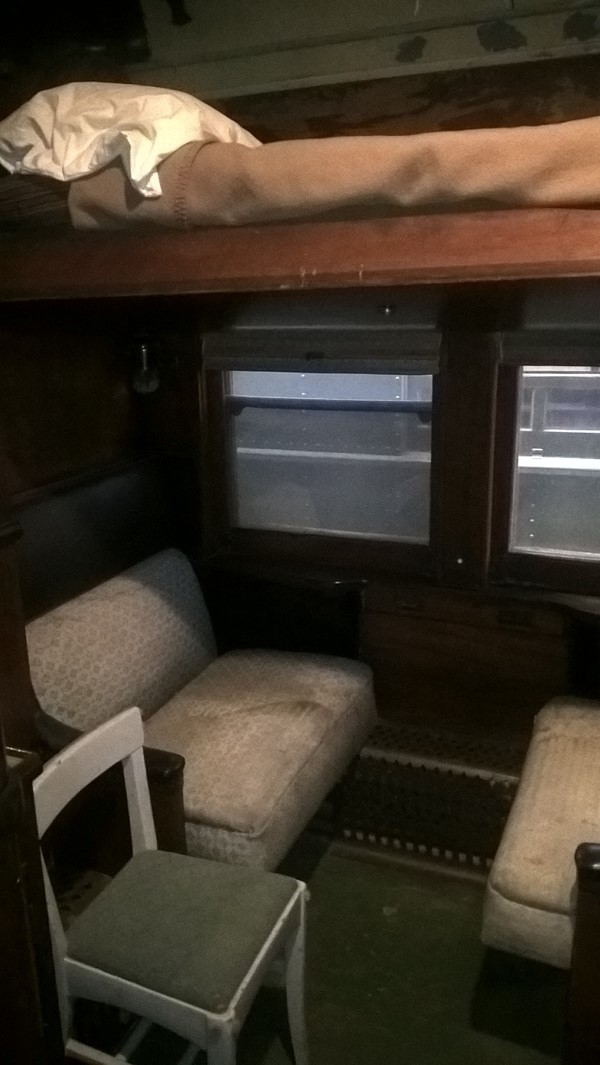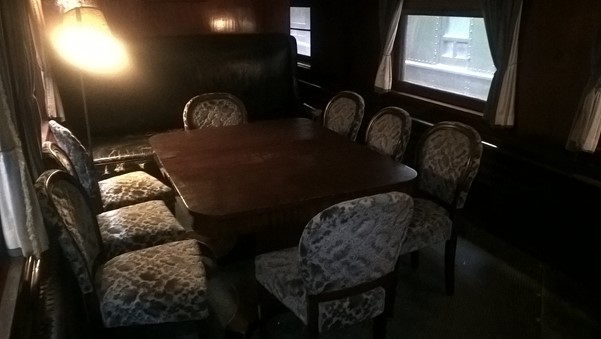 Next, we boarded the S.S. Moyie. This is a paddle steamer sternwheeler that worked Kootenay Lake in British Columbia from 1898 until 1957. Well the original did all that and is the world's oldest intact passenger sternwheeler that you can see on display in Kaslo, B.C. But this replica gave us an idea of what it was like way back when. We plied the waters of the reservoir and dodged a bunch of little tykes running around. To his credit, Markie did not attempt to grab one of them and toss him overboard. Honestly, the trip was a delight as we toured the boat as the boat gave us a tour.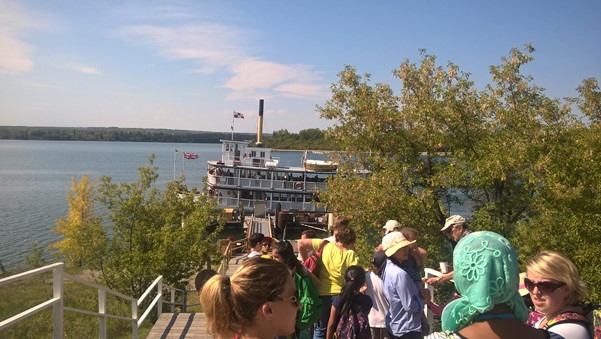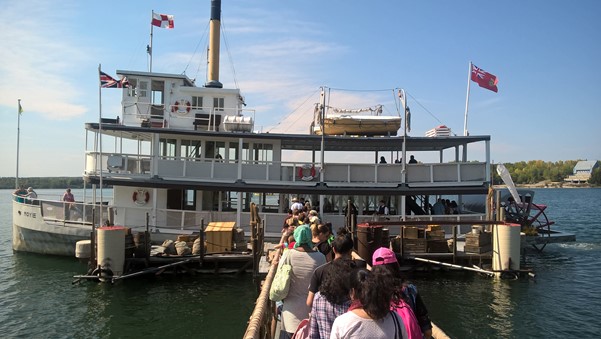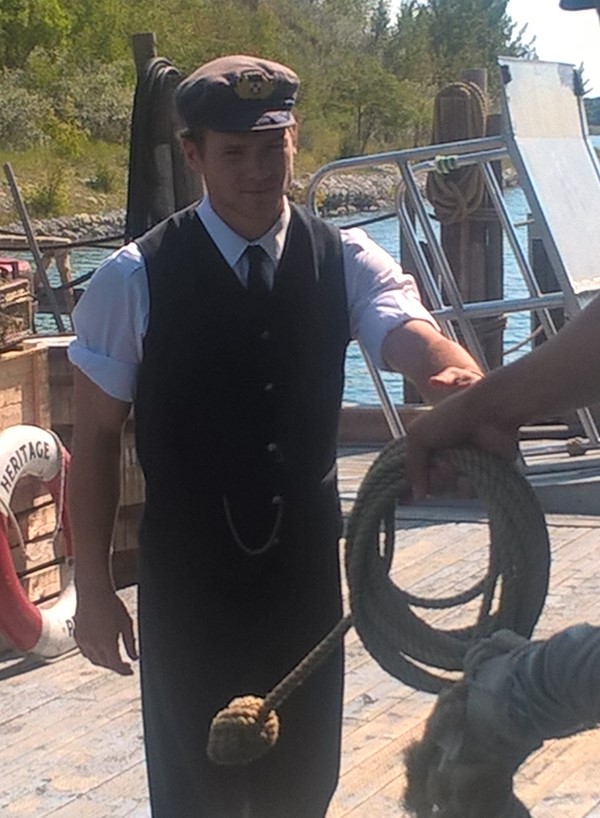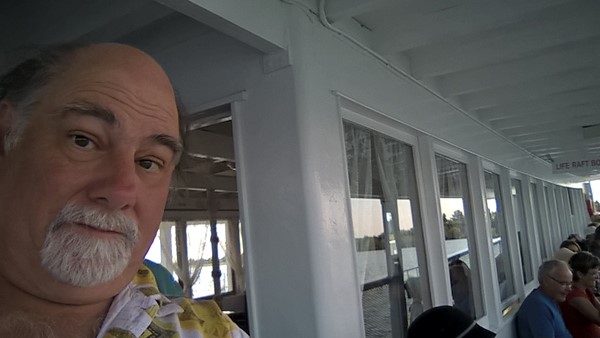 Next we moseyed over to Hudson's Bay Company Fur Trading Fort, circa 1860. The rustic digs were manned by two capable young lads who were full of knowledge. One greeted us at the nearby Our Lady of Peace Mission (1885). In one display, I noticed that a large cast iron pot had 13 tally marks on it. Our young guide reminded us that since the traders and First Nation folk didn't speak a common language, the marks were an indication of how many beaver pelts it would take to buy the pot. Love this stuff.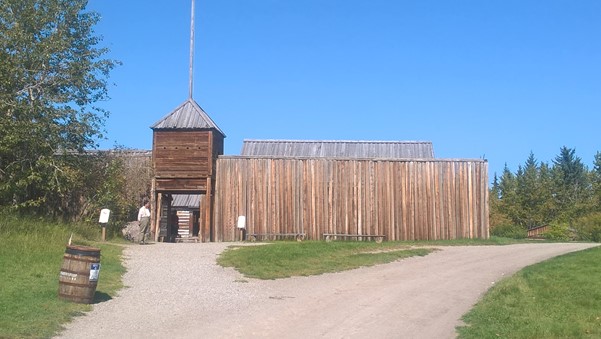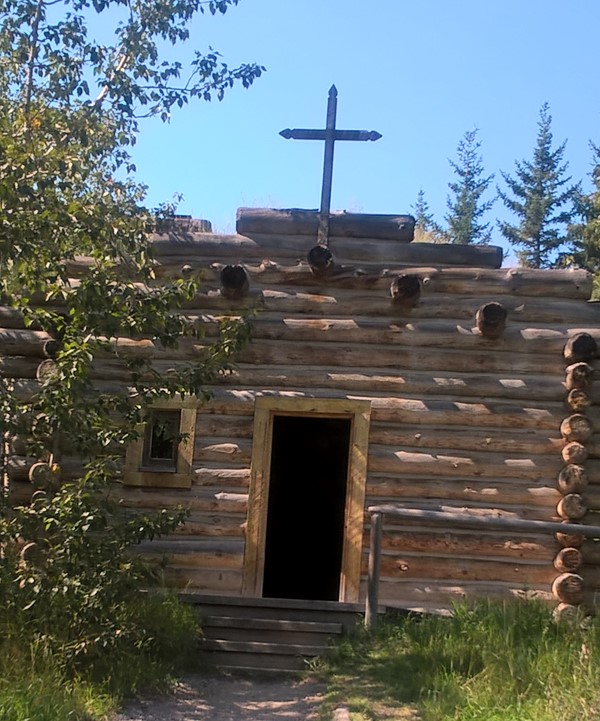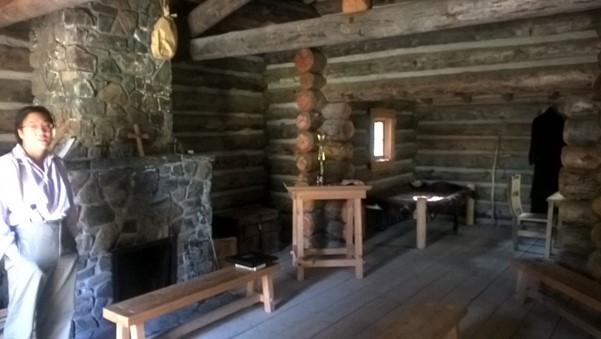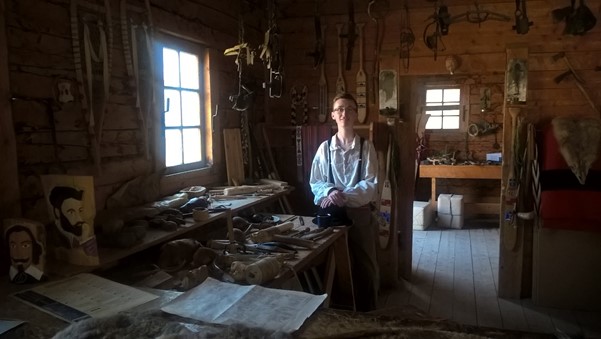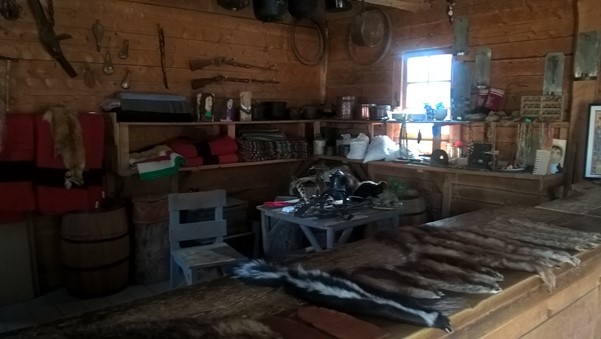 BTW, navigating the park was easy as there were plenty of railroad stations where the train stopped so one could board and you were on to your next destination. It was during one of these boardings where I got to sit next to Riley. Riley is one of these special guys who would probably fit somewhere on the autistic spectrum. He remembered us from the Railway Shop and remembered that we had dined on the train and what we ate. He anticipated every ring of the bell, every "All Aboard" and apologized that he had not yet mastered the whistle of Engine #24 (which was pulling the train) but only Engine #23. When I asked if he lived in Calgary, he not only gave the neighborhood but also the amount of shade. His ambition is to be an engineer and he was thrilled when I told him Markie had operated an engine at the train museum in Boulder City. Riley is just one of those wonderfully quirky guys that some people are unsettled by but is absolutely delightful. He alone would've made the price of admission a bargain.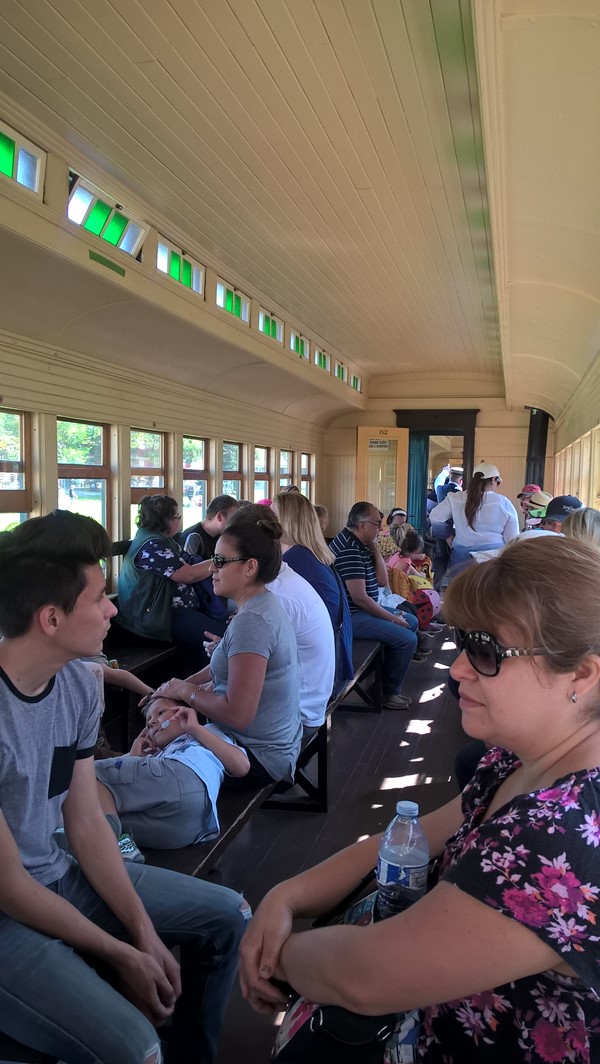 We strolled through Village Centre and walked through Wainwright Hotel and Bar Room. Again, the furnishings were period pieces — many original. Our amble led us to the Antique Midway. Honestly, who needs Disneyland? The old rides, from the Caterpillar to the small Ferris Wheel were amazing. But our ride of choice was the one where I can't remember the name. You sit in a little seat dangling from chains as the ride spins around and you sway out. Sort of like a dangling carrousel. Ahead of us was a little girl in a princess dress and a young lad you turned around and exclaimed to his mom, "This is awesome!"  And it was. Markie and I had a blast as well.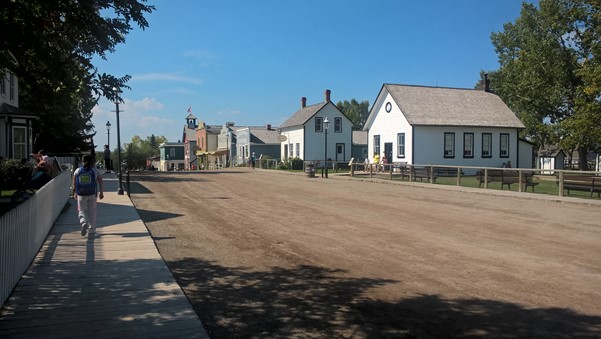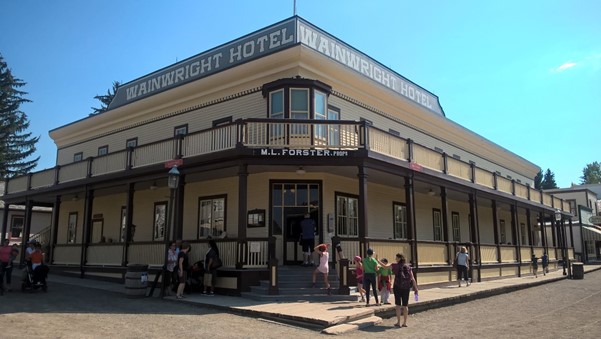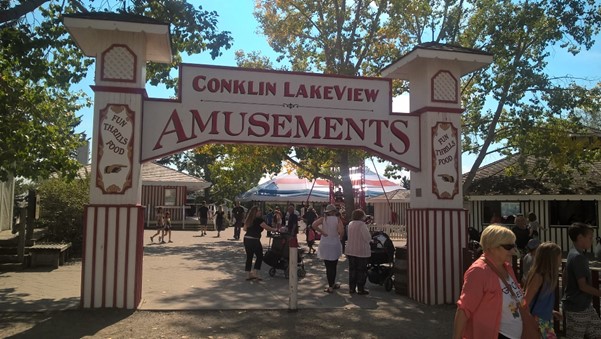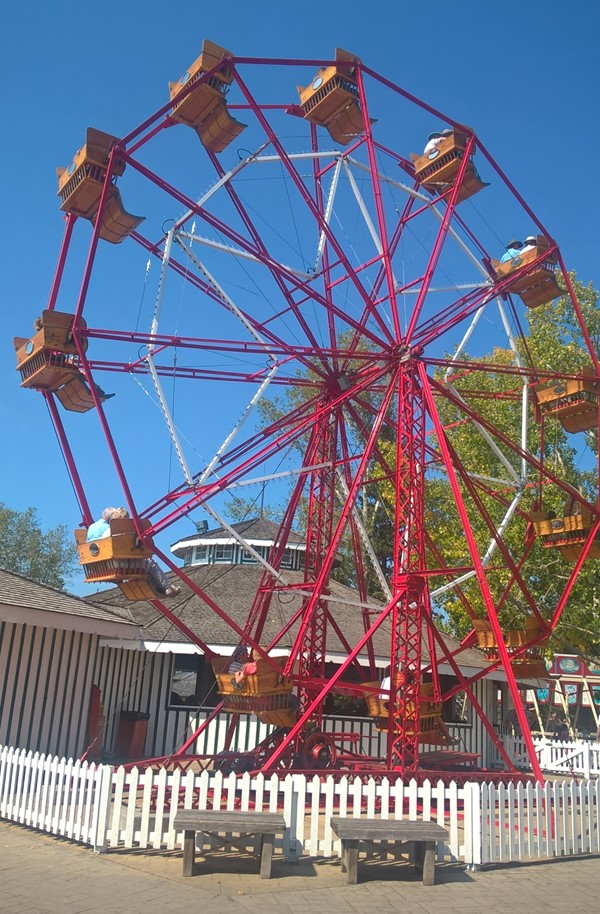 We were tiring so we walked over to the Shepard Station and rode over to Midnapore Station, the closest to the park entrance. We quickly guided ourselves through the Gasoline Alley Museum before heading back 'home.'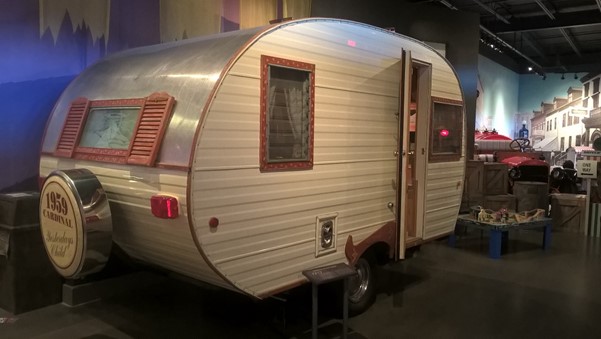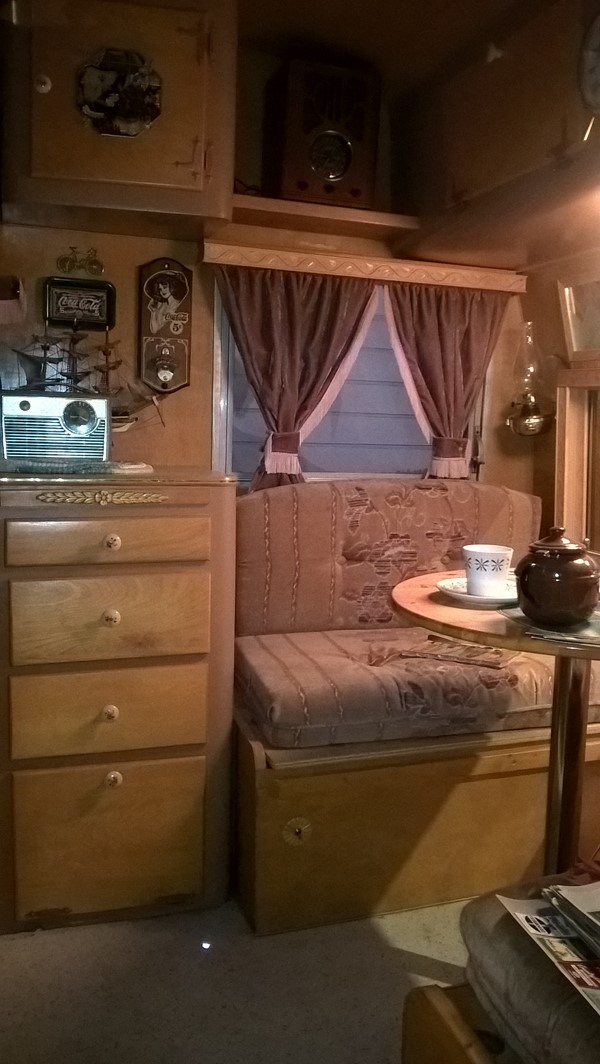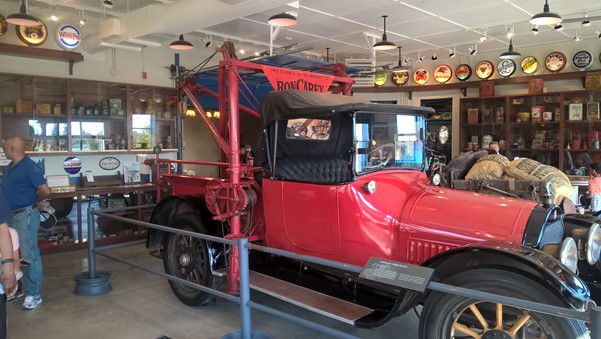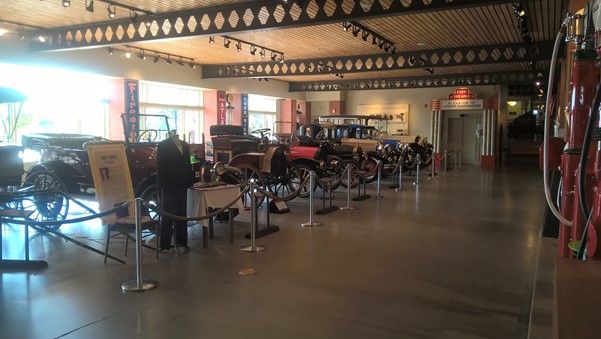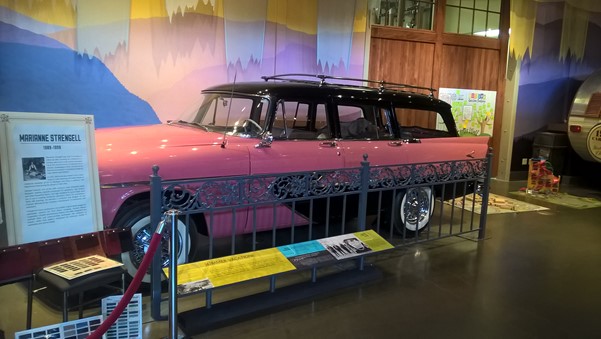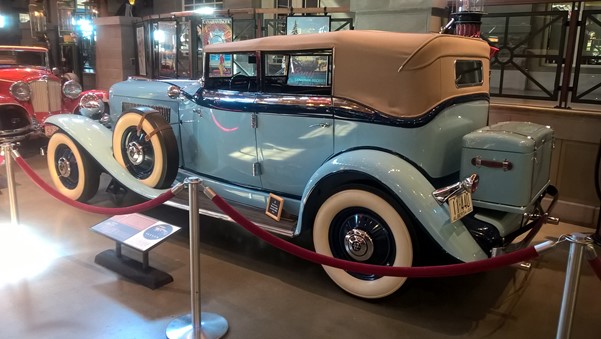 Heritage Park is also wonderful in that the main attraction is history and "Sell, sell, sell!" One could buy things but the focus on this particular park was to experience the park. And it was almost delightful experience to be sure.

Now that Rache has had his say – Jesus, Mary, Mother of God the strollers in the park. There were dedicated "Stroller Parking Areas" at every attraction and train station. That said, if I lived in Calgary I'd probably have a season pass, it was that good.
We both had a bit of a rest before checking out a couple of other restaurants before settling back into the Big T BBQ for dinner. Just a couple of appetizers after the lunch we had! Well, there was booze and eye candy in addition to the food: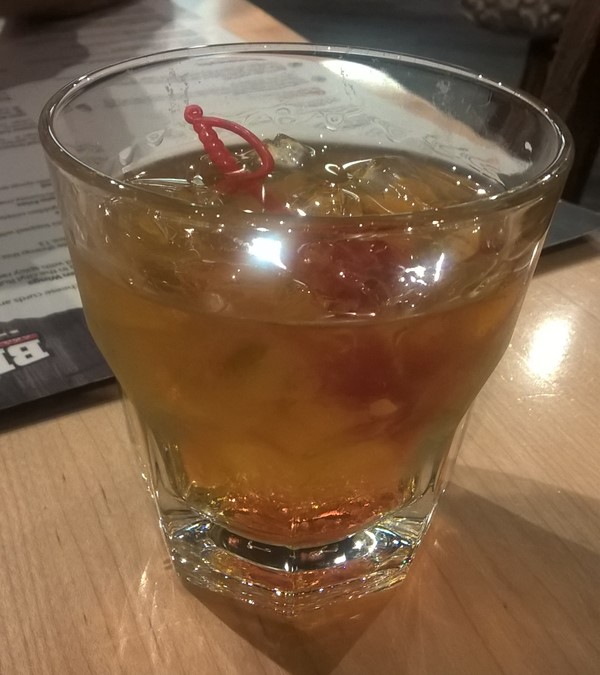 Seems the price hasn't changed since our favorite waitress is on shift again. These are the brisket, fried green tomato, and pulled pork sliders with onion rings and coleslaw.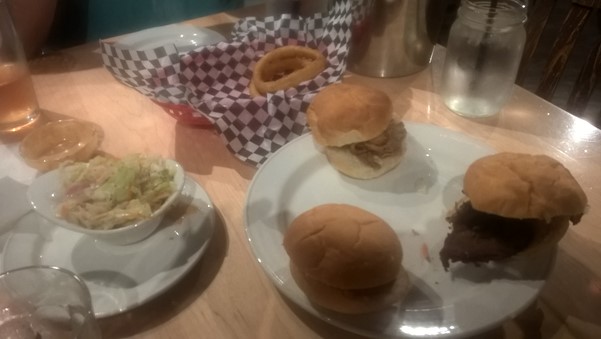 And the eye candy.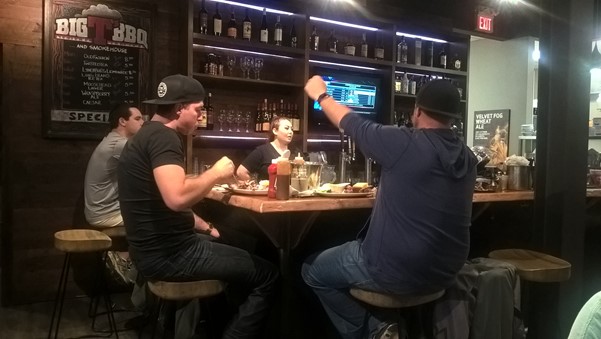 Our flight isn't until the late afternoon tomorrow, so we get to wake when we feel like it. Yahoo!
[218.0] And that was late afternoon!