The annual tradition continues – the multiple week Birthday Ramble. This year week one is in Cabo San Lucas. Total of three of us.
Salamander and I are travelling together with Roxy taking an earlier flight, but arriving in Cabo at the same time. Roxy misses out on The Board Room with his earlier flight, but with the size of Salamander's machine-made pancake, maybe he isn't missing anything: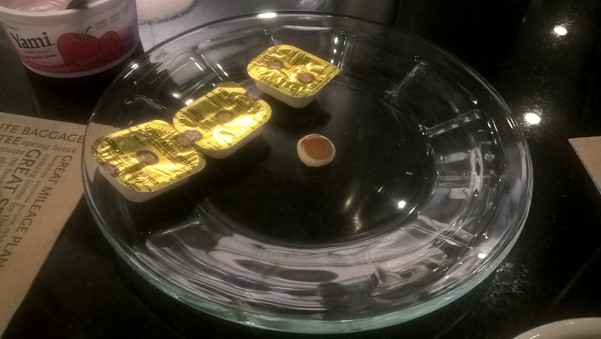 That's a lot of butter for that mini-pancake.
UncleMarkie's breakfast on the other hand…(with Salamander's in the background):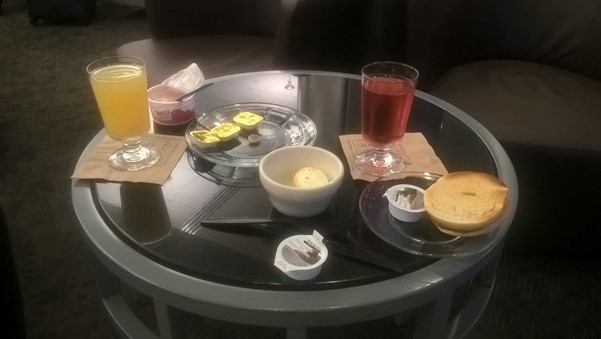 I got us upgrades on the way down, so we are comfortably in 1A (Salamander) and 1C (UncleMarkie):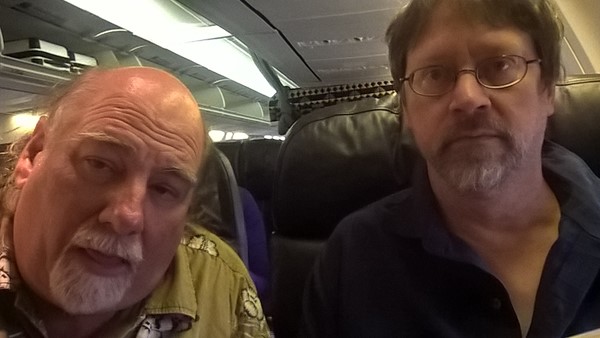 And it doesn't take Salamander long to look like this: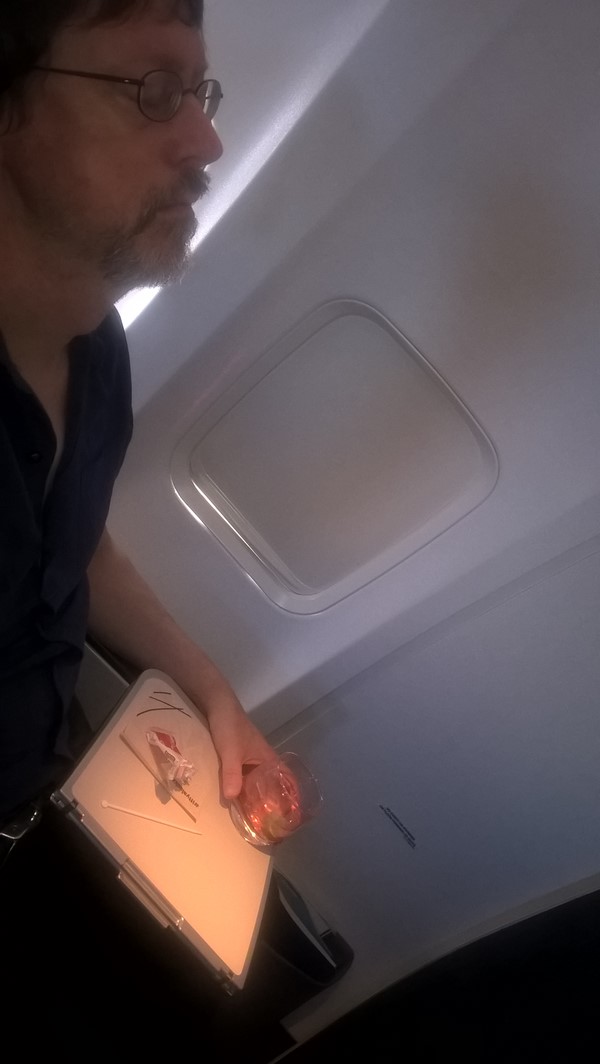 Maybe it was the cocktail – but he did wake up for breakfast number two: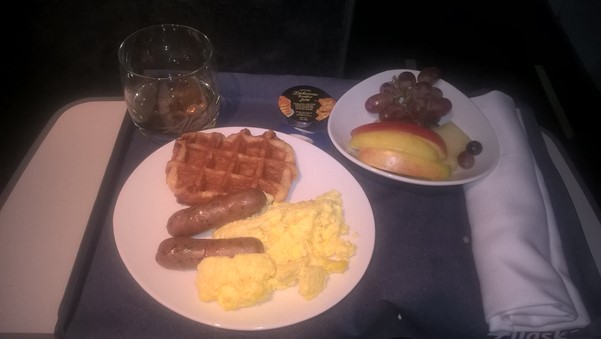 A little too much starch and sugar in the encrusted waffle (maybe I shouldn't have applied the corn syrup packet), but tasty.
Turns out we have a stop in San Diego, where there is no duty free shopping – good thing I put a "handle" of Evan Williams in my checked bag!
Back on the plane after the security pass – I had to snap this pic just before the door closed. Had we been in the back we would have had a TON of seats to ourselves: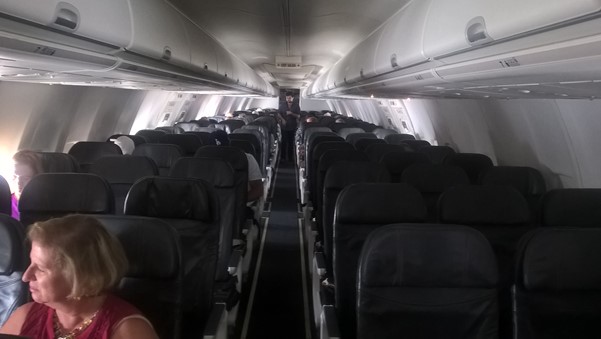 And soon it was time for lunch…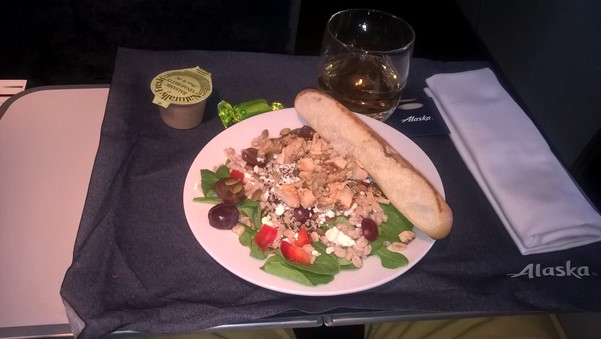 Ah, the joys of travelling up front!
Roxy met us after immigration (quick) at baggage claim – he's flying with just carry on, and we are out the front to find our driver – and before you know it, on the road with a pretty full van of other people headed to Coral Baja: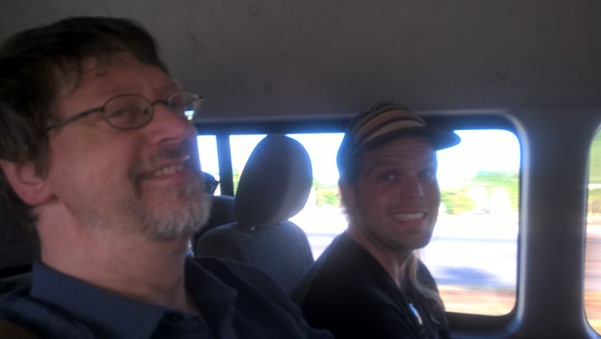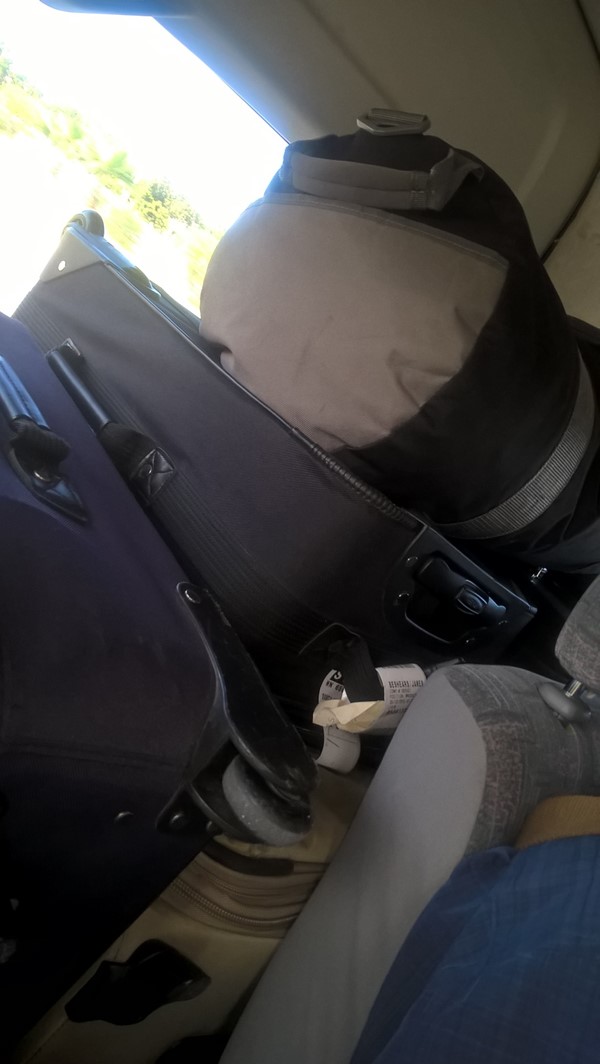 After a hellishly long check in process (made better my free watered down margaritas) we are off to the 3-bedroom penthouse, our home for the next two nights: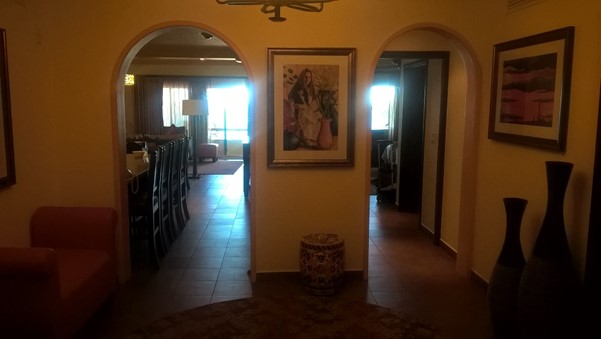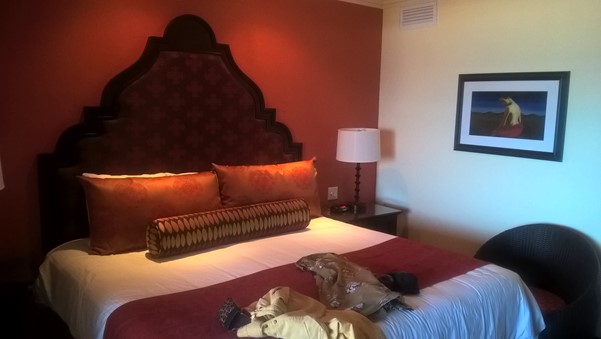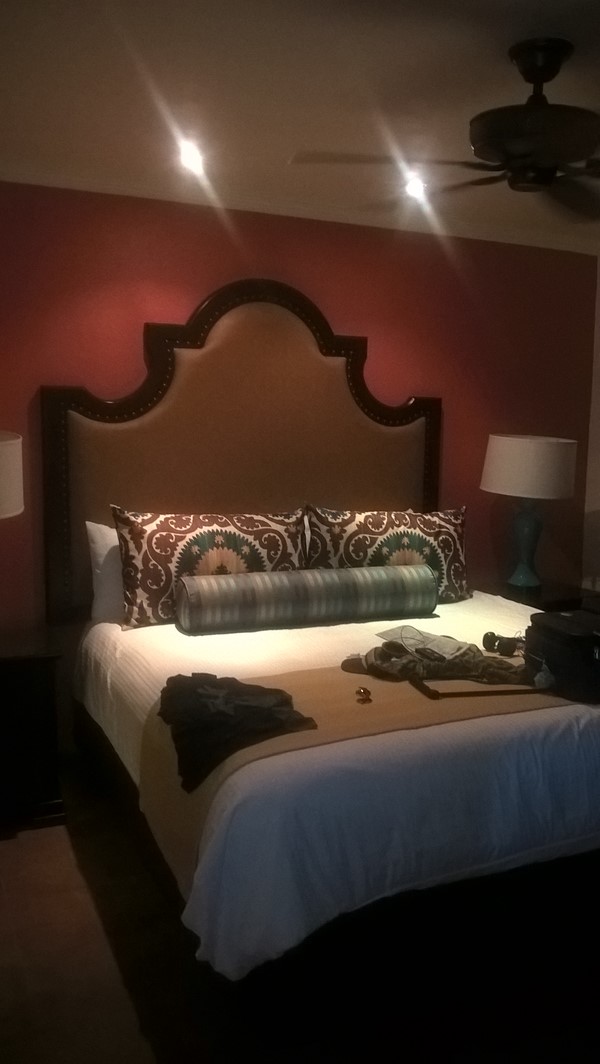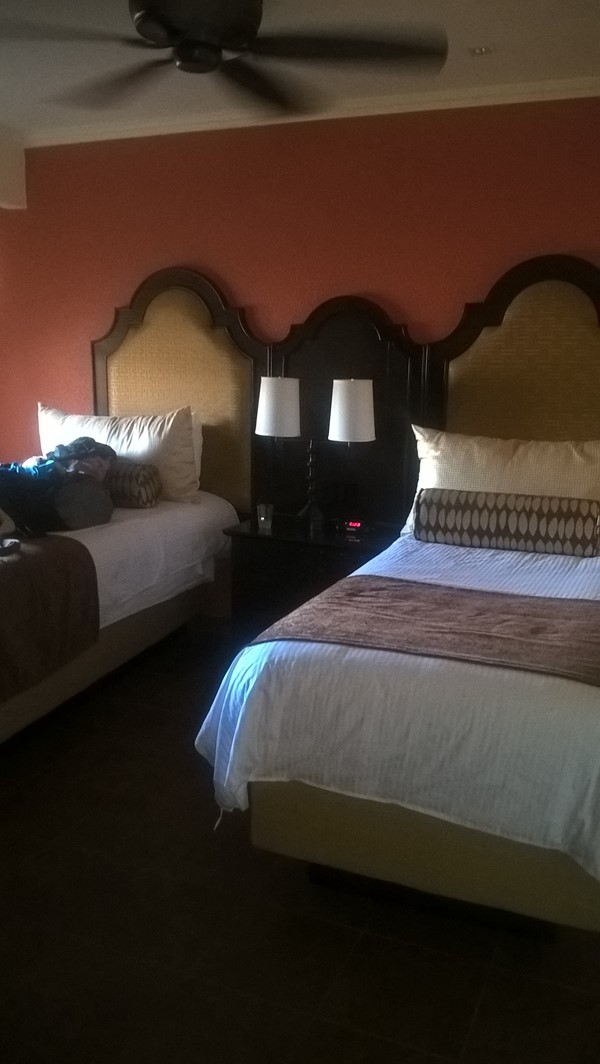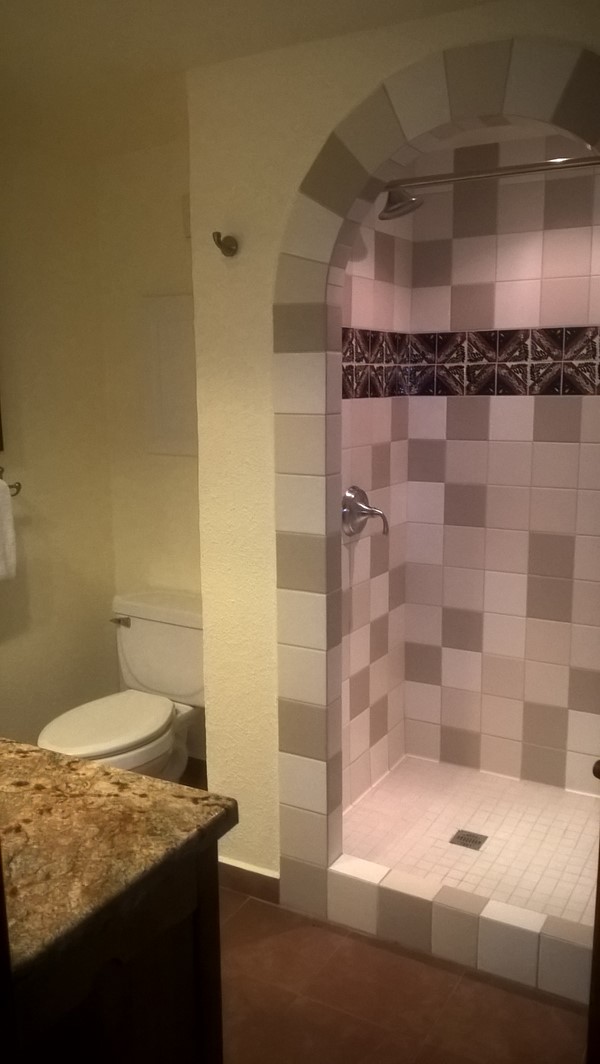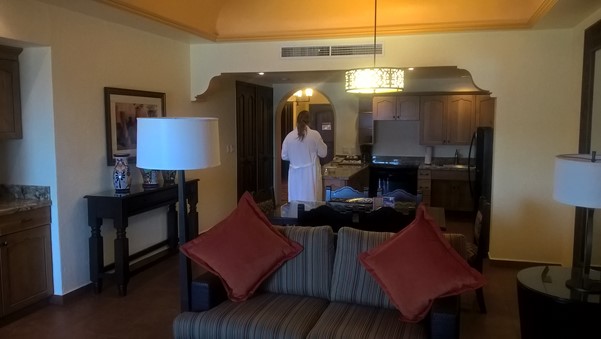 And then, there is the view… this doesn't suck!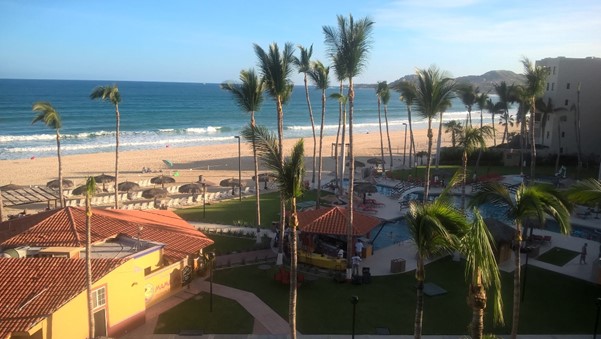 Dinner night one was room service from the on-site restaurant – we were all beat up from the early morning.
Did I mention that we had our own private hot tub…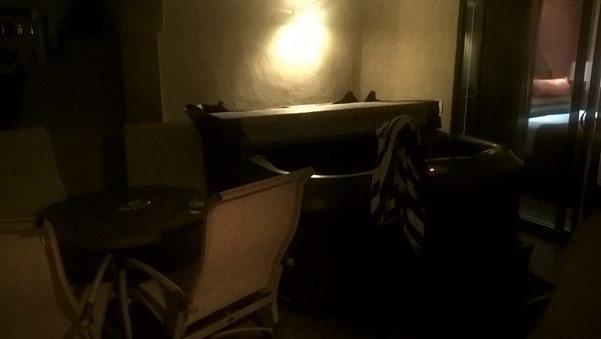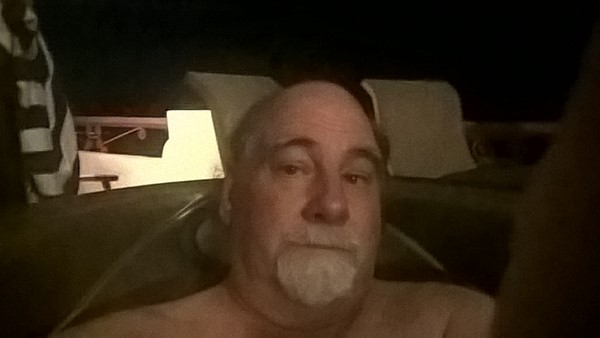 And that you can order a full moon from room service?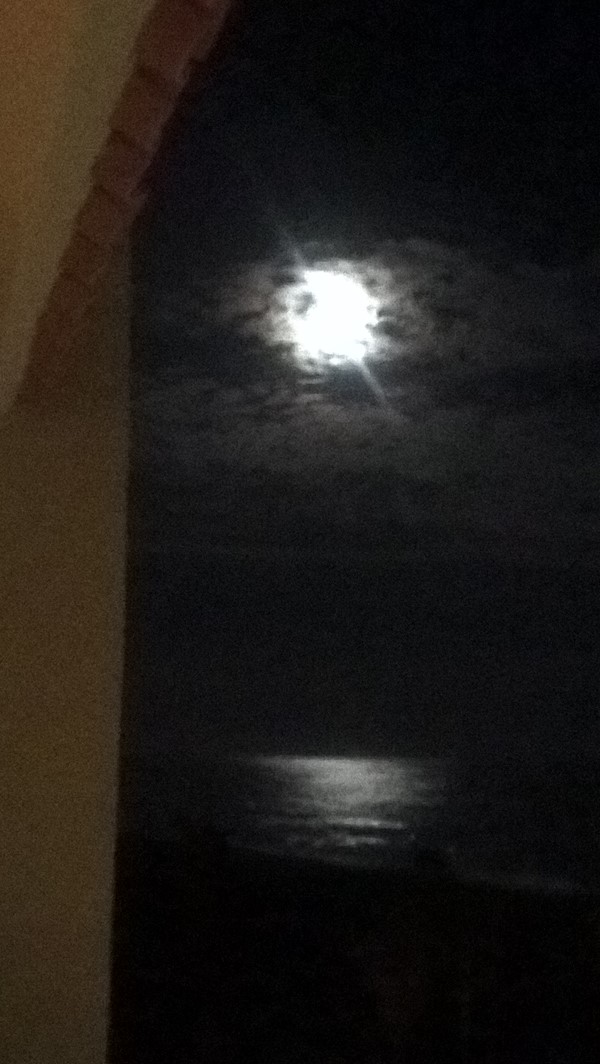 The night hot tub view!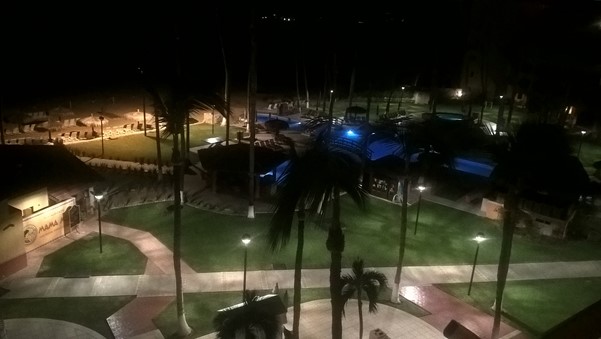 Terrible admission – there were no groceries in the unit so we headed out to the former MegaMart, now a LaComer after the hurricane a couple of years ago – but I was hungry – hungry for hot red head!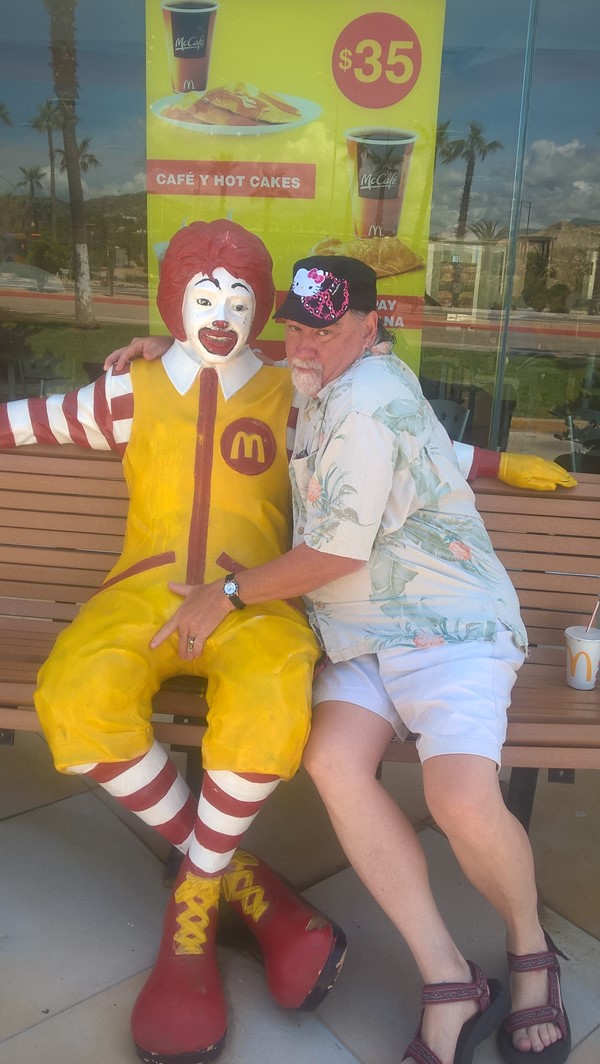 But shop we did…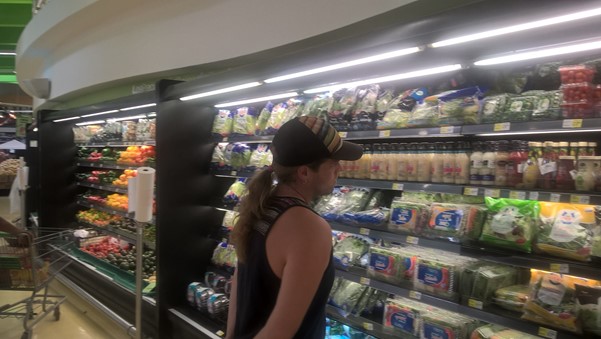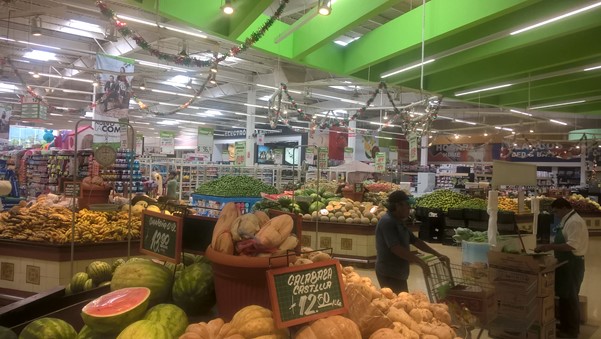 Mixers, booze, refrigerator (we passed on that), eggs, fresh tortillas…. And next to the sex shop next to the market, a wine shop!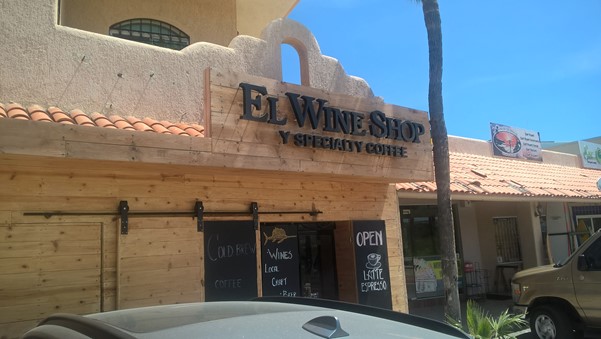 I did stop in, but I'm running with a cocktail crowd this week.
Hopefully we won't end up like El Gordo (the fat one), who died between the store and the condo: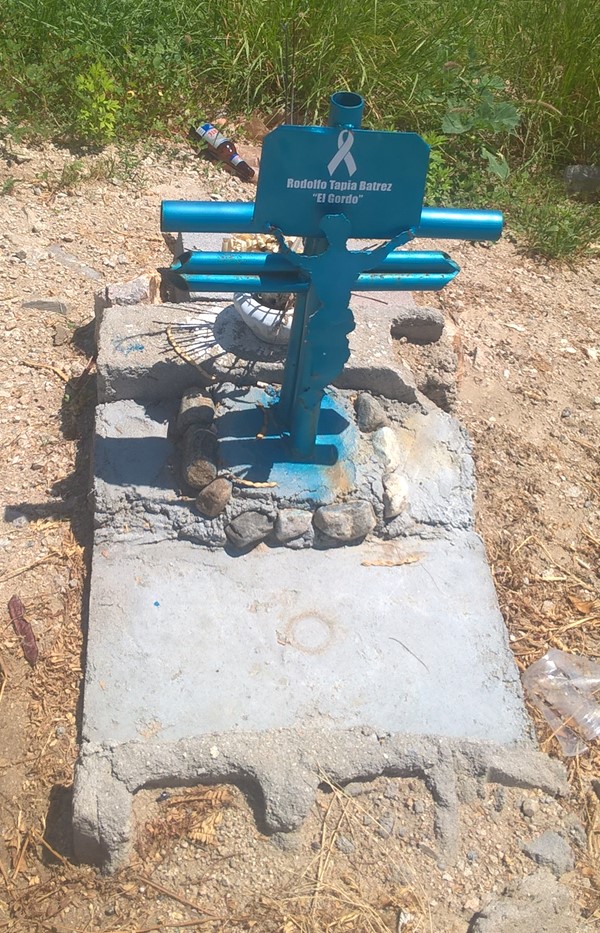 To be honest, it was 90+ degrees out and we had the A/C cranked, and were mostly running around in robes. Me, I have my Bernie doo on.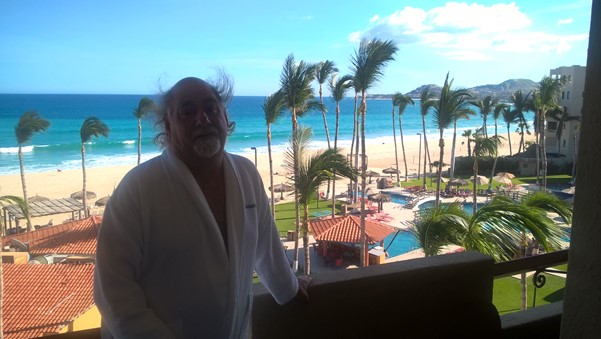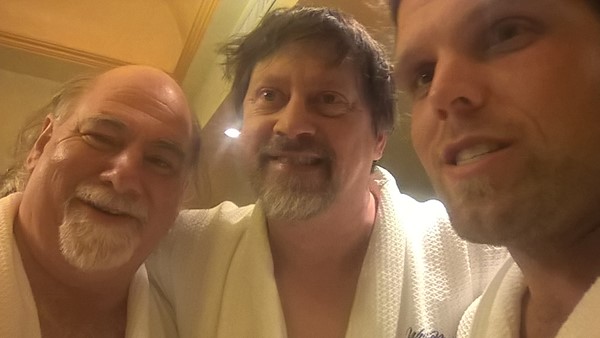 I'd been hoping to find the TackyT-ShirtPrincess a shirt from the market on the highway outside the condo: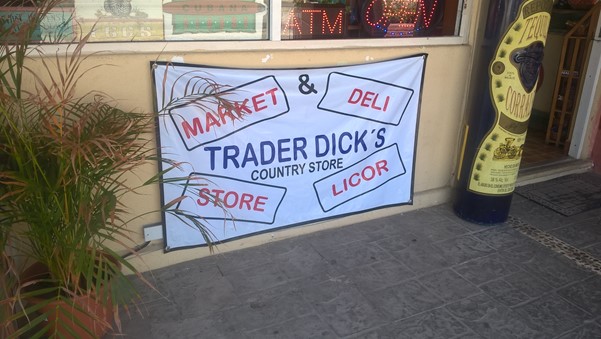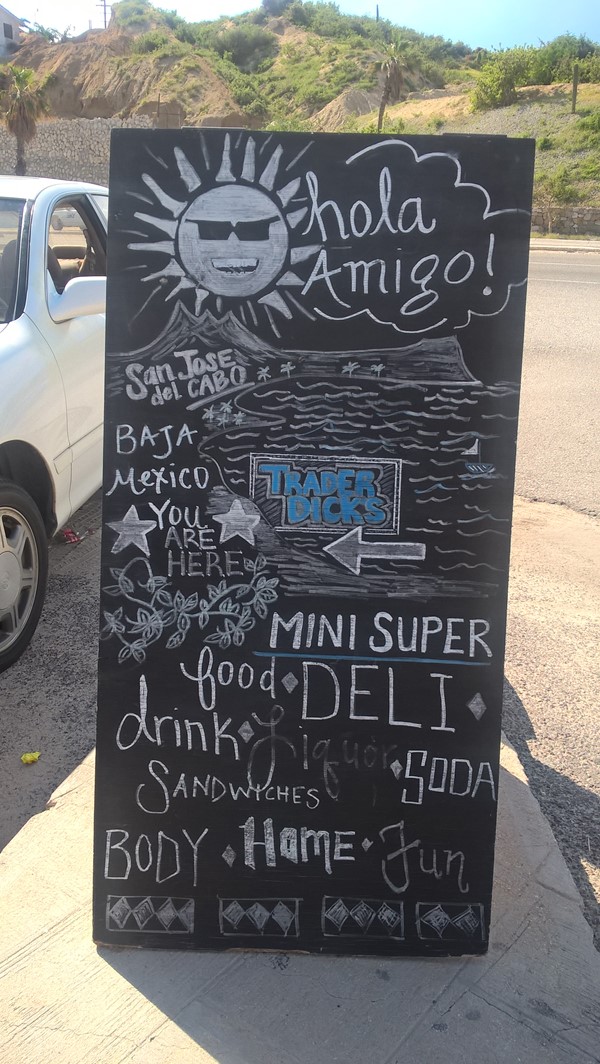 This place used to have a ton of stuff – a deli, fresh pico de gaia, the works, since the hurricane, it's now lame, though I did buy some Mexican Brandy the last night of the trip as we'd exhausted all booze in the condo. I was hoping to find a t-shirt in a women's medium for her to match the one I bought years ago and had to dig up and take a photo of: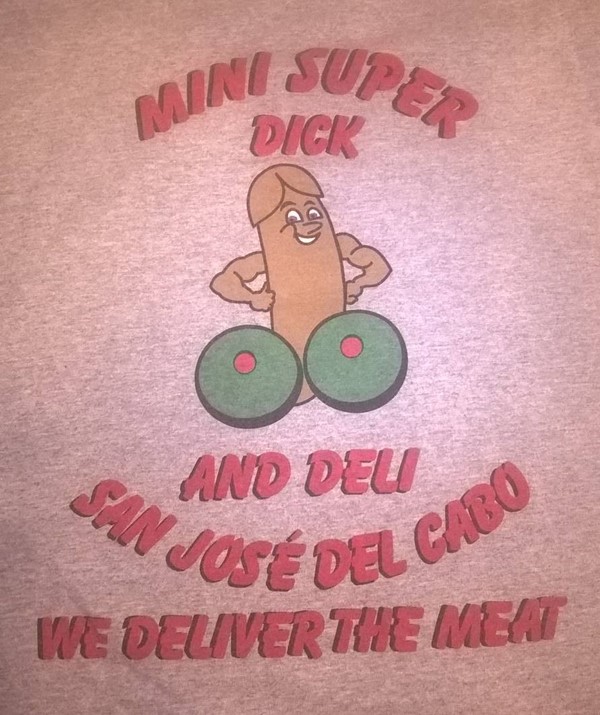 Alas – nothing close to it, and the shirts they had were $20USD. Sigh.
After two nights, we "downgraded" to the 2-bedroom penthouse, which I found larger and I loved the rooftop hot tub and tanning deck area – see what you think.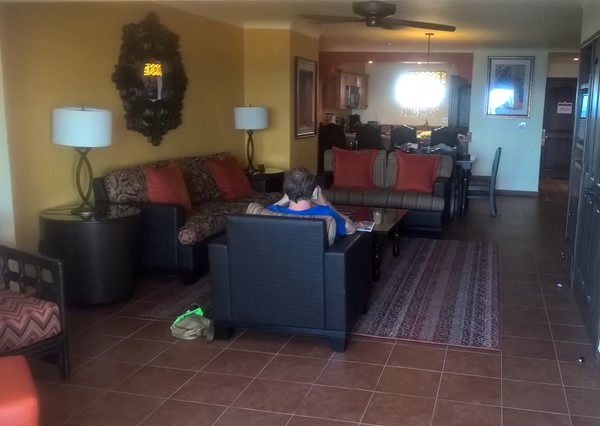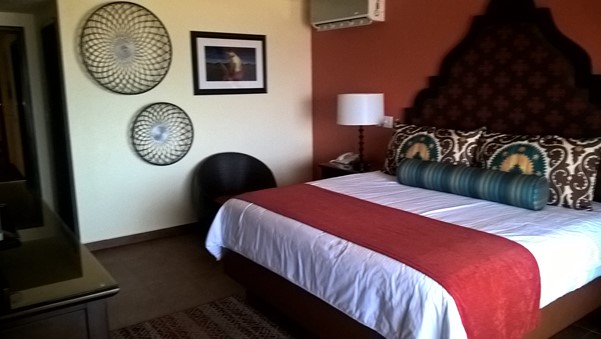 And then the spiral stairs to our private roof top deck: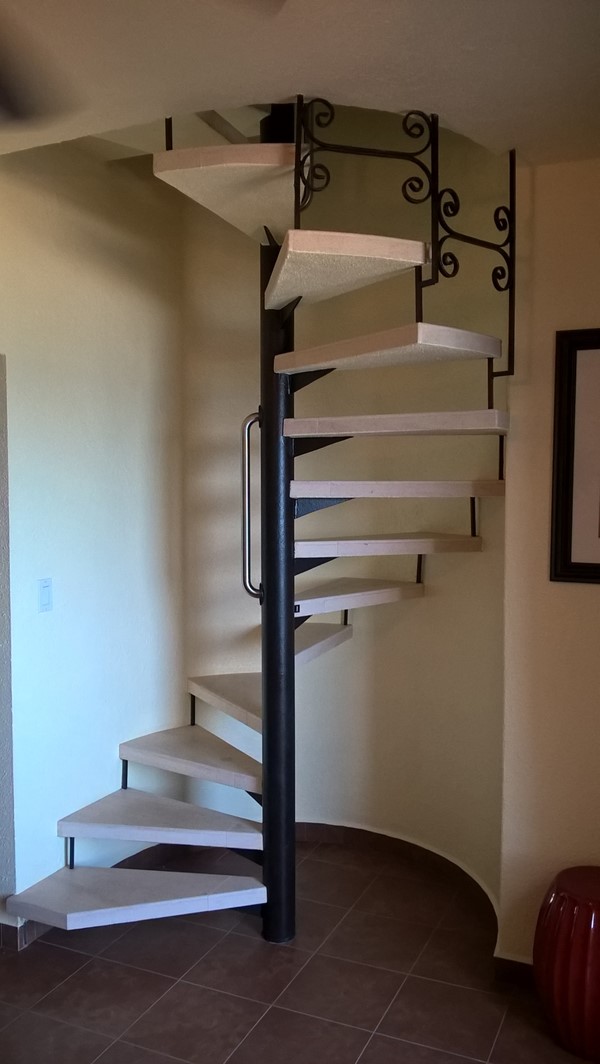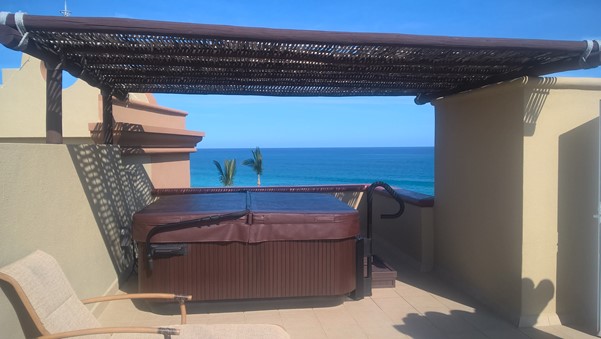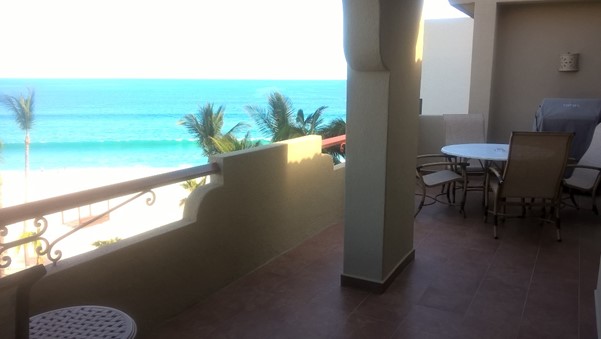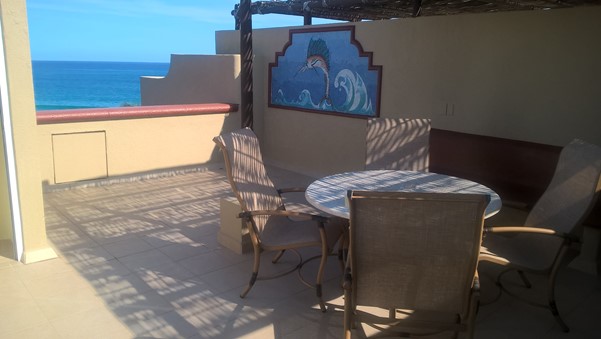 If you want the walking tour of the place, here it is:
Did I mention the brand new looks like never used BBQ?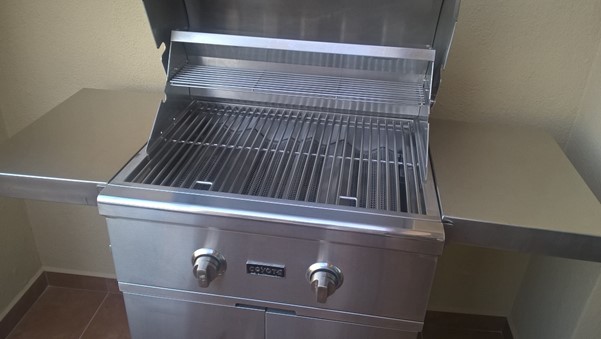 And we used it!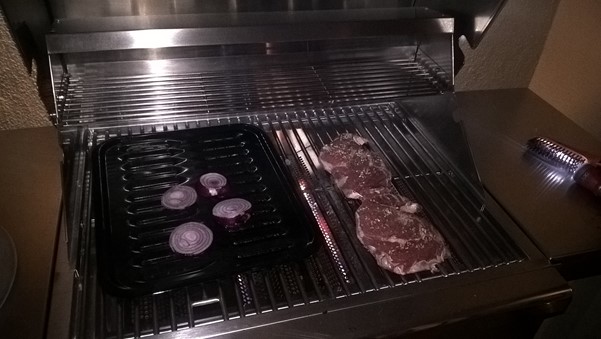 Rib eyes and onions on the grill!
And now just some random photos of how we spent our week doing nothing, I say NOTHING: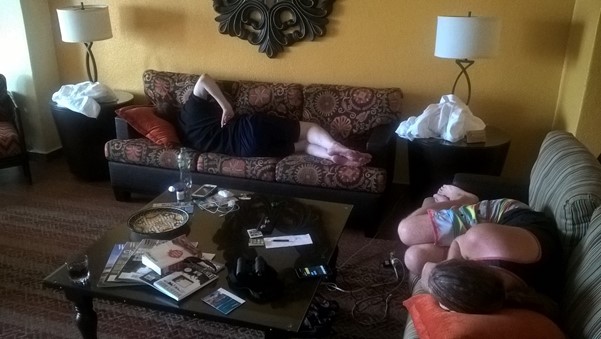 OK – we did a little more than lay around! There is drinking and tanning to do.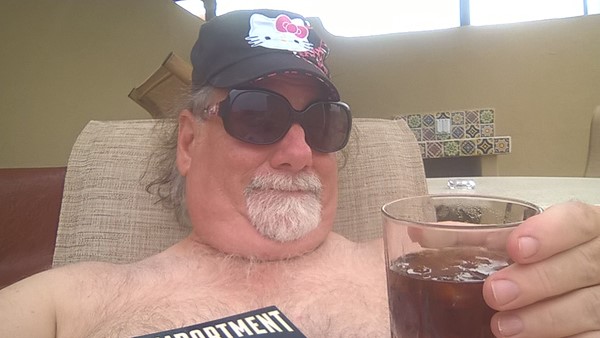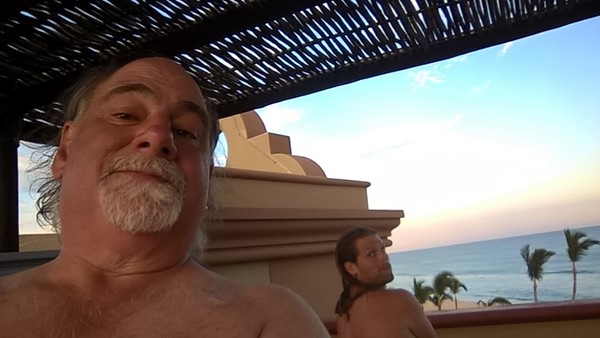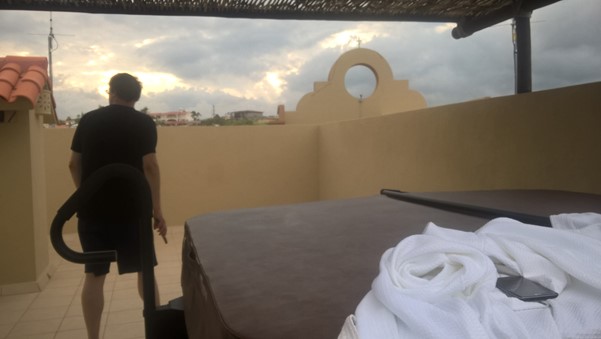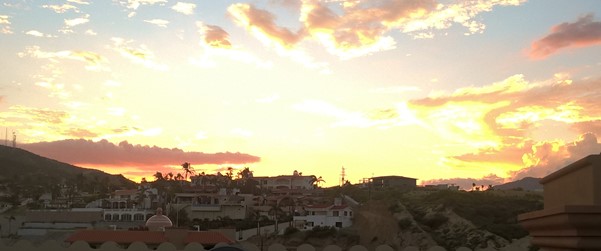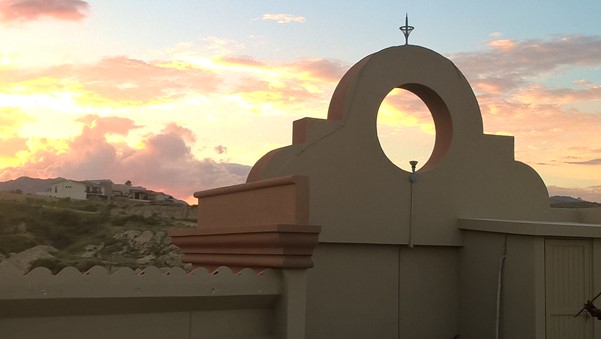 Why leave to penthouse when you can watch them releasing baby sea turtles into the high surf: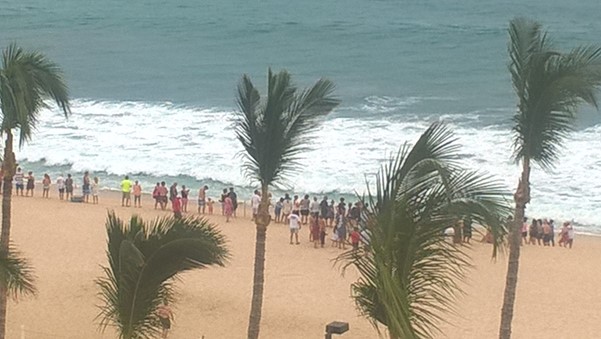 And eavesdropping on a wedding!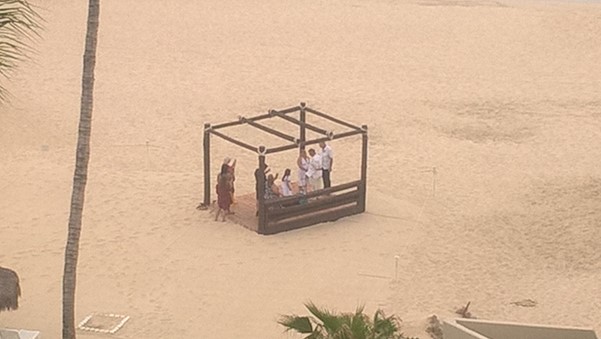 And there was eating as well….pupu platter…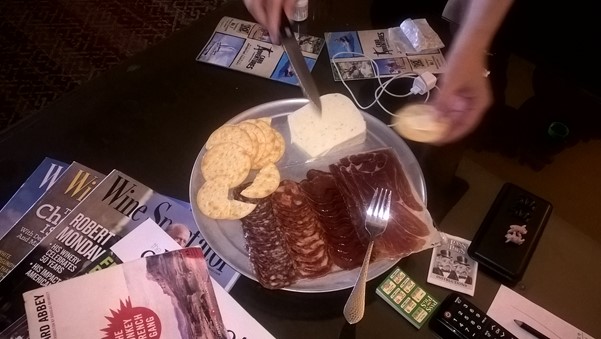 Scratch-made chicken tortilla soup: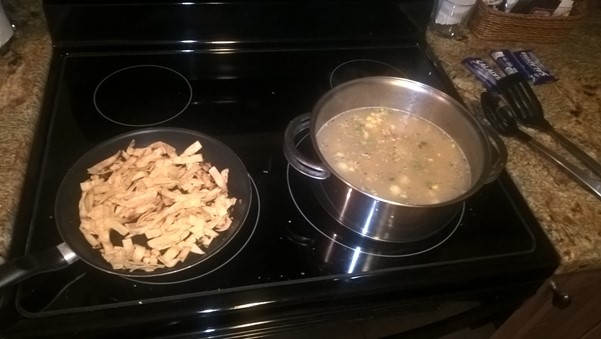 And because you need things you didn't bring, you improvise. Hot chili sauce made from four packets of ketchup from the first nights room service, combined with the red chili flakes and some garlic powder in the spice rack: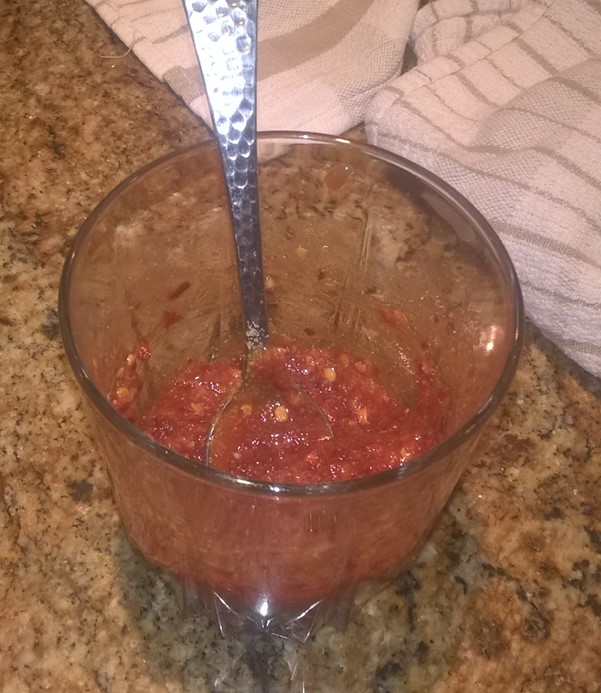 Need breading for fried fish? Crunch up the crackers that came with my octopus ceviché afternoon snack (yes, we did eat out twice in the week):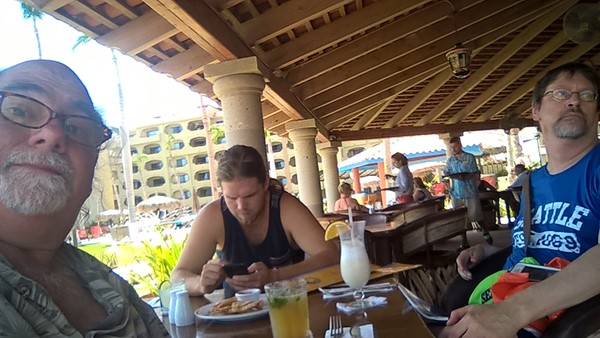 Crumble those crackers! And no, we aren't talking about the upcoming election.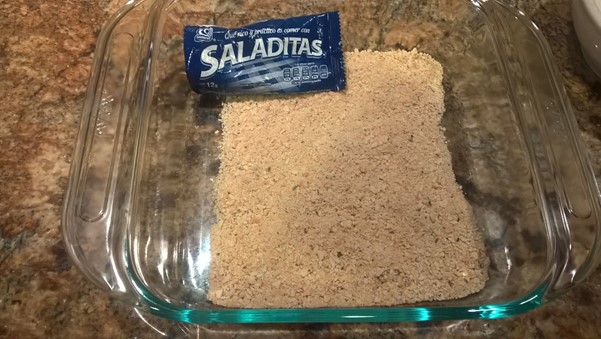 Whip an egg, batter the fish, and fry!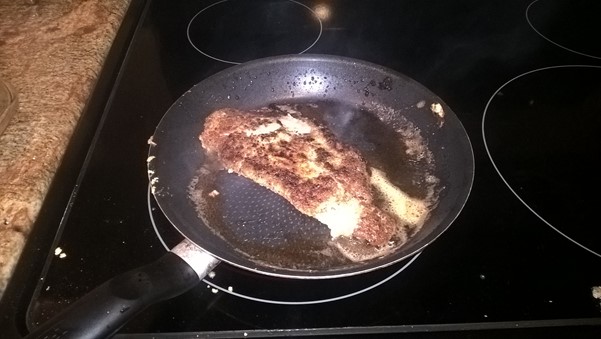 I could blame it on the heat, but we didn't do ANYTHING tourist related. No walk into San José del Cabo, no bus ride to check out Cabo San Lucas, we only did grocery store runs for more supplies – and in the end we were taking the cab (100 pesos, basically $5 USD each way) to the store.
I barely finished a book, Roxy only got one more chapter done in the book he started when we were at Whistler two summers ago. Yep, slugs.
Sunday we headed home on different shuttles – Salamander and I early, Roxy later.
Did spot the cool American Airlines Piedmont Airlines livery at the Cabo San Lucas airport – sorry the shot isn't better: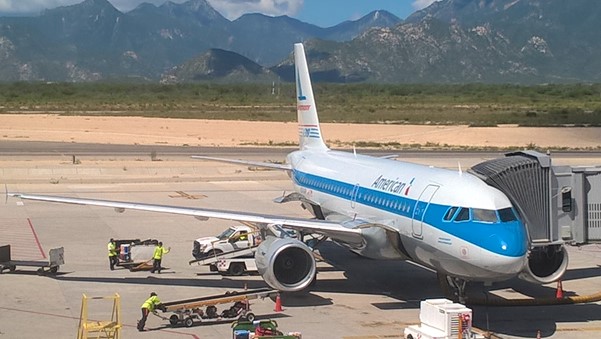 Salamander and I managed (after a Wi-Fi call to the US – got to LOVE T-Mobile!) to get upgraded to First on the Cabo to Los Angeles leg, which included a chicken (never found it) and rice lunch: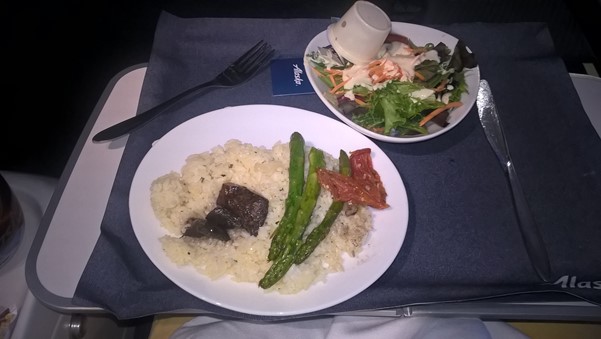 No upgrade on the LAX-SEA leg, but we had lounge access for more free food and drink: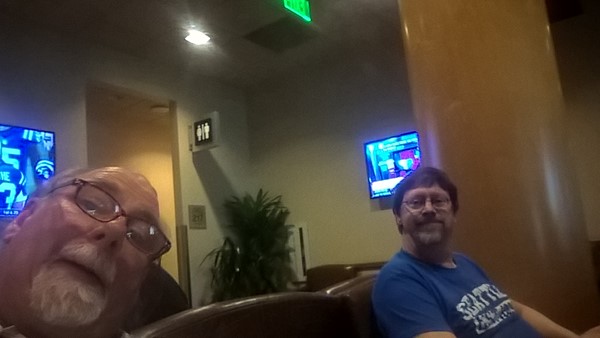 And before we knew it, Salamander had his bag and headed for Light Rail, I was waiting to see if my hard-side came out on the regular belt or the "oversize" (because it looks like an OtterCase filled with expensive equipment).
Stay tuned for Part Two of the Birthday Ramble, but first I have to work a couple of days.
[213.4]