Who doesn't want to go to Saskatoon for a couple of hours! It's really just about the journey, not the destination. Rache and I are going on a train ride! Actually TWO train rides, one short (to Vancouver), one long (Vancouver to Saskatoon). You might ask why not Edmonton (would require a hotel room either two or from because of when the trains arrive/leave), or Winnipeg (same reason), or Toronto (it arrives Saturday, and this week I'm also working Friday). The train from Vancouver arrives at 8am in the morning (assuming it's on time), and we have a 3:20pm flight to MSP, then SEA. Enough said.
I really wish Amtrak's Cascade Service had a mid-day train. Our only choice was the 7:30 departure which gets us in at noon, and our ViaRail connection isn't until 10:45.
Don't I look happy on the train:
It's a little better once we are on the train and I have a little food in me, but…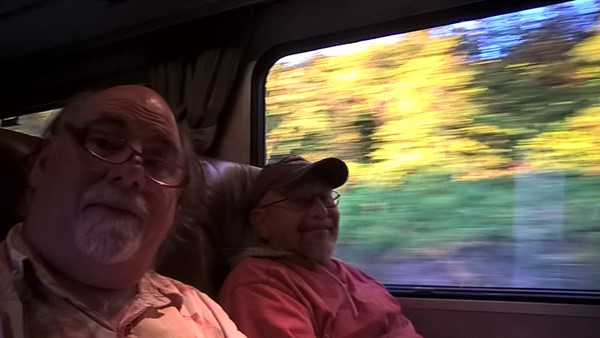 Lovely fall colours (since I'm headed to CanadaLand I'll get a head start on the spelling):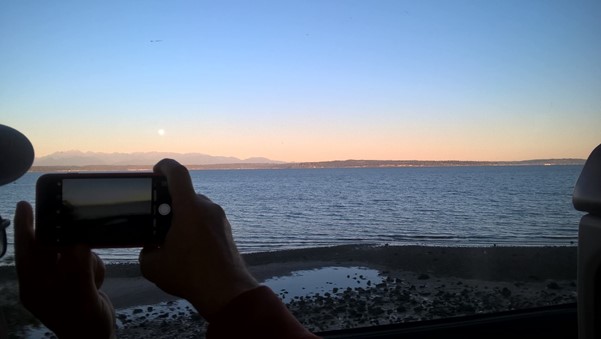 Here is a shot of the Vancouver train station. Sorry for the lighting…j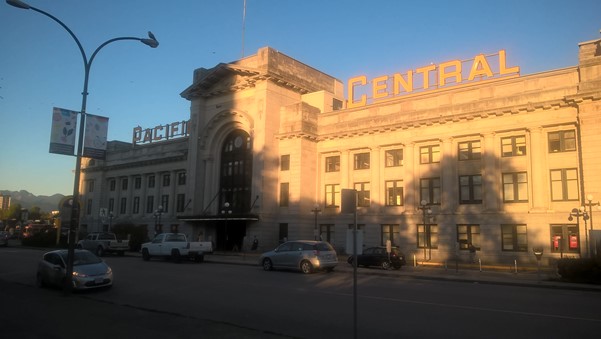 We need food, so we head in the direction of China Town which I'd never really explored – found this piece of street art made more sinister by the shadow of my hand – I'm seeing a theme here!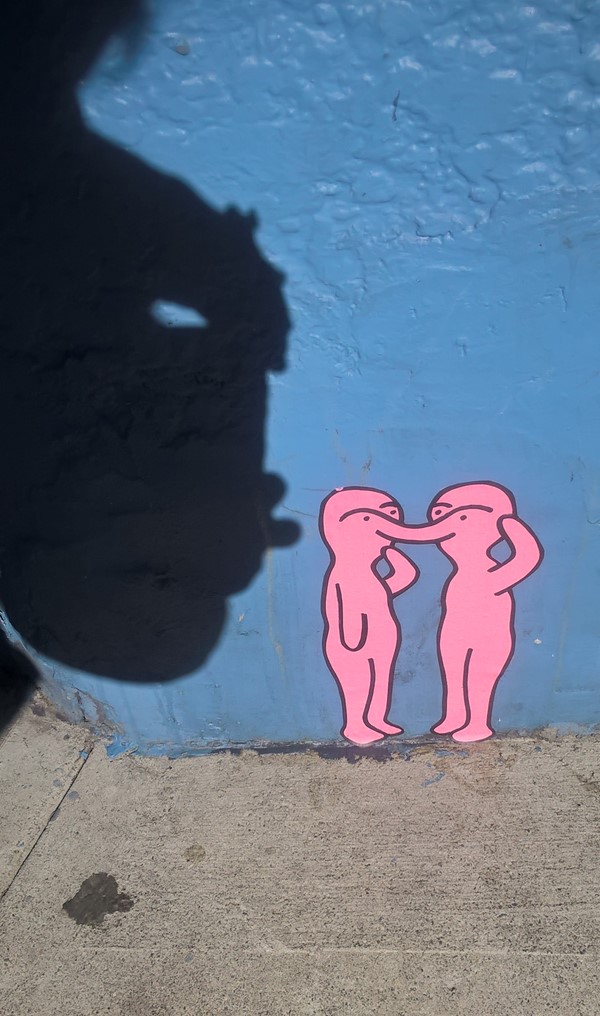 We walked, and walked – what we were looking for was a sit-down, service, bar, nice lunch. It wasn't in China Town, but there were enough street junkies and people shooting up, hanging out, offering us drugs, that I was glad it was noon on a sunny day with lots of cops around.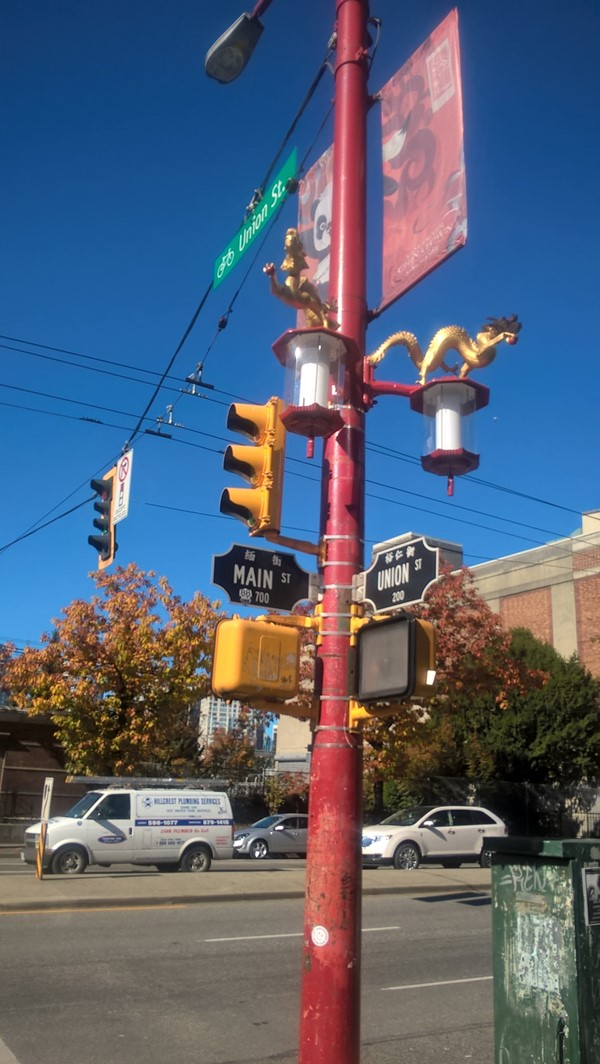 An hour and a half later – stumbled into Per Se Social Corner and settled in for a cocktail for me, and a beer for Rache: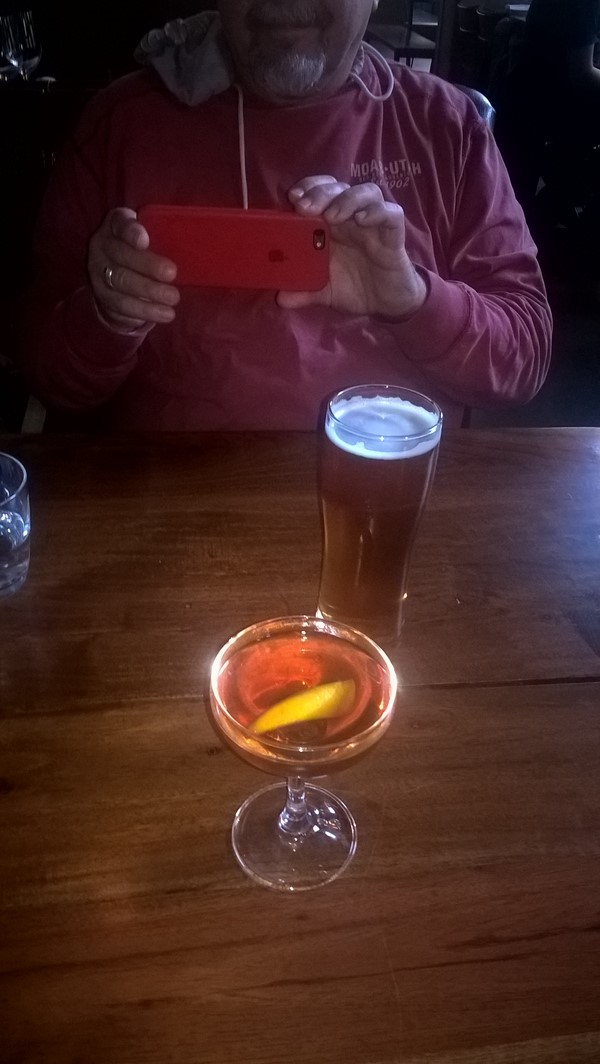 Before settling into our shrimp and vegetable linguini with flatbread and salad: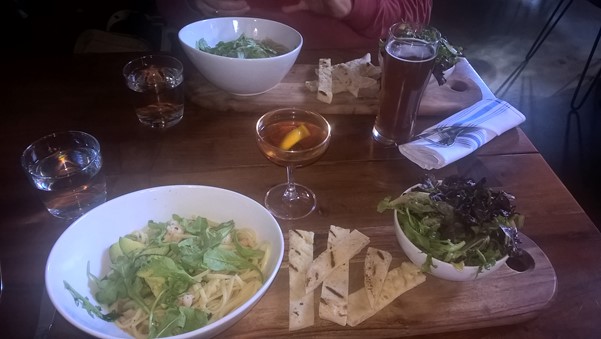 Wonderful presentation – and on the lunch menu the food was $14 CAD each, my drink was $12 CAD – and the booth was comfortable and the bathrooms clean.
After our leisurely lunch, MORE WALKING – YES, ME. Passed by the Law Courts, spied the WorldMark Vancouver, passed three JapaDog stands, ended up at the Waterfront near the Cruise Terminal.
Random Vancouver tourist pictures….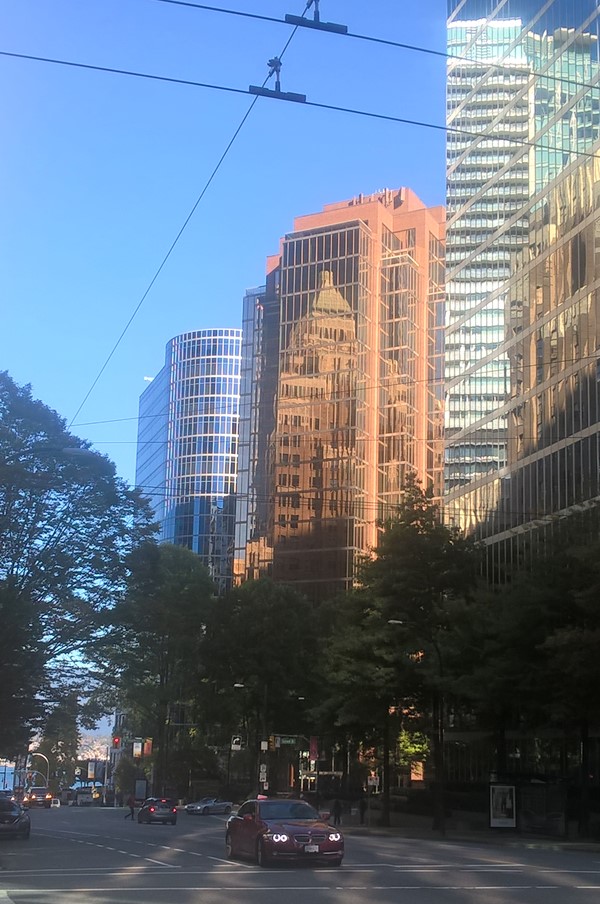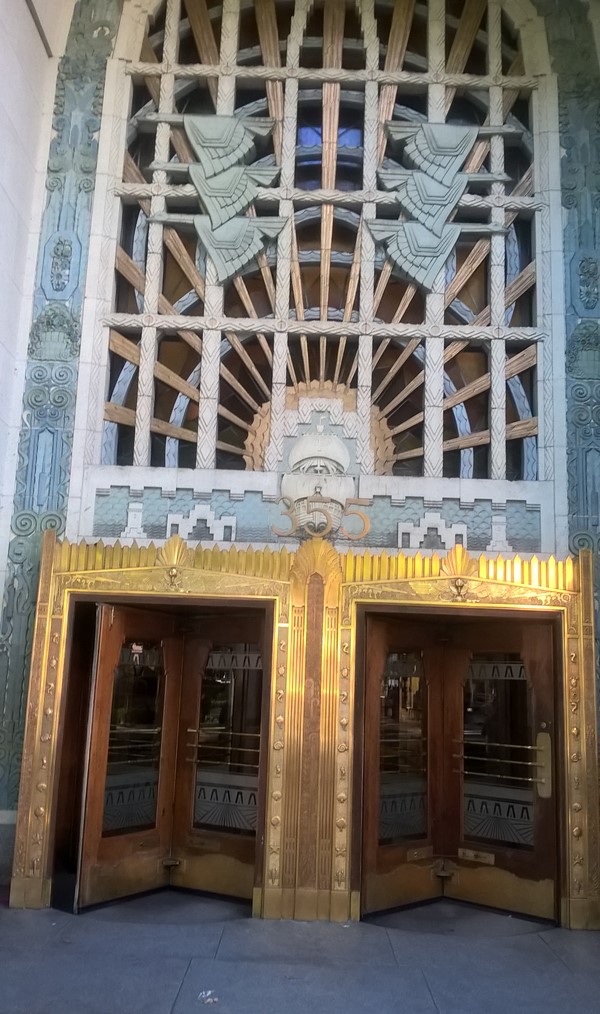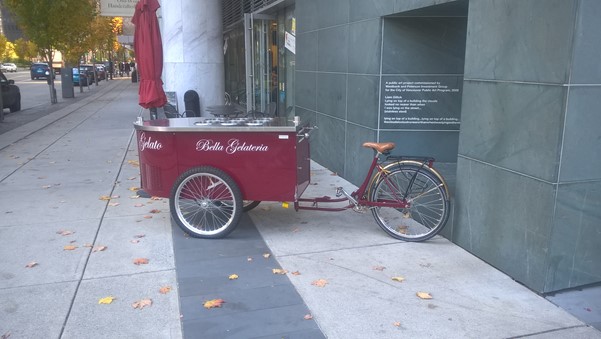 Decided to take a ride to North Vancouver on the ferry. Neither of us had ever been, and at $4, seemed like a great way to kill time even though the transit was under 15 minutes. Man, they have loading and unloading down to science!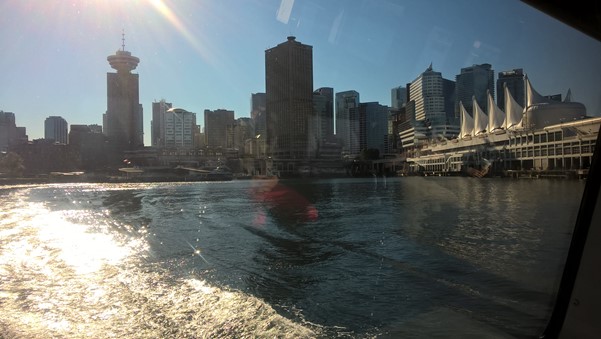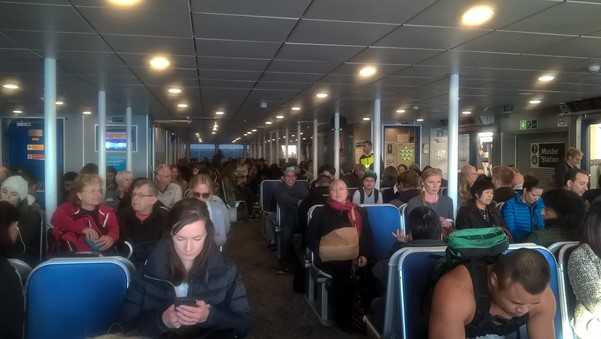 Since it was after three at this point in the day – HAPPY HOUR – and we found one in the Harbour (those crazy CanadaLand spellings) at the Tap and Barrel: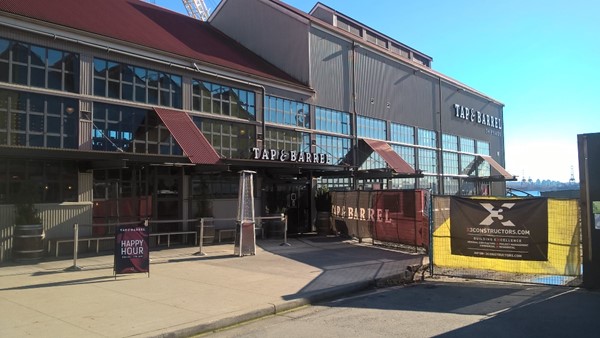 It was a HUGE space – look at the Keg Room!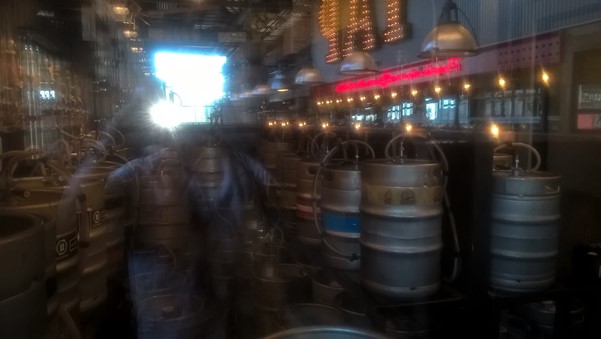 And the bar area (dining area is at the far end, upstairs to the right are private function areas):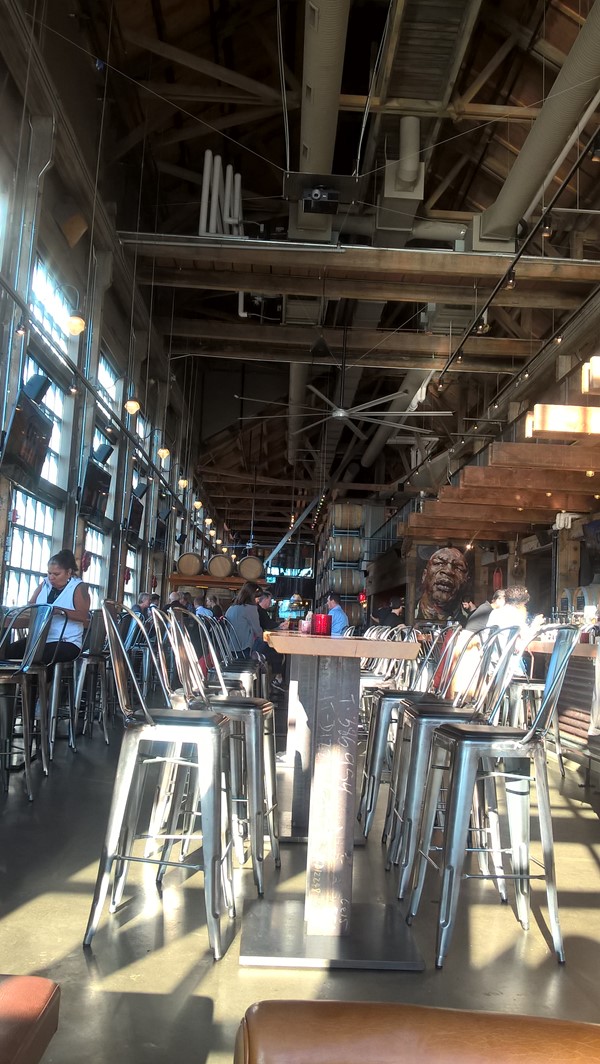 And it really is about wine and beer (but with a full bar). The barrels are the wine taps, the stainless steel, the beer: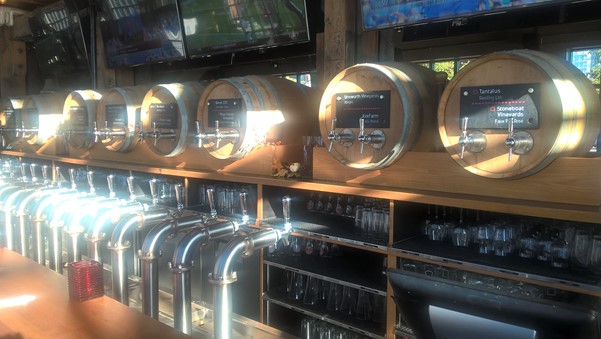 I ordered a Happy Hour highball (Rye and Diet Coke) for $4 (CAD) for the 1oz shot (they are a little skimpy with hard liquor in CanadaLand), Rache went for the $10.50 beer sampler: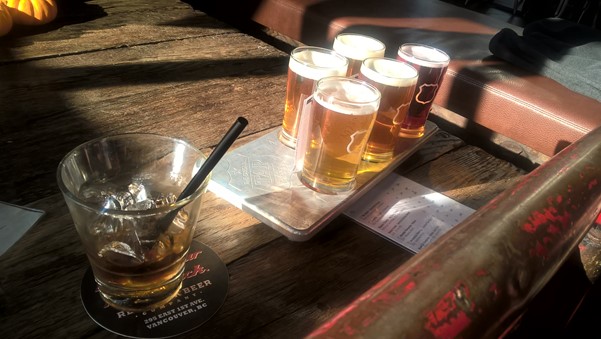 And who can say no to deep-fried pickles (well, Roxy could – he hates pickles and anything else sour, except for me):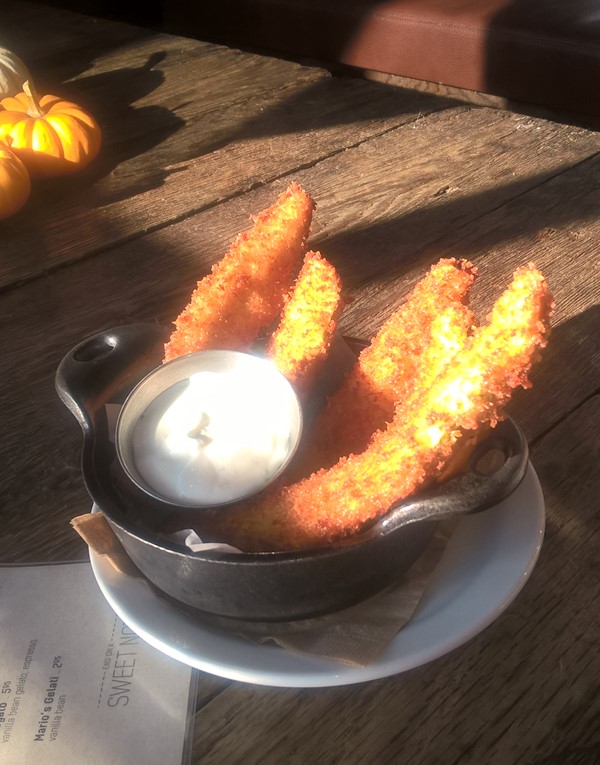 It was easy to kill time in the only two cushy club chairs in the place – right in front of the non-running fireplace.
And the two random photos from the dock area of North Vancouver – two signs: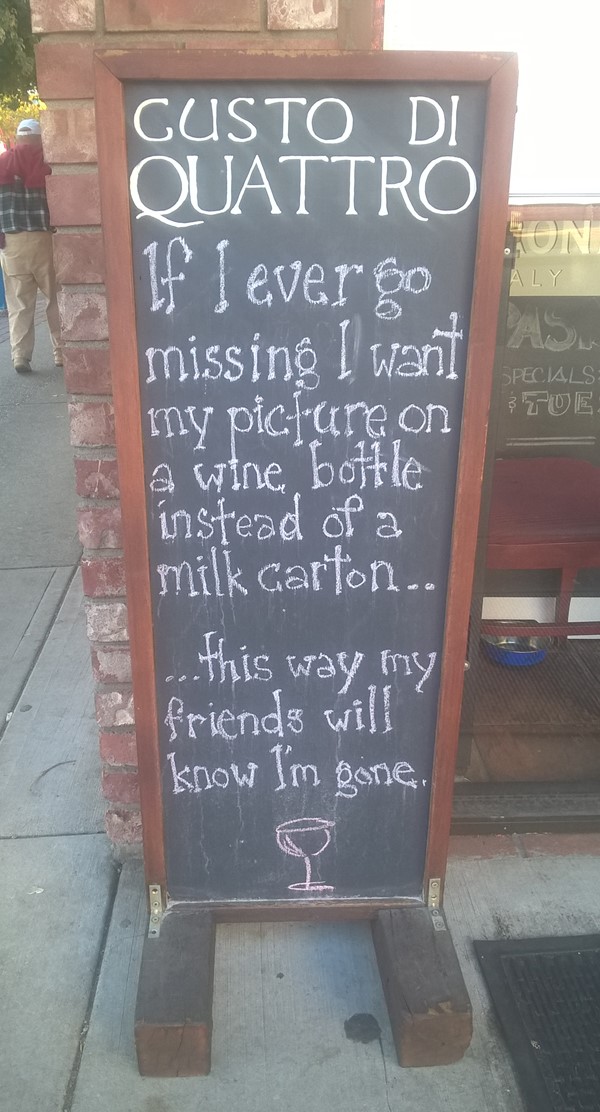 As for the upper one, self-explanatory, the one below, just because it's a sign for a Green Market with a planter of dead plants, both of these The Tacky T-Shirt Lady would love.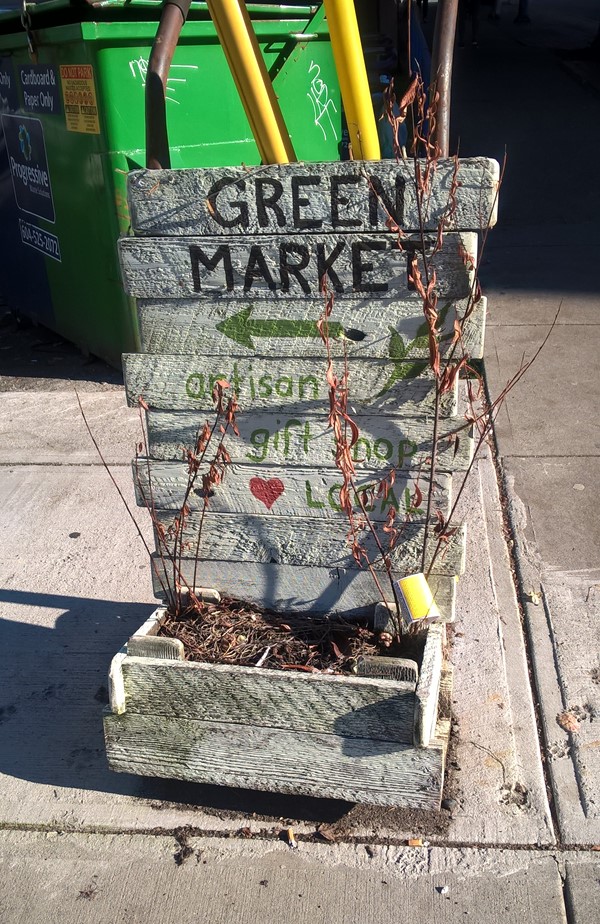 Here was our wondering journey this afternoon – if you look closely you can see the miles and steps on the map (dashed line = public transit):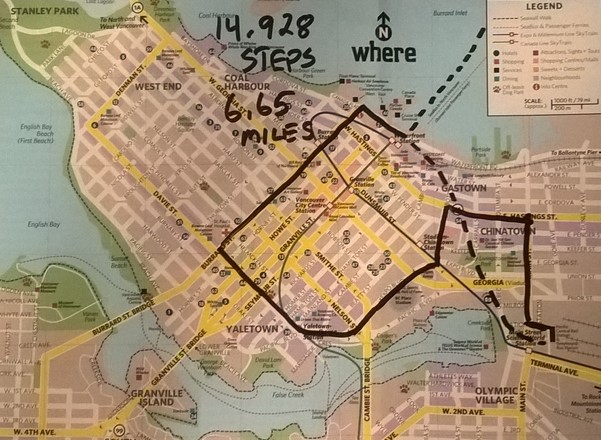 What, were we (NOT) thinking!
[? ? ?]