Gentle Reader: no, I am not still in Saskatoon, I'm just tardy posting my progress. But here it is, however delayed like many of my flights….
We arrived into Saskatoon an hour and a half late – something I'd anticipated when I booked a late afternoon return flight to Seattle via Minneapolis. Personally, I'd have rather slept in.
The first thing that struck me about the Saskatoon ViaRail station was the stark Soviet-era Brutalist architecture. Wikipedia claims that the 1964 station was built in "The International Style", looks pretty Brutalist to me.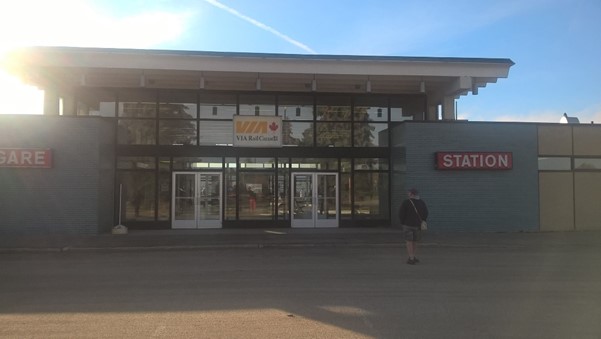 When I mentioned this to Rache – his comment was, "I was just thinking that."
At least the cab was modern: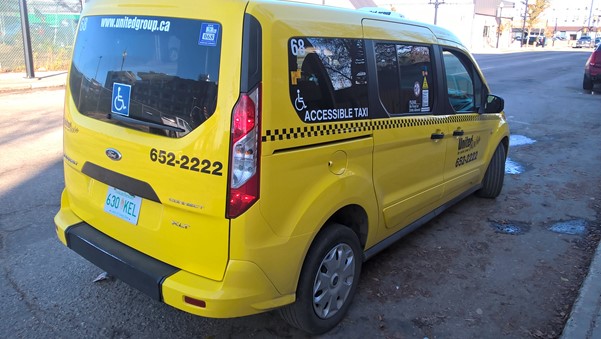 Our driver was a laid off millwright reduced to driving cabs to put some food on the table.
Our next problem was getting into the town from the prairie-side station – a 20-minute delay for the world's longest grain train: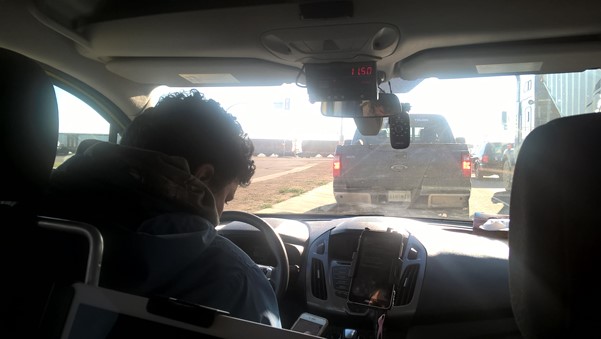 The plan was to go to the 9-Mile Legacy Brewery and find a breakfast place until they opened. More brutalist architecture – but at least we found ourselves in Saskatoon's hipster neighborhood – I was surprised there was meat on the menu. This would be Drift Sidewalk Cafe. The interesting thing about doing the research for these posts is when you start looking into the history of the neighborhoods you are visiting, in this case, one of Saskatoon's historically poorest neighborhoods – hence, where artists can afford to live. More information here: http://thewalrus.ca/reviving-riversdale/. It's actually a well written article about the city, it's politics, it's aboriginal legacy issues…but back to the Drift. Decent sized menu, all a little on the "odd" side, often filled crepes: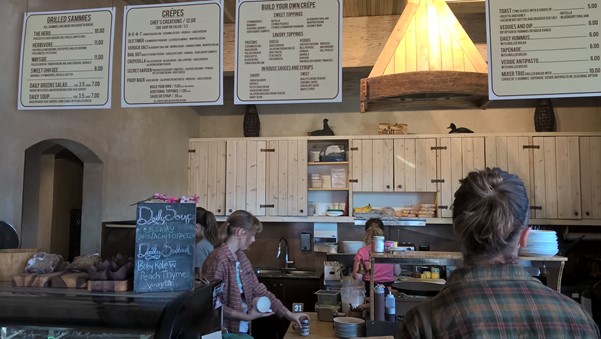 Look at that sexy ManBun!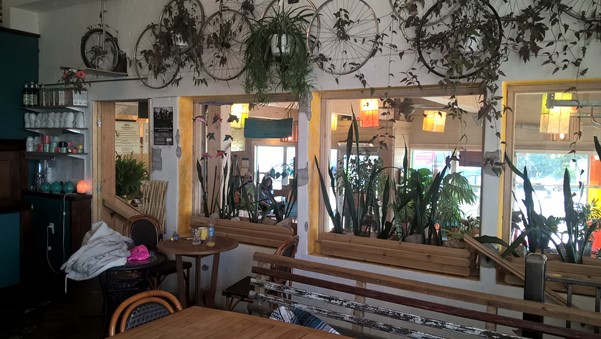 I had The Hero (prosciutto, aged cheddar, dill pickles, maple aioli):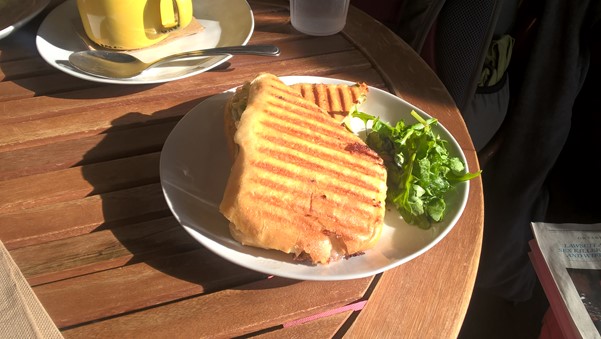 Rache had the B-E-A-T Crepe (tomato bacon jam, scrambled eggs, arugula, aged cheddar) with a cup of broccoli soup: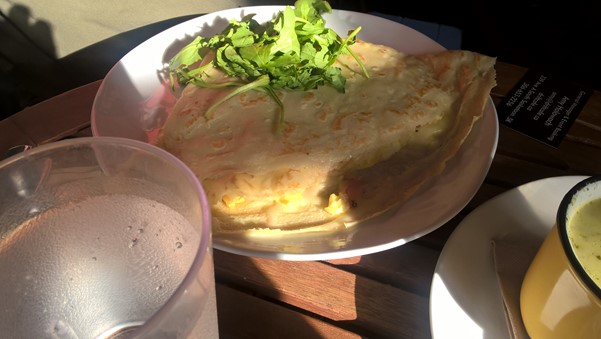 By the time we were done, it was time for the 9 Mile Legacy Brewery – and their friendly crew: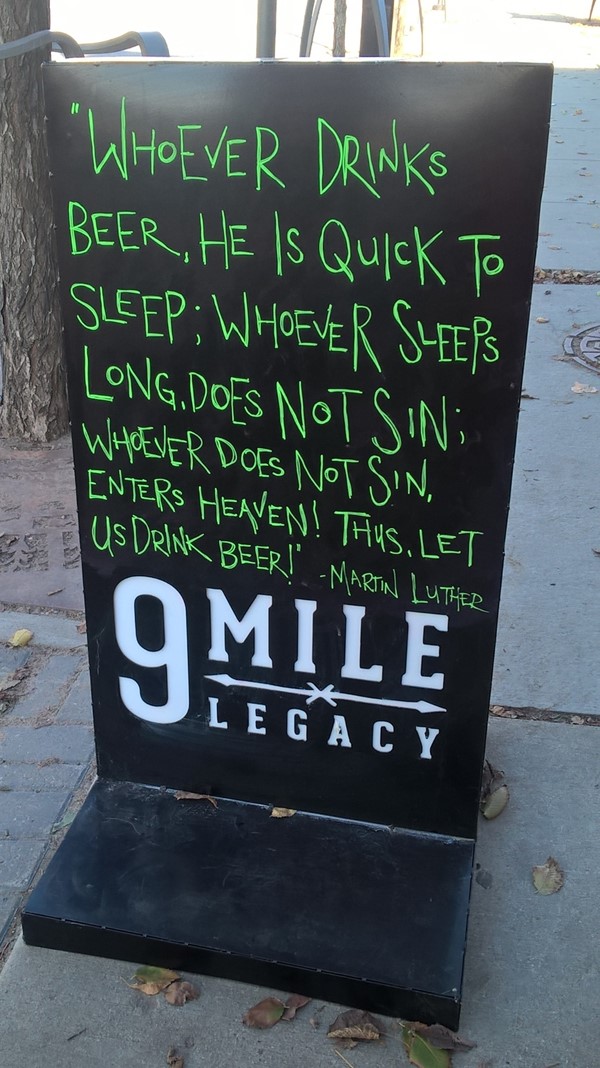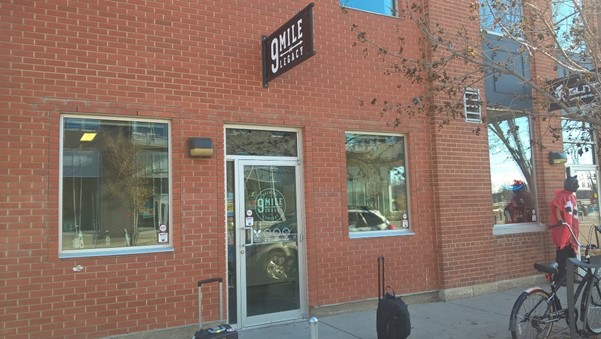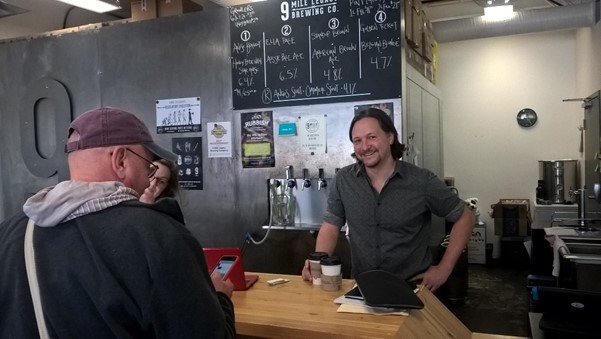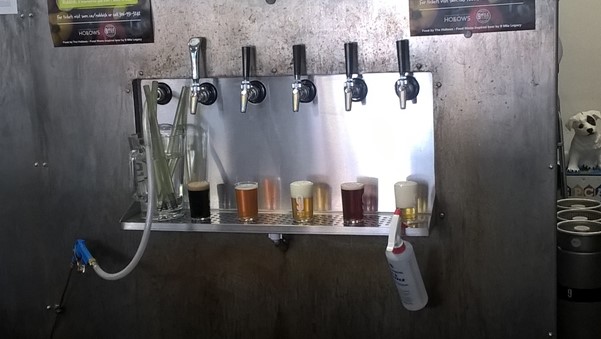 I should point out that at this point, 9-Mile had only been able to serve flights or pints for TWO DAYS. Apparently (according to the locals), Saskatchewan is the Utah of Canada. And I scored another sticker for my bag!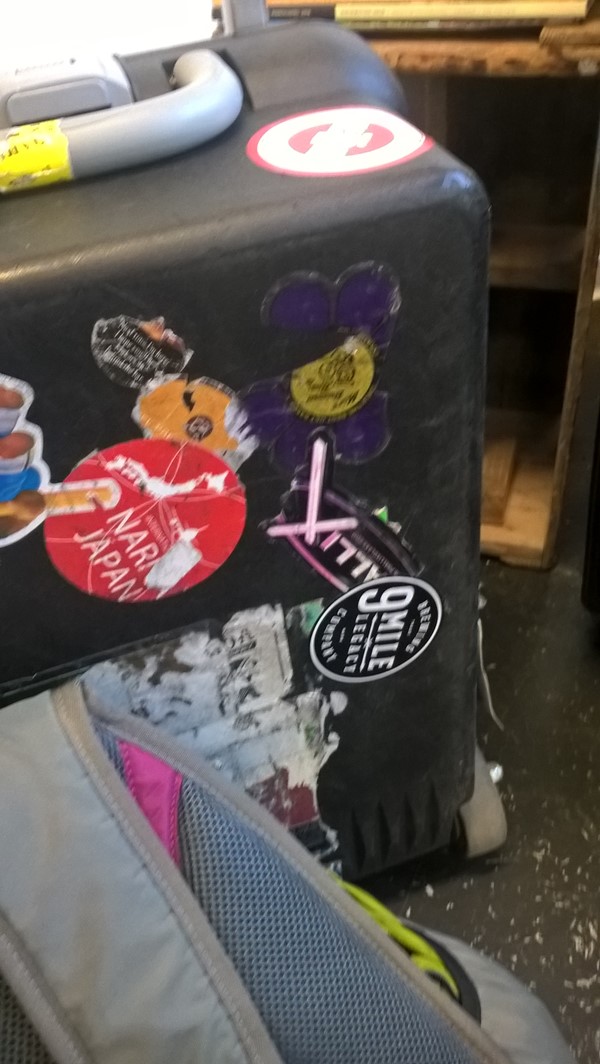 While Rache did his beer thing (so NOT me), I went next door to an Archie McPhee like place called Glitch – and they DO get some of their stuff from Accoutrements, which is the wholesale arm of Archie McPhee. I have a friend who used to work at Archies – and would occasionally model some of their products: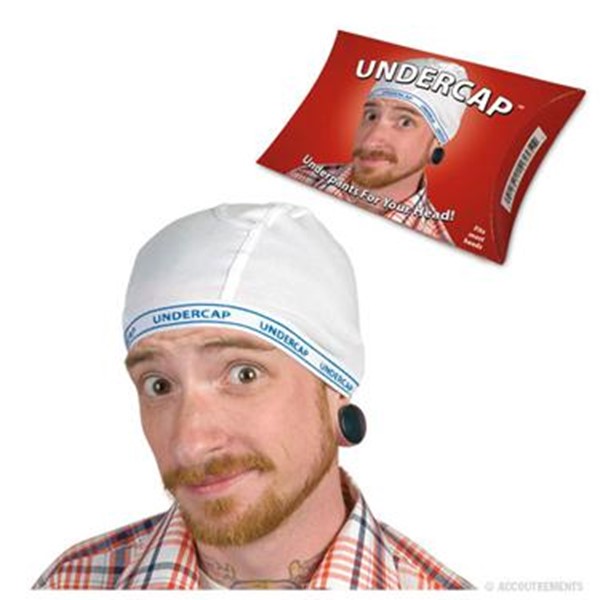 Sadly, these are no longer available, but if you want a tattoo – check out Jeff at Project Tattoo.
After our breakfast, our beers, our novelties it was time for another cab rib – this time to the airport, which was surprisingly NOT Brutalist, including the lines: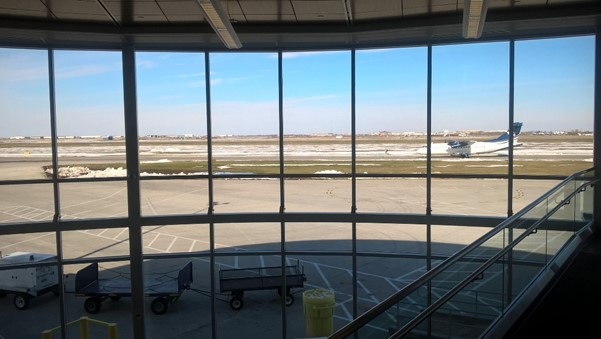 And desks to work at – oddly with no power outlets.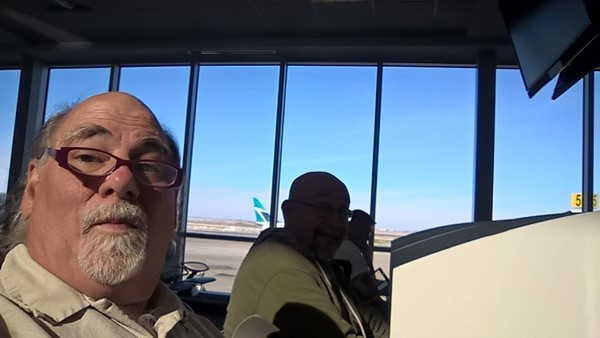 With an amazing flight display of real-time what planes are coming and what planes are going: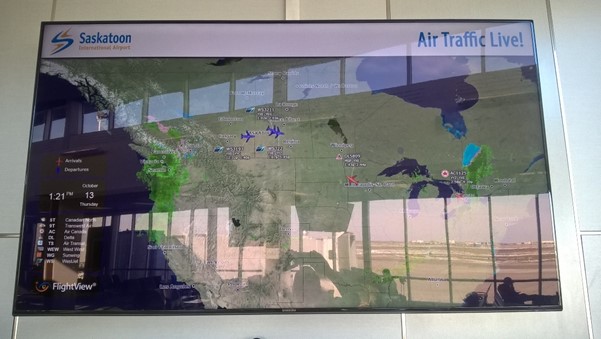 We are on a Embraer 175 from Saskatoon to Minneapolis: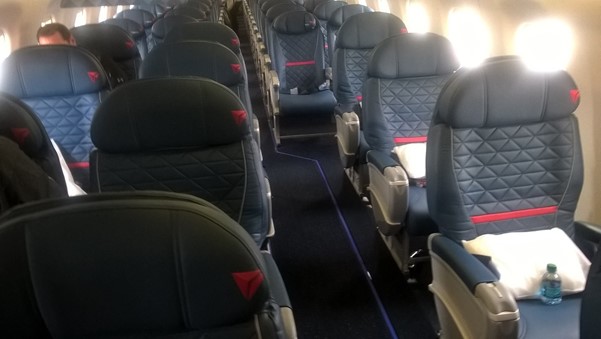 With 2-1 seating – we took the two bulkheads on the wide side: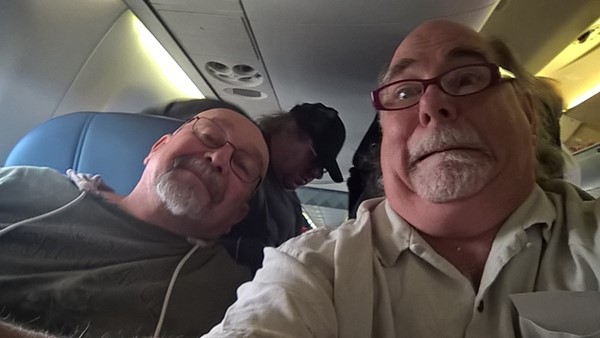 No food on the flight – but drinks…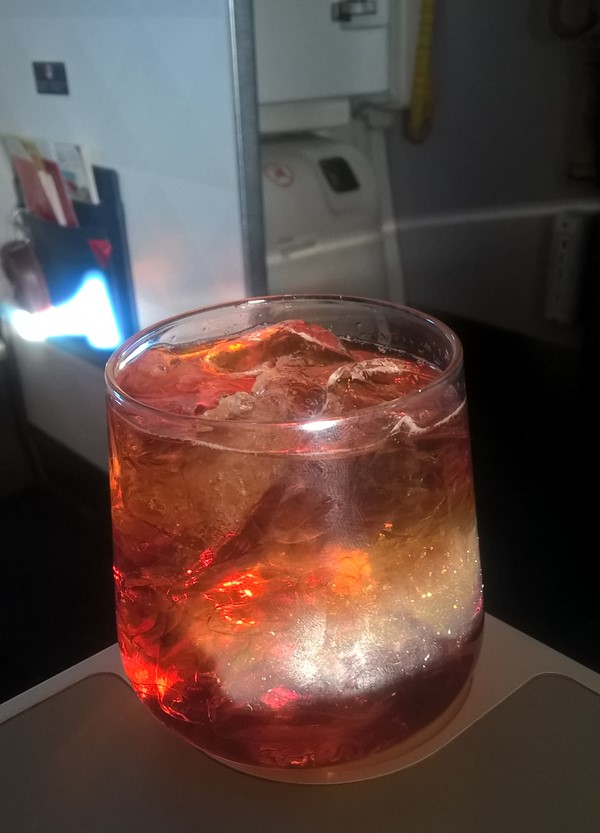 And blankets, with Rache trailed into the bathroom like toilet paper stuck to your shoe….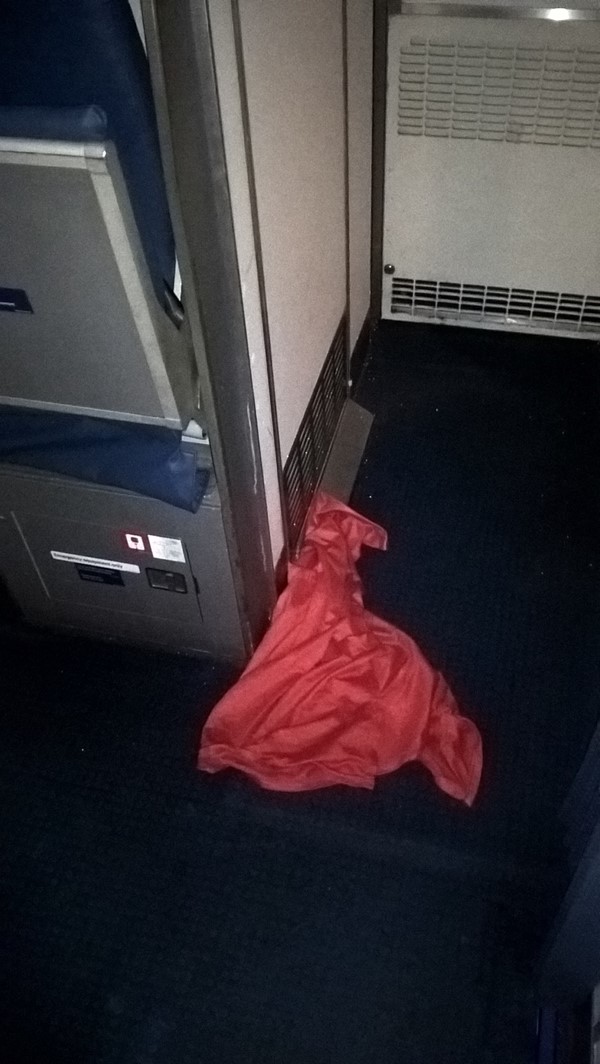 And sunsets….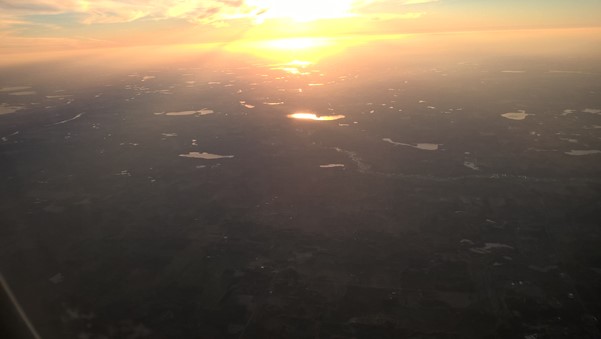 In Minneapolis we BREEZED through Immigration and Customs – me with my Global Entry, but Rache wasn't far behind – they have gone paperless in Minneapolis – scan your passport, answer the questions, it spits out a receipt, take the receipt to the desk, get it stamped, go pick up your luggage.
We were so quick through the border check (and the plane was a little early) that we had time to see if because we were paid First Class whether we could use Delta's Sky Club – the answer was yes because we were on an INTERNATIONAL Business Class ticket (though on the site they called it First Class). Nice lounge: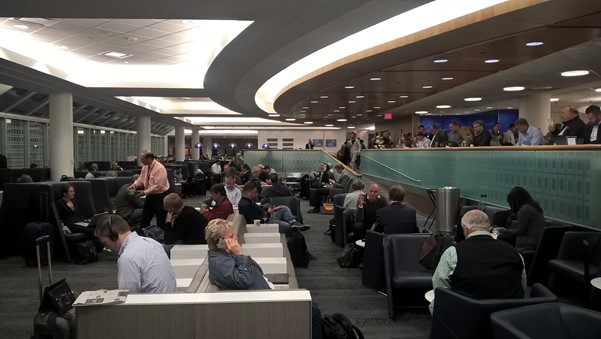 And we grabbed some snacks – OK, a little more than a snack: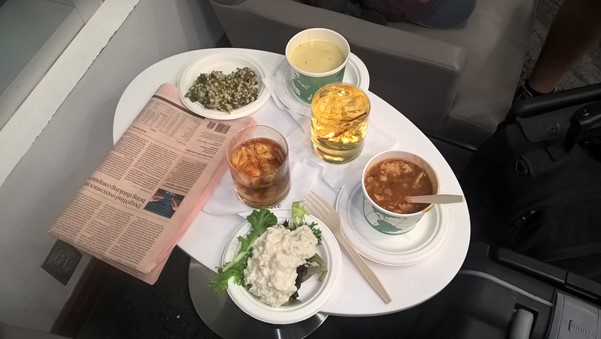 OK – that is for BOTH of us. The free food in US lounges is getting soooooo much better, and they were pouring Evan Williams Black (my daily bourbon drinker) as the house pour!
Back on the plane, back in the bulkheads for our last leg home to Seattle: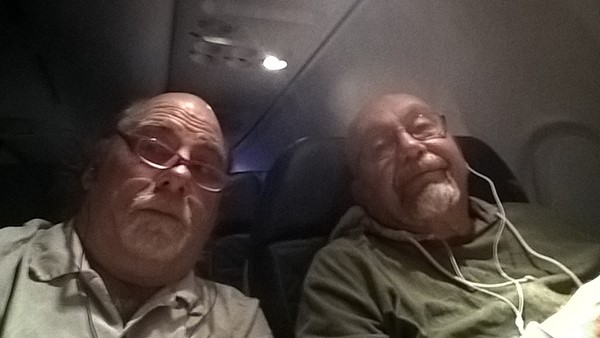 This was a cool addition to the overhead storage bin – a light to tell you when Wi-Fi is available. It was a 737-900 with the Boeing Sky Interior: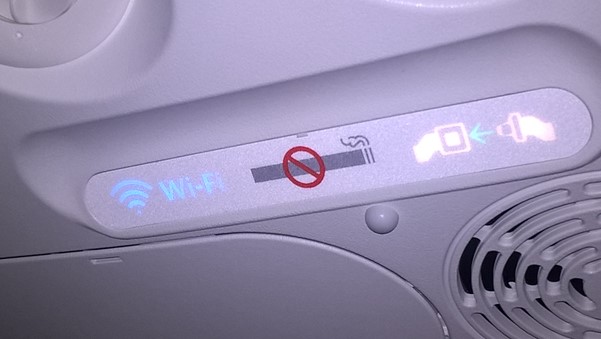 Notice that the No Smoking "light" is now just printed on.
More food on this flight – does it NEVER end!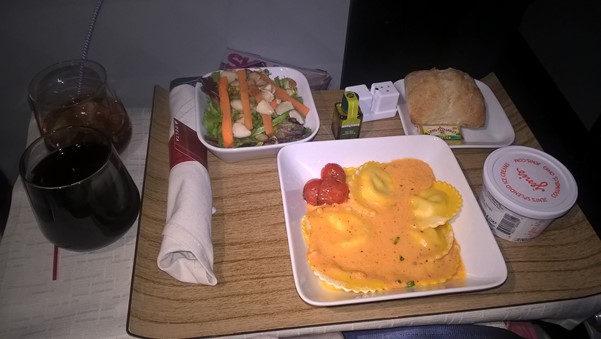 I know that cream sauce is going to give me indigestion… but I hate turning down free (with the price of a First Class ticket) food.
It was a QUICK trip – but one that yielded three posts. Not bad for leaving Seattle on Tuesday morning and returning Thursday night – in time for me to work tomorrow.
[216.0