Part one of my trip is getting to (and staying for a couple of days) Santa Fe.
I booked long enough in advance that I used an Alaska Gold MVP Guest Upgrade for a few more dollars – turns out it was a good idea as there were 34 people on the upgrade list (guessing I wouldn't have gotten one). My favorite seat (1C):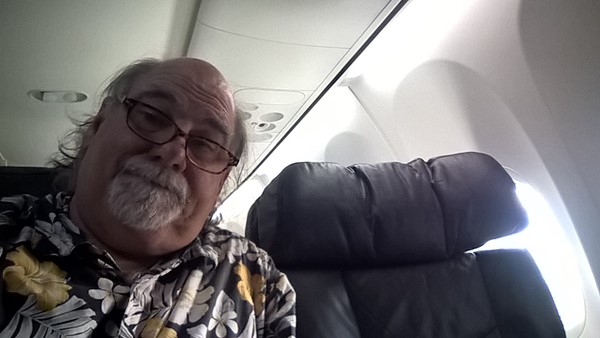 Sadly, someone showed up for 1A – it was a TOTALLY packed flight. But there was food and drink: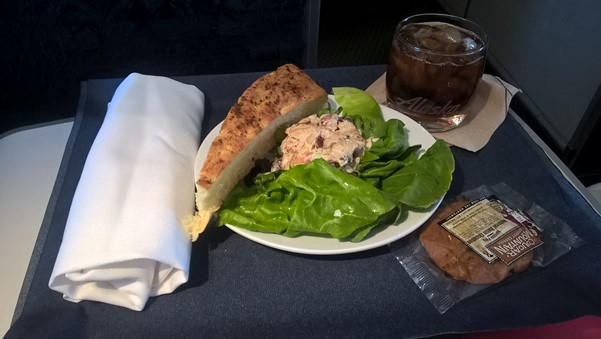 I was a little shocked to see luggage coming down the carousel even though I was first off the plane and only stopped to be on the way to baggage claim. Sadly, the rental car counter was much more disappointing. One person behind the counter, five people in line behind a woman who wanted all her options. I even had time to leave my back in line and go to the next counter over to inquire if they had cars available and would match the rate. $150 a day for the cheapest car – I'll continue standing in line for my $25 a day let them choose anything for me over a compact – it's always amusing to see what I'll be driving – one time I ended up in a Fiat 500 from the same airport. This time, if there is the exact opposite of a Fiat, it would be this: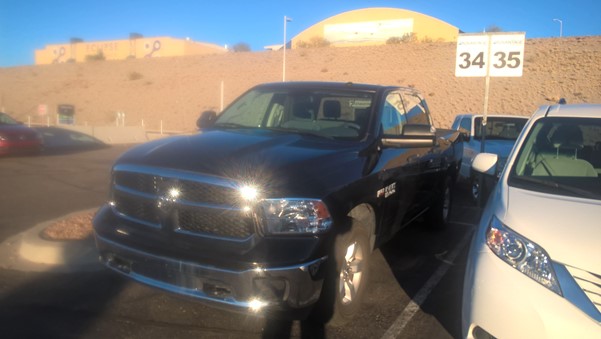 Yep, Dodge Ram Crew Cab 1500 4×4 with tow package and 23,000 miles on it.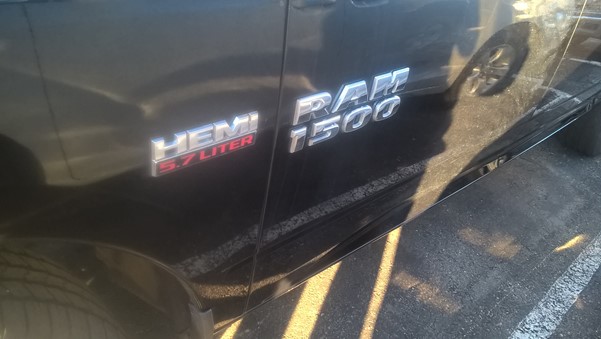 Don't think about the gas mileage, the display said it was averaging 16mpg. Makes me wish I had somebody who needed something moved!
Santa Fe is a little over an hour north of Albuquerque, where I flew into. Add a stop at Albertsons for supplies (read that as Evan Williams and Vernors) I was at the condo a little after six – and checked into my little retreat: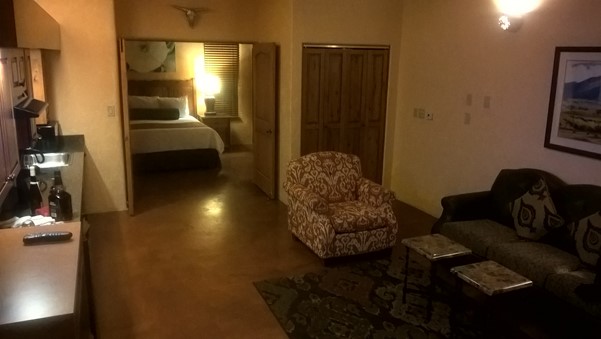 And the "compact or bigger" looks great in front of the unit: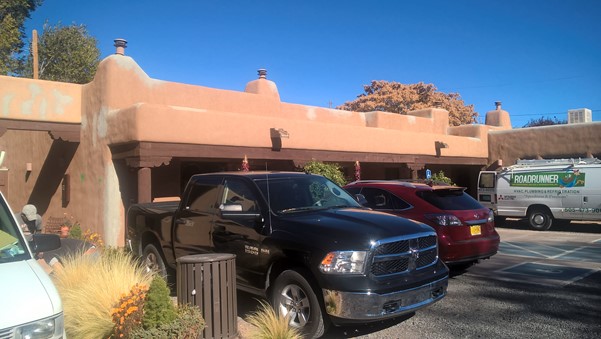 Even got the table set up for The Colonels who showed up with Blake's Lotaburger Green Chile Cheeseburgers – welcome to Santa Fe!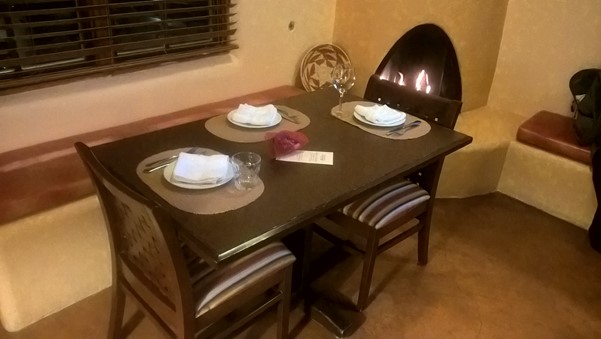 Yep, the place even comes with a gas fireplace.
Wonderful easy meal, wonderful chatting, too long since I've them. It was an early night for everyone, even for me, took a sleeping pill and got ten hours of sleep to make up for the night before the flight.
Lunch Tuesday was my sis (technically, my ex-sister-in-law, former wife of my dead brother). She's family – think she said we met in 1986 which would make it 30 years of family ties.
GREAT restaurant – Artisco Café & Bar (sister restaurant to Tomasita's which ALWAYS has a line to get in) – that can even pull off a Manhattan in the land of Margaritas. I ordered a Manhattan in honor of my departed mother.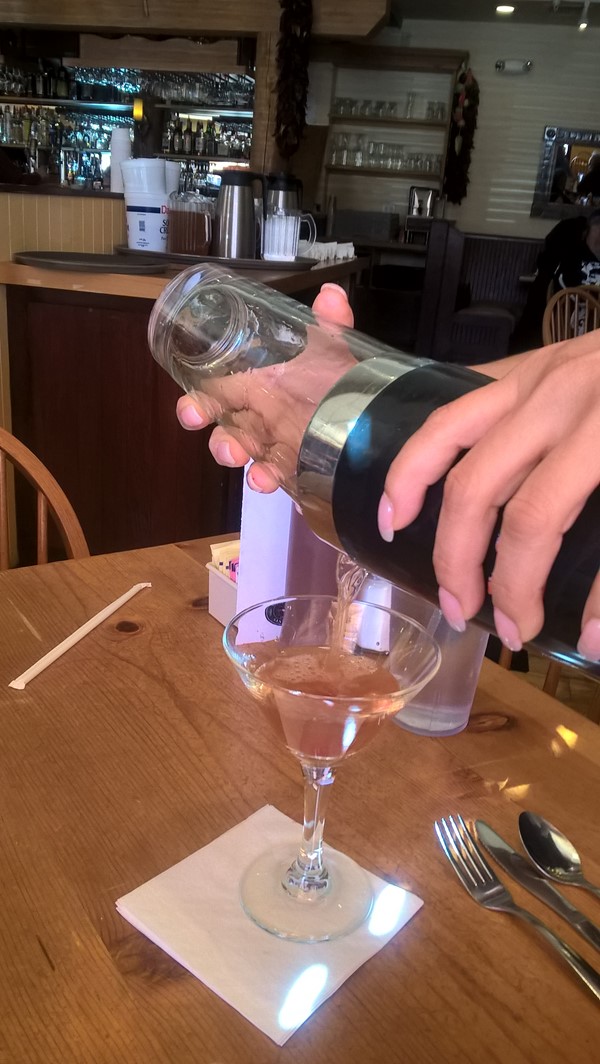 Jen's comment was – "I haven't smelled that smell since Eileen passed," Guess it was a meal of memories as I ordered the Chile Rellenos (which my mother used to make growing up and she did like the ones at Atriscos):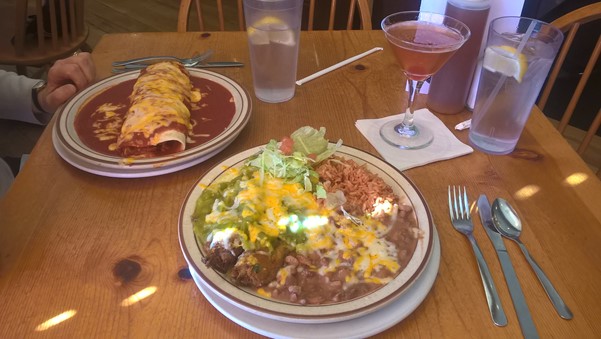 That led to an afternoon nap which was interrupted repeatedly by workers ripping the roof off my unit, playing Banda music (OK, that wasn't bad), giggling, and dropping pipes by my window. I did get a bit of a nap as they clocked out at 3:30.
A bit of texting back and forth, but dinner with The Colonels, Jen, Kennan, me was at La Choza– yet another restaurant I hadn't tried. I started with the Smoke and Fire Margarita — you have to have at least one Margarita while in New Mexico, and you should make sure they squeeze their own limes rather than using mix. The fire part was Jalapeno, a little juice in the glass, slice on the rim. THAT, I forgot to get a picture of, but I did get a picture of my crisp tacos with a picture of the Margarita in the background: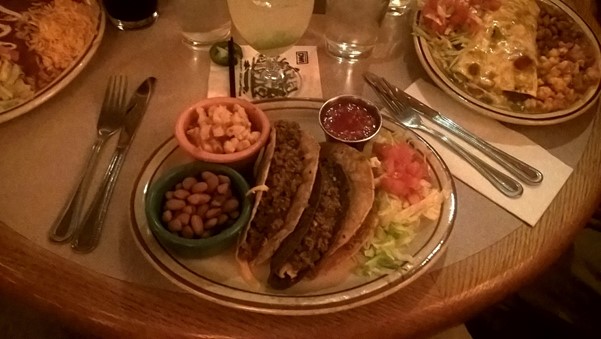 This time I actually got a picture of the guests!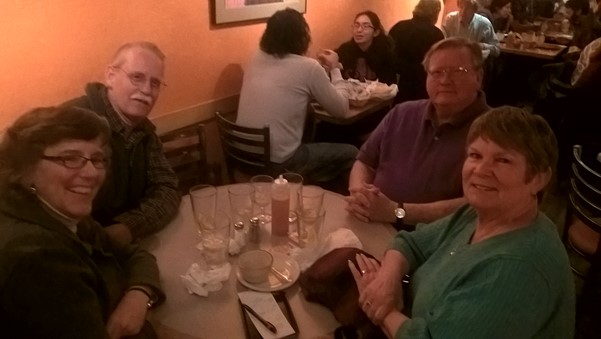 Too bad I didn't get a picture of our waiter. Smokin' Hot. I understand now that The Donald is headed to the White House it's OK to objectify men as well.
Speaking of that, I'll close this post with the book that I liberated from the laundry room of the complex on the take one/leave one pile: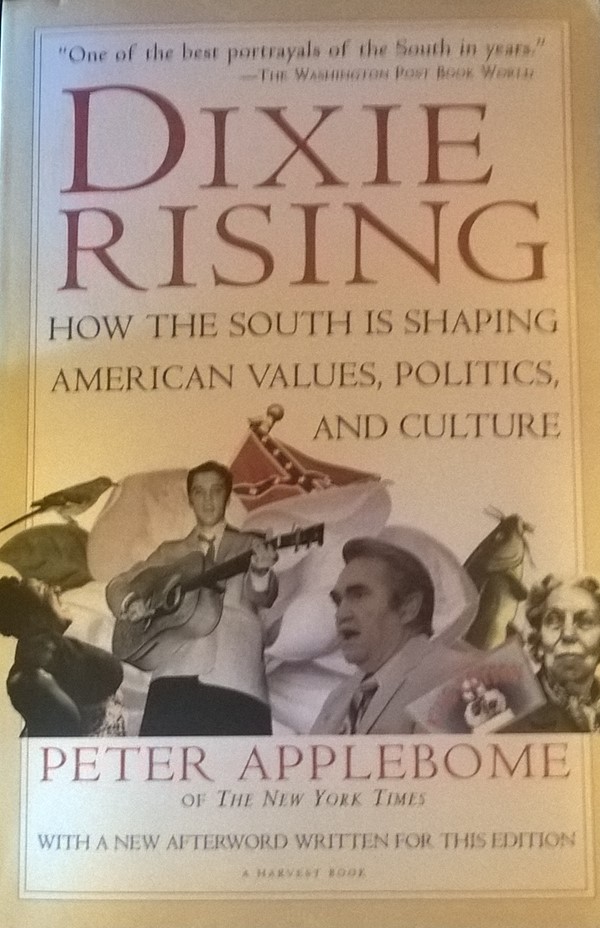 A 1996 New York Bestseller called Dixie Rising. It will be interesting to compare the vision of Dixie Rising twenty years ago to the 2016 version of dixie risen.
Maybe I'll have some time on the next leg of my journey home – or maybe I'll add it to the top of the pile and plow through it.
[218.2]