At least once a year or so I take this trip – a couple of days with the remaining relatives (and now The Colonels) in Santa Fe, and then the long ride home on the train. Fly in, train home.
As I was saying goodbye and hugging my sis-in-law (my eldest brother's widow), to paraphrase, she basically said, "It just seems weird that Eileen isn't here." It's been a year and a half since she passed, and I've been back to Santa Fe a couple of times since, but YES, it is weird that neither of my parents are around for my visits to Santa Fe. My parents moved back to New Mexico, settling in Santa Fe after I graduated from high school – so my entire adulthood Santa Fe has equaled parents.
I'm hoping what her (my sis-in-law) husband said about me, "He'll outlive us all." About ME! Geez, I hope not. I'm hoping it's just worry over their recent health issues. But enough about family – I'm on an adventure starting this afternoon!
Before I get on the train, time to have lunch with Michelle – sis-in-law's best friend, law school buddy…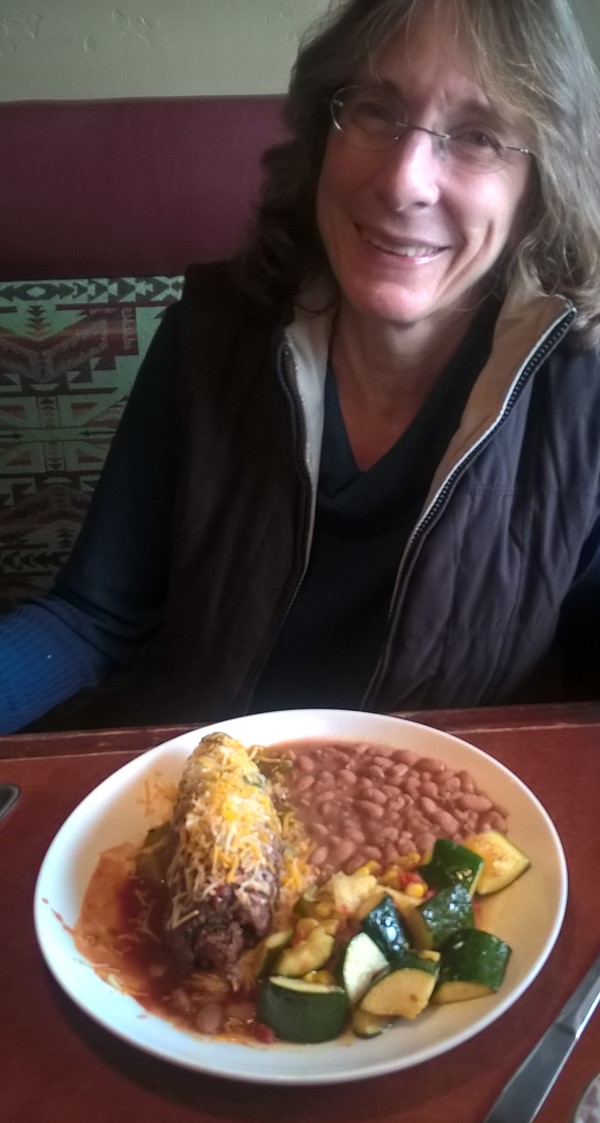 Oddly, at Pueblo Harvest Café, we both had the same thing – the Chicken Nambe Relleno with Christmas sauce (both red and green chili) and the Calabacitas (mixed vegetables). Not used to the zucchini being so large in the mix, but not overcooked.
Got the car returned after lunch…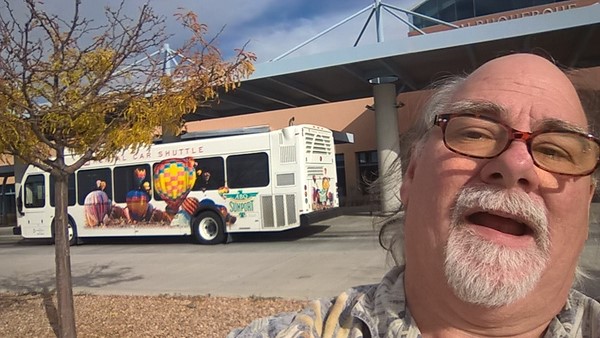 And Uber'd to the train station. I could have (in theory) taken the shuttle back to the airport, then taken the shuttle to the train station – it seemed easier to just pay Uber $9.01. Nice day – no need for the hoody: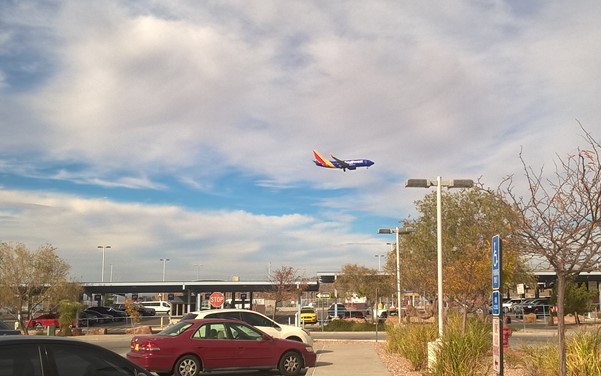 I had a little time to kill at the station, but soon enough, the train (The Southwest Chief) was here: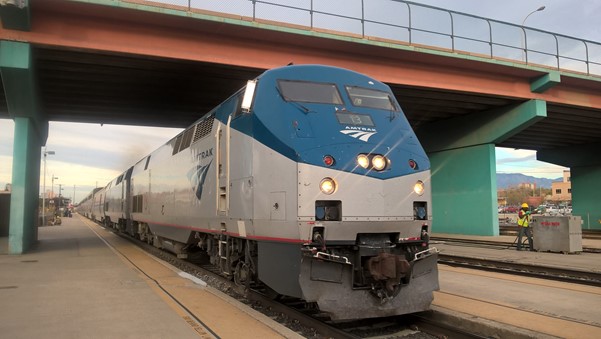 And my sleeping car: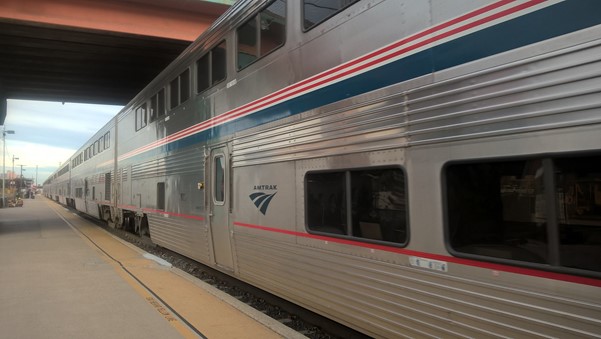 Didn't take long to settle in, and get a bucket of ice for the room, and relax: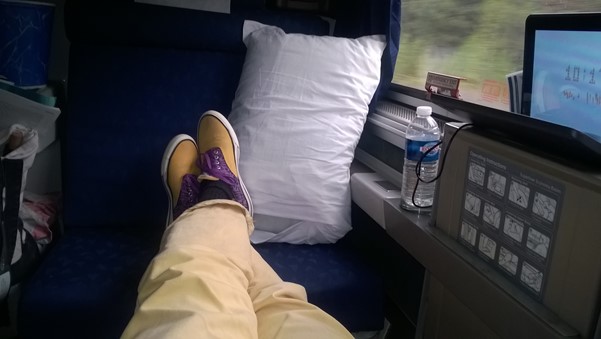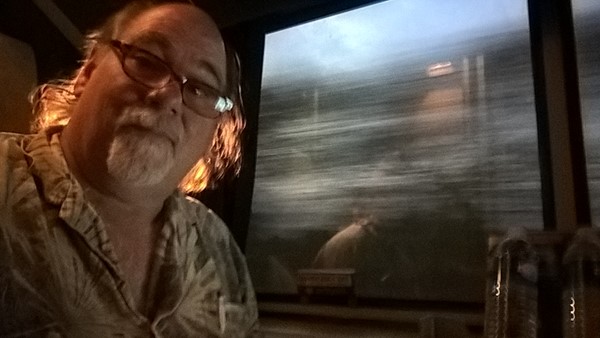 The nice thing about the train (even with a transfer in LA to The Coast Starlight with Lounge access) you can just stare out at the changing landscape of light and beauty…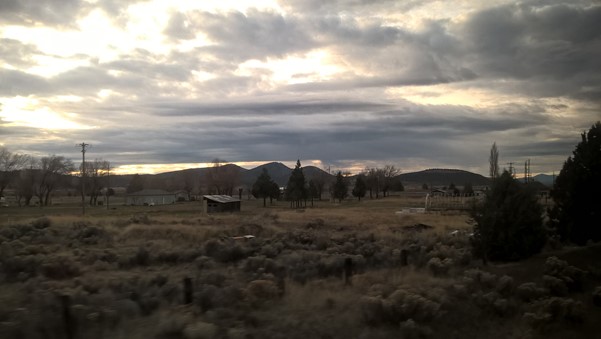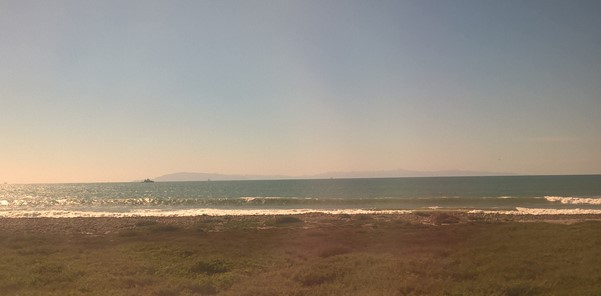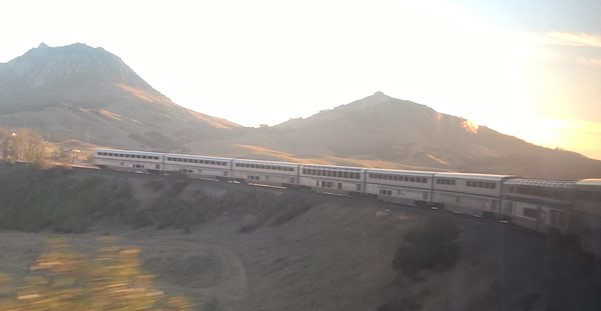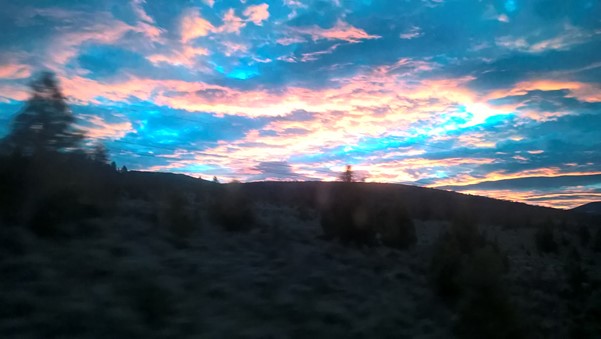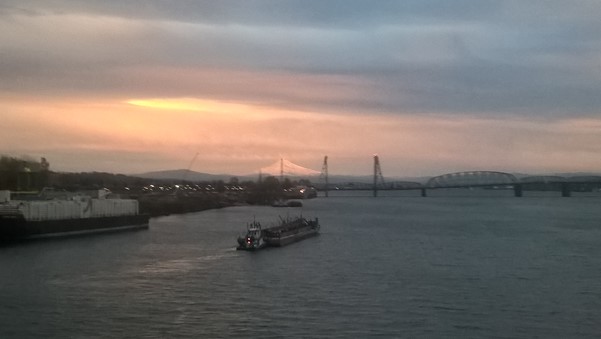 And the occasion Vandenberg Air Force Base with soldiers on patrol: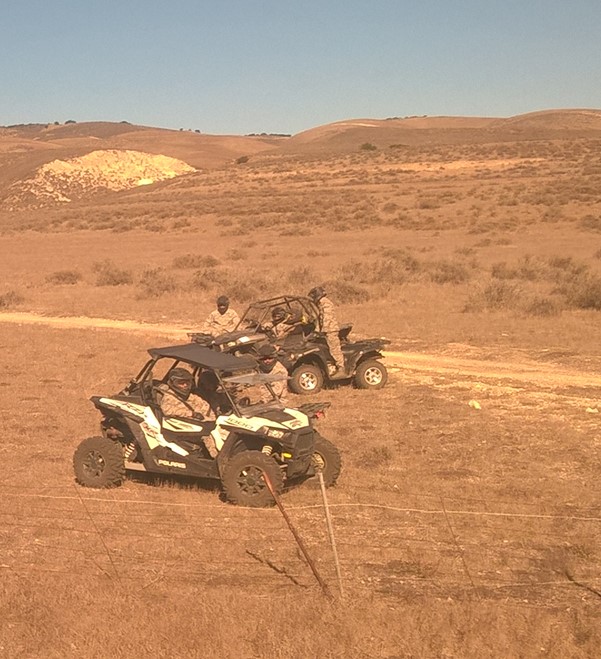 Nice thing about the sleepers is that you have places to hang stuff: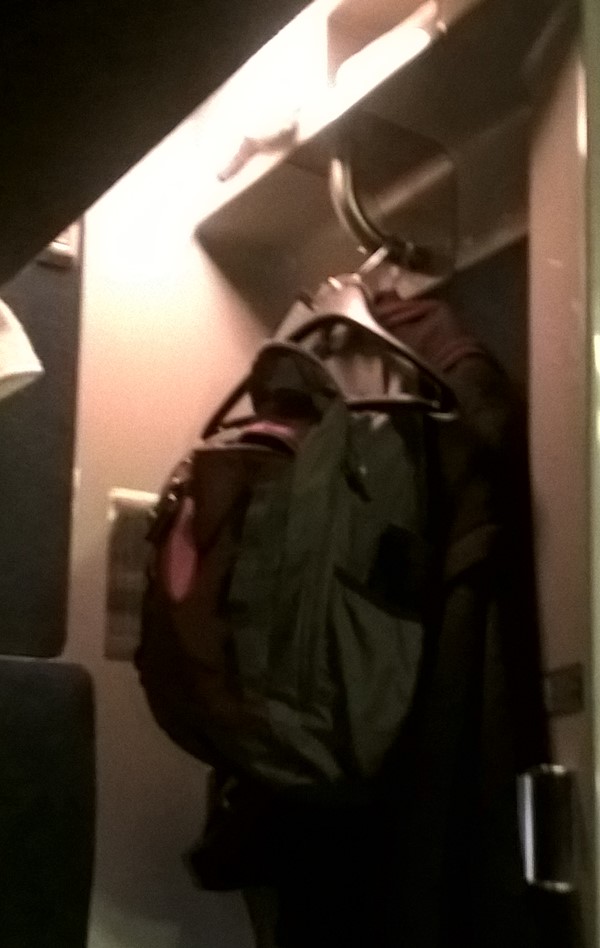 And places to shower:
And, for the last 6-months, WI-FI! Granted, it's cell phone-based…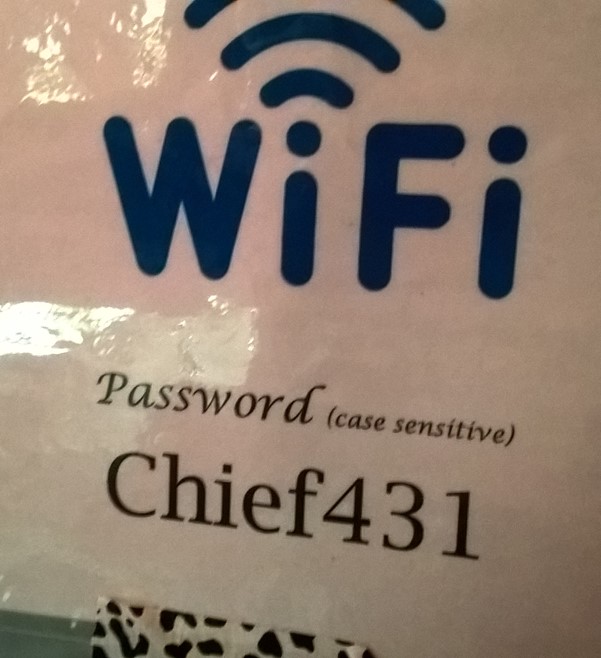 Sadly, they don't block streaming services such as NetFlix. A woman in my car complained that her movies would cease up. Duh, you are on a wireless connection, shared with other people.
Platform shot Santa Barbara: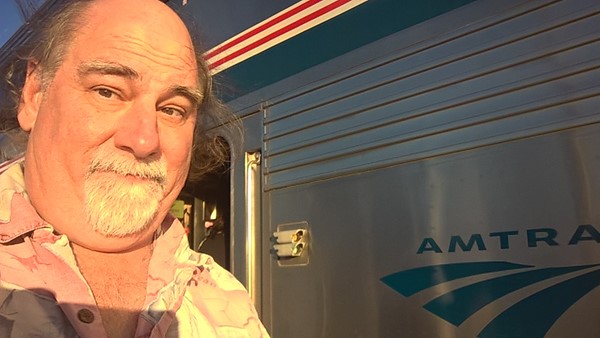 At Eugene: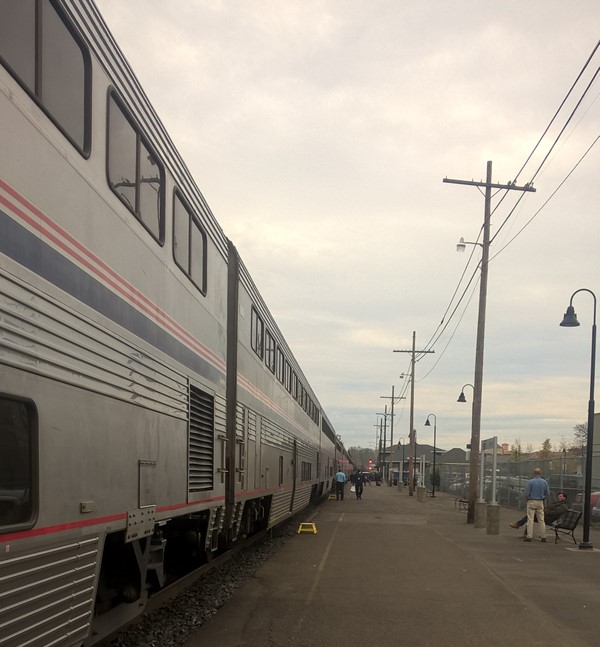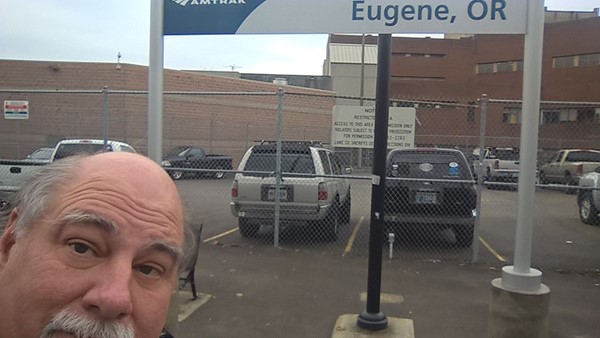 The new Amtrak is even trying to convince younger folk to travel – with this poster in my car: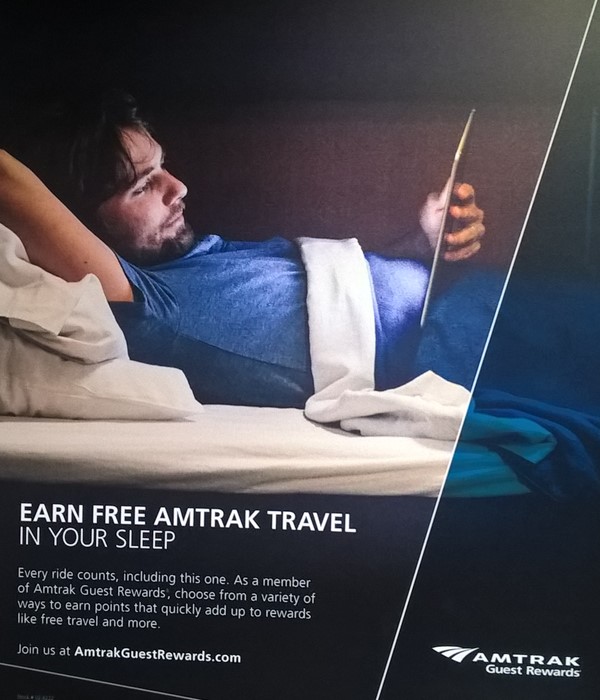 I'd share a cabin with him….but before I know it, I'm back in Seattle, 2.5 days later, Uber'd home, and on my couch with a cocktail: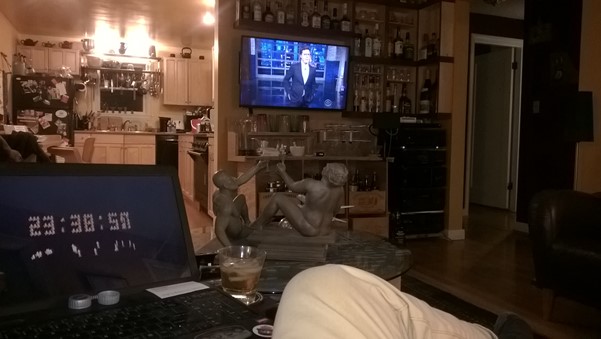 Home for a week or so…
[215.2]