When Rache and I travel, we settle into a routine…don't bug me in the morning. So, it was another morning of going down for breakfast, and coming back and grabbing another hour or two of sleep. Happens on the train as well – basically, anyplace that has breakfast included in the price.
So, really, after "internet time", my day really starts at noon – with lunch. And lunch must equal chicken!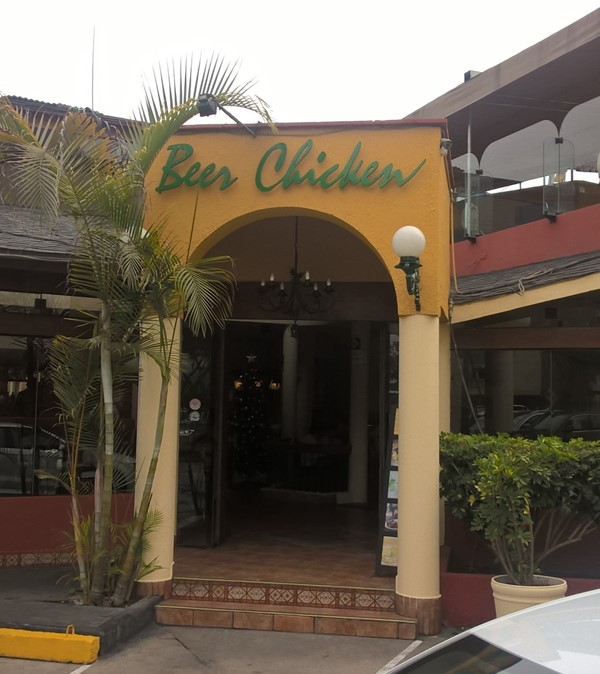 Beer Chicken it is! From the street taking the above photo, a waiter waved us in, and then again from the top of the stairs through an empty section to this lovely private dining porch.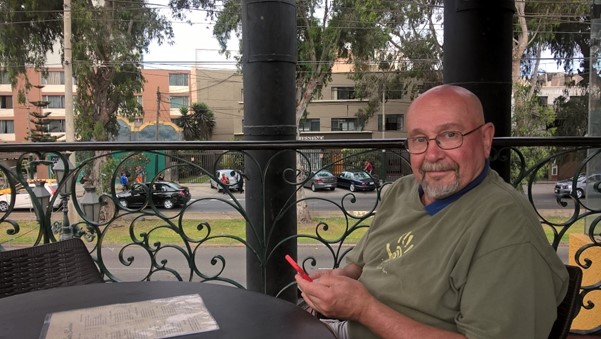 And before you knew it – Pisco Sours were on the way…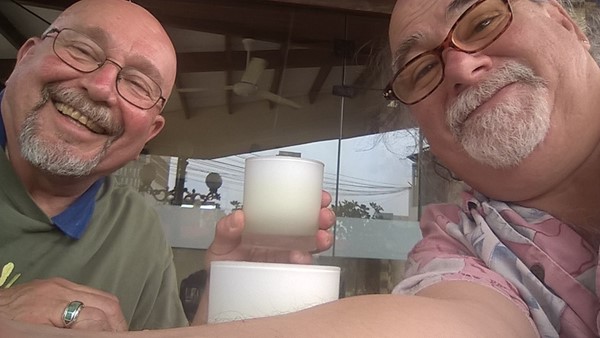 Followed in due course by….wait for it…chicken! Nope – salad for Rache: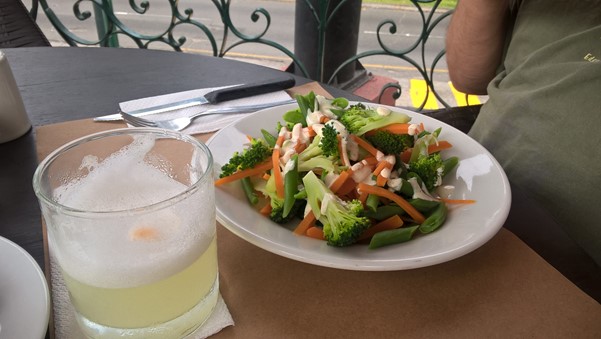 Pork for me: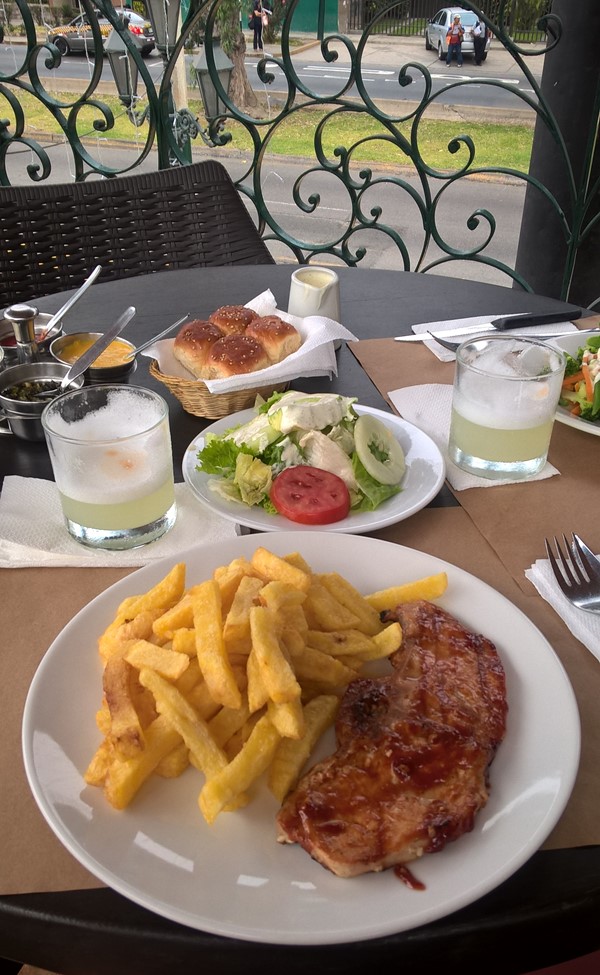 Slowly wandered back to the hotel, so here are a few more street scenes starting with the Swiss Embassy (turns out we are in the embassy district):
Followed by the Indian Embassy: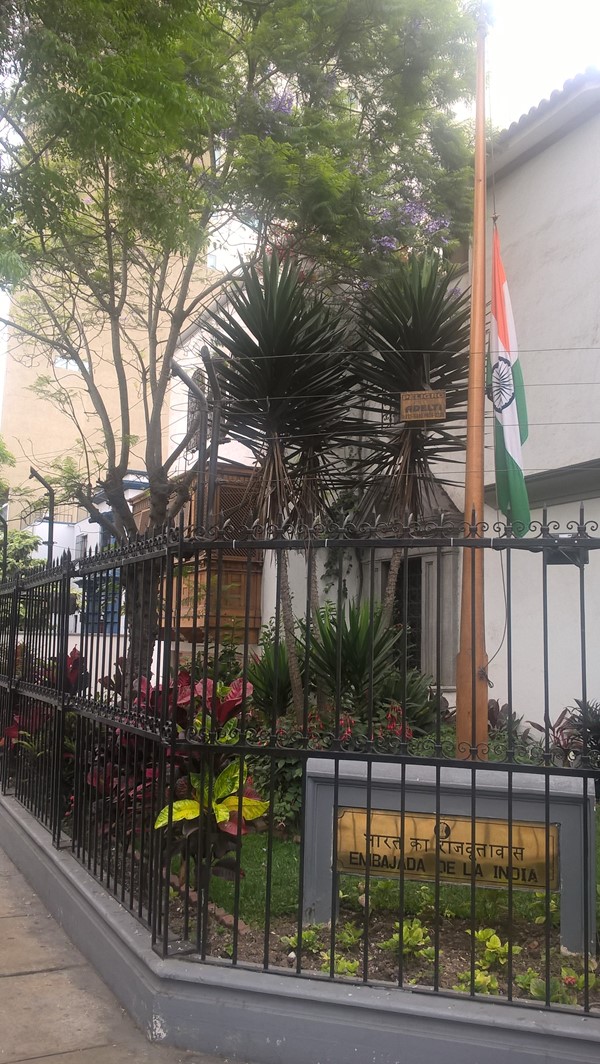 Rache has pictures of the Cuban and Russian embassies.
Look – they even still have Radio Shack affiliates here (tiny sign to the right of the front door):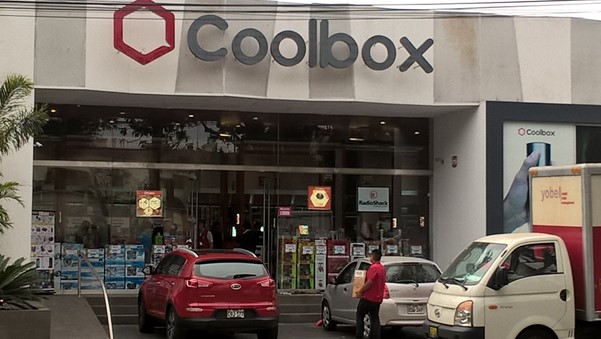 And big city graphitti: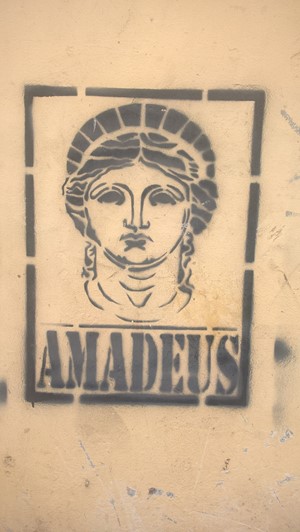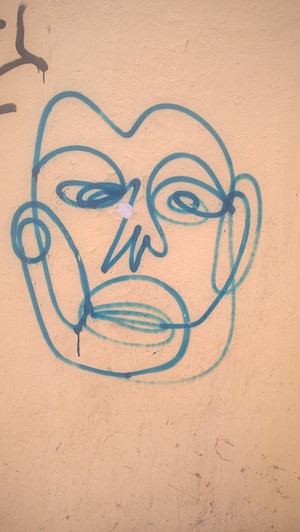 With beautiful boulevards – guessing there used to be trolley tracks running down this one, now a biking/walking lane: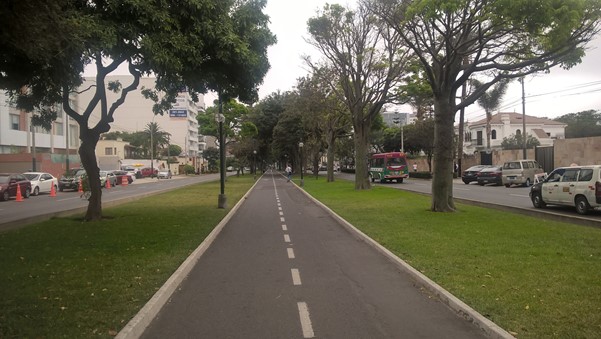 And carts of fruit on side streets: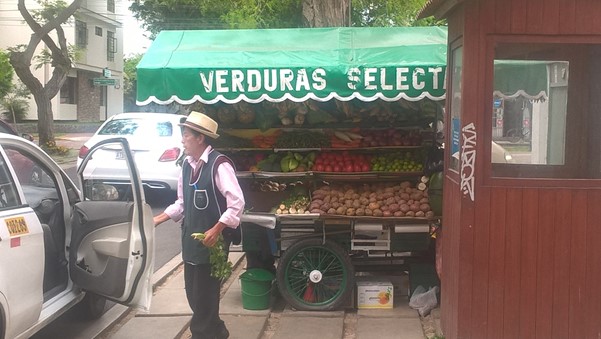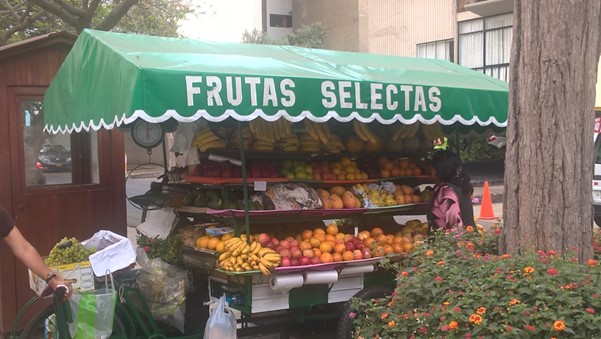 And back to the hotel we are…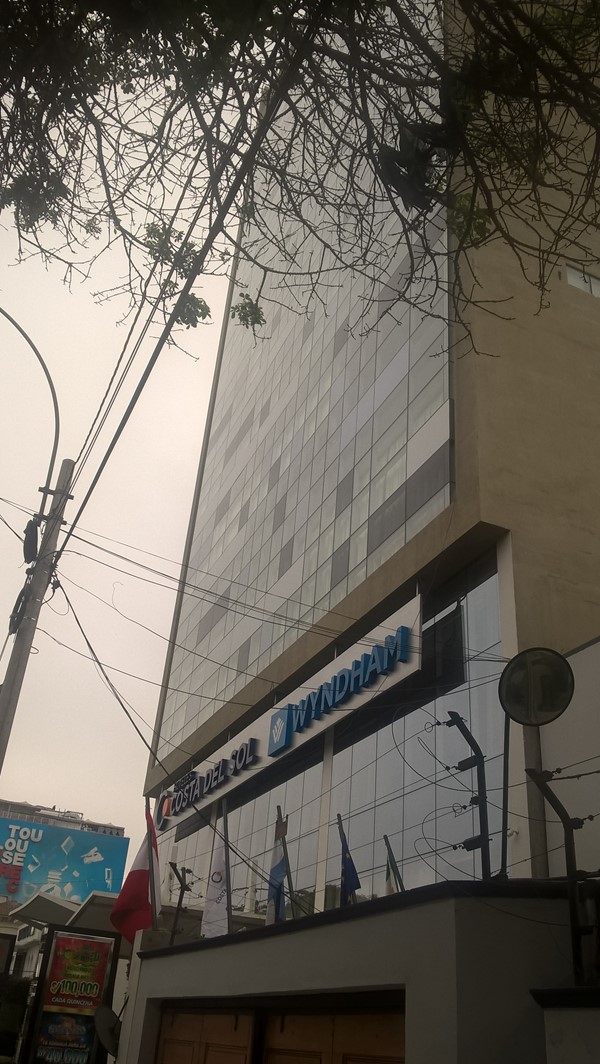 The BIG item on today's agenda is meeting up with Rache's Facebook friend Rosa, who met us at the hotel at 5pm to take us on a little city tour. The original destination was Larcomer – a huge shopping mall built into the cliff by the sea. Alas – there was a fire that killed a couple of people yesterday, so it was blocked off. Here is the link to the story.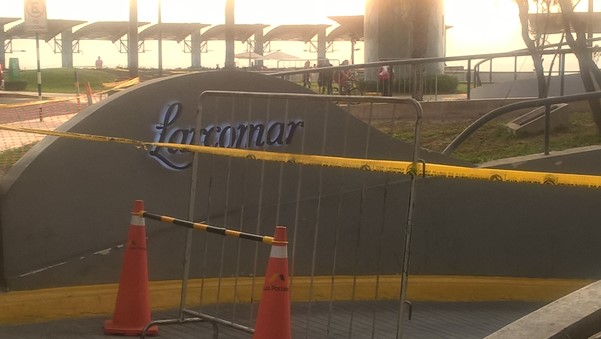 But we still have LOTS to see before out buffet/folkloric show later tonight. Yes, what on the weather report calls "Partly Cloudy" looks like smog to me: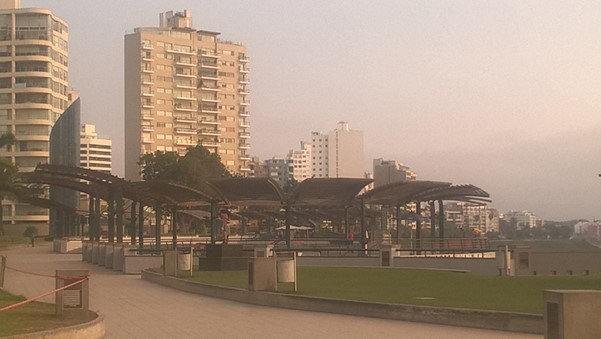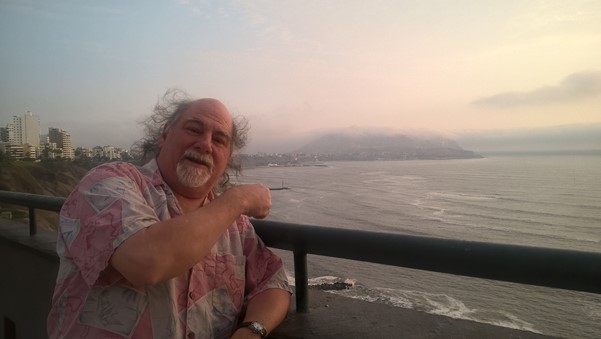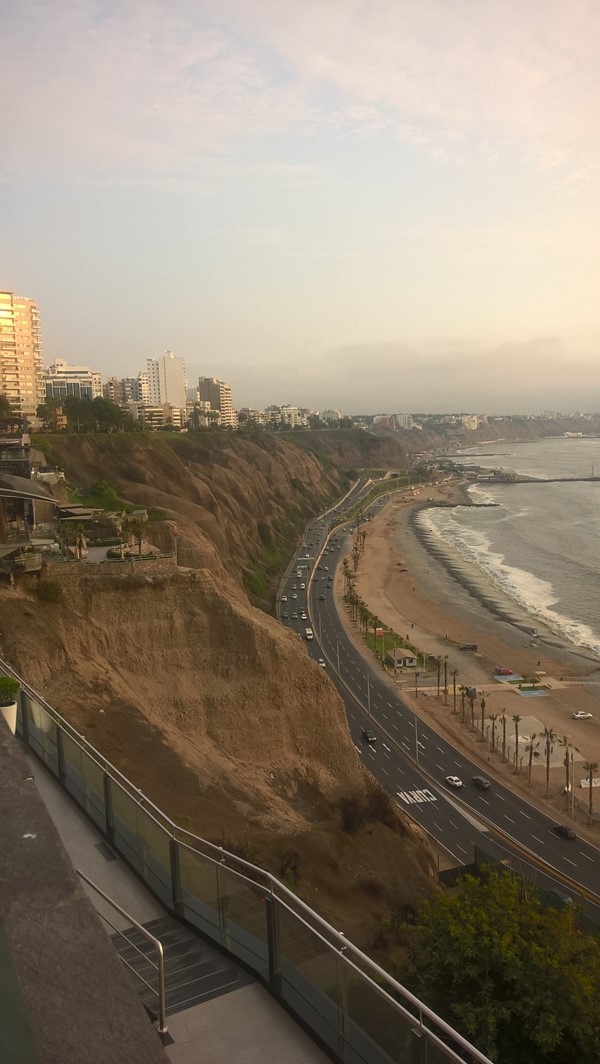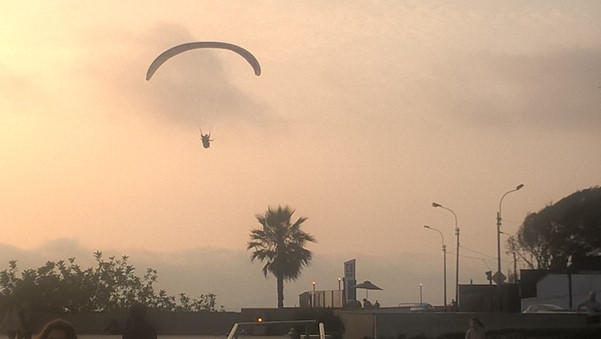 Back in the cab we go, off to different neighborhoods – the Miraflores and Barranco Districts. Here is Rache's description from his email blast:
Rosa is lovely and vivacious and making me want to be in her classroom. She met Markie and I here at the hotel and we headed to the Miraflores and Barranco Districts in the city. Miraflores is pretty modern, swanky and Barranco is more established with some artisans and hostels thrown in. Posh bohemian and artistic folk. Good energy, both places, actually. Rosa was an excellent tour guide.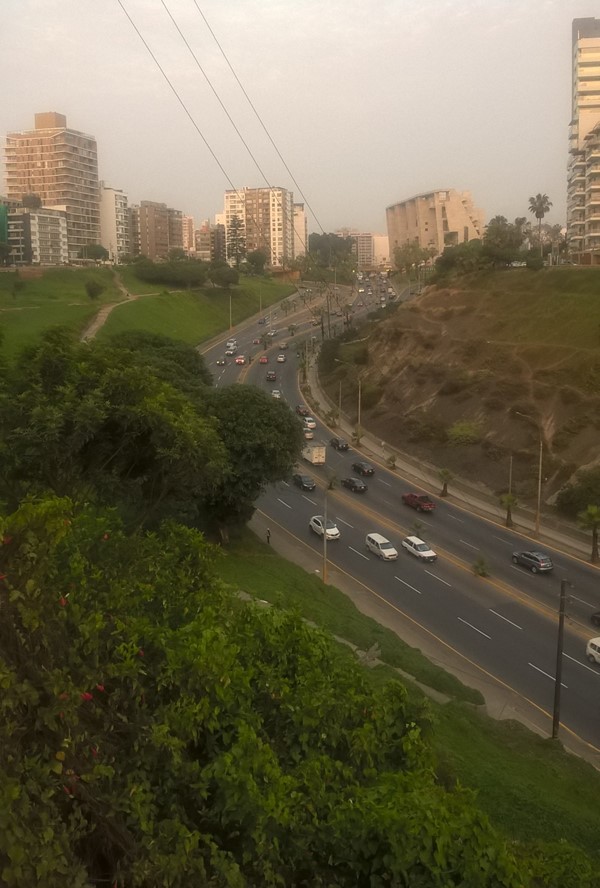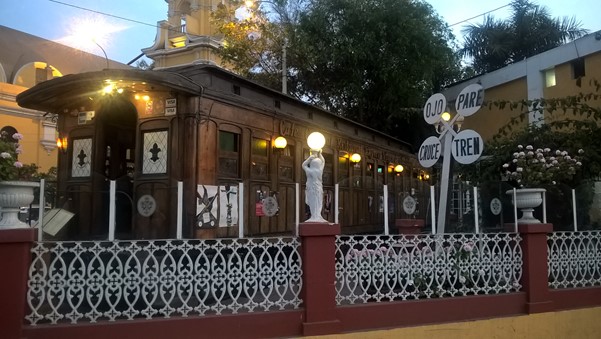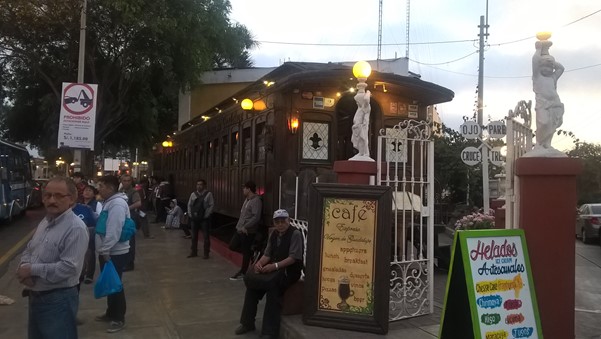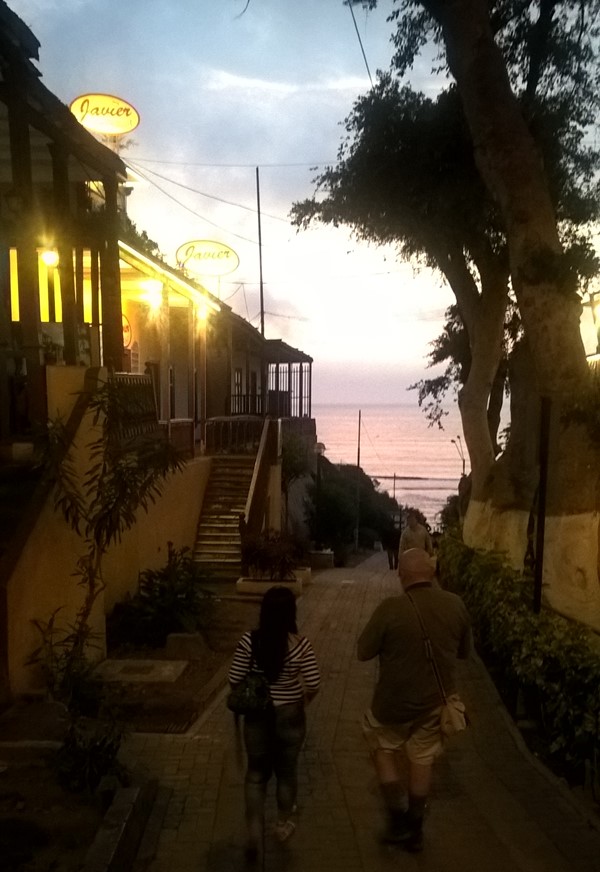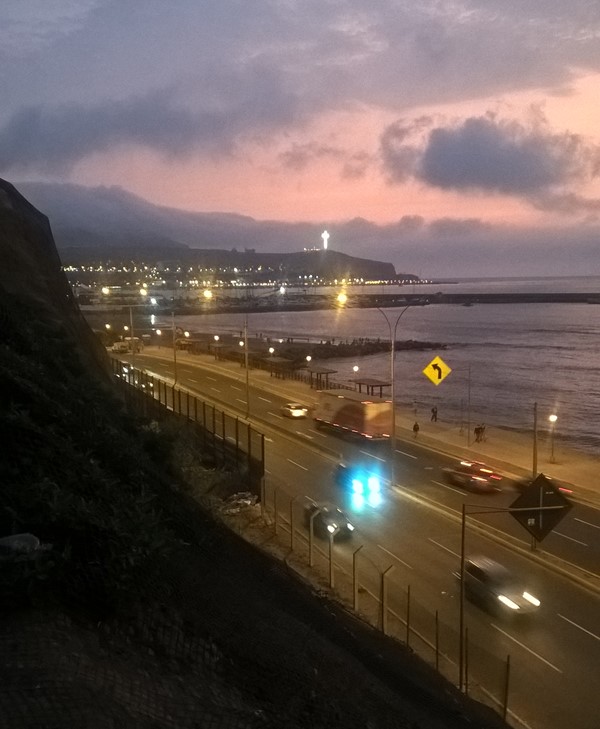 Yet another cab, this time to La Dana Juana Restaurant for a buffet and folkloric show where they put our national flags on the table (Rosa is from the Philippines). Again, Rache's commentary:
We eventually arrived at La Dana Juana Restaurant where Rosa had made reservations for us. It's a buffet of Peruvian dishes (I won't do lung again) followed by a lively 1.5 hour Peruvian cultural lesson told through dance. I had such a lovely time. Markie and I would never have found a place like this and I'm grateful for Rosa's knowledge. Good fun.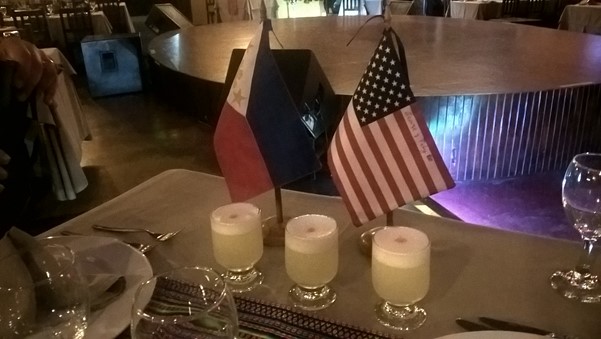 Are those complimentary Pisco Sours? YES! And we have ringside seats and a HUGE buffet of Peruvian delights: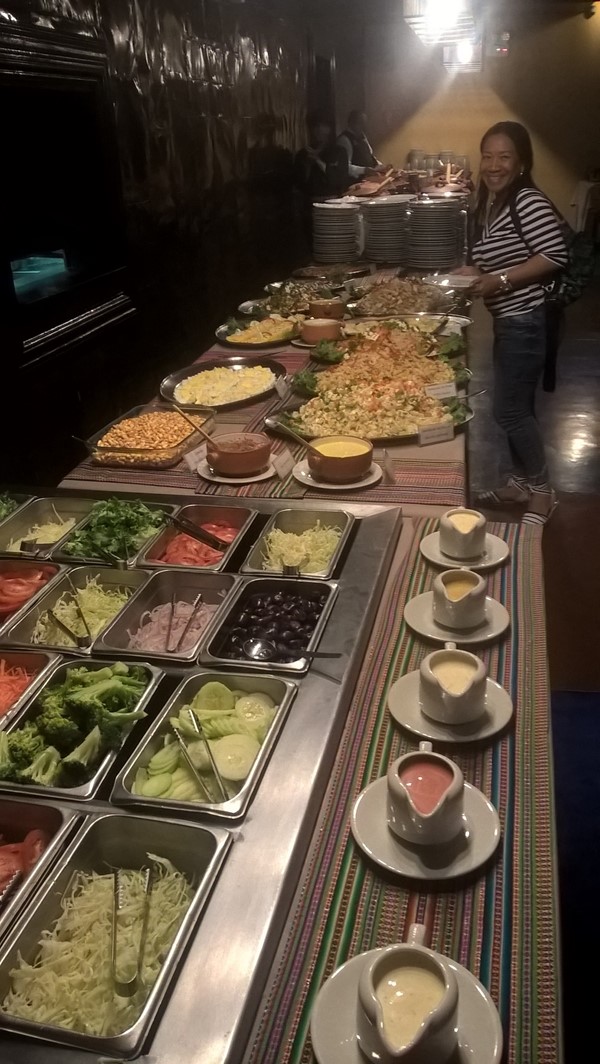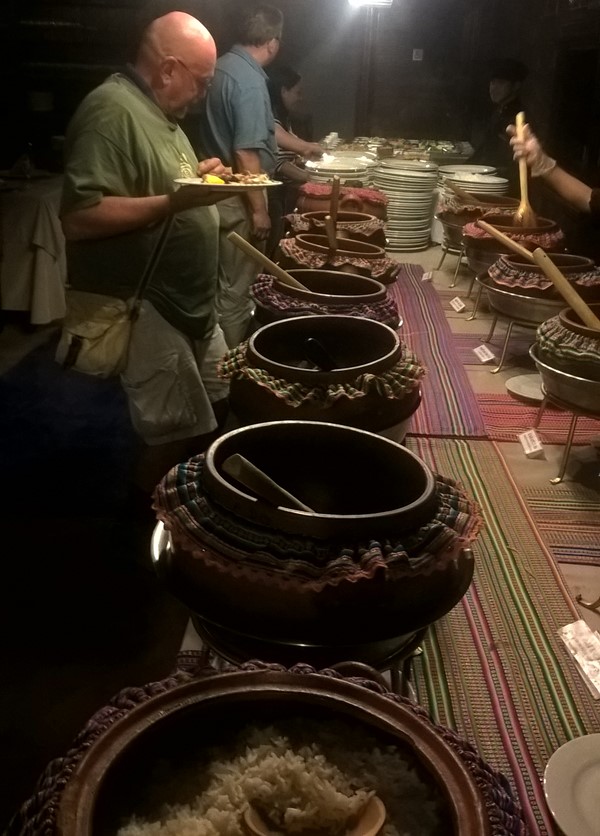 And I didn't even shoot a picture of the dessert table. But we did get a bottle of wine to go with all the good food: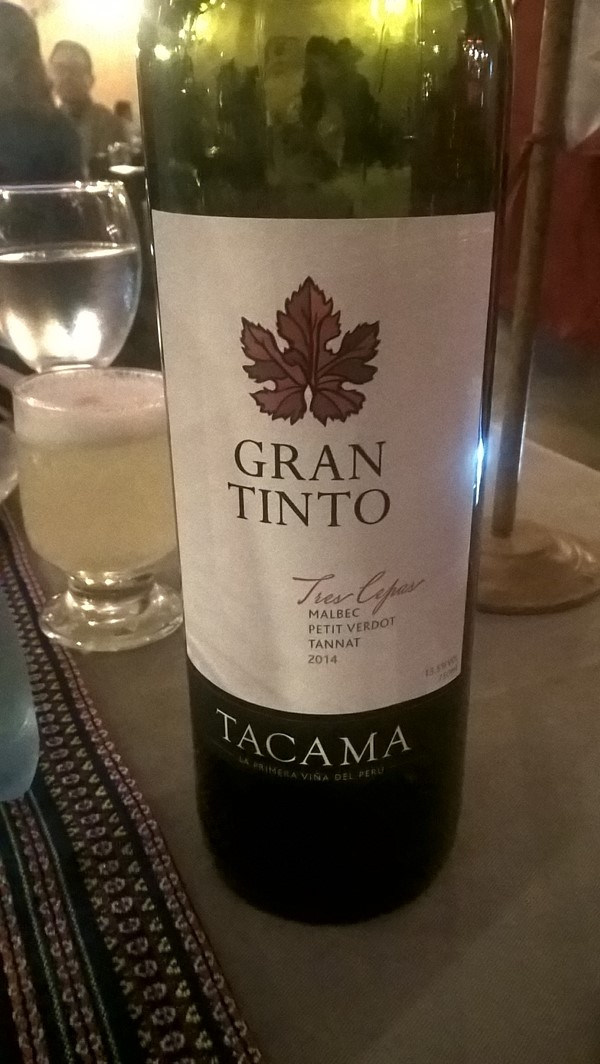 Soon it was time for the show: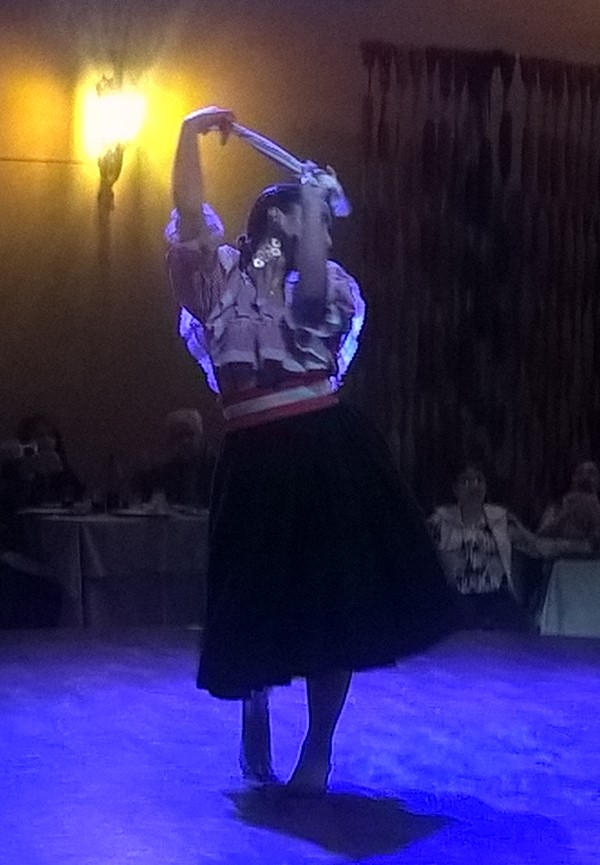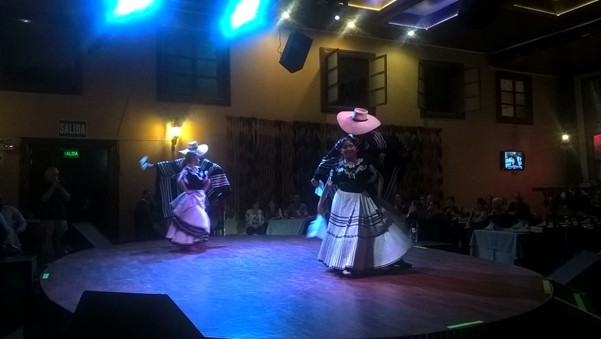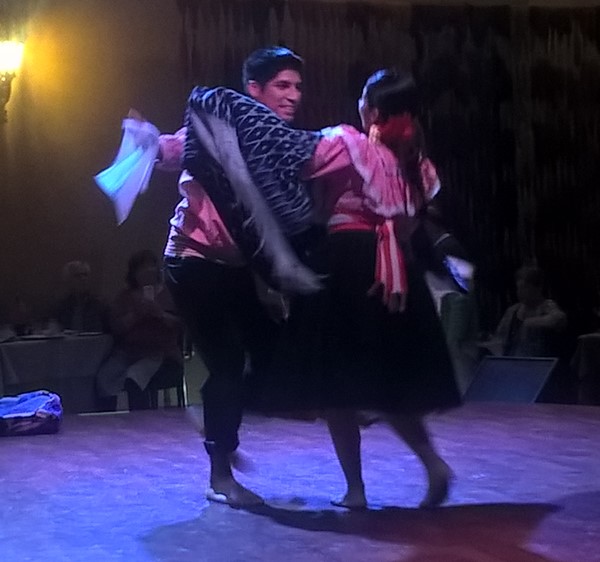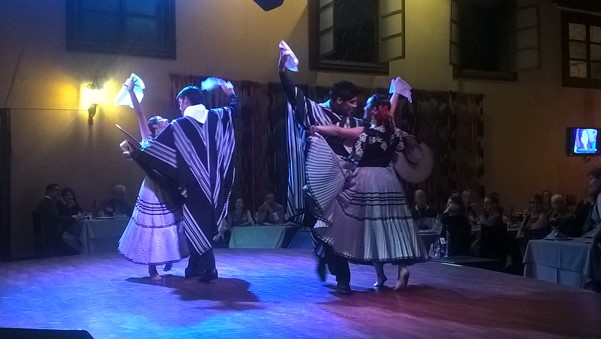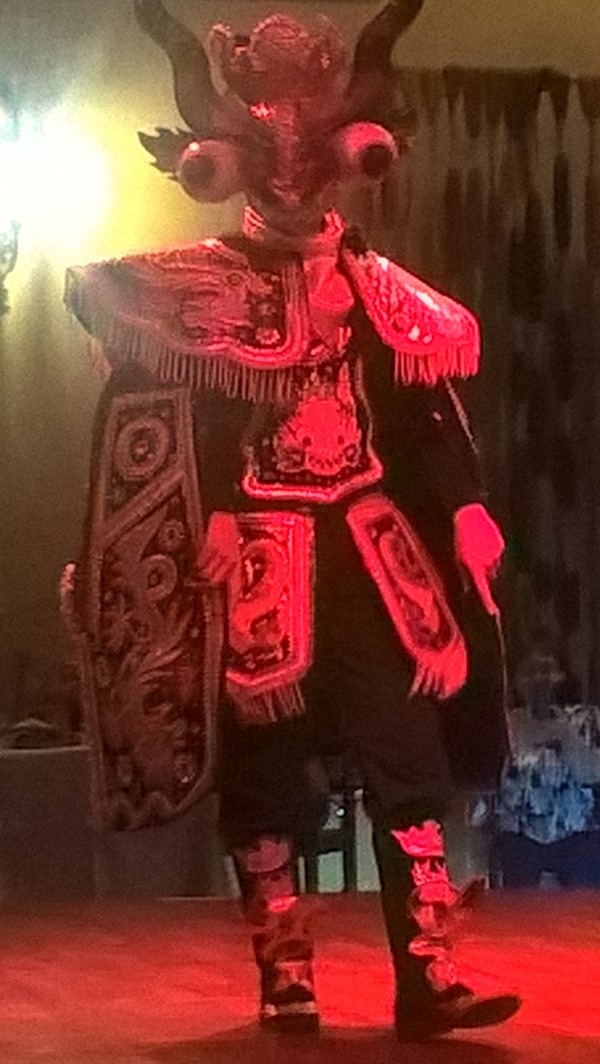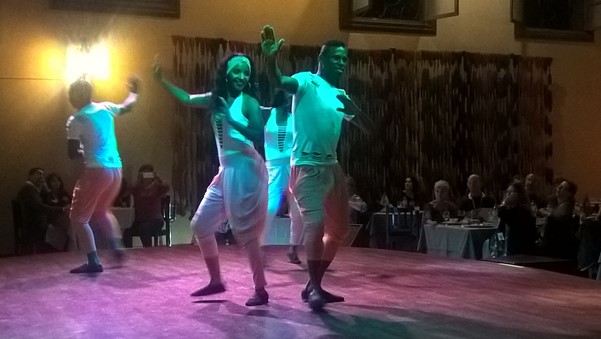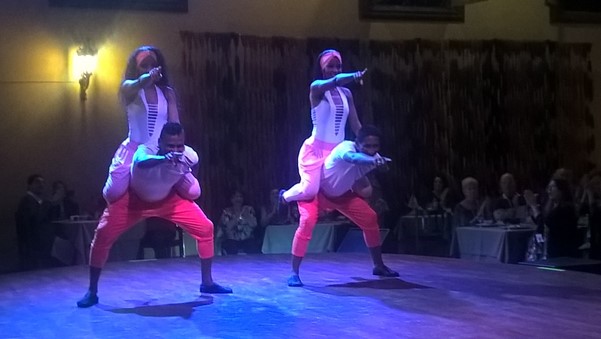 If you needed a little video clip – there is one for you:
A BIG THANK YOU to Rosa for taking time out to show us around and arrange this wonderful dinner. Rache leaned over to say he was going to pick up her dinner/show ($22), I said, "Let's split it." This was certainly something that I would have experienced on my own, unless I was with some huge organized tour. Thank you again Rosa!
And a final Rache comment from his email blast:
Since Rosa lives in another direction from our hotel, we parted. Rosa hailed a cab for us, negotiated and had us on our way. BTW, we paid for three cab rides and the total for all of them was about $9.00. When we got home, I let Rosa know we were home safe. She was too, but the lady sitting in the front seat of her cab had her purse snatched while waiting at the stop light. Keep the windows rolled up, even in good neighborhoods.

Boy were we beat by the time we got back to the room.
[? ? ?]