Another lazy start to the day, so the first meal is basically lunch – at 5Church – who wouldn't want to lunch in church: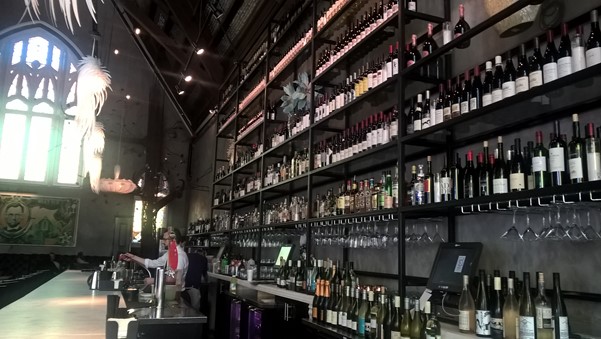 With a nice wall of liquor: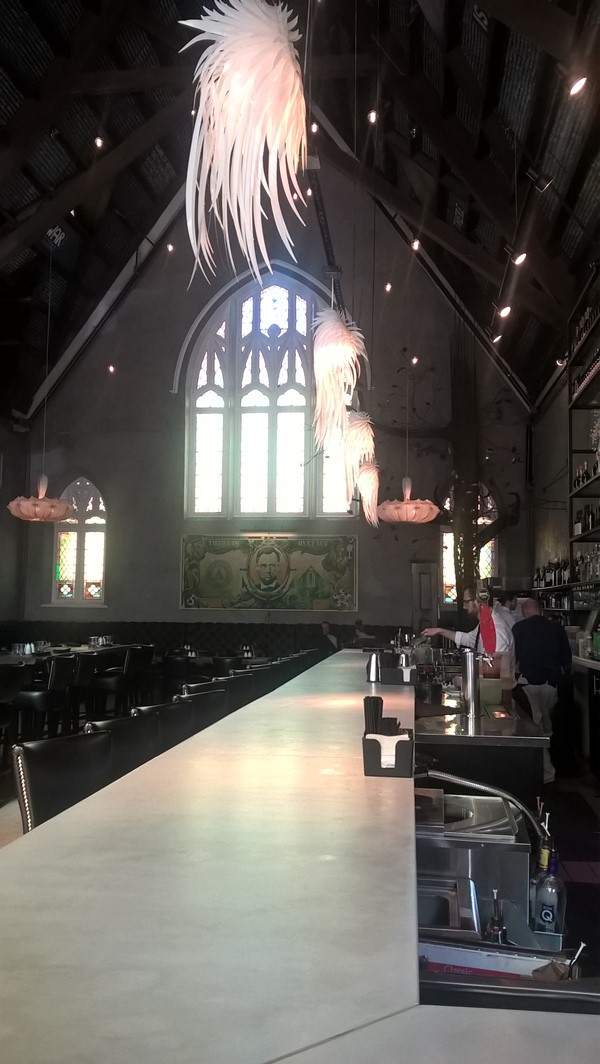 And quotes from "The Art of War" on the ceiling…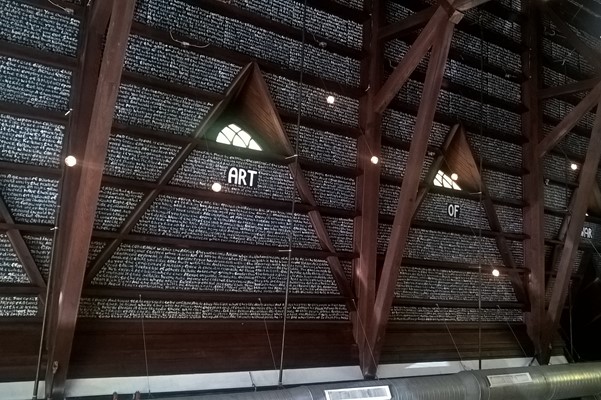 Time for a Manhattan! And some Conch Soup.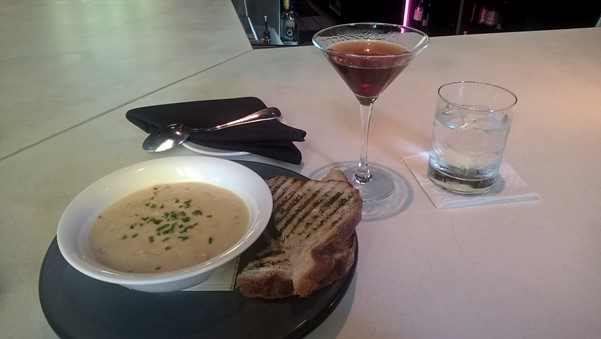 After lunch, it was off to see Fort Sumter…which involves a ferry ride – and luckily, I was uninformed, but on time, for the last of the two daily winter boats.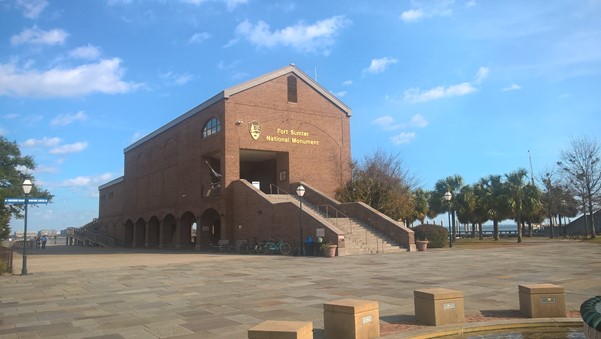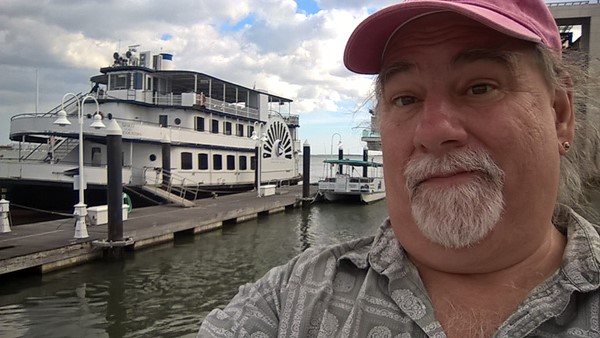 Nice day for a boat ride….and showing off my Hyman's Seafood hat to replace the one I lost years ago.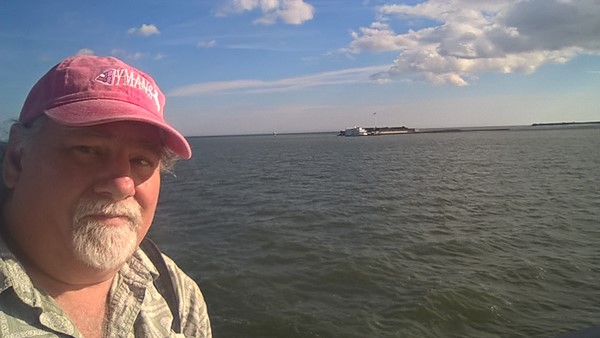 If you are a Civil War buff – this is the place to come. Personally, I'm more of a WWII guy, but it was still a lovely and informative visit – complete with musket rifle demonstration: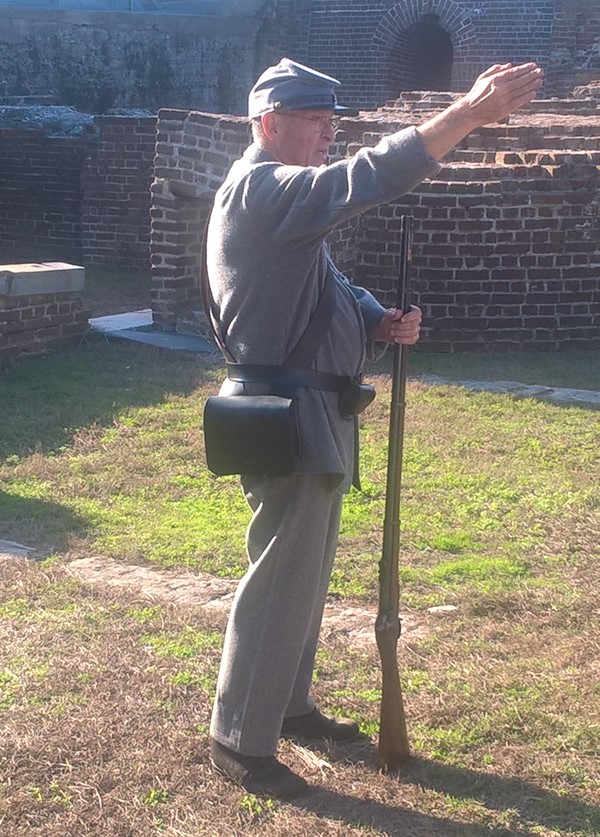 Lots of old cannons laying around….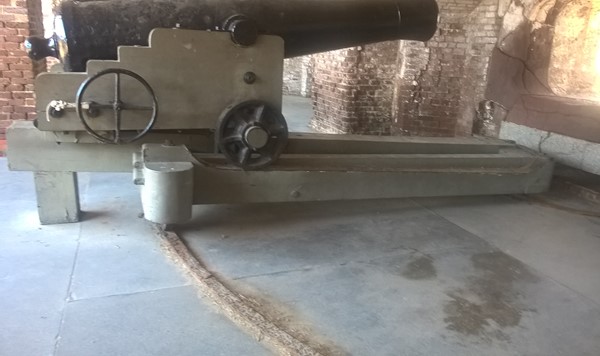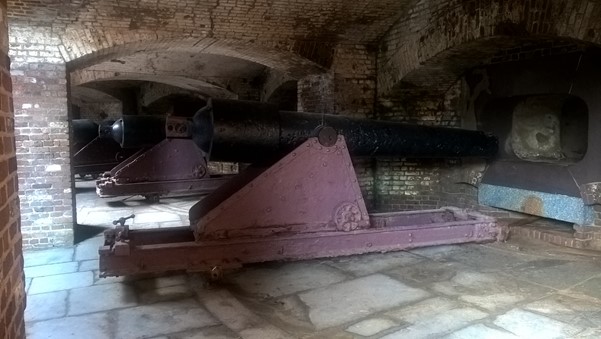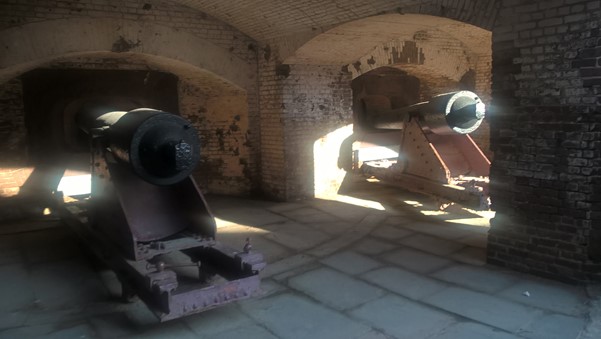 Parade grounds…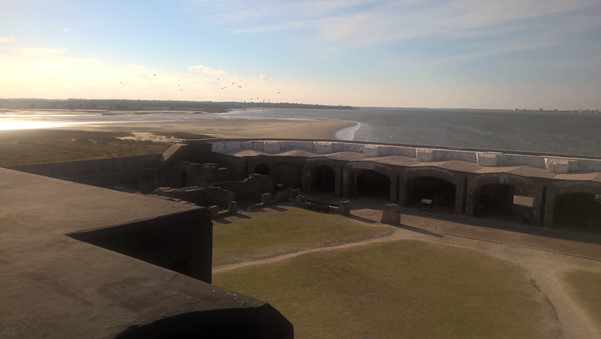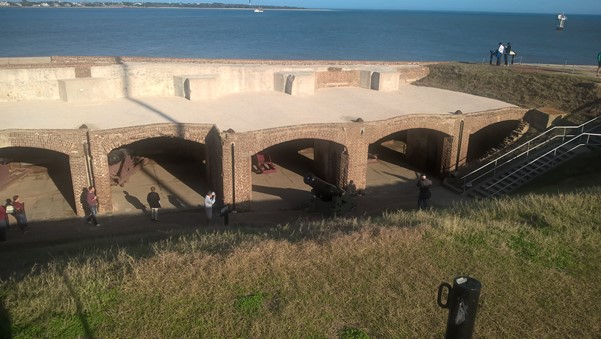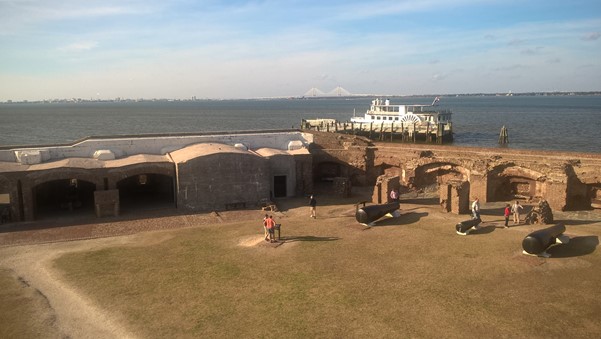 Charleston is the upper left skyline, with the bridge to some island mid, just above our boat.
Did I mention that it is unseasonably warm in Charleston –mid to upper 70's, which is about 10 degrees over normal.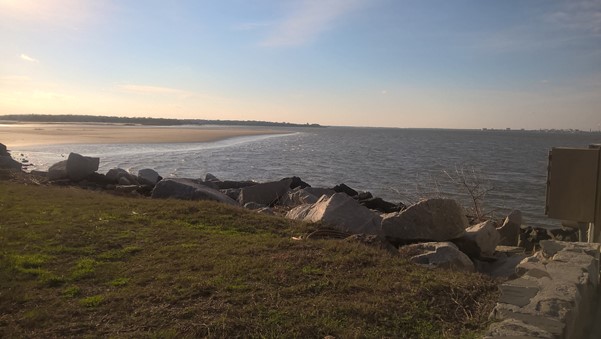 And saw numerous dolphins – this is as close as I got to catching a picture of one, the blackish blog in the middle of the water – one of the few times I miss my 20x zoom Leica Lens Panasonic Camera: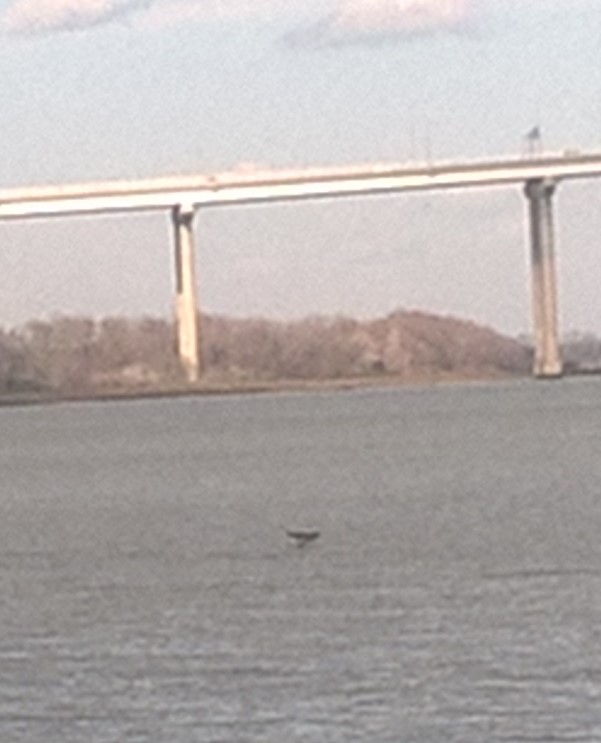 And, of course, birds everywhere…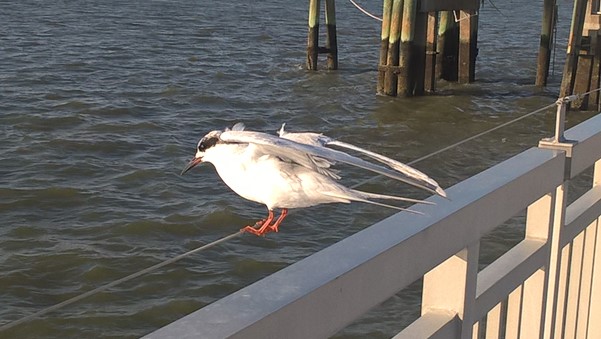 No need for the 20x zoom on that one! Soon we are headed back – this is the view headed into the dock, with the Aquarium next door looming over the Fort Sumter Visitors Center: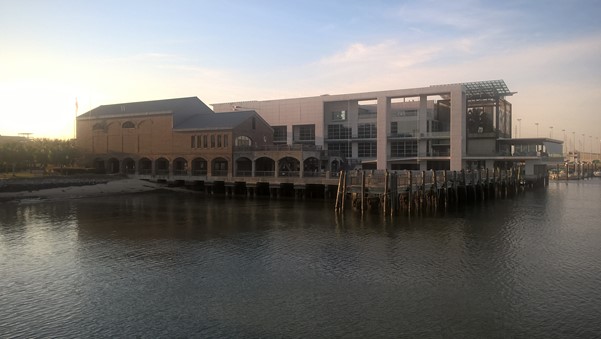 Was feeling a little peckish, so stopped at Queology for some happy hour wings (6 for $3), and a cheap highball – also on special: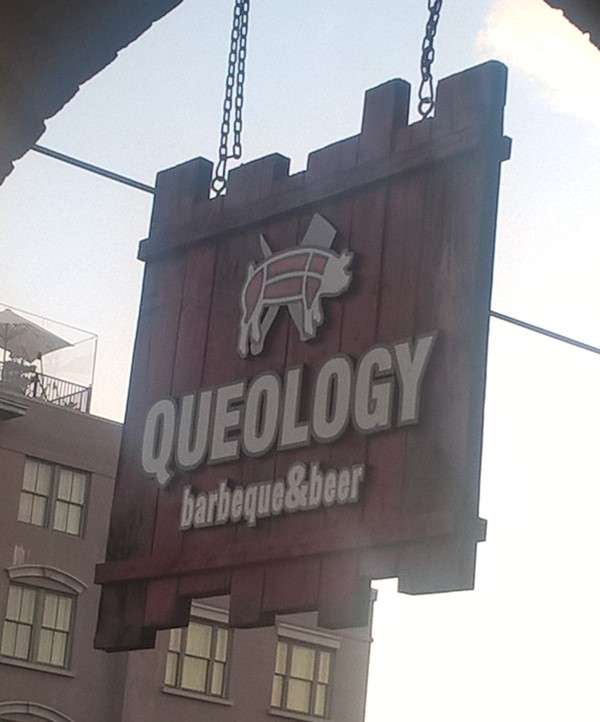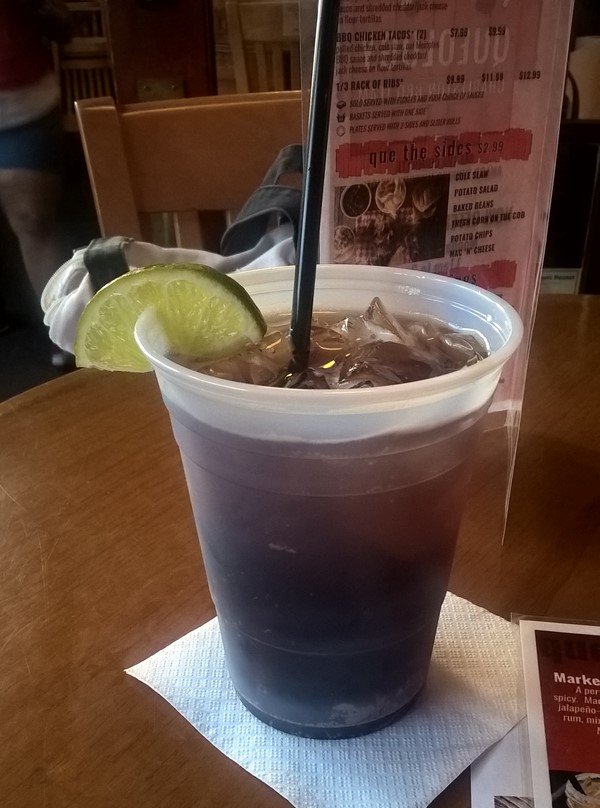 Headed back to the room for the news and a little television, but hunger set in about 9:30, and Hyman's had just closed, so I had to settle for the Rueben next door at Toast (oddly, ones by the same folks as Queology as it turns out) who were mopping the floors already but made me one to go…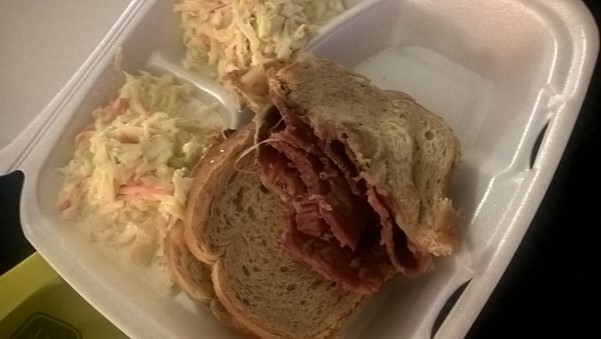 And let me sample a little whiskey I'd never heard of (on the house! – the sip, not the sandwich). This corned beef looked to be hand sliced, and it was definitely yummy.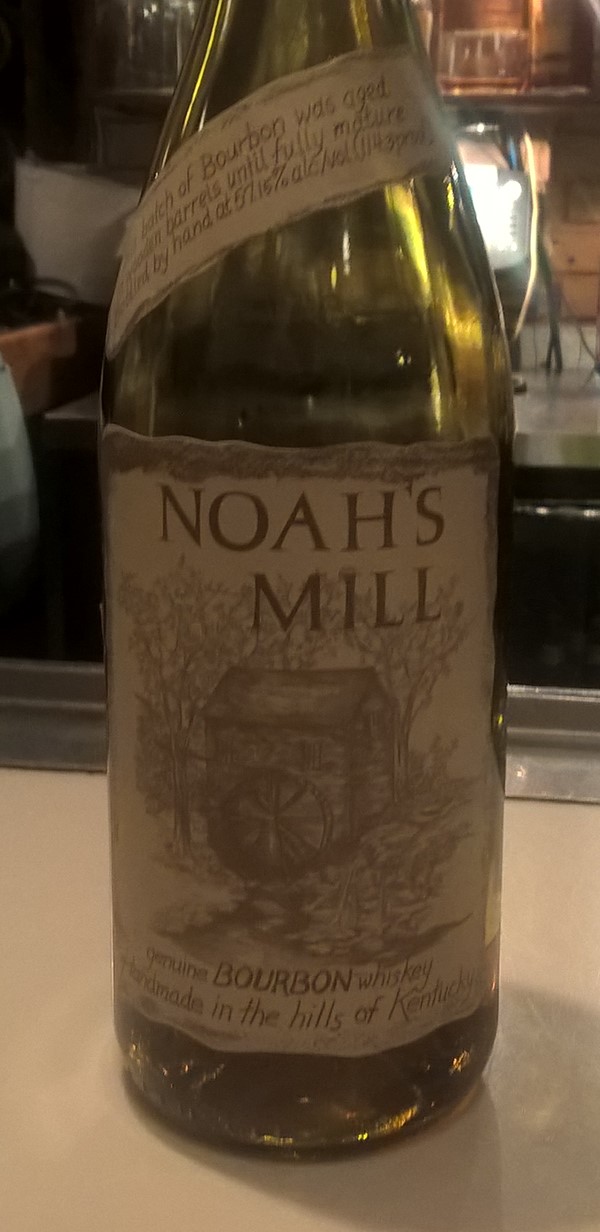 Cask strength and made in Bardstown, so my assumption was it is really a Heaven Hill (Evan Williams, Elijah Craig, etc.) brand, but a little research showed that it is Willet Distilling.
And now I want more whiskey! And maybe a return to Kentucky to revisit the Bourbon Trail.
Another fun day in Charleston, with more to come!
[? ? ?]