At least one adventure per week (sometimes three) for two months running. This week it's Berkeley to delivery some wine (and have a good time).
Yep, that's one of the pieces of luggage I repaired a week or so ago. But as we all know, trips start in the lounge with a Red Baron: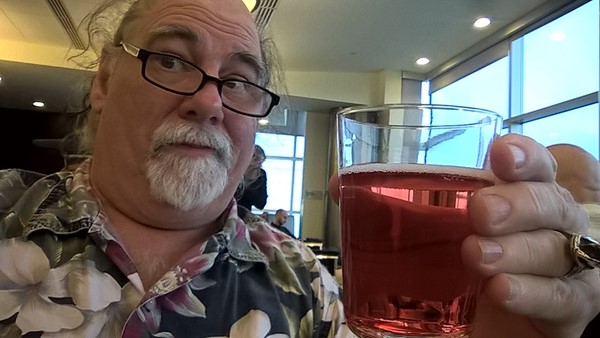 Lunetta picked me up at the airport (an option when I fly into Oakland mid-day) to pick up me (and the wine):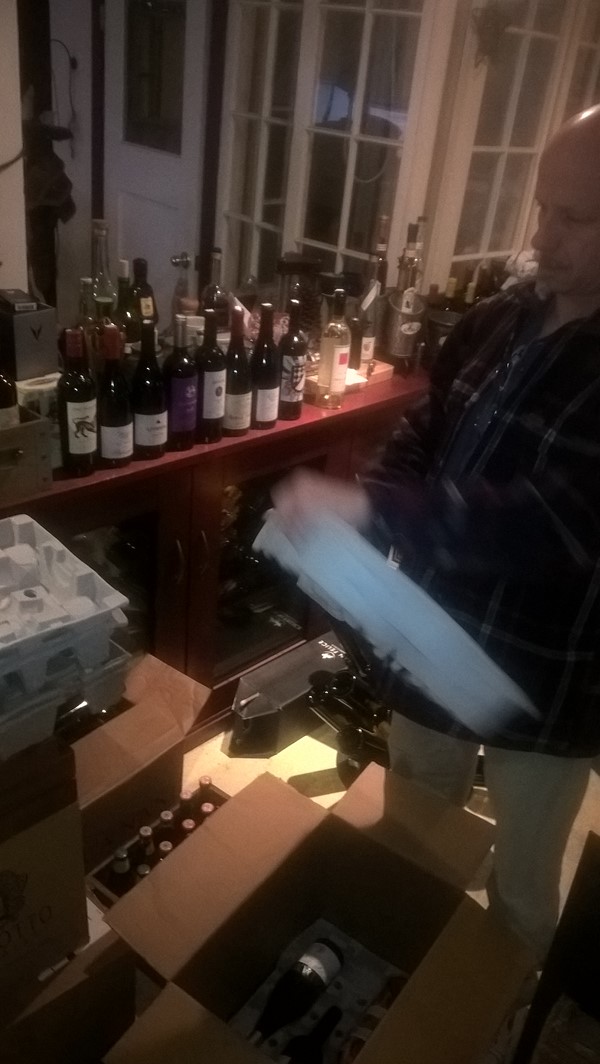 But when we get together, it's really about the company and the food – as witnessed by the lovely ensalada caprese I made: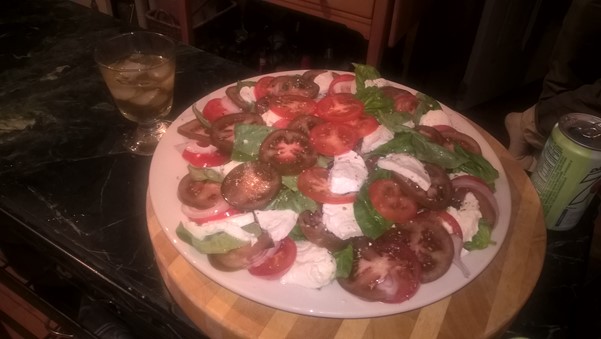 To go with the scallops for dinner: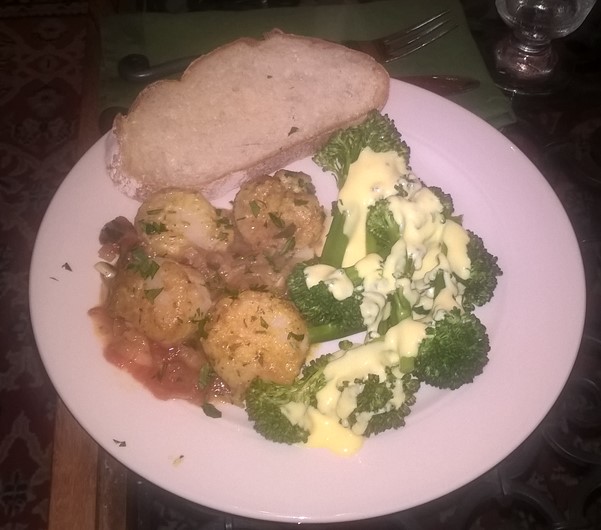 But it's really about the company…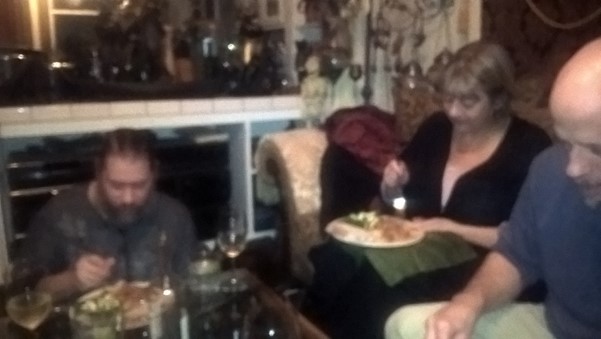 The following day was errands in the afternoon, and q quiet dinner with the boys in the evening after making a condolence call to the family of a friend that had passed recently. I'm not good at those things, so I was happy that there were time constraints on the visit as the bird was in the oven (as they say):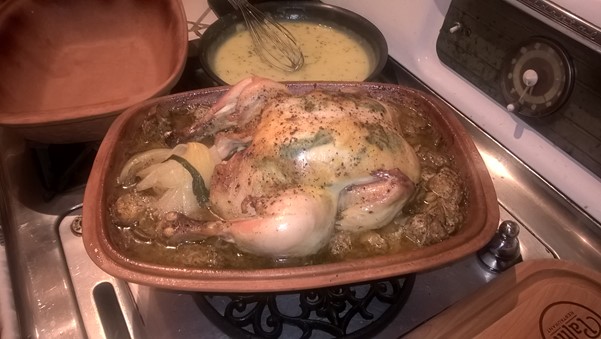 Yes, that is gravy to go with the chicken…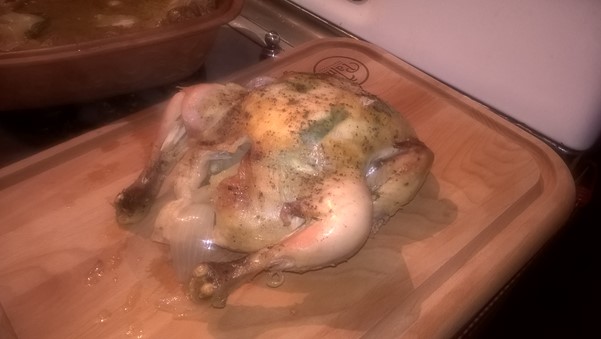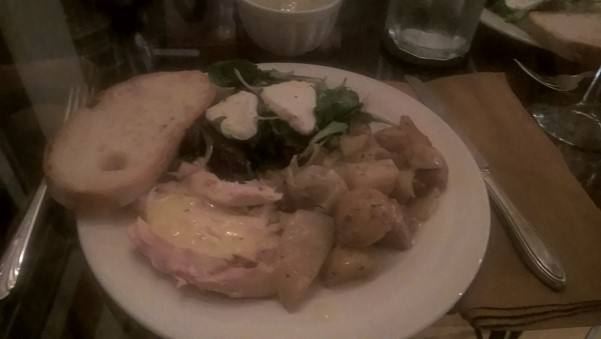 Nothing like good food to put one at ease.
And ease I needed with the text/email (got both) the next morning. I had a 1ish flight out of San Francisco, but got this notice at 7:35 am:
An important update about your flight.
Confirmation code:Â XXXXXX
Dear MARK
Due to weather conditions, FAA Air Traffic Control has issued a ground delay program for San Francisco. In order to minimize your delay, we will be operating out of San Jose, CA. We are offering complimentary shuttle service between the two airports. If you need the ground transportation, we are asking passengers to be at the San Francisco airport 3.5 hours prior to flight departure time. See a representative for information. 
Seriously – you moved AIRPORTS on my flight – to one that is an hour and a half away from SFO?
Lunetta was planning on running me to the BART station so I could catch the train to SFO so I got him up early since I needed to be there 3.5 hours before the flight. Luckily, he saw the silliness of taking an hour-long BART into SFO just to retrace the trip to get to San Jose. He got his clothes on and just drove me to San Jose – an hour each way in morning traffic. Maybe we should call him Saint Lunetta.
So, instead of having noodles in the Cathy Pacific Business Lounge (which is why I booked that particular flight in the first place, I had a mimosa and eggs benedict in the San Jose Airport at San Jose Joes: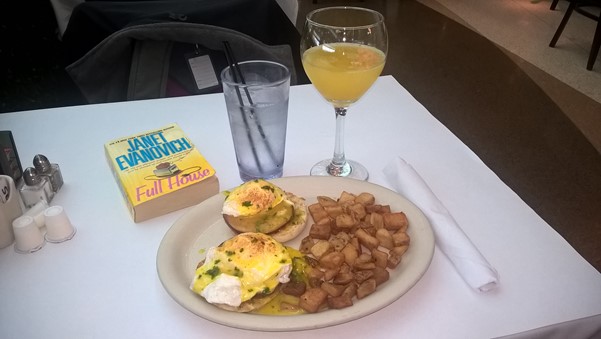 All's well that ends well?
Home about the same time as expected…but I don't really need that kind of stress. Luckily, I have friends.
[? ? ?]