Why Puerto Rico? When I was bumped off a flight in October in Columbia, South Carolina I was given a $600 voucher. When I was looking at the calendar – February sounded like a great time to go someplace warm.
Roxy was around so I got a ride to the airport in my own car — $20 savings right there – with time for a goodbye hug: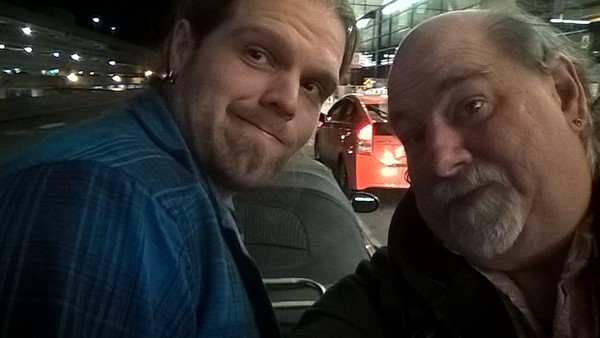 Got my bag checked and headed to the Alaska Lounge – with a pit stop along the way. I was coming out of the bathroom when I spotted these two guys that looked interesting…and looked like they could use free food and free drinks. Dragged them into the Lounge with me since I'm allowed two guests: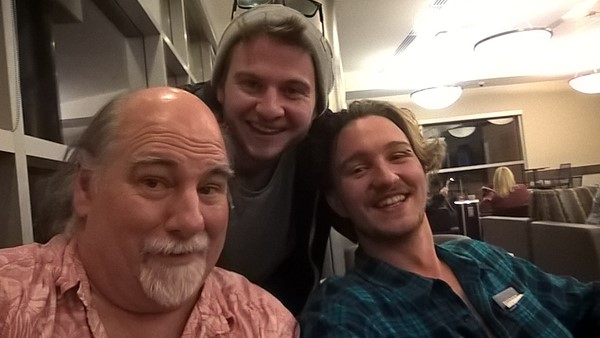 That would me myself, Jeff (I think):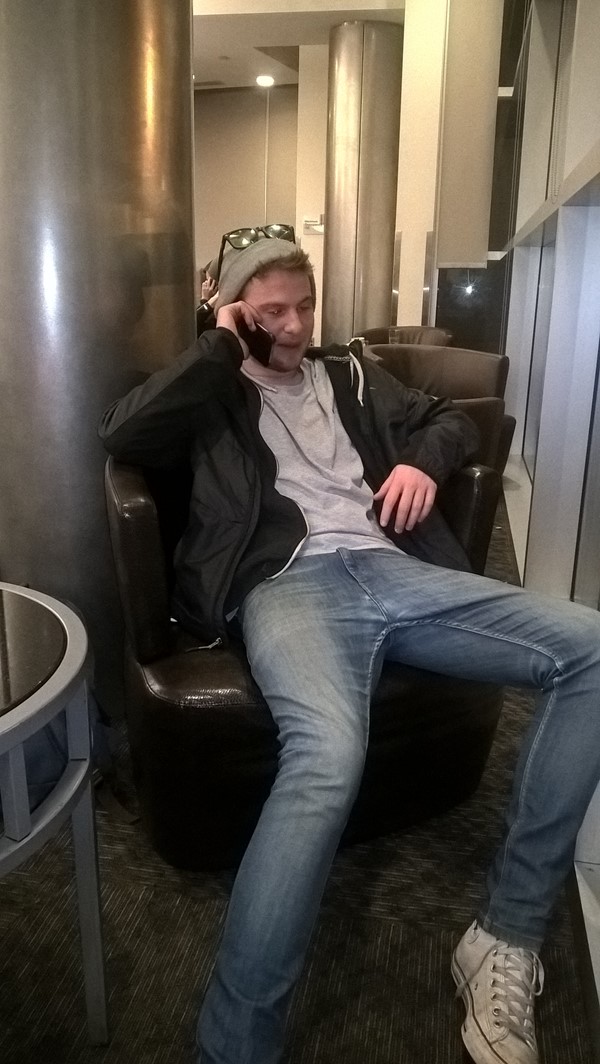 And Payton: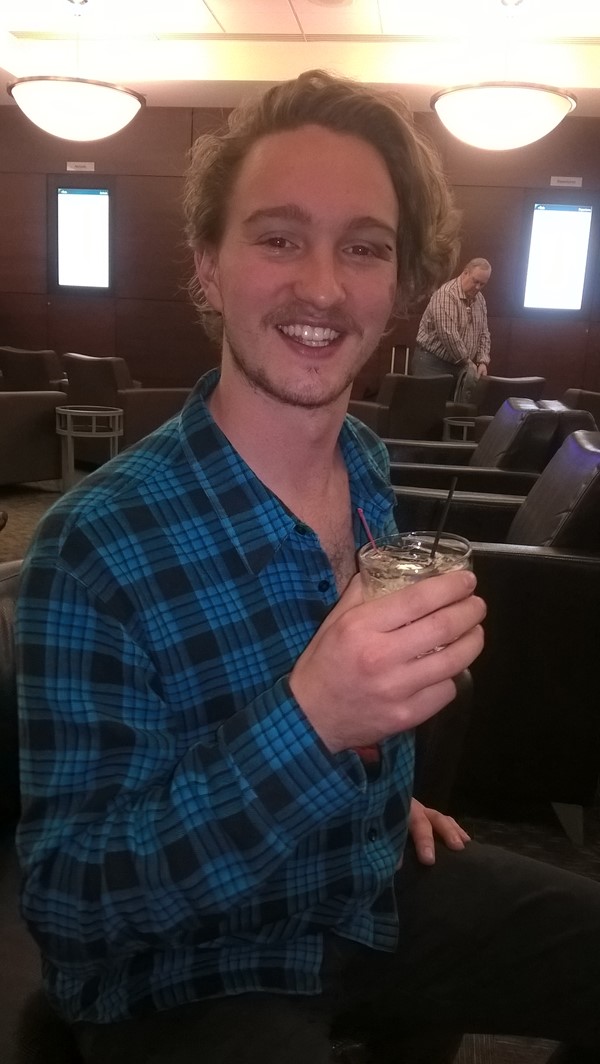 Both from Bend, Oregon, I hope these boys don't end up dead – they are on their way to Puerto Vallarta, Mexico on the spur of the moment. Basically $2,000 dollars in airfare. For that, they probably could have flown first but I doubt they thought of that. They have an overnight layover at Sea-Tac so it's probably a good thing I got them into the lounge for some food. Lounge closes at midnight, so hopefully they won't burn it down in that time. I do worry a little since they seem to be out of a Cheech & Chong movie. Peyton is sporting a black eye from "falling down a couple of times".
My guess that Payton is the wild one and Jeff the hapless tagalong was confirmed by this mugshot: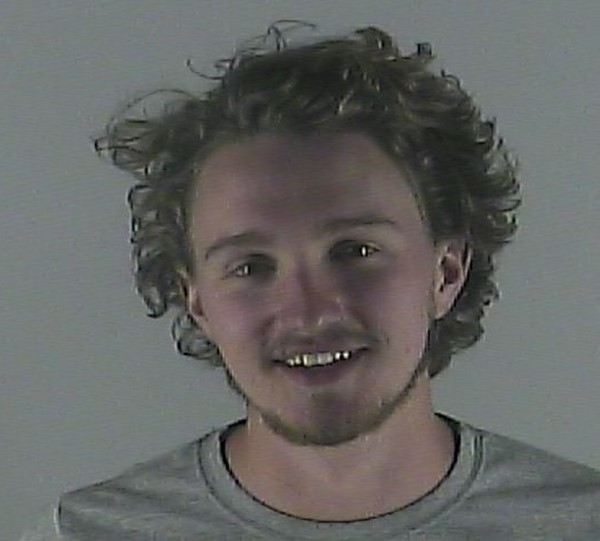 Seems that when he was 20 he got popped for DUI at 3:30am. Let this be a reminder – ALL sorts of stuff ends up on the web. (http://oregon.arrests.org/Arrests/Payton_Hill_22889703/) Had he not given me his business card with his full name on it…..
That was my airport excitement. One of the nice (and few) things about flying United is that in the waiting area they have a seat map of what's still open – meaning that when I saw my bulkhead row was full, I had them move me to the exit row where the seat next to me was open: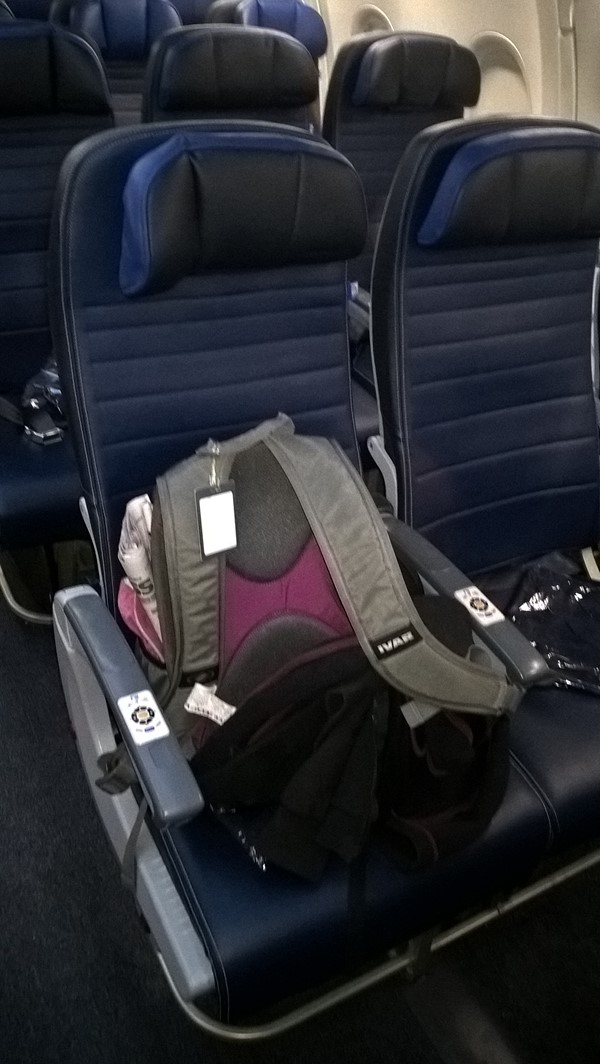 A note to fliers – that bulkhead seat is also directly across the aisle from a bathroom door, so don't expect to get much sleep.
Up in the air and it's time for drinks, even though it's a red-eye (which means I'll pay for it upon arrival in San Juan):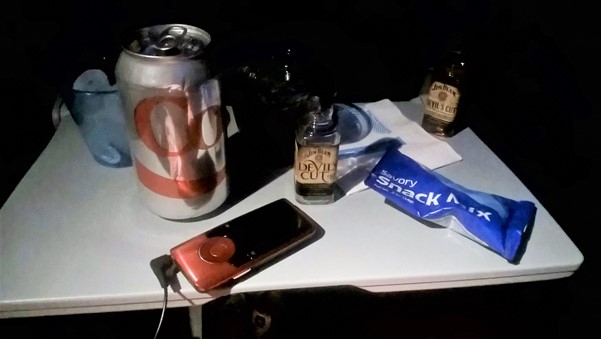 Just as Alaska Air has added more premium liquor to the in-flight service (Crown Royal & Woodford Reserve), United has added Jim Beam Devil's Cut (90 proof, which might not be a good idea) and for a dollar more, Buffalo Trace (both are Bourbons).
Spent too much of the flight reading and drinking, with not enough time sleeping, so my arrival at IAD (Washington, DC) was a little on the hungry/groggy side. Grabbed a quick bite – didn't seem like enough time to make good value out of my United Lounge pass in my current state.
I'd gotten upgraded to First on the IAD to San Juan leg a couple of days ago (I was number one on the upgrade list for the SEA-IAD flight), so I have a little more room on this leg: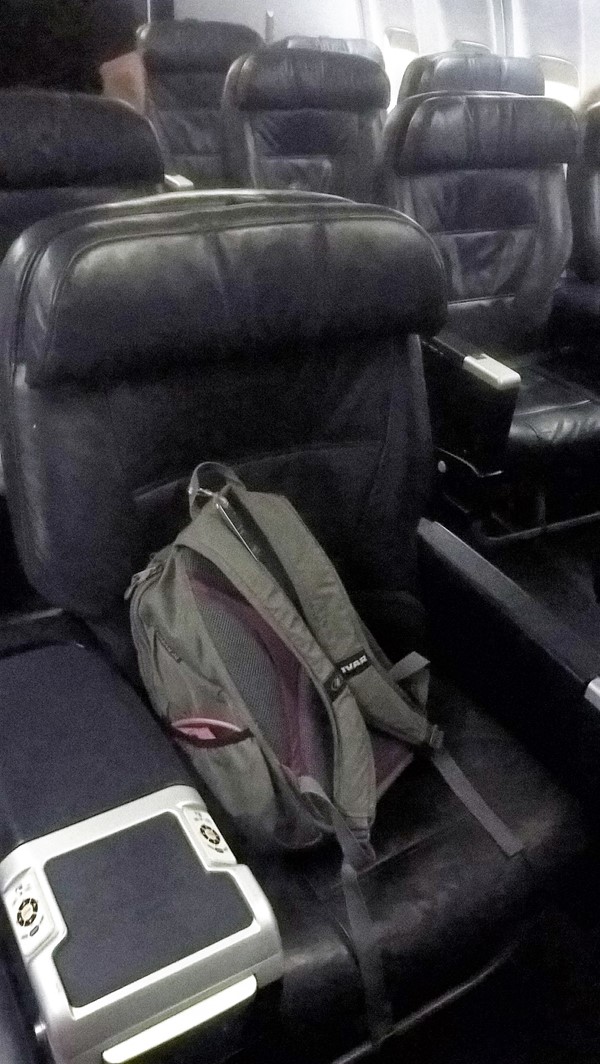 And pre-takeoff drinks…..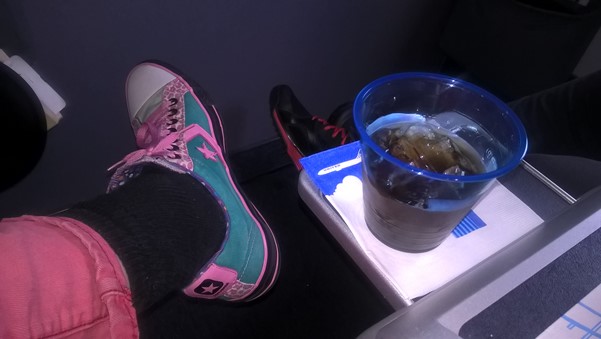 I was not hungry from my snack earlier, but I can't turn down free food. I also realized I'd be starving by the time I hit San Juan at 1:30.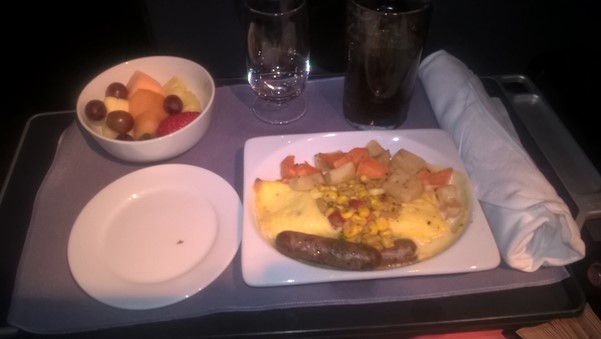 I really should have slept more on the flight to Washington – that way I could have drank more free whiskey on the way to San Juan. After that second breakfast I was OUT until we landed. Live and maybe learn.
Upon landing in San Juan I almost thought I was in Vegas!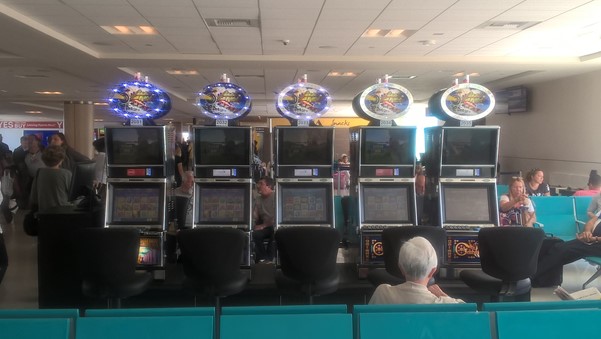 Contrary to what Fernando told me, Uber doesn't service the airport for arrivals – but the cabs are flat rate, with a "quote sheet" with the "base fare" of $19 and the "extra" $1 per bag, $1 airport fee, $2 fuel surcharge. Not that bad.
Got checked into the Hotel Plaza De Armas after a little delay – I showed up at 1:45 and check-in is at 3 – but they got me in at 2:30 with no extra charges. I'd wanted to stay in the heart of Old San Jose, which means, nothing is cheap. Even the non-fancy stuff is not cheap, hence, my $90 a night for a monastic windowless cell.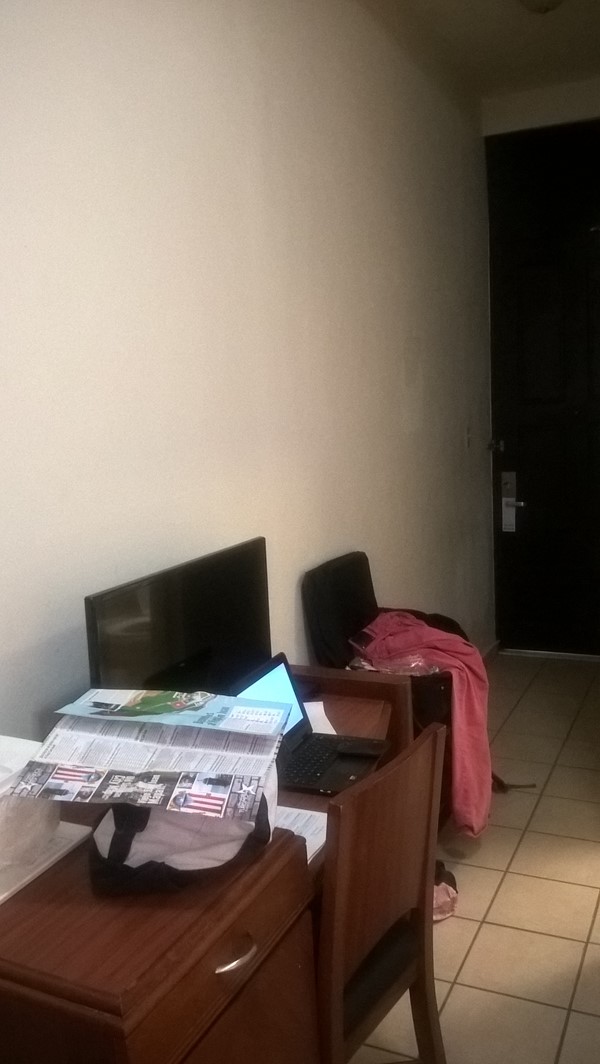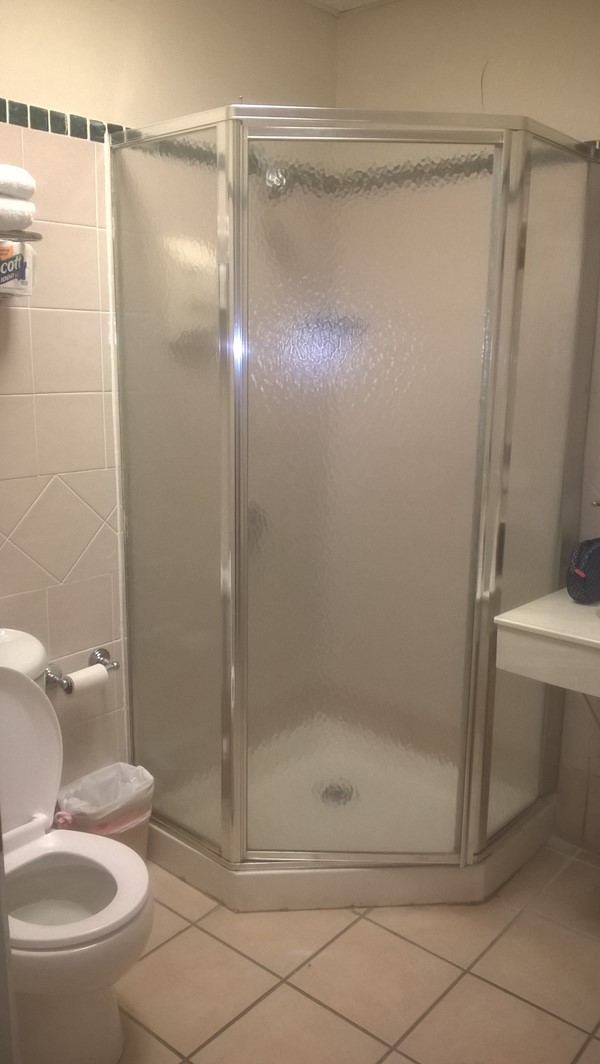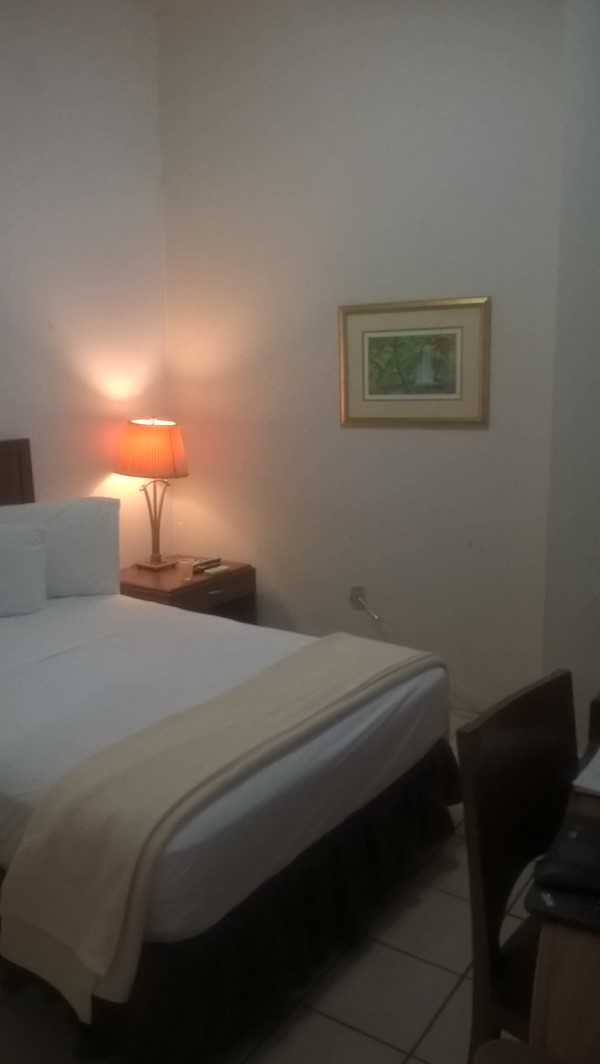 Plus side is very tall ceilings, down side is that wi-fi doesn't reach the room, and cell service barely does, no coffee maker, no clock. Clean but a little on the tatty side.
I should add that there is a HUGE, for the size of this hotel, atrium that does have decent wi-fi (though I could never get the laptop to connect, the phone did) and plenty of comfortable places to sit.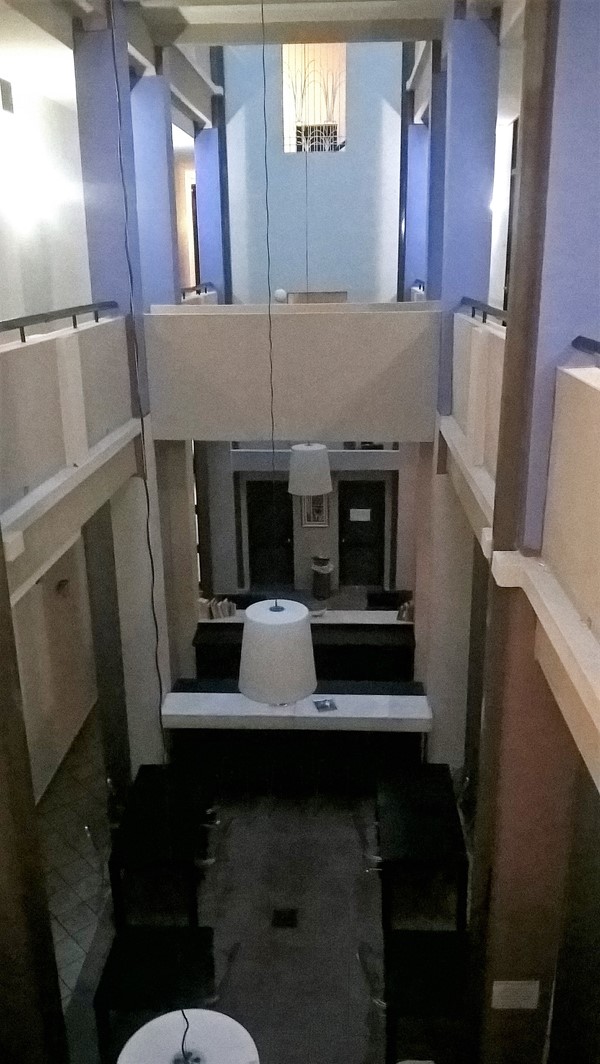 As you can see, I've taken up residence on one of the walkways outside my room – FYI, this furniture wasn't here when I checked in.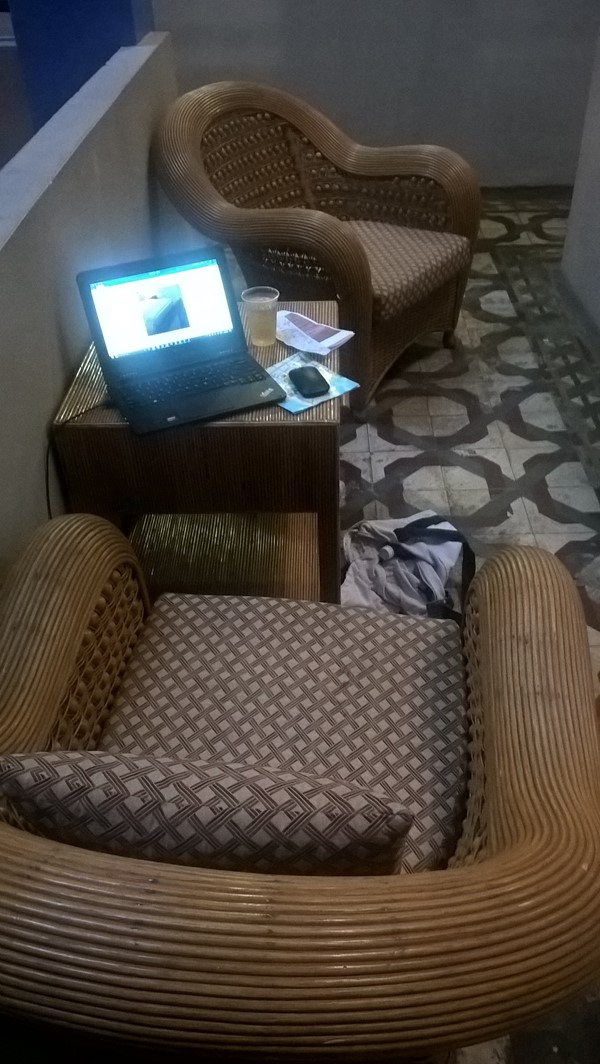 This spot is less than 20 feet from their routers wired third-world style: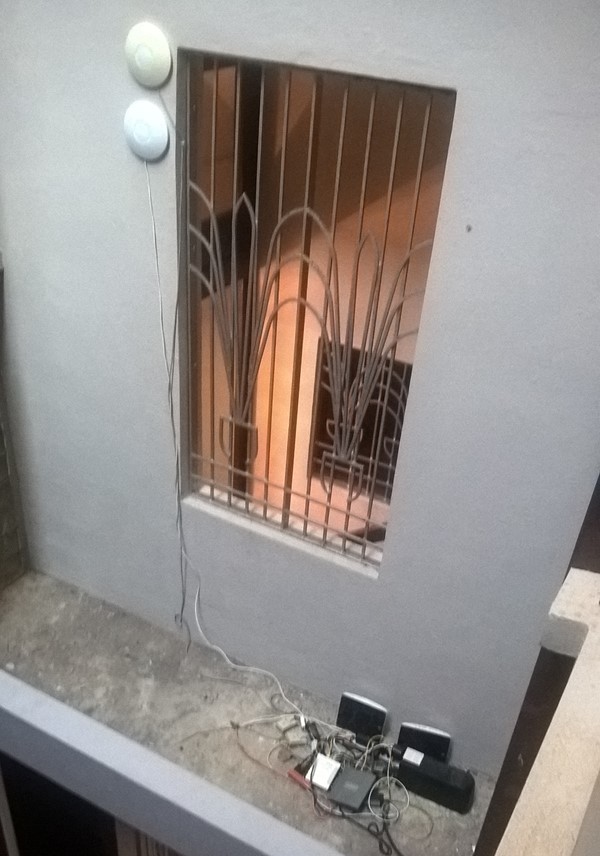 What I wish they'd do is take a sander/buffer to the floor tiles, which would really POP. When this building was built, this was an open-air atrium.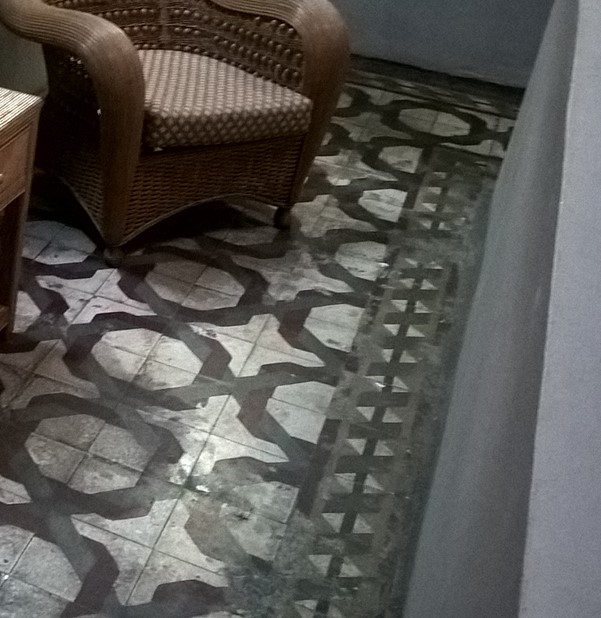 My first priority was taking a three-hour nap.
Next up, exploring Old San Juan.
[? ? ?]