Time to head back to work. Time to say goodbye to Old San Juan. Since I had luggage, I used the ancient elevator, which moves at the pace of a very old man.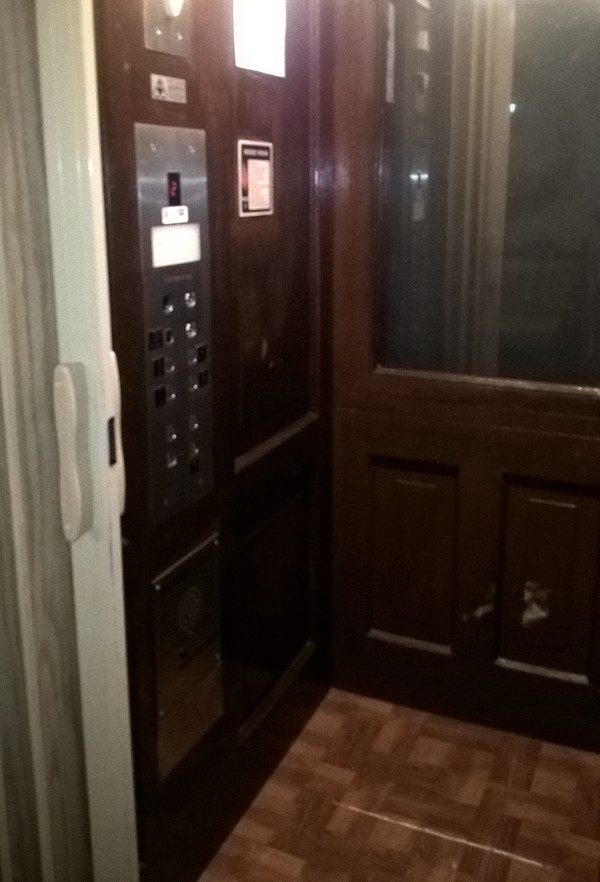 Yep – it has an inner folding closet door that must be closed for it to work.
Breakfast back at Caldera, this time actual breakfast. Two eggs, ham, toast: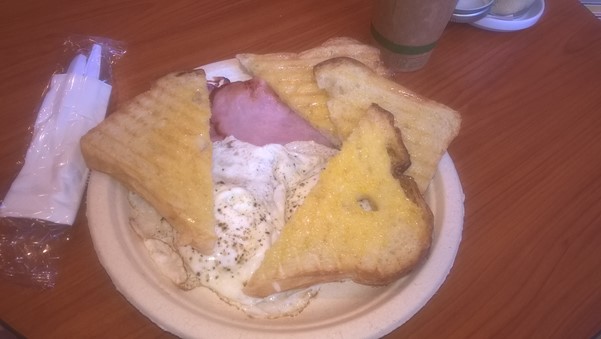 But soon enough, it was time for me to call Uber and get a ride to the airport:

Basically, it was $11 – that would be almost exactly half of what the taxi from the airport cost. Fernando had warned me about tension between Taxi and Uber drivers – this was confirmed by my driver when he had to pick me up a block away since there was a cab stand across the street from my hotel.
Got checked in and just past security (yes, there was a TSApre line) was duty free. Wait. Duty free? You can have duty free without having customs and immigration first? Yep. So I ask at the counter what the limit was on the number of bottles of booze I could legally purchase. "How much can you carry?" She was talking about WEIGHT, not quantity.
Yep, this is what I picked up: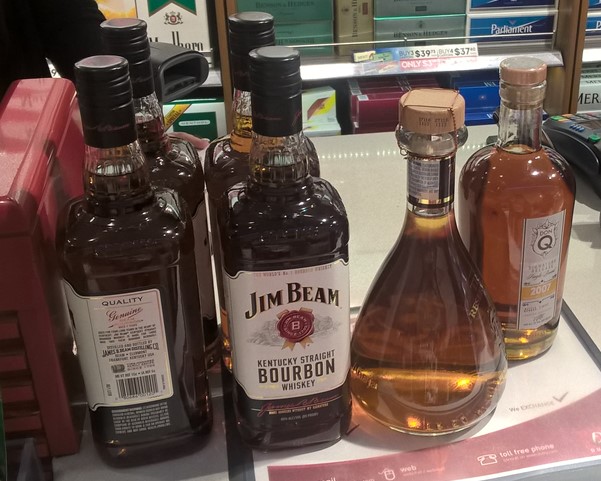 That would be (4) Liter Jim Beam (2 for $24), a Don Q Anejo ($18) and a Don Q single barrel bottling from 2007 (on sale, was $100, now $40). Thankfully they packed them in security bags –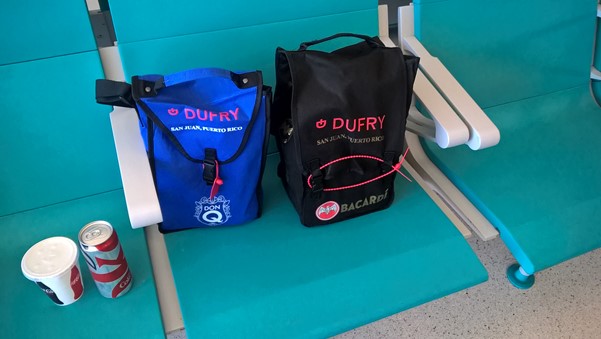 Had a little lunch and got some work done at the airport bar: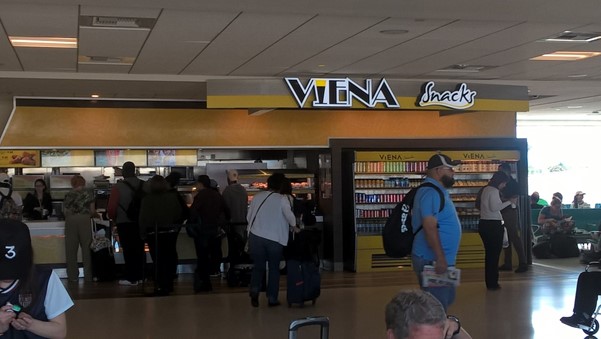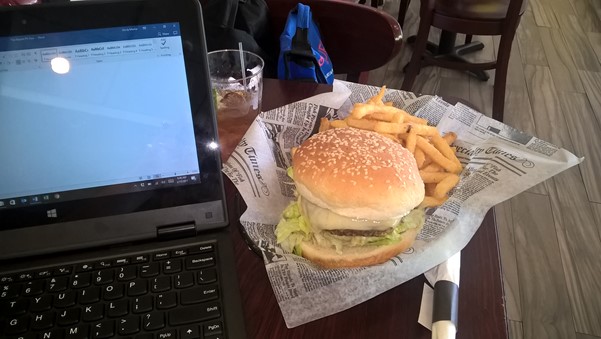 Didn't eat many of the fries – if I'd known I'd have had them hold them.
The airport is nice enough – but no lounge, sadly.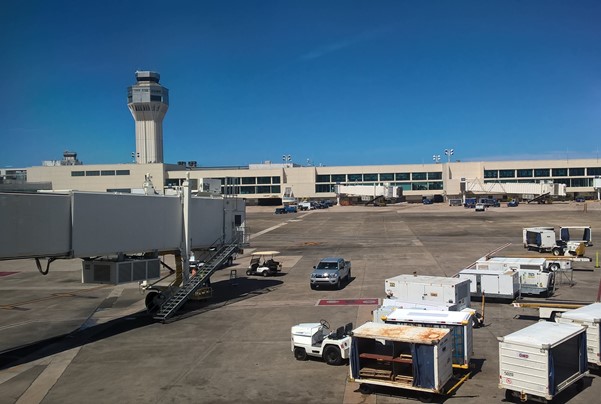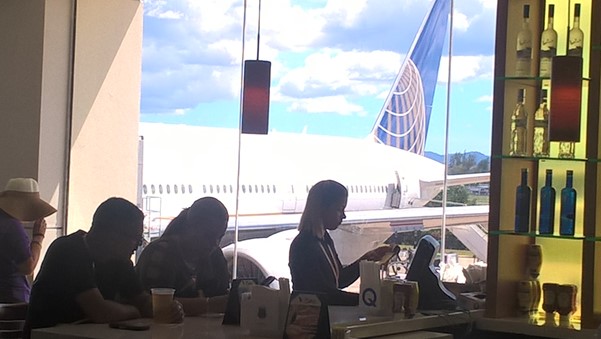 No upgrades on this leg, still holding out hope for the Chicago to Seattle leg.
But speaking of lounges – I noticed that my boarding pass had INTL in big letters – meaning United considers this to be an international flight, meaning I get lounge access because I'm Premier Gold. WooHoo!
And it's one of their remodeled lounges!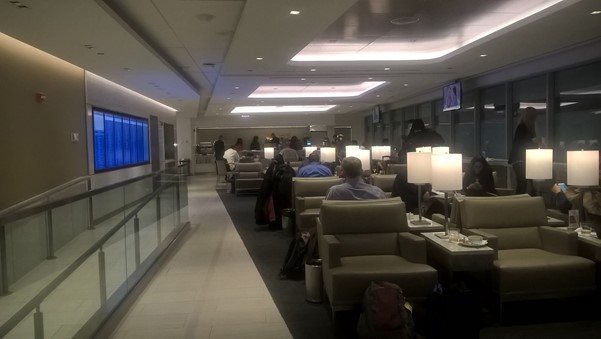 Where they make "fancy" drinks at the bar (if you are willing to pay):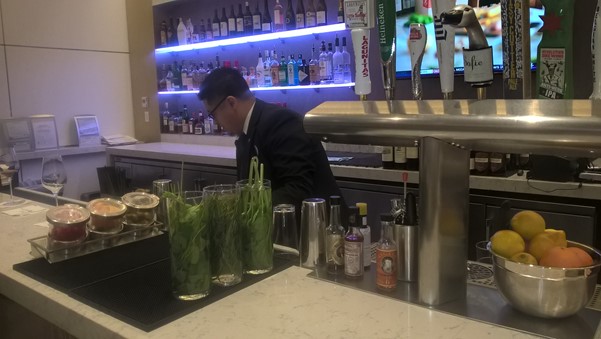 As for me, in my hour layover I had three cocktails, two bowls of chicken corn chowder, a helping of 5-cheese lasagna and a spinach salad.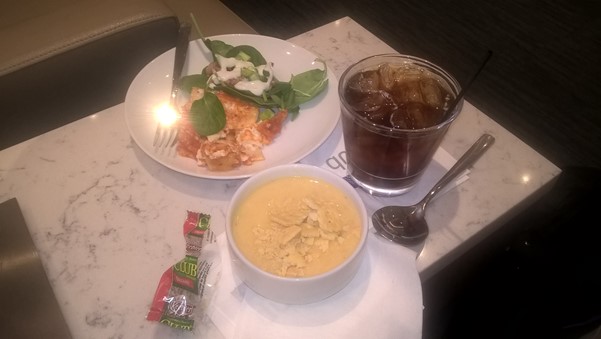 And grabbed some cookies to zip lock for the flight.
So far it was a smooth flight day…until I got to the gate. It was time to board when the captain came out and announced there was a mechanical problem with the engine deicer – which flying into Seattle is a critical piece of equipment. The minute he stopped talking, all of us in line just sat down where we were"
Yep – we are all on the floor.
O'Hare has this cart that I haven't seen anywhere else, it's a mobile food stall that just drives around from gate to gate: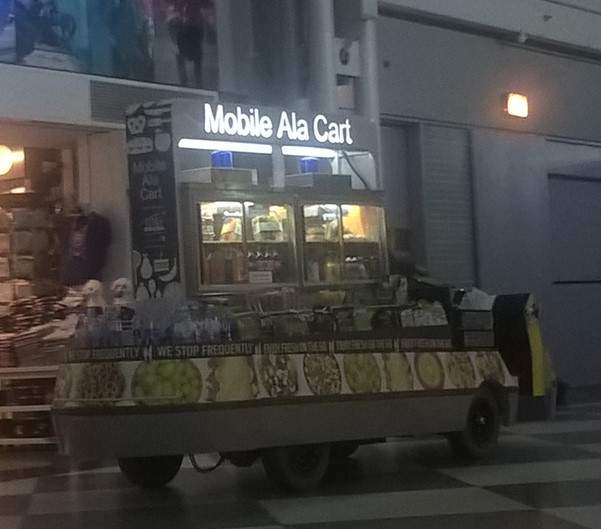 Thought that was really cool!
The delay was long enough that I probably should have gone to the lounge that was a gate away. But I was still pretty stuffed, and just a little buzzed.
We loaded up about two hours after we were supposed to and off we went. Sadly, no upgrade, and no middle seat open – at least I was in the bulkhead with a smallish women in the center.
Got into Seattle only an hour late, but it was almost midnight with doesn't bode well for Roxy sleeping though texts/phone calls for a ride home. He keeps his phone on silent since he has so many message boards he's on that it would be non-stop bleep, bing, gong, etc.
Time for another Uber!

Basically $23, but I'm home and can wind down from the trip.
[214.6]