When you have to be at the airport at 3:30am, of course you should throw a dinner party the night before: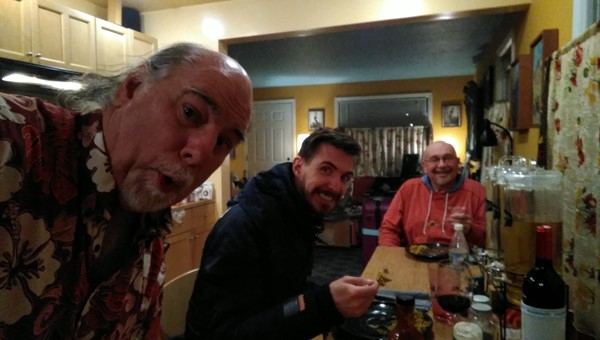 Don't we look awake in the Uber the next morning – which for some reason was also carrying a large load of flowers: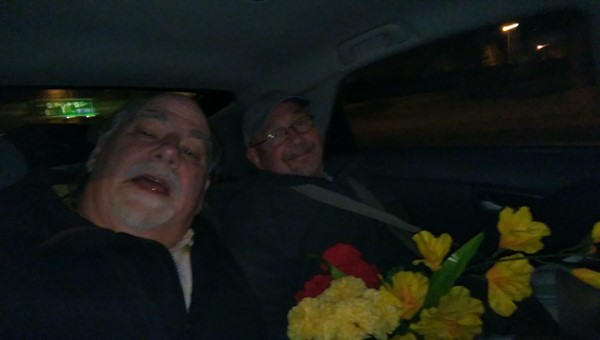 The Alaska Lounge doesn't open until 5am, which is when our flight departs, so nothing to do but hang out in the terminal until we can settle in our lovely first class seats. I used a handful (assuming one was missing a finger) of Guest Upgrades.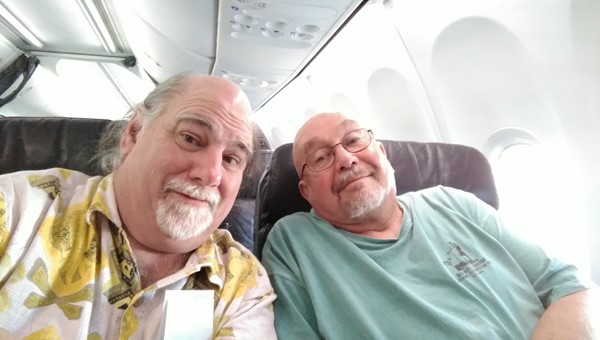 And before long it was time for breakfast: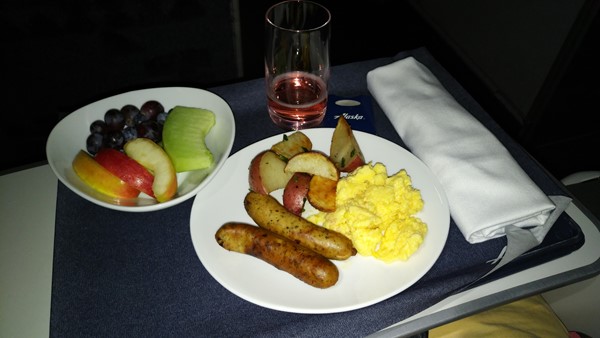 And now I'll turn it over to Rache for this tag team post:
Markie's and my flight to LA took off right on time. It was a full flight and all went smoothly. Even tho' the same jet was used from the LAX to Havana, we all left the plane and took all our belongings as it was cleaned. You can tell that there are a few kinks to work out as there was one stamp that was left off our boarding passes. That stamp is verification that Alaska Airlines took in our money that is part of the proof that we paid health insurance for the time we are in Cuba. I now have a better understanding what it's like to get a stamp on one's paper and I wish to apologize to all my kids for failing miserably in consistently getting stamps on their papers. 
This would be the stamp: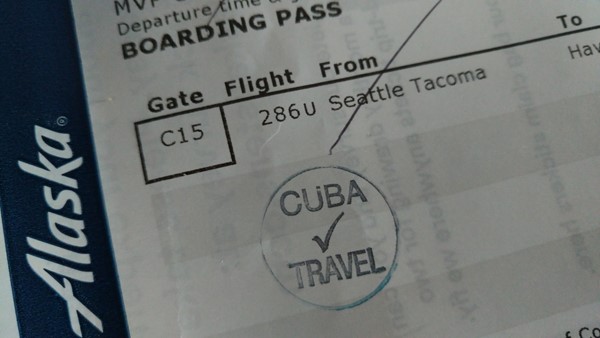 For some reason, we were served a second (and slightly larger) breakfast on the Los Angeles to Havana portion: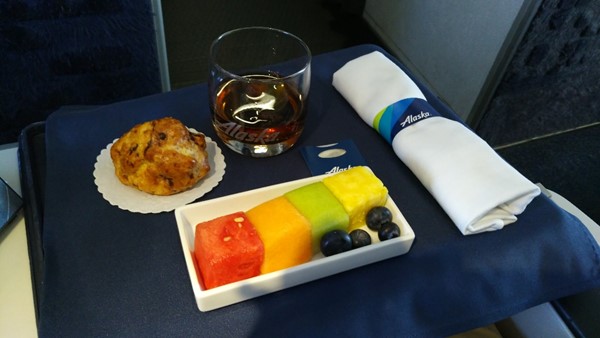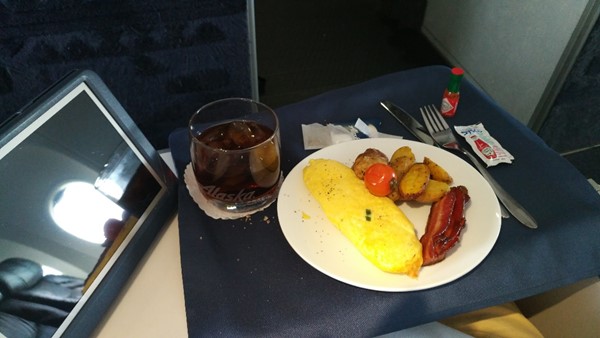 And back to Rache:
After the clog and only slight delay, we were off and actually made up time in the sky so that we landed at José Marti International a bit early. One must remember that the second you land in Cuba, there is a time transformation. It's not like time stands still, but almost. Island Time.
Our bags took almost forever in getting to the terminal. Mercy. Markie's bag was taken off the conveyor and mine ended up on a conveyor with another flight. Terminal 2 is small enough that it doesn't make a difference. However, content in the luggage does make a difference. As always, I packed a whole lot of school supplies. This time, I also packed herbs, spices, flavorings, tons of chocolate, toys, etc. I inspired Markie in this endeavor and he brought six old cell phones. Mistake. We were separated, bags gone through, and we were somewhat interrogated. Markie was being asked why he was bringing in so many phones and I was being asked why I had a power converter (220v to 110v) that included several USB jacks. And I was also being asked why Markie was binging in so many phones. I am not sure if he was asked why I had the power converter [UM: they did not].
Regardless, we were almost the last ones out of the terminal. That stressed us because Alain (our host), the interpreter (his goddaughter), and the driver were supposed to meet us. And here is where "Island Time" needs to be remembered. They had called for a ride. The driver of the '55 Chevy arrived at Alain's home at the time they were supposed to meet us at the airport, so they were stressing as much as Markie and I were. They were sure we had left without them. As luck would have it, Alain had a photo of me on his phone so he asked security to check to see if I was in the terminal. I was – having the content of my luggage examined and being questioned. This is done unlike Peru, which takes us to a back room. This questioning is done out in the open in Terminal 2. Alain and Gema's stress, was lessened once they knew we were in the terminal, but Markie and I didn't' know that so we were still stressing.
Long story longer, Markie and I were reunited, we each had to pay a $14.00 fine, and we escaped the clutches of Cuban security and greeted warmly with hugs and kisses from Alain and his goddaughter/translator. The driver loaded our bags and we were on our way.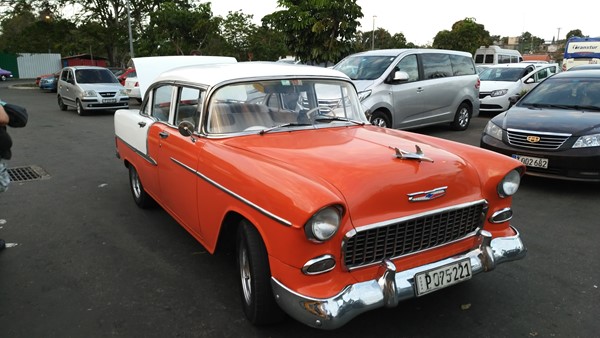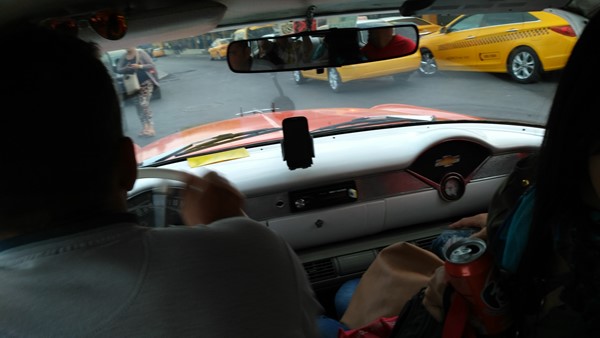 Alain lives on the east side of Havana, in a former Soviet area called a Alamar. It seems like a lovely area but it was getting dark as we arrived.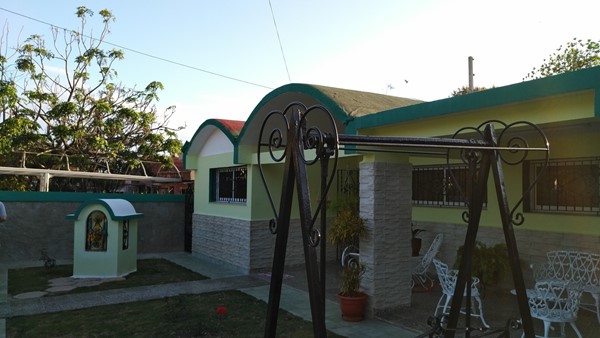 Tekita (cook/maid/house manager) made us a very festive meal with traditional Cuban food. black beans and rice, salad (shredded cabbage, tomatoes, carrots, beets, mild peppers), malanga fries with honey (fritura de malanga con miel). Oh, the main protein was lobster! The huge meal was topped with flan and strawberry ice cream (copa lolita). Stuffed over the top [UM:we both were].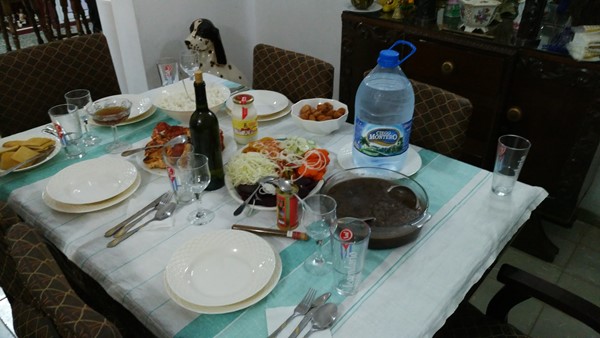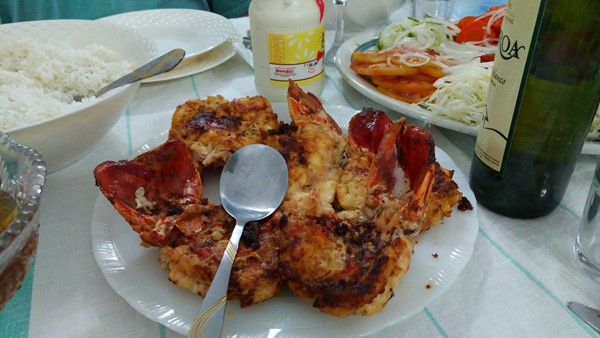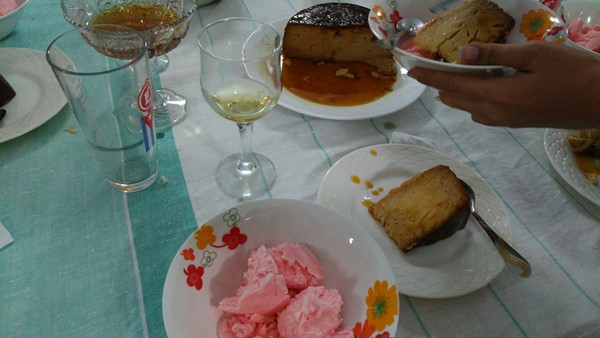 And there was even Cuban white wine: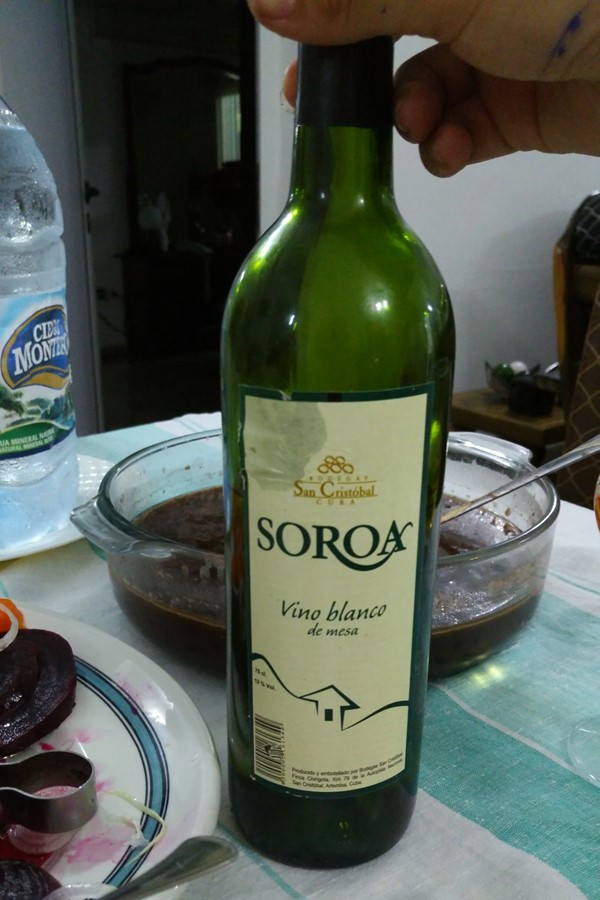 While Cuba DOES have a wine industry, most of their wine is imported from either Spain or South America. If you are interested in the growing wine industry in Cuba, CLICK HERE for and overview of the industry – makes me want to go to the Cuban Wine Show (Festival International del Vino) in October.
And now back to Rache:
We chatted for a bit, Alain and Gema (goddaughter/translator) had a friend who exchanged our money and soon we were off to bed. Markie and I both have our own rooms.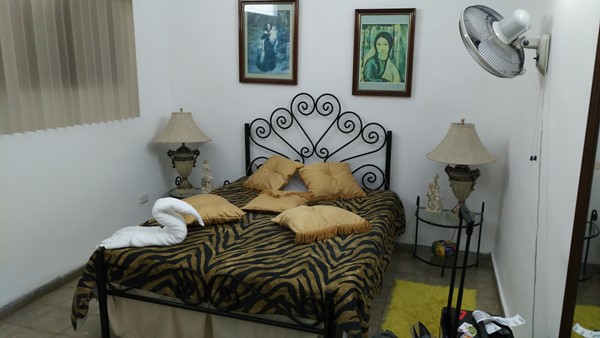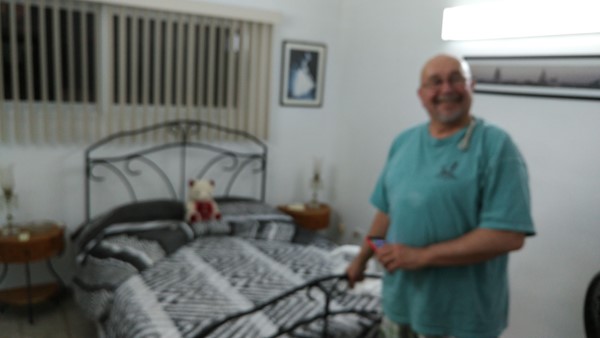 The house is lovely and I'll describe it more as the week progresses. Besides a parrot (and a lizard), there are two dogs. And that's important because when I was in Peru, I felt sad that I didn't have anything to give all the stray dogs in that entire country. so yes, this time, I brought dog treats. I now have two best friends forever in Cachito (dachshund) and Kiara (husky mix).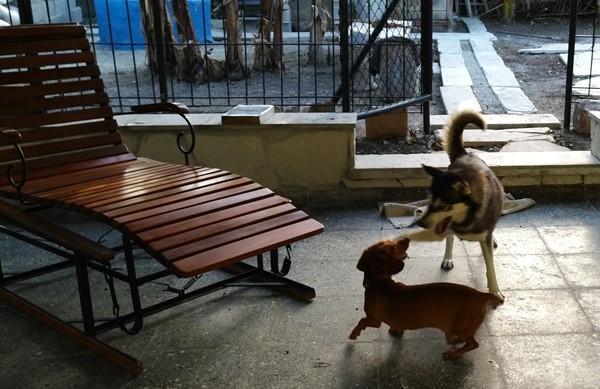 I did stay up after Michael went to bed, but not for long – I was "running on fumes" as they say.
Stay tuned for tomorrow's adventure.
[216.0]