One of the really nice things about travelling with Rache is the difference in our time zones. He's the early riser, I'm the night owl. Needless to say, I was the last on out of bed this morning,
I'll let Rache start the story:
Before I get started, I must say that Alain, his housekeeper Tekita, and Alain's goddaughter Gema (aka translator) are amazing. AMAZING!  They are treating Markie and me like royalty.  I have never experienced such gracious hospitality. As a person who likes to be the nurturer, it has been initially difficult to accept such a lovely, genuine welcome into a lovely home. With that said, when you come to visit me, I will prepare your first drink and then you're on your own LOL!
Yesterday started fairly early. Tekita and I were the first to arise. I was preparing to shower about the time she handed me a cup of delicious Cuban coffee. She also said something about "agua caliente" which I of course misunderstood it to mean that the coffee was hot. Long story longer, I had a cold shower as the water she heated on the stove for my shower was instead used by Markie. Yep, no hot running water. Tomorrow I'll know.
Tekita prepared a breakfast of scrambled eggs with bacon and onions, mango juice, ham, cheese, roll, and a banana from the tree in the backyard. We could've had some flan from the previous night's dinner but we had no room in the tummy.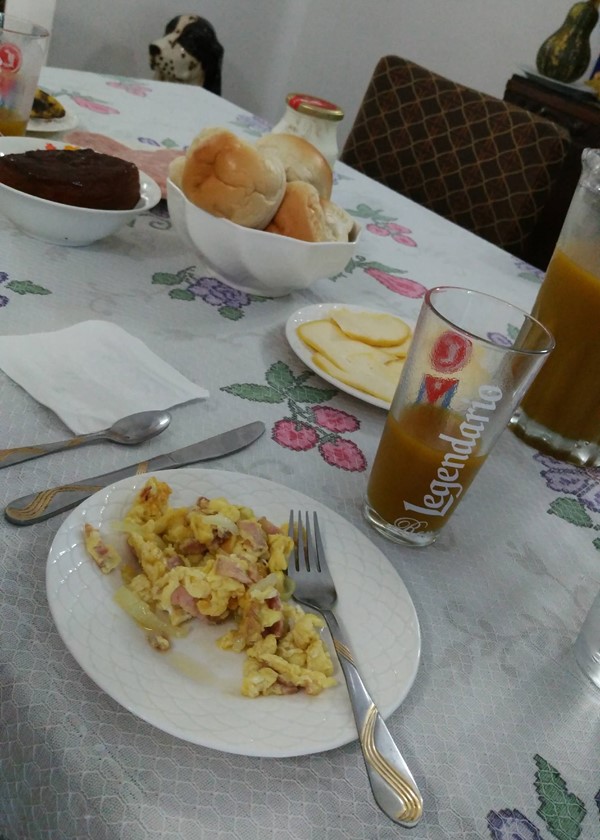 Mark here again….while the eggs were DELCIOUS, and what I usually have some variation of at home, Uncle Markie's stomach wasn't having much of it. My first worry was that I'd picked up a bug from the ice in last night's drinks, but 12 hours is a little quick for gastrointestinal stuff to happen in me – the world traveler with enough flora and fauna in his system that make me reluctant to take antibiotics because they would kill the good stuff along with the bad. What I should have done is make a ham and cheese sandwich for the road. Alas, I didn't have that forethought.
And now back to Rache:
We drove 2.5 hours out to Valle de Vinales. We passed sugar cane and tobacco fields once out in the country. It appears to be both a national park where people live, work, grow tobacco, etc. And some amazing views. Think of it almost like a tropical Monument Valley Tribal Park and you'll sort of get the idea. Along the way, we stopped at a Centro Turístco Las Barrigonas which is along the Ruta del Tabaco (I bet you didn't know you could read Spanish).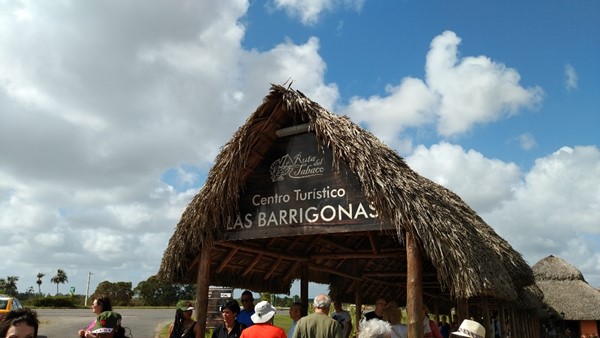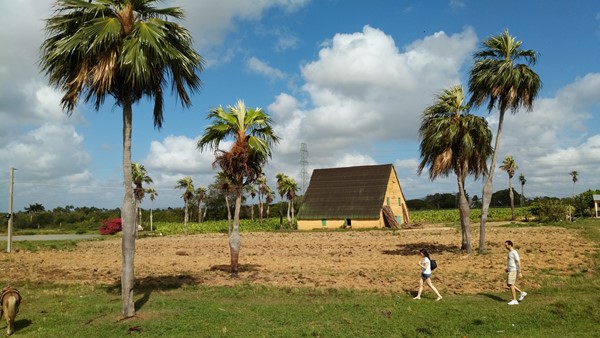 There we frolicked amongst a mother pig and her piglets. They were enjoying a dip in a pond near a tobacco field.  Alain is one of those gentle souls who cares for and respects animals. When he discovered the sow was not within reach of greens to nibble, he picked some for her.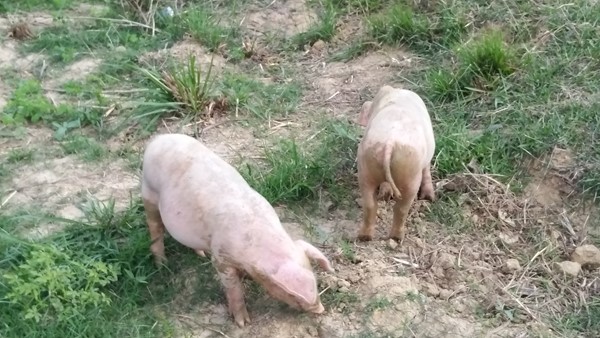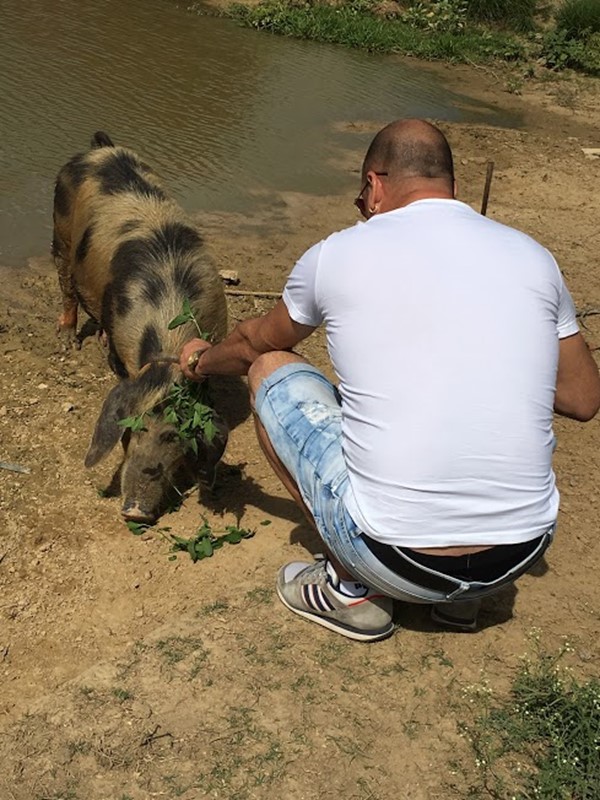 Now, roadside rest areas are a little different in Cuba. Piña Coladas are sold and you get to pour how much rum you want into the cocktail.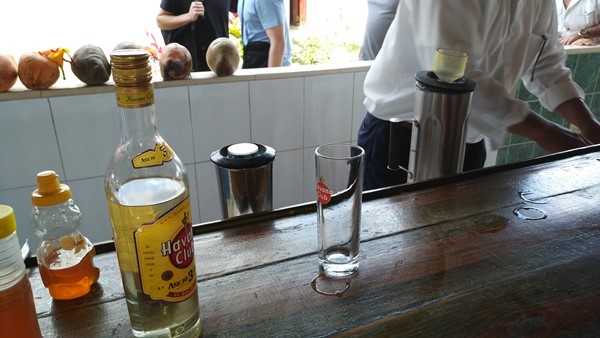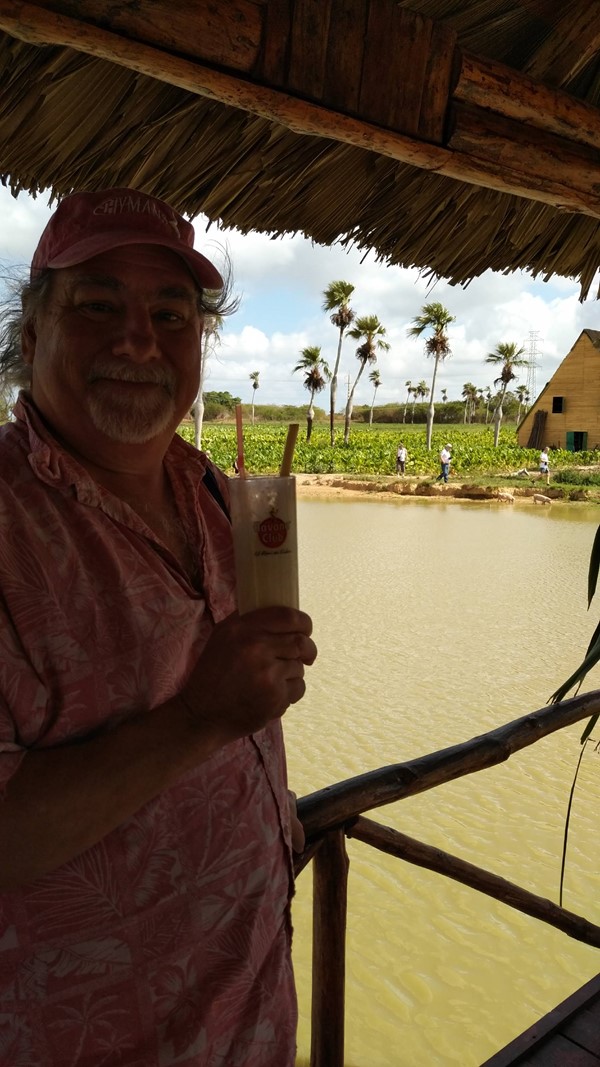 Mark here again — at this point I have to add that Rache's suggestion of a Pina Colada was PERFECT for my stomach, which after several hours of weaving/dodging/bouncing on major Cuban highways squished side-to-side like happy sardines in the back of our Chinese Geely motorcar was as welcome to my tummy as was just getting out of the car. Here is a picture of our touring car, though, technically, was taken a day later at a gas station (.90 CUC per liter, FYI, which is basically a USD per liter). The car was nearly new, with seating for three in the back and two in the front.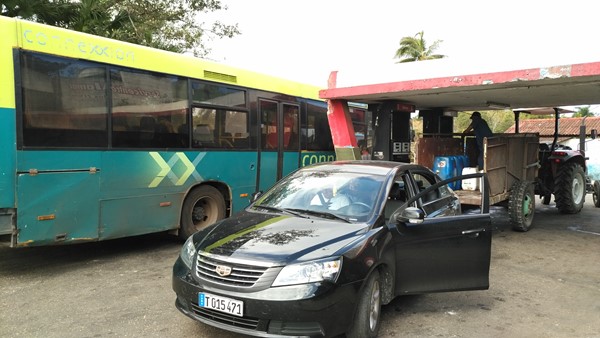 Back to Rache:
It was delicious. Before we took off, I said hello to a couple beasts of burden pulling a cart.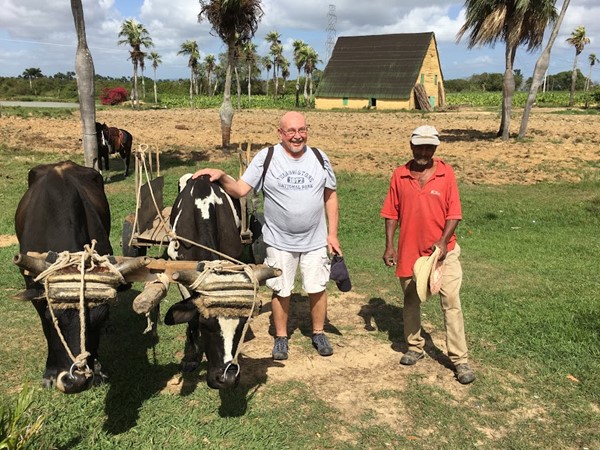 FYI: It's not uncommon to see horse and "buggies" trotting down the road, even on the freeway shoulder.
Back to Rache:
Gema told us as we were approaching the valley and that we were in an area that had been hit hard with natural disasters. People lost almost everything and were trying to rebuild their homes and lives as best they could.
Our next stop was near the Hotel Horizonte Los Jazme. which overlooked the valley. The view was so beautiful that tears welled in my eyes. Wonderful piña coladas are served here as well.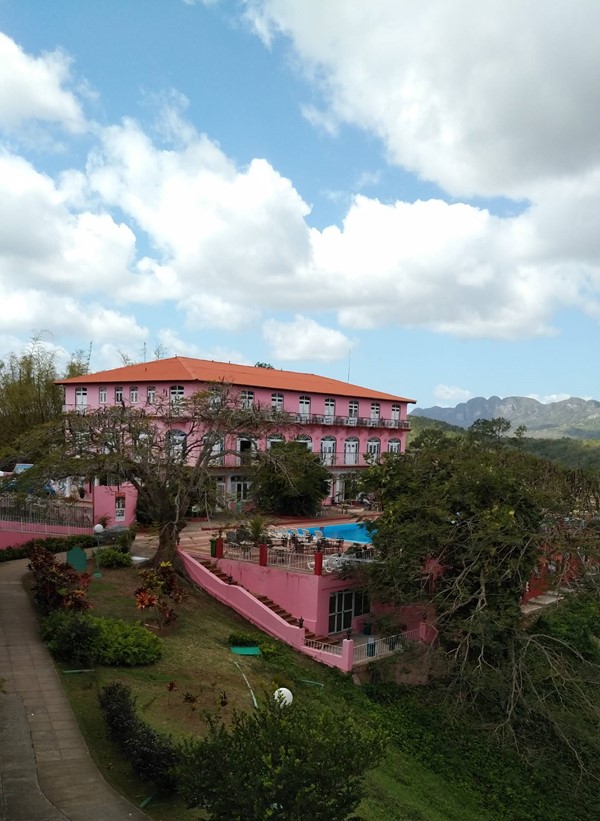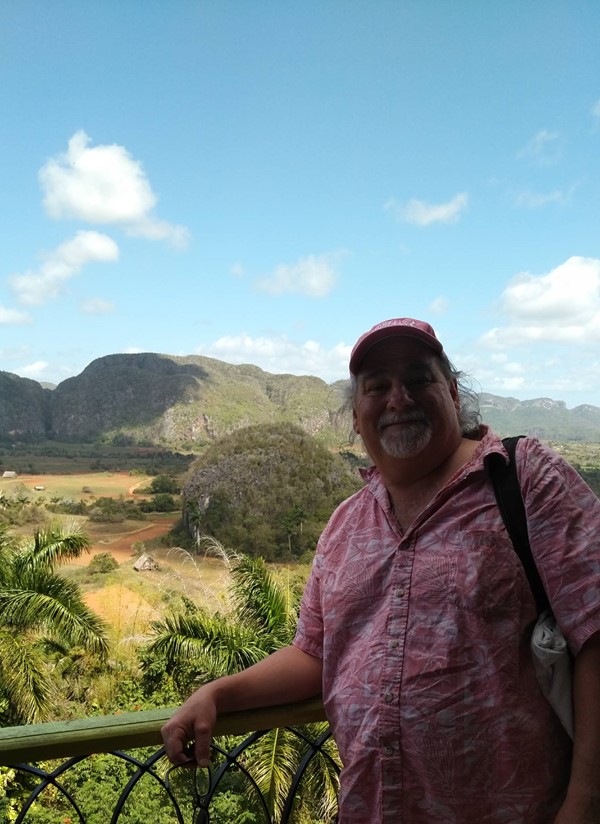 Before we drove down to the valley, we made reservations at a restaurant. To speed things up when we came back to eat later in the afternoon, we chose our protein. Options were pork, chicken (my choice), and fish. Near where we parked, there was a hand cranked cane juicer for drinks. I love this type of rustic.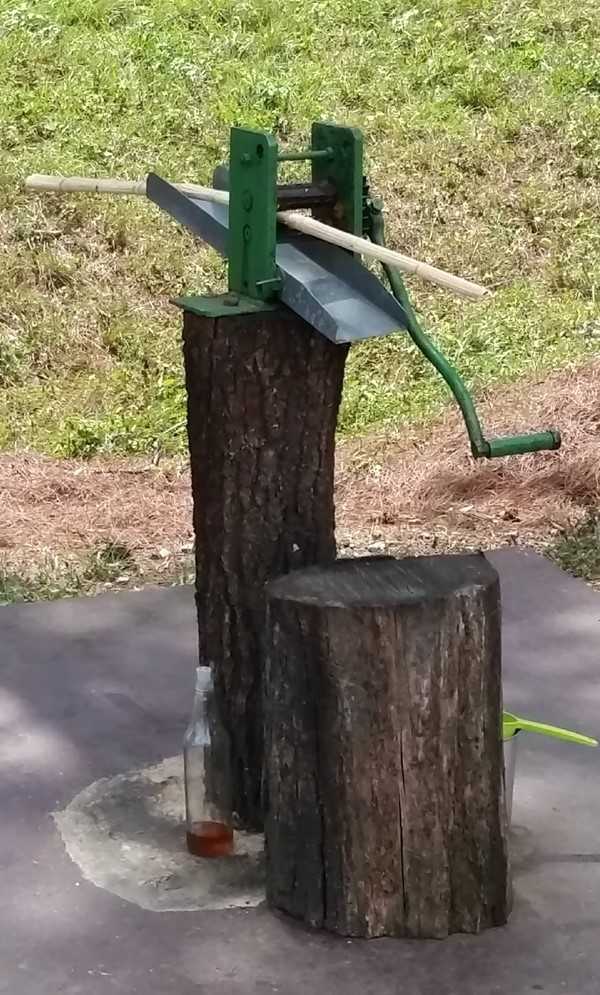 Our first stop was at a small tobacco farm. We were given a presentation (in a tobacco barn) on how tobacco is grown, nurtured, and cured. The seeds are tiny little things.  Everything is organic at the farm. We then ventured over to a little pavilion where we were given a lesson on how to roll cigars. And of course, we were able to purchase organic, hand rolled cigars at the farm. They are wrapped in palm fronds as a preservative. Factory cigars have additives (some harmless, others uncertain) once the organic tobacco reaches their processing.  Still, a Montecristo No. 2 is hard to beat. After all, it was the number one cigar in the world in 2013.  And as an aside, the Montecristo uses leaves from the top, middle, and bottom parts of the plant. Each area of the plant has its own distinctive flavor and quality.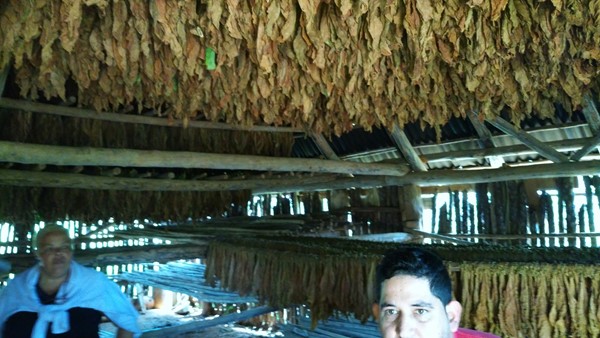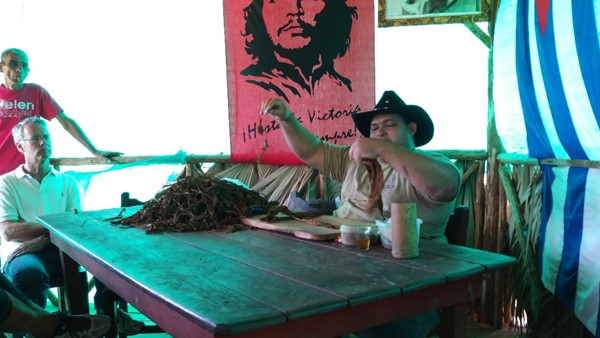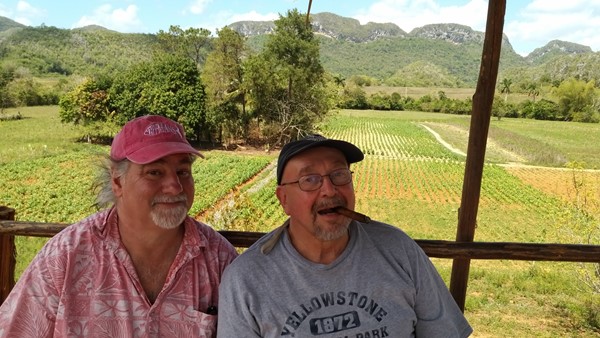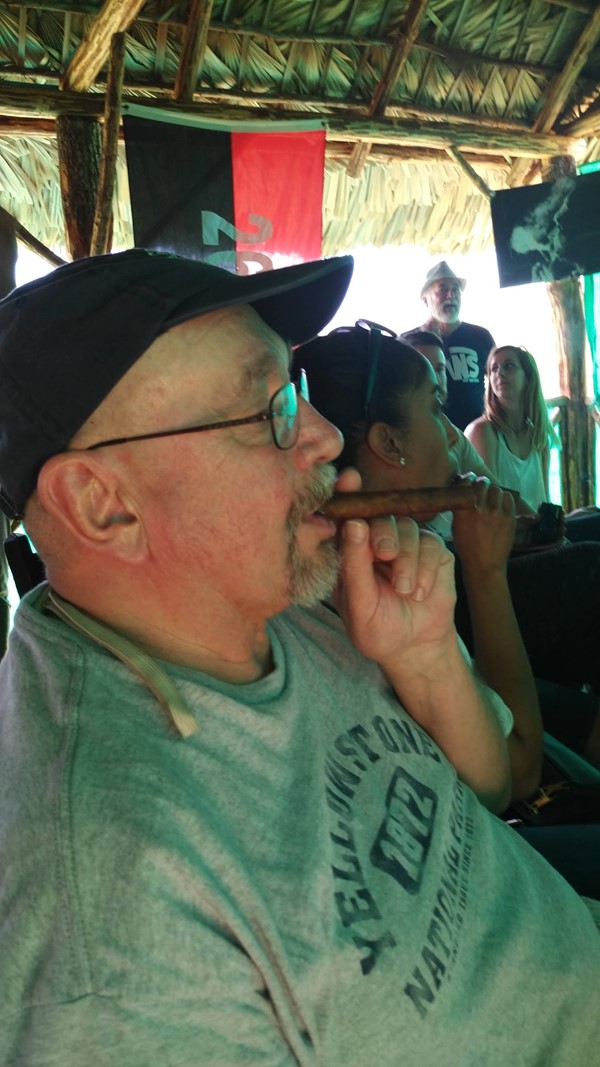 Next we went to Cuevas de Santo Tomas (St Thomas' Cave). I enjoy caves a lot. The cave was "electrified" by Fidel and it so it was able to accommodate tourists. There were some beautiful mineral formations in the cave. One of the unique features of the cave is that a river runs through it. And yes, we got to take a boat ride in the cave until it narrowed too much for us to pass. We turned around and then were surprised by an opening that lead to a small pool in the river just before the waterfall. It was dramatic.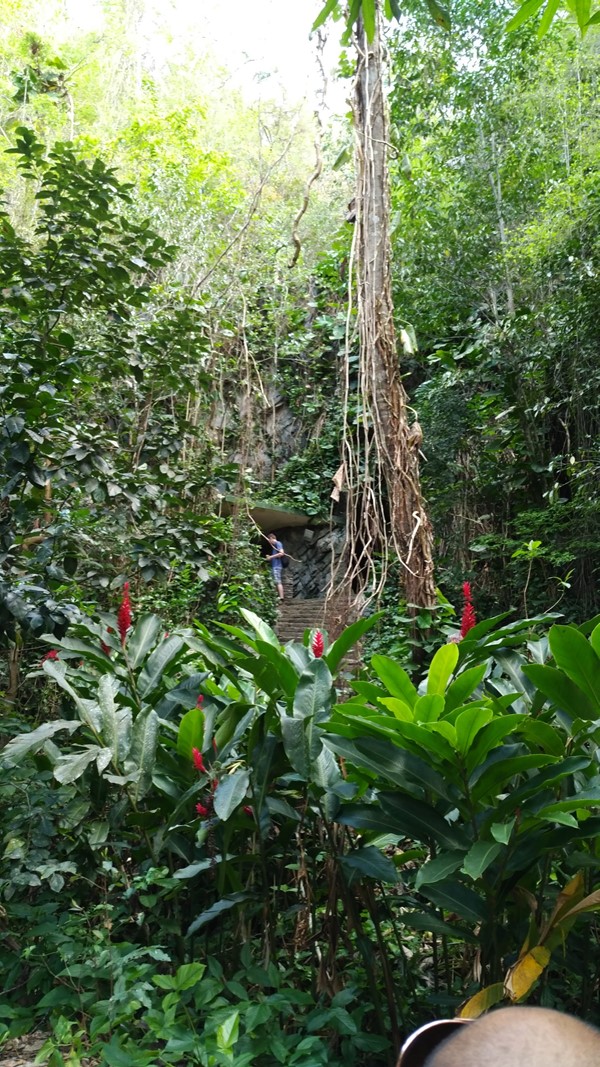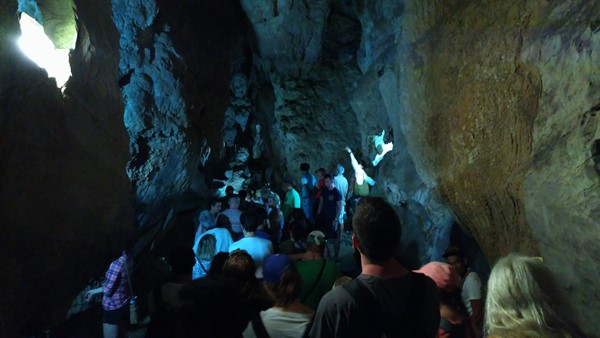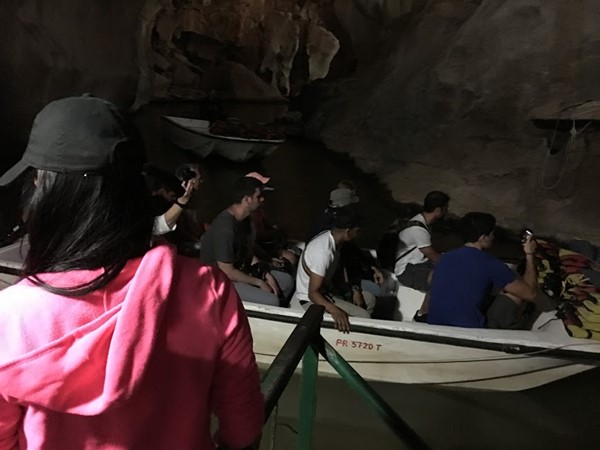 It was here that we offloaded. Gema and Alain opted to ride a water buffalo while I decided to give the beast of burden a break. Even beasts of burden have their limits.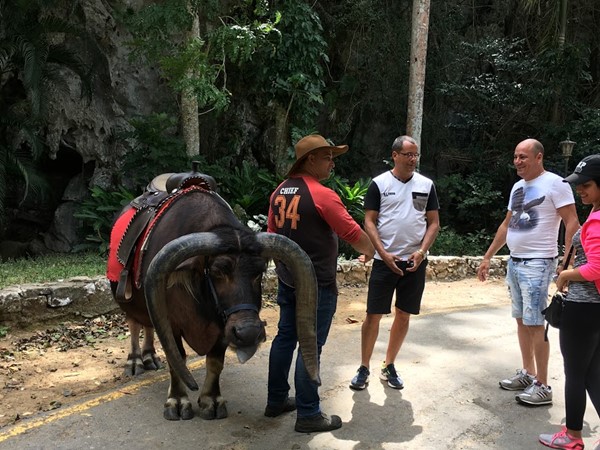 We stopped briefly at a cave entrance that was also a bar. It seemed quite inauthentic so we didn't pay the 5 CUC to enter. Still, there was interesting history regarding the slave trade at that cave. "Its primary function is to show the living conditions of the Maroons, slaves who escaped from the barracks of the mills, fleeing ranchers games and took refuge in the goodness of the caves and mountains of this prodigious nature." [Please note that I am amused by the translation but not by the harrowing existence of the slaves.]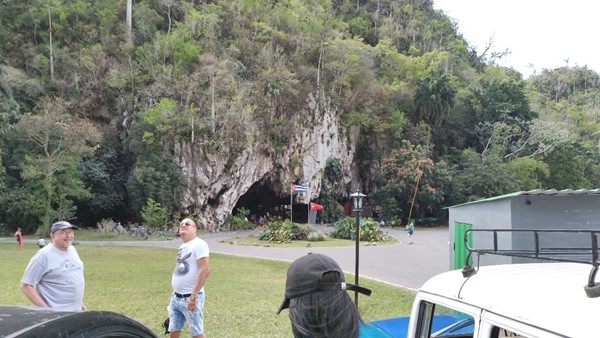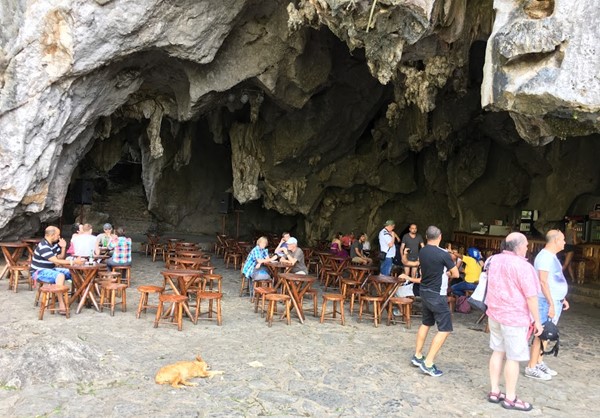 Our last stop before lunch was the giant Mural de la Prehistoria. It was very colorful and huge, if not quite historically accurate. And it was here that I had my first Cristal (Cuban beer) of the trip. [Mark: the "tourist fee" of 3 CUC included a drink coupon—I had a Cuba Libre]. It was refreshing. The scenery in the entire valley is absolutely gorgeous, what with the vibrant shades of green from the various plant life. The dramatic plant covered rock formations make this place a magical place on Earth.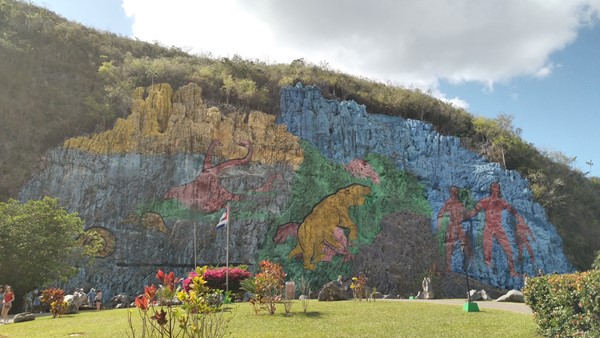 At lunch, Markie, the driver Frank and I had the barbecued chicken while Alain and Gema opted for the barbecued pork. Along with our mains, came banana chips, yucca, salad, Moros y Cristianoss, plus white rice and black beans, and probably some other goodness that I'm forgetting, plus multiple beverages. The bill was 68 CUC, which is about $76.00 USD. For all five of us. I think Alain was worried if we thought it was too expensive since it was in a tourist area. Uh, not a chance on that. $15.00 each for a feast such as ours was a bargain at twice the price.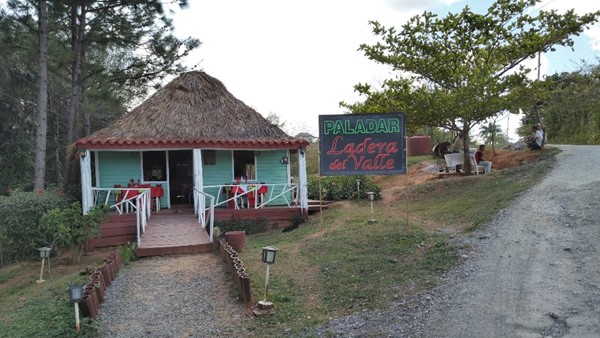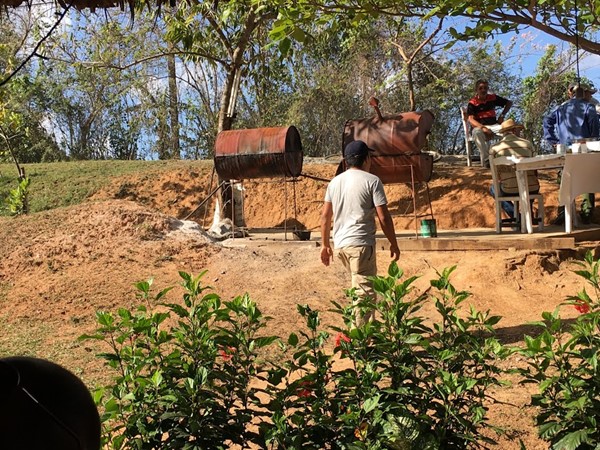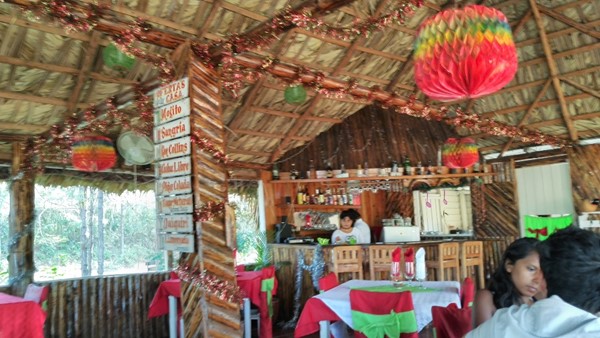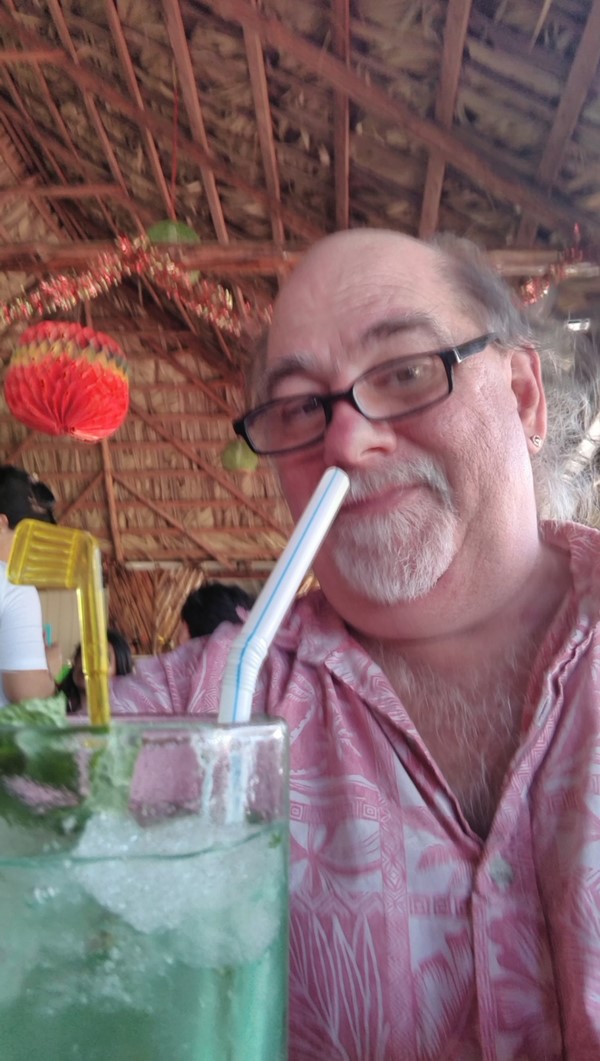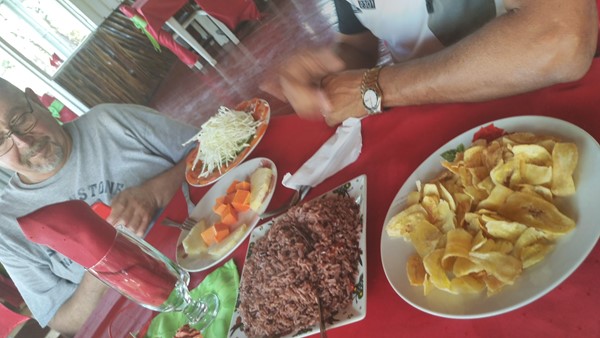 Full and content from this amazing meal, we all napped in the car on the way back to Havana. Well, I'm assuming Frank did not doze off. As we neared the city, Frank opted for a slight detour that took us into Miramar, the west part of Havana and where I stayed with the others during Christmas 2015. We passed multiple embassies (including the iconic Russian embassy), and several places were most familiar as we drove down 5th Avenue heading for the Malecon (https://en.wikipedia.org/wiki/Malecón,_Havana)​
While we had a couple rain showers, it didn't seem too windy to me. However, something was making the sea angry as waves broke over the seawall and onto the boulevard as we drove on the Malecon. I never saw that before. Obviously, not many people were hanging out at this usually busy hang out, especially for young people. Seriously, cars were getting doused just like cars along the Columbia River east of the tunnel out of Chinook during a dicey storm and high tide. I was impressed.
We arrived home (well, Markie and I were sure made to feel like home) here in Alamar and we unpacked our "happy sardine" bodies out of the car. Frank was paid for the day's journey and it was well worth the cost.  The day was so remarkable in all ways.
Family was here and were enjoying themselves. That gave Markie and me a chance to review our wonderful day on the back patio. And for me to play with the dogs. When family had left, Alain came out back and showed us the turtle pond out beyond the banana tree. He has two turtles.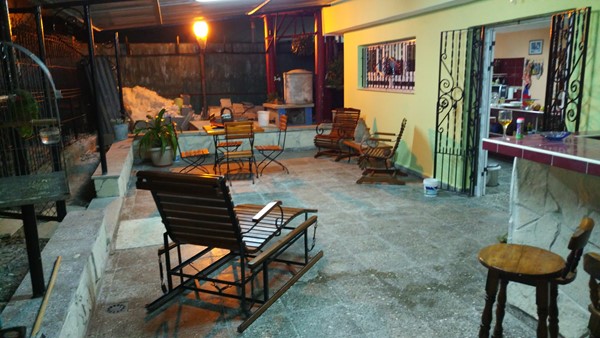 I was still full from lunch (which was served about 4:30 PM) so went to bed early. Markie stayed up for a while after that I imagine. I certainly slept with a smile on my face after experiencing the beautiful Valle de Vinales. Feeling extremely lucky.
Tekita was kind enough to make Alain a little treat before bedtime…the rolls, ham, cheese from breakfast – what I should have had with me in the car on the way down!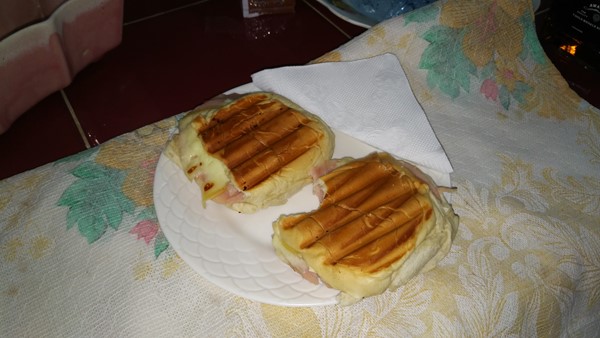 Nice sandwiches to go with my Jack Daniels (not my first choice, but it was what Duty Free at LAX had. I brought one for me, and one for Alain: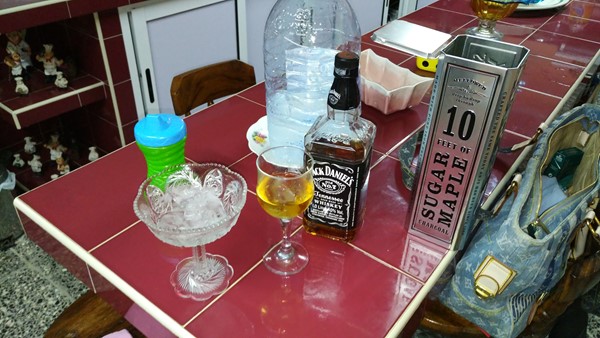 Soon, I went to bed myself – it was a LONG day.
[217.6]