And, once again, I hand the floor over to Rache:
The days of ending an adventure are a mixture of sadness and goodbyes with the anticipation of getting home and comfortable back in the routine. I know Li'l Miss loves the routine time. I'm excited to see her.
Once again, I was the first to arise. I have become accustomed being the one to rid the kitchen of the morning lizards. Thankfully, just turning on the lights takes care of most the evictions. And even more thankfully, my bravery (meaning lack thereof) was not tested with a defiant one.
Tekita once again provided a hearty breakfast. What made this morning unique was the house bustling with people. Alain's father arrived with some groceries. His mother arrived from a different direction. I was relieved to see her because she had been having back pain issues. Alain's friends arrived. And contractors arrived. They were doing work beyond the patio to the area of the backyard where the banana trees grow.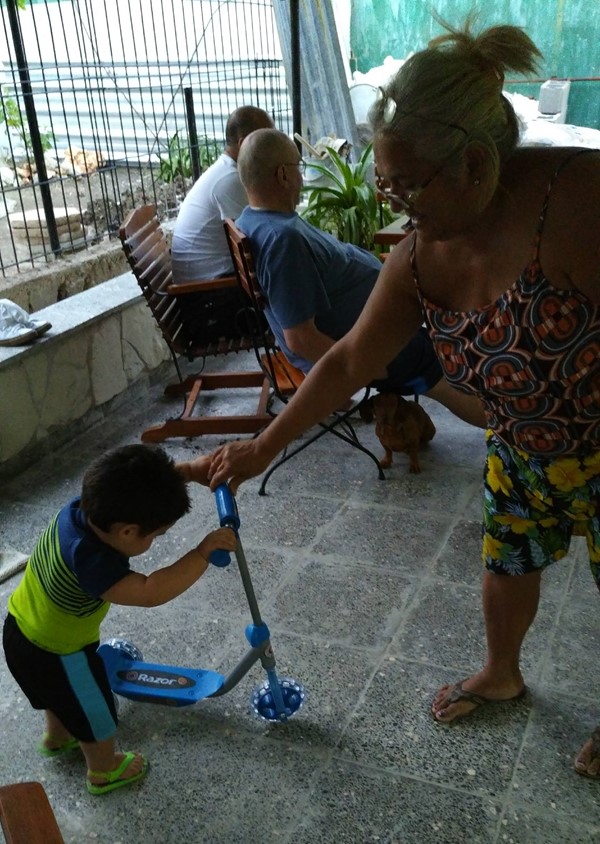 Breakfast was also unique in that there was a little ceremony in the dining room. You see, Alain and the others are believers in an Afro-Cuban religion [Markie note: Santeria]. I don't know a lot about it, but it came from Africa and their deities were given Christian names (like Saint Michael) in the 17th century as a way to avoid being punished by the slave owners. When the owners saw the slaves praising the names of Christian saints, they assumed that the slaves had embraced Christianity. Not so. The slaves gave the deities Christian names to avoid beatings and whippings. Smart, those slaves. Anyway, while Markie and I were at the table dining on scrambled eggs, a mat was put down next to Markie by the shrine, a visitor laid face down on it and Alain did some sort of ritual. It was short but powerful. Alain is somewhat of an authority on the Afro-Cuban religion and was to speak at the conference in New York City last year except his visa was denied by the US Embassy in Havana. Only his partner Luis was allowed to attend, where I met him and attended some of the sessions at the conference. As Alain Ramirez. I'm so glad I kept that name tag because Alain was visibly moved when I handed him the lanyard a few days before. 
Gema arrived early enough to take me for a little walk to the sea. Markie opted to pack (which I had already done). The Alamar neighborhood was built right at the beginning of Cuba's relationship with the Soviet Union. All the houses are the same design although each occupant makes their individual homes all unique so Alain's neighborhood does not seem monotonous. I must say his home is among the tidiest and maintained. There are also massive apartment buildings (again, Soviet era) that are not maintained on the exterior. Alamar is on the east side of Havana, has a population of about 200,000 and has exactly two unreliable Wi-Fi hotspots in public parks. That's why you didn't hear from me on this trip.
Anyway, as we walked towards the sea, Gema's dad drove around the corner. She was happy to see her dad, who has Parkinson's and I must say his driving was much steadier than his physical condition. I've met that man twice and he has a constant smile. Even tho' they live in the city, they raise goats, chickens, turtles, and I'm not sure what else. When I was first at their house, a farmer was picking up some young animals to take to a farm. A good little side business I would imagine. 
Markie here:
Too bad I didn't get the camera out sooner, all I caught were the last two goats (out of four) to go into the trunk of a farmer's car along with a bag of chickens and a bag of pheasants – all live, and all headed to be fattened up on another families' farm. Surreal to see this in a suburban neighborhood.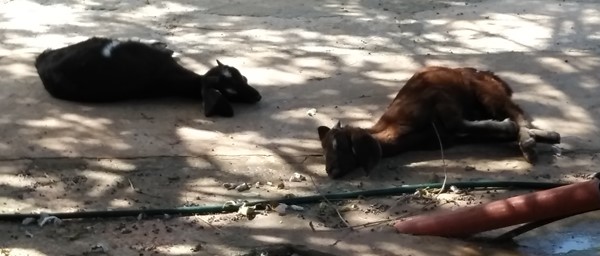 Back to Rache:
OK, so finally we get to the sea. It's not a beach, because it's all jagged rocks. Leave it to the Soviets to build a beach front with no sand. The decayed remnants of two concessions booths and an entrance to a bomb shelter were all that is visible. Gema was saying that the shelter, now sealed off, was an entire city with huge kitchens and even a movie theater. The Soviets built Alamar for Russians and they were going to protect them from the US.  Anyway, the views are beautiful, the water very clear, and the air fresh. No pollution from car fumes at all. My flip flops were not sturdy enough and they slipped on the uneven, jagged rocks where I have a little scrape (bled a bit) on my foot to remind me of my time at a Soviet beach. 
Gema and I returned home. I quickly showered and soon we were off. Now some of you know that I pack school supplies (and toys) and try to find schools and it's that are needy. I had informed Alain of my practice and he contacted a local school director who said that donations had to be handled through the Ministry of Education. We had made plans to drop off the supplies at the ministry on the way to the airport. But when I serendipitously found Escuela Primaria José Marti in Old Havana, Alain worked magic on the director and she was more than happy to not involve the ministry. So back to Old Havana and back to "my school." We went up a flight of stairs to the principal's office. It was stifling hot and I'm glad I had my wash cloth used as a sweat dauber. I unpacked an overflowing Trader Joe's bag full of supplies and she was very happy. The director informed Gema that some schools have "Spanish godfathers" but here in the poor area of Havana, there are no such things. Anyway, I have offered to become 'The Godfather of Escuela Primario José Marti.' [Since being home, the school director and I have been in email contact. I may be hitting you up for school supplies one of these days.] Nothing would make me happier than to help support kids in poverty. And to have visited the school and met with the director makes it even more personal. I am still filled with so much emotion. The director took my email address (she couldn't remember her address since she rarely uses it) and will write me. Gema informed her that I have access to Google Translate. And we left. In my wildest imagination, I never came up with a scenario like this where I actually have the opportunity to "adopt" a school. This was the most emotional part of the trip for me.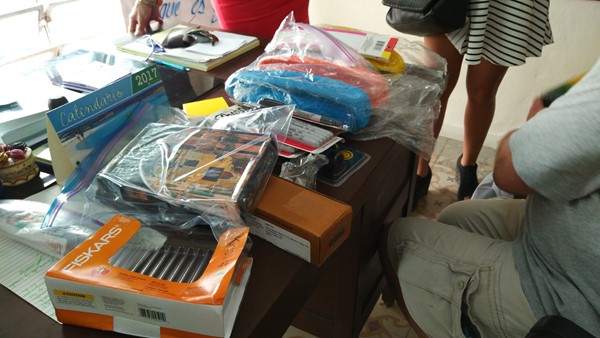 Then it was off to the airport (José Marti International —- that guy is a major figure in Cuban revolutionary history). At the curb, we started to say our goodbyes when all of a sudden Gema burst into sobbing tears, having a difficult time saying 'goodbyes.' And I felt the same but held it together a bit more than she did. In such a short time, we had developed such a strong, emotional connection and we didn't want it to end. Alain, Gema, Markie, and I all embraced and wiped tears. And then Markie and I left to enter the terminal. I turned back two or three times to get an additional goodbye wave in but that act just sort of prolonged the goodbye tears.
You guys, this was one hell of an adventure. Once again, the love, joy, and compassion of the Cuban people were on constant display. The warmth of the people is not allowed to be shared with us here in America. If the damn governments of both the U.S. and Cuba would get out of the way so people to people diplomacy would kick in, I think it would be a wonderful opportunity for Cuba to once and forever be free from the burden of foreign influence that has plagued this island since 1492. 
Markie here:
When the check-in counter finally opens (Alaska site says arrive 4 hours before, but the counter doesn't open until 3.5 hours before, oddly, like our outbound flight) I quickly weigh our bags, Rache's now empty of school materials, much of with he'd packed in a spare duffel bag I gave him at the beginning, but it's still telling of how we travel.
My checked bag (in kilograms):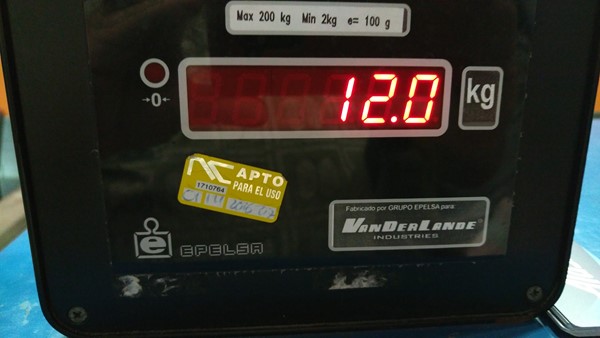 Rache's checked bag (in kilograms):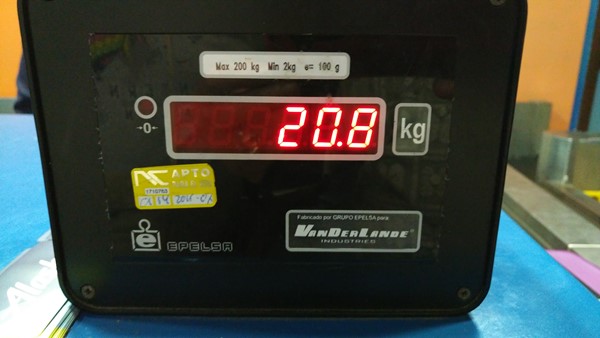 And for some reason, we weren't able to carry on "White Weapons". Weapons white guys use? Or "Tough Objects". Splain it Ricky (a nod to Ricky Ricardo, the legendary Cuban showman married to Lucille Ball.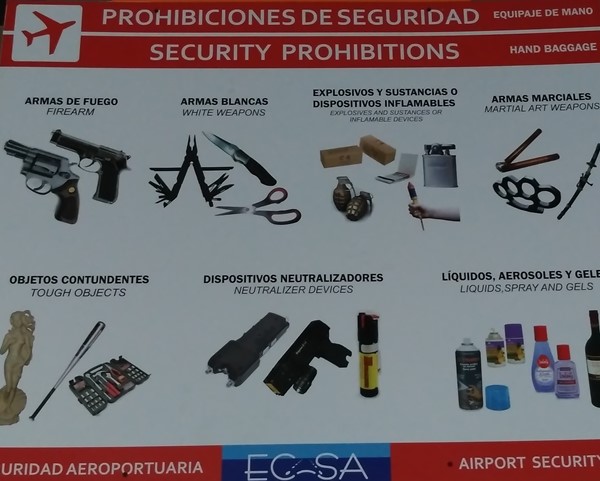 While there is a lounge at the airport, the reviews I've read on The Points Guy, don't have terribly nice things to say about it. We hung out in the terminal, had a ham and cheese, a couple of Cuba Libre (second one on the house because of an ass grabbing incident that for once, didn't involve us).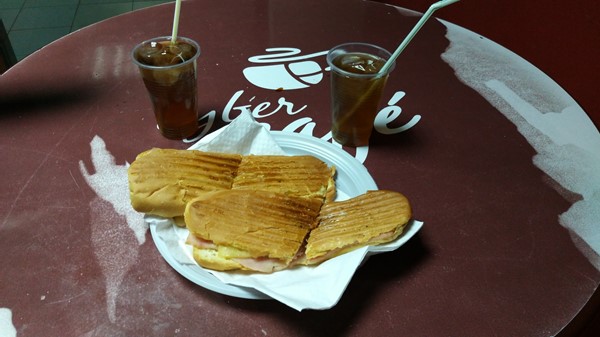 Our plane arrives, the cleaners and security arrive, we eventually board: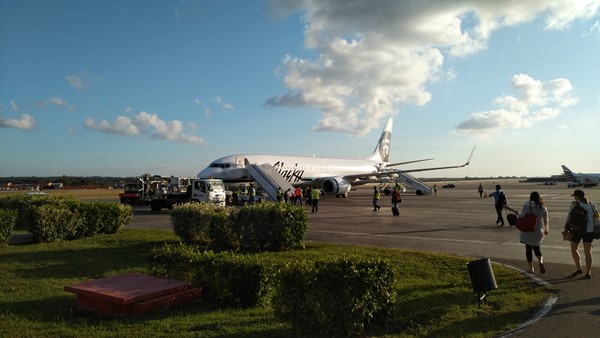 Nope, there are no sky bridges at the airport.
One of the ways I talked Rache into joining me at the last minute on this trip (10 days before) is that I offered to give him some of my Gold Upgrades so he could sit up front with me (though he sleeps so easily on long plane flights it might not have made a difference). Don't we look comfortable?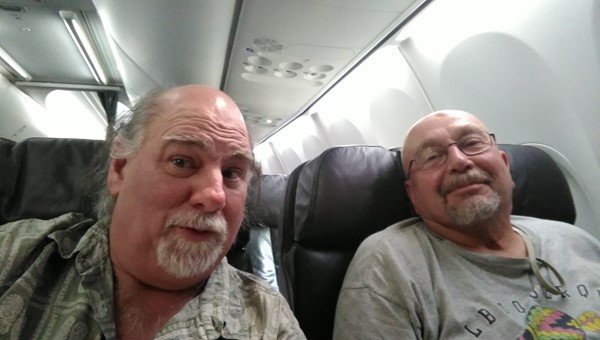 And soon, the food and booze start flying….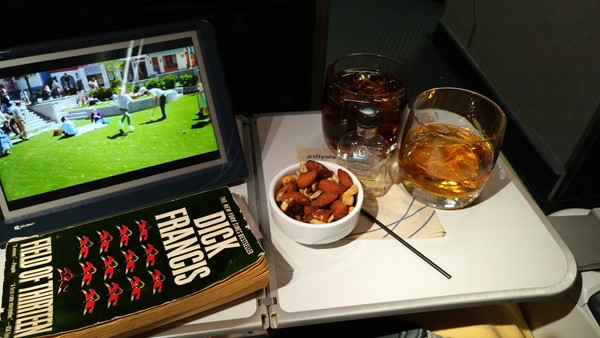 The full menu: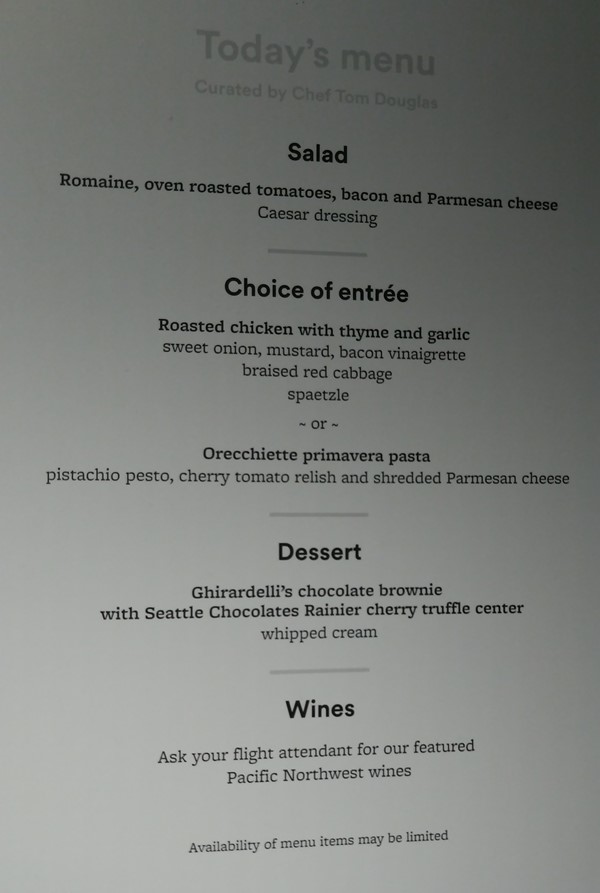 I went for the chicken…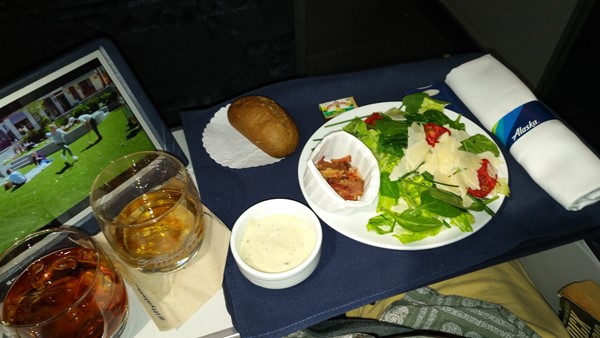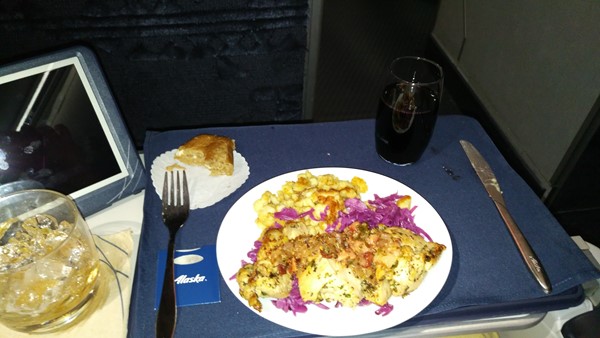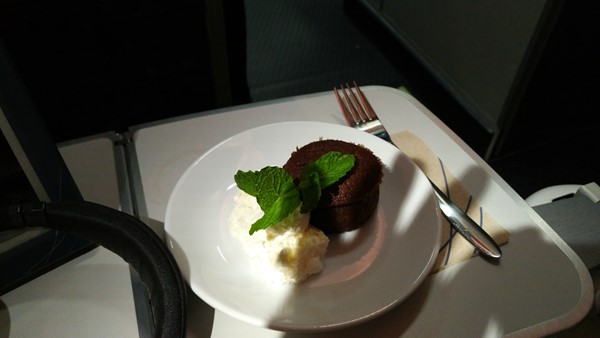 Got through Immigration and Customs in Los Angeles with no problems even with both of us having Cuban Booze and Cigars.
Caught a couple of more cocktails in the Alaska Lounge in LA before our flight home which was schedule to arrive at 2:30am, putting us back at the house around 3:30 – where we both had a nightcap before bed to shake off the effects of flying all day.
Rache was gone by the time I was up, having swapped shifts with Jimmie so I didn't have to be at the shop until 1:30pm – actually got a full night's sleep!
There will be a couple of more Cuban Adventure posts with stuff that didn't get enough attention – people, cars, architecture.
Until then…
[215.6]