Up at five, out of the house at six to catch the train, seven at the airport waiting for the ticket counter to open for the long way home. The way? Nagoya to Seoul to Los Angeles to Seattle. This is the routing you get when you want to fly out of a minor city to a minor city on 112,500 miles and $85 in taxes and fees.
At least Korean Air has a lounge at Nagoya: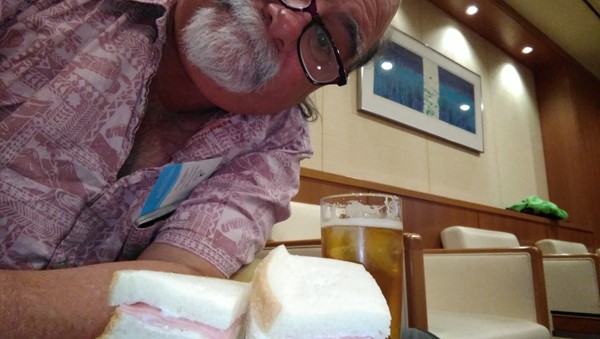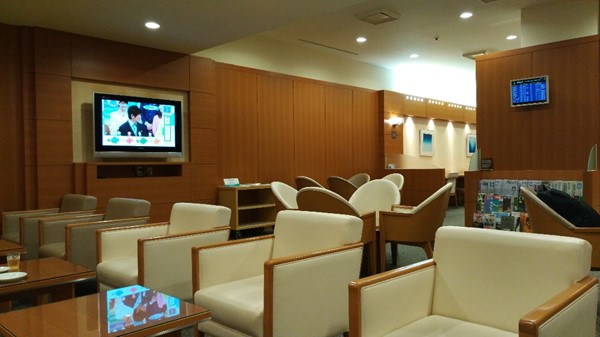 Small, limited selection: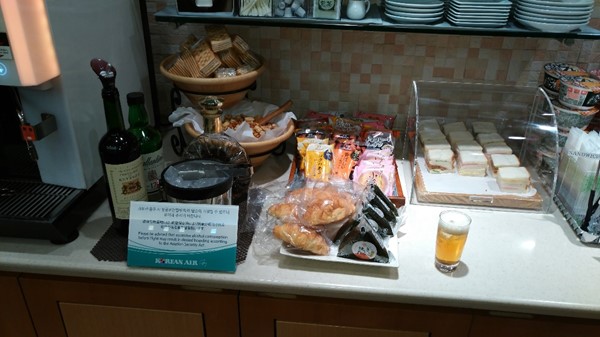 But a fancy toilet (yes, the Japanese are obsessed with clean booties):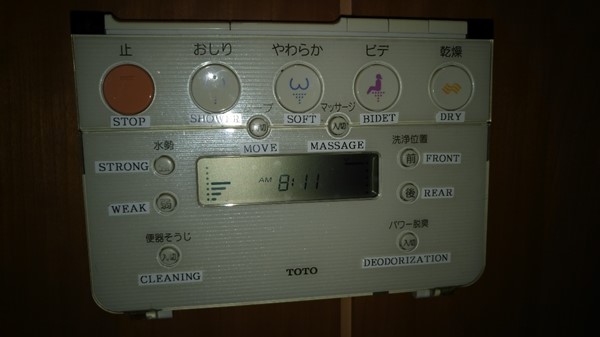 But soon enough my plane is here (777-300):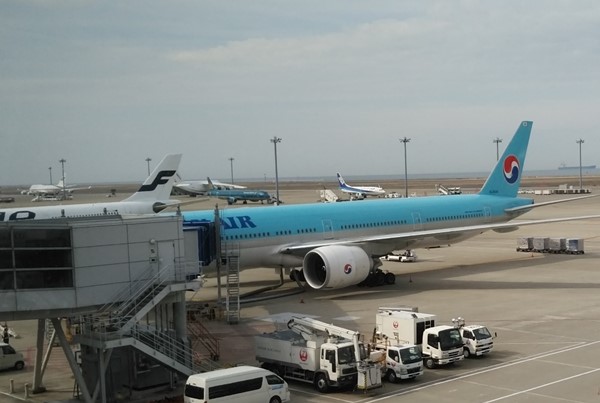 And I get settled into my seat for the two plus hour flight from Nagoya to Seoul: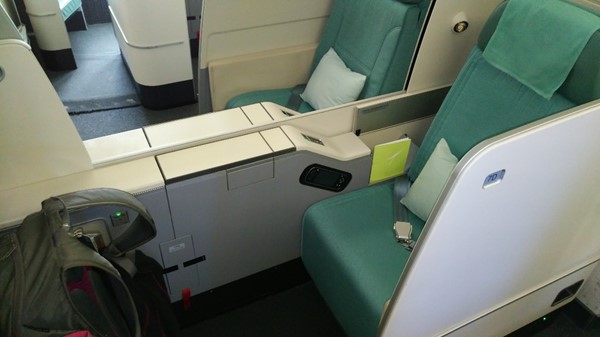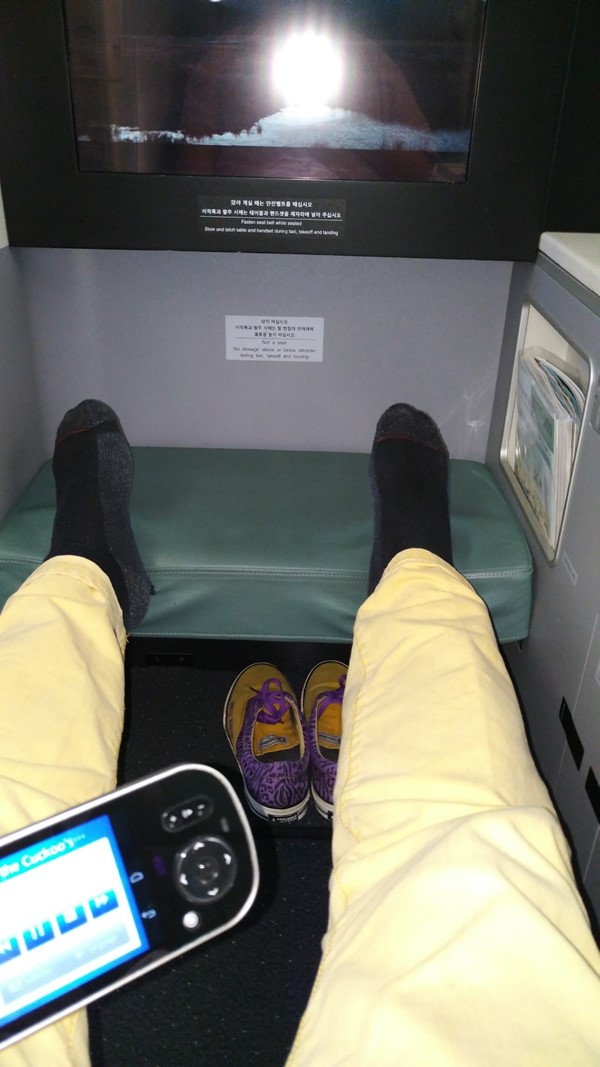 The cool thing is that you can electrically raise a divider between you and the person next to you in the center: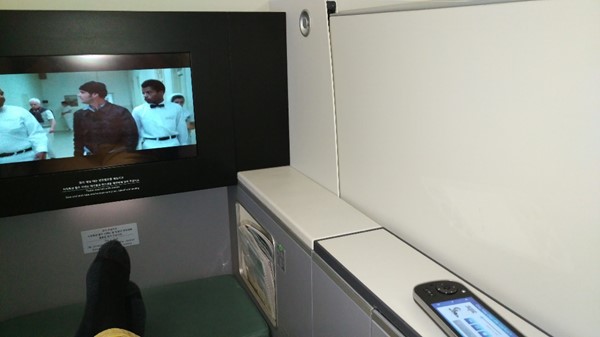 Yes, I'm watching One Flew Over The Cookoo's Nest, though I realized that it's a long movie and I wouldn't be able to finish, so I postponed that to my next flight and settled for sitcoms.
This will give you an idea of the cabin layout: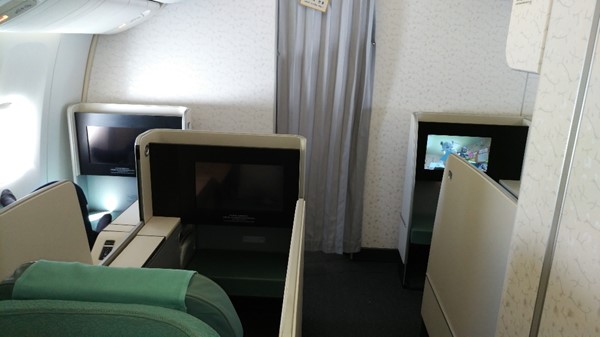 And having the seat next to me in business, I chose to keep the screen down and use the neighbors table for my over flow.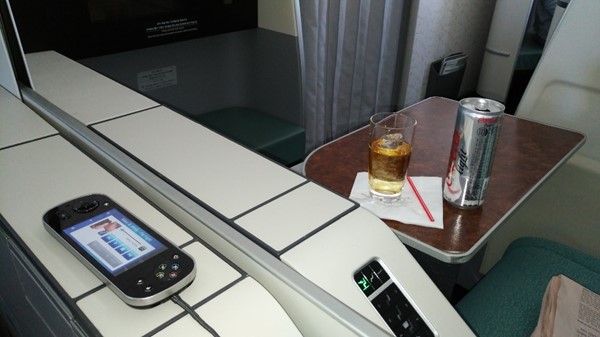 Soon, breakfast was served – I opted for the Western Style which apparently means starting with cocktails: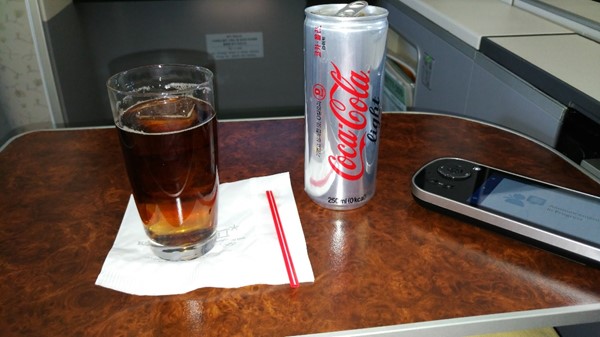 And that is Plum Wine to the right – why not!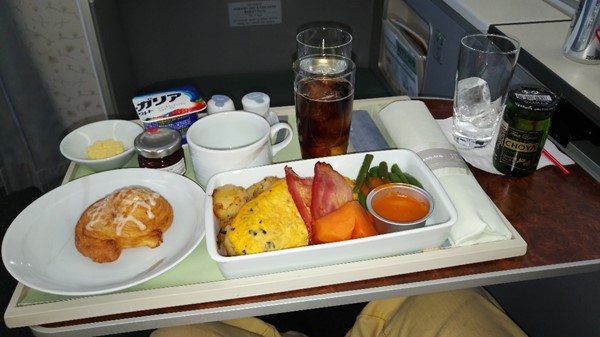 There was an additional course of fresh fruit that I passed on…there is a lounge awaiting me at Inchon, Seoul, South Korea, still a military base for the US where I here it's possible to play 18 holes of gold WITHIN the security perimeter. I've been here a couple of times on layovers – if you have a really long one they will give you a city tour!
Mine was short, so I just got the "floor show" on the way to the lounge: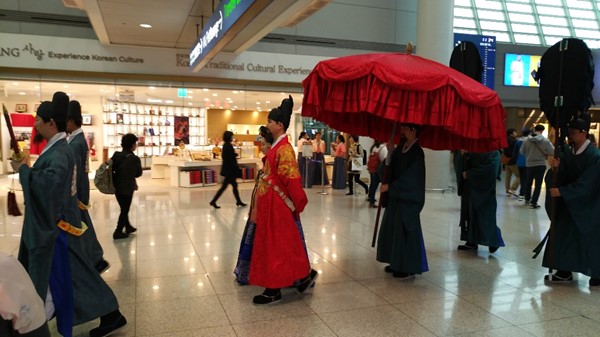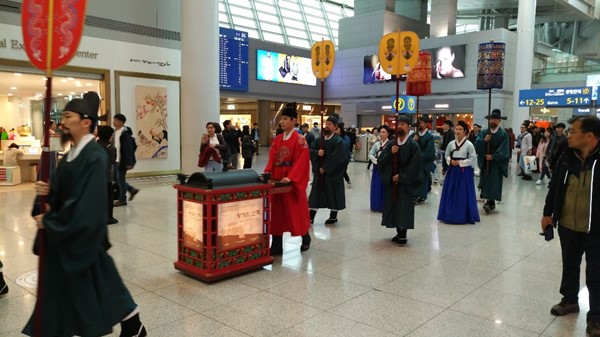 Even if you don't have lounge access (this was my first time), there is tons of stuff to do inside the airport – day rooms to sleep, massage places, quiet sushi joints, the works.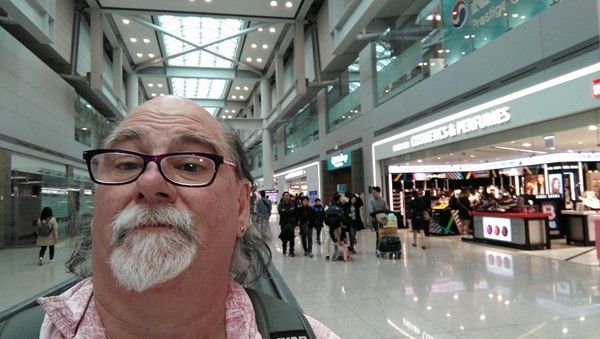 Because I use my miles for a Business Class ticket (which I recommend EVERYONE saving their miles for a ride up front), lounge access is included – and a nice lounge it is. Massive because it is a major hub: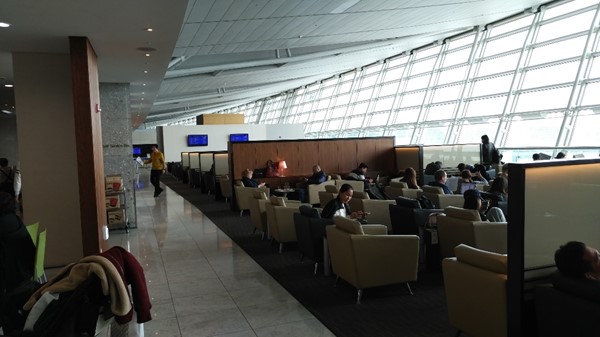 There are multiple food stands and tons of seating.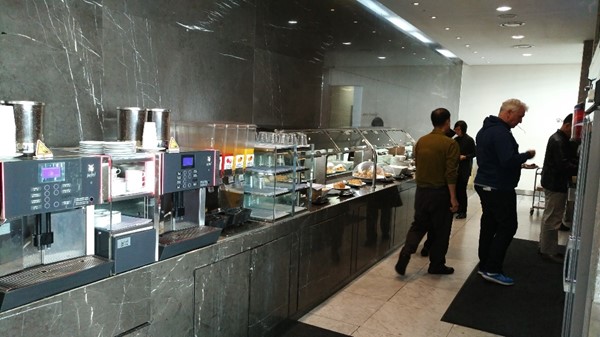 But soon enough, it's time to get on my plane – I'd forgotten that the Seoul-Los Angeles route is on a A380-800 (though I don't think they ever did a -900 or -1000):
Though, oddly, I don't think the seats were as nice: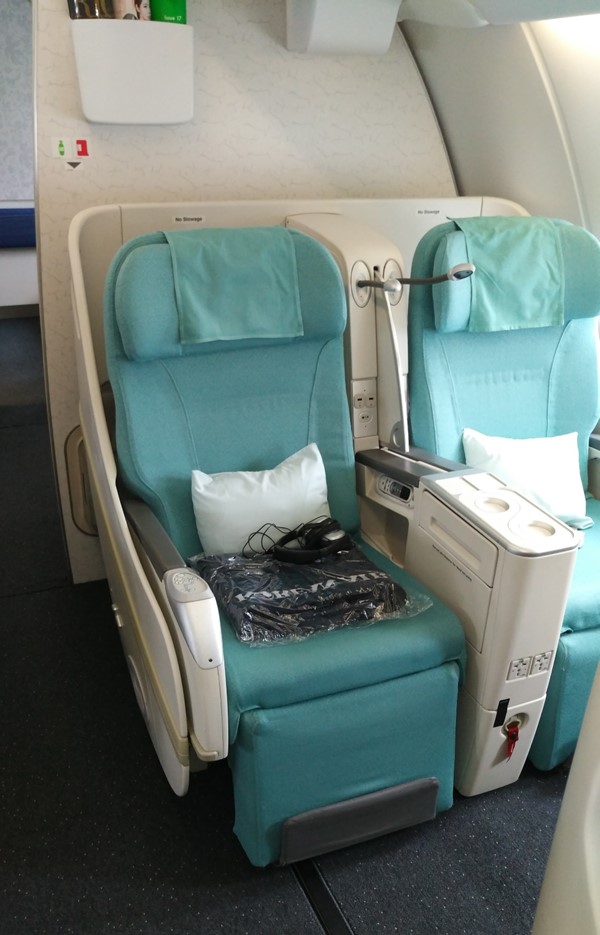 And once again I had the seat next to me open – Business Class was less than 50% full – actually, I had an entire row to myself, right in front of the bar. How appropriate. More on THAT later as it isn't open for takeoff/landing. Here is what the back section of Business Class looks like: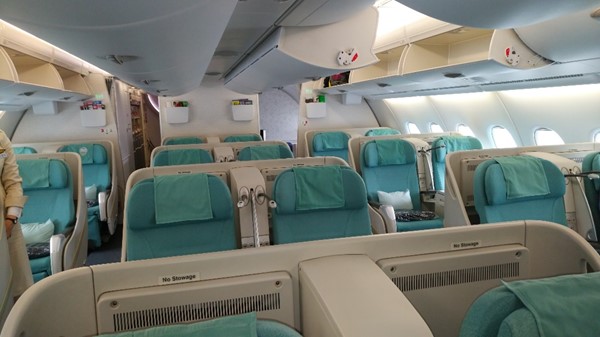 And me, taking off!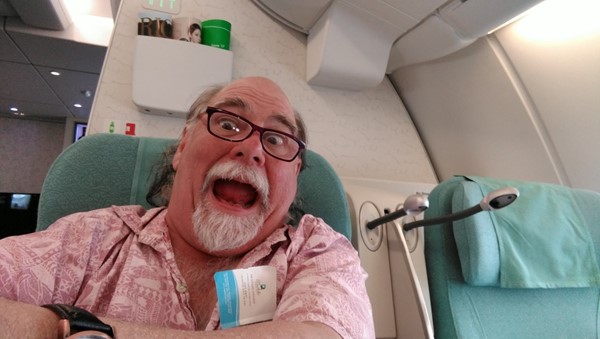 And with the seat as flat as it could go after takeoff: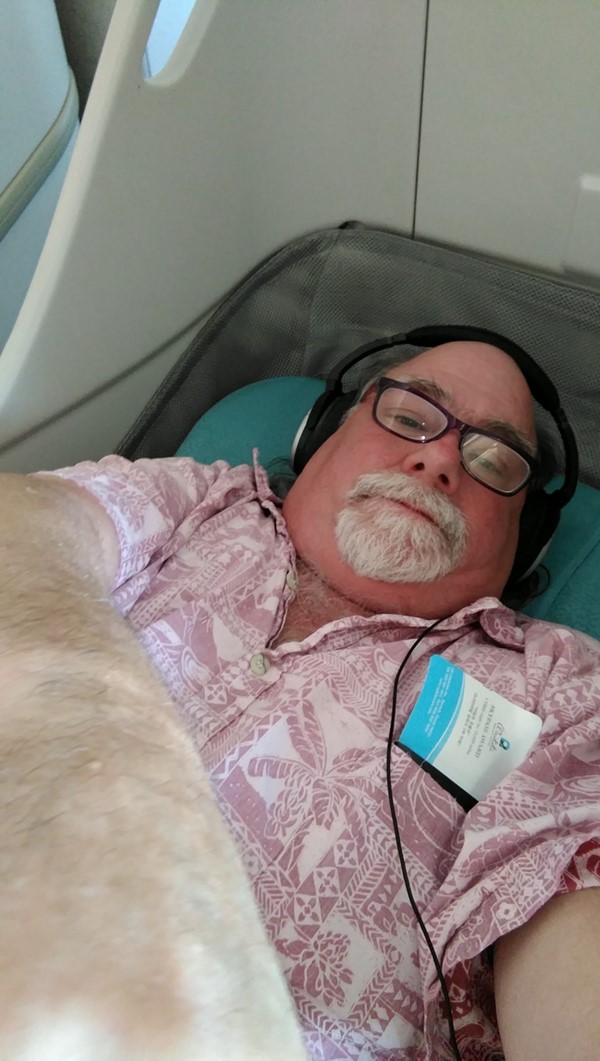 Oddly enough, lay flat is lumpy – better off in "Barcalounger" position. And a first for my recent Asian airlines experiences – champagne before takeoff, albeit a thimble full (apparently Korean has a reputation for being miserly with the drinks):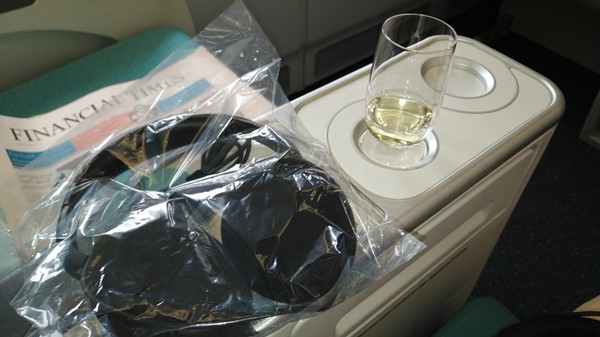 Once we were up, the food started coming – I love the stainless-steel chopsticks: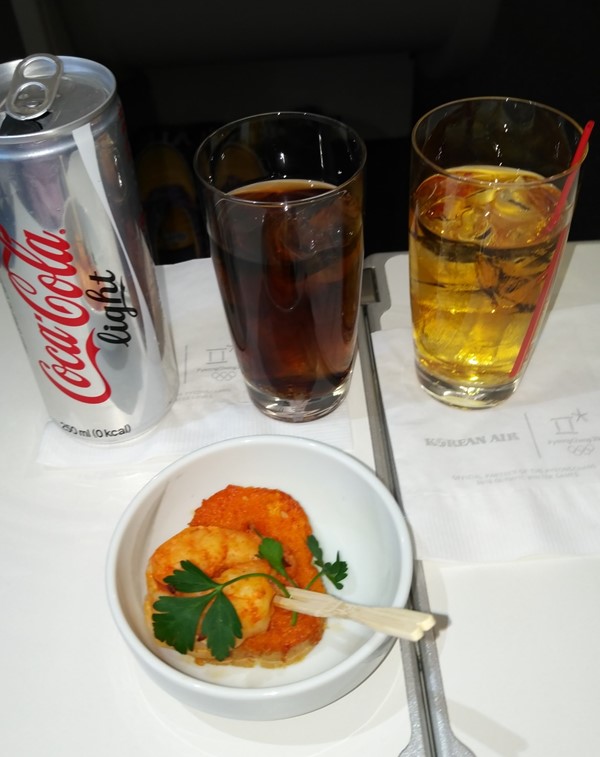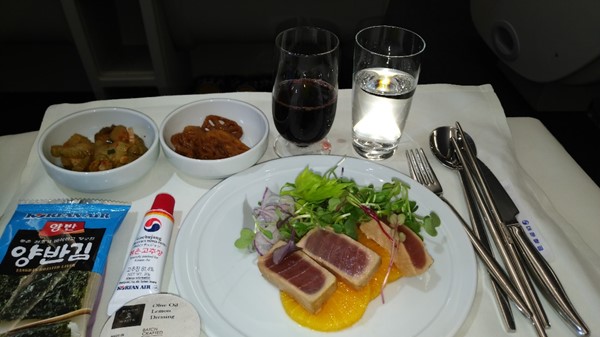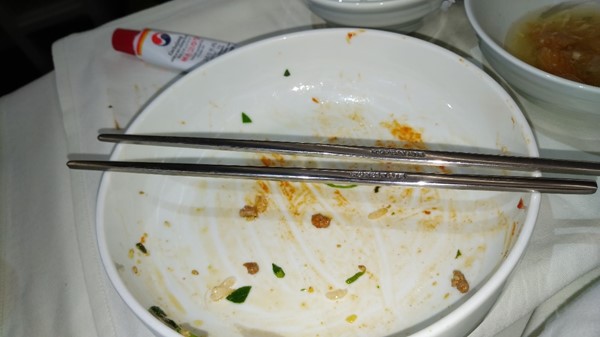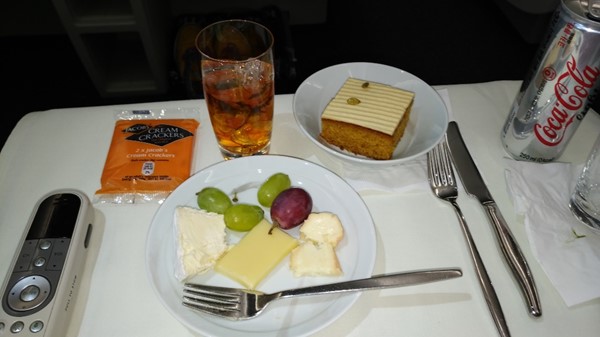 And then it was time to hit the bar at the rear of the A380 – not as fancy as the one on Emirates – but what the hell, we are on an airplane: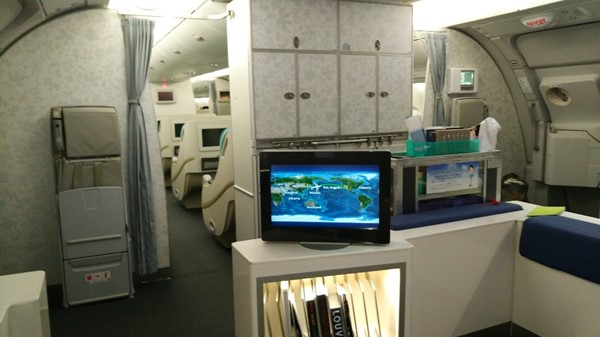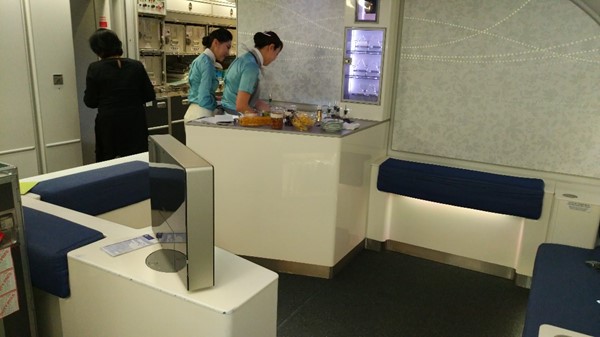 I like to point out what is built into the wall – a martini glass holder where there are brackets to keep the martini glasses handy: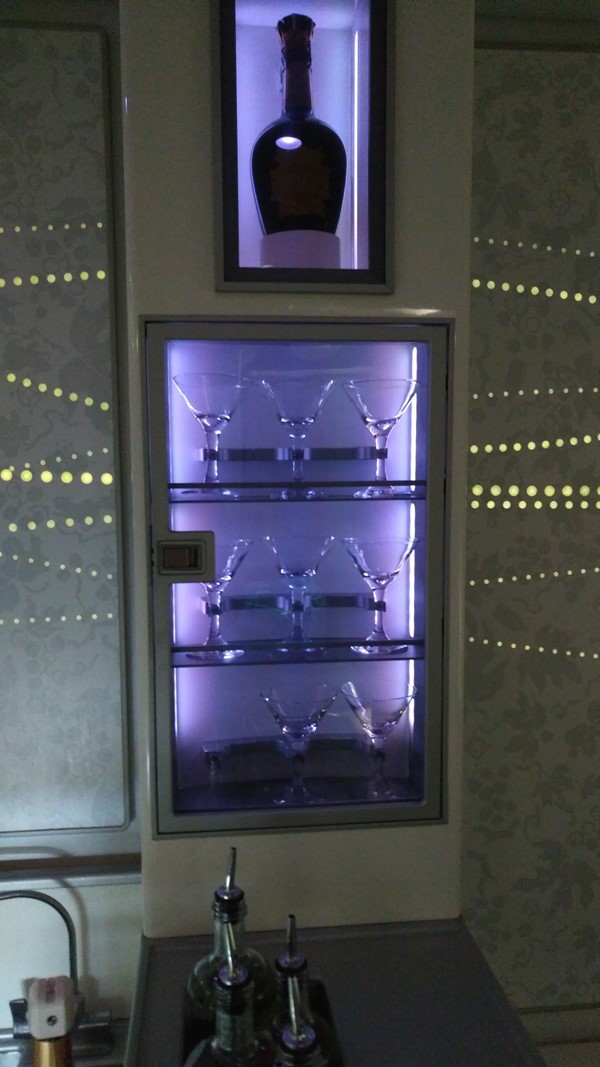 Which is handy because they serve "stemware" drinks back here: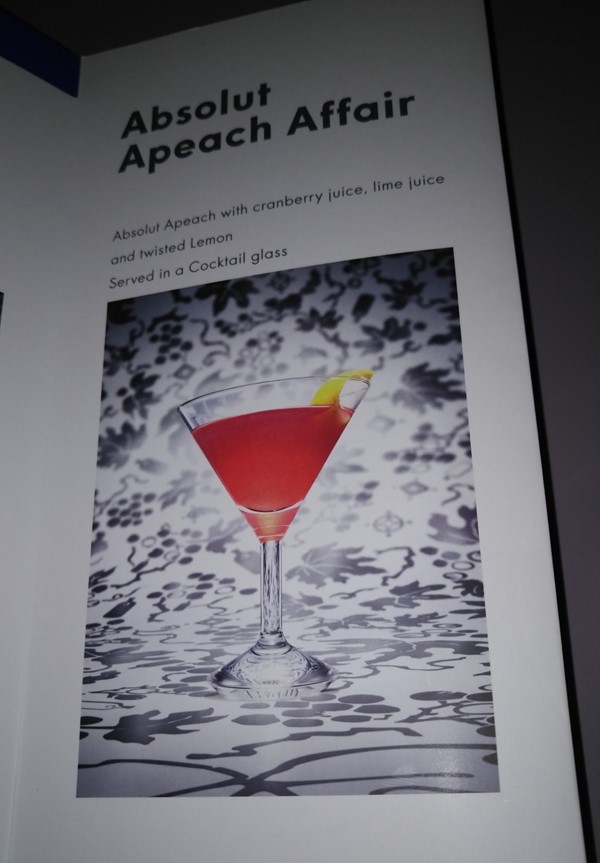 Made from scratch: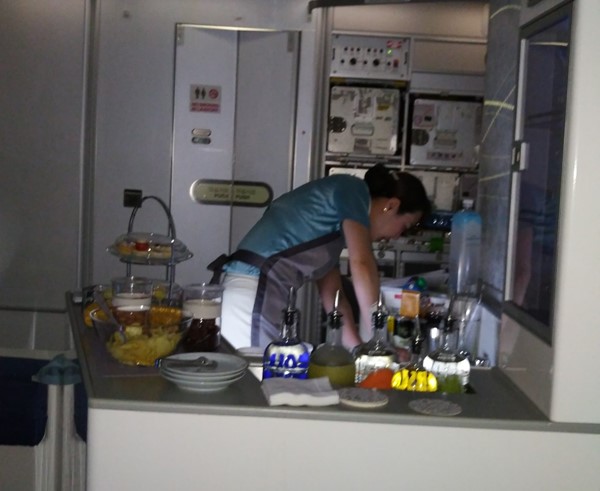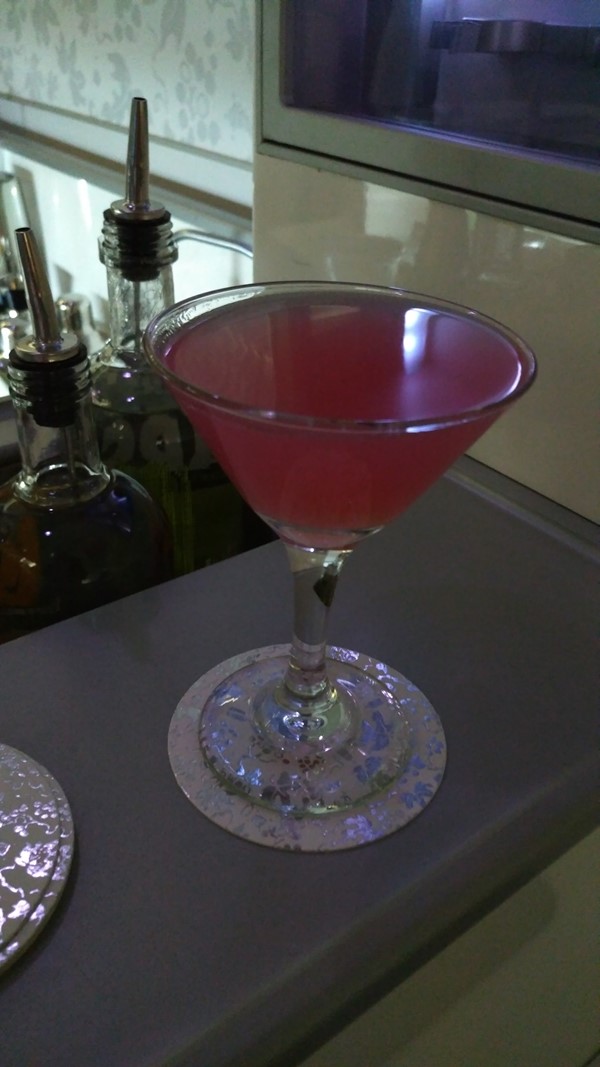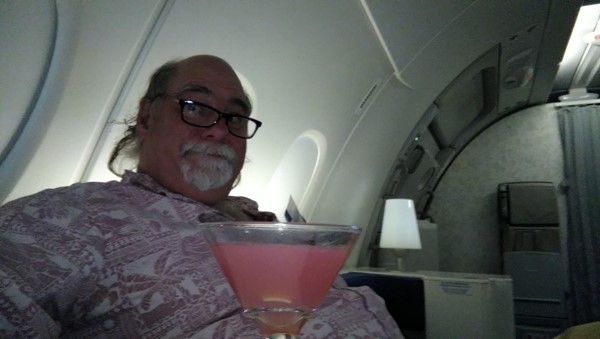 Let's not forget snacks with round two….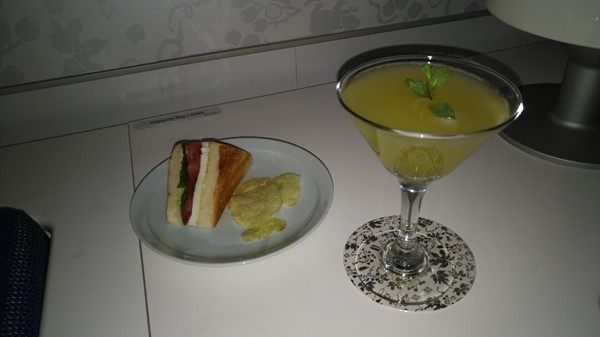 There is even enough room to stretch out: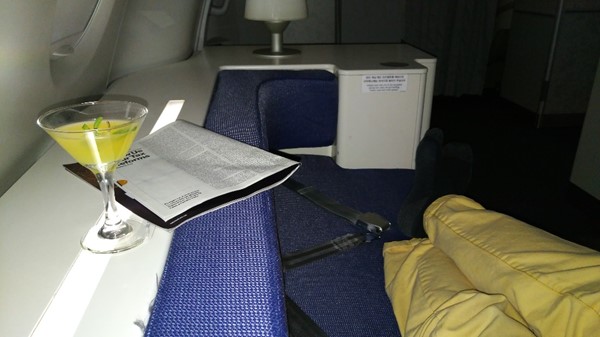 Back to the seat for breakfast number two…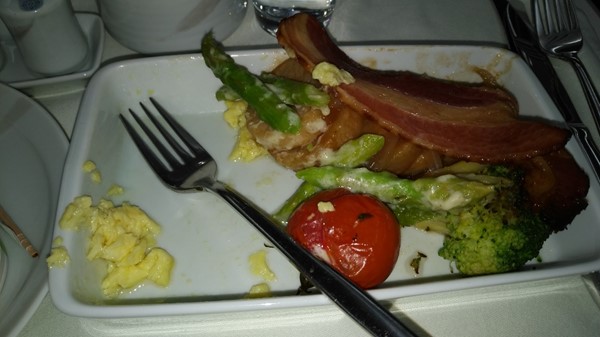 And a final tour around the upper deck (never did go downstairs (there is the grand staircase in the front and a circular one in the rear, beyond the galley):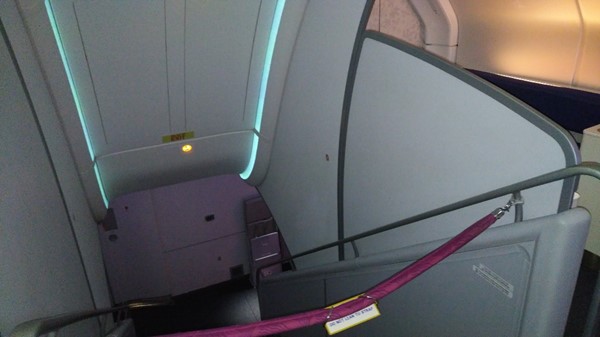 There is another self-service bar in the front (which I didn't know about):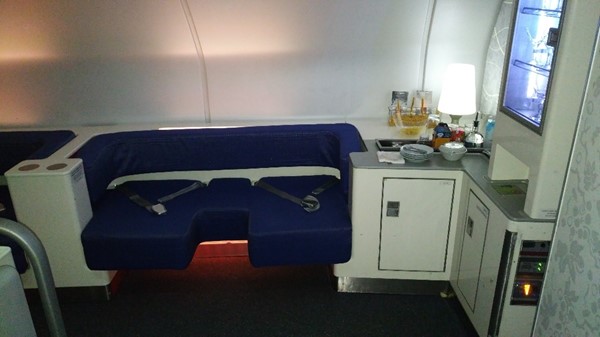 Abd a seriously LARGE bathroom. Maybe I'll stay need to front next time: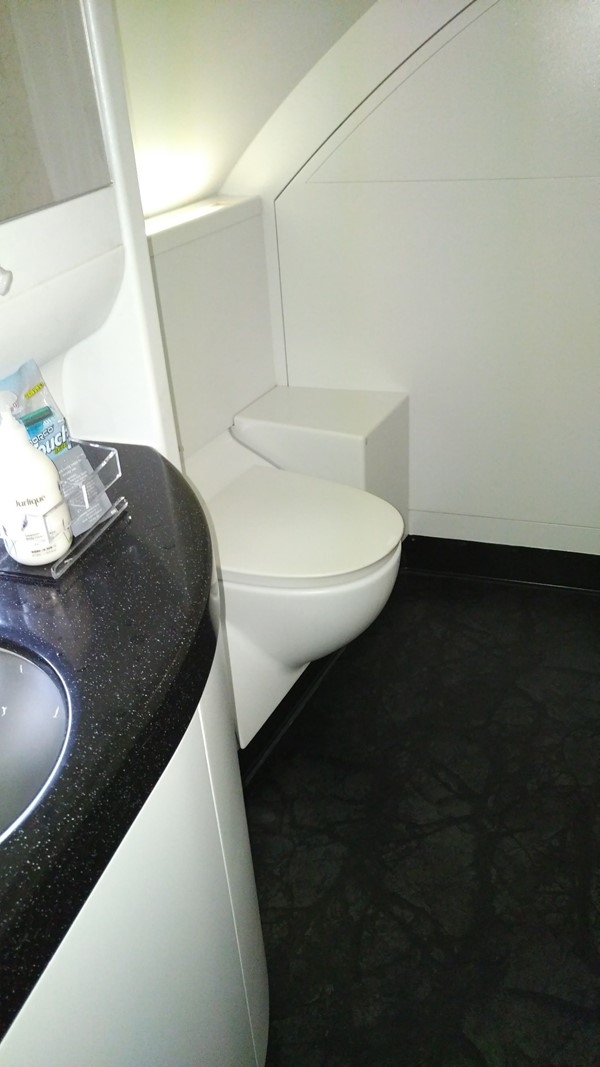 Got into Los Angeles on time…a little after ten in the morning, got through Immigration and Customs (after a little luggage delay) and headed to the Alaska Lounge for my three-hour layover.
Sadly, the three hours turned into seven hours because of a mechanical delay with our plane earlier in the day. The upside? Even before I'd boarded I had a note from Alaska promising a $125 certificate off future travel. Now that's PROACTIVE (listen up UNITED). It's times like this that being able to hang out in a lounge with free food and drinks and wi-fi make the difference between a cranky passenger and a resigned one.
Home later than I wanted, but no work in the morning, so all is good, and I'm $125 richer. Apparently, I was exhausted as there are no pictures after the Korean Air flight.
[? ? ?]