After my first day running myself ragged (OK, Julian was literally dragging me), I decided for a light day of exploring the neighborhood after Julian left for work around eleven. Explored the Japanese version of Home Depot, shopped for whiskey to pack in my bag (and in my belly), got snacks for the day from the huge AEON supermarket a couple of blocks away, did an initial pass at the 100 Yen store (that would be The Ninety-Cent Store in the US).
I was a little amazed to find this on the shelf of the grocery store: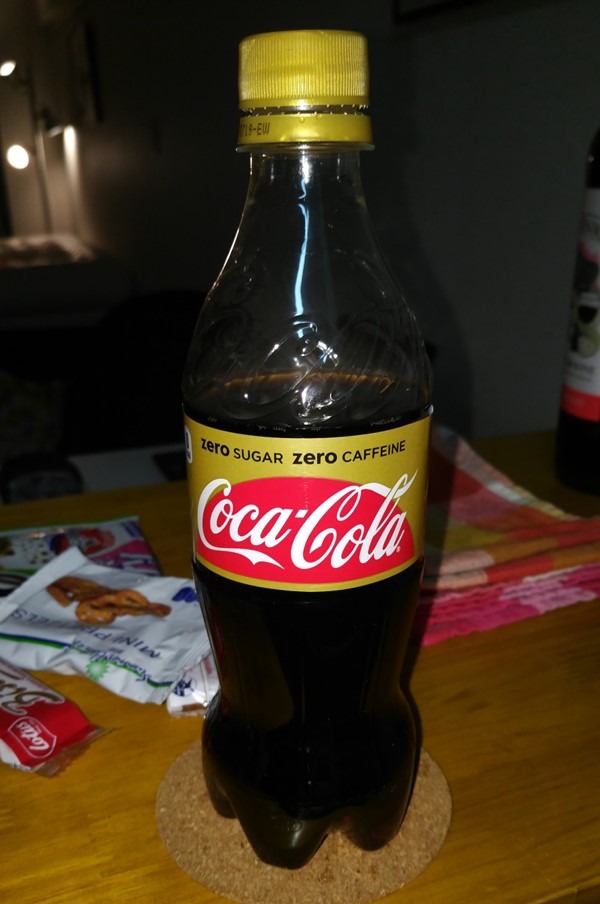 I can't even find caffeine free diet Coke in Canada!
Julian got home around ten and we started fixing a traditional Japanese dinner, which, for some reason I didn't take any pictures of – maybe we were drinking, chatting, and having WAY too much fun.
So, it's one in the morning and Julian wants to go on a walk, or it might have been midnight, I know it was late, and I wasn't a fan of the idea, but he finally wore me down and off we went for a walk along the river.
Here is a nighttime view from his apartment: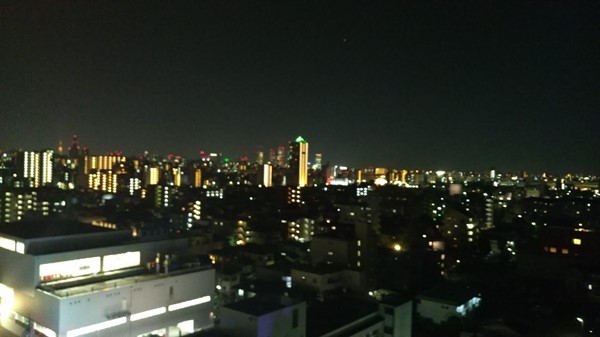 And from our little evening walk: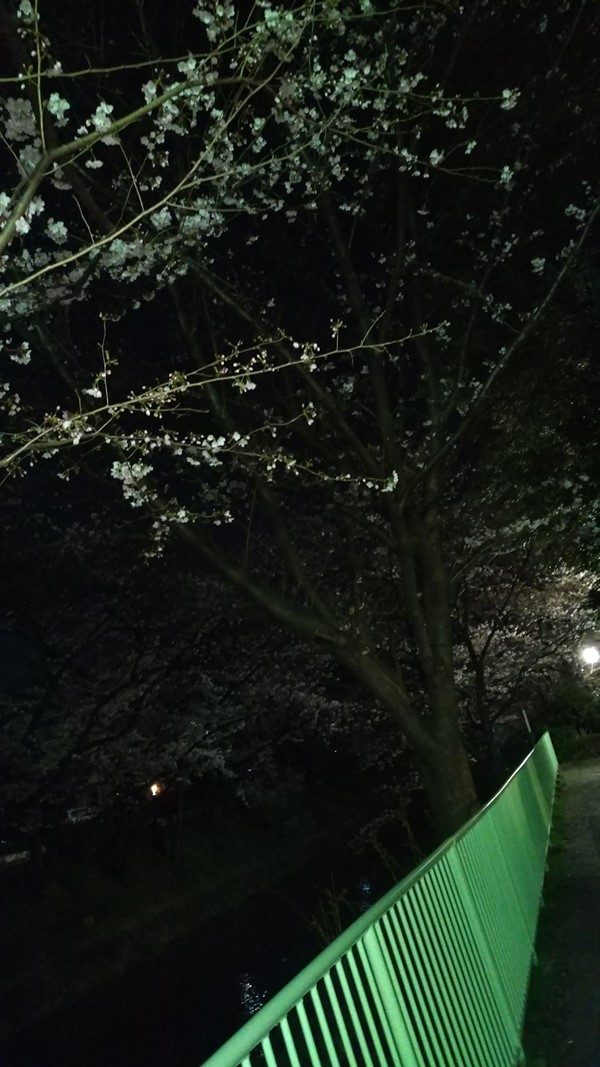 Yep, the cherry blossoms are in full glory…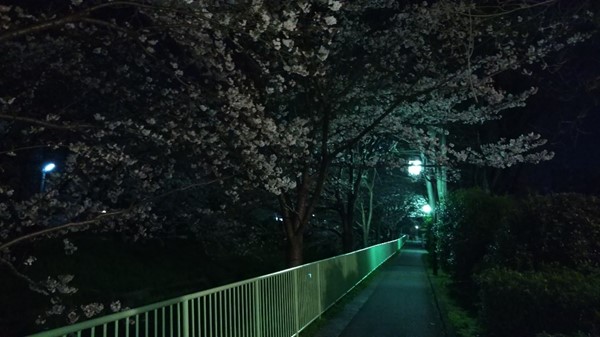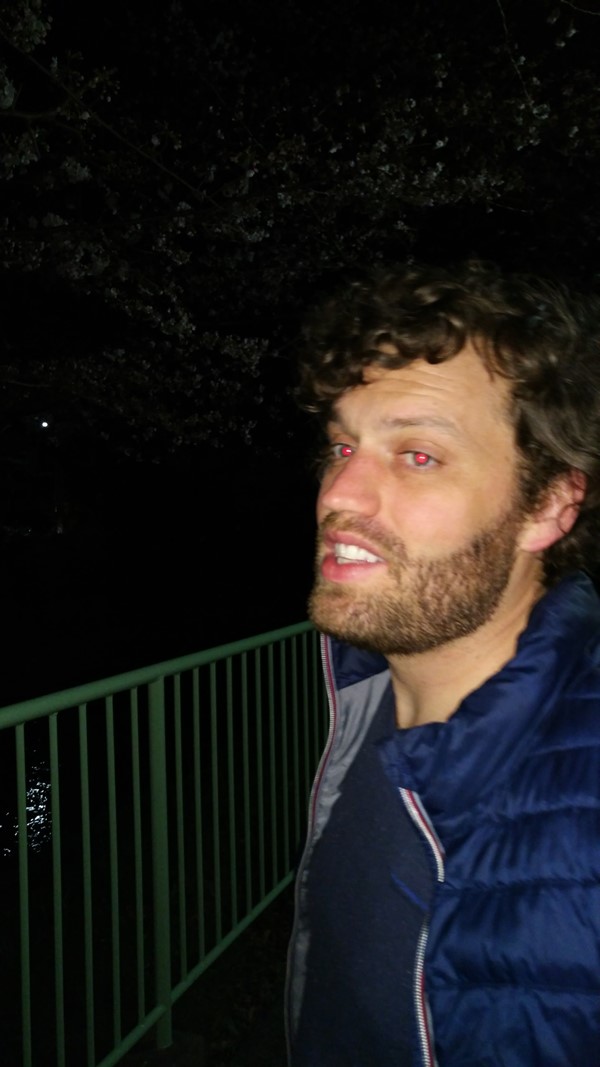 He is looking like the devil, which is how I felt about him when he dragged me out for a walk – my legs still feeling yesterday's adventures.
As it turned out, the walk helped Julian not feel as bad the next morning, though he was still running slow. Me, I slept in and spent another day exploring the neighborhood, finalizing purchases at the 90 Cent Store and getting ready for a full evening…again!
The plan was that I was to meet Julian's friend Yousuke for Hanami, the cherry blossom viewing party where everyone sits in a park, eating and drinking all day long. Off to the subway go I, and as tempting as it was to stop in for a bit, I didn't:
Missed the first train by seconds when the sliding gates tried to eat me: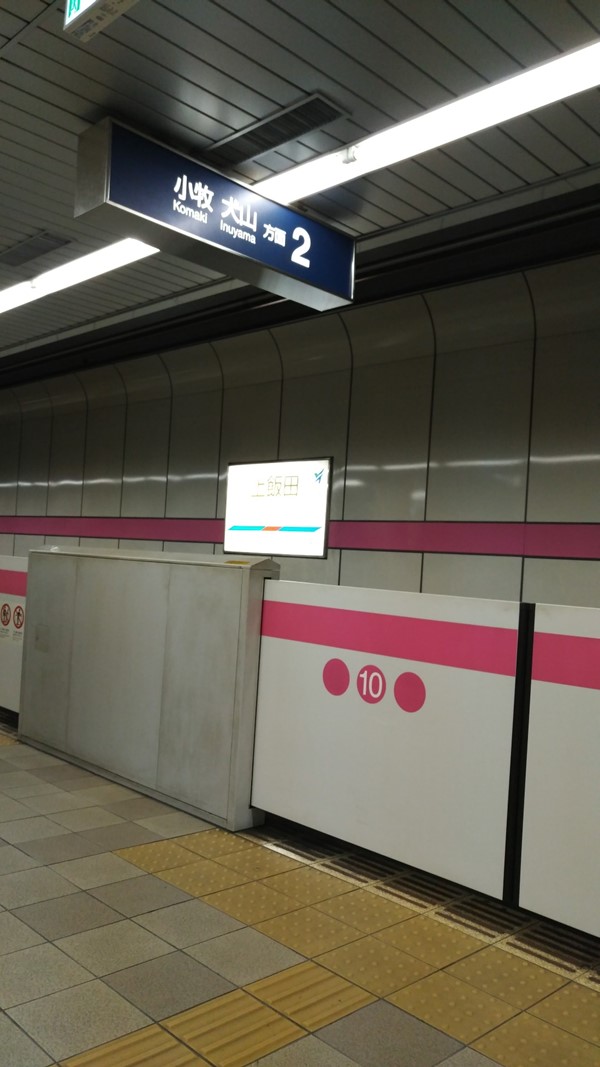 One train to Komaki to meet Yousuke (and pick up some snacks and drink for the park), three trains later we are back in Nagoya in a different direction. Yousuke probably should have picked up his snacks in Komaki because every convenience store in the direction of the part was MOBBED.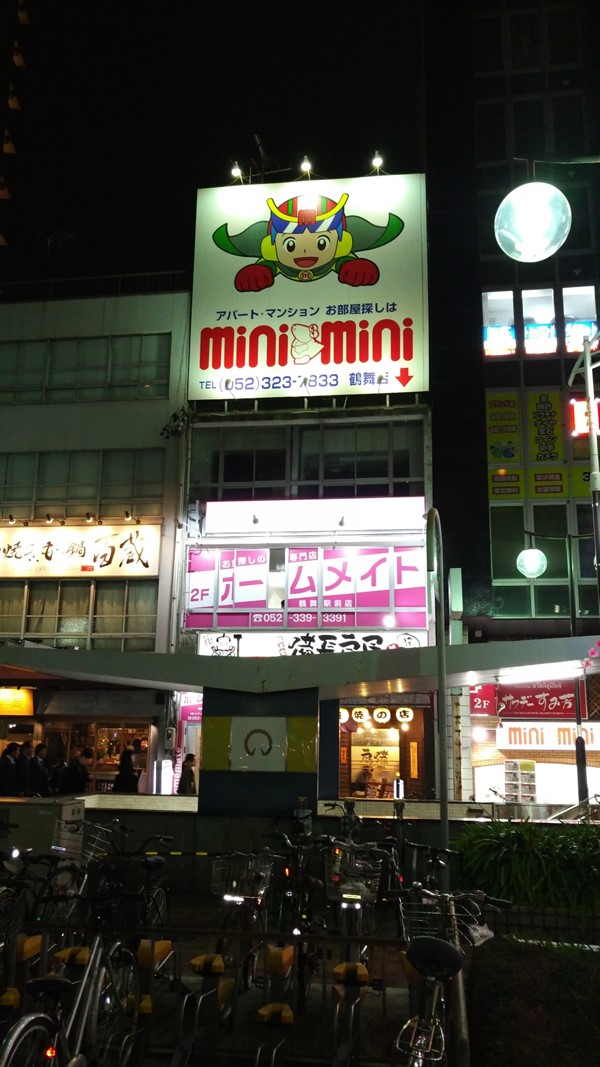 Then there was the challenge of finding his friends among the thousands of people enjoying the festival – these shots should give you an idea of the crowds and the blossoms.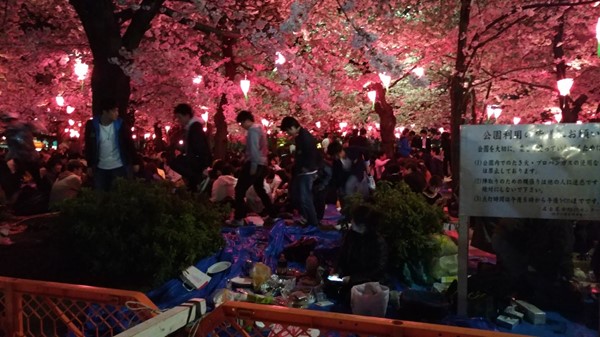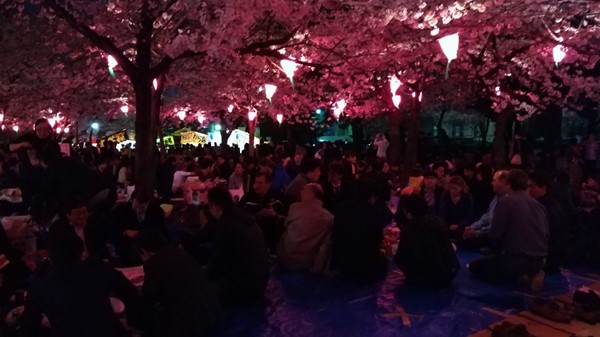 Our group: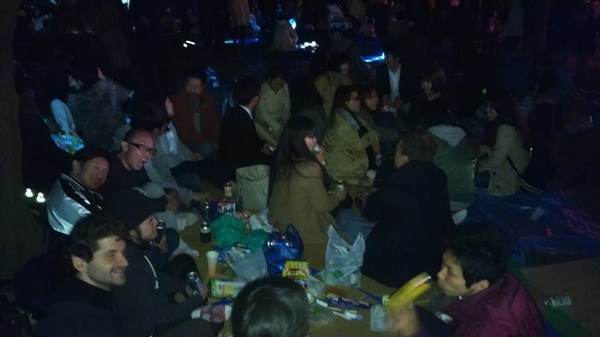 And part of the pile of shared food: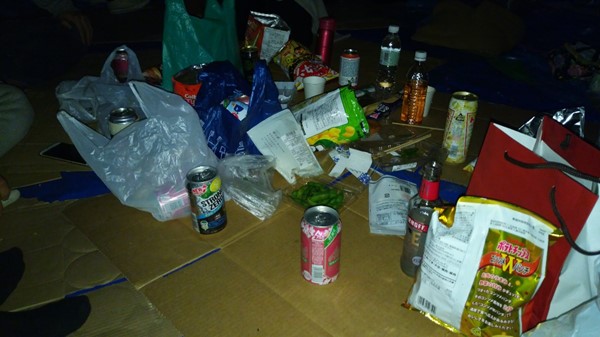 Imagine acre after acre of people hanging out with their friends eating/drinking/chatting for hours on end.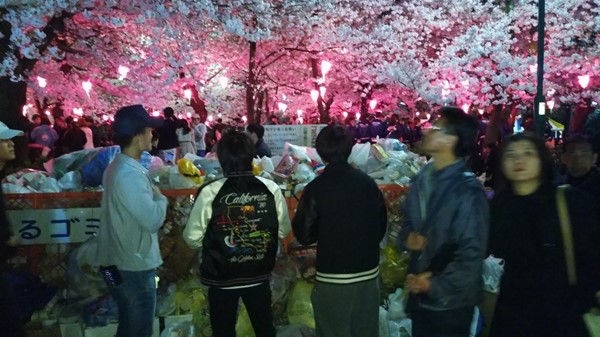 With that many people to say goodbye, we didn't get back to Komaki to meet Julian until after ten (he gets off at nine) so we could all go out and cook our own meals.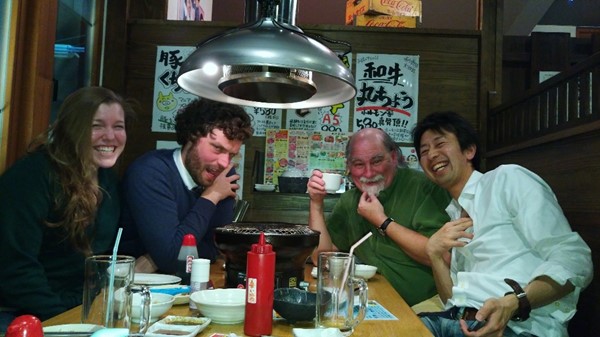 That would be Yousuke on the right.
So, the reason that Julian works so late Tuesday through Saturday is that he is an English As A Second Language (ESL) teacher – who is even featured in his companies advertising (yes, they charge people more to have white people from the US teaching them).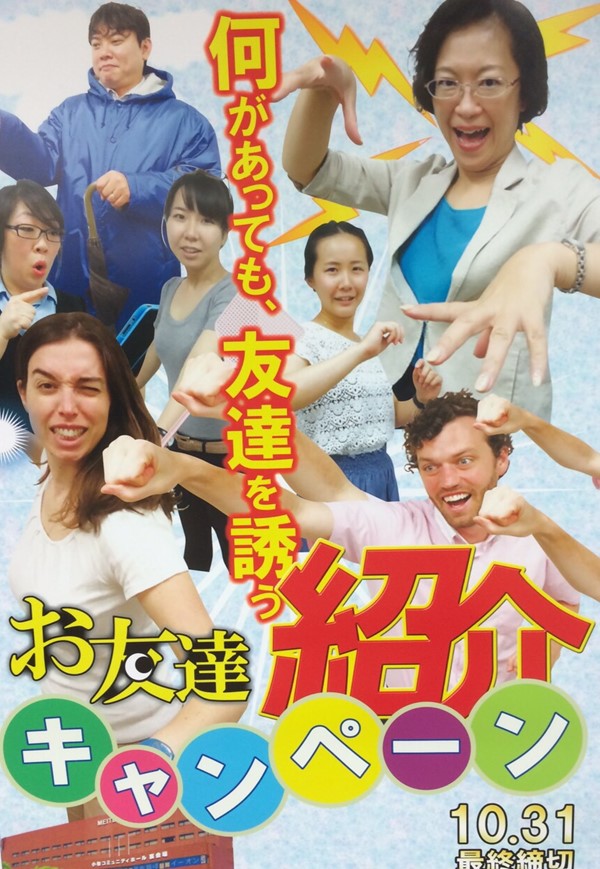 Of course, we got home WAY later than I wanted since I have to be up at five to catch my flight home – this might be PART of the problem.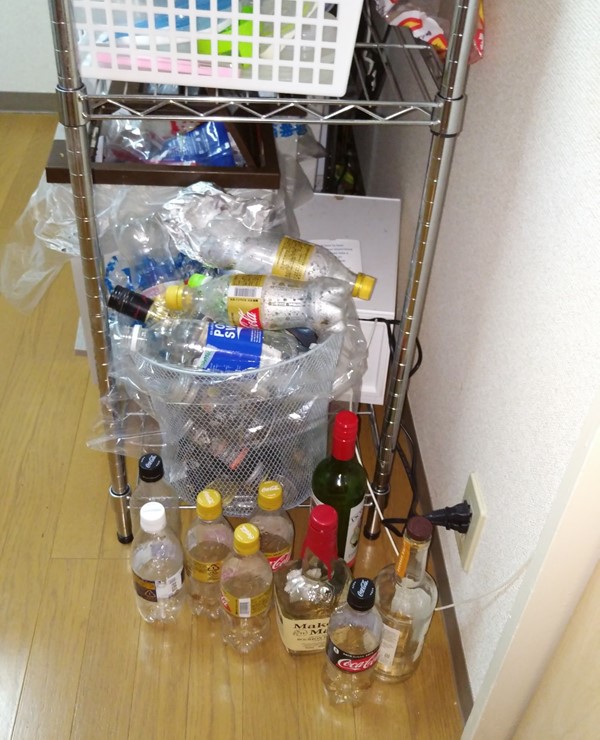 Yep, that's a little recycling to take out.
Not looking forward to the early departure in the morning.
[218.8]