Sometimes you just need a little guaranteed sun. In my case, that meant a two-day getaway to Vegas. Flights were reasonable ($160), and I used points for a 2-bedroom (overkill), and the rental car, all in, was $51 for the two days.
In exchange for a cheap airfare, that meant crappy flight times, which also means a better chance of an upgrade (which I got).
Interesting sign in front of the Alaska Lounge – and I've been seeing them at Alaska's Lounges in other cities as well: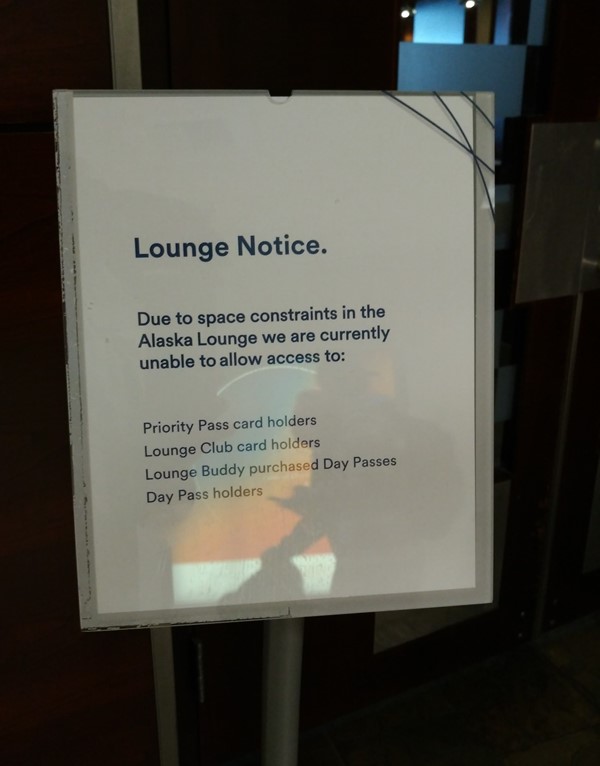 This is interesting in that when they are busy, they aren't even letter Day Pass holders in – which since I still have three day passes that I don't personally need since I have a membership, I give them to friends who are travelling out of Sea-Tac.
Even though it was a late afternoon flight, still started with my ritual Sparkling Wine with a touch of Cranberry in it. If you need to see what it looks like, there are dozens of pictures in posts over the years.
As many of you know, I always show up super early on flights days to milk as much value out of my lounge membership. Today it was a good thing I did: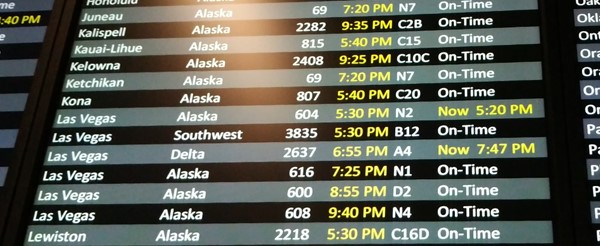 Yep, they moved my departure time FORWARD by 10 minutes because of expected headwinds. Never seen that happen before.
What on the schedule was listed as a "snack", looked more like dinner to me: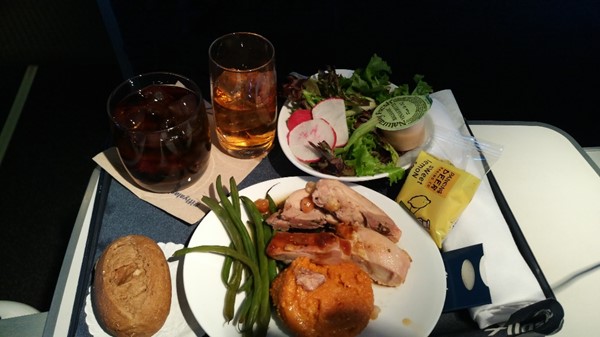 Leaving early meant that we got to Vegas pretty much on time so it was pick up the luggage, drag it to the rental car bus, and pick up by "compact or bigger" rental car which happened to be a striped down Nissan Altima.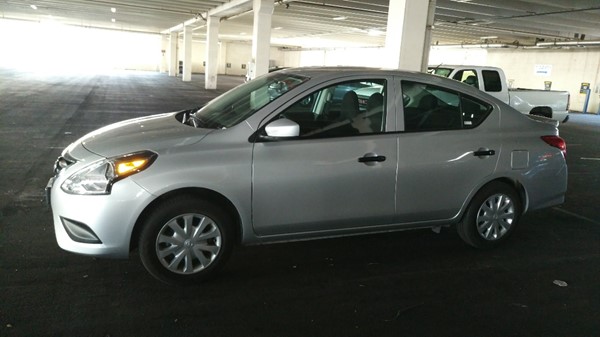 When I say "striped down", hand crank windows: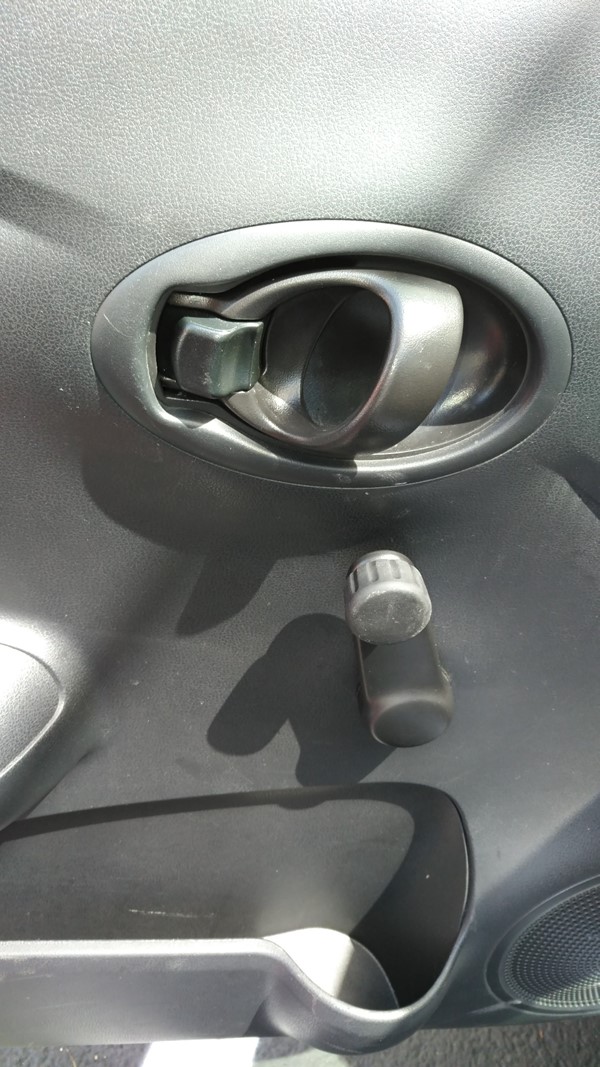 No power locks (which meant hand lock each door), and not even a key unlock on the passenger side. On a car with 14,000 miles on it.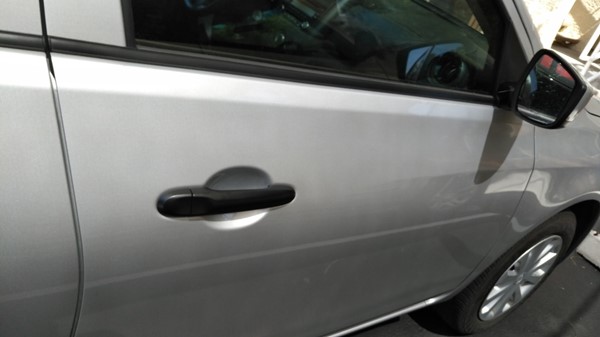 I was surprised that it even had cruise control! But it got me to the condo: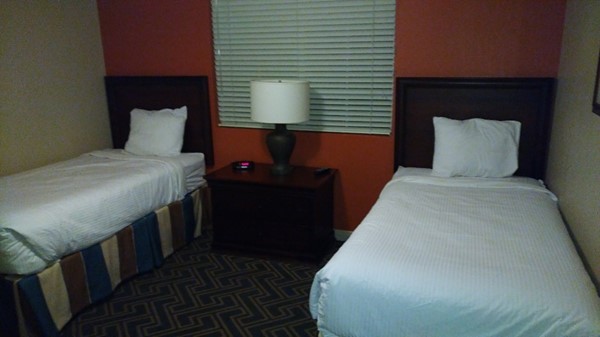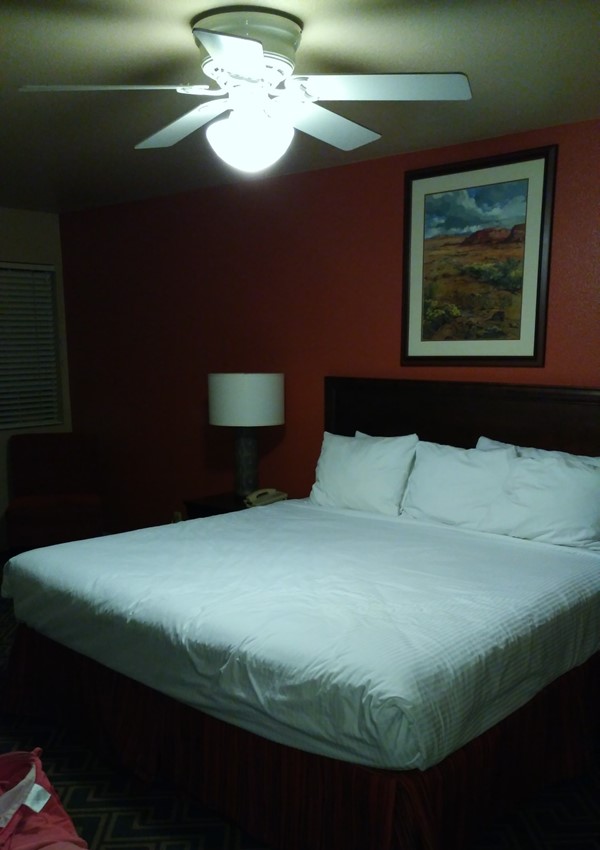 With a huge master bath:
Too bad I didn't check the exposure on the living room shot, sigh.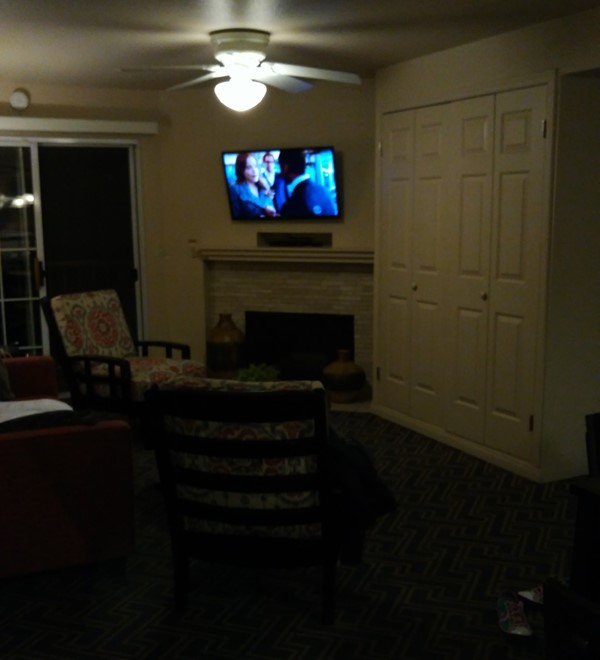 But you get the idea.
Oh, and on the way to the condo from the car rental place, I picked up supplies for the stay, and to bring home: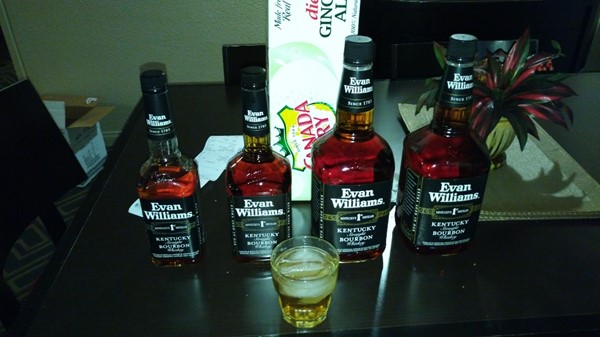 This is what $62 gets in at the Total Wine and Beverage store in Vegas. Those half gallons in Washington State would be $36 EACH. I almost went out and bought an extra suitcase to bring home more.
The basic reason for the trip (besides a booze run) was pool time, and the pool here, while small, has sun.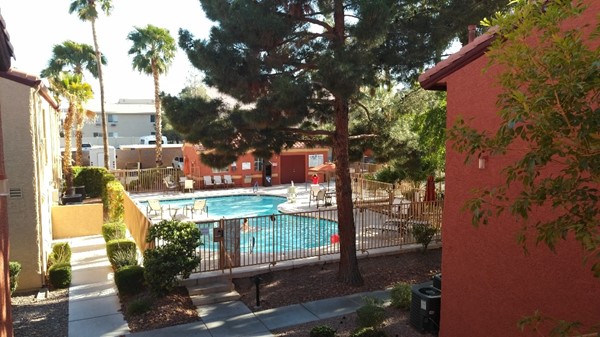 That is actually the view out the front door above.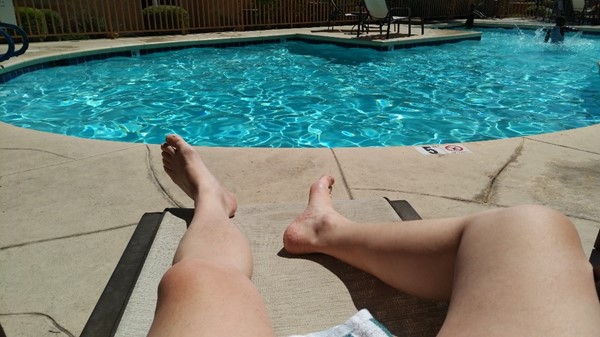 And the view from my tiny deck at the back of the condo: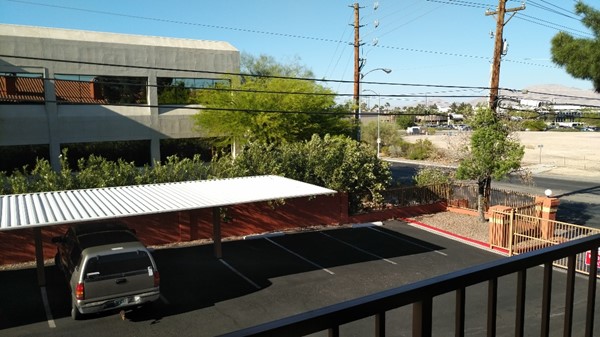 There are even three shared barbeques down by the pool.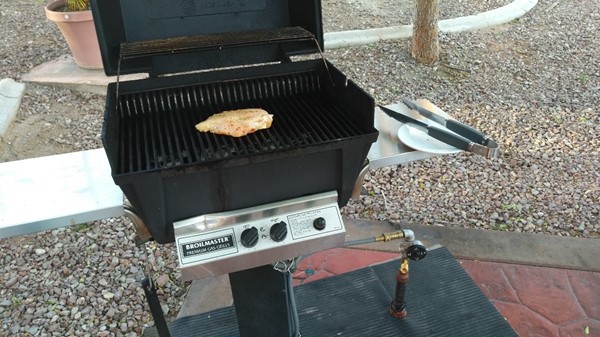 With gas shut off timers – never seen that before. Great idea.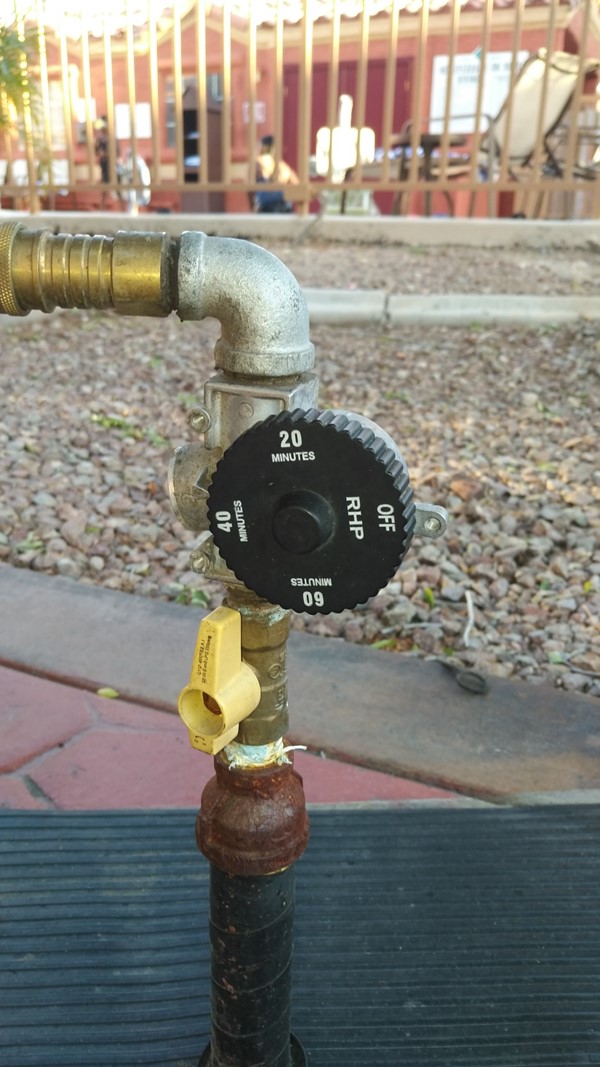 Made for a nice meal: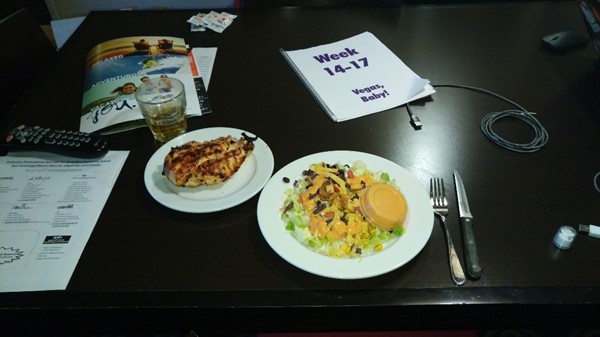 Checkout day was upon me, with a LATE 10:40pm flight (again, upgraded), but I'd scheduled a 12:30 Owner Torture Session, which wasn't a torturous as many. 45 minutes and I came away with a $100 AMEX card (to go with the $25 one from my update at Blaine a couple of weeks ago), $25 worth of dining credit on the strip, and 1000 Wyndham Rewards points. And it was a great way to kill an hour.
Next up was a little plane spotting – Vegas has a designated area for aviation junkies like me to watch planes come and go. They even had a low power FM station that you could listen to air traffic control: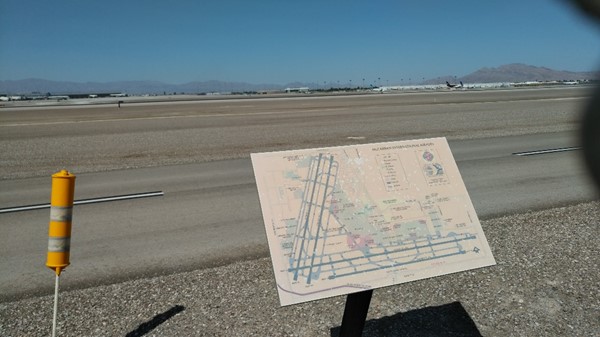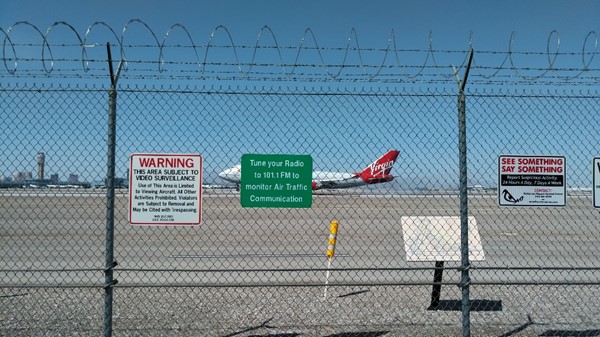 That is actually a Virgin Atlantic 747-400 landing.
Next, headed to the strip to look around – geez, Vegas is a depressing show of humanity. Most of the casinos now charge for parking, but eventually wound up at Planet Hollywood which doesn't, and wound my way through the shopping area, then the casino, to check on one of the places to use my voucher. Man, the signage in casinos is poor.
Wasn't quite hungry yet (the Owner Torture Session included a late breakfast), and $15 for a burger at Gordon Ramsey's place seemed a bit much, but the waste of natural gas was amusing.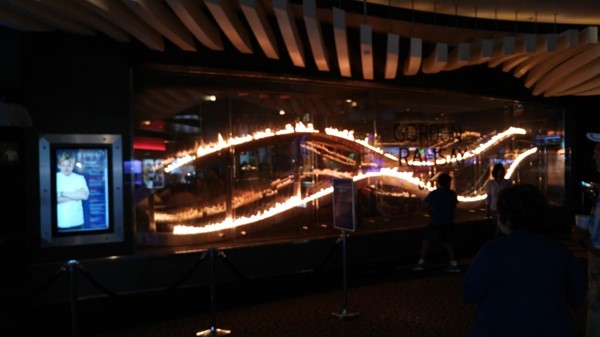 Sensory overload is what the strip is to me – went back to the car and headed to The Rio in search of a place to eat not engulfed in the den of drunk people and blaring music.
Found the American Bar and Grill at the far end of yet more shopping and casino areas (smoking is still allowed, FYI) and asked for a seat farthest away from the action: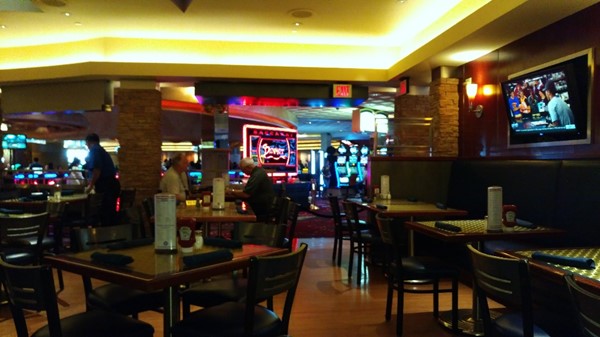 When this arrived, I felt so much better: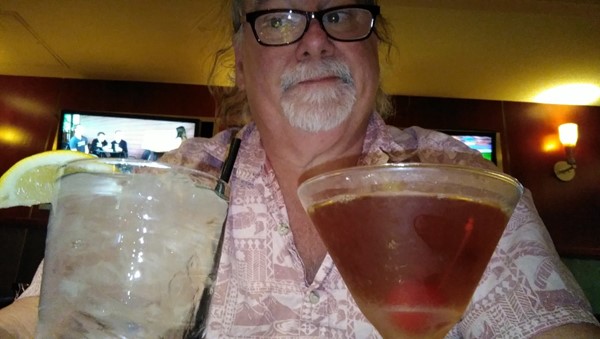 And it being Vegas, even the starters were on the large size.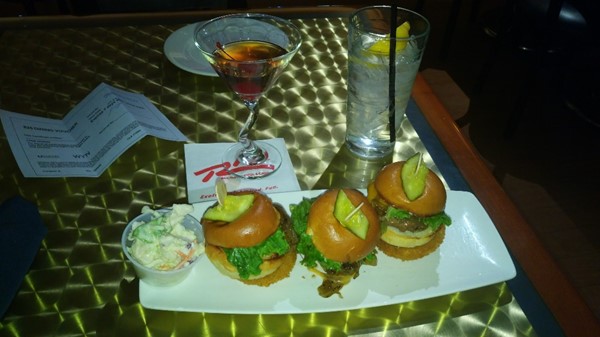 Yes, those mini burgers are stacked on onion rings.
I'd driven by the famous "Welcome to Las Vegas" a couple of times today, but it was always mobbed, on the way to the airport, it was a little less mobbed so I pulled in. Decided a "selfie" was better than standing in line to wait for a turn in front of the sign.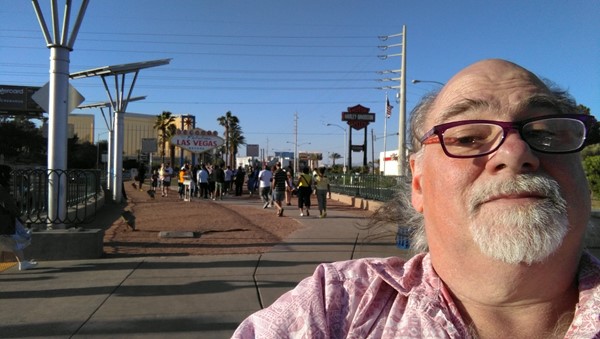 Maybe I should have walked to the other side where is says "Leaving Las Vegas, Come Again" But, in truth, the sign in the terminal area is just as nice: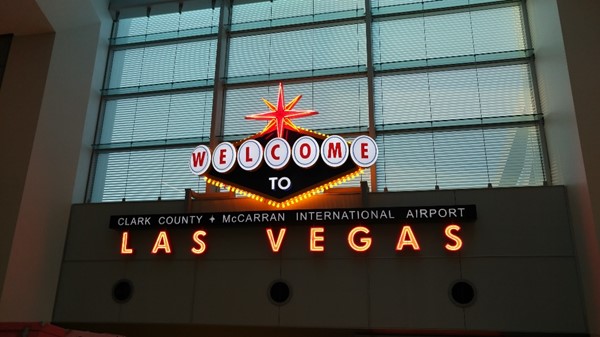 Speaking of the terminal, I love this sign above one of the few pay phones left in existence – talk about a SCAM to use your credit card to make a call: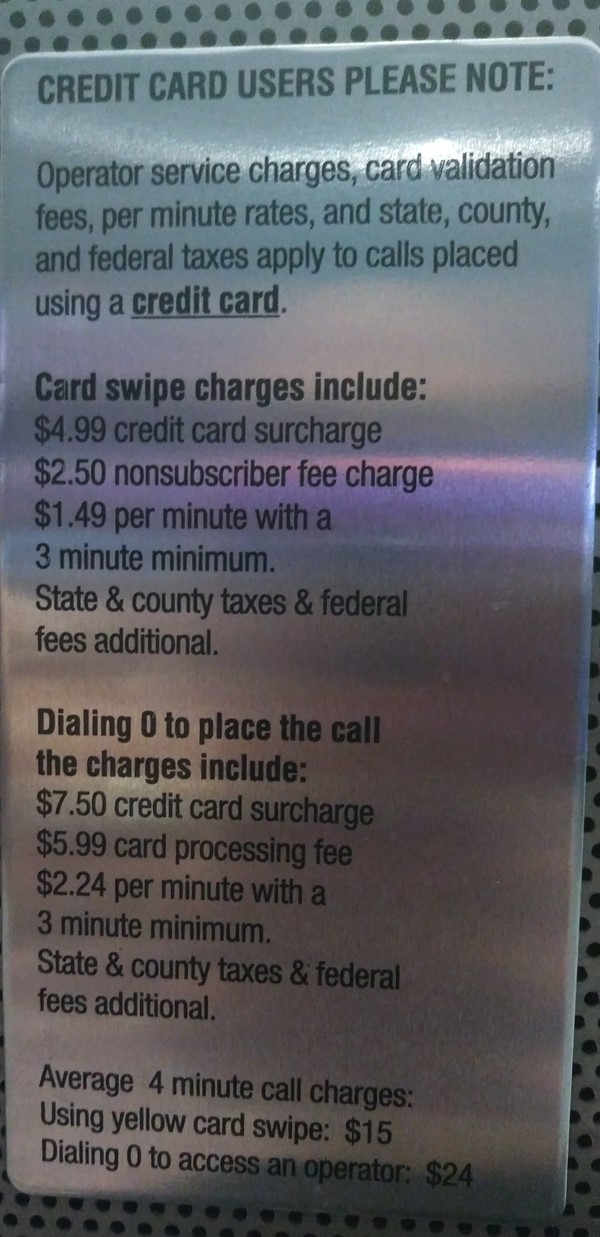 That's almost like the costs they charge prisoners for calls from the jail.
High tech gates at McCarran.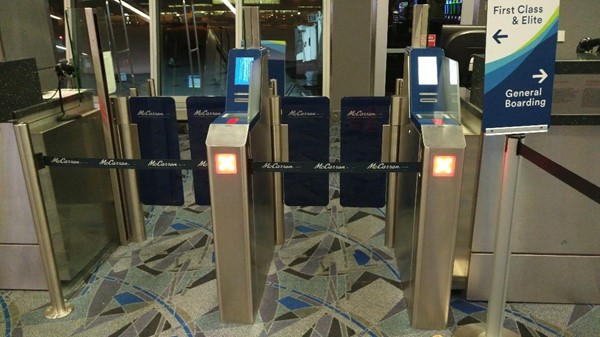 And a close-up of maybe why – seems the gates run a version of embedded Windows and the one of the left obviously has crashed: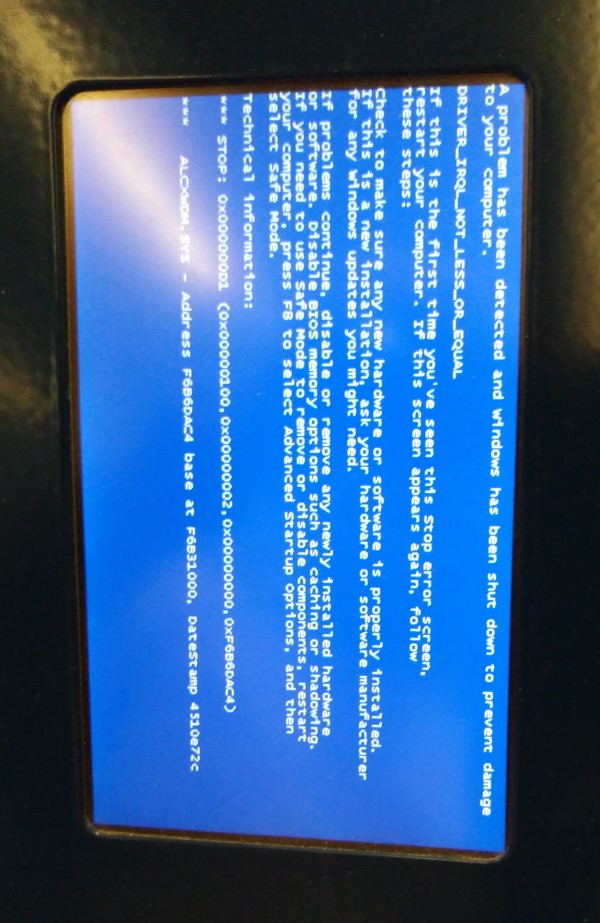 Sadly, I did not get to ride Minnie all the way home, these was the Seattle flight before mine: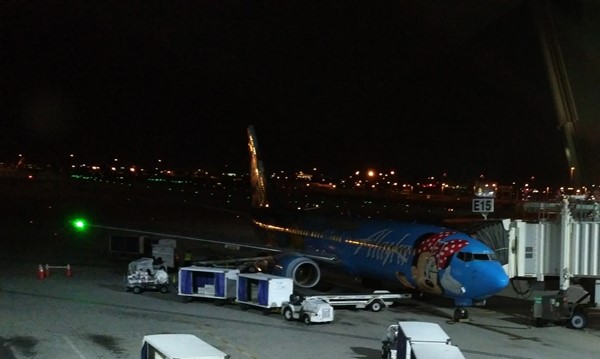 There you have it, just a run for sun, a run for miles (this will put me at MVP Gold through the end of 2018), and a way to get out of the house.
[217.8]