This trip was to originally planned for Saigon to visit my buddy Sean. Circumstances changed.
Instead I'm meandering the world it seems.
Up at 4am after the Hot Dog Party (see entry below), so I could make a 6:225am flight. When you want to change your frequent flier ticket 60 days out from Saigon to someplace else, like Europe, in Business Class, in the middle of summer, you take whatever routing you can get. It's going to be a meandering trip for 110,000 miles and about $300 in fees.
One the upside, I have enough time to check out the new Alaska Lounge at the end of C Concourse that opened a couple of weeks ago. That brings the number of Alaska Lounges at Sea-Tac up to three. The big one between c and D Concourses, the temporary, but pleasant one in the North Satellite (they are working to expand N Concourse and put a rooftop lounge in).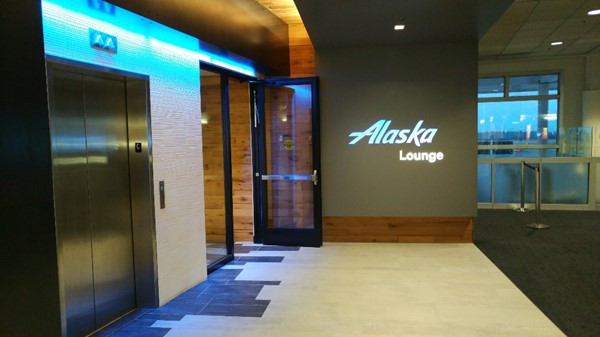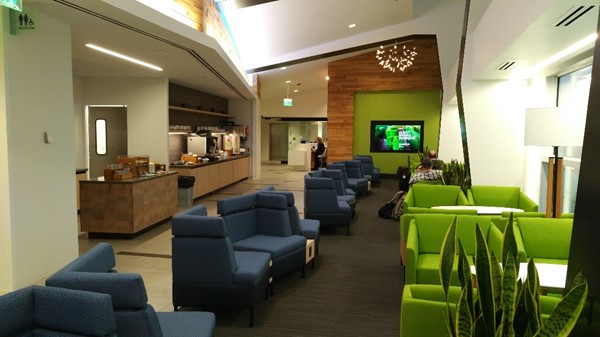 Basically, had enough time for bagel and cream cheese before heading to the gate. Sadly, the bar doesn't open until 6am – and my flight is out of the N Concourse meaning I've got to take the train.
Flight is on time, which I love, and I'm in my favorite seat, 1C.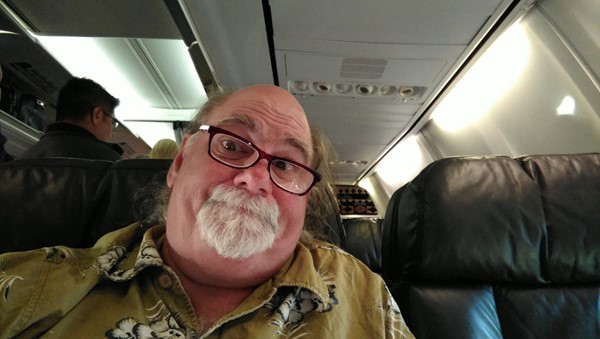 To be honest, I should have had half the bagel, since this is breakfast….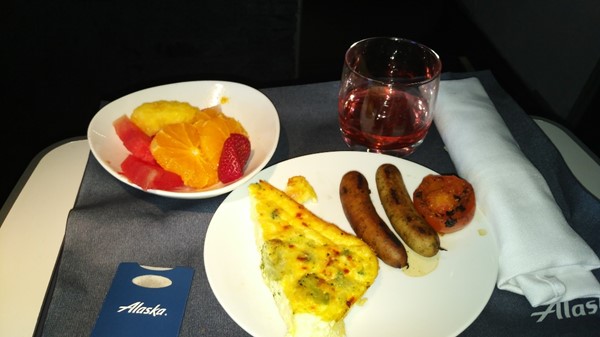 First stop of the trip is Denver, where I have a 5+ hour layover, which means enough time to have a quick cocktail in the Admirals Club:
And lunch with Dan and Lisa who have driven the 45 minutes from their house just to see me.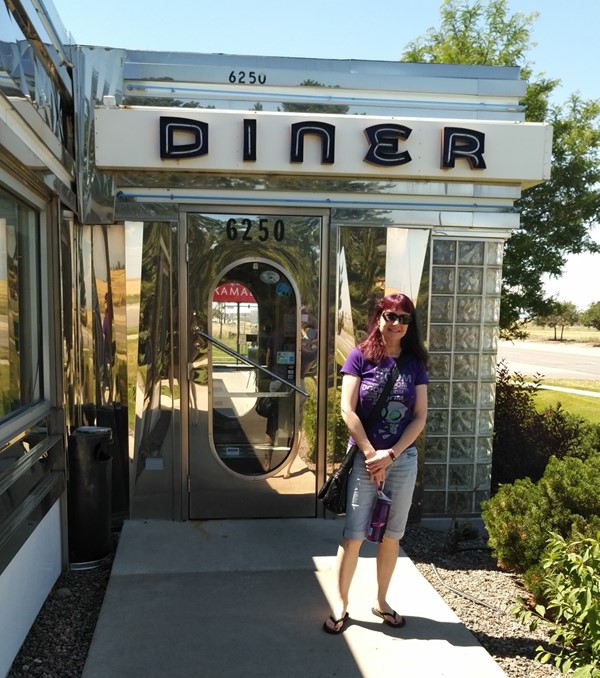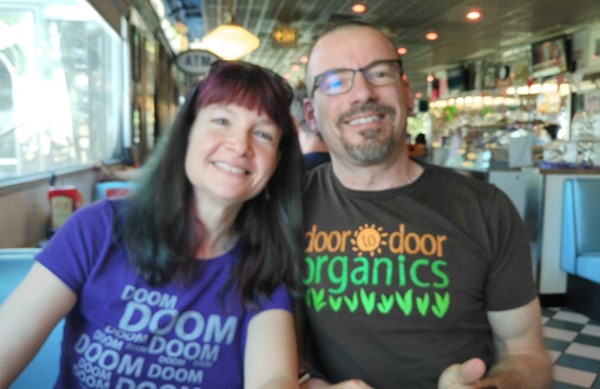 Like I need a third meal before noon – but ordered the half Rueben/half salad…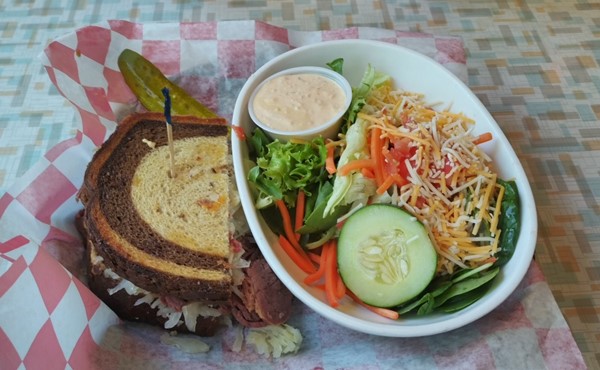 Sadly, it doesn't hold a candle to last week's casino Ruben Kincaid. The corned beef was too thickly sliced, and dry to boot. Even with the addition of some of the Thousand Island from the salad, it was still on the dry side…. And SLOW to get to the table.
They kindly dropped me back at the airport where I headed to the United Club that comes with an Icelandic Air Saga (Business) Class ticket – could have gone back to the Admirals Club, but let's tray ALL the lounges on this trip. Maybe I'll do a lounge report at the end!
I was headed to the gate when I realized I had forgotten to buy any duty free! An I know what liquor costs at my next overnight stop.
Made it in time, but of course, most of the plane was loaded by the time they delivered it to me – I should just make them bring it to my seat. This has happened the last half dozen times, and if I was sitting in the back, means I would have lost space for my carry on waiting to duty free. First World Problems.
Little did I realize that on this flight it wouldn't be a problem.
Business Class
Only 8 out of 22 seats filled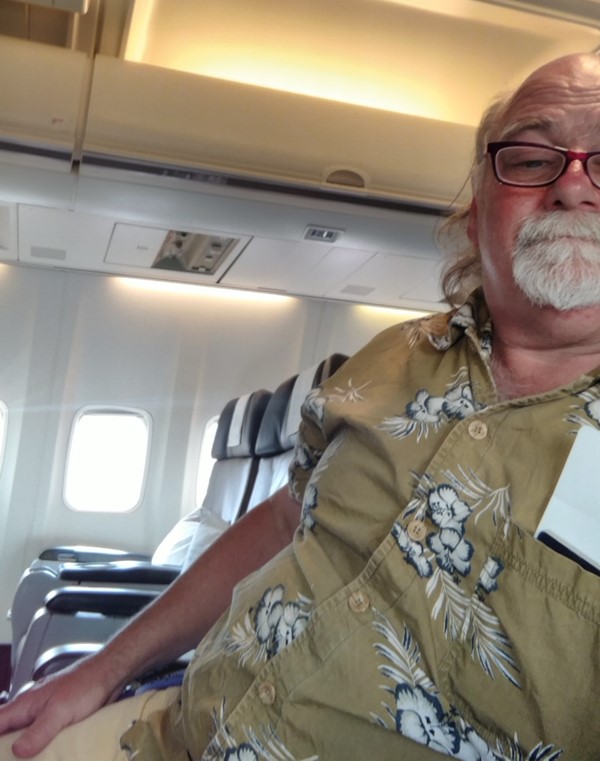 The thing about Business Class on Icelandic Air is that they are basically domestic First Class seats on all the legacy carriers in the US. No lay flat on this 757-300.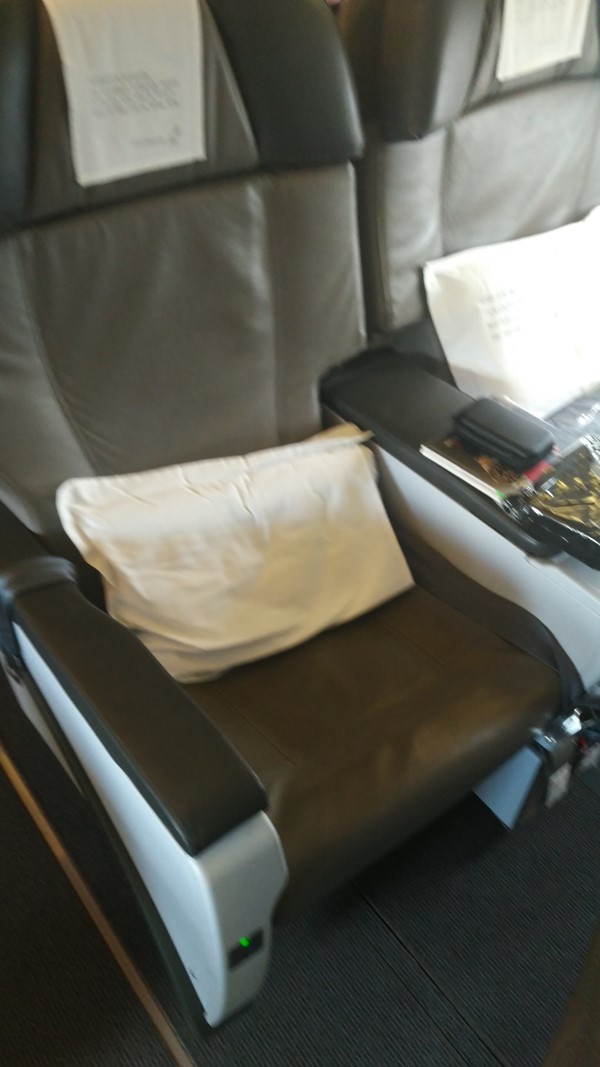 But it does come with an amenity kit in a 50th anniversary commemorative (if dented) metal tin.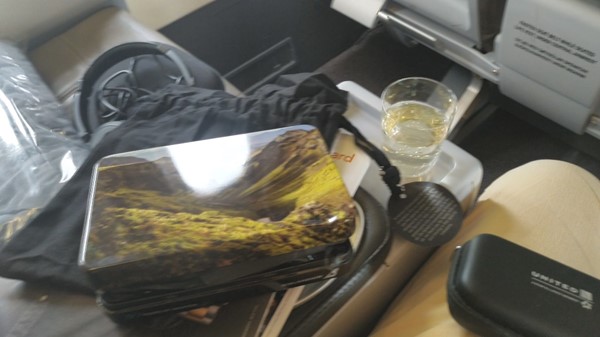 And loaner noise cancelling headphones, free wi-fi, seatback entertainment: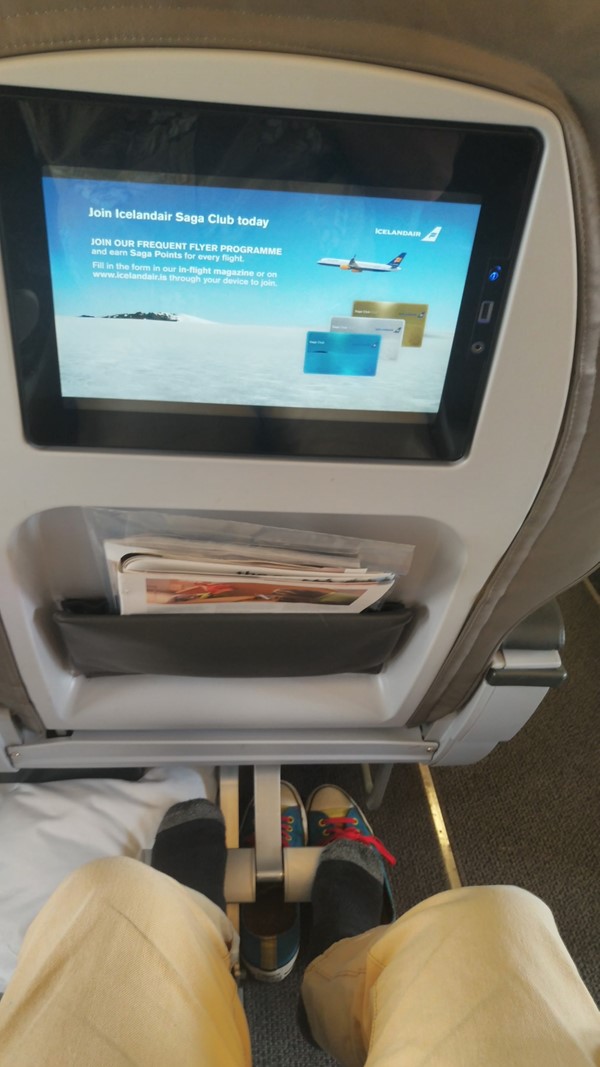 With a decent amount of room…
Champagne before we took off (though I suspect Prosecco), and the initial beverage service oddly came with Carmel Corn rather than warm mixed nuts…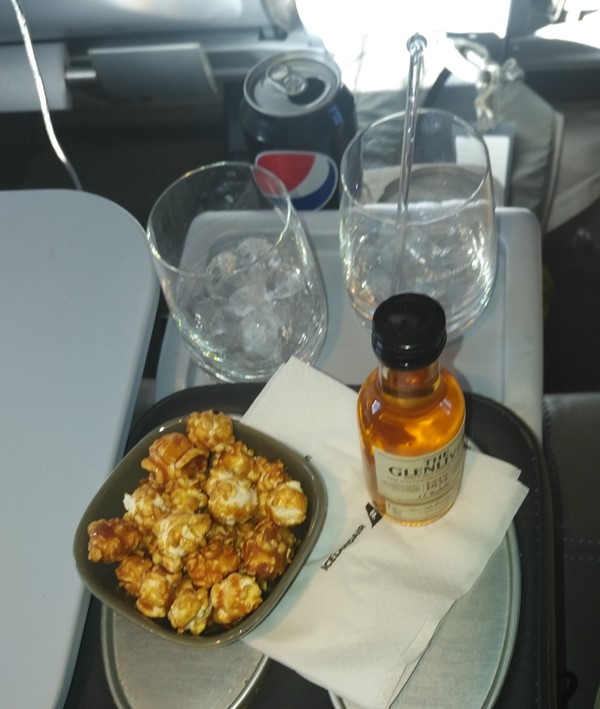 And the meal service lacked a salad, was served all at once (on a six-hour flight), and had an inch-thick pork chop the size of my hand. How many meals so far today is this?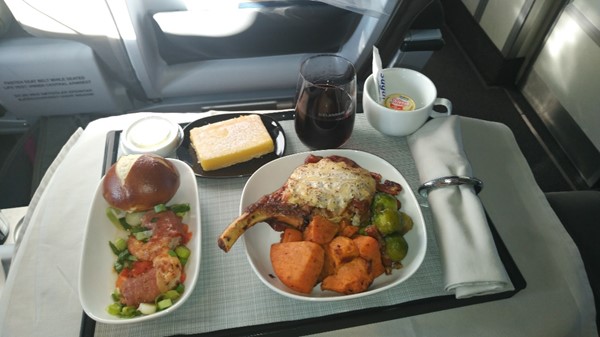 Watched a couple of movies:
Death At A Funeral
Going The Distance
And a couple of episodes of Season Two of Fargo – with four more to go with the rest of my flights.
Breakfast a tad odd, but at least it come with little bottles of real Champagne!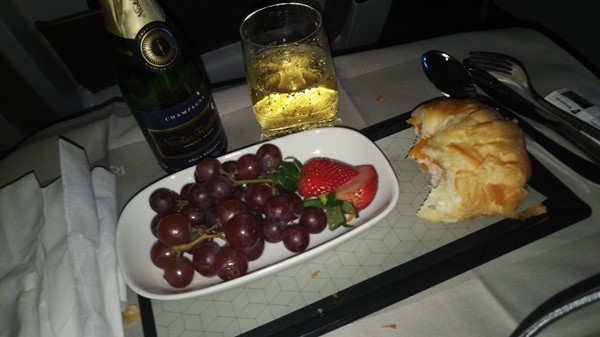 That was a ham and cheese croissant and a whole lot of grapes.
WELCOME TO ICELAND!
And to think, I left Seattle in July for Seattle in January….
Slow immigration lines, basically no customs, clueless people about the shuttle to the Base Hotel/Hostel no far away – ended up getting a cab after getting some Icelandic Krona.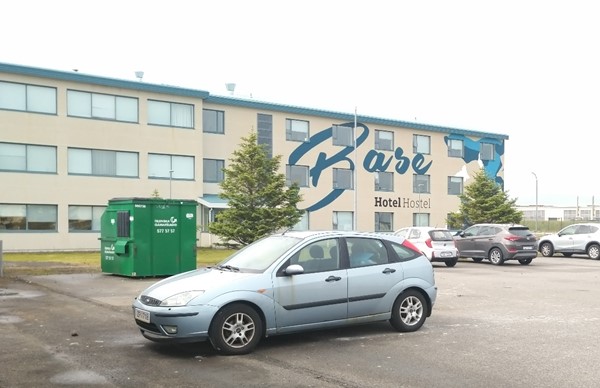 It is now 8am in the morning – and I'm shocked as shit (and grateful) that my room is ready. Here is what you get for $100 a night in Iceland…a shared bath, a comfortable bed, no desk, but a mini-fridge…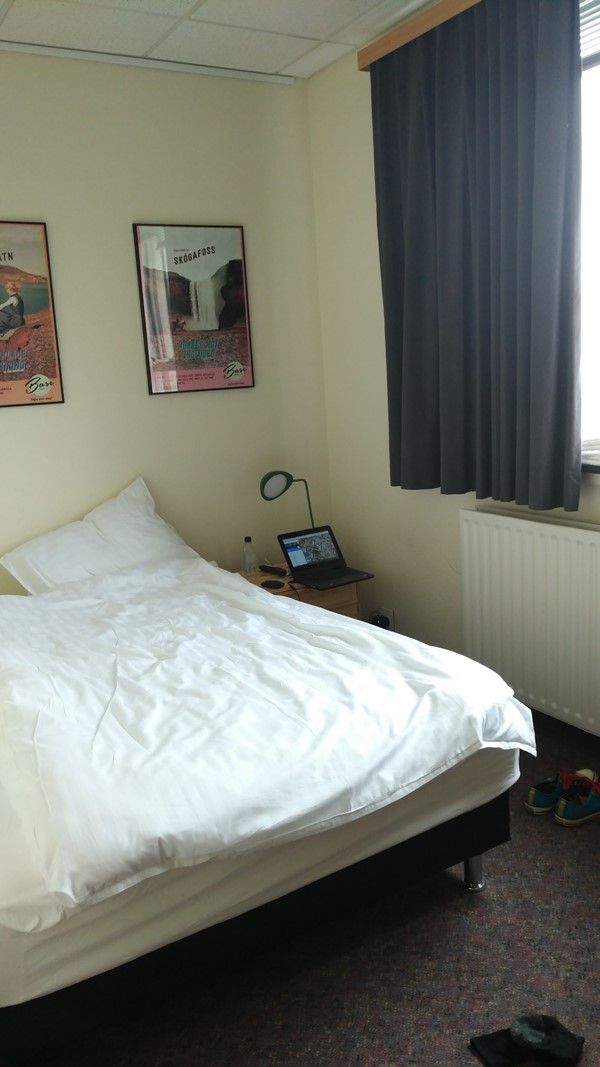 With a view….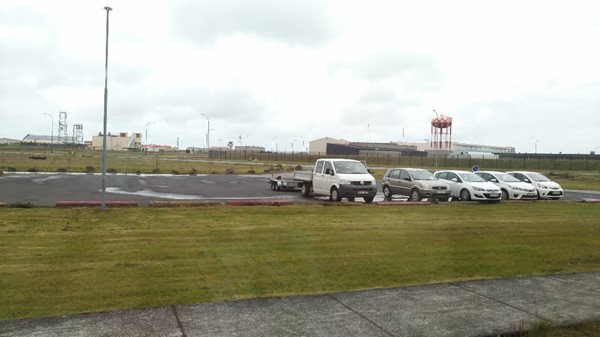 On a former US Air Force base, that looks like this from above: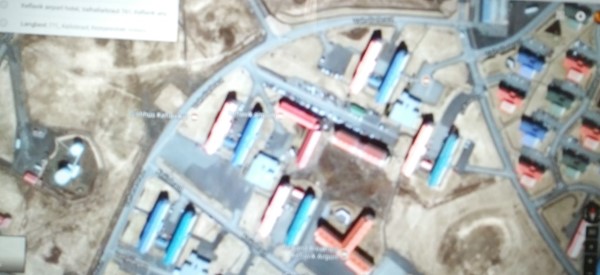 The Red (my building) and Blue at the top of the photo is the hotel – which is actually very nice inside considering they were most likely barracks…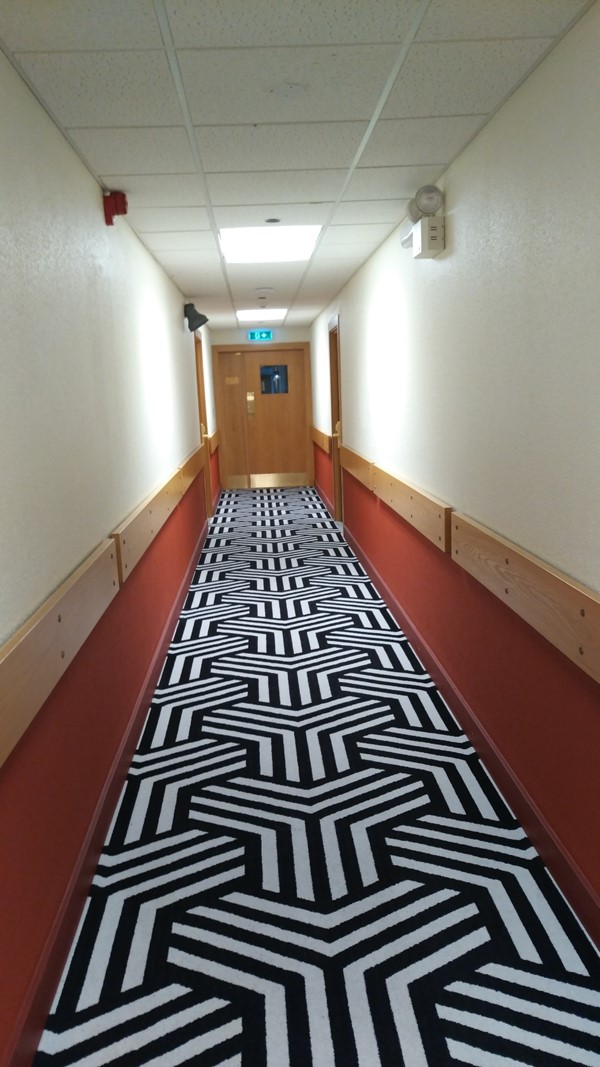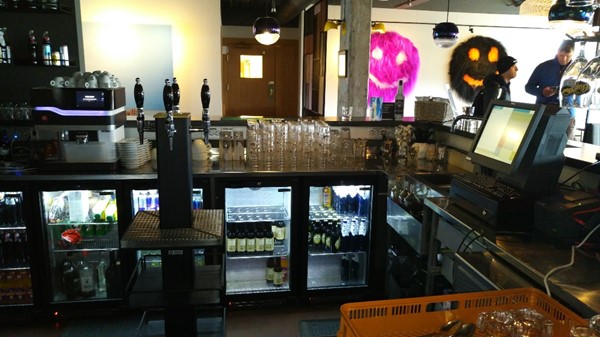 My first order of business was grabbing a five-hour nap, followed by a packaged sandwich from the bar – salmon and egg salad on a poppy seed roll that was REALLY GOOD.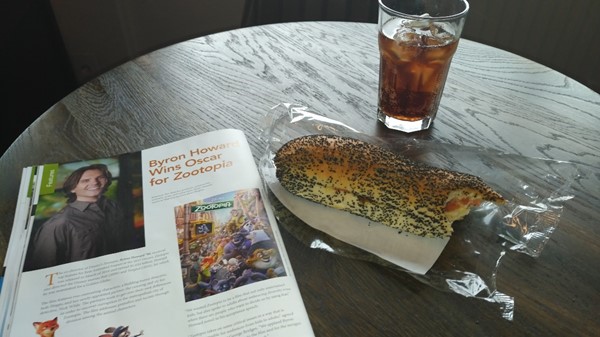 And yes, that Pepsi Max had bourbon in it…and this fun BIG magnetic chess set was available for use: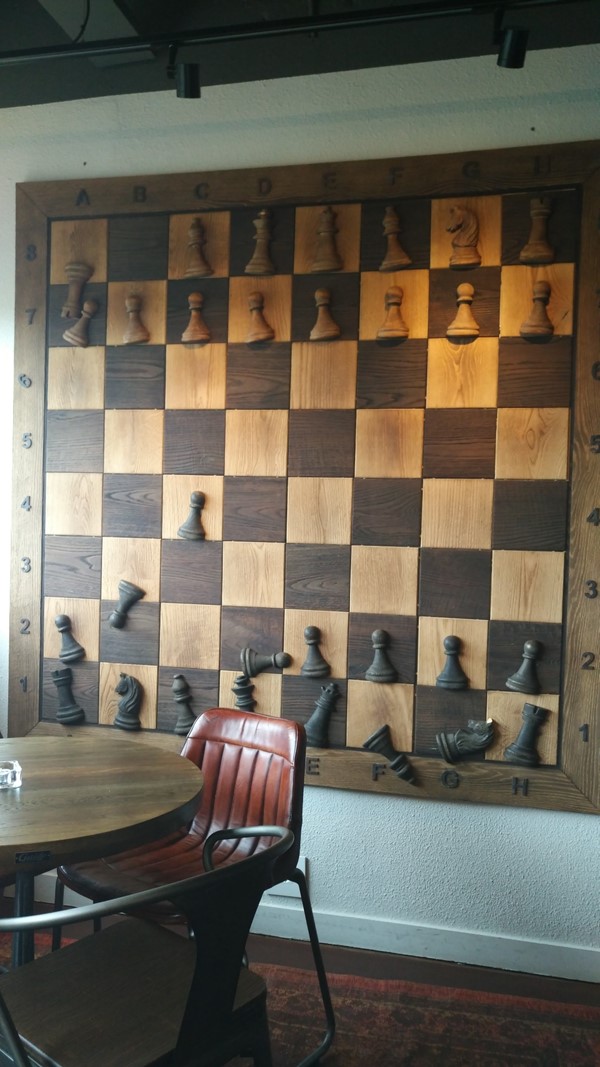 Back to be for another serious two-hour nap, before heading out to explore and find a place for dinner. My choices were exactly two within walking distance. I chose the more expensive one with better reviews…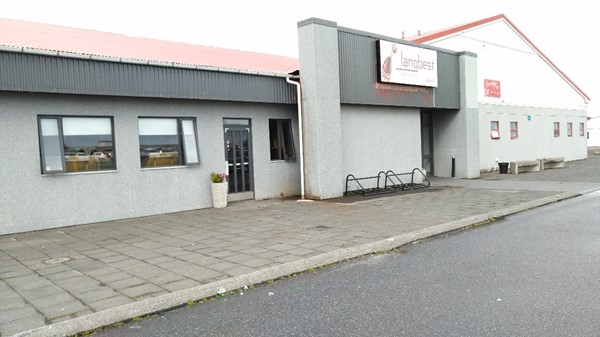 You can tell that this was definitely an old Air Force base…at least the interior was pleasant…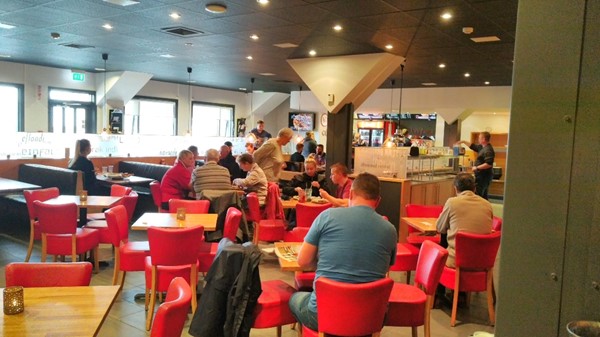 I opted for the Haddock and Chips…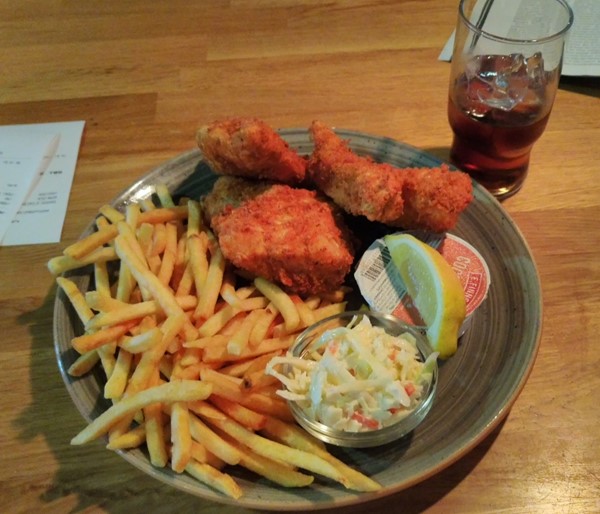 The chips were nothing to write home about, but the Haddock was three, inch-thick chunks. Way more food than I needed, but tasty. There specialty is the pizza, which I didn't have, but all the onews I saw coming out looks amazing.
As I wind down my first night of the Land of the Midnight Sun – I close with a picture at 1am from my room: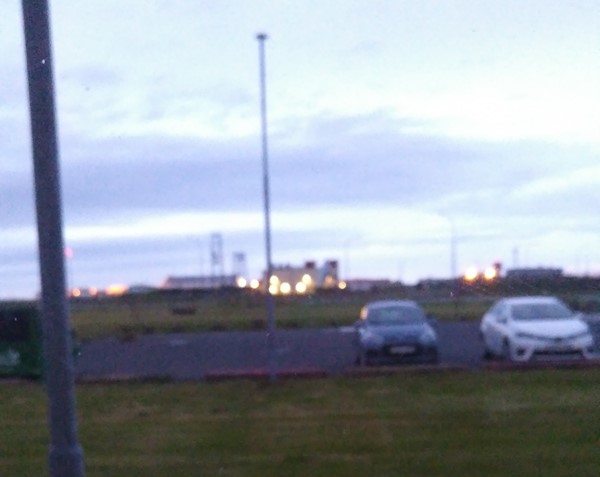 See you all tomorrow when the adventure continues.
[? ? ?]