My overnight in Iceland has come to an end. Here is my example of the weather here. Damp and windy: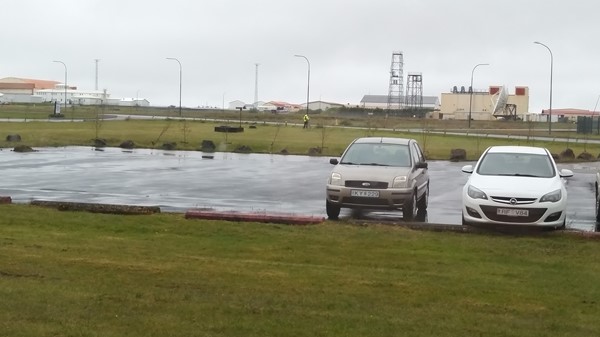 Shuttle was on time at 9:20, and I was SHOCKED that by 9:50:
Arrived at the airport
Checked my bag
Gotten through security
Bought Duty Free Bourbon
Arrived at the Saga Business Class Lounge
Really, in just 30 minutes.
And what a lounge it is – just opened in the spring: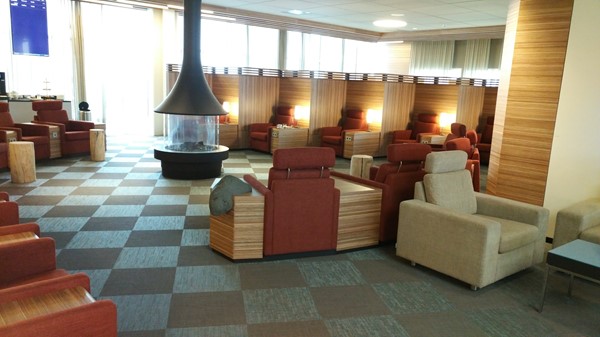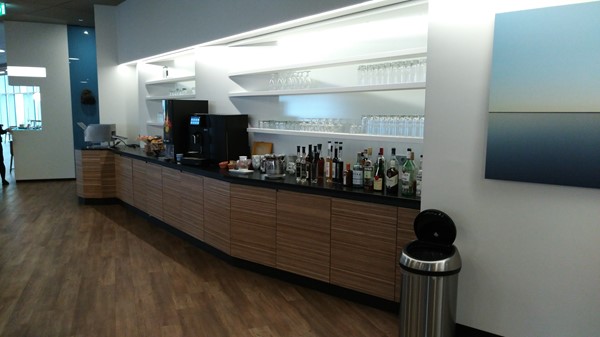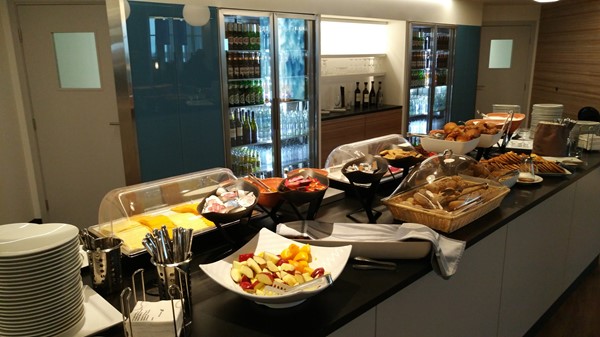 Even has shower rooms: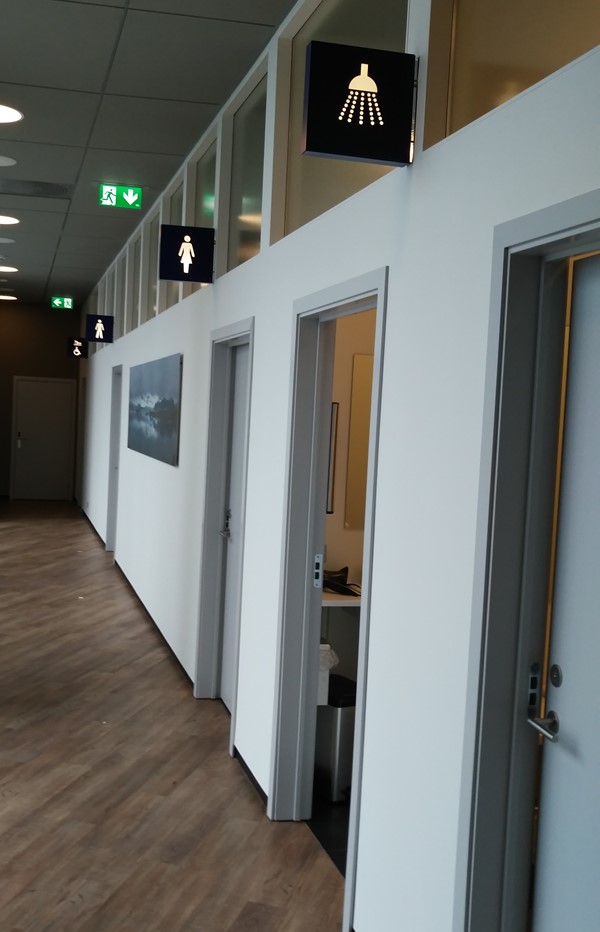 Breakfast was out when I got there: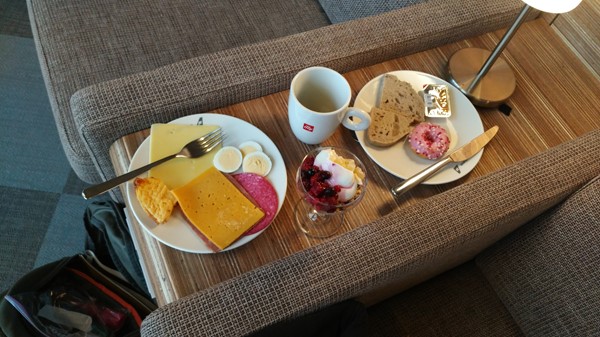 And then they put out lunch – I might not be hungry when they feed me on the plane!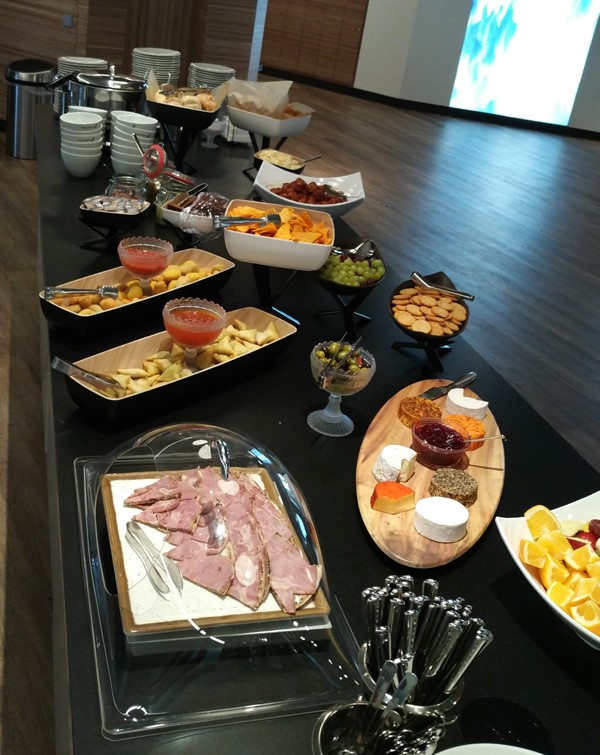 Or thirsty…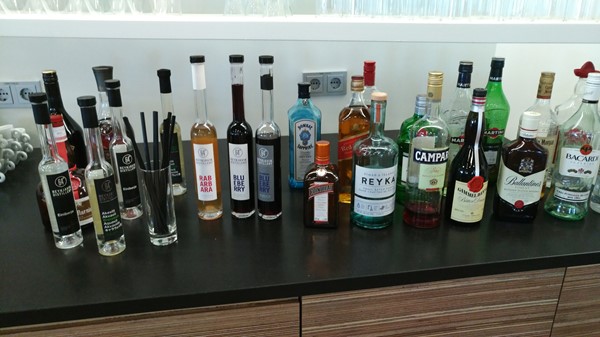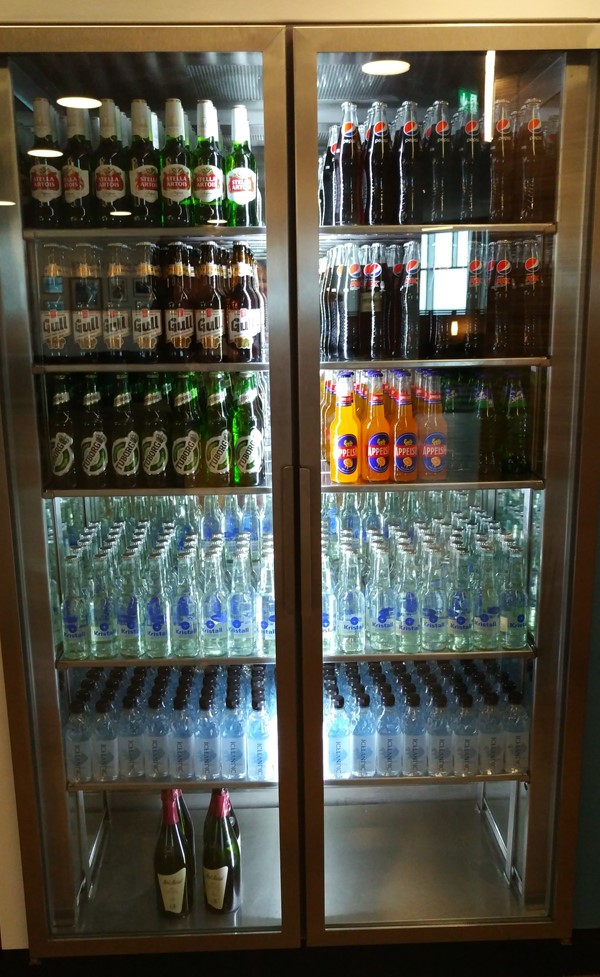 This was about all I could handle for "lunch" after my breakfast: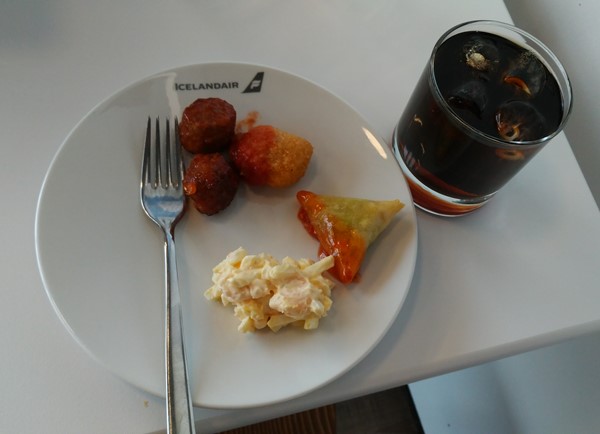 Two meatballs, a fish cake, a samosa, some egg salad and a cocktail.
Even the rest of the airport has that cool Scandinavian feel to it: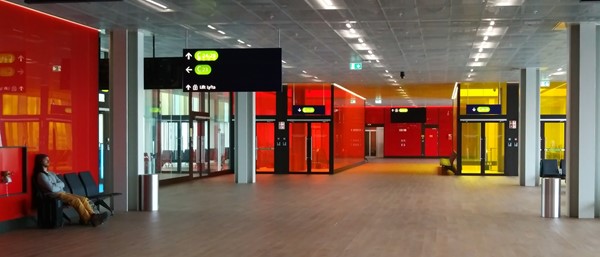 Funny thing I found on my boarding pass – do the math: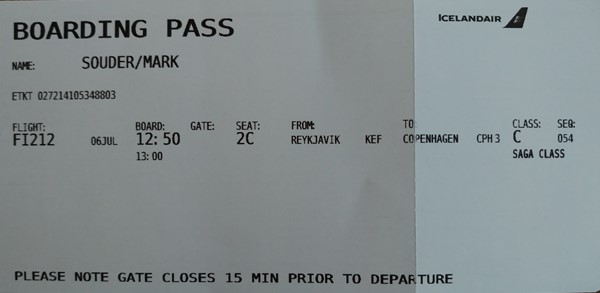 Board at 12:50 for 13:00 departure – gate closed 15 minutes prior.
And my flight to Copenhagen is, once again, lightly populated with 4.5 people (.5 is a lap child) out of 16 available seats: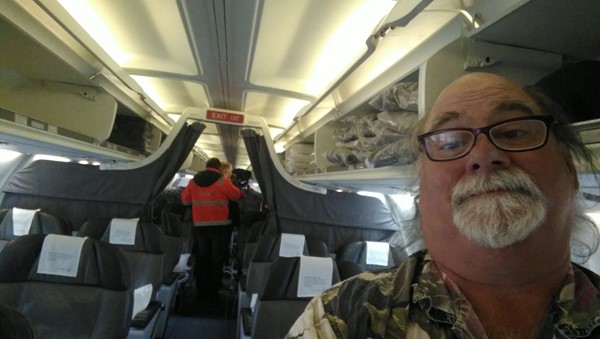 No amenity kit on this leg, but they still offered the nice noise cancelling headphones (not for taking home). The cocktail course: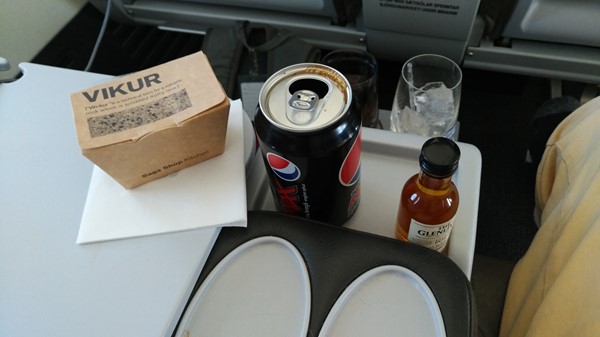 Complete with a box of Vikur – a pretzel mix (that I stashed in my backpack for another time). And lunch: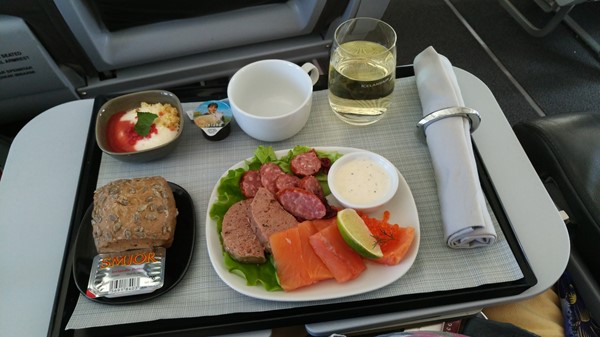 That would be the cold lunch of reindeer sausage, reindeer pate, salmon, bread and pudding. And damned tasty!
Icelandic Air does have a sense of honor in their onboard product – the saying stitched into the blanket: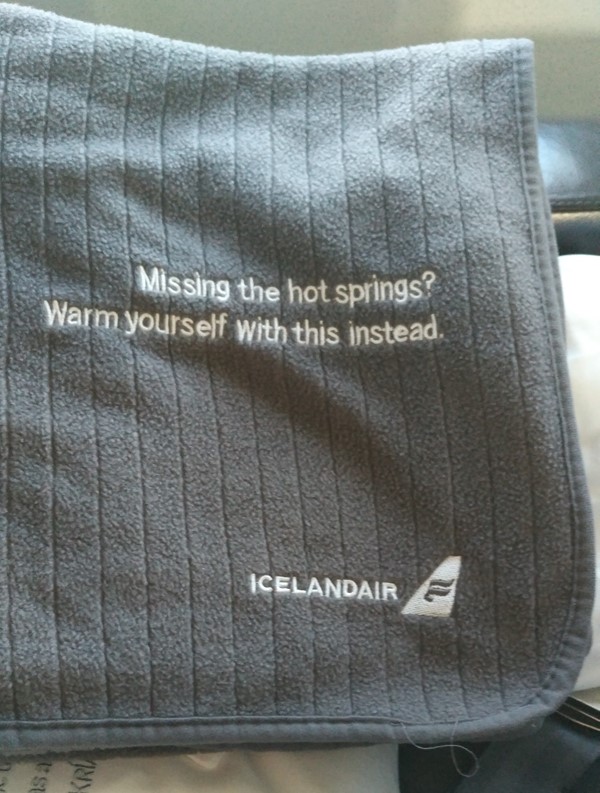 And pillow: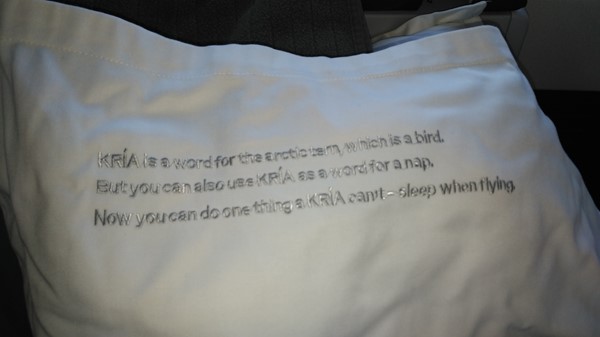 Got an OK shot of our approach: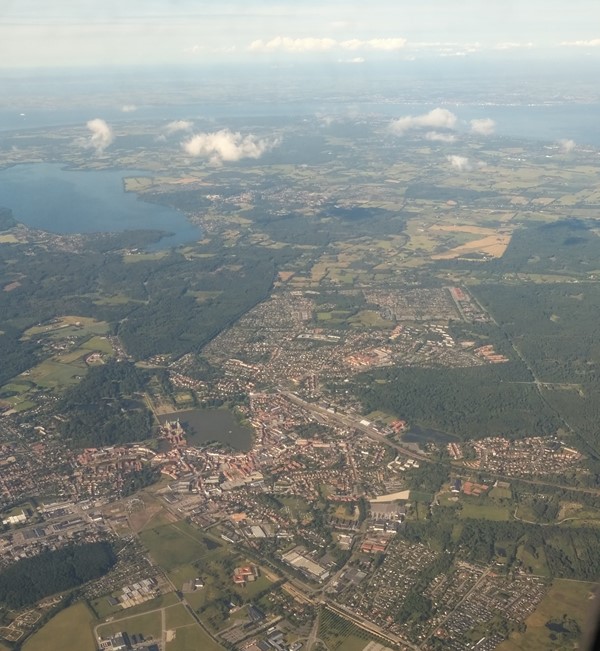 Flight was almost an hour late leaving REF, made up a little time in the air, but not enough for me to catch the quick train connection from the airport (even though mine was the first bag off) to Esbjerg in the western part of Denmark.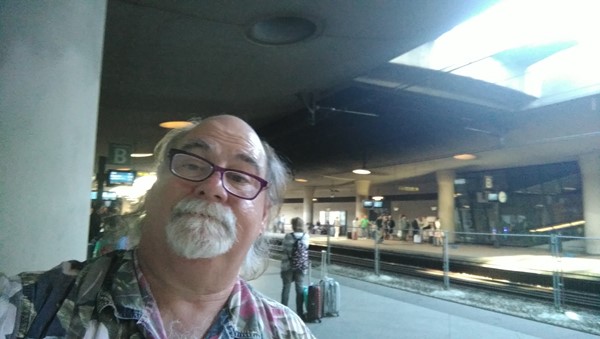 Above: the airport station. Below: the central terminal.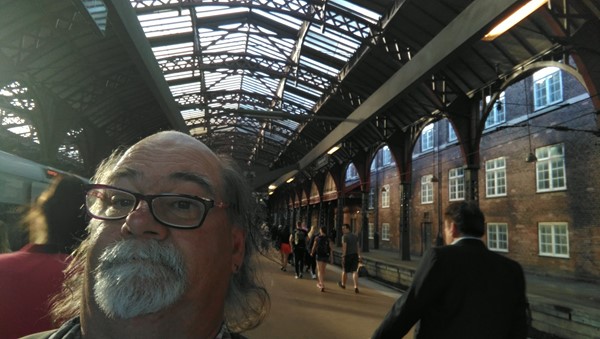 And comfortably settled in for the final leg: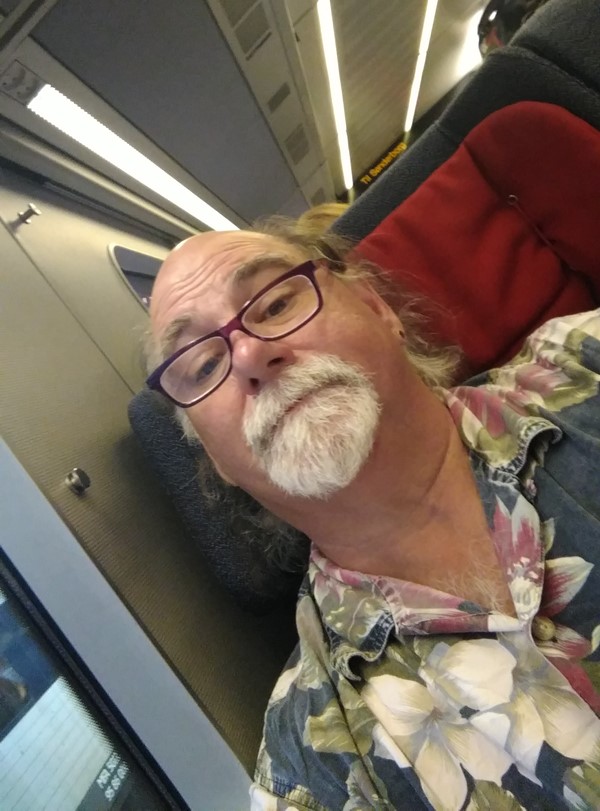 With a wonderful Danish sunset with wind turbines: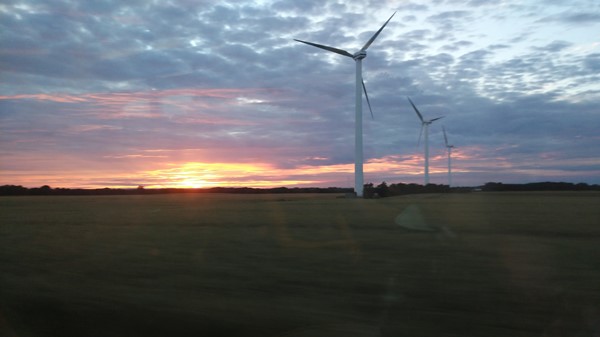 Hans was there to pick me up at the station – only 30 minutes past when I'd hoped to get there. I'd been sending him email updates on my progress, so no need to pick up the phone for 20 cents a minute. T-Mobile gives you free text and roaming in 140+ countries – and cheap minutes if you need to chat.
Even though it was after 11pm when I got to the house, the made a plate of sandwiches for us all, opened a bottle of wine (then another). What a wonderful greating!
[? ? ?]