I guess I should explain who Hans (and his wife Aase) is – Hans was our American Field Service foreign exchange service student when I was in junior high. We've (as a family) kept in touch all these years. As a funny coincidence, my sister and brother-in-law were here just a couple of weeks ago.
They live is Esbjerg, which is on the western Jutland coast, and home to plenty of wind turbines, and is the base for Denmark's North Sea oil business, so you'll see lots of rigs in for maintenance and repair. More on those later. They've a lovely Danish Modern house with a view of the sea: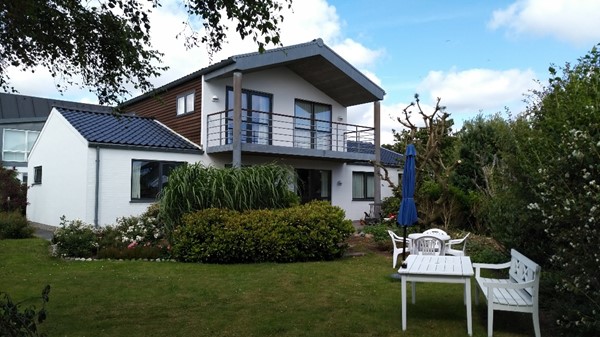 As is my usual way, I've slept through breakfast, but am definitely alive for brunch:
My sister-in-law explained the routine when they were here.
Up for breakfast
Explore the neighborhood and sea coast
Lunch
Hour nap
Go off and do "the thing" for the day.
I've just truncated the schedule a little as I stay up later and get work done with its normal West Coast hours, then sleep through breakfast.
Today's "thing" started with a modern church, built around 25 years ago: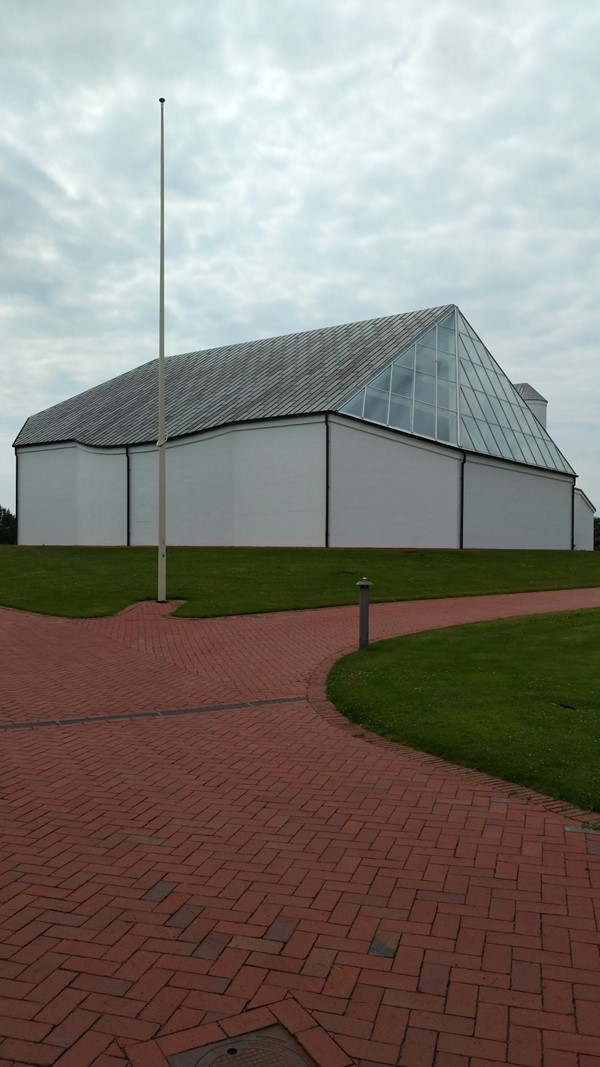 And very modern bell tower: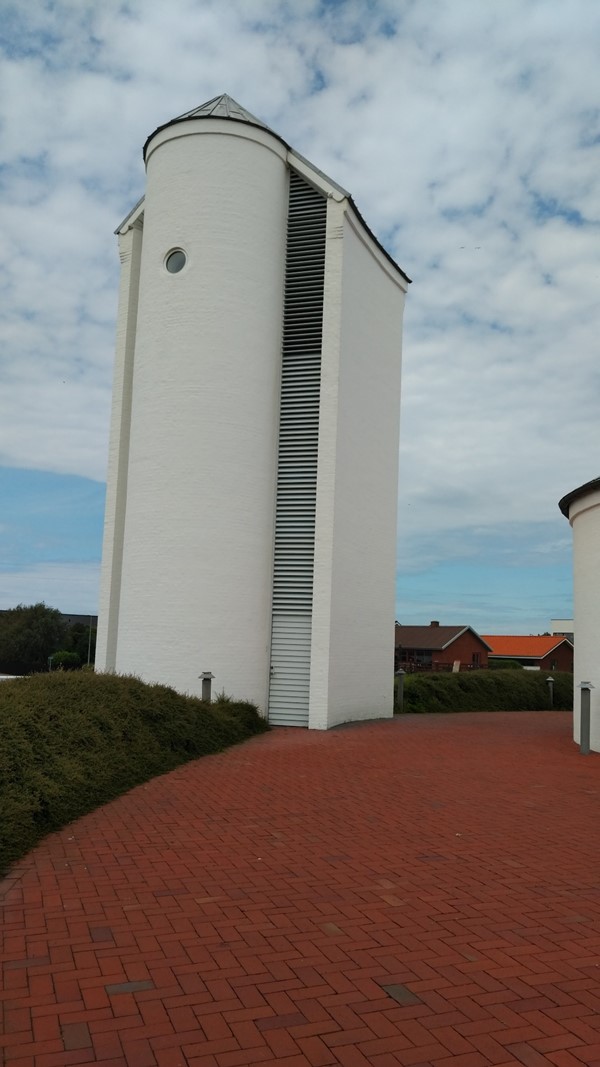 Very light and airy inside: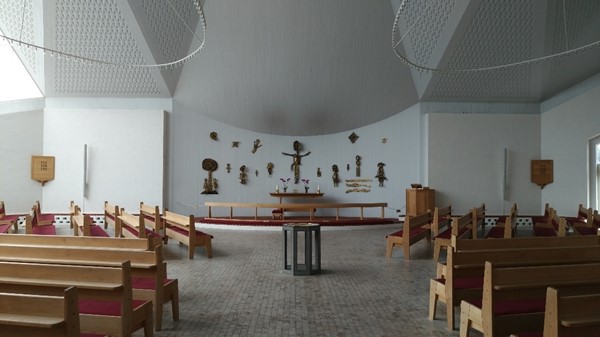 With a massive freestanding organ: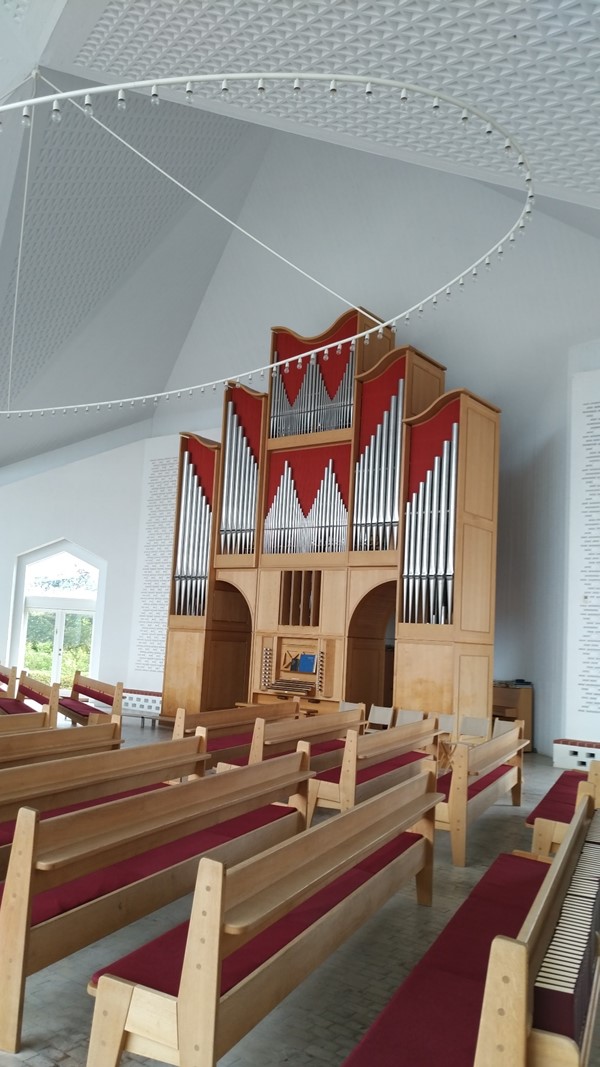 So, the Lutherans church (Hjerting Kirke or the Church of Hjerting) was designed by Alan Havsteen-Mikkelsen in close cooperation with engineer Soeren Abrahamsen. THANKS, Hans, for the correction.
So, those were the Lutherans, next up, the Catholics: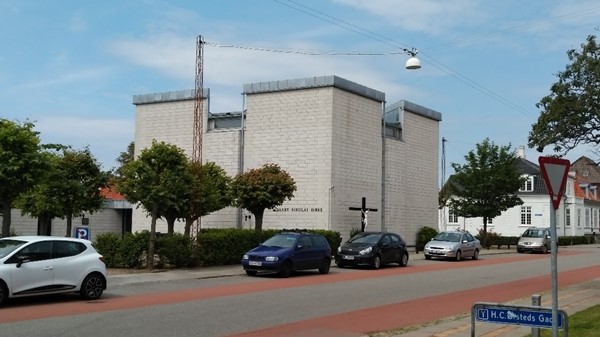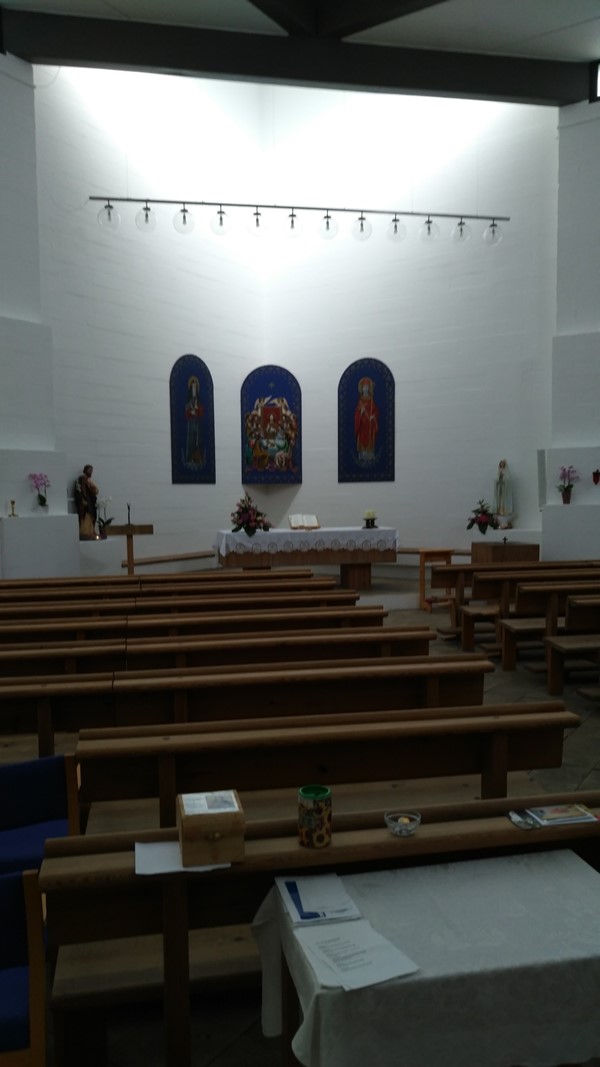 The Catholic Church was designed by Johan Otto von Spreckelsen, who also designed the  Grande Arche of La Défense in Paris that the Arc de Triomphe was the inspiration for his modernist design. He got the commission with only the Esbjerg church in his portfolio, and he used the same "aeriated concrete" material used in the Esbjerg church.
Next up on the town tour is the Esbjerg Performing Arts Centre was completed in 1997 to designs by Jørn Utzon and execution by Jan Utzon.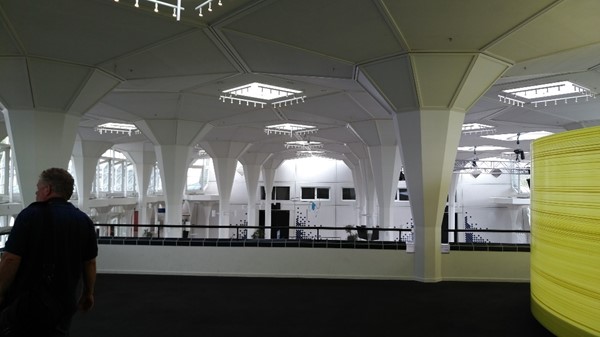 None of the venues were open, but the lobby was stunning, and it is in the same complex as the Esbjerg Art Museum, possibly to "oddest" museum I've ever been to considering you had to thread your way through the building, only being able to access the first floor wing by going up and crossing over, and going back down.
One interesting feature to make more of the collection available was walls of art that you could pull out: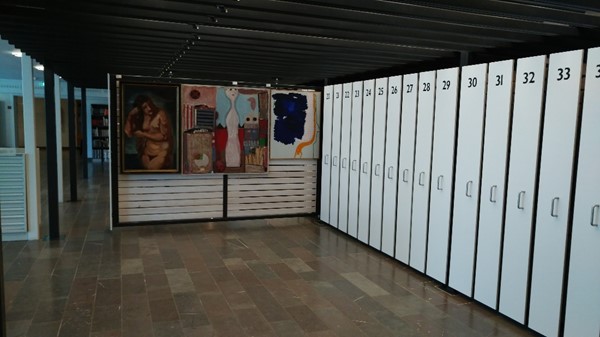 There were some pieces in the temporary galleries that were…visually disturbing, not in content, but physically. Spaces that were violently white that altered your depth perception as you got used to the light, forms appearing where there had just be blinding white.
It being a port town, there has to be a water tower (which is next to the performing arts hall):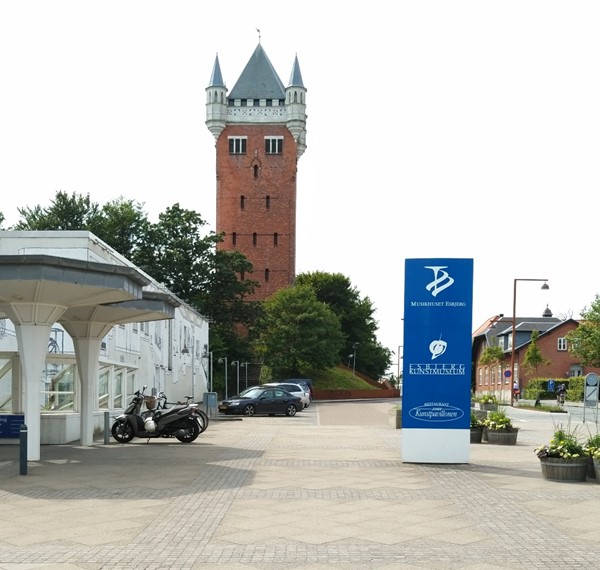 Quaint city center: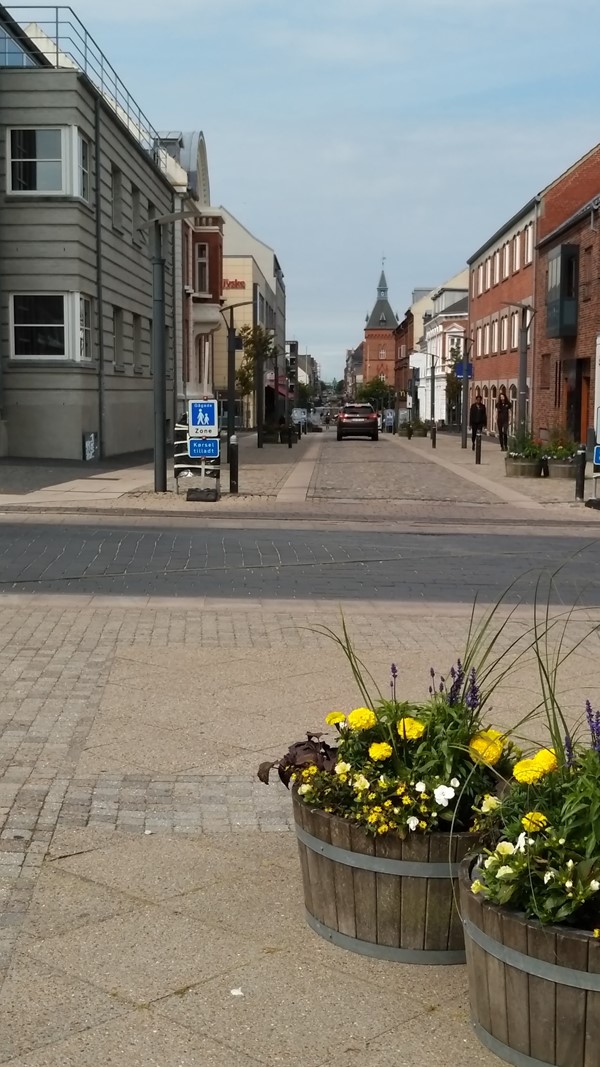 A tall ship in the harbor: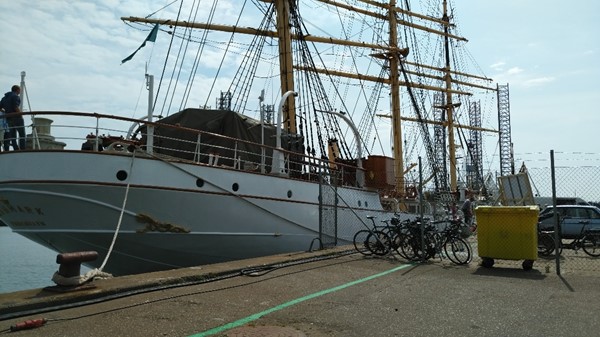 The boat still trains Danish Navy cadets, though most of the harbor is now devoted to refurbishing North Sea drilling rigs, which I'm surprised I don't have a picture of as there were dozens – you can see a couple of the upper bits back behind the tall ship.
Back to the house for what would turn out to be a stunning series of meals. This one if a free-form bacon-wrapped meatloaf – too funny as I do these at home, but in a loaf pan (I might have to reconsider by forming):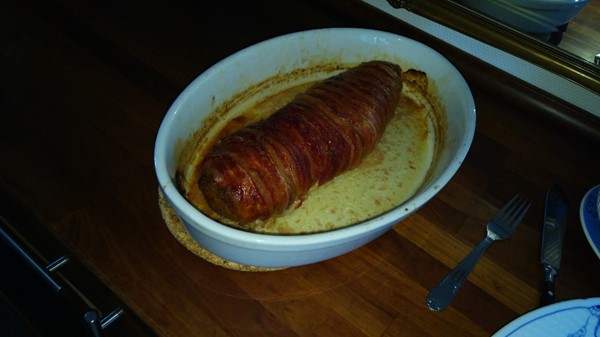 With sides of potatoes, gravy, broccoli…I am being spoiled!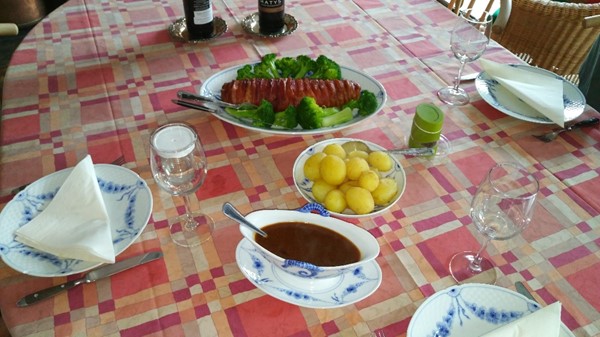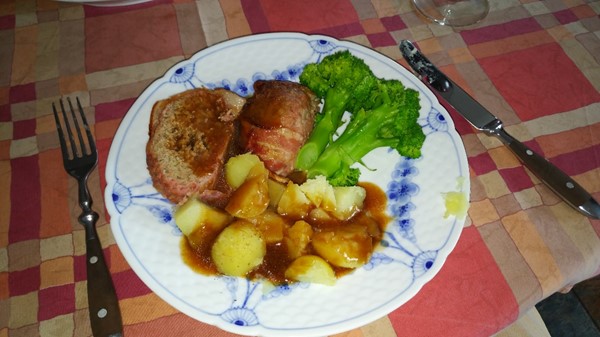 Several bottles of wine and we retire upstairs to chat into the evening – though to bed MUCH earlier than last night for my hosts (closer to their usual bedtime). This was taken well past 10PM: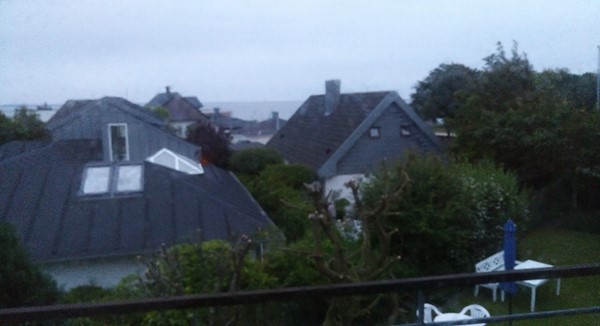 Not as light late as Iceland, but later than Seattle at the same local time.
One of the things that came up in late night chat is that Hans has a picture of him in the mid-60's with Oscar Peterson in a trio performing: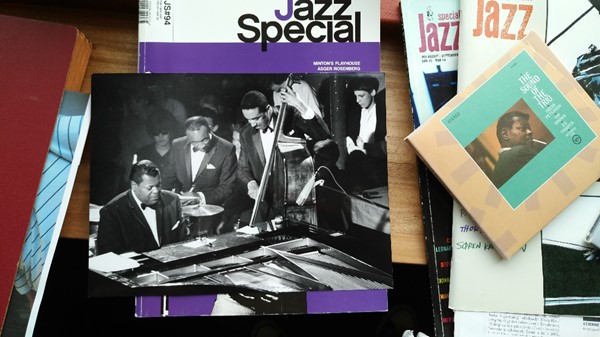 That is a YOUNG Hans in the upper right-hand side of the photograph. Hans is quite the collector of Jazz music.
Off to bed, we have another adventure tomorrow!
[? ? ?]