Today is my final day of being a tourist in Western Jutland, Denmark. No nightlife, other than my own, but I doubt I'd have seeked it out if there were.
Hans is an amazing archivist – he was able to easily pull out a photo of the Fourth of July that he, Aase, and Jonas (their son) were in Santa Fe, and I'd driven down to see them while they were visiting my parents.
That would have been Miata number two – the Black and Tan model. Since I didn't have much time off from Microsoft, we drove straight through from Seattle to Santa Fe in 26 hours. I think it took 30 hours to drive home at a more "leisurely" pace.
But enough about the past!
Today's big adventure is to the just opened (10 days ago) Tirpitz Museum which the main exhibit (they have three, plus a rotating one) is on the Nazi's Atlantic Wall – a series of bunkers and tank traps that was supposed to stretch from the top of Norway all the way to Spain.
The bunker has always been exposed, but the new museum was hollowed out from the sand dune so that from a distance, you don't really see it: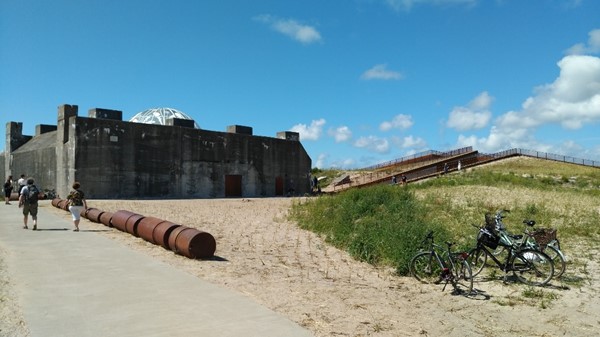 That would be the museum on the right.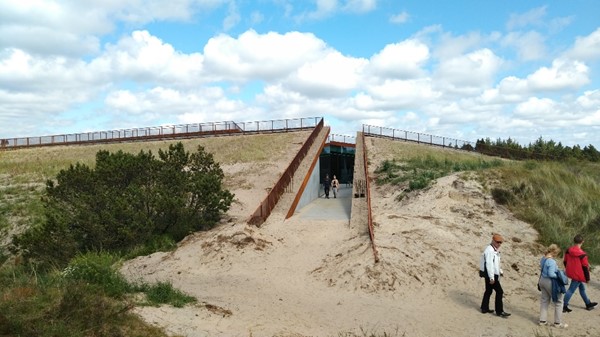 And there are slits, reminiscent of anti-tank traps for the entrance.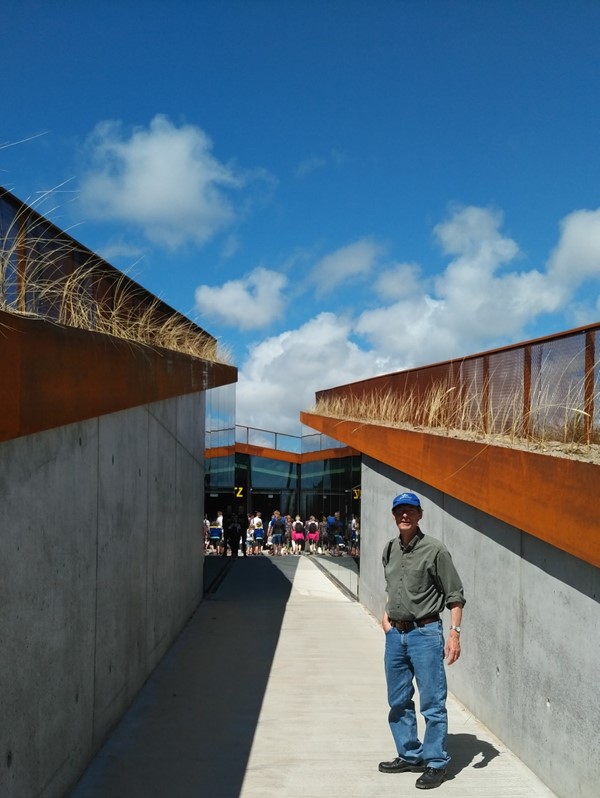 As you can tell, it was a gorgeous day, neither of us in jacket or sweater. A bit of an odd queue to get our tickets – you could buy your entrance or your beer from the same person. Some rope stanchions would have been helpful.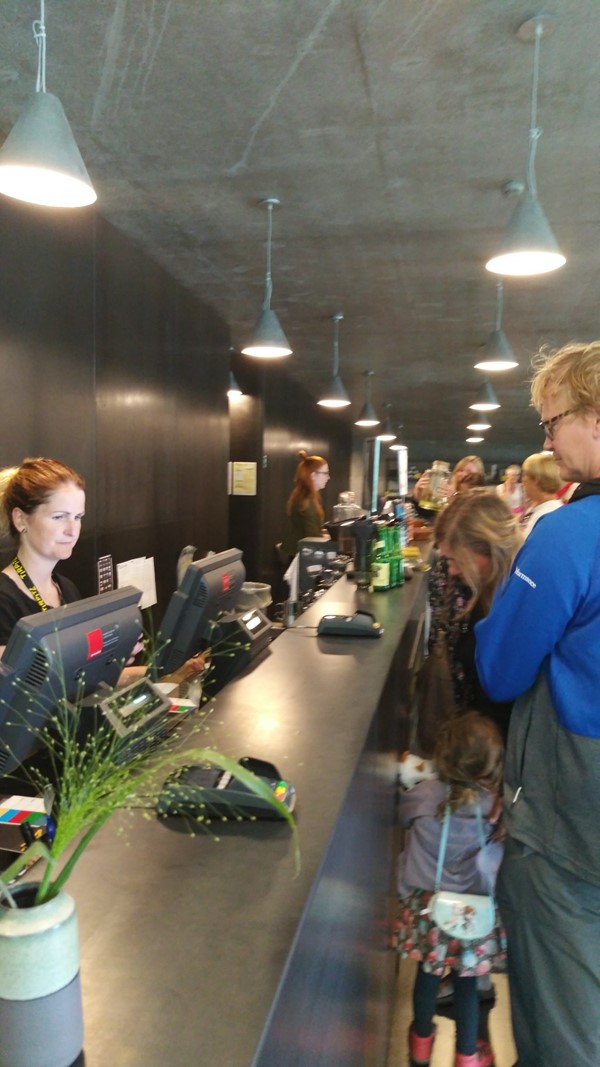 Since there is a LOT of material to cover, EVERYONE is given a listening device to point at the RFID enabled plaque, and get the story behind the exhibit.
Since it had just opening, it was a little on the crowded side (and, it was also a Sunday).
From the history of the Danish Coast, a real liferaft which would be manned by 10 beefy sailors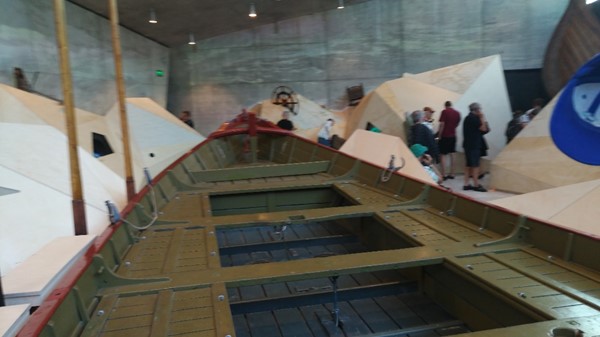 And from Denmark's largest display of amber (Gold from the Sea), we have a Sydney Opera House model (architect was Danish) done all in amber: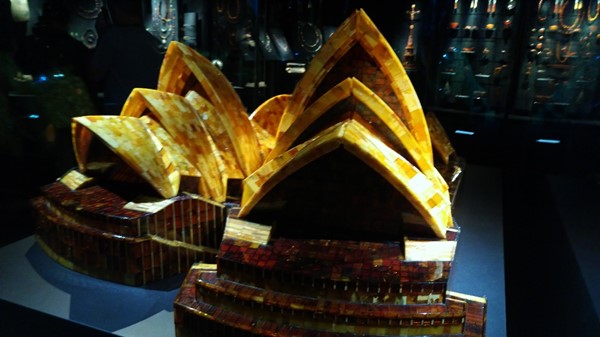 For me, it was the bunker that was the main draw. Seems that IKEA wasn't the first to come up with standard components – the Germans had 400+ standard designed that you could mix/match depending on how big a bunker you were building. Standard designs that centered around everything being built using concrete. The Army of Concrete was the nickname.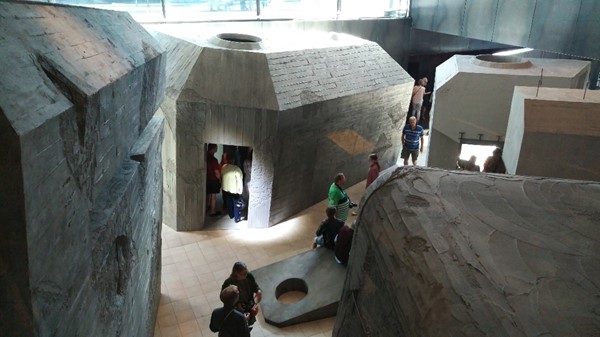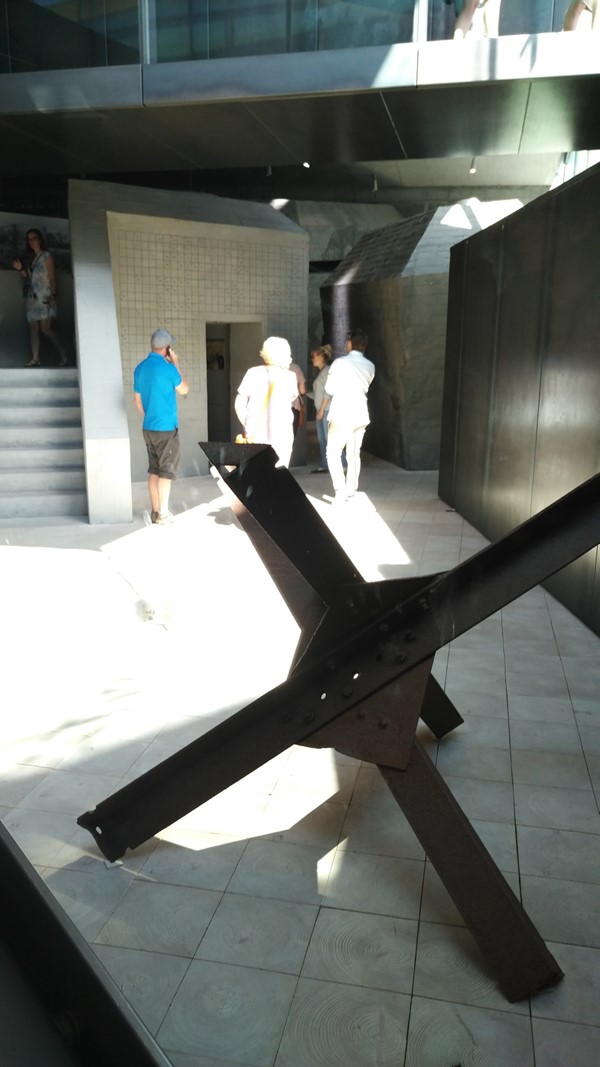 Maybe that's we the entrance bands were glow in the dark, as the bunker itself was dark by OSHA standards: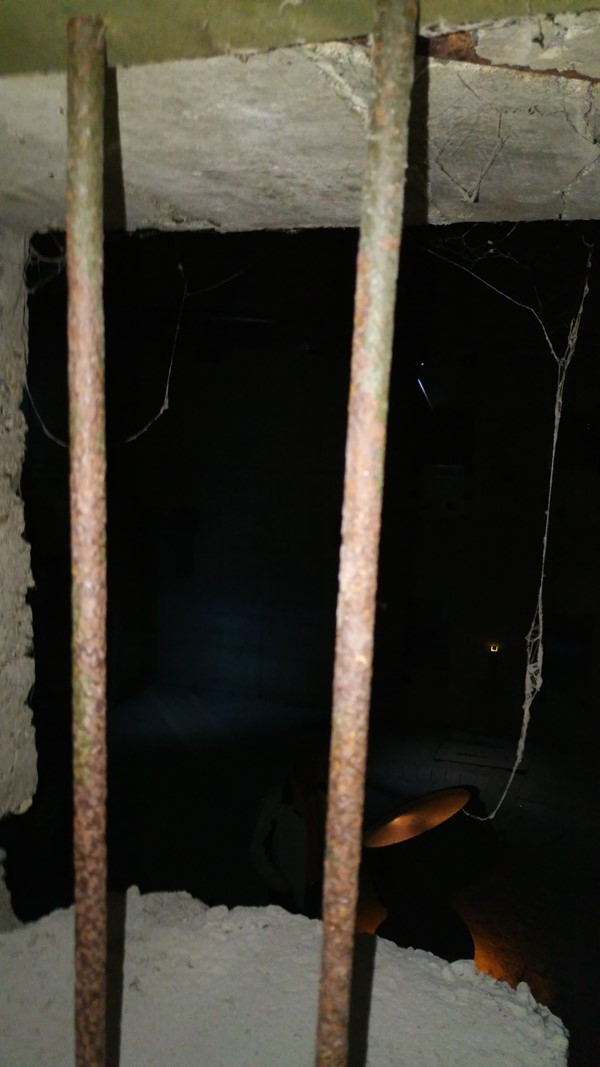 Having had our history dose for the day it was a little further down the road to the lighthouse: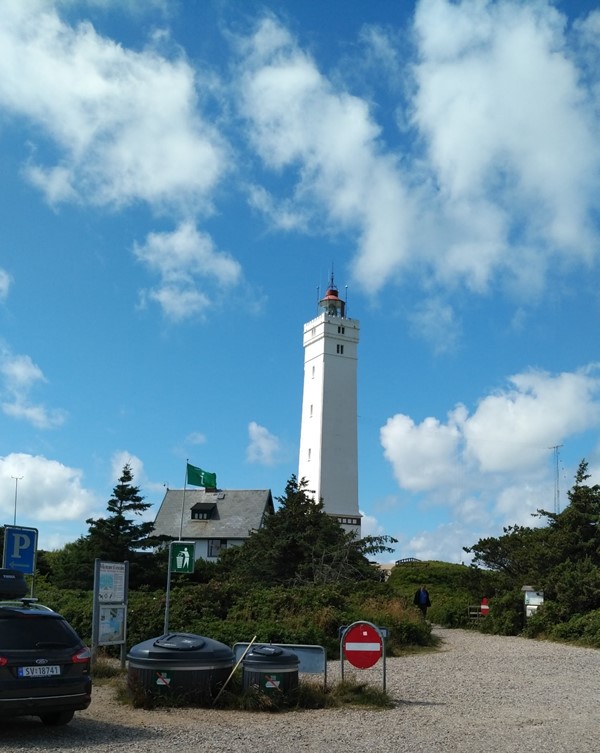 When my sis and bro-in-law were here a couple of weeks ago (before the museum was open), they had gray skies and drizzle. I like my weather better. And so do the people on the beach and in the dunes.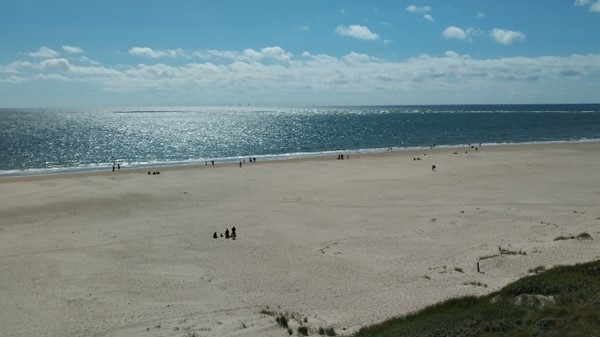 In the distance, you can see Esbjerg and the wine turbines in the water.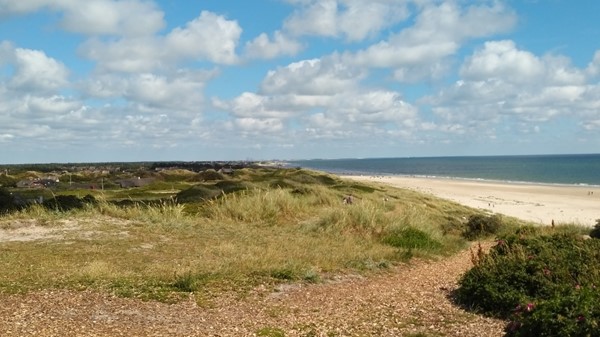 And more bunkers…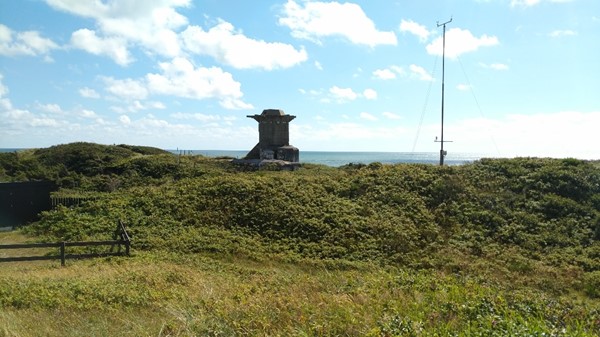 The view back inland gives you a feel for how all of this is built on sand dunes: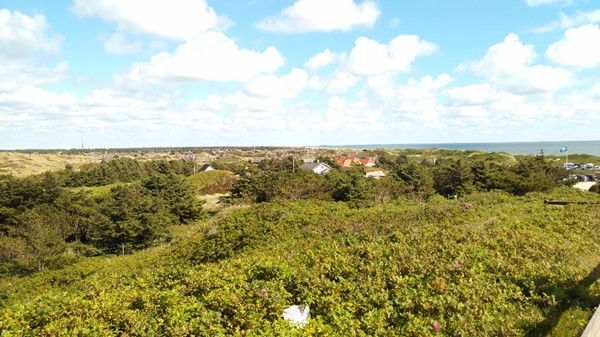 Our afternoon complete, it was back to the house for a cocktail (for me):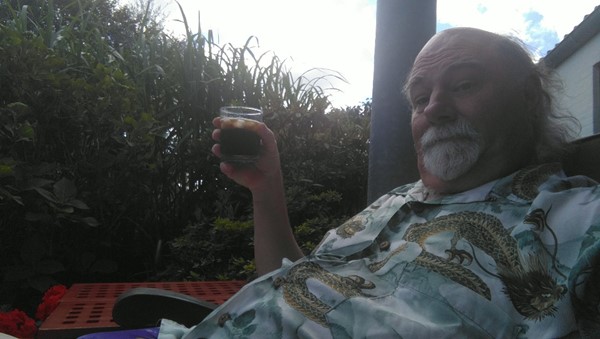 Hans and Aase waited for the wine we had with a dinner out: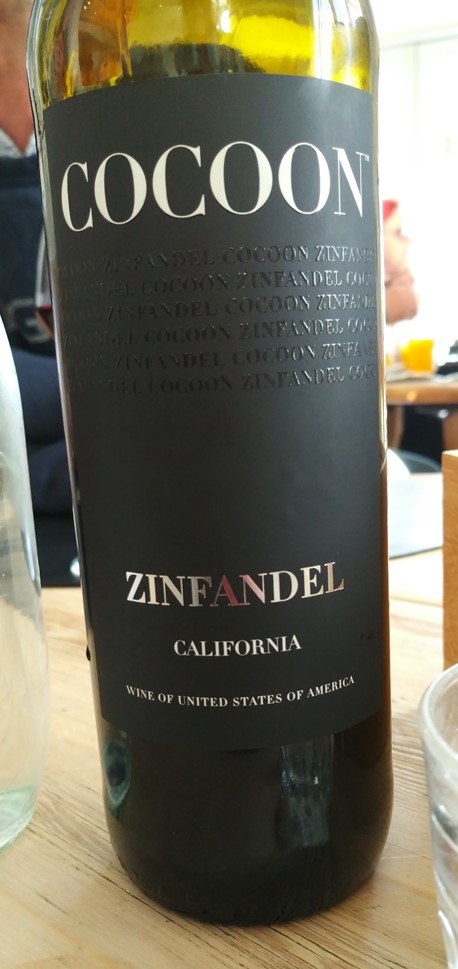 It was a quite drinkable Lodi Zinfandel, but notice line "Wine of the United States of America". A look at the back label showed that it was imported AND BOTTLED in the EU by an Italian producer. Apparently, it's quite common to bring wine in large container-size stainless steel vats and bottle it in Europe. Guessing that then they send Spanish and Italian wine back to the US.
We all had the Weiner schnitzel at the restaurant. It was good, but there was a lot of it!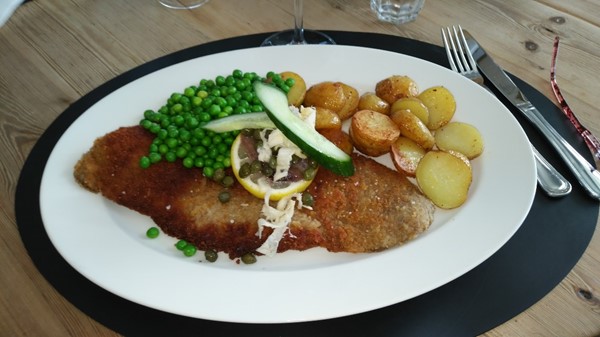 I had pondered the Mussels and Chips, but it was pointed out that the mussels no longer came from Jutland because of over fishing/harvesting.
Another after dinner walk by the beach – where some hardy young men were swimming (think water the temperature of Puget Sound):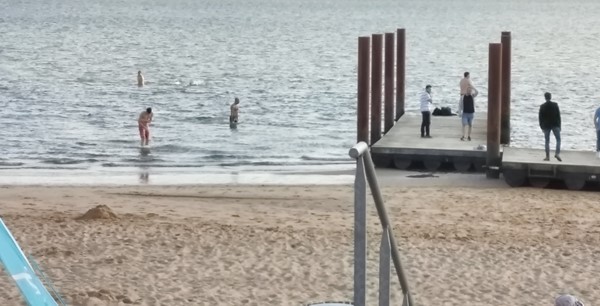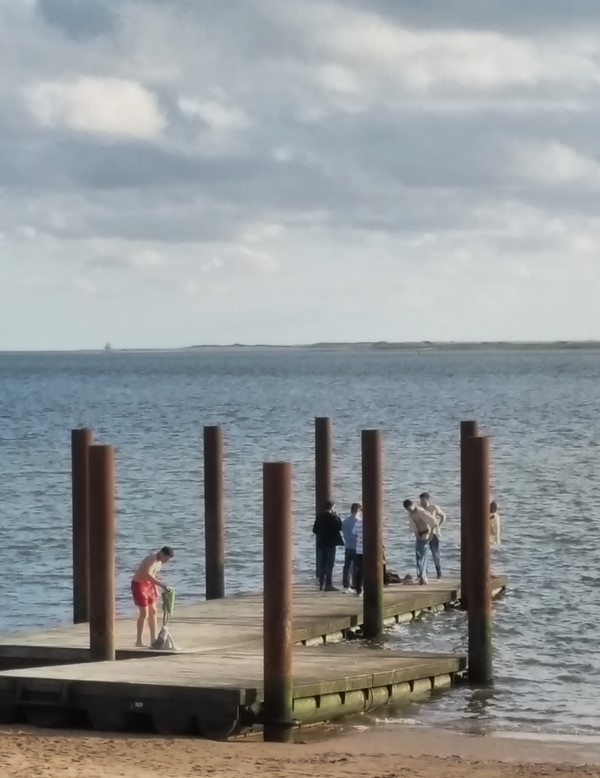 Back at the house, we opened a second bottle of wine for the evening – ANOTHER California Zinfandel – 7 Deadly Zins, one of my mother's favorites while she was alive. He's came from Trader Joes, Hans bought his from Trader Joes corporate overlord Aldi, who has stores in Denmark in addition to their massive holdings in Germany.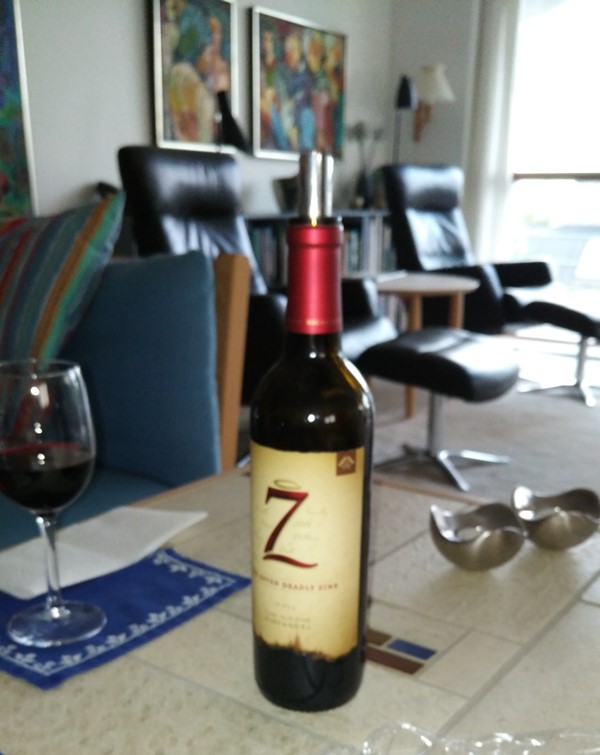 This shot also gives you a feel for the upstairs living room with a view to the sea.
Tomorrow I start the process of getting back home, with a couple of stops along the way.
Yes, it's going to be a long, strange trip.
[? ? ?]