Oh, the joys of sleeping in. And sleep in, I did. Made it to 10am. Rache had advised The Colonels to not worry about me, that I'd gladly eat leftover biscuits and gravy. Luckily, the gravy was simmering when I padded downstairs in my bathrobe for coffee.
No picture, sadly – but MY they were tasty!
What I did get were some exterior shots of The Colonels Southern Hospitality base they call, Frog Hallow: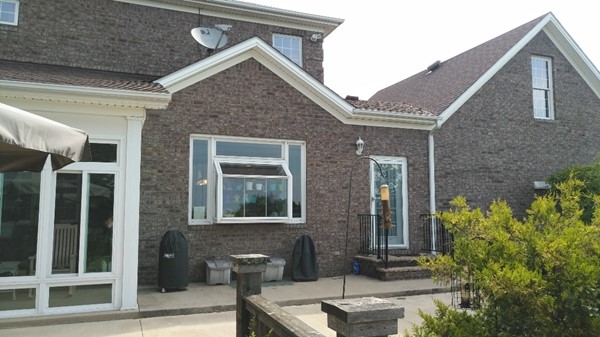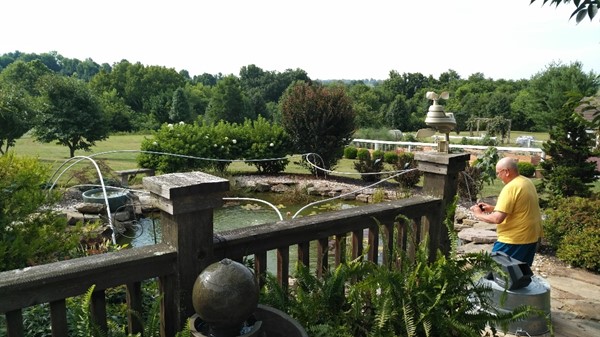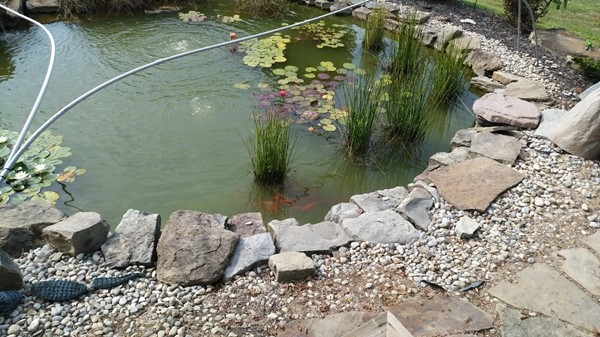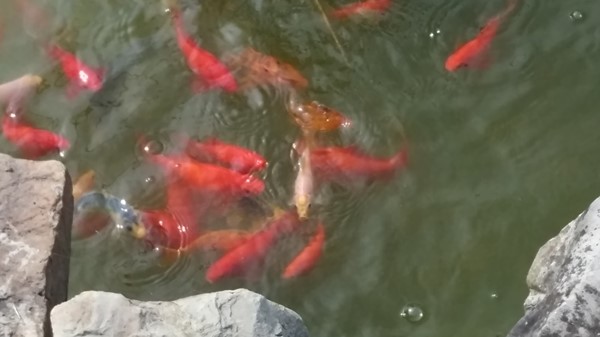 After I'd showered and shaved, we were off to today's distillery, about 45 minutes from The Colonels in the town of Danville. Wilderness Trail Distillery is the name, and once again, showed up at 15 after for an "on the hour" tour. We went off and explored the countryside a bit before returning. Even found a little tobacco growing (sadly, not "wacky tobaccy":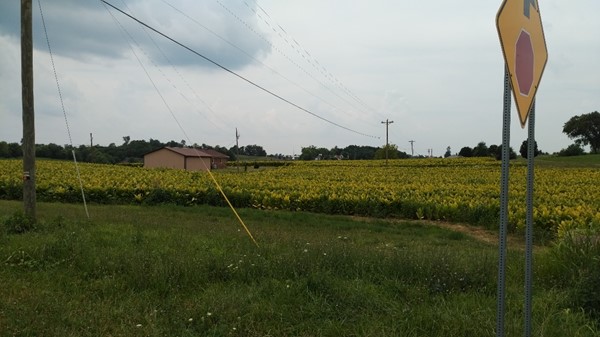 Back at the distillery: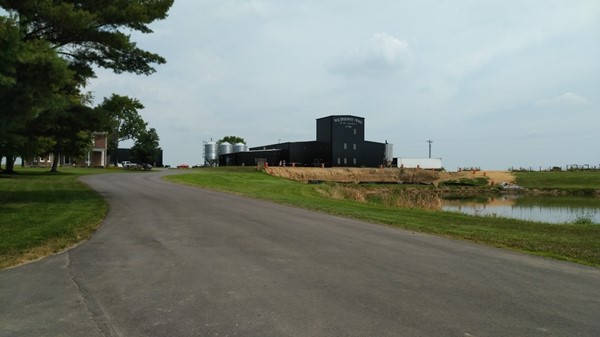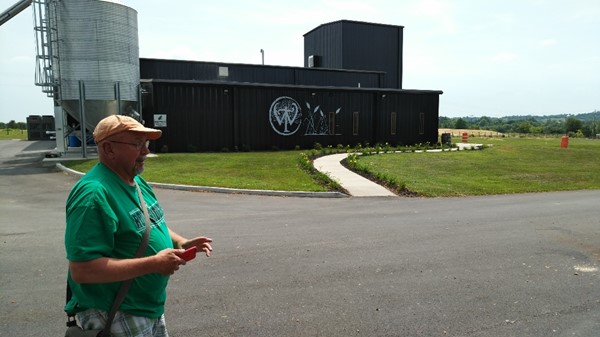 Loved their sink stand in the bathroom – of course, I would have had it open up, in the form of a cabinet. No room in my current house for it.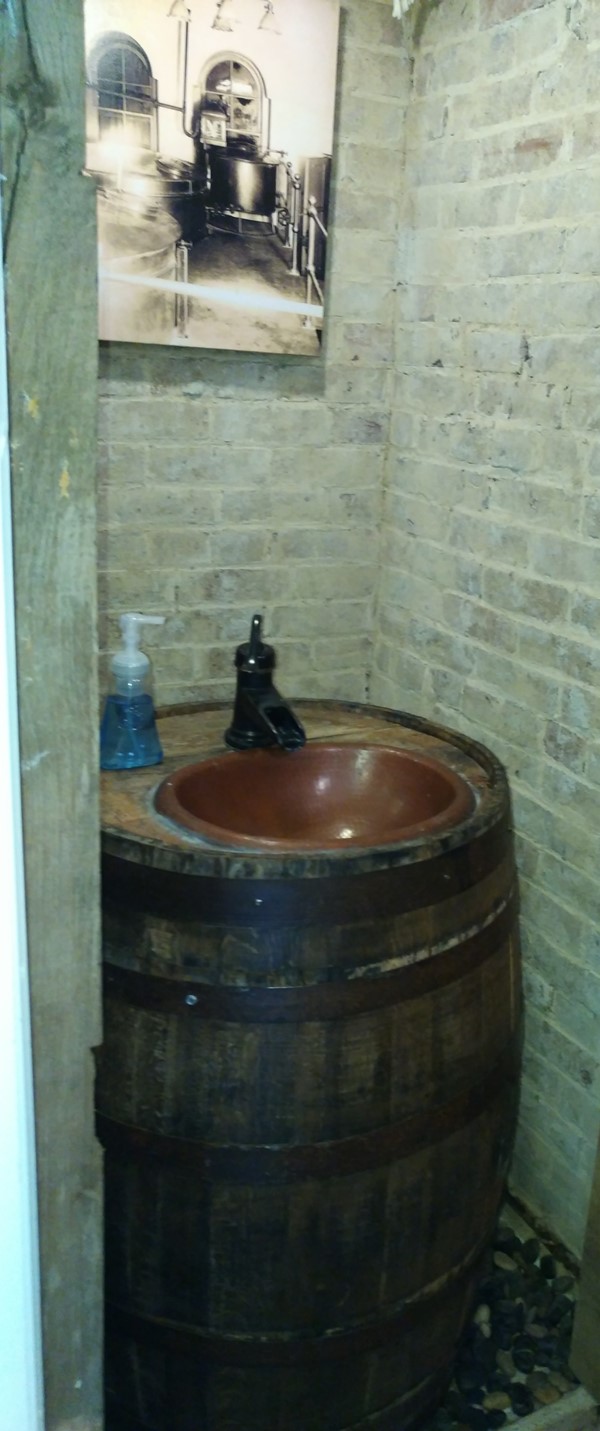 Here are some shots from out tour – starting with the lab, which is unusual in that it was the original beginning of the distillery – they made under contract lots of yeast for various distilleries, troubleshot other people's yeast problems – and now offer master distilling courses. Cart before the horse, as it was. For Wilderness Trail, they use a "sweet mash" process where is where all new yeast is used in the batch, as opposed to a "sour mash" process that holds back a portion of the previous run.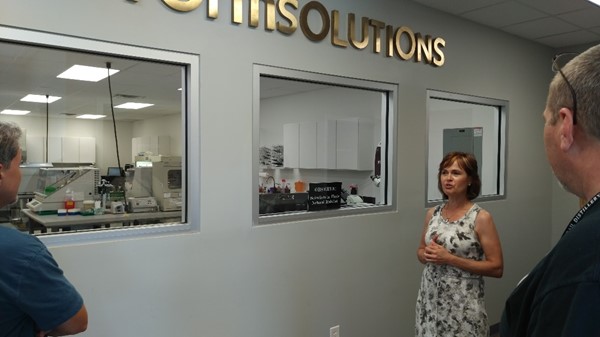 It all starts with the grain: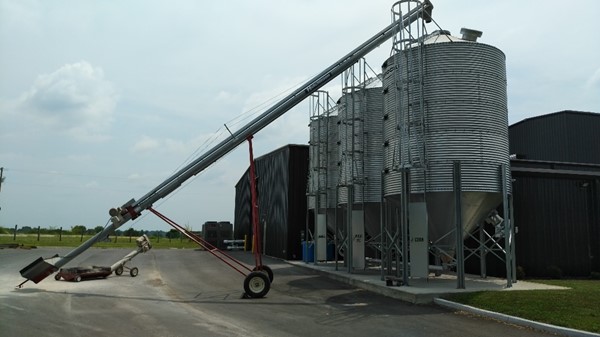 And then the cooking in the mash and still room: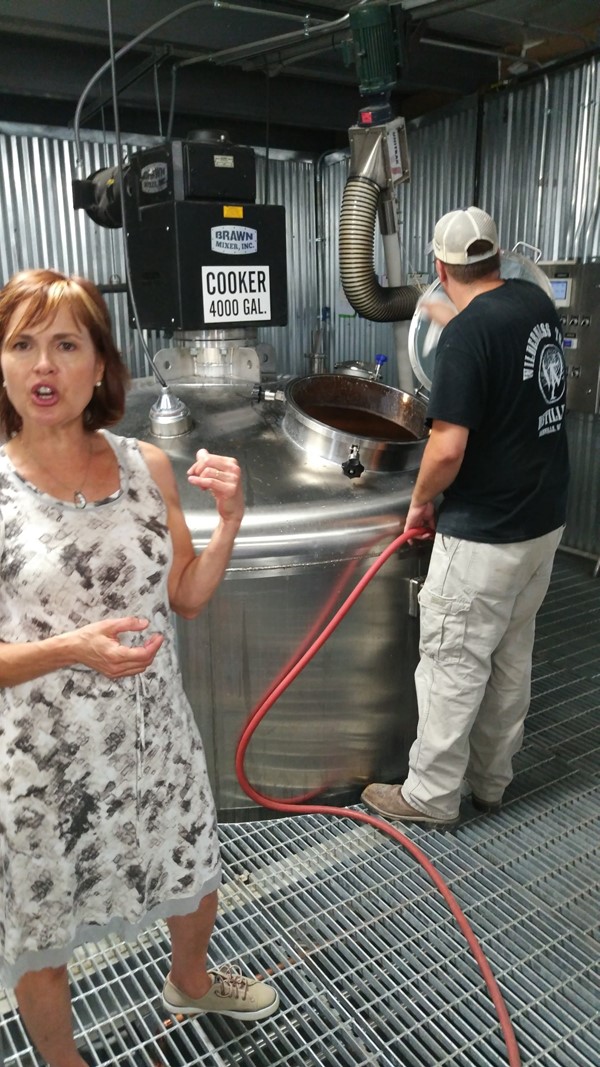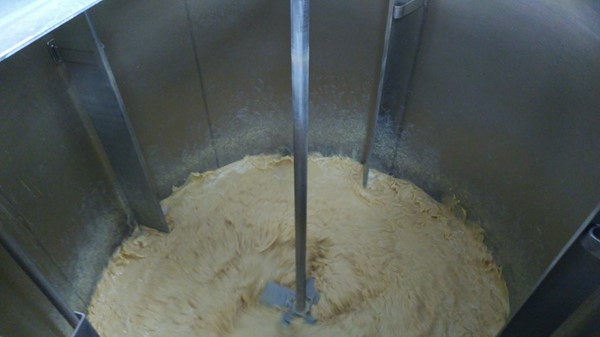 That's a lot of creamed corn!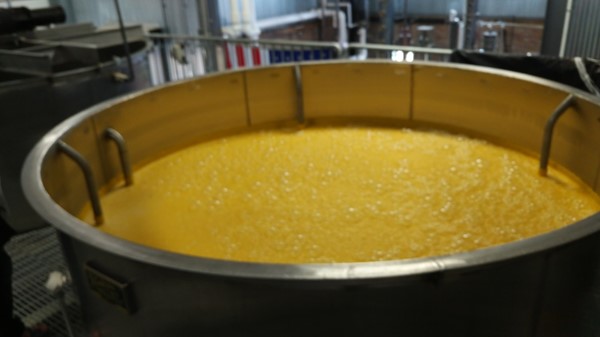 All of the corn in their product (minimum 51%) comes from fields less than 30 miles away.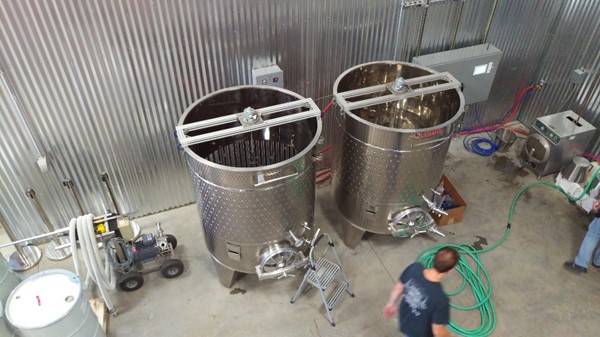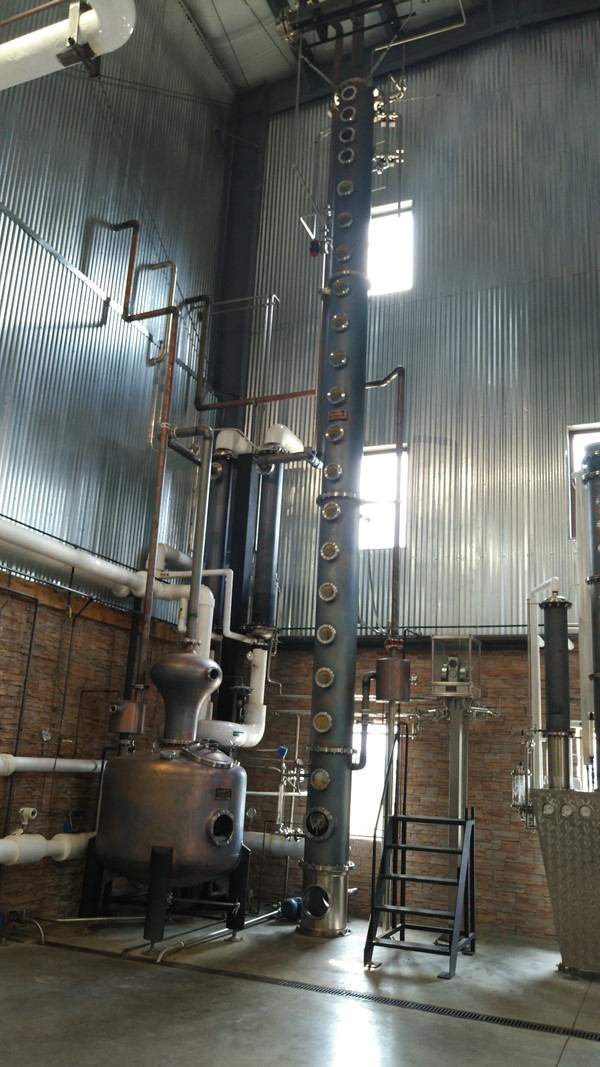 This is their centrical force proof safe where I had a sample of the 132-proof white dog: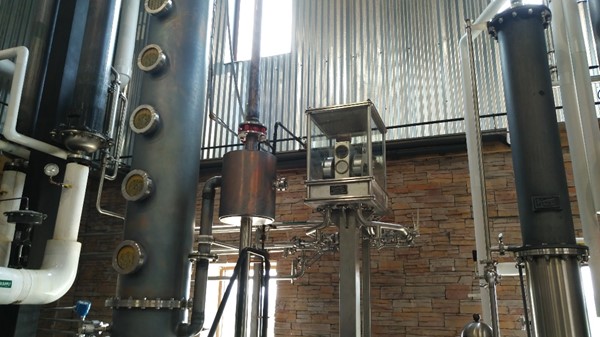 And here is their bottle line – defiantly low-tech.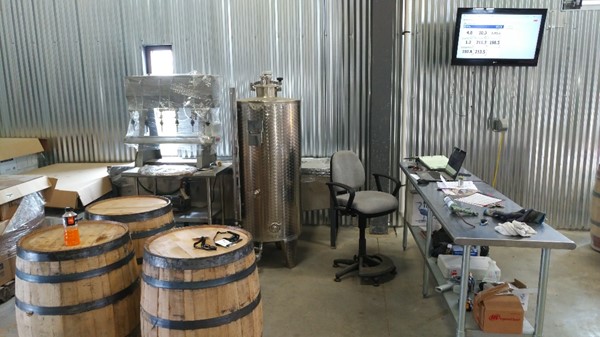 They are due to release their first bourbon this December – having aged it four years – that's how young this distillery is. Th current releases are a dark rum (local sorghum) aged in old Four Roses barrels. They will switch to their own used barrels starting in December when they bottle their first Bourbon.
The tour and tasting was $7 (free for active/retired military/police/fire) and included a free shot glass.
One the way back to The Colonels, we stopped for an afternoon snack – and something else Rache had heard of, but never tried: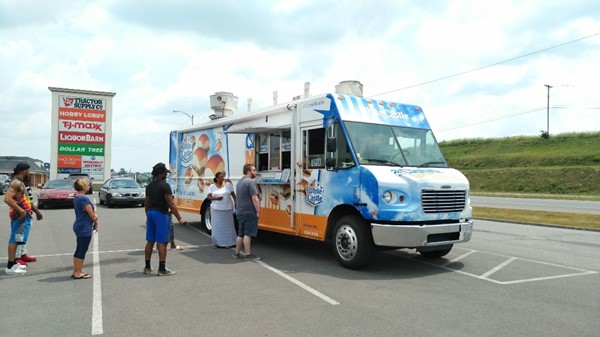 Yep, a rolling White Castle food truck. Makes me wonder if the pad they are working on is going to be the new home of a White Castle Burger stand.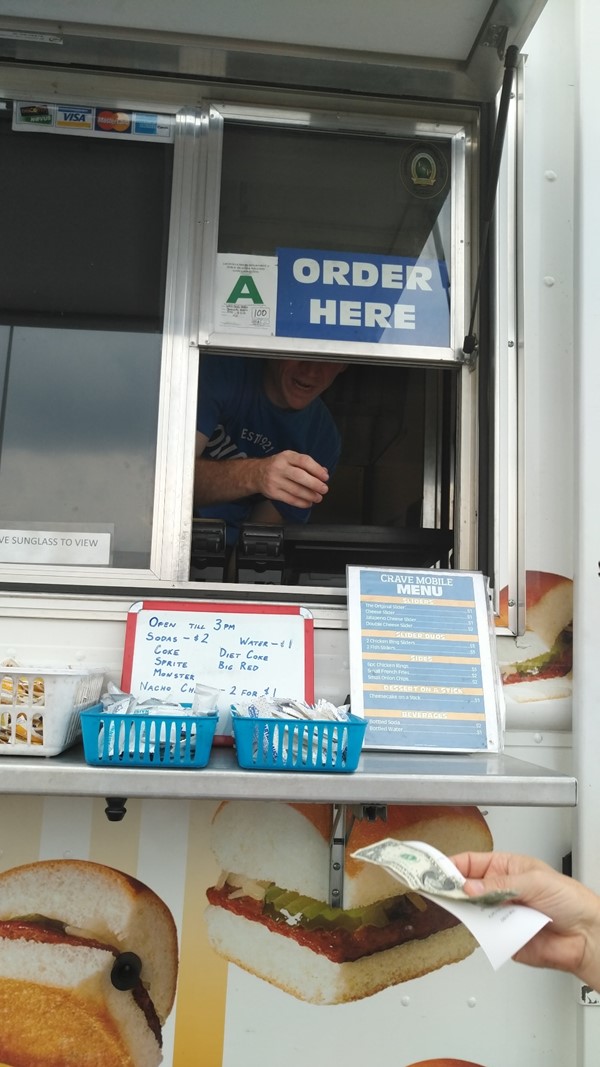 Or other stop was a return to a Liquor Barn because I'd seen an Old-Fashioned glass with a retro Indiana postcard image on it at the store in Lexington.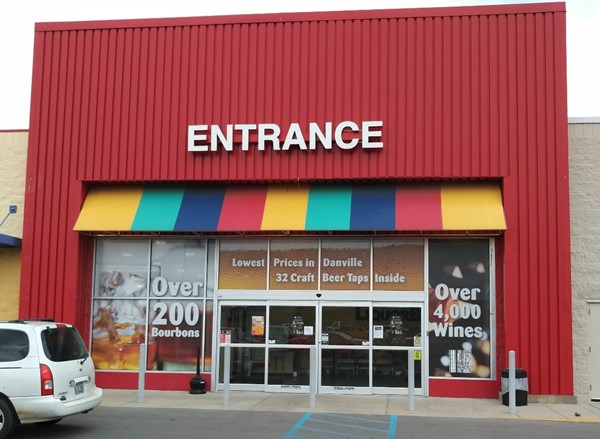 I didn't see any on the shelf in glassware, but I must have had a puzzled look as staff came up to help. She found a pair in a gift basket, which she gladly cut open to sell us just the glasses. GREAT customer service! And yes, they did have 32 Craft Beers on tap – I barely got Rache out of there since you could buy and try.
Before long we were back in our temporary home, each of us taking quick naps since The Colonels had invited neighbors over for dinner. At this point, I let Rache take over since neither of us have pictures, and he is more eloquent than I, and I've included his observations of yesterday's visit to Barb as well:
Besides bird-dogging booze, Markie also included some visits of people he has known through his extensive travels. Barbara recently moved to a new (to her) home in Lexington. Even tho' she was in the middle of a kitchen remodel, Barbara took time to greet Markie and me. Those two had a chance to catch up while I slowly made friends with Barbara's dog Petey. It took a while form to feel comfortable with us, but he finally did. That pooch is full of personality.

And we ended up spending two nights with Eric and Kate. They are retired Air Force Lieutenant Colonels and are just full of Southern hospitality. The first night, Kate made a southern dinner of fried pork chops, green beans, fresh black-eyed peas, summer squash, and some stuff I'm forgetting. It was all delicious. We finished the night sitting outside and observing the fireflies. 

The next night, after Markie's and my visit to Wilderness Trail, our hosts invited some neighbors to a lovely dinner party. I gotta tell you, this evening was like a festive scene out of Steel Magnolias. Kate outdid herself with putting together a lovely spread for nine of us that culminated with a stunning key lime cheese cake that she made. It was all just over the top amazing. 

Kate and Eric were incredibly gracious hosts and comfortable to be with. Friday morning felt like saying adieu to longtime friends. And I'm now Facebook friends with the neighbors.

I had worried that Rache wouldn't have a good time – but I think I can put that to rest!
Eventually we headed to bed, as an early alarm was going off for me (another reason to sleep in yesterday!).
Tomorrow we are headed home, many things unseen, a reason for another visit.
[? ? ?]