Three cheers to my dear friend Anne for the opportunity to see the "hard to get tickets" exhibit at the Seattle Art Museum: Yayoi Kusama – Infinity Mirrors.
Anne was already a member of the Seattle Art Museum (as I was, years ago), and LOTS of people are joining JUST to get tickets for members nights which they have added twice a week due to demand.
Today was a work day for me…in theory until 5pm, but there is always the last minute, "oh shit, they close in five minutes", of our customers (and we love them). Tonight, is was two last minute customers (one who bought a miscellaneous case of wine, the other, the $10 white we were sampling) engaged in a political discussion about our recent mayoral election, and how it would shake out. One is a political pundit, the other works for a business journal – and it was a seriously interesting take on current affairs. If people are buying (or even chatting), our doors are open. We are Merchants, after all.
Was a tad late getting out of the shop, but got downtown, circled a bit, found "princess" parking across from the museum and half a block from my favorite (but expensive) restaurant downtown, The Brooklyn.
I got there 20 minutes before the end of happy hour and I ordered like a madman. Happy Hour $7 Manhattan (Evan Williams was the Bourbon), and mini-crab cakes, followed by a half dozen Daybob Bay oysters: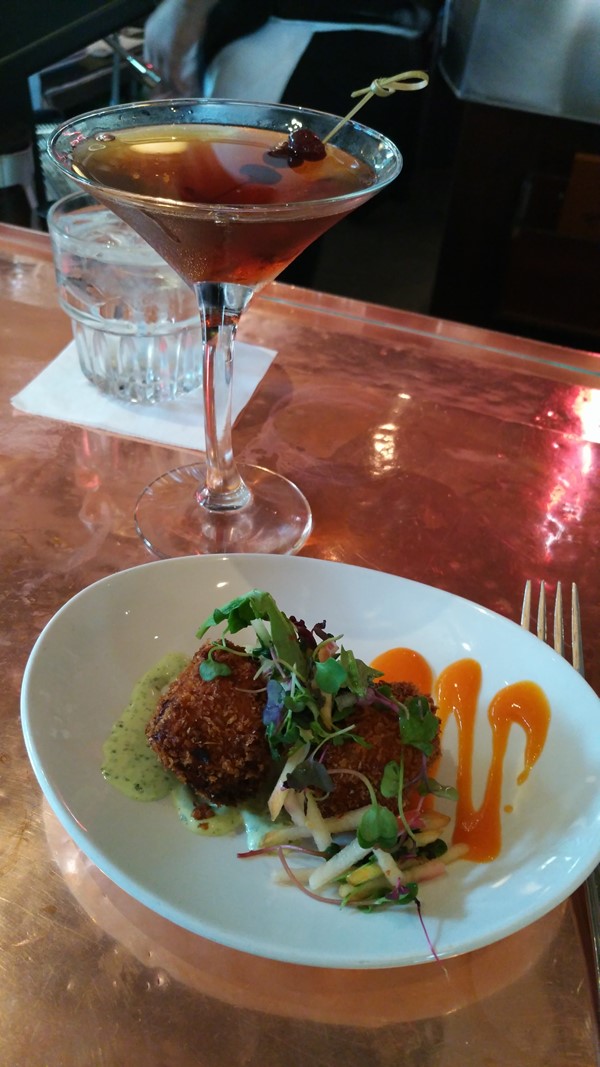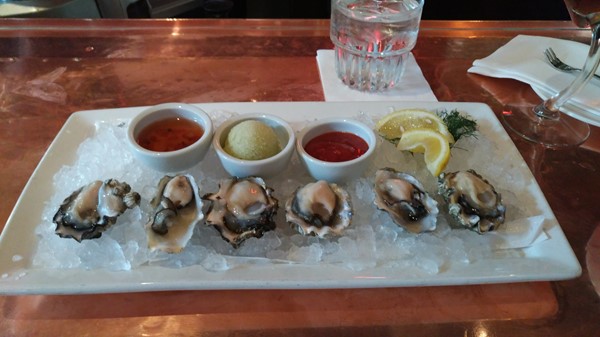 And I had another half dozen oysters and another Manhattan before Anne showed up. I'd preordered a Manhattan and crab cakes for her since she would arrive shortly after happy hour ended (6PM). And, apparently, in 45 minutes I can drop $80 at happy hour prices.
But this evening is really about the art – Anne and I in front of the Seattle Art Museum!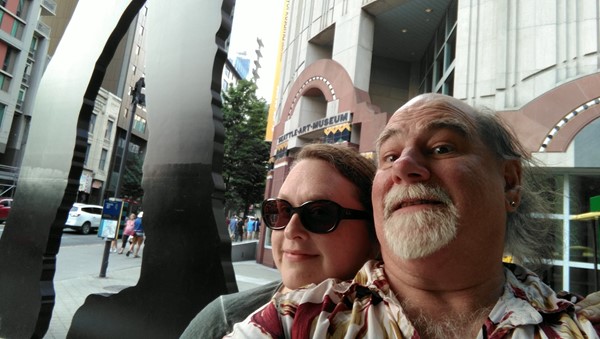 Those are the legs of "The Hammering Man" to the left of us.
Anne grabbed four tickets, so we MUST have a group shot!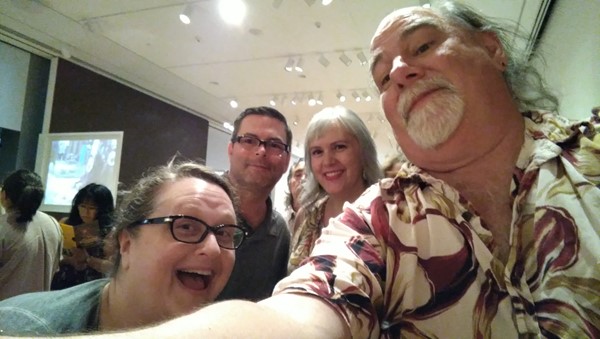 So, about the exhibit…timed tickets. Smaller numbers for member nights, but still lots of people.
Seven installations, most of which you get 20 or 30 SECONDS to immerse yourself (and two other people) in. You are shown in, your time, the door opens back up and you leave, to stand in line another 15+ minutes for the next installation room.
Lots of static art scattered between the installation rooms….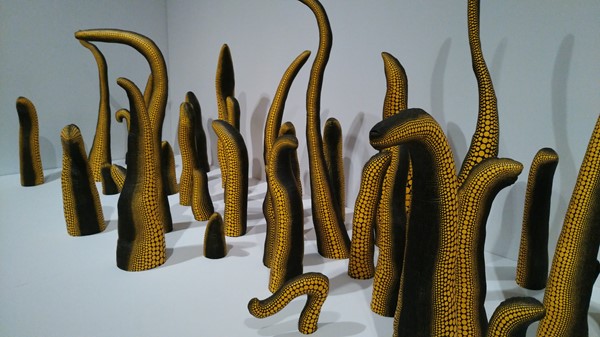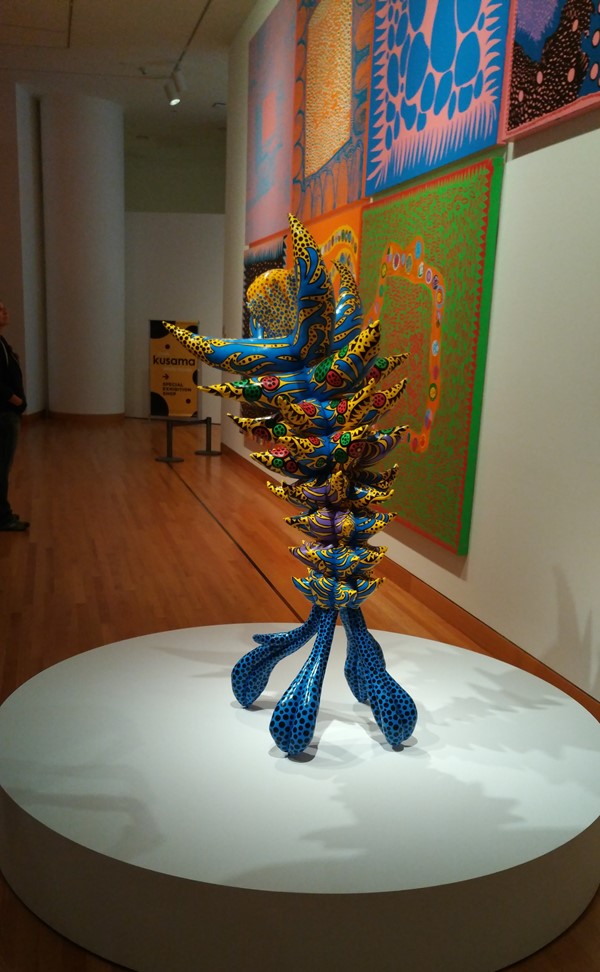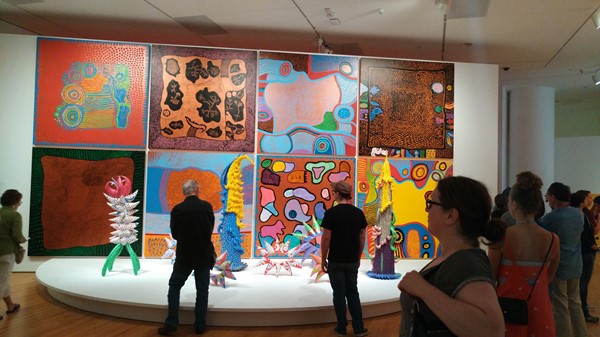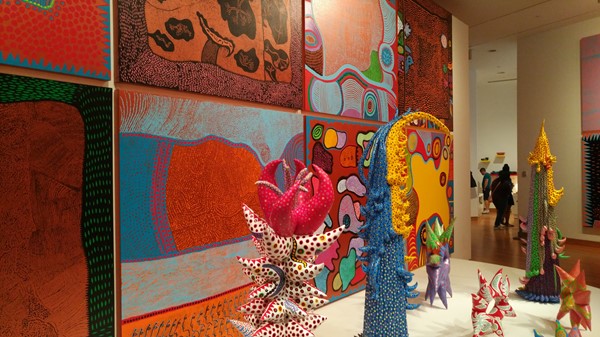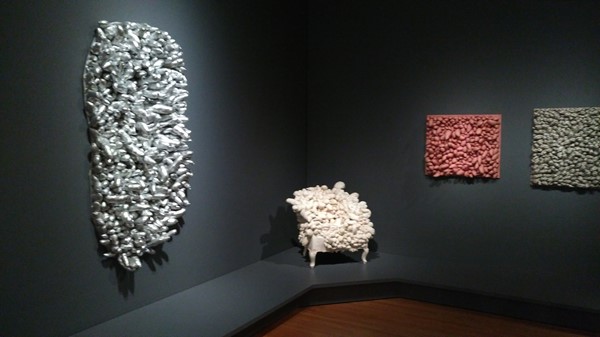 And then, there are the rooms… Phall's Field, which reminded me of an Alice in Wonderland trip: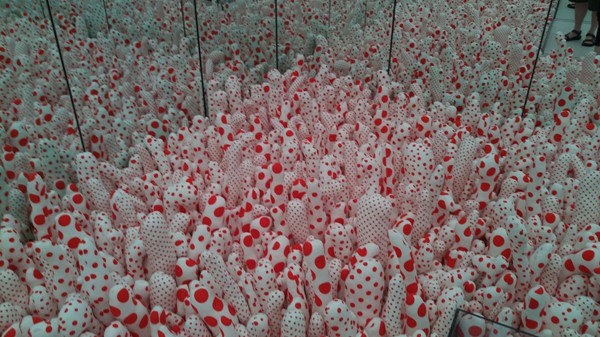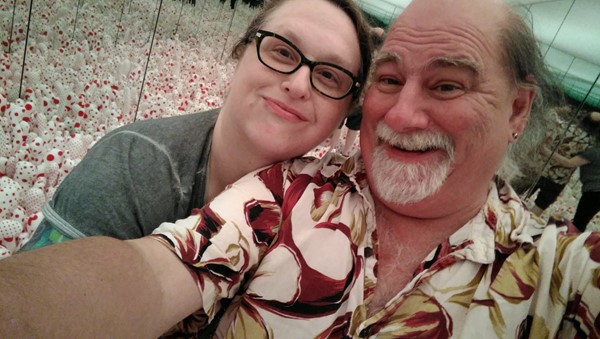 And remember – 20-30 seconds in the room, and then a lineup for the next…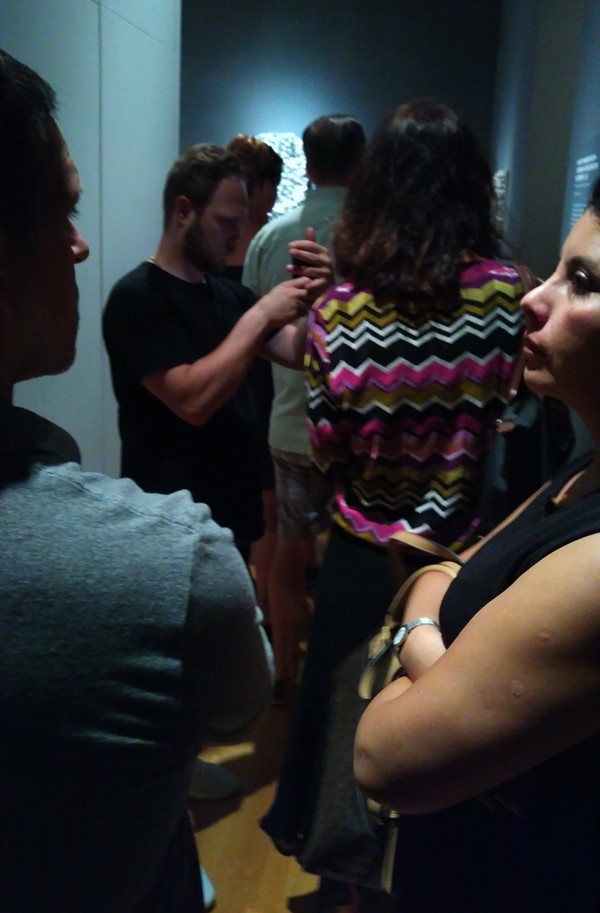 Next up is Anne (and mine's) favorite – Aftermath of Obliteration of Eternity, which I realized there was a video mode on my phone:
We popped out of the LARGE line to go see Dots Obsession…
And rejoined the line ten people behind Anne's friends who didn't bug out, to see Infinity Mirrored Room – All The Eternal Love I Have For The Pumpkin, which no photography is allowed and only two people (and a security guard) are allowed in for their 20 seconds. This is a shot from the brochure – so SOMEBODY had to be in there photographing!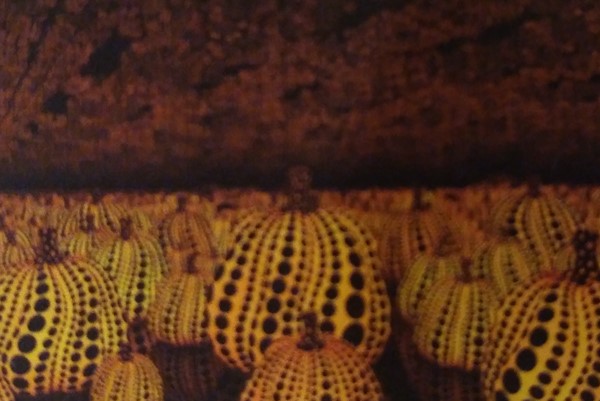 Next up were a couple of porthole exhibits with much shorter lines. First up, Love Forever: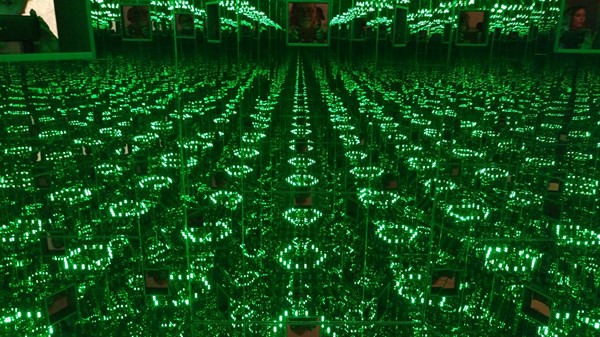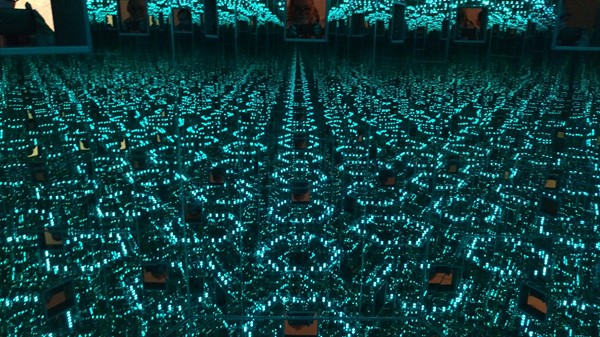 If you look close, you can see me in the mirror image.
And the cousin to Dots Obsession, The Macrocosm Within – Portal View: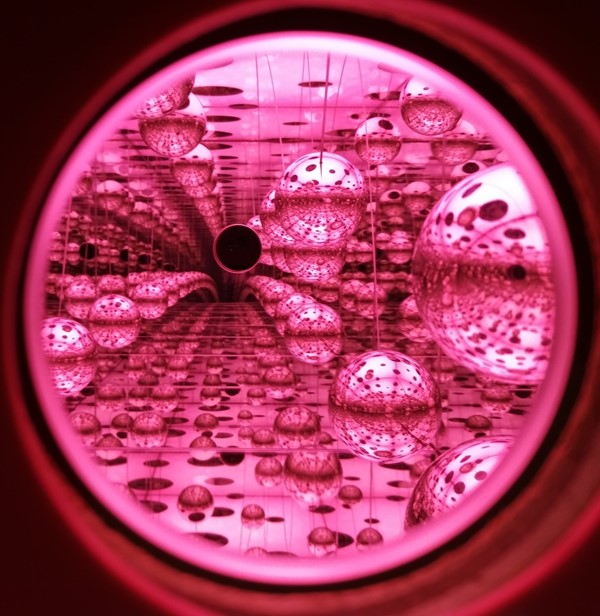 This will give you a feel of that chunk of the gallery space: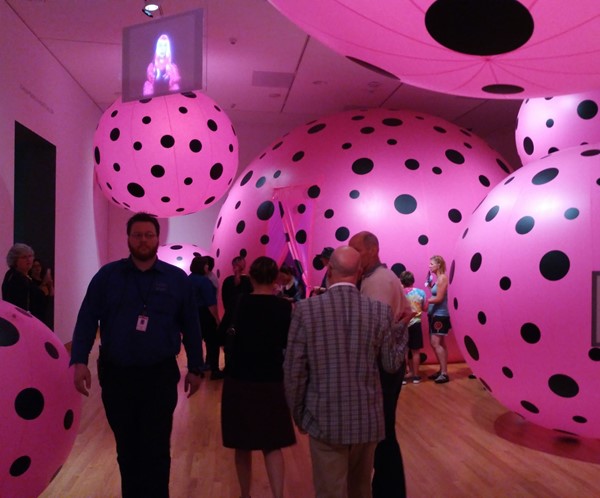 Then, to the final room – The Obliteration Room where you were given a sheet of stickers to apply at random. I zeroed in on the Princess Phone.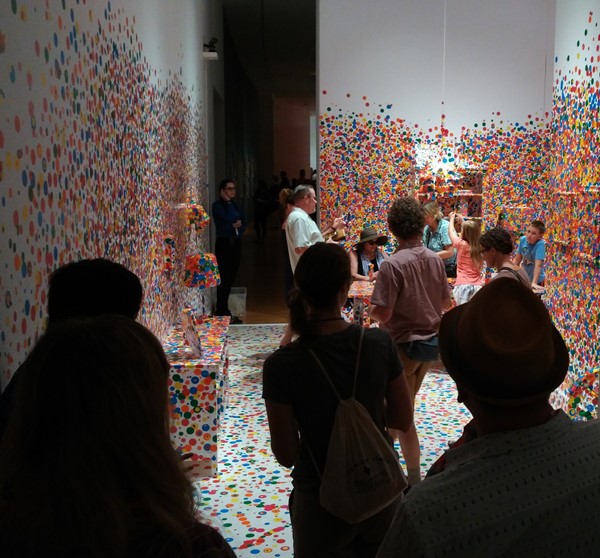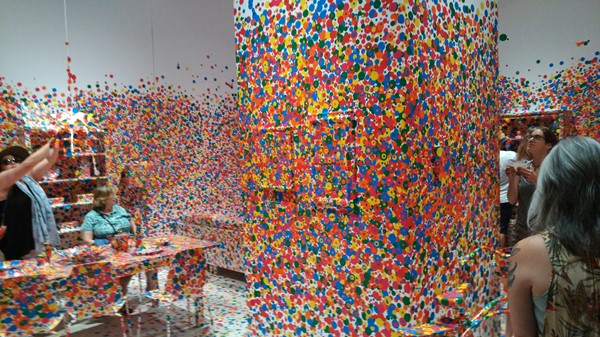 Can you find the Princess Phone in this photo?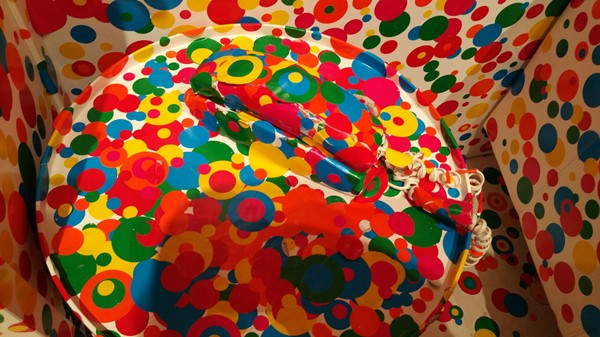 Fun exhibit – wish the rest of the museum was open for this after-hours event – but there is interesting art in the lobby…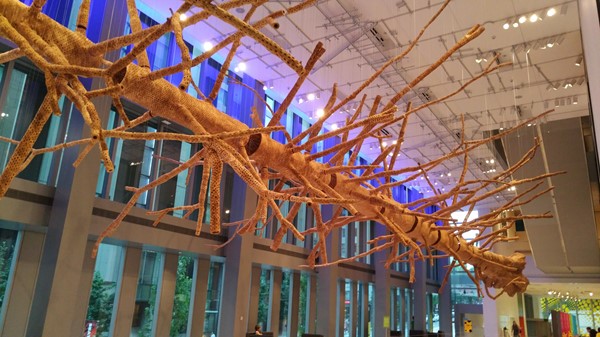 I begged off of more cocktails and food with the gang to come home (safely), make dinner, pack, and post.
For, tomorrow is another adventure.
[[221.2]