After my red-eye flight in, it was time to explore the neighborhood (and find some lunch). We are just off a traffic circle that also has a tunnel under it to help through traffic:
Montevideo has its roots in the Colonial Era: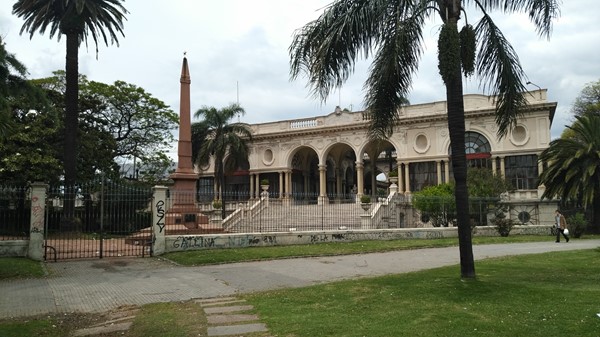 This would be the British Hospital, in the same block with the National Hospital and the Italian Hospital: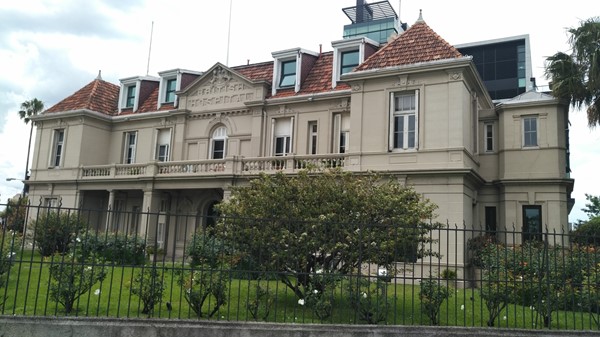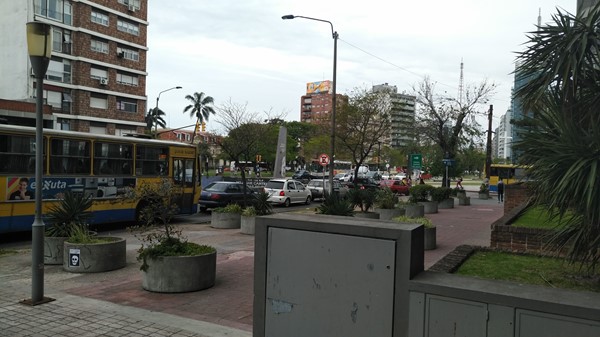 I was surprised at how rare cash machines are (but there are cambios seemingly on every block). I found one and got a little cash until I could meet up with Rache – more on the cash situation later.
You'll see LOTS of places offering pizza (thank or curse the Italians), but I opted for an outside table at La Flama, a bar/tavern/gastro pub a block away from Tres Cruces Mall and Main Bus Terminal (for long distance buses).
Good people watching…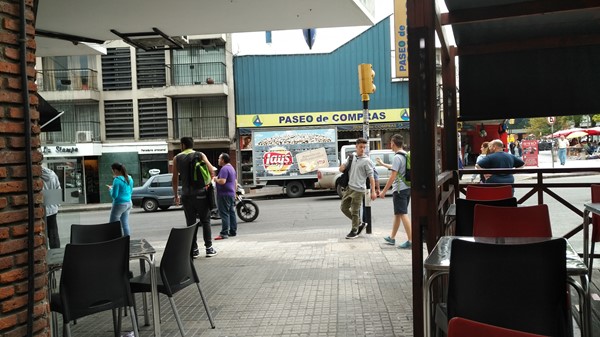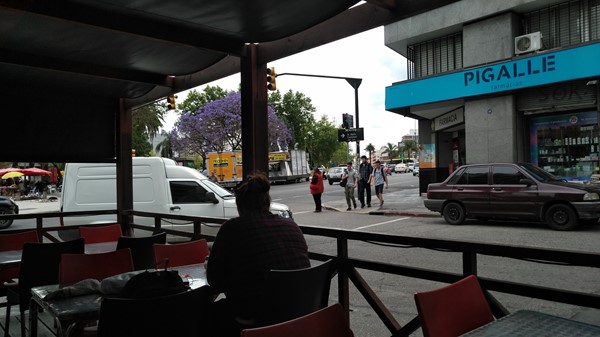 I opted for the Hamburgusa Al Pan Completa with Frites. That would be a cheeseburger stuffed with lettuce, tomatoes, hard-boiled egg, ham, chopped green olives: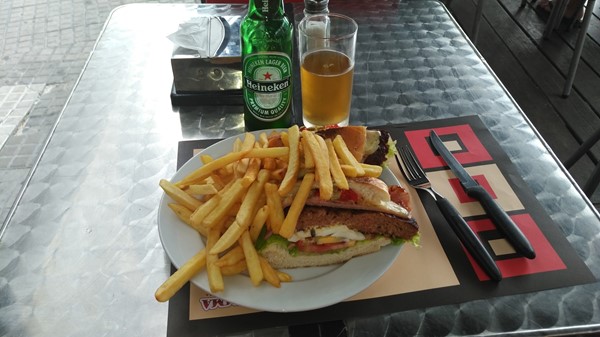 It was WAY too much food – or I could blame it on the rare beer (I was thirsty, and that's really a bad way to rehydrate). It was here that I realized that while in major cities around the world, English is a second language – not so in Montevideo, which to me is interesting because it's such a middle-class country. Nothing like trying to explain I wanted the leftovers boxed to go – in pantomime.
Headed back to the hotel to just sit on the couch and read until the room was ready, but they surprised me having our room available a couple of hours early. Rache did a GREAT job getting us a two-bedroom with kitchenette for about $85 a night. Well worth it. Rache was about an hour behind me getting to the hotel as he was coming in from the nether regions – he'd arrived a couple of weeks before me. So close to when I got into the room I didn't even have a chance to get pictures of the pristine room: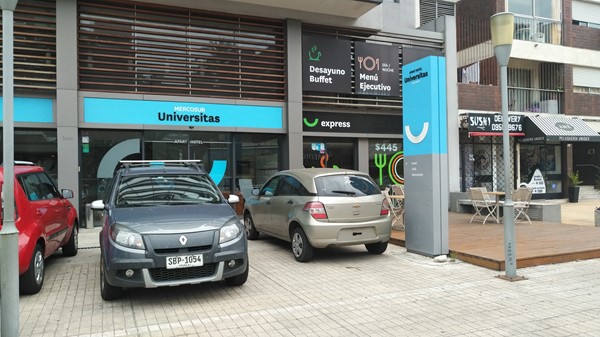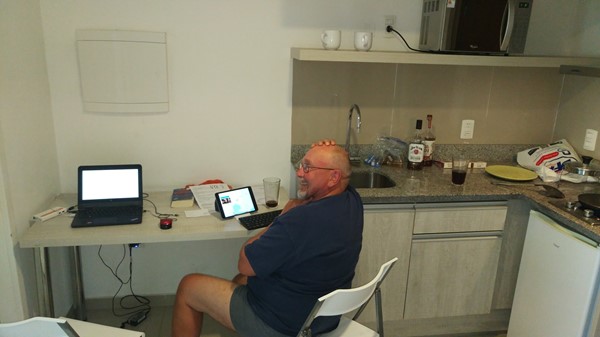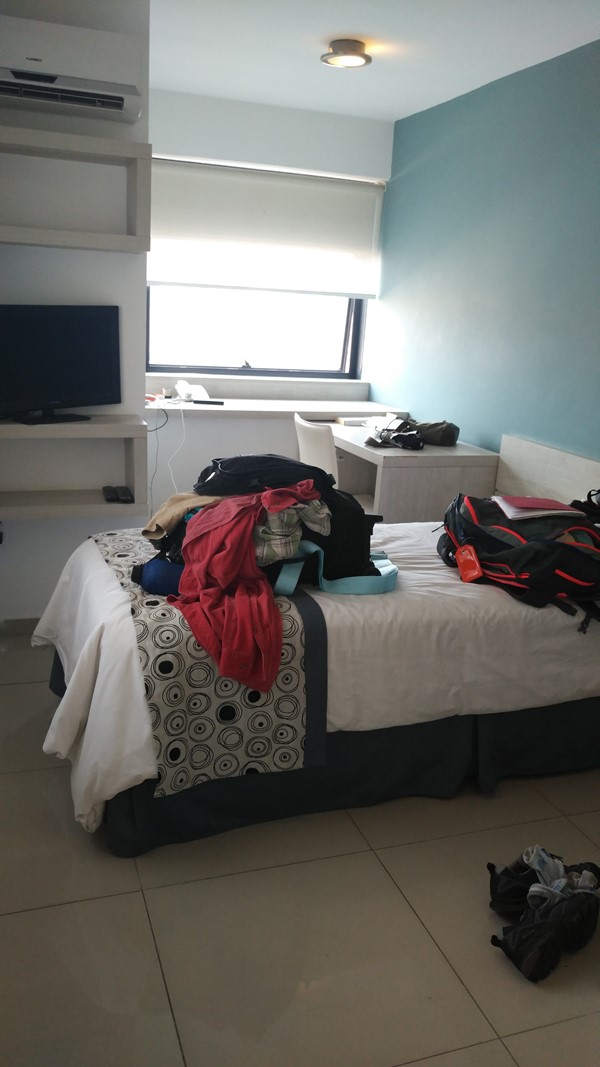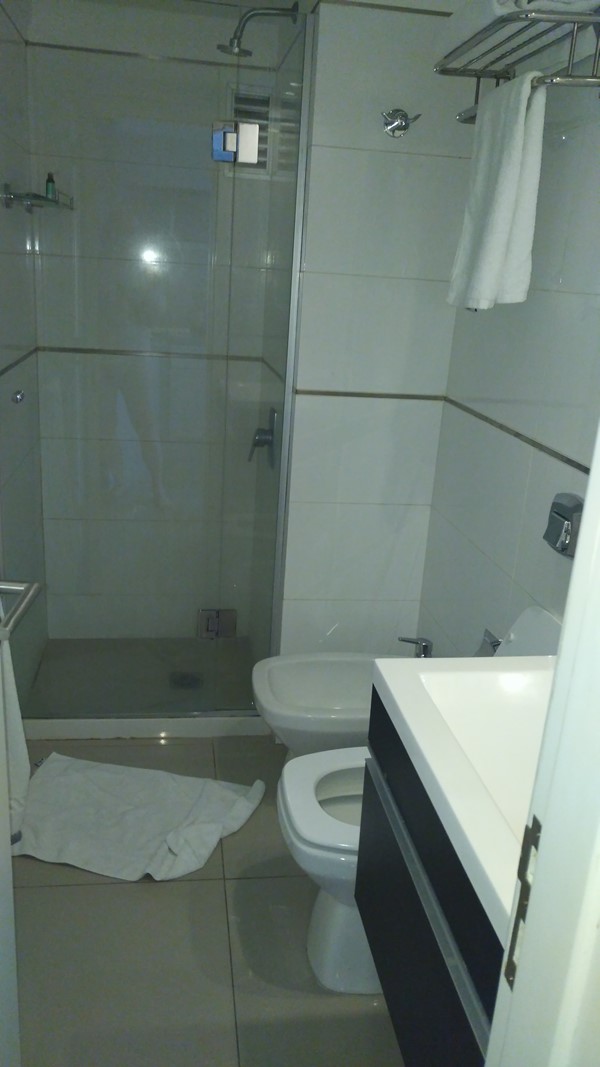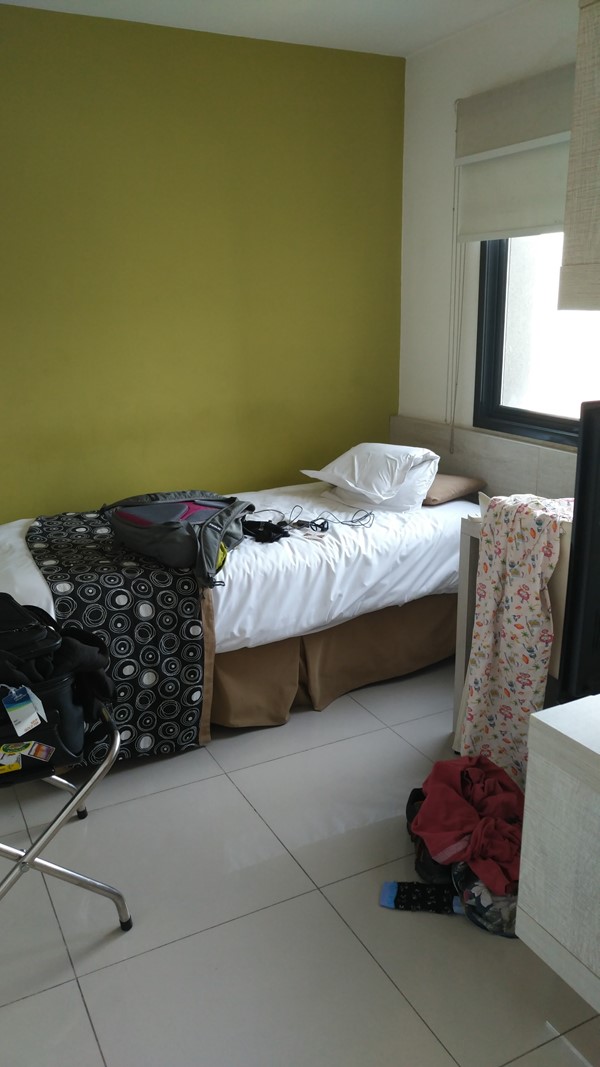 We got settled in, and promptly took naps before Rache scouted through Trip Advisor to find us a dinner spot. I'll turn it over to him:
Using TripAdvisor, we chose a restaurant. The desk clerk called to make sure it was open. I asked if taxi or Uber was better. "Uber is much cheaper." I was somewhat reluctant after the hassle getting from the airport. However, within three minutes, we were heading across town to Restauran Don Andrés. The reviews were somewhat misleading but still the food was delightful. And we had our first Uruguayan red wine with dinner. Uruguay is famous for "Tannat" wine. The modern wine industry in Uruguay dates back from 1870. Uruguay is the fourth largest wine producer in South America. Tannat grapes were introduced to the country by Don Pascual Harriague, a Basque. (Oh dear, this paragraph is getting out of control) Anyway, I thought I was ordering a Caprese Salad but ended up with ravioli for my first course. Followed by a delicious and rich lasagna about the size of a flying saucer. OMG! Restauran Don Andrés was not what was expected, but it was delish.
I think we were both thinking more Carne than Italian, but the preparation and presentation was wonderful, and the restaurant filled on a Monday with multiple large tables of extended family.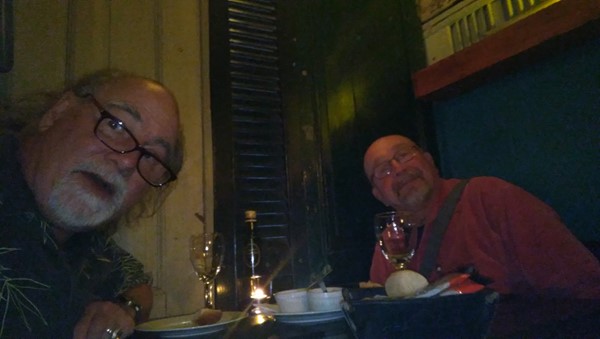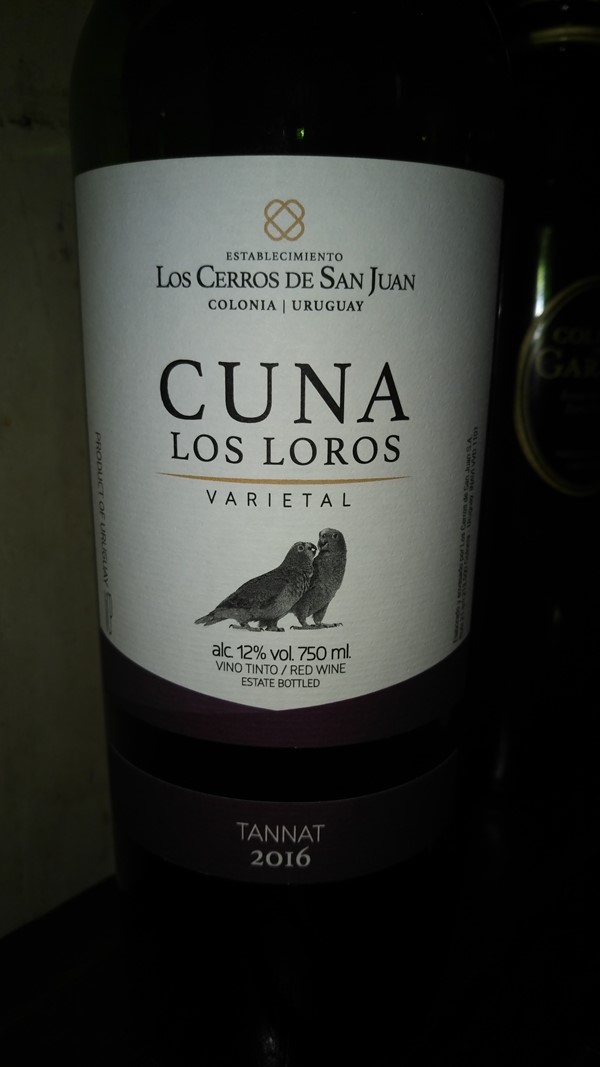 Rache's "Ensalada Caprese" top, my calamari bottom: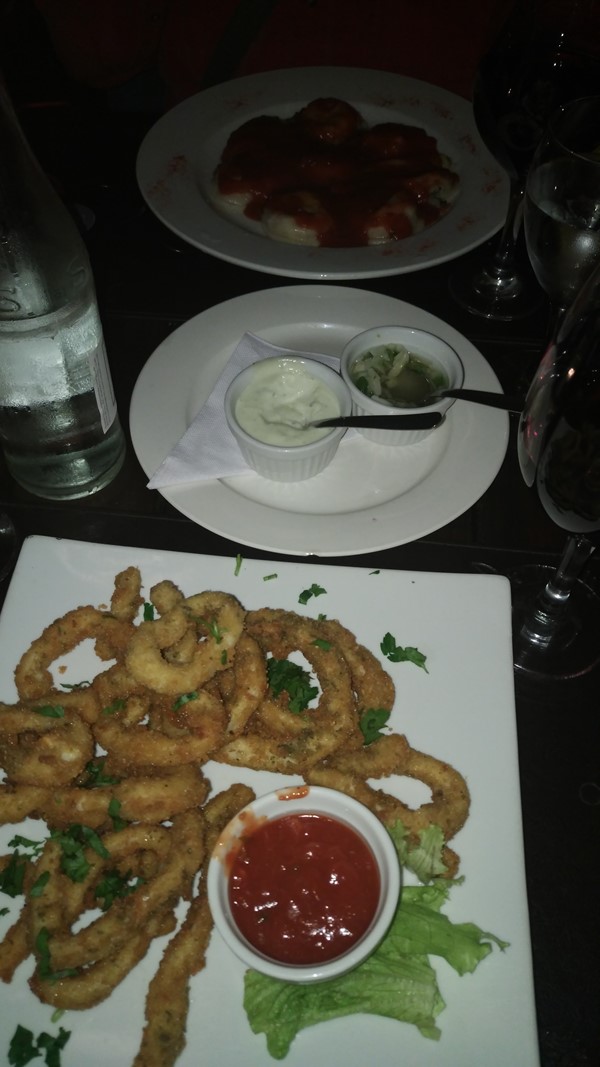 Rache's lasagna top, my four cheese incrusted fish with mash potatoes (and yes, it was time for another pantomime of "box to go"):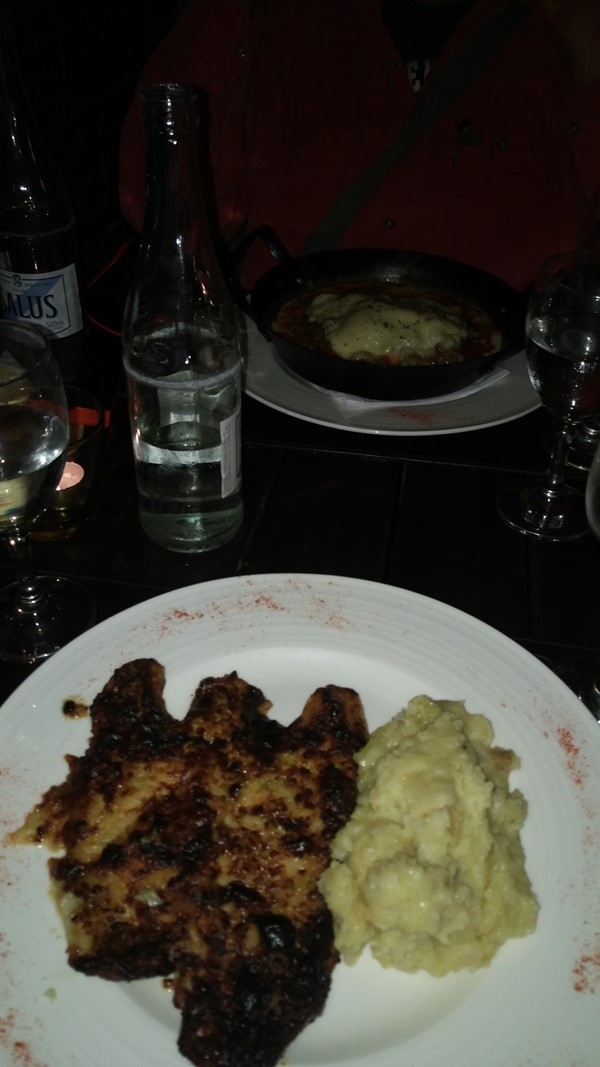 The Uber rides were the equivalent of six bucks each was, and the meal with wine and tip was a little over $45USD. Not bad for dinner for two with wine.
With a short Uber ride, we were back at Mercosur Universitas Apartment/Hotel where we both needed to be horizontal.
[? ? ?]