Quite often I go to New Mexico to visit my sister and her husband (technically, my brother's widow and her new husband), and then take the train back to Seattle. Amtrak schedules don't really allow for going in the other direction if you actually want to make your connection.
Poked around the Alaska Airlines site and found a First-Class ticket for $230 – and I had a $75 coupon so that brought it to $155. Not bad for a three-hour flight in a comfy seat. Then there is the mileage accrual. Actual miles, plus a 100% bonus for class of service, plus a 125% bonus because I'm Alaska MVP Gold 75K. And the class of service bonus actually applies to lifetime flight miles – might dump me over the half million mark on Alaska, not that I get an award or anything. 1,179 + 1,179 = 2358 flight miles, plus the 125% bonus makes it 3,832 miles to spend on flights. That about 50% over what I'll be getting from my cheapee flight from Seattle to Auckland, New Zealand – and for a three-hour flight, not almost 15,000 flight miles.
7:10am departure…which means up at 4am, to the airport at 5am to have my usual bagel/cream cheese and hard-boiled egg breakfast, wait for the lounge bar to open at 6am so I can have a glass of rose bubbles before we start boarding at 6:30am.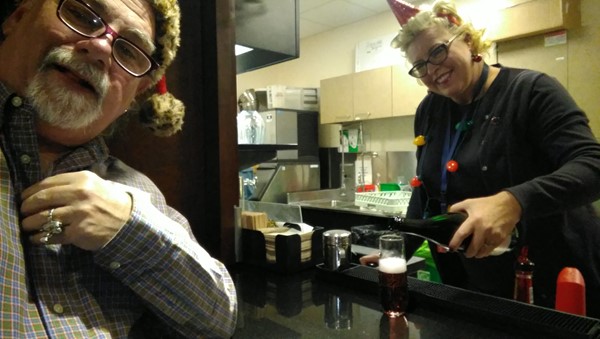 When I checked into the Lounge, this was the receptionist that answered the question, is there food in First on this flight, and what is it, so I know how much to stuff myself in the Lounge. And now she is pouring me bubbles (no, not Michael Jackson's chimp – he's in a Florida chip rescue retirement home)!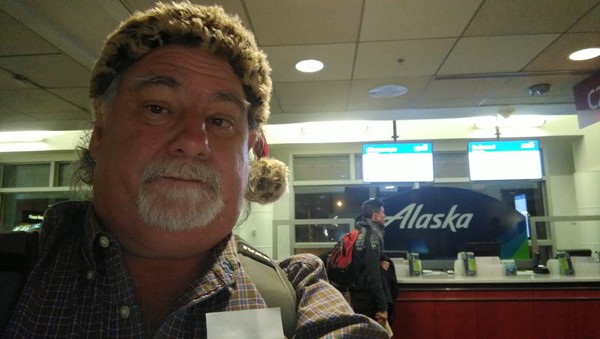 Alaska now has two nonstop flights between Seattle and Albuquerque – the morning flight is operated by Horizon in their new Embraer E175 jets, the afternoon in a 737 that doesn't get in until a little after 9PM, and I'm not seeing the second flight on the schedule for January.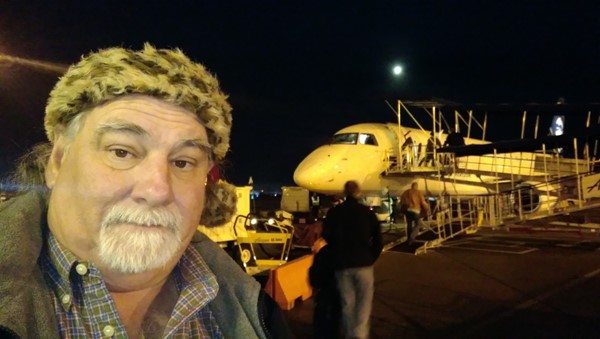 Yes, as is my usual Christmas tradition I've got my puss print Santa (or is that Satan) hat on. Starts the first of December, gets retired on the 25th.
So, here is the configuration of Horizon's E175:

As you can see, the 12 First Class seats are in a 1-2 configuration – and I chose Seat 1A: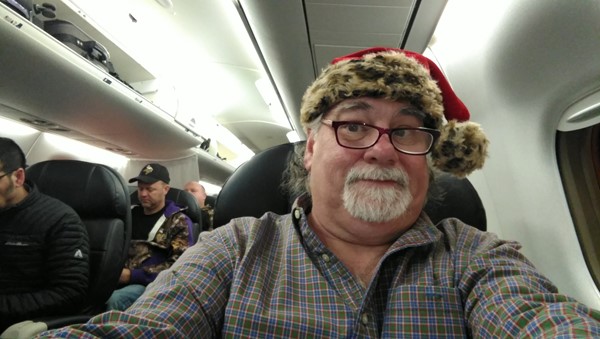 It's nice to not have a neighbor – you get both a window AND an aisle seat. Soon, we were taxiing, which is when I realized I might be getting some good pictures out of this trip: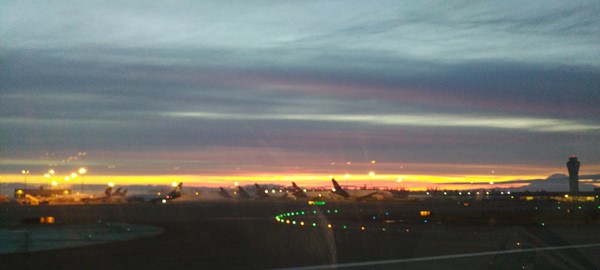 And the view kept getting better and better: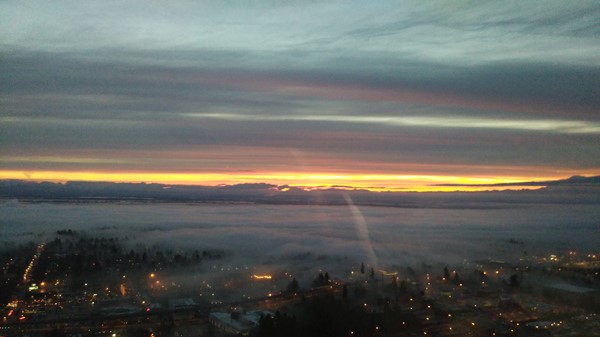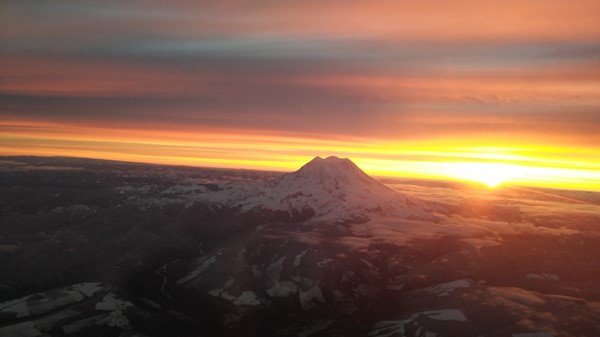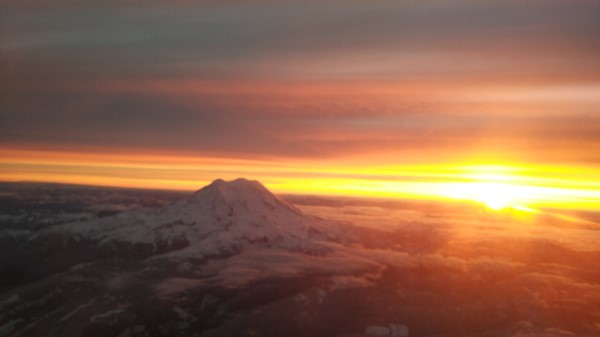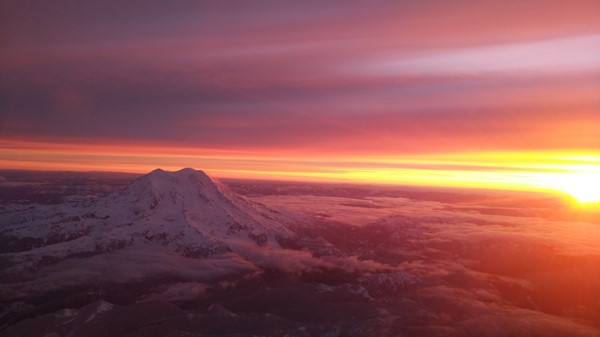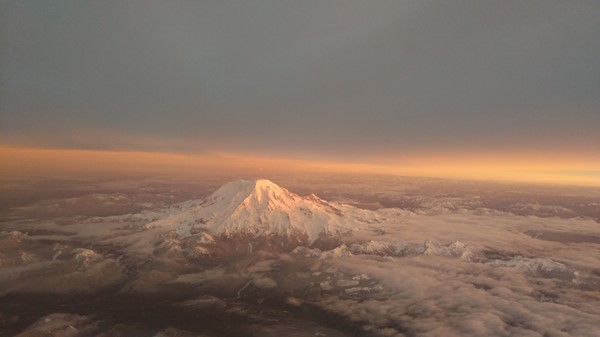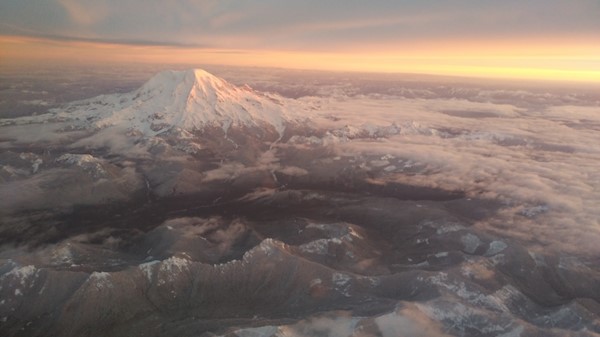 What a lovely day to fly! Especially when cocktails start showing up!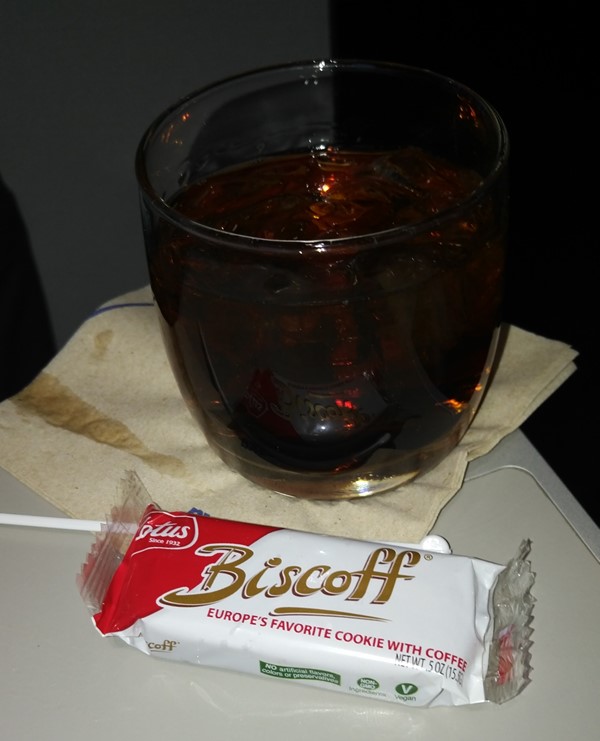 And breakfast: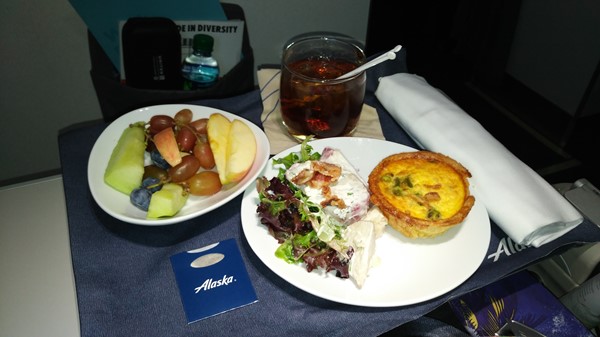 Fresh fruit, a very chunky potato salad with greens, and a lovely little tiny quiche. With these views….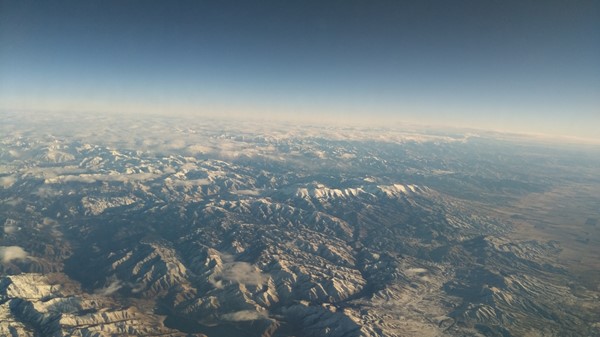 Though I should give you a little perspective: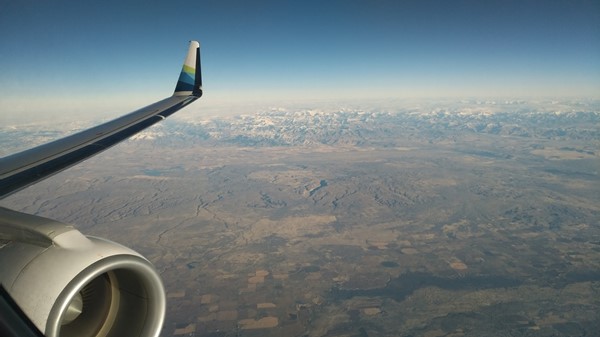 We are far enough into the flight you can see the Front Range of the Rockies where the clouds start stacking up against the mountains and the farm land is all squares and circles: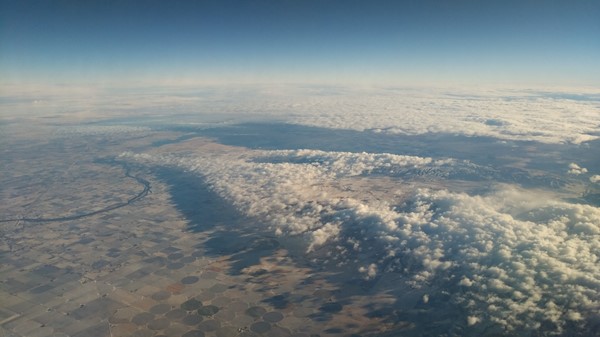 Until the snow peters out…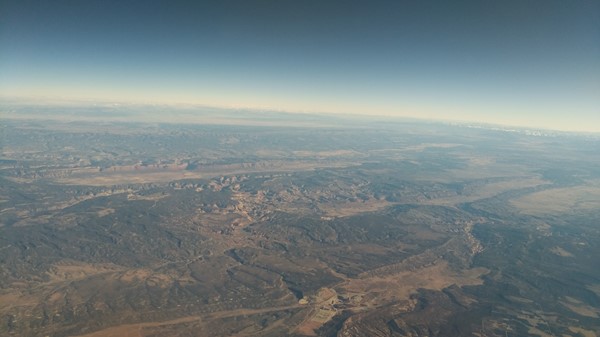 And you are left with brown…
And then civilization…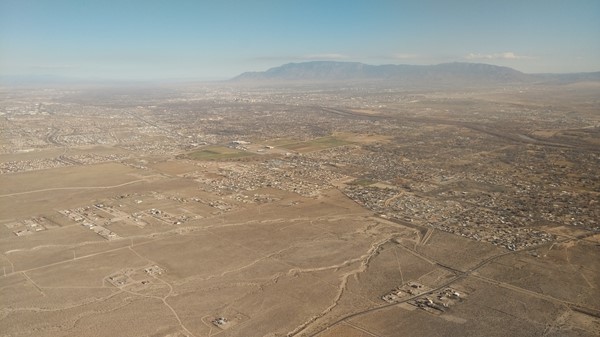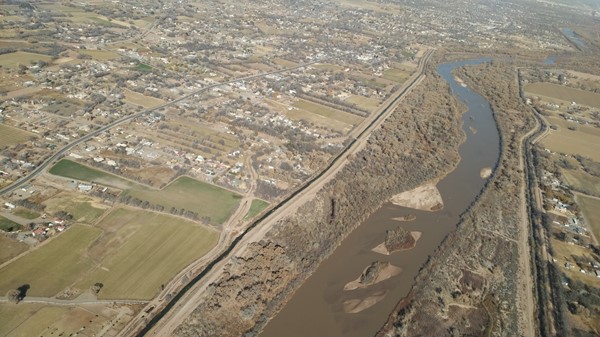 I was truly sad to see the end of this flight – and this from someone who spends a good chunk of his life on airplanes.
I shot this little 30-second video while I was on the people-mover headed to Baggage Claim.
Enjoy.
[? ? ?]
To see more blog posts, CLICK HERE.