Thanks to an extra car at the house, I was able to drive myself to the train station in Lamy (LMY), and just lock the keys in the truck. VERY convenient.
Lamy used to have a great restaurant, sadly, closed, since Lamy is in the middle of nowhere.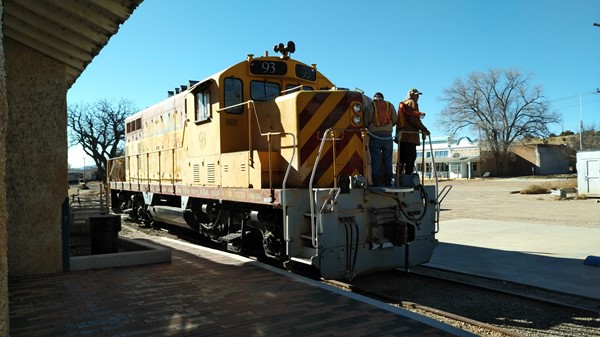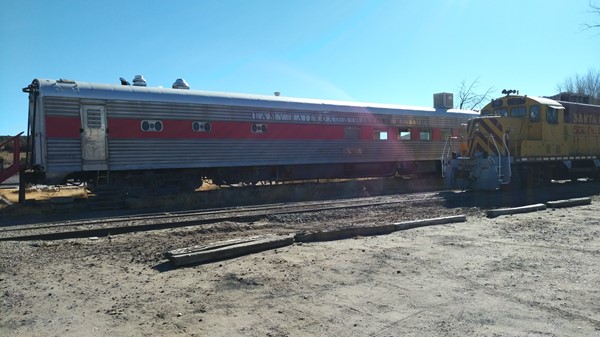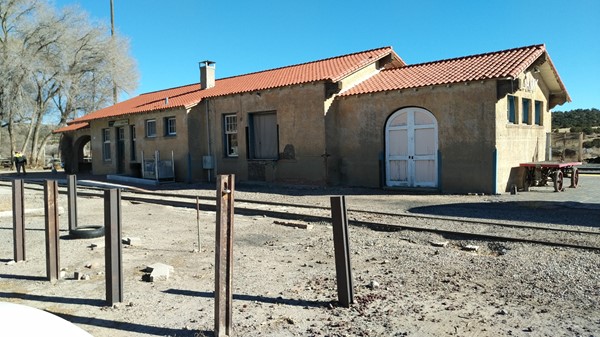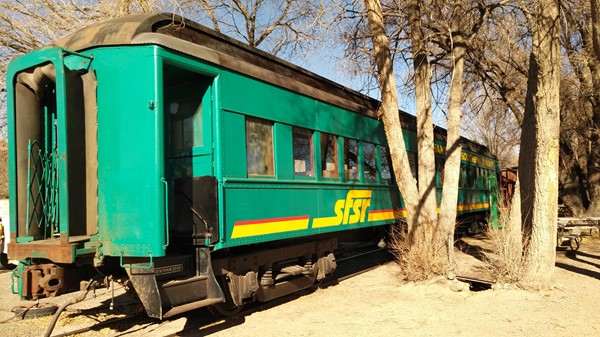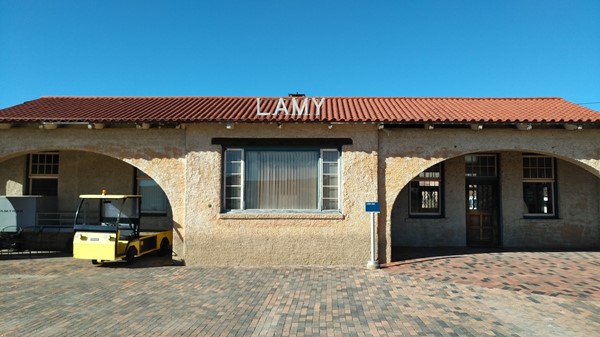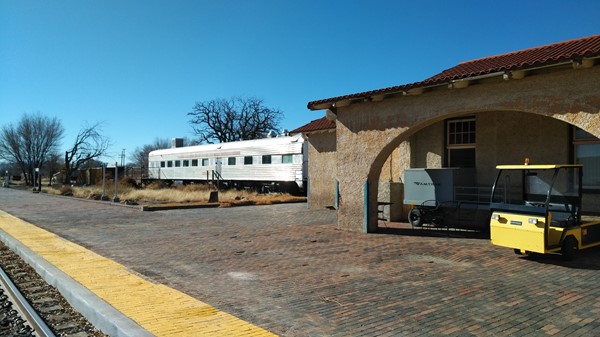 I always show up early – an hour early. But the train is on time!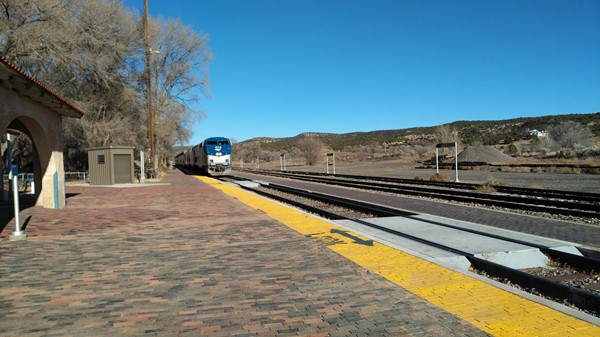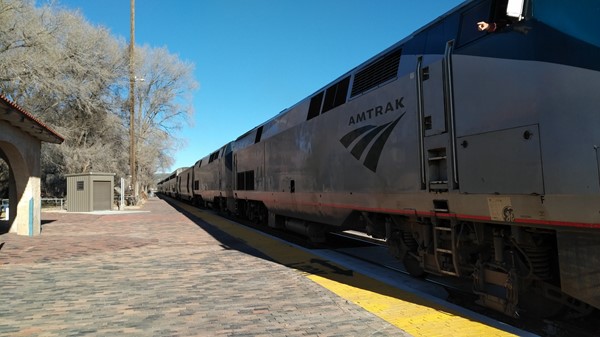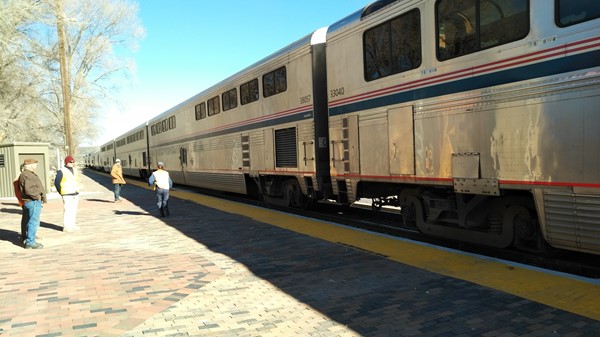 And soon, I was onboard: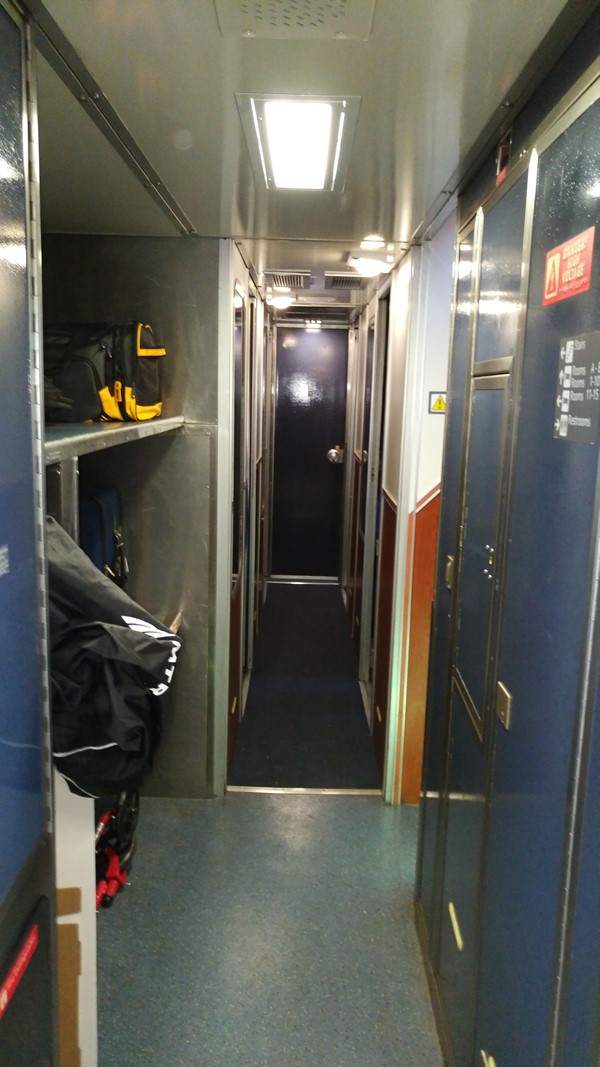 I'm on the lower level in a roomette for the trip to Los Angeles…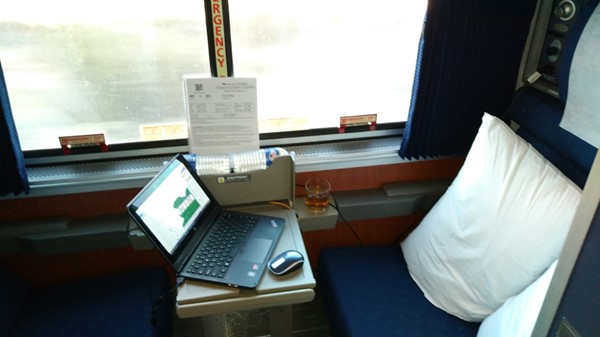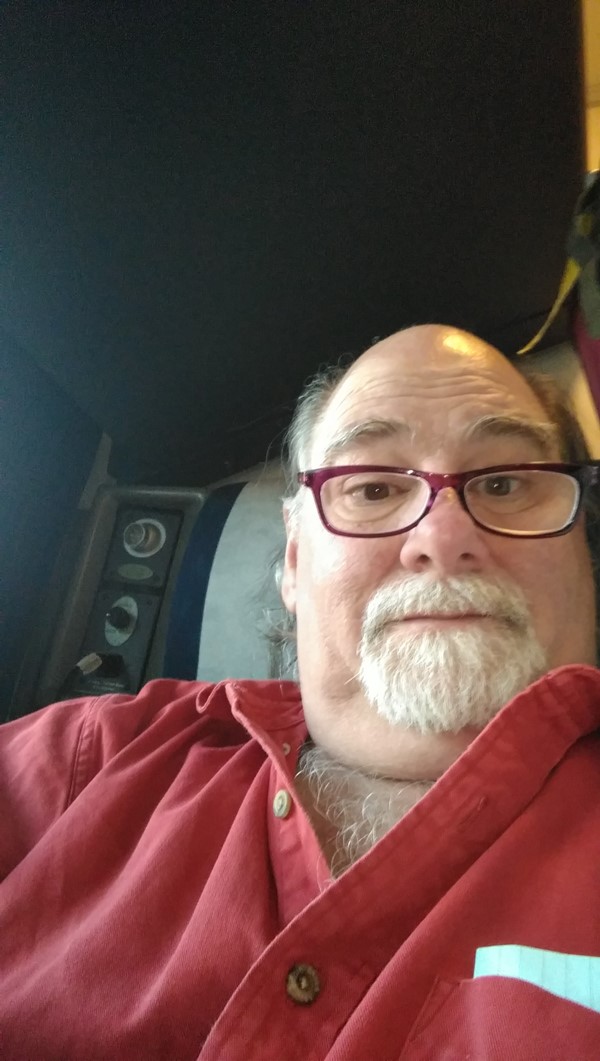 Next stop is Albuquerque – where we had about 45 minutes…and time for me to get a hot dog!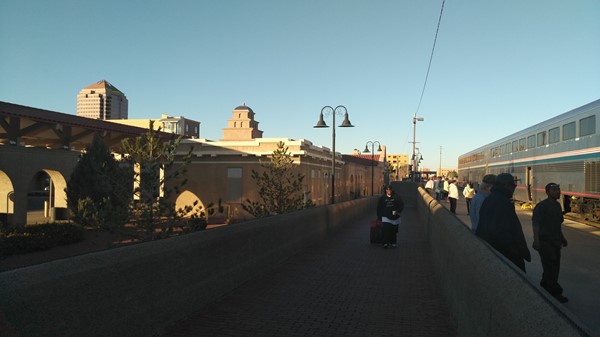 Settled in, it's just watching the countryside rolling by…..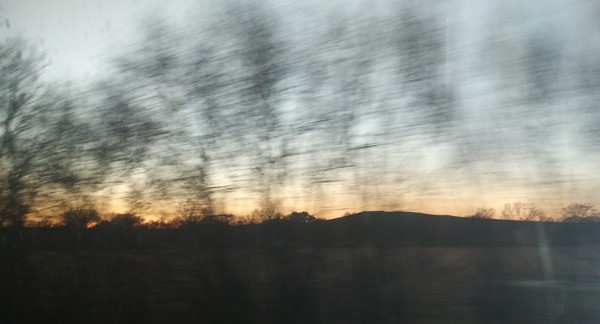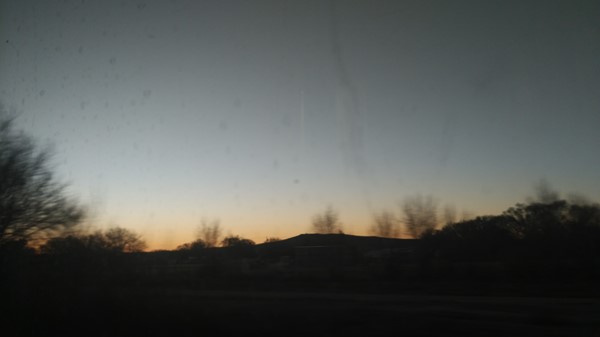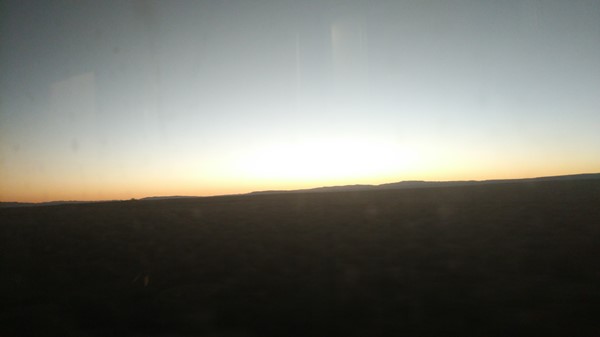 And then it was time for dinner!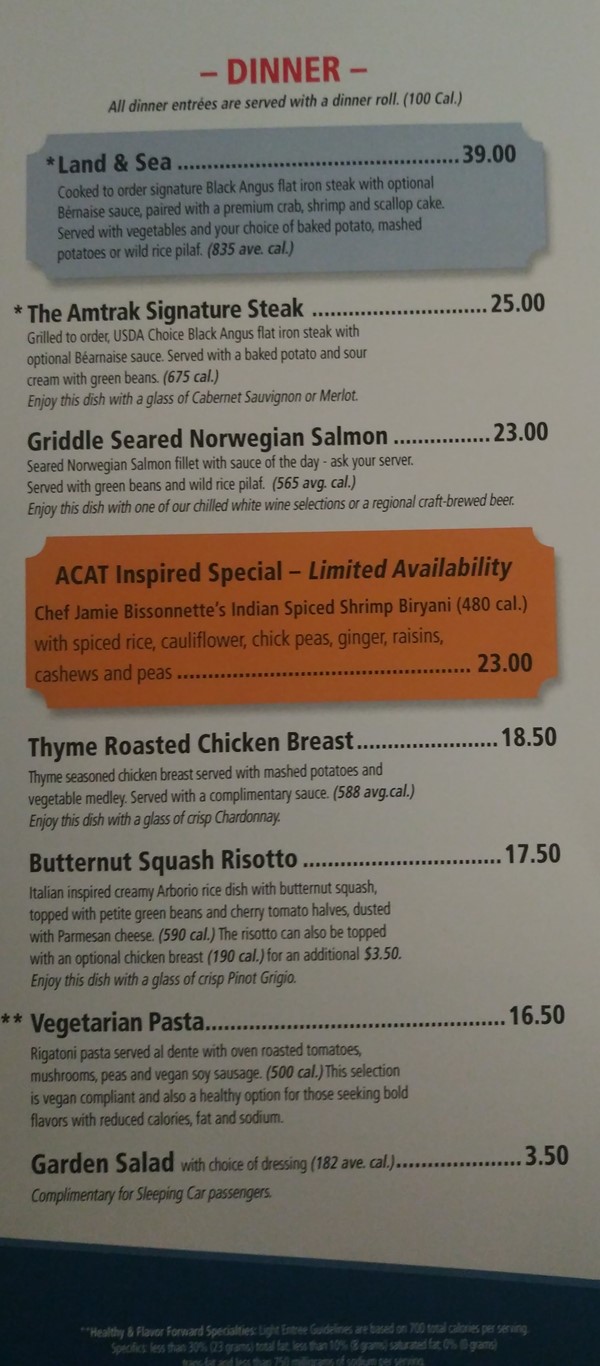 I went for the Land and Sea. That would be a steak and a seafood cake: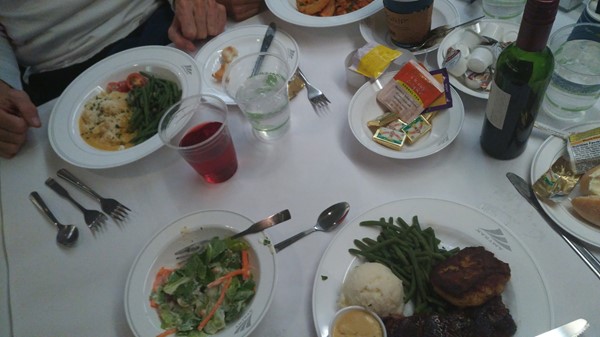 I always get my dessert to go, because the meals are so big – but about 9PM I need a snack…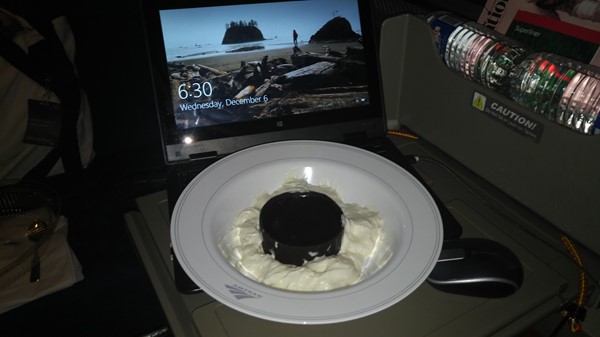 The whipped cream looked better an hour ago…then it's on to cocktails…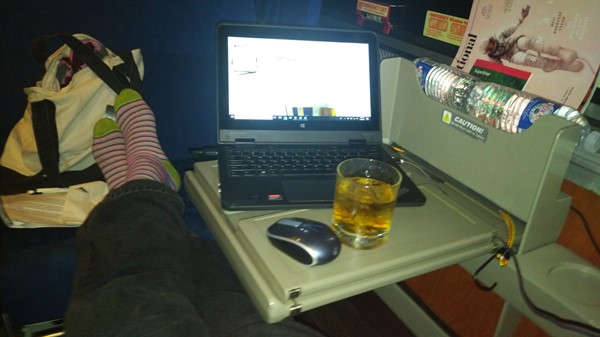 Life is hard on the train – especially if you need a smoke break, which I don't. But nice to have a cocktail on the platform at Flagstaff.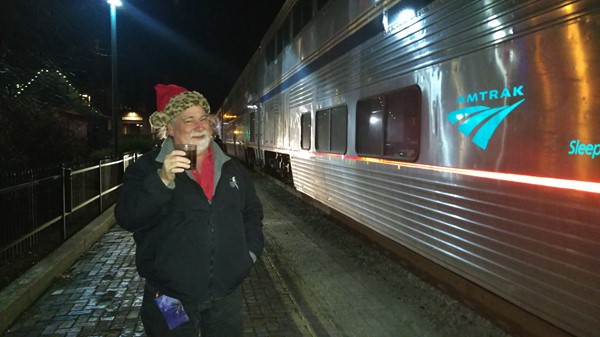 Off to bed as it's up at 5AM for breakfast and then back to bed before we pull into LA.
And that's when it all went to shit. Nothing like an email from Amtrak saying…
Our records indicate that you are scheduled to depart on Amtrak train number 14 from Los Angeles, California at 10:10AM on Thursday December 7 and arriving in Seattle (King St. Station), Washington.
That schedule has been cancelled due to a service disruption. There is no alternate service available. To speak to a customer service representative about travel options such as selecting another date or destination call us at 877-231-9448 at your earliest convenience.
We apologize for any inconvenience and thank you for being a valued Amtrak customer.
I love the phrase, "There is no alternate service available."
My response was to go the Sleeping Car Lounge on the second floor of the LA train station – where there is a real person, with real powers. And more importantly, answers.
And the answer was – yes, we will get you there. Bus to Bakersfield, San Joaquin to Emeryville, meet the Coast Starlight and actually get into my bedroom.
Here is a map to show you the route: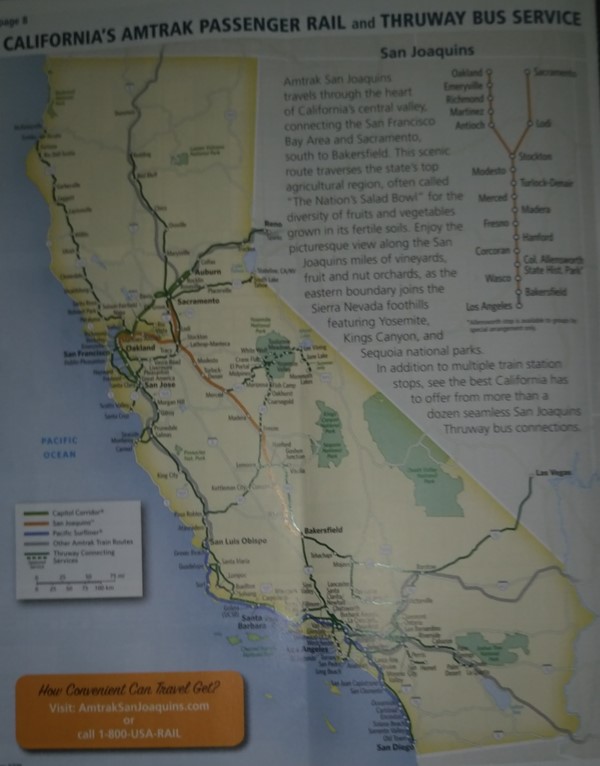 Up the middle was my route…not the coastal route to the left. I did get to see the Central Valley – the vegetable basket of America.
But it was on a bus…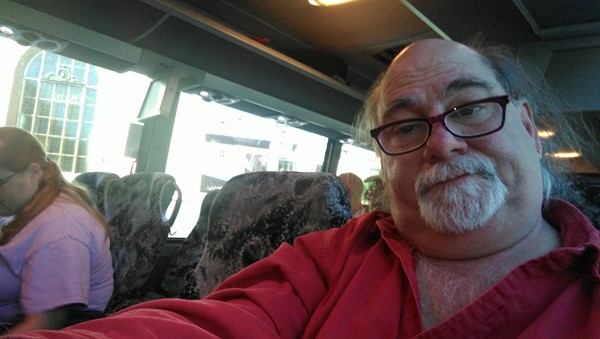 Which they actually provided water, chips, snack box, and even a 6-inch sandwich from Subway: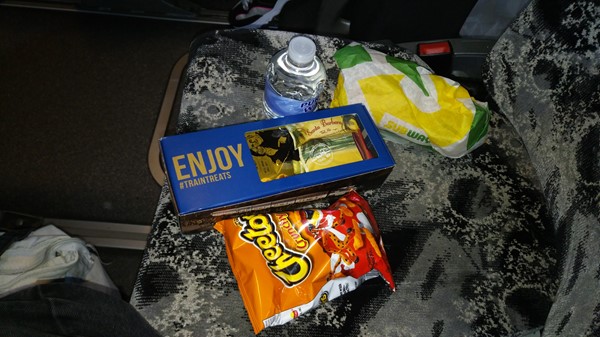 Managed to get an hour or two of sleep before we hooked up with the San Joaquin: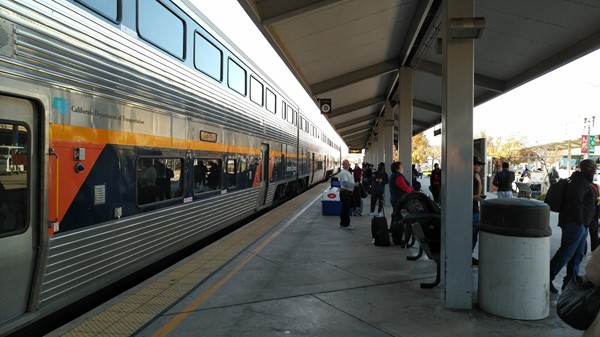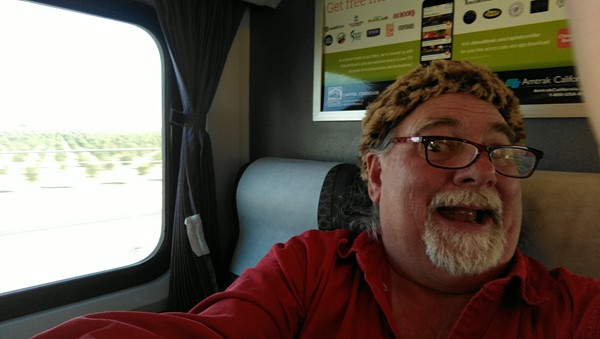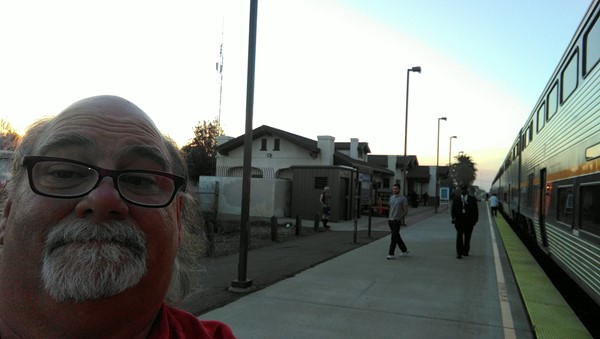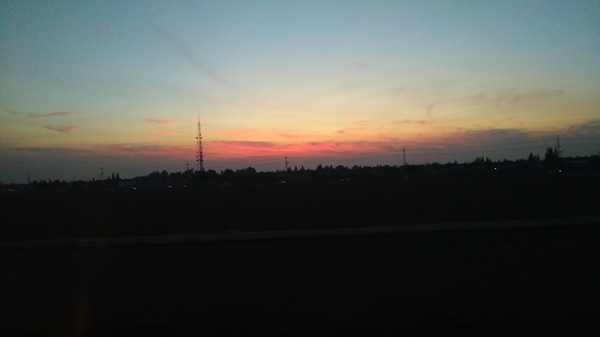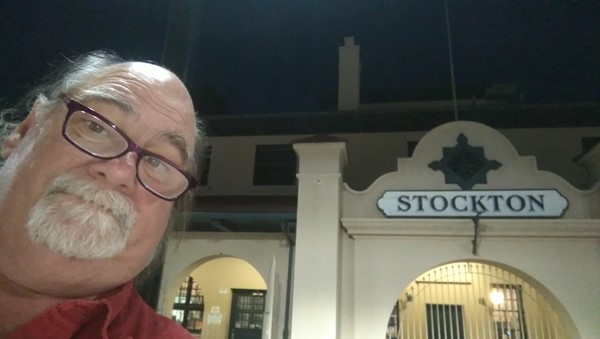 If there is a silver lining to this "service disruption", it's that I have a 2+ hour layover in Emeryville which means I have time to have dinner with Mark and Onyx at Los Molés restaurant in Emeryville: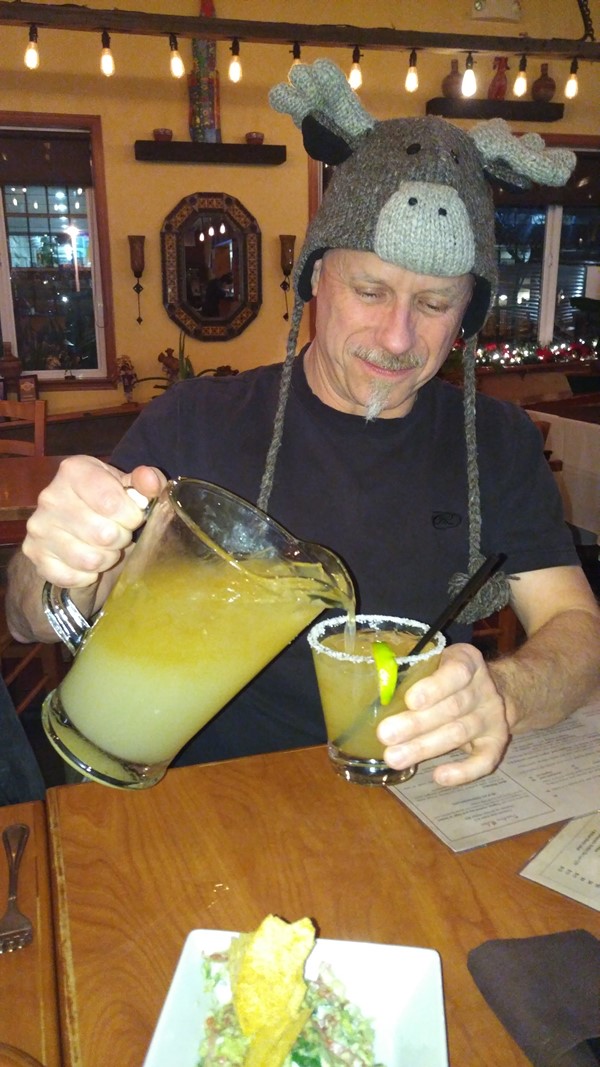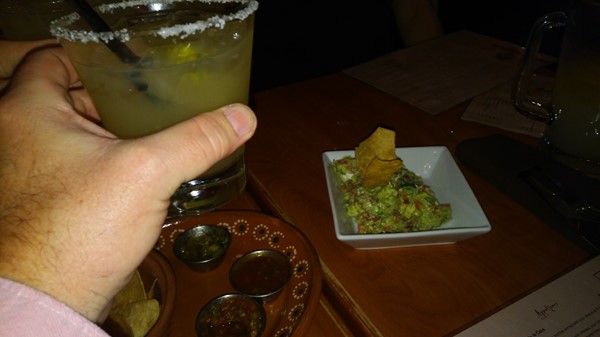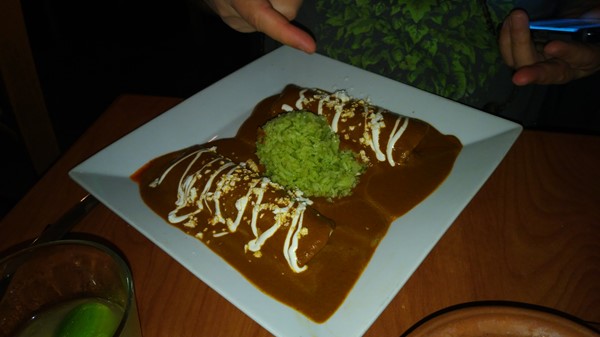 It was an unexpected pleasure – I'll see the boys in a week or so in Seattle, but always nice for a random visit.
Before I knew it, it was back to the station: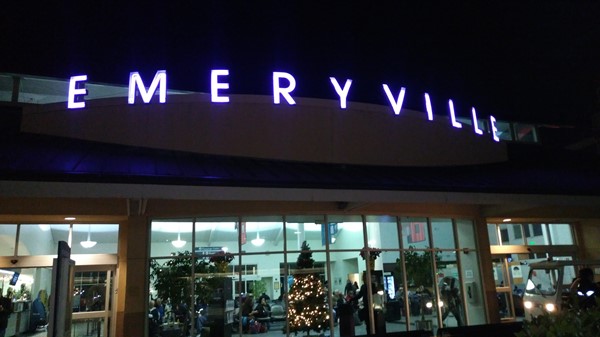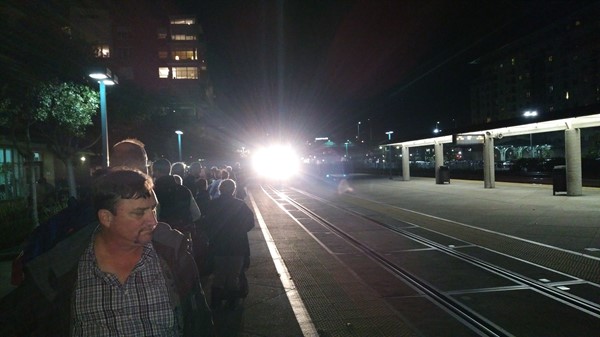 And into my bedroom unit. It was late when I boarded, so the Car Attendant had already made up both beds. I usually go for just the upper, but it was nice to have a four-foot-wide bed to roll around in. And yes, he brought me a bucket of ice: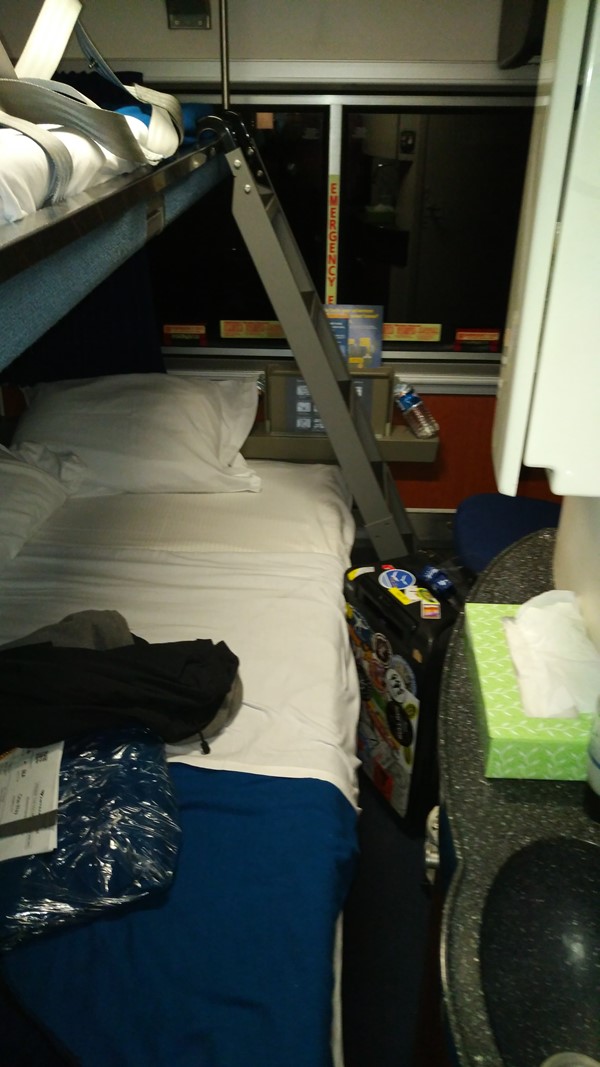 It's a little crowded with both beds down.
Much more comfortable with the bed up: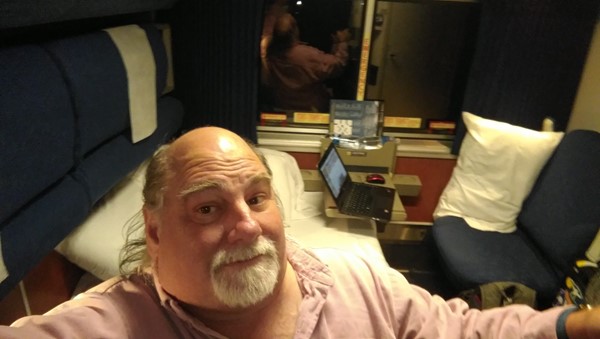 Nothing like a sunrise in the Cascades…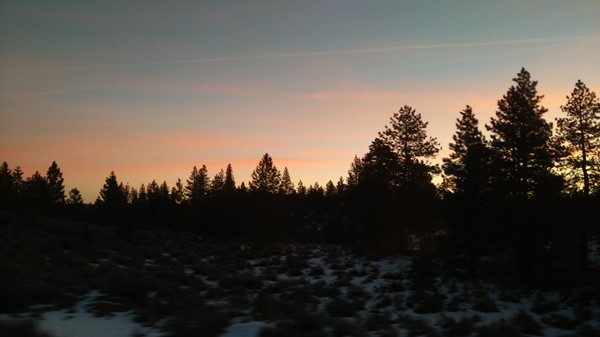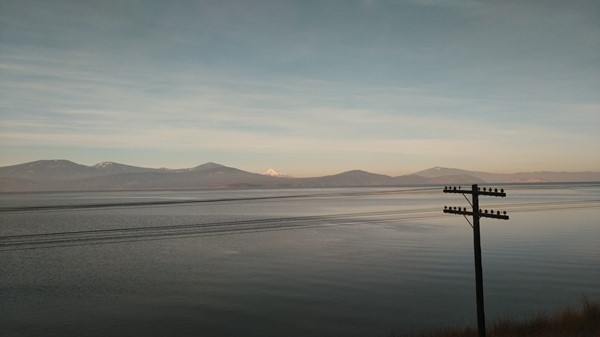 Again, it was up at 6:30, eat breakfast, back to bed. Hard to turn down free meals. But I was up for lunch, where I took a chance on the steamed mussels: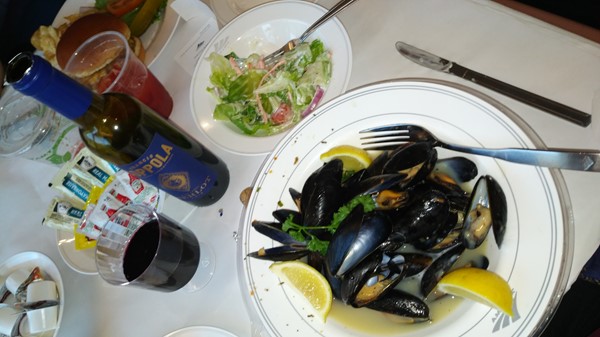 I was pleasantly surprised. I would have used coconut milk, ginger, and lemon root, but for being on a train, it was good. Yes, I'm drinking Merlot with the mussels!
Just before Portland is Oregon Falls, site of an old paper mill I visited in my Microsoft days….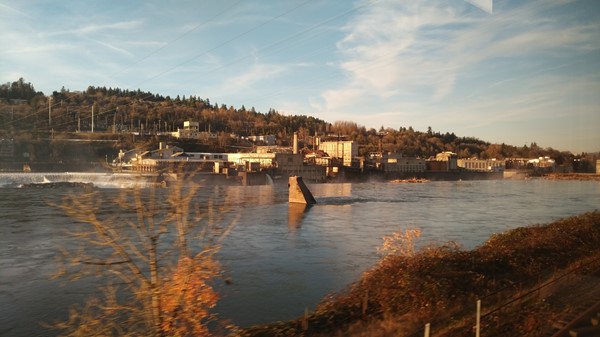 Dinner was even better (though a tad early for me – 5:30, because of our arrival time). On the Coast Starlight, you can dine solo in the Parlour Car (though this one was actually a bi-level café car since the Parlour Car was in the shop). I would have gone back for the steak, but the Braised Lamb Shank is the STAR of this route.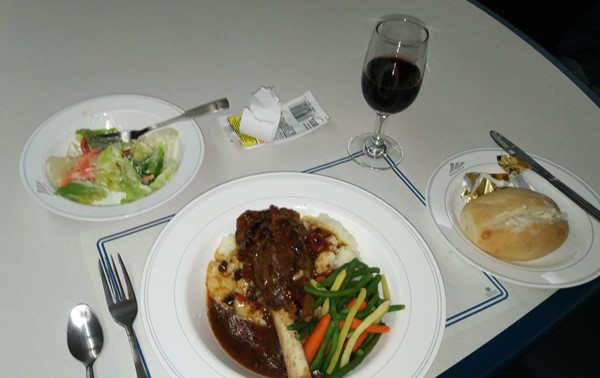 Train arrived early – I was home by 8:30.
Time to relax, and start the process of trying to get some of the points back for the bedroom that I didn't have for 24 hours.
Call One – to the number on the "you are screwed" notice. Sorry, you completed the trip, and since it was on points, you need to contact Amtrak Guest Rewards.
Call Two – Amtrak Guest Rewards, you need to contact Customer Relations, which is only open Monday-Friday 6am to 9pm Monday to Friday, and no, there isn't a direct line. Call 1-800-USA-RAIL, punch 0 a couple of times, ask the agent to transfer you.
Call Three – wait for Monday to roll around, get through to Guest Relations, file a claim to which they say they will email off. NO direct resolution.
At least they were quick – the next day 7,000 points were back in my account – which I think is a little shy of what I'm deserves for 1/3 of time in a sleeper that cost me 33,776 points. Might need to bitch some more.
That said, the "service disruption" was serious – it was the California wild fires that shut down the coastal route. I actually found a video clip shot from the tracks that the train runs – and the flames are close, and days later, I figured out how to embed the video from USA Today:
That's it for this adventure – only one more for the year, but I'll do a yearly travel update before the end of the year.
[223.4]
For all the posts on my blog, CLICK HERE.