It's not even the end of the year, and 2018 is stacking up to be a busy travel year. I should hit Alaska MVP Gold by the first week of March. Last year it was regular MVP by the first week of April. Looks like I'll be Alaska MVP Gold 75K for 2019!
Here's what's on the books, though I might cancel the Cabo San Lucas trip for my birthday…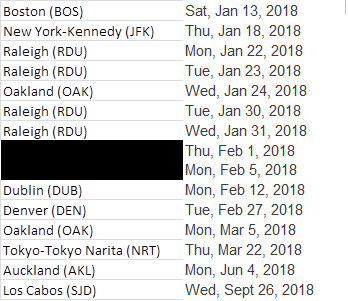 Yes, a lot of those are mileage runs (JFK/RDU). And two of the trips are blacked out because I'm keeping the destination a secret from my travelling companion. He just knows we are going someplace cold and someplace warm.
May you all be surrounded by friends and family this season.
[? ? ?]
To see all the blog posts, CLICK HERE.