When I planned this trip back in November as one of the final "Cyber Week Sale" flight, I didn't think it would have a theme, just thought I'd be going to visit Dan and Lisa.
The new theme: Money, Laundering. Please note the comma.
Before we get to the Money portion, let me explain the "laundering" part. Exhibit A: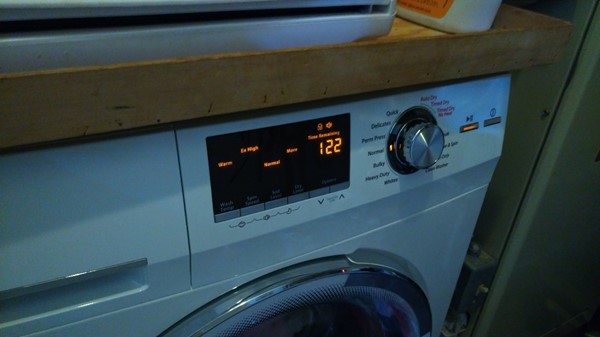 Exhibit A is an all-in-one ventless washer-dryer that I got in January to replace my first-generation model that lasted 13 years. The new one worked WAY better than the old one, having clothes come out warm rather with a little dampness like the old one. Well, it worked better when it worked – got less than ten loads out of it before it locked the door, gave me an error code, and forced me to call warranty service (GE Appliance Repair). Called on a Saturday morning, and they were out Monday morning (a longer service window than I would have like 8am to noon). Sadly, he needed two possible defective parts…which as it turns out, the control board was on backorder…until April 3rd. This saga played out over about three weeks whilst I was in Hawaii first, then 10 days in Europe.
As of Thursday, we have resolution. They are sending me a brand-new machine, installing it, and taking the dead one away. I think it would have been cheaper for then to air freight in the control board from China. Install date will HOPEFULLY be Thursday/Friday/Saturday of next week before I leave for another 10-day trip. I'm trying to push most of my travel to the beginning of the year when business is lighter.
What all of this means is that I've been without clean laundry for weeks now – and why I packed two bags of dirty clothes to visit Dan and Lisa and borrow their washer-dryer.
But back to Denver – Lisa was a doll and picked me (and my laundry) up at the airport, after my ride-to-the-airport scare of forgetting my laptop bag and less time that usual before my light.
On the upside, at least I'd gotten the upgrade to First Class, so there was food on board: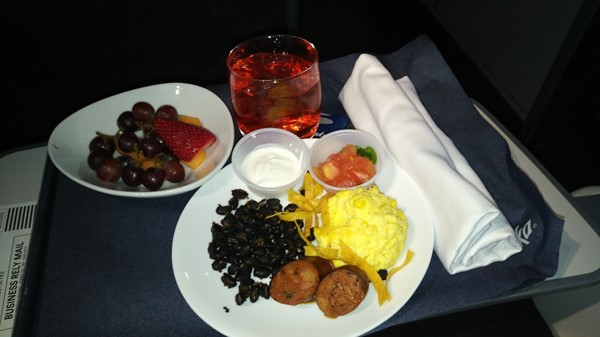 Think sort of a Southwest-style breakfast plate served in my favorite seat (1C). The stress of the airport run led me to order several vodka-cranberry doubles.
Once we got back to their house way north of the airport, those double led to nap time. Like a three-hour nap! The joys of holidaying.
The evening plan was dinner for five, we were joined by another couple around the dining table for "Instant Pot" pork belly, bok choy, and potato salad. Sadly, the only picture I have of dinner is of the bottle of Bonny Doon Le Cigaré Volant from 2008: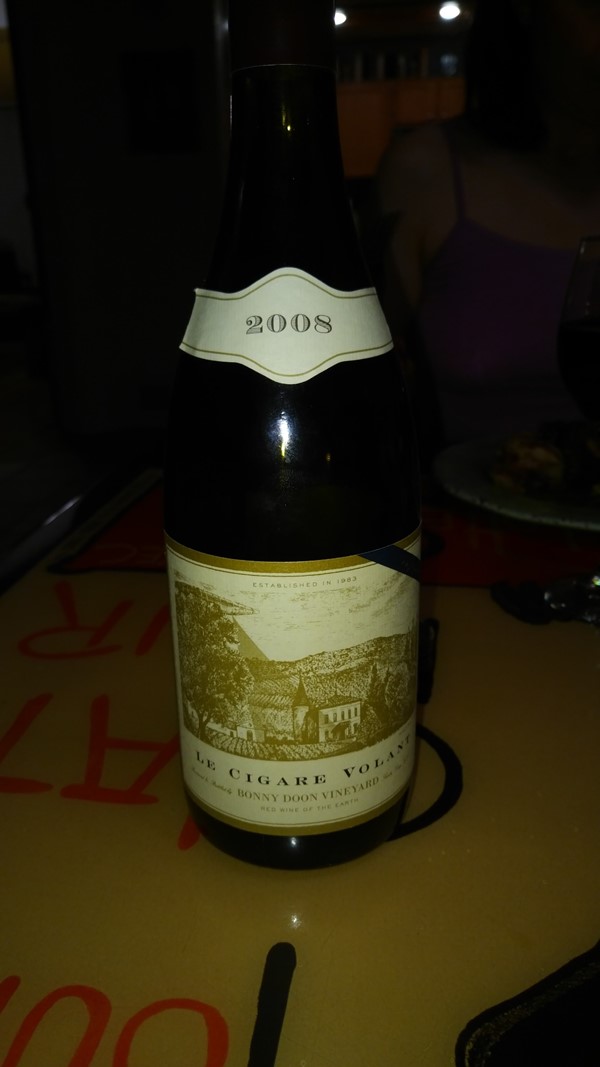 It worked quite well with the richness of the pork belly. Green and Black Organic Chocolates from the Alaska Lounge was dessert for several of us. Others had ice cream.
Even with the nap, I was in bed early – and oddly, UP EARLY. This has been happening for the last couple of nights since returning from Europe last week. Gave me time to get some work done in the morning before we headed into town to hook up with DancingBear, who was flying out to Denver on a mileage run combined with lunch with Dan and I, and a tour of the U.S. Mint.
We met up at the train station since there is a direct link to the airport – and grabbed a table (after swinging by the mint to get tickets for the 2PM tour) at Stoic & Genuine – where I've eaten before and can best describe as, "top-notch", and "not-cheap". With tip, $145 for lunch and drinks for three.
The lunch: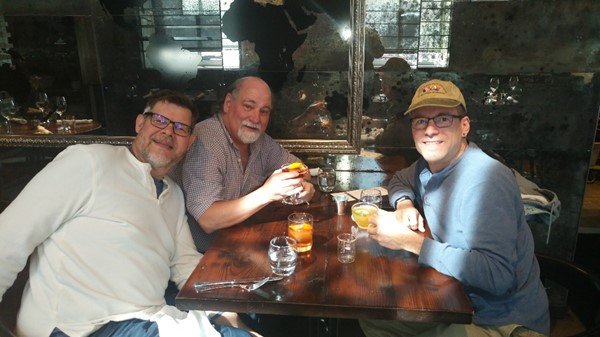 Maker's Mark Old Fashioned for DancingBear, a Nigroni for me, Haut Toddy (which was actually a Star Wars themed cold drink) for Dan.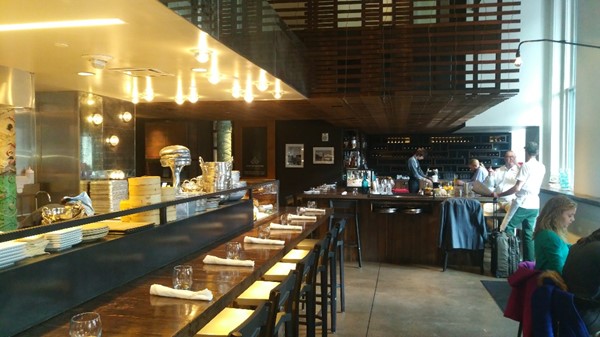 Nice, open, airy place with a cute bartender (you'd have to zoom in). And superb food, like my (and Dan's) fish (cod) and chips…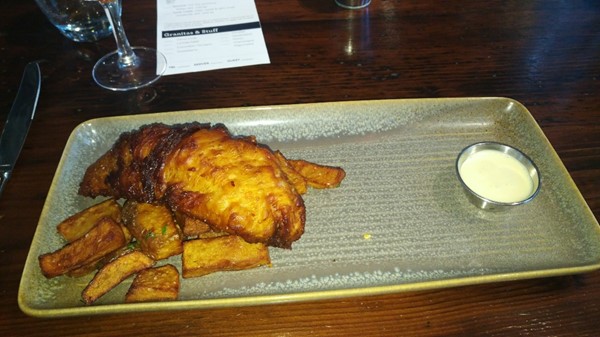 And DancingBears Diver Scallops on Beat Salad…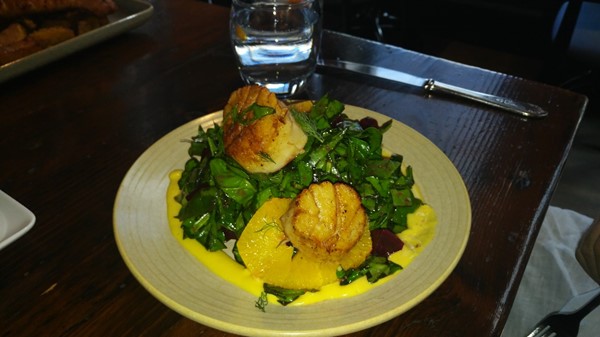 Portions were not huge, but excellent quality.
Mint tour wasn't until two, so we had time to kill at the train station – which is a great place to hang out and watch people: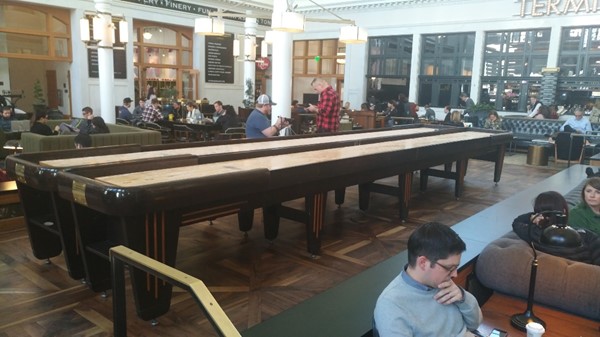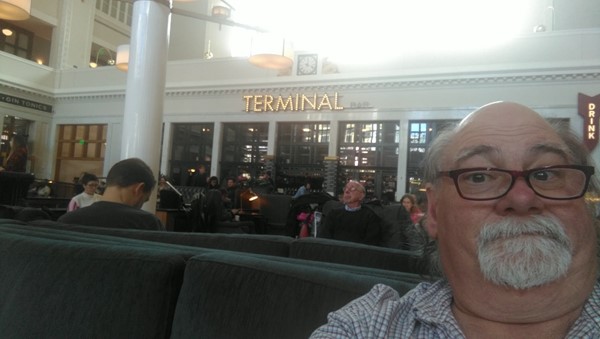 Got to the mint at the required 1:30pm for our 2pm tour…to find us last in line to go through a very thorough security (cell phones off, no purses, backpacks, knives)…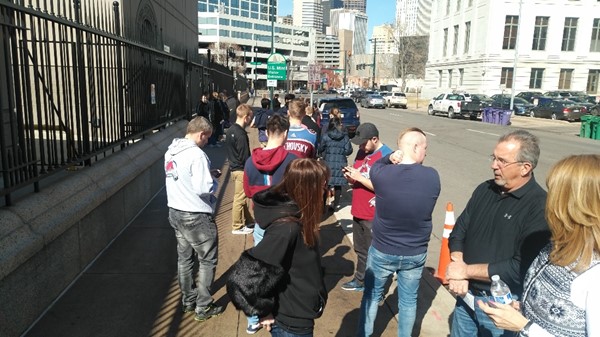 No pictures allowed inside, so, here is the entrance: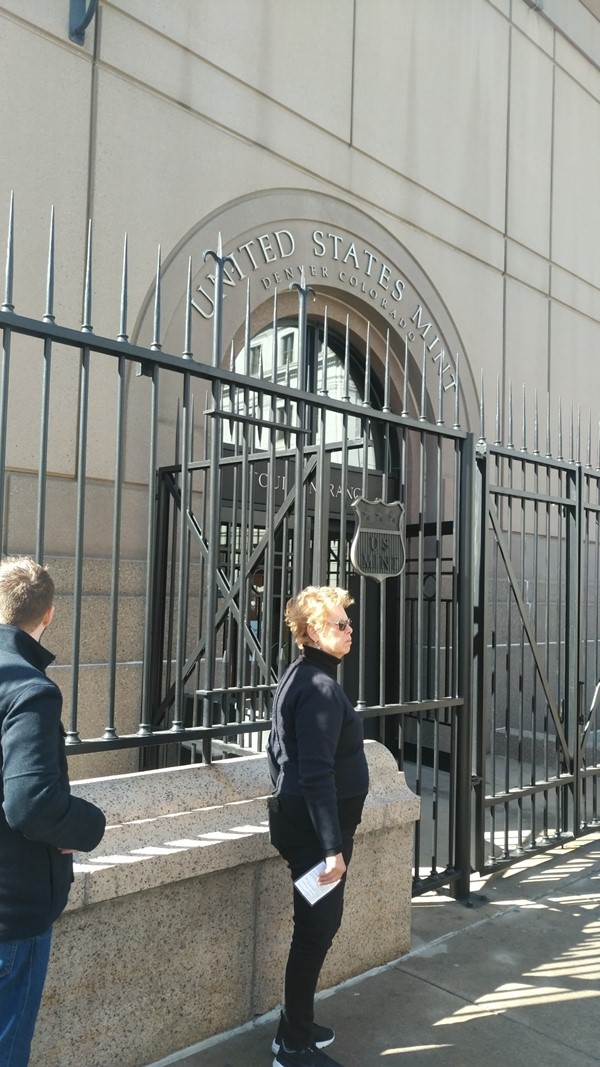 DancingBear hit the gift shop for coinage sets for his collector Mom, and back to the station to drop him off before heading back north to make a liquor store run for me to pack in all that clean laundry.
Dinner my last night was pan-fried steaks with some more of bok choy from last night – not a fancy the pork belly, but just as tasty (and there will be leftover steak to go in the morning scramble).
Sadly, I wasn't there for the scramble – I had a 9:45AM flight which put us in rush hour traffic to the airport – don't know why I booked this particular flight (must have been cheap, which it was at $150 r/t), but I'll know two things for future trips:
Arrive and leave mid-day
Two nights isn't really enough
No upgrade on the way back, and a completely full airplane, but I was sitting in a row of partiers, so we all had a great time.
Home and a nap.
[222.2]
For more blog entries: CLICK HERE.